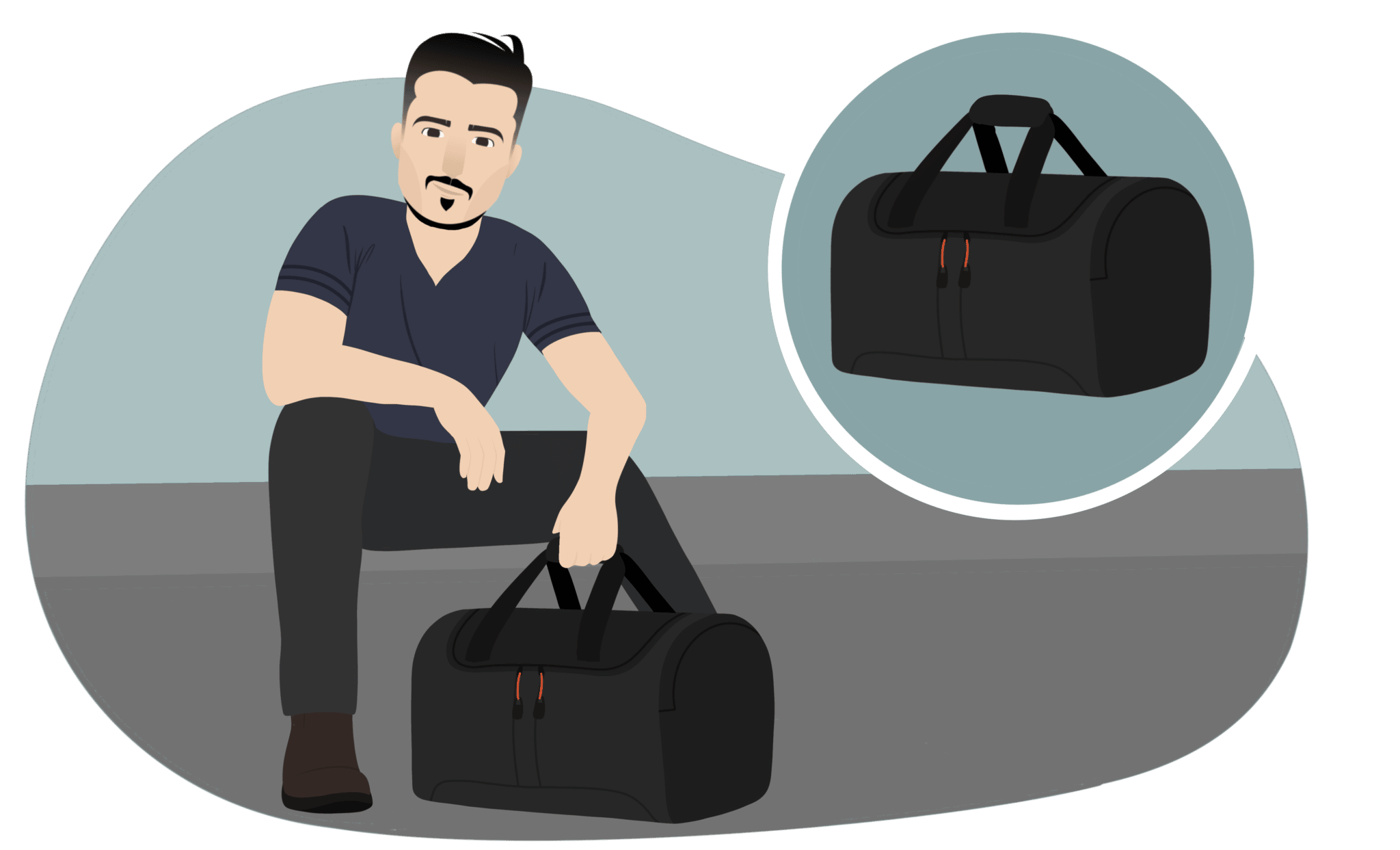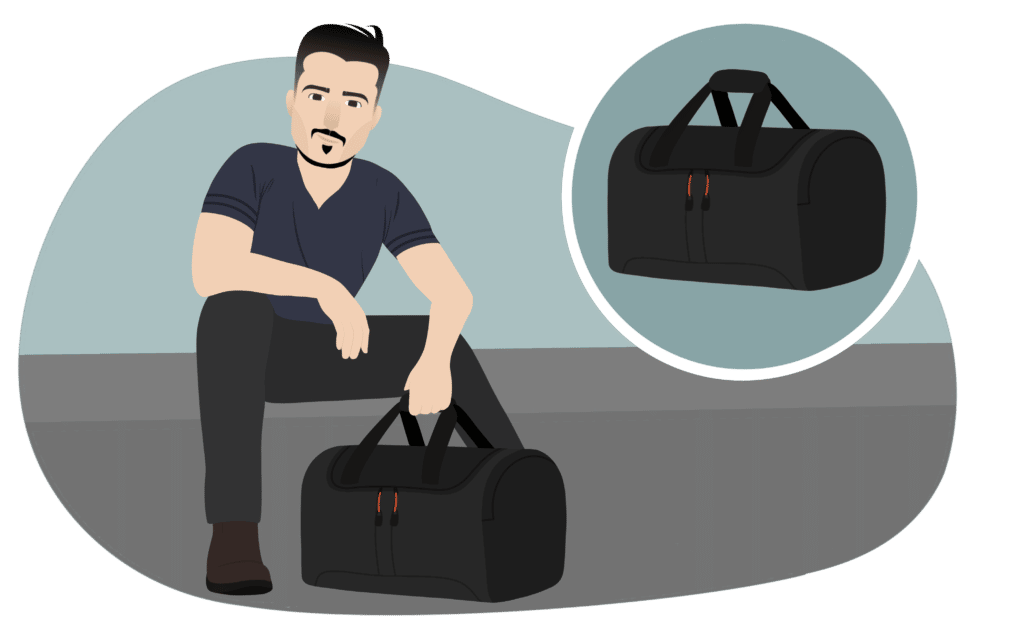 Going away for the weekend? Don't want to have to lug about a massive suitcase? Not sure what to pack your clothing and accessories into?
A weekend bag, also known as a weekender or carryall, is the perfect solution to packing for those quick weekend getaways. They're not too big, neither are they too small. The bag offers just enough space for a few days' clothing and a change of shoes, toss in your toiletries, and you're good to go.
The challenge to finding a versatile and high-quality weekender is that they're not all made equally. For this reason, we have gathered together the best holdalls that Amazon has to offer and reviewed each of them, making it easier for you to find the weekender bag that best suits your needs.
We tried and tested multiple weekender bags from Amazon and concluded that these nine are the best duffle bags for your weekend adventures. The approach we used was to chat to frequent travelers about what it is they looked for in a high-quality weekender and gathered the bags that ticked these boxes. We then reviewed each of these weekender bags, basing our evaluation of each bag on the following criteria: versatility, style, durability, functionality, and size.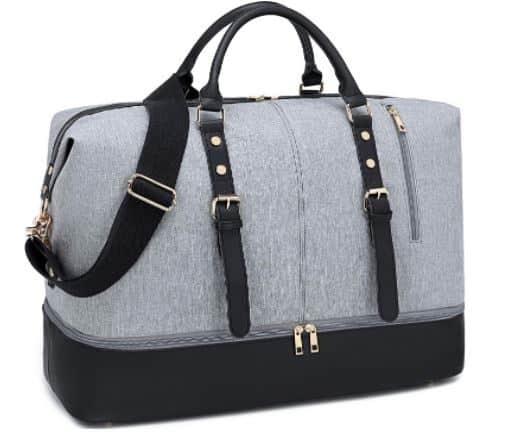 Bluboon is a brand specializing in the design and manufacture of luggage and handbags. With the brand's focus on bags, they have taken care to pay attention to each aspect of the bags they create, from the zippers used, the compartment size, and the space provided.
An excellent example of this is the Weekender Carry-On Tote by Bluboon. This compact yet elegant weekend bag offers a fashionable and functional way to carry your clothing.
Specs
Made from durable canvas with a soft interior lining
PU leather handles and detailing
All hardware is made from durable and sturdy metal
Features a separate shoe compartment
Who is it Best for?
If it's a neat travel bag you need, then this stylish and compact tote bag may be the solution for you. Bluboon creates this weekender to hold multiple items, making it perfect for those weekend trips away.
This weekender is sleek and stylish and is offered in various solid colors and patterns.
Compared to other weekender bags on the market, this one comes in with a slightly higher price point, yet the craftsmanship and quality in relation to other offerings, in my opinion, make it worth the cost.
The bag features dual rounded top handles to use as a carry-on and an adjustable shoulder strap so you can carry it cross-body. I found this feature to be particularly useful, especially when having to take multiple items at once.
Key features
Bluboon makes this weekender from a durable canvas fabric in a two-tone design. Inside you will find a soft layer of the lining that has been treated to protect your clothing from moisture. While I am impressed that there is some level of water resistance, I believe Bluboon could improve the design by waterproofing the outer shell instead.
PU leather handles and metal hardware rounds off the look, adding a touch of style.
Compact enough to fit under an airline seat but spacious enough to easily fit in a few outfits, toiletries, and a pair of shoes, this bag is extra handy. This weekender offers a single main compartment that features two small pockets for items such as phones, MP3 players, and chargers, along with a smaller zippered compartment that offers a great place to keep your wallet, passport, or other essential items.
A separate shoe compartment at the base of the bag allows you to keep your shoes away from your clothing. And a few external zippered pockets provide an extra place for a few other bits and bobs.
This bag does a great job of holding all my necessities. While it would have been nice if there was a little more structure to the tote to prevent my clothing from being as crumpled, overall, it does an excellent job.
Pros
Fits easily under an airplane seat
Offers an impressive amount of compartments
Folds away neatly when not in use
Cons
There is no structure to the shape of the bag so clothing is easily creased
The exterior is not waterproof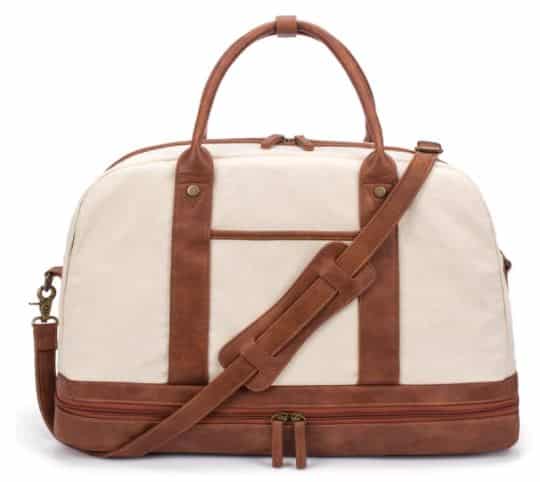 When it comes to designing and manufacturing world-class weekender bags, Bolosta comes out tops. The Canvas Overnight Bag / Weekender Bag by Bolosta provides a stylish and versatile solution to packing for a business trip or a weekend getaway.
This bag comes together as the perfect blend of functionality, style, and versatility, making it a must-have for any frequent traveler.
Specs
Features an anti-friction bottom
Made from high-quality canvas and soft faux leather
Includes bronze metal hardware
Comes with multiple pockets including a separate shoe compartment
Who is it Best for?
If you're on the lookout for a larger weekender bag that provides enough space for the clothing you need for a long weekend away, this is it.
The body is made from a heavy-duty canvas that comes in three color options, beige, blue and white striped, and grey. A tan or black faux leather detailing then rounds off the look, making it easy to find the bag that suits your tastes.
What I like about this bag is a unique detail on the bottom, the anti-friction design that comes with four small bronze feet that prevent the bottom of the carrier from scuffing on the floor—no more plopping your back in unexpected puddles and dirt.
Key features
Bolosta's weekender bag comes with dual faux leather top handles that clip together so that you can hold it as a carry-on. An adjustable and detachable shoulder strap provides the option of slinging the bag over your shoulder to free up your hands to hold other items.
While this bag only offers one main compartment, I found it sizeable enough to fit at least three days' worth of clothing in it, at a push, five. Six smaller pockets provide space for necessities such as phones, chargers, and electronic devices.
Keep your shoes or dirty clothing separate from your clean clothes by storing them in the shoe compartment found at the base of the bag.
What left me impressed with this bag was the careful attention to detail, the durable bronze hardware, matching faux leather accents, and the masterful craftsmanship used to bring it all together.
Pros
Offers a lot more space than one would thing
Fits comfortably under an airplane seat
The straps are extremely durable
Cons
The bag could have a slightly more sturdy shape to prevent clothing from creasing
It needs to be aired out when it first arrives as it does come with a "new bag" smell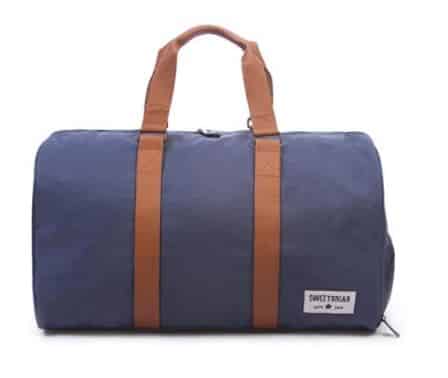 When it comes to bags, baggage, and duffels, Sweetbriar knows a thing or two. The brand focuses only on creating the most functional and versatile bags you can find. That they are stylish and durable is just the cherry on top.
The Sweetbriar Classic Duffle Bag offers a simple and straightforward option to packing for your getaway, so you can focus on your adventure and not what you're going to pack your clothing in.
Specs
Polyester canvas body
Vegan leather detailing
Includes a separate shoe compartment
Comes with a detachable shoulder strap
Who is it Best for?
With Sweetbriar's duffle, less is definitely more. This understated yet sophisticated weekender is eye-catching in its design. It features a barrel-shaped polyester canvas body in a solid color, with tan vegan leather wrap-around top handles.
The duffle is offered in six solid colors, including black, red, and denim, and in a camouflage print, each with tan strap detailing, so you can find the bag that appeals to you.
Compared to the Herschel Novel Duffel Bag, which is almost identical in how it looks, this bag from Sweetbriar comes in at nearly half the price while offering the same durability and style.
Key features
This duffle bag from Sweetbriar offers one main compartment and a separate shoe compartment accessed from the side of the bag. Both chambers are secured with zippered closures.
Inside the bag is a sift lining, and outside you will find dual top handles made from vegan leather and a detachable shoulder strap.
Now, after using this bag a few times, there were a few things I noted. First, Sweetbriar could improve on the lining found inside the main compartment. It doesn't match the bag at all, and with such a sophisticated exterior, a little attention to the interior wouldn't hurt.
I also found the zippers to be a little flimsy and would have preferred a slightly more heavy-duty option. Overall the bag, although relatively small, holds a great capacity making it an excellent choice for weekend trips.
Pros
Comes with a few smaller internal pockets for small items 
Offers an impressive capacity
Cons
The zippers tend to be a little flimsy and would do better as heavy-duty zippers instead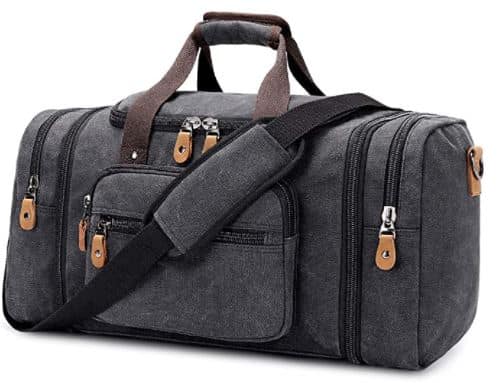 Plambag has the bag you need. Whether it is a canvas weekender bag with a hidden shoe compartment or a travel duffel bag, the brand has you covered. Specializing in durable and highly fashionable luggage, Plambag knows what is needed to create a high-quality piece of luggage.
Case and point being the Plambag Canvas Duffel Weekender Bag / Travel Tote with Shoe Compartment. This bag not only offers a vast amount of space but will leave you styling.
Specs
Made from water-repellent canvas
Includes high-quality faux leather detailing
Comes with a separate shoe compartment
Offers a 42L capacity
Who is it Best for?
If you are looking for a durable weekender bag that offers great capacity and unrivaled style, you may want to look more closely at this piece of luggage.
Plambag's travel tote bag provides more space than you'll know what to do with. The bag features a main compartment, two open pockets, and one zippered pocket on the interior of the tote, while the exterior sees one front pocket with magnetic snap closure and a back sleeve with a zippered pocket. A single bottom compartment separates shoes and other items from your clothes.
If you need a weekender with a little more room for your gadgets, tech, toiletries, and clothing, this bag makes an excellent choice.
Key features
What impressed me most about this weekender tote is that the canvas exterior is water-repellent and will keep your clothes dry if you're caught in a light rainfall.
The faux leather straps make it easy to use as a hold all, attach the adjustable strap and wear it cross-body to free up your hands.
You will find, as I did, that there are small feet on the base of the bag, elevating it off the ground, preventing the base from becoming scratched or scuffed.
Adding to the convenience is a sleeve that allows you to slide the bag over the handle of your luggage, making it easier to carry more than one bag at a time.
I tried to see how the bag's capacity fared, and it will fit between three and four outfits, leaving it a little on the small side but ideal for an overnight trip.
Pros
You can fit up the three pairs of shoes in the shoe compartment
The bag is simple to fold up and store away when not in use
Holds between three and four outfits
Cons
For some, it may be a little on the small side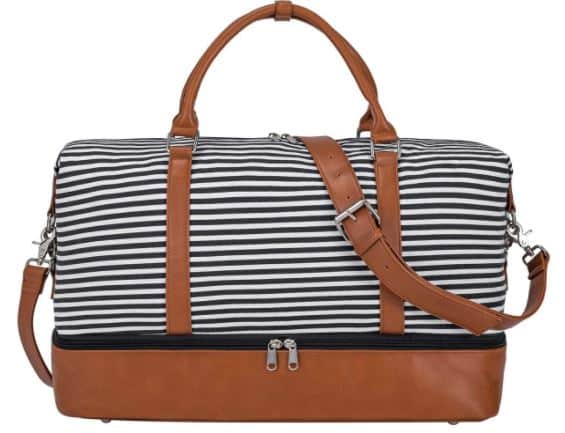 S-Zone is renowned for its elegant and sophisticated Italian leather handbags, duffel bags, and messenger bags. One of the more versatile pieces of luggage the brand offers is the S-ZONE Canvas Weekender Bag.
A travel bag like no other, this bag plays with stylish patterns and tan vegan leather to leave you with a minimalist weekender bag that packs neatly into any overhead compartment and slides beneath an airplane seat.
Specs
Made from a durable canvas with a soft polyester lining
Features PU leather trim and straps
Comes with metal studs on the base to prevent scuffing
Includes a separate shoe compartment
Who is it Best for?
If you want a duffel bag that is soft enough to fold away when not in use but is sturdy enough to stand up while you pack it with clothes, then this packer is for you.
Ideal for that impromptu road trip or as a gym bag, this travel bag is versatile and offers exceptional durability.
Five durable metal studs placed on the base of the bag elevate it off the ground, preventing the bottom from becoming scuffed and eliminating the possibility of placing the bag in an unseen puddle or blob of gum.
What I enjoyed most about this bag is the expansive capacity it offers. If you're looking for a large carry-on bag, this makes a perfect choice. It provides space for enough outfits for four to five days.
Key features
Carry this bag with ease. An adjustable shoulder strap allows for hands-free use, while dual top handles allow you to hold it as a carry-on.
A separate shoe compartment holds up to two pairs of shoes, keeping them away from your fresh, clean clothing. The bag itself comes with a main compartment with a smaller zippered pocket to carry smaller items. A little back pocket on the exterior of the tote doubles as a luggage sleeve, allowing you to slip it over the handle of your luggage so you can wheel both bags along with ease.
While I was pleasantly surprised at the functionality and versatility of this bag, the one thing I was not impressed with was the peculiar smell emanating from the bag on arrival. I had to air it out for a few days to rid it of the smell before I felt comfortable putting my clothes in it.
Pros
The capacity of this bag is remarkable
It features quite a sturdy structure that makes it easy to pack
The zippers are extremely durable
Cons
The bag comes with an unusual smell that only disappears after it is aired for a few days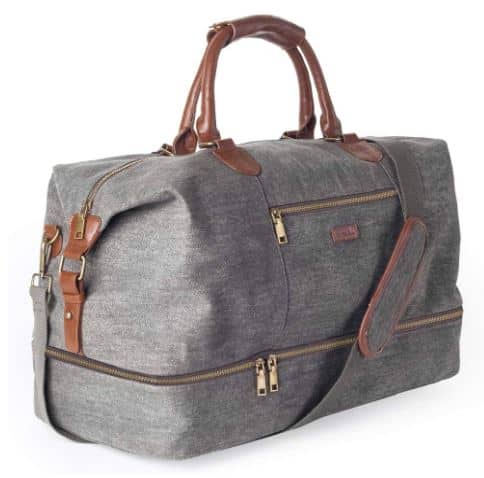 MyMealivos, a brand that offers a wide range of products from game buzzers to megaphones, produces one item that really caught our eye, the MyMealivos Canvas Weekender Bag.
A sophisticated and spacious weekend bag that will make your travels easy to pack for while adding a dash of style to your look.
Specs
Made from premium quality canvas and faux leather accents
Includes a soft cotton lining
Offers seven pockets and compartments
Ergonomically designed for comfort
Who is it Best for?
If you're looking for a bag that is all about space, this travel duffle is just the one you need. MyMealivos designed this cotton canvas weekender to feature seven pockets and compartments.
A compartment at the base of the bag provides a neat space for your shoes or dirty laundry, keeping them separate from your clean garments. Both the front and back exterior of the bag comes with a small zippered pocket. The main interior compartment features a zippered pocket and two open pouches for phones, chargers, and other small items.
Compared to the competitor, BAOSHA Canvas PU Leather Travel Tote Duffel Bag, the bag from MyMealivos differs in price by only a few dollars, and the sizing is almost identical. The difference comes in when you start looking at compartments and pockets. MyMealivos offers far more in terms of organization and design.
Key features
MyMealivos creates this bag to hold a large capacity, providing room for outfits for three to four days. The size makes it ideal for weekend travel, a short trip, or even a gym bag.
The plethora of zip pockets makes it easy to pack in everything you need, whether it is your laptop and a quick change of clothes or your gym supplements, towel, and water bottles.
What I really liked about this bag, other than the feet on the base that keeps it from being scuffed, is the ergonomic design. The top handles come in soft faux leather and make the bag easy to hold. For those occasions when your hands are full, the adjustable and detachable shoulder strap does the job.
I didn't enjoy that this shoulder strap is relatively narrow, causing it to cut into your skin at times.
Pros
It fits way more clothing than you would expect
The bag may be extra-large but it is not cumbersome
You can fit two pairs of shoes in the bottom compartment
Cons
MyMealivos could improve on the width of the shoulder strap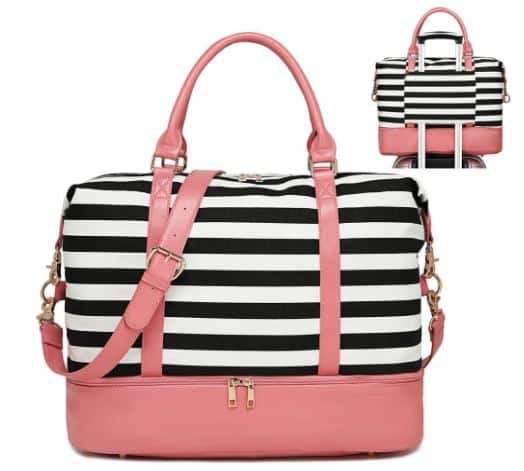 If it's hot, hip, or happening, you can be sure Btoop has it. This unique brand centers on providing its customers with high-quality versions of all the trending items out there, from popping fidget toys to backpacks and even fashionable weekender bags.
The piece of luggage they offered that caught our eye was the Women's Travel Weekend Bag Canvas Overnight Carry-on. Sturdy, stylish, and designed to hold more than just one outfit, we had to take a closer look at this exciting bag.
Specs
Made from canvas with PU leather detailing
Includes top handles and an adjustable shoulder strap
One of the exterior pockets doubles as a luggage strap
There is a separate shoe compartment
Who is it Best for?
If you're looking for a fun, brightly colored, yet stylish weekender bag, then this one makes an excellent choice. It comes with a sleek black and white striped canvas body accented with vivid pink PU leather detailing. If pink and black are not your thing, Btoop offers this bag in an assortment of other colors and patterns so you can find the one that best suits your needs.
Compared to some of the other weekender bags we have reviewed here, this one comes in at a similar price point. Where it does stand out, though, is with the design of the shoe compartment. This is far more rigid and gives the bag a more sturdy shape. The only downside to this and it is something Btoop could improve upon, is the weight this compartment adds to the bag. It is rigid but heavy, making it difficult to carry when the bag is fully packed.
Key features
Sturdy brass hardware complements the canvas and PU leather design in the form of zippers and buckles. The top handles make holding this carry-on by hand a simple task, while the adjustable and detachable shoulder strap makes it easy to sling it over your shoulder.
Aside from the separate shoe compartment, the main compartment comes with three interior pockets in the form of two pouches and a zippered compartment.
If packed lightly, this weekender will fit neatly under an airplane seat; otherwise, it fits well in the overhead compartments too.
I tried the bag out on a few occasions, and it measured up. The handles are sturdy, the zippers all worked, and the compartments offer more than enough room for various items. If you can get past the smell (it goes away once the bag has been aired out), this makes an excellent weekender bag.
Pros
The bag is sturdy and will keep your items protected
It holds a lot more than one would expect
The straps are sturdy and hold up under pressure
Cons
It comes with an odor that disappears once the bag has been aired out for a few days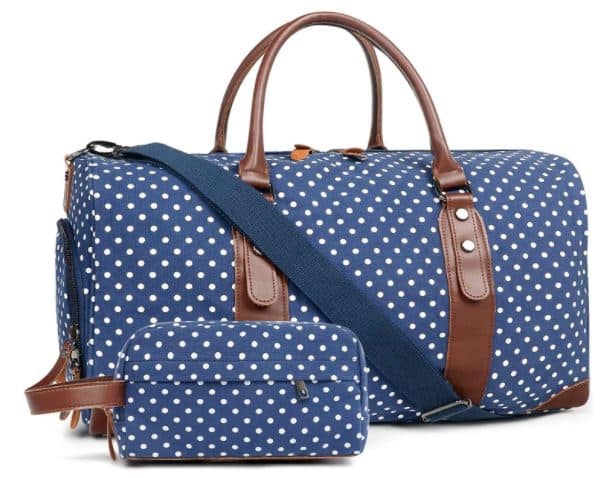 If you want a premium quality piece of luggage that offers excellent capacity, durability, functionality, and a touch of style, Oflamn is the place to go. The brand focuses solely on designing and manufacturing high-quality travel bags that make them more straightforward to pack for your trip.
The Oflamn Duffle Bag Canvas Leather Weekender Bag is just one of the brand's exciting offerings. That it comes with a matching toiletries bag just sweetens the deal.
Specs
The bag is flight-friendly, meeting all the flight regulations
It includes a matching toiletries bag
Made from canvas with PU leather trim and detail
Holds two to four days' worth of clothing and accessories
Who is it Best for?
If you find yourself traveling frequently and you're looking for a bag that complies with luggage regulations for flying, this duffle makes an excellent choice. It is lightweight and fits easily beneath an airplane seat or in an overhead compartment.
Two side pockets look the same in size, but one is relatively small; the other is the doorway to the separate shoe compartment. Inside the bag is the main compartment that comes with an inner zippered pocket. The included toiletries bag not only fully matches the bag but provides a separate case to pack your accessories or amenities in.
Key features
This stylish weekender combines a blend of quality materials that are brought together with fine craftsmanship. The faux leather and brass hardware perfectly complement the thick, durable canvas. A nylon twill weekender liner will keep your clothes protected.
A pair of robust top handles makes it easy to carry the bag by hand, with the detachable and adjustable shoulder strap makes it simple to sling the bag across your body. The hardware that attaches these handles is rust-resistant brass that ensures your hold all will remain looking stylish for years to come.
An area Oflamn could improve on, though, is the shoulder strap. The one I received with my bag was a slightly darker shade than that of the leather detailing on the bag. This left the strap looking out of place. That aside, this bag really is worth giving a try.
Pros
The brass hardware adds a stylish touch to the overall design of the bag
This bag folds away easily for storage
The toiletries bag offers an impressive capacity and is water repellent
Cons
The bag does not come with a laptop sleeve
The shoulder strap does not match the other leather elements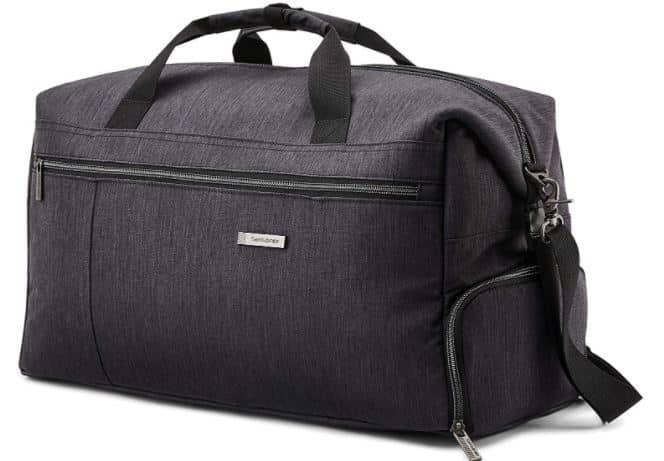 When it comes to luggage, you can't go wrong with Samsonite. The brand has been masterfully crafting elegant and functional luggage for decades and knows what customers need to ensure their travels are a happy and easy experience.
While more commonly known for their large suitcases, Samsonite also produces smaller carry-on luggage, such as the Samsonite Modern Utility Weekend Duffel Bag. This sophisticated and lightweight duffel is perfect for those short business trips or quick weekend getaways.
Specs
Main compartment features a central zipper for ease of access
Features a side-integrated shoe compartment
Includes a smart sleeve for traveling with other luggage
Made from sturdy canvas material
Who is it Best for?
Sleek, sophisticated, and as functional as they come. If this sounds like the weekender you're looking for, take a closer look; you won't regret it. We certainly didn't.
This weekender bag is compact on the outside and spacious on the inside, making it ideal for use as a carry-on for an airplane. It fits neatly beneath the seats or pops comfortably into the overhead storage.
The sophisticated charcoal heather color with complementary black straps and silver-colored hardware make this the ideal weekender for men who love to travel.
Compared to other weekenders on the market, this one is a little pricier, but you can be sure Samsonite offers quality, durability, and style, making the steeper price worth it if you travel frequently.
Key features
This sturdy weekender bag comes with two robust top handles for carrying it by hand. If this isn't quite your style, then the detachable shoulder strap allows you to wear it slung over your shoulder or worn cross-body. I did find, though, that if the bag is fully packed, the clips that hold the shoulder strap in place don't do so well under the weight and often come loose, causing your bag to drop mid-stride.
When it comes to compartments, this bag offers a side pocket shoe compartment that separates your footwear from your clothing. The main compartment features a single zippered pocket for storing smaller items. A large exterior zippered pocket is the perfect size for storing iPads and other items. And a back sleeve makes it simple to slip this bag onto the handle of your wheeled luggage.
Pros
There are multiple hidden compartments
The bag is more durable than most
It folds up neatly for storage
Cons
The clips for the shoulder strap need improvement – they are unable to support the weight of a fully packed bag.
Things to Consider When Buying a Weekender Bag
1. Capacity and Compartments
Before buying a travel bag, it makes sense to think about what size you need the bag to be and how many compartments you may need. Think about whether you want a separate shoe compartment, hidden pockets for valuables, and perhaps a place to store water bottles or laptops.
You also want to consider the size. Will you be using the bag as a carry-on? Do you need to fit more than three days' worth of clothing in the bag? All of these will help to determine which bag is best for your needs.
2. Materials
Give thought to the materials you want your bag to be made from, whether it is waterproof neoprene, sturdy canvas, or elegant leather. Each of these has a bearing on functionality and style.
By trying and testing each of these weekender bags, we have found that different sizes and materials combine to offer unique options for carrying your garments when traveling.
It is essential to give thought to the style, size, fabric, versatility you want out of your weekender bag. Taking this into account, along with our reviews, will help you pinpoint the right travel bag for your needs.
best weekender bag