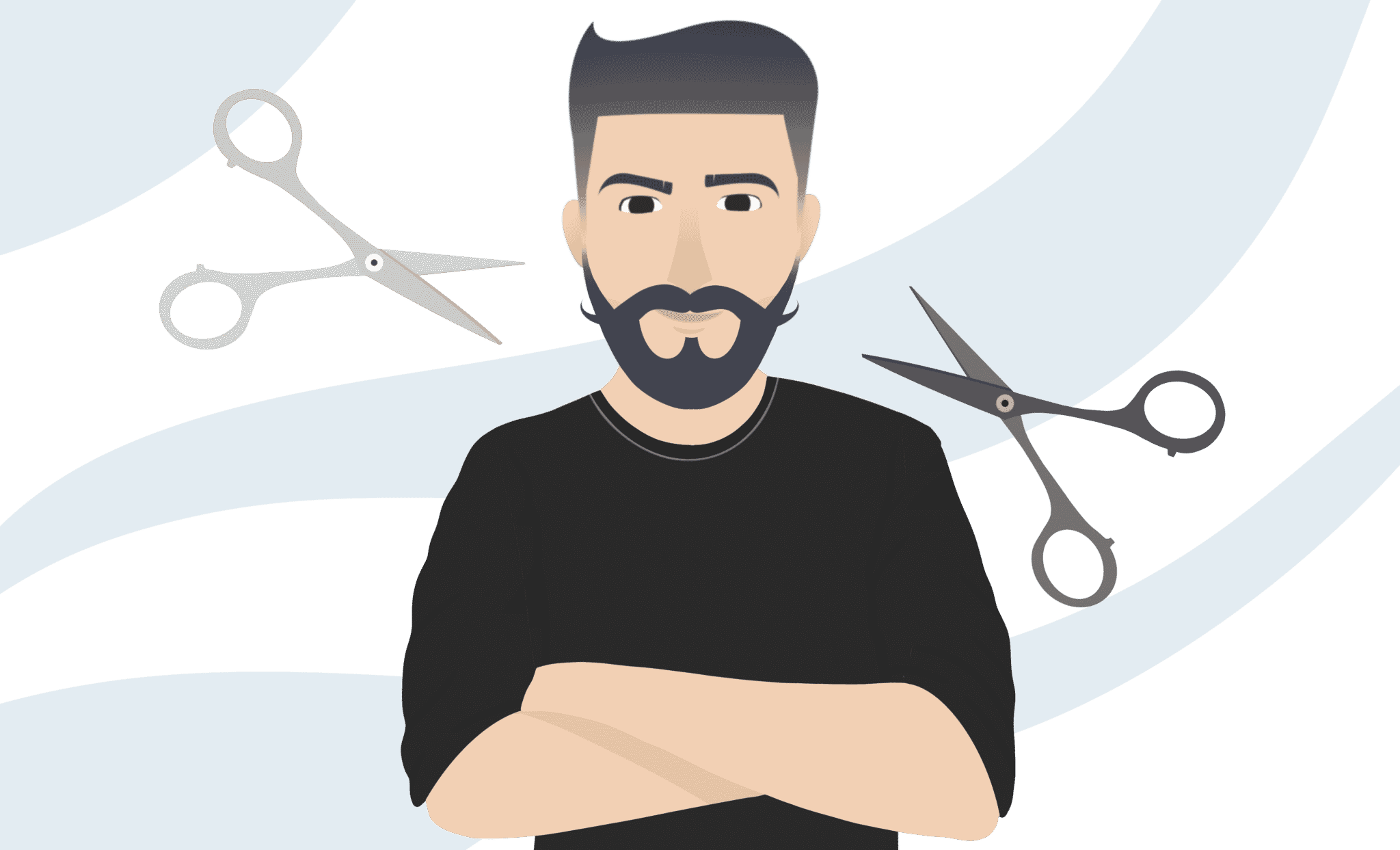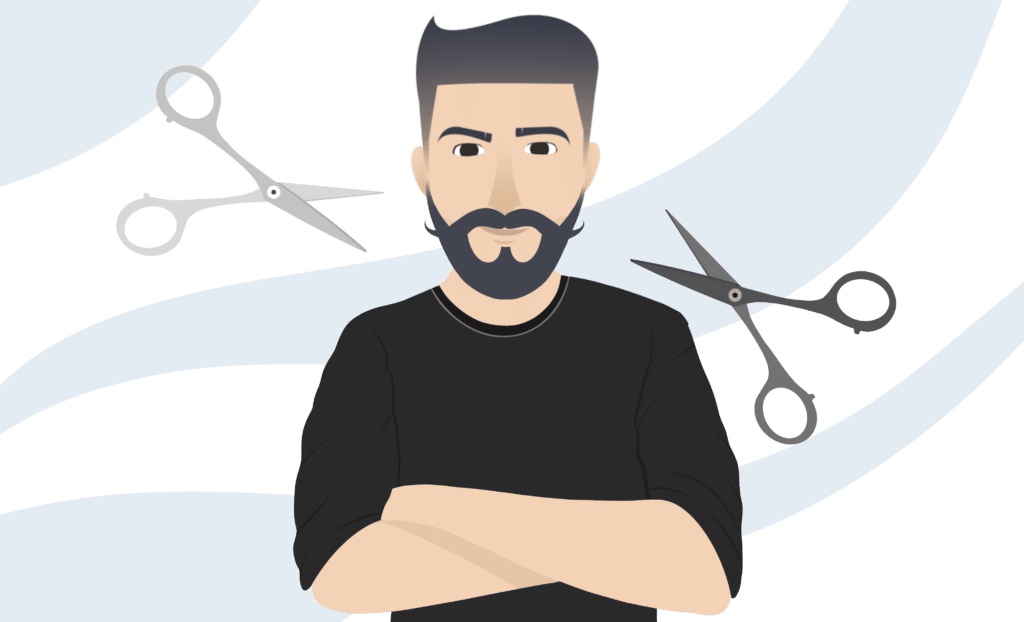 When it comes to trimming your mustache and beard, it is quick and easy to turn to the trusty old hair trimmer. But, the problem with these is that they are a hassle to use; they need to be cleaned after use, some need to be plugged in or charged, and they don't always provide the detail you require.
There is a solution to this, though, a trusty pair of the best beard trimming scissors. These handy scissors are made from razor-sharp stainless steel that offers precise cuts, allows you to achieve the fine detail you are after, and is simple to use.
Unfortunately, not every pair of mustache scissors is made equal. To make it less of a challenge for you to find a pair of scissors for your facial hair, we have gathered together the best Amazon has to offer and reviewed each of them.
Best Beard and Mustache Scissors
We tried and tested various beard and mustache scissors from Amazon and concluded that these eight are the best men's facial hair scissors around. We used the approach to chat to men about what they looked for in a high-quality mustache scissor and collected together the ones that ticked these boxes. We then reviewed each of these men's beard trimmers. Our evaluation of each was based on the following criteria: the materials used to make the scissors, sharpness, design, the support offered, functionality, and durability.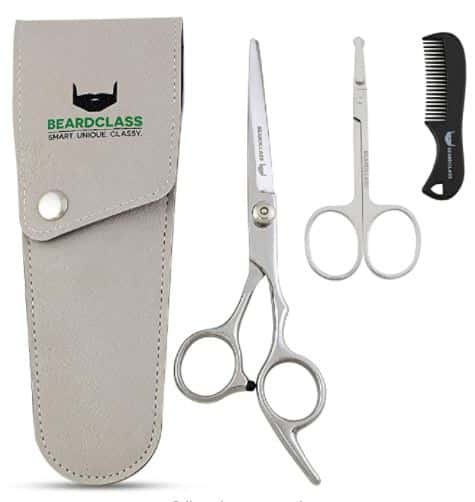 Beardclass is a brand that specializes in men's grooming products. With the tagline Smart, Unique. Classy, the brand puts forth the concept of what we as the customer can expect from them. Beardclass's wide selection of grooming tools includes beard shaping tools, grooming kits, brushes and combs, and even a beard straightening iron. 
The product that caught our eye was the BEARDCLASS Beard Mustache Scissors Grooming Kit for Men. This kit seemingly offers it all, leaving you with everything you need for a perfectly groomed beard.
Specs
Includes long, razor-sharp shears, short-nose scissors with a rounded tip
Comes with a portable comb and carry pouch
Made from corrosion-resistant carbon steel
Designed for right or left-handed use
Who is it Best for?
If you're looking for a neat all-in-one grooming kit that is easily packed into a suitcase and is simple to use, this set from Beardclass may be precisely the thing you need.
This unique beard care set comes packaged in a neat pouch and even features a keychain to boot.
We decided to give this set a try to see whether the quality of these steel scissors matched up to the elegant design they offer. We have to say that for the price this set comes at, the scissors are exceptional. They are sharp, easy to use and make it simple to trim away even those more tricky areas. However, the aspect that really impressed us was the customer service, attention to detail, and the overall cohesiveness of this product.
Key features
Beardclass's mustache scissors and beard trimmer set is made from durable stainless steel that won't rust, corrode, or quickly lose its sharpness.
The set includes a pair of adjustable tension scissors easily adjusted by taking a flathead screwdriver to the tension screw. These beard shears are ergonomically designed to be used by both lefties and righties, making them highly versatile. In addition, the large finger holes and finger rest make the mustache scissor easy to manage.
Also included, you will find a pair of nose hair scissors that come with a rounded tip to prevent you from poking your nose while you trim your hair.
These pairs of scissors come packed neatly in a leather pouch that makes it easy to keep them together. You will also find a handy beard comb and a funky Beadclass keychain.
Pros
The leather pouch makes it easy to keep the pieces together
These scissors are very simple to maneuver
Cons
Not everyone will use the comb or nose hair scissors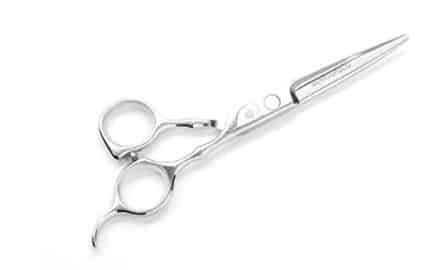 When it comes to beards, few brands are as enthused and well-versed as Beardaholic. This brand cheers on the beard, the hair that makes a man a man from the sidelines, offering insights in the form of a blog, tips, and tricks for achieving the bearded look you have always wanted, and by selling its very own range of beard-related products.
Beard balm and beard oil, razor-sharp beard scissors, and a wooden beard comb; Beardaholic has everything you need to keep your beard looking fresh. However, it was the Beardoholic Beard Scissors – Japanese Stainless Steel Barber Facial Hair Scissors that piqued our interest and left us wanting to know more.
Specs
Made from Japanese stainless steel
Features an adjustable tension screw
Offers wide finger holes and an ergonomic grip
Includes a convenient finger rest
Who is it Best for?
If you are looking for the best mustache scissors that allow you to trim your facial hair quickly and easily, these are an excellent option. In addition, Beardaholic offers this mustache scissor to help you keep your beard tames and your stache neat.
Compared to other similar scissors on the market, these from Beardaholic are expensive, costing over ten dollars more than your average pair from Ontaki. However, it is due to the expert craftsmanship and high-quality materials used to make this pair of scissors that elevates their price.
After trying them out, we found these scissors to be exceptionally sharp; however, the finger holes could be a little larger for those of us with sausage fingers.
Key features
Bearaholic makes these mustache scissors from premium Japanese stainless steel. This material is known for its ability to retain its sharpness, resistance to rust and corrosion, and durability.
The blades feature an ever so slightly curved edge that prevents nicking, pulling, and tugging of hairs, leaving you instead with a smooth, precise, and pain-free trim.
An adjustment screw on the scissors allows you to adjust the tension and tightness of the scissors, which provides greater precision and accuracy.
An ergonomic design makes these shears comfortable to hold and allows you to maneuver them with ease so you can reach even the trickiest of patches.
The finger holes are designed to be spacious enough to fit any finger size comfortably and, when combined with the handy finger rest, make these scissors a dream to use.
Pros
The blades don't dull easily
Cons
The scissors are quite expensive
The finger holes could be bigger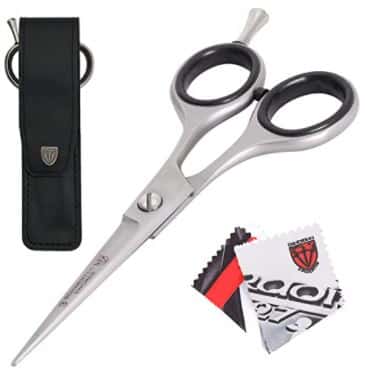 Three Swords Germany, also known as Kellerman & Co., was founded in 1927 with the brand's emblem displaying the iconic three swords symbolic of the sword-smiths that had used the symbol since as far back as 1584. The brand's unique craftsmanship and use of German steel placed it at the forefront of its craft.
Today the brand offers a wide selection of grooming tools from manicure and pedicure sets to accessories and scissors. It was the iconic 3 Swords Germany – Professional Barber Beard Scissors that caught our eye.
Specs
Features a micro-serrated edge
Includes a finger rest
Made from durable stainless steel
Comes with a faux leather pouch and microfiber cloth
Who is it Best for?
When it comes to owning a pair of exceptionally sharp and durable beard and mustache scissors with serrated steel blades, these are an excellent choice.
This mustache scissor is exceptionally well-priced compared to others on the market, making them easily affordable and well worth your time and money.
We gave these mustache scissors a try and found that while they are excellent for trimming beards and sideburns, they are not designed for snipping off long lengths of hair. But, trust us, we tried!
These trimmers feel great in hand and are lightweight, and don't cause wrist fatigue. In addition, their small size makes it easy to reach all those more tricky spots around the mustache without taking out a chunk of hair.
Key features
Three Swords Fashions this pair of beard scissors made from stainless steel that provide exceptional durability and exceedingly sharp blades.
The one edge of the scissors features micro serrations that prevent snagging, tugging, and pulling. These razor-sharp blades also make it easy to achieve precise cuts, whether trimming a long beard or removing split ends.
The finger holes are relatively small but are not uncomfortable, and they feature silicone padding between them designed to prevent any clicking or clacking as you snip.
A finger rest allows for a little more stability and precision so that you can get that professionally cut look from the comfort of home.
This mustache scissor includes a faux leather pouch to keep them protected and a microfiber cloth to polish the scissors with to keep them clean and looking like new.
Pros
Doesn't snag or pull your hair
This mustache scissor feels very comfortable in the hand
They are lightweight and durable
Cons
The finger holes are too small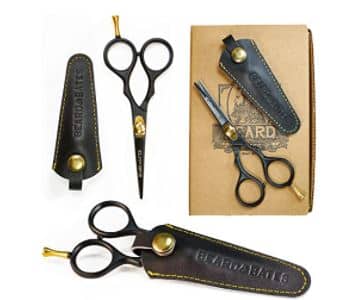 Beard and Bates is an American brand formed by two families that both excelled in artisanal practices and the art of invention. Renowned for their innovation and creativity, the family set about creating products that have a firm foot in both the alluring and in that which aligns with rebellion.
The brand offers a wide selection of products from the trusty mustache comb to a beard brush, beard balm, beard oil, and even cutting edge mustache scissors. Impressed with the packaging and offerings, we felt drawn to try the Beard & Bates | 1878 Black Label Shears | Beard Grooming Scissors with Holster.
Specs
Comes with a convex blade edge
Made from Japanese stainless steel
Features a black anodized finish with brass detailing
Comes with a genuine leather scabbard
Who is it Best for?
If the way your grooming tools look is as important to you as their functionality and efficiency, these shears are made for you. Beards & Bates pays as much attention to the design of these scissors, and their finish, as they do to the functionality of the design.
When it comes to price, these sit at the top end of the scale. It is not hard to see why either, with the elegant detailing and the beautiful leather scabbard accompanying these blades. However, if you are starting out with beard trimming, you may not want to spend such a pretty penny on shears. However, a seasoned barber may find these the perfect addition to his set of tools.
We found them exceptionally sharp and well worth the price. Their craftsmanship is of premium quality, and they feel exceptional in hand.
Key features
Beard and Bates take crafting beard and mustache scissors to the next level with these high-quality shears. From the premium materials used to the exceptional craftsmanship employed, this is a pair of mustache scissors you won't want to overlook.
The shears are made from durable and highly sharp Japanese stainless steel that is then coated with a black anodized finish complemented by elements of brass.
The scissors are inspired by a 19th-century design that brings an ergonomic hold that is comfortable and makes the shears easy to wield.
A tension screw allows you to adjust the scissors to offer a looser or more precise cut as you need them to.
Accompanying these shears is an artisanally crafted genuine leather sheath that is embossed, designed to keep the blades of your scissors sharp and protected.
Pros
Ideal for beards of all lengths
Comes with a handy finger rest
These shears are exceedingly sharp
Cons
Not designed for those with wider fingers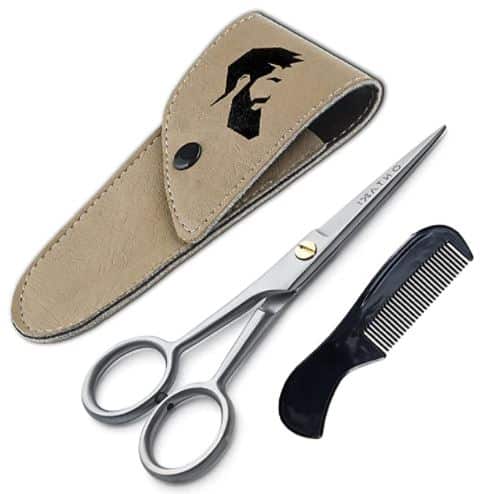 Ontaki is a brand that focuses on creating the finest scissors for a selection of tasks and needs. So whether you need a pair of scissors for trimming your beard, cutting your hair, or for use while creating arts and crafts, Ontaki has a pair of sheers for you.
It was the ONTAKI Professional German Beard & Mustache Scissors that had our interest piqued, so we gave them a try.
Specs
Made from hand-forged German steel
Professionally crafted by seasoned scissors-smiths
Made for use with face and body hair
Includes a mustache comb and carrying case
Who is it Best for?
If you are looking for a well-made pair of scissors designed for cutting facial hair and body hair, you've just found them. These unique scissors are simplistic in design without fuss or fanciful embellishment. It is in their functionality that they shine.
Compared to other mustache scissors on the market, such as the Solingen German Rounded Tip Beard and Nose Hair Scissors for Men, these are exceptionally well priced.
We tried them out and found them to offer just what we needed, a medium-sized, functional pair of beard scissors that trims your hair neatly and gets the job done. The accompanying comb is a little on the small side, but it is perfect for combing your beard or mustache.
Key features
Ontaki makes these beard hair scissors from premium German stainless steel. This high-quality metal is resistant to rust, corrosion and is as durable as they come, so you can be sure these scissors will last a lifetime.
A sharp serrated edge along the blade of the scissors makes them simple to use, allowing you to cut each strand with ease without snagging, tugging, or pulling.
The tips of the blades are ever so slightly rounded to make these shears safe for not just trimming your beard and mustache hair, but nose hair, ear hair, and body hair too.
To tie this set together, Ontaki includes a PA leather pouch to store your scissors in to keep them clean and protected. Included with the pouch and shears is also a small mustache comb for styling and beard care.
Pros
The scissors offer exceptional functionality
They are durable and sturdy
These scissors offer great versatility
Cons
The comb is a little small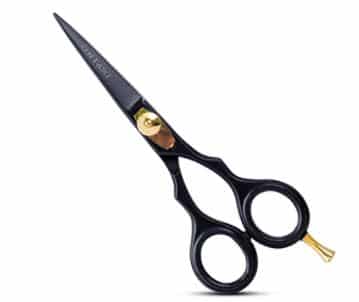 When it comes to scissors, Ontaki is a brand to take note of. They have been designing and manufacturing scissors for all sorts of uses for years. So whether you need a multi-purpose pair for arts and crafts, a smaller set for tackling bushy eyebrows, or a pair of shears for beard care or to create beard styles, Ontaki has what you need.
The ONTAKI Professional Japanese Steel Salon Shears offer precision and style, making them a top choice for barbers and salon professionals across the globe.
Specs
Made from premium hand-forged Japanese stainless steel
Includes sharp, convex edges for a precise cut
Features an adjustment screw for setting the tension
Comes with removable black smooth rings
Who is it Best for?
If you're the sort of man who invests in his beard and mustache, who takes the time to use products such as beard shampoo and conditioner, and who keeps his facial hair neat and well-groomed, these are the shears for you.
Compared to other mustache scissor offerings available, these are very well priced, placing them mid-range on the cost scale and making them affordable for beginners and professionals.
Taken with the style and design of these beard scissors, we decided to try them and see if their functionality was as impressive. We weren't left disappointed. Although they lack an ergonomic design, as a result, these scissors can be turned over for use by left-handed individuals too. They are comfortable to hold, although the finger holes are a little small for those with bigger hands. We found them exceptionally sharp and perfect for professional or home use.
Key features
Ontaki makes these shears from hand-forged Japanese stainless steel that is rust and corrosion-resistant. An aspect of this material that is highly impressive is its ability to retain its sharpness far longer than most other metals.
This steel is then treated with a matte black and gold finish to add a touch of luxury to the design.
A handy finger rest helps to steady your hand as you cut and adds a level of comfort by preventing hand fatigue. Further adding comfort to the design are two removable black rubber rings that you can insert onto the finger holes to prevent blisters or chafing.
An adjustable tension screw allows you to set the tension of the scissors, making it easier to achieve precise cuts and styles, especially around hard-to-reach areas.
Pros
Designed for use by left-handed and right-handed people
The finger holes are perfectly aligned for comfort and ease of use
You don't need a screwdriver to adjust the tension
Cons
The finger holes may be a little narrow for those with thicker fingers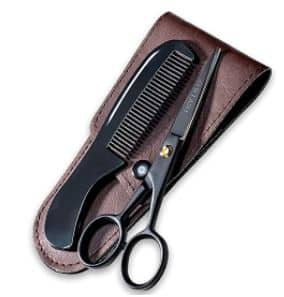 When it comes to making scissors, no one is more well-versed than Ontaki. The brand specializes in the design and manufacture of shears and cutters of all kinds. This vast knowledge combined with the brand's innovation and impressive designs allows them to create the perfect pair of scissors each time.
If you want the best mustache scissors around, you may want to try the ONTAKI Professional German Beard & Mustache Scissors With Comb & Carrying Pouch.
Specs
Made from hand-forged German Steel
Features a beveled edge for precision cutting
Includes a bard comb and carrying case
Ideal for facial and body hair
Who is it Best for?
Whether you have been growing and trimming your beard for years, or you are new to the art, or you are tired of the lack of precision afforded you by a pair of clippers, this mustache scissor is for you.
Ontaki strives to provide exceptionally high-quality and some of the best mustache scissors you can find at a price everyone can afford. This affordability caught our interest, and we wanted to test them out to see if their functionality was any good.
Unfortunately, after trying them out on beards of various lengths, chest hair, leg hair, and sideburns, we can conclude that these shears are not as sharp as we would have hoped. They work perfectly fine for thinner body hair, but they could pack a little more punch when it comes to bristly facial hair.
Key features
Ontaki's hand-forged Germain stainless steel blades are finished in a matte-black coating that leaves them looking sleek and fashionable. A gold accent tension screw and a matching black PU leather pouch round off the overall look and design.
The sharp blades feature a corrugated edge that allows for precise and efficient trimming and snipping. At the same time, the adjustable tension screw allows the scissors to be tightened or loosened depending on the cutting you want to do. This precision makes the shears ideal for use with eyebrows, bangs, and other body hair.
Included with these shears from Ontaki are a faux leather pouch to keep the scissors protected and a small beard comb that allows you to shape your beard or mustache before and after you trim off the split ends and longer hairs.
Pros
Perfect for trimming split ends
Exceptionally comfortable to hold and wield
Cons
Not nearly as sharp as they could be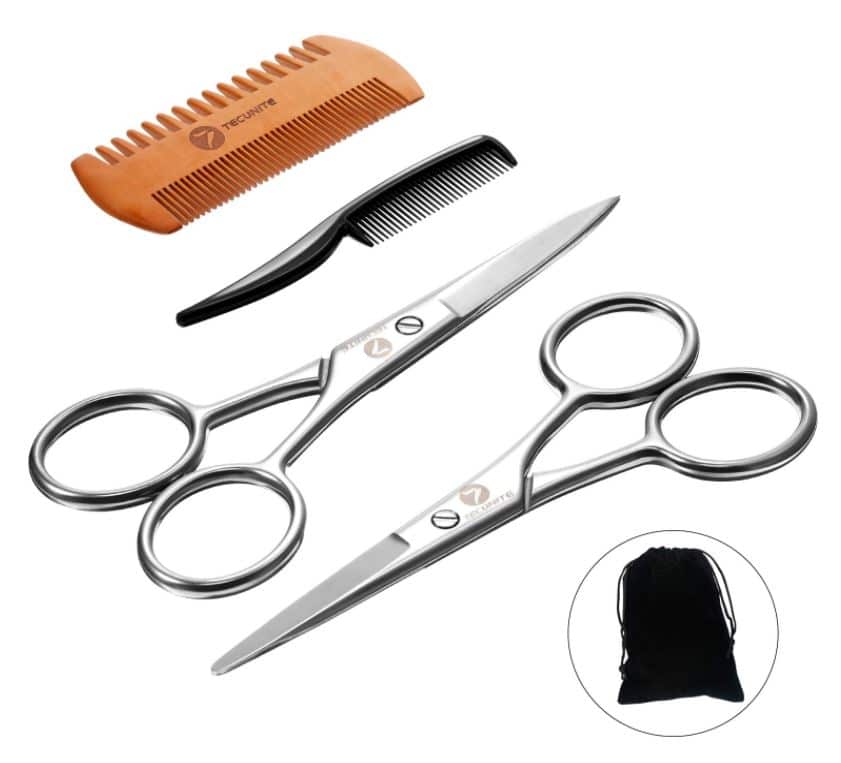 TecUnite is one of those versatile brands that design and manufacture a host of varying products. So whether you need art and craft materials, home and kitchen supplies, or beauty and grooming tools, TecUnite offers them all. Although its offerings are expansive, each is made from premium quality materials and craftsmanship.
One example of this is the TecUnite 4 Pieces Beard Trimming Scissors Set. This kit offers exceptional versatility and makes grooming your facial hair a breeze.
Specs
Features two pairs of shears both made from premium stainless steel
Includes an anti-static bamboo beard comb with two different sets of teeth
Also features an easy-to-grip black PVC for detailing while you trim
Comes with a soft fabric storage bag
Who is it Best for?
If you are looking for a beard grooming kit that doesn't cost an arm and a leg but offers everything you need to keep your facial hair looking tops, you may want to consider this kit from TecUnite.
This unique set is priced low on the cost scale, making it affordable compared to other kits such as The Art of Shaving Best Moustache Scissor or the BEARDCLASS Beard Mustache Scissors Kit Set for Men.
We decided to test this kit out to see if it provided the grooming satisfaction the TecUnite website claimed it did. We found the scissors to be sharp and very simple to use, with the painted pair perfect for those hard-to-reach snippy places around the mustache, and the rounded pair ideal for the nose and ear hairs and even for trimming sideburns.
Key features
This set of scissors from TecUnite are made from stainless steel. They are durable and resistant to rust and corrosion so that you can keep them in your bathroom or shower room when not in use and not have to worry about them becoming damaged from the steam.
One pair of scissors comes with a rounded end to prevent them from poking into soft and sensitive skin, particularly in the eat and inner nose areas.
The second pair features a pointed tip that makes it simple to snip away at difficult areas such as around the mustache while achieving precise results.
A bamboo double-sided beard comb and a PVC comb designed to aid you in cutting sleek lines accompany this set of scissors. The set is then housed in a soft fabric bag, so you need not worry about any of the pieces going missing.
Pros
The scissors are very sharp
The rounded tips of the one pair make the scissors more versatile
The carry bag is useful for keeping everything together
Cons
The combs are rather small and not very well made
Things to Consider When Buying The Best Beard Scissors
1. Sharpness for Optimal Hair Cutting
When you purchase a pair of hair scissors, the last thing you want to receive is a pair of dull shears that, at best, hack away at your hair that you then have to spend time and effort sharpening yourself. The best way to ensure you end up with a set with a sharp edge is to buy ones made from premium materials such as German or Japanese steel that retains its sharpness for much longer.
2. Safety Tips
Another element to consider when buying grooming scissors is safety tips. These are shears that come with rounded ends to prevent the scissor from poking painfully into your skin.
This type of grooming scissor is far more versatile as it allows you to also trim nose hair and ear hair. However, they are not great when it comes to detailing areas such as the mustache and sideburns.
When looking for the best beard scissors, there are several things to consider. Giving thought to the brand, durability, sharpness of the blades, style, and quality will all put you a step closer to finding the mustache scissor that most suits your needs.
By closely examining and testing each of the beard trimming scissors in this review, we concluded that they each meet the criteria discussed above, making it simpler to find the best beard scissors to meet your needs.