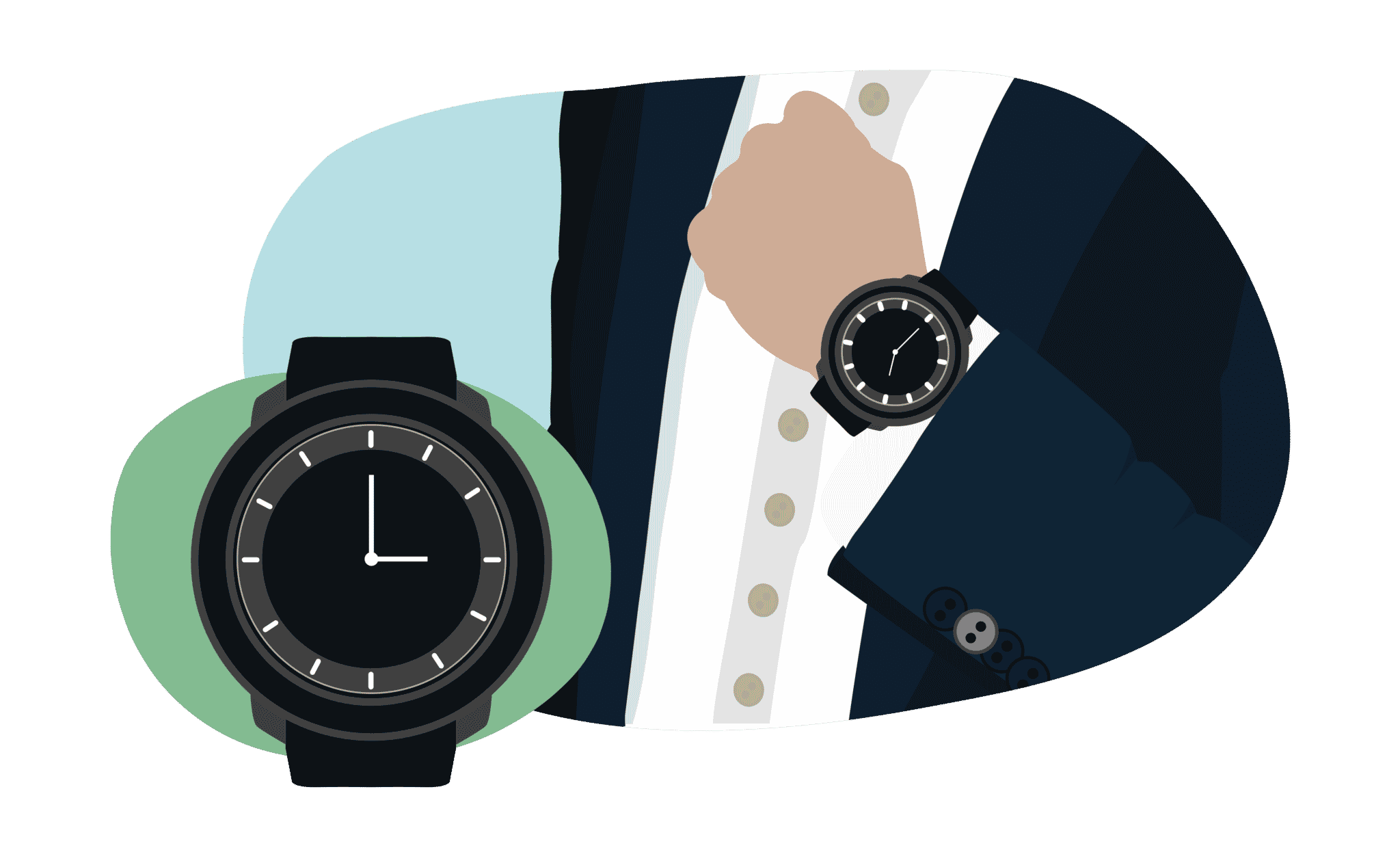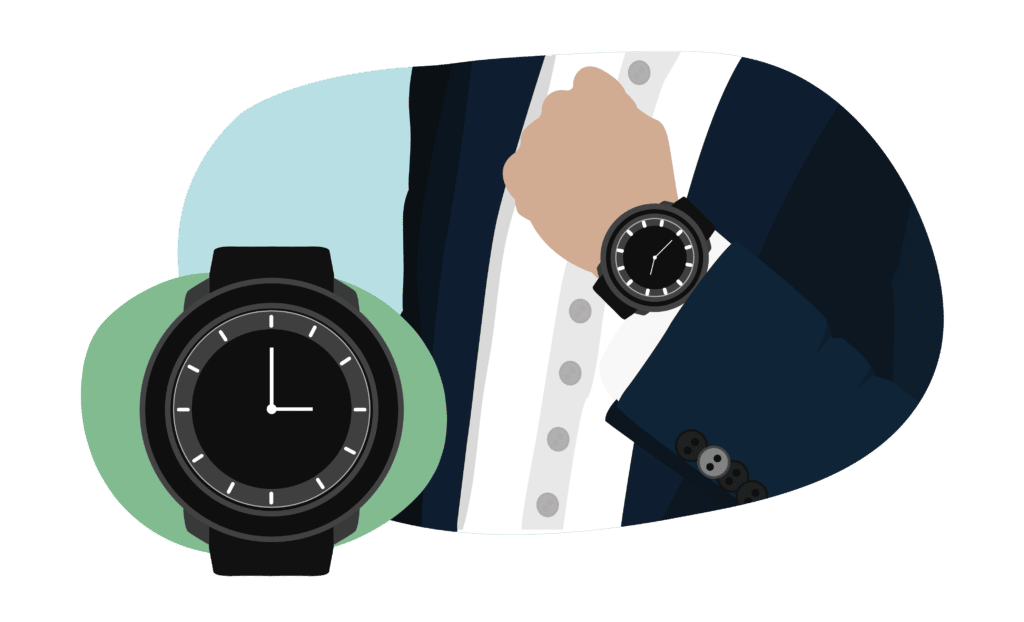 If you live life on the wild side, spending your time traversing rugged terrain, climbing sheer rock faces, or exploring the depths of the ocean, you need a watch that you can take along on these adventures. The problem comes in when you attempt to take your standard timepiece with you to high altitudes or great depths; the result usually isn't so fantastic. So what now?
A tactical watch should do the trick. These unique timepieces are designed to withstand high-impact training and daily wear and tear. It is no wonder that they are often worn by military personnel. A tactical watch includes various key features such as an altimeter, a barometer, digital compass, and they offer impressive resistance to water.
The only problem with tactical watches is that they're not all made equally. You'll want to find one that offers high-quality and great functionality. To make things less challenging, we have gathered a selection of the best tactical watches available on Amazon and reviewed each of them.
These reviews make it simpler for you to find a tactical timepiece that suits your needs so you can spend more time being an adrenaline junkie.
To find the best tactical watches on Amazon to review for you, we did our research first. We chatted to men who frequently spend time outdoors and the US military to find out what they valued most in a tactical watch. Water resistance, vivid illumination, tactical features, and durability were all key points. Keep reading to find out more and see which tactical timepieces from Amazon made our list.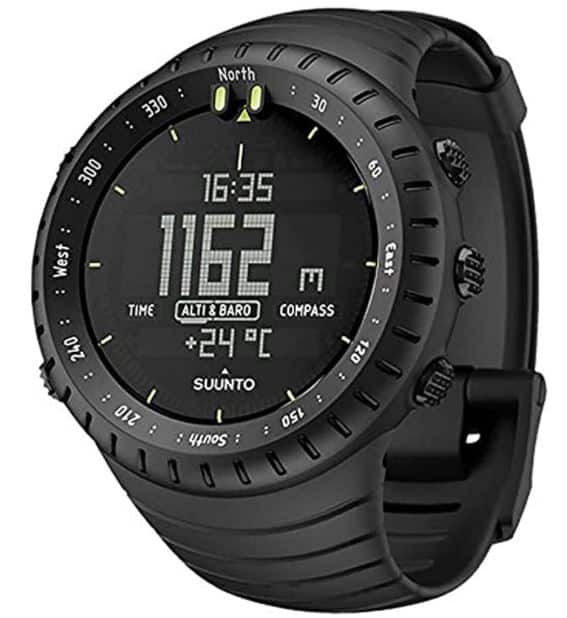 Suunto was founded in 1936 when founder Tuomas Vohlonen set about inventing the more accurate compasses for his expeditions. This love of adventure and exploration has grown over the years, and today, the brand is known for producing some of the most-loved dive watches, sports watches, and compasses.
Suunto believes that when you traverse the highest mountains or swim the deepest oceans, their watches should be there right alongside you. The SUUNTO Core Wrist-Top Computer Watch is just one of the remarkable timepieces they offer.
Specs
Includes an altimeter
Aluminum black finish
Features a barometer
Digital compass
Who is it Best for?
Whether you are an all-out adrenaline junkie or someone who enjoys camping over the weekends, this watch is for you. It comes with a vast array of features that make it more simple to navigate the world outside.
If you spend time hiking in the mountains or mountain climbing, the altimeter on this watch will prove helpful. It allows you to track your vertical movement up to 9000m. The barometer makes tracking the air pressure simple, too, so you can tell if a storm is headed your way.
Climbers will also appreciate the built-in log recorder that stores all your movements in altitude between your start and stops times. This log allows you to track how much you climbed, the duration of ascents and descents, and your average speed during ascent and descent.
Suunto offers this tactical watch in an assortment of variations, making finding the one that best suits your needs and personal style straightforward and hassle-free.
Key features
Suunto designs this digital watch to feature a black aluminum finish. This durable outdoor watch offers an extensive range of features. A sensor detects your movement, allowing the timepiece to switch between altimeter and barometer readings.
A built-in digital compass allows you to see both the cardinal or half-cardinal point and north.
This watch is water-resistant to 10m, so you can use it when diving. It also allows you to see the time of sunset and sunrise in over 400 locations.
Other features you can expect to find are a sports chronograph, dual time, the date, alarms, a countdown timer, a digital thermometer, and a menu-based user interface that comes in four languages that include English, German, French, and Spanish.
Pros
Shows time in 12hr and 24hr
Includes an intelligent storm alarm
Cons
Does not include a step counter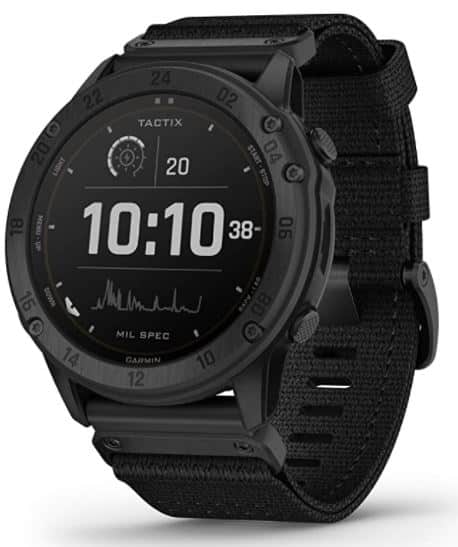 Garmin is a brand known across the globe. The brand's tagline "Built to last" speaks of its desire to furnish customers with top-quality products that offer both functionality and durability. Their mission? To create superior products in the fields of automotive, aviation, marine, outdoor, and sports that are essential to its customer's everyday lives.
The Garmin Tactix Delta Solar with Ballistics Solar-Powered Specialized Tactical Watch is undoubtedly an essential accessory for anyone who spends time roughing it outdoors.
Specs
Solar charging lens
Built to military standards
Nylon wristband
Equipped with Applied Ballistics Elite software
Who is it Best for?
If you are looking for a watch that meets military standards, then this is it. This Garmin tactical GPS smartwatch is designed to withstand even the most intensive outdoor expeditions.
Whether you are a hunter, a sniper, or someone who just enjoys target practice, this watch offers a selection of features that make shooting a target at a distance more efficient. The timepiece is fitted with Applied Ballistics Elite software that provides aiming solutions for long-range shooting.
Men part of a tactical force, law enforcement, or the military will find the night vision capabilities helpful as it allows you to view the watch even when you are wearing night goggles. Also included is a stealth mode that disables wireless connectivity and communication. This mode also stops storing and sharing your GPS position while keeping the watch fully operational.
Key features
This tactical watch by Garmin is more than just a smartwatch. The digital display rests below the solar charging lens that leaves the timepiece with weeks of battery life.
A kill switch is embedded in the watch, allowing you to erase all user information and data should security become compromised. It is no wonder this is regarded as one of the best military watches you can find.
But it doesn't end there. This timepiece also includes a Jumpmaster mode that calculates high altitude release points according to military guidelines. It also helps you navigate to your objective once you have landed.
A dual-position format allows you to sync your location with that of others by allowing you to see both the universal transverse Mercator (UTM) and military grid reference system (MGRS) on the same screen.
You can set and save remote geo locations and positions using the projected waypoints. At the same time, the Multi-GNSS allows you to track more challenging environments through the use of multiple global navigation satellite systems such as GPS, GLONASS, and Galileo.
Pros
Night vision compatibility
Includes waypoints projection
Cons
Does not have a touch screen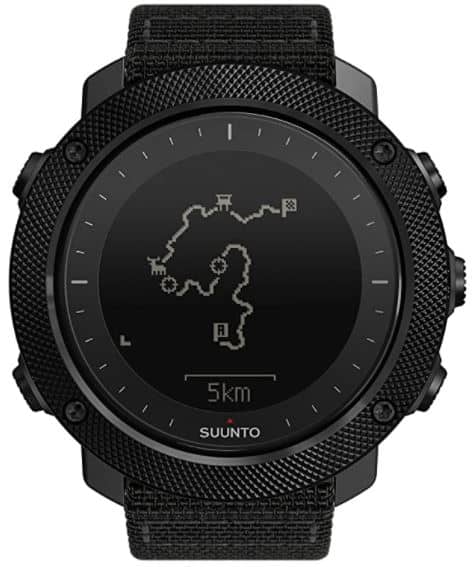 Suunto has been producing premium watches and compasses for nearly a hundred years. The brand places a firm focus on allowing athletes and explorers to push their physical limits by using the innovative and technologically advanced products the brand offers.
The SUUNTO Traverse Alpha is a remarkable timepiece designed for men who enjoy the great outdoors. The watch is made in Finland and tested to military standards, ensuring its durability and functionality.
Specs
GPS watch
100 hrs battery life
Waterproof
Digital compass
Who is it Best for?
If you love spending time outdoors and frequently find yourself hunting, fishing, or hiking, then this watch is for you. It features dedicated functions that make these activities simple and easy to navigate.
When it comes to needing a durable watch, you can't go wrong with this one. It features a robust build that offers strength and longevity.
It features a stainless steel bezel and a scratch-resistant sapphire mineral lens that offers excellent practicality when you are adventuring outdoors. The stainless steel is resistant to rust and corrosion, making it ideal for those times when you get caught in the rain.
If you want a watch, you can link it to your mobile phone; this makes a great option. It is compatible with the Suunto App that is available on iOS and Android.
Key features
This timepiece is ideal for outdoor adventuring. It comes fitted with GPS and GLONASS navigation systems. You will also find sunrise and sunset times and alerts and moonrise and set times and a moon phase calendar.
This timepiece is compatible with night-vision goggles, and it offers a red backlight that allows you to see the digital display at night.
It allows you to track your speed, distance, and altitude, and it provides a real-time breadcrumb view of the recorded route.
Also included is an altimeter and a barometer, along with a weather trend and storm alarm.
A compass is also included, and the backlight doubles as a torch, making it ideal for hunting or fishing at night.
For the health-conscious out there, it will also track your steps and calorie consumption.
Pros
Includes a backlight with a torch
Comes with a Barometric altimeter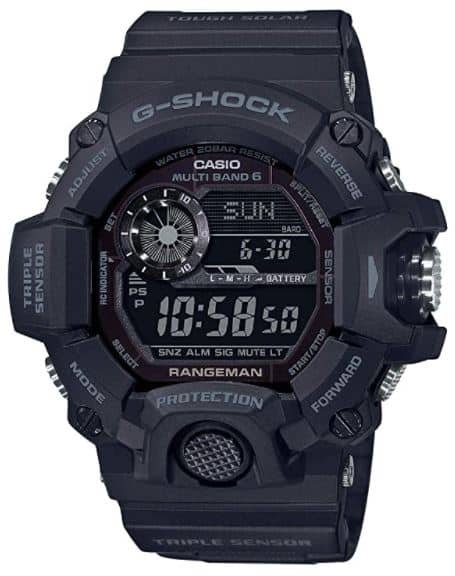 Casio was founded in 1957. The brand is highly popular worldwide and is known for its wide range of products that include timepieces, electronic musical instruments, calculators, handheld terminals, and cash registers.
The brand's ethos is "creativity and contribution," and they certainly achieved both when designing the Casio Tactical Rangeman G-Shock Solar Atomic Watch. This unique timepiece is rugged, packed full of features, and offers remarkable functionality. It is the ideal watch for any adventurer.
Specs
Digital black dial
Uses a shock-resistant triple sensor
Water-resistant to 200m
Barometer
Who is it Best for?
Whether you are in the military, law enforcement, or you enjoy getting outdoors and engaging in extreme activities, you'll want a watch that can withstand anything you throw at it. This watch is it.
Built into the watch is a shock-resistant triple sensor that allows the device to measure altitude, barometric pressure, temperature, and direction accurately.
If you are in a profession that requires accuracy or long hours of work outdoors, such as a ranger or rescue worker, this timepiece is ideal for you too. It is tough, durable, and provides remarkable accuracy.
Multiple gaskets are used on the pipes, too, keeping mud and debris out of the inner workings of your watch.
The timepiece works off solar technology and is recharged by sunlight, keeping your watch running for years without you having to worry about replacing the battery.
Key features
This watch comes with a black resin case and grey detailing. A scratch-resistant mineral crystal lens provides you with a clear view of the watch face.
Casio packs this wristwatch with an assortment of features. It offers multi-band atomic timekeeping that works off calibrated radio signals. It provides excellent shock resistance and is water-resistant to 200m.
The watch functions well in extreme temperatures and will continue to work in temperatures of up to -10 degrees Celsius. You will also find a digital compass included that displays direction across a series of 6 points.
A digital thermometer offers readings between -10 to 60-degrees Celcius or 14 to 140-degrees Fahrenheit.
An auto LED backlight with an afterglow makes the watch easy to read under poor lighting conditions. A world time indicator provides the time for 31 different time zones. Also included is a stopwatch, a countdown timer, and a full auto calendar.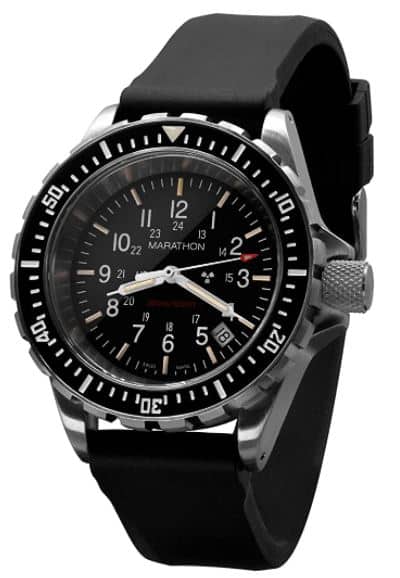 Marathon Watch was founded in 1904. Since 11941, the brand has been producing timepieces for the Allied Forces. The brand states that "Marathon watches combine military durability with Swiss engineering and craftsmanship to ensure the highest level of quality and precision."
This level of detail and design can be seen clearly in the Marathon Watch Tsar Swiss Made Military Issue Milspec Diver's Quartz Watch. It is no wonder this field watch is loved by military personnel.
Specs
Analog display
Sapphire crystal lens
Comes with a rubber strap
Tritium gas tubes
Who is it Best for?
If you work in the military or seek a military-grade watch, take a closer look at this watch by Marathon. It offers a wide range of tactical features that make it both versatile and durable.
The timepiece is Swiss-made and uses ETA F06 high-torque three jewels Quartz movement. It even features an end-of-life indicator. These watches are made per US Government guidelines and are worn by US troops.
If you work with search and rescue, then this watch is for you too. It is submersible up to 300meters or 1000 feet, making it an incredible dive watch and perfect for situations when you are performing a rescue mission out at sea. The timepiece offers remarkable durability and functionality that compliments even the most intensive outdoor activity.
Key features
Marathon fashions this watch from 316L surgical-grade stainless steel, making the watch resistant to rust and corrosion, just what you need when working as a rescue diver. The watch glass is made from a synthetic sapphire crystal that allows you to dive at great depths, and it resists scratches.
This timepiece makes use of self-contained Tritium gas tubes. These tubes ensure constant visibility in low-light situations and can be found on each hour marker at the numerals and each hand. The bezel is marked with Maraglo at the 12-hour marker.
The straps of this watch are Italian-made vulcanized rubber. These straps are durable and waterproof, and best of all, they come scented like vanilla.
Pros
Designed for search and rescue
Water-resistant up to 300m
Vanilla-scented vulcanized rubber straps
Cons
Not everyone will love the vanilla-scented straps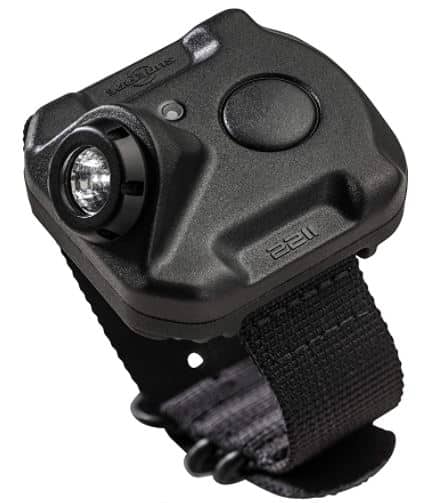 SureFire was founded in 1969 by Ph.D. Engineer Dr. John Matthews, who had a passion for lasers. His work saw him develop lasers and light sources that could be mounted onto firearms that would work to assist military and law enforcement officials. Today, the brand offers a wide assortment of tactical gear, from hearing protection and high-capacity magazines to flashlights and even batteries.
The SureFire 2211 WristLight Series with Luminox Watch is another of this brand's military-grade products.
Specs
Comes with a Luminox watch
Rechargeable
Lightweight aerospace aluminum construction
High-performance LED
Who is it Best for?
Whether you are an EMS worker, a law enforcement official, or military personnel, this watch is for you. It features a Luminox timepiece fitted into a lightweight, aerospace aluminum body that attaches securely to your wrist with a rugged and durable rubber wristband.
The wristwatch's self-illuminated hands make it easy for EMTs to see the time even in low-lighting conditions. The analog watch features a Swiss quartz movement that keeps it accurate, making it ideal for use by individuals who work in arenas where matters become time-sensitive.
If you are a fan of the Luminox brand, this is one watch you want to try out. It offers remarkable durability, and it comes with a tactical light that makes it ideal for use by those who work with firearms and weaponry.
Key features
This unique timepiece sees the integration of a high-quality Swiss-made watch and a lightweight aluminum body. This watch is rechargeable and comes with a self-illuminating dial. Included in the body is a high-performance LED light. This LED's light is focused by a refractive optic that broadens the beam, allowing the light to offer a 300-lumen field of MaxVision Beam-shaped light for tactical use.
It allows the user to choose from the light's variable output, which comes in 300, 60, and 15-lumens. When run at a constant 300-lumens, the watch offers one hour of battery life. However, when used at 15-lumens, it can function for up to 13-hours. A built-in LED fuel gauge will let you know when the battery needs recharging.
The light will ergonomically align when a two-handed firearm grip technique is employed by the wearer, making it great for use by law enforcement officials.
Pros
Three setting light source
Offers extreme durability
Cons
Not made for use by left-handed individuals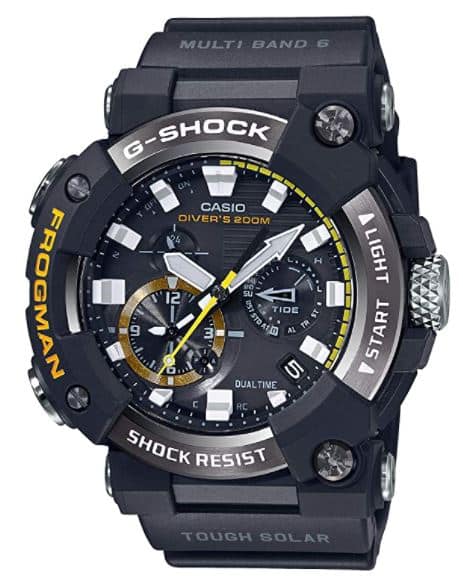 Casio is a brand driven by its goal to provide customers with products that feature high-performance technology with creative designs and innovative solutions. These products are made to better our lives, making things more efficient and more enjoyable.
The CASIO G-Shock FROGMAN GWF-A1000-1AJF Solar Watch does just that, making diving with your watch a breeze. It is the ideal timepiece for adventurers, divers, and law enforcement officers, and it offers a range of functional features that make life more simple.
Specs
200m water resistance
Multi-Band 6 Atomic Timekeeping
Solar powered
Links to your smartphone via Bluetooth
Who is it Best for?
If you work as a diver, search and rescue, or even the coastguard, this watch is a must-have for you. It offers various features that make your life as a diver easier, and best of all, it provides impressive water resistance. The timepiece is water-resistant to a depth of 200m, allowing for deep diving missions.
Men who prefer an analog face will appreciate this watch. It comes with a dual time display and diving time measurement; both are presented as analog.
Both the hour and minute hands are treated with a luminescent coating that makes them clearly visible in low light conditions.
If you have a family member who works as a diver, this watch makes an excellent gift. It is fashionable, durable, and functional.
Key features
The Frogman by Casio features a carbon monocoque case that combines the back cover together with the case making it highly waterproof and robust. The bezel is made from stainless steel that leaves it resistant to rust and corrosion.
The band is made from a fluorine elastomer that is designed to withstand harsh environments so you can be sure your watch won't break off your wrist.
This analog watch works off Japanese quartz movement and allows for accurate time-telling.
Bluetooth compatibility allows you to connect your watch to your phone to adjust the settings of your watch.
The watch works off solar power and is both magnetically resistant and shock-resistant, making it durable and ideal for high-impact situations.
Pros
Offers tide information for over 3000 destinations
Cons
Only comes in one color option
8. Luminox XS.3503.NSF Navy Seal Foundation Exclusive Sea Series Watch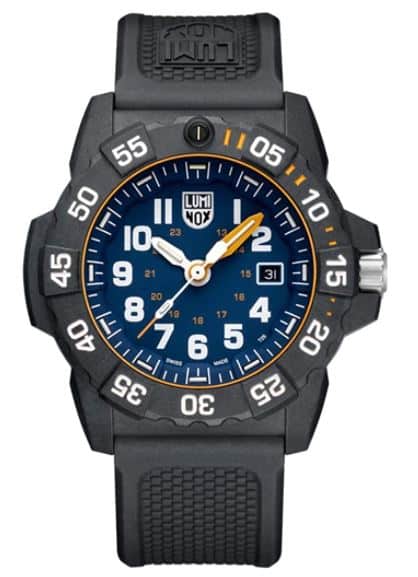 Luminox is a California-based luxury watch manufacturer. The brand was founded in 1989 and today provides watches for various officials, including the US Airforce, US Coast Guard, and EMS workers.
Luminox watches are known for using Tritium gas tubes that offer luminescent markers that provide long-term luminescence. The Luminox XS.3503.NSF Navy Seal Foundation Exclusive Sea Series Watch is part of the Navy Seal watch series first developed in 1992 that made the brand famous.
Specs
Features a Carbonox case with crown protection
Luminox bezel
Scratch-resistant mineral crystal lens
Swiss quartz movement
Who is it Best for?
In 1992, Nick North, Assistant RDT&E Officer for the Navy Seals, was asked to find a dependable watch that the Navy could use for night missions. He came across Luminox and worked with them to develop a timepiece that met the Navy's specifications. It is no surprise then that this watch is water-resistant to 200m, making it the perfect wristwatch for divers, sea rescue workers, and EMTs.
If you prefer an analog watch, then you will enjoy this one. It comes with a black PU wristband that features a stainless steel buckle that is resistant to rust and corrosion, making it ideal for guys who spend time in the water more frequently than most.
The watch is highly durable and features a stainless steel back case, along with a uni-directional, rotating carbon-reinforced bezel.
Key features
This unique timepiece features a mineral crystal watch glass that is resistant to scratches and scuffs. It is always visible, offering a constant glow for up to 25 years thanks to the Luminox self-powered illumination that uses Tritium tube technology.
This technology is vital to individuals who need to be able to see their watches in any condition without having to rely on light or batteries to illuminate their timepieces.
These Swiss-made watches use Swiss quartz movement, ensuring accuracy at all times.
The watch features a unique royal-blue dial with white numerals and hands. It also includes a date window that allows you to the current date, along with the time. Luminox has designed this watch to be highly functional and leave the wearer looking stylish.
Pros
Features Luminox light technology
Cons
Maybe a bit small for some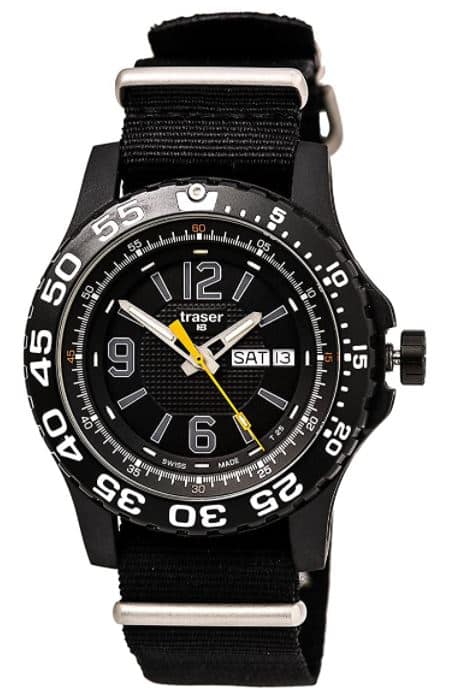 Traser's first watch, the Original, made its debut in 1989. It was the first-ever self-illuminating watch and was supplied to the US military. Today Traser is known for its wide selection of remarkable timepieces. The brand focuses on designing and creating dive watches, tactical watches, and outdoor watches.
The Traser 100269 P66 Type 6 MIL-G Tactical Swiss Watch is just one of the impressive offerings from this Swiss company. It is the ideal wristwatch for anyone looking for a durable and functional timepiece.
Specs
Black nato strap
Analog
Shock-resistant
Swiss quartz movement
Who is it Best for?
Men who enjoy a stylish analog watch that offers simplicity in design will appreciate this unique wristwatch. It features a black dial, case, and Nato strap.
This watch was inspired by Traser's first-ever watch, "The Original," a wristwatch designed for use by military personnel. It is highly robust and can easily withstand anything you throw at it, so whether you use it when rock climbing, hiking, or during a rescue mission, this watch won't let you down.
If you're looking for a watch to give to your brother, father, or son as a gift, this timepiece by Traser makes an excellent option. It features a Swiss quartz movement that ensures your time is always accurate.
Key features
Functional, durable, and bright are three words that perfectly sum up this tactical watch by Traser. It is shock-resistant, so you can be sure it will keep on ticking no matter what situation you get into.
It features a stainless steel core that is resistant to rust and corrosion. This core is then covered with a glass-fiber polymer outer case. The watch glass is made from a sapphire crystal that has been treated with an anti-reflection coating. This watch glass is as durable as they get and is resistant to scratches and scuffs.
The dial illumination is where Traser makes a real impact. The watch uses Trigalight self-illumination that leaves the wristwatch permanently illuminated by using Tritium gas that causes a vibrant and constant luminescence.
Pros
Scratch-resistant sapphire crystal lens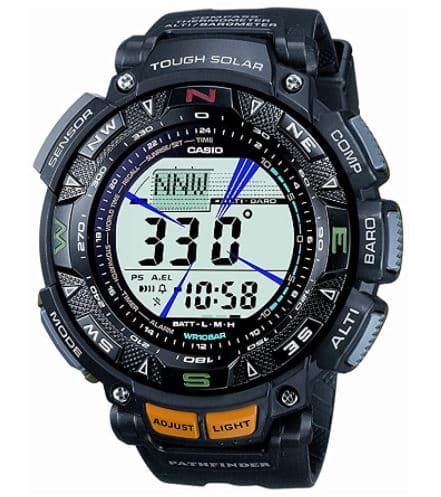 Casio is a brand that aims to provide its customers with creative solutions to their everyday needs. The company focuses on a wide selection of electrical goods, from calculators and musical instruments to handheld devices and watches.
The Casio Pro Trek Men's Pathfinder Triple Sensor Multi-Function Sport Watch forms part of the Pro Trek range designed for outdoor adventurers who need watches that offer durability and functionality. Offering a plethora of features, this watch is a must-have for any outdoorsman.
Specs
Quartz movement
Includes an Altimeter and a Barometer
Six months battery life
Stainless steel case
Who is it Best for?
The Pro Trek Pathfinder is a watch designed for men with a taste for outdoor adventure. Swimmers, fishermen, hikers, campers, and mountain climbers will benefit from the incredible features this timepiece offers.
The watch is water-resistant to a depth of 100m which means it isn't ideal for use while scuba-diving, but you can use it for snorkeling and recreational swimming.
It comes with other features such as a 1/100 second stopwatch with elapsed time, split time, and first and second places, and a countdown timer that athletes who are training will find helpful.
If you're looking for an ideal gift for the sportsman in your life, this watch by Casio makes an excellent choice. It is sleek, stylish, and it comes with a great assortment of features.
Key features
This versatile timepiece comes with a stainless steel case that is resistant to rust and corrosion. The watch glass is made from a mineral crystal that resists scratching and scuffing. A resin wristband with buckle closure makes it easy to get the watch on and off your wrist, and it offers excellent durability. The digital display runs with a quartz movement that leaves you with the precise time every time.
Solar brings power to this unique watch by charging up the built-in rechargeable battery. The wristwatch will recharge every time it is exposed to light.
Some of the features this watch offers include an altimeter, a barometer, a thermometer, and low-temperature resistance. An EL backlight makes it easy to see the digital display in poor lighting conditions, while the world time offers time for 45 different cities over 31 time zones. Also included are five daily alarms and a full auto calendar.
Cons
Not for use when scuba diving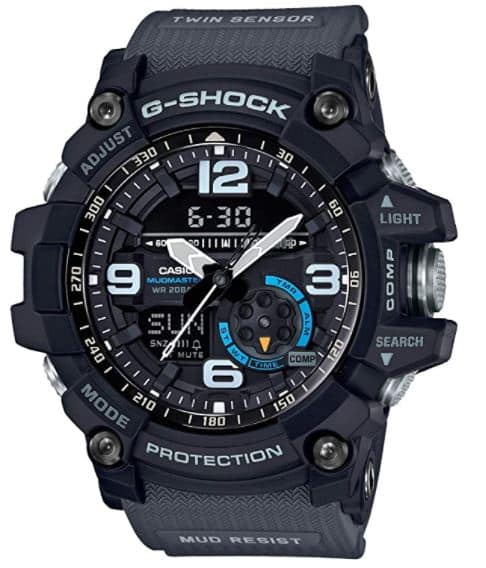 Casio takes pride in crafting durable and functional timepieces that are as stylish as they are helpful. Their watches come in various ranges; some are aimed more at sports professionals, others are made with divers in mind. Then, there are those crafted specifically for men who take part in land-based exploring and adventuring.
This is known as the Mudmaster series, designed to withstand wear, tear, and mud. The Men's Casio G-Shock Master of G Mudmaster Twin Sensor Watch is one of many in the series made for men who enjoy rugged land-based sports.
Specs
Features multiple gaskets to keep the mud out
High luminosity LED backlight
200m water resistance
Shock-resistant
Who is it Best for?
If and exploration, hiking, camping, trail running, mountain biking, or abseiling are your kind of thing, then this watch is for you—Casio fashions their Mudmaster wristwatch to withstand muddy situations and rough work.
The watch features multiple gaskets placed on the pipes to the guide buttons and shafts to keep out the dirt and mud, preventing it from damaging the buttons and inner mechanisms of the timepiece. If you love taking part in warrior races or obstacle courses and want to record your time, give this watch a try.
A black resin strap that is resistant to mud and water further adds to the durability of this watch, and it makes it easy to keep clean.
Perhaps your father, brother, or son is an avid explorer; if so, and you're looking for a great gift for them, this watch makes an excellent option.
Key features
Casio's unique watch comes with a black resin case and offers an analog dial covered with a mineral crystal resistant to scratches and scuffs. It features a Japanese quartz movement for accurate time-telling.
The watch features a highly luminescent LED backlight, and it features Neobrite detailing on the face. It is rechargeable and comes with a low battery indicator.
Casio has designed this watch to provide water resistance to a depth of 200m, making it wearable even if you go scuba diving.
Also included are an assortment of other features such as a built-in thermometer and a digital compass with 16 points. It provides the world time across 31 time zones and includes a countdown timer and a stopwatch. Five alarms make getting up in the mornings a cinch.
Pros
Features world time for 31 time zones
Includes a countdown timer
Cons
Features a standard size wristband only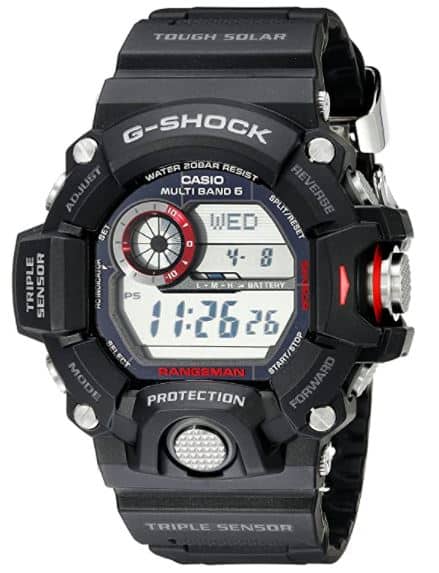 Casio designed its G-shock range to be the best analog-digital and digital watches for athletes, military personnel, and law enforcement officers. Designed to withstand extreme conditions, these watches are loved by outdoor aficionados across the globe. They are durable, reliable, and offer impressive water resistance, making them ideal for an outdoorsman.
The G-Shock Rangeman GW-9400 is one of the watches in this remarkable series. If you love the outdoors, this watch makes the ideal addition to your tactical gear.
Specs
Stainless steel design
Solar powered
Quartz movement
Mb6 atomic timekeeping
Who is it Best for?
If you are a man who likes variety, you will appreciate this watch from Casio. It comes in black with red detailing or in army green with yellow and black detailing. These choices allow you to find one that best suits your taste and style.
When it comes to gifting, finding something that is unique can be challenging. If there are men in your family who spend a significant amount of time outdoors exploring, camping, fishing, or otherwise, the Rangeman by Casio makes an excellent option. It comes with a pretty neat storage tin/gift box that makes it even better to gift.
Men who are looking for a durable digital watch should take a closer look at this timepiece; it is hardy and stylish.
Key features
The Rangeman comes with a stainless steel case that leaves it resistant to rust and corrosion, a fairly handy feature considering the watch is also water-resistant to a depth of 200m. As a result, this watch is great to wear even when you go scuba diving, snorkeling, or swimming.
The lens is made from a mineral crystal that is resistant to scuffs and scratches. It uses quartz movement and features a stationary bezel.
Easily used as a military watch, the Rangeman comes with an assortment of additional features. It works with tough solar power, and it features a triple sensor that allows it to work as an altimeter, a barometer, and a thermometer. The timepiece is also resistant to very low temperatures and shock, it uses Mb6 atomic timekeeping, and it comes with a countdown timer and stopwatch.
Pros
Offered in black or army green
Cons
Does not measure heart rate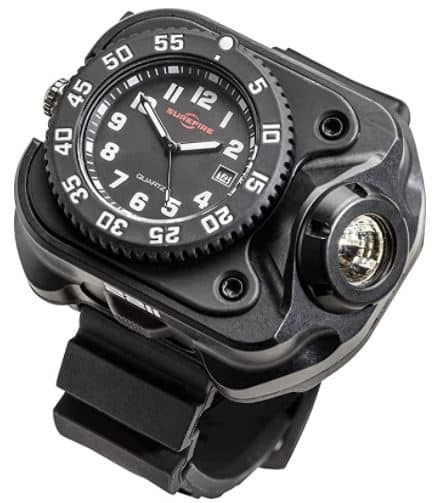 SureFire began in 1969 as a company that focused on laser and lighting solutions to be used in conjunction with firearms. Today, the brand offers a far more comprehensive selection of tactical gear and military and law enforcement-related products. SureFire provides products of premium quality and impeccable design, from illumination and suppressors to apparel and military watches.
The SureFire 2211 WristLight Series with SureFire Watch is one of the timepieces they offer that caught our eye. This timepiece falls within the MaxVision range, designed to provide tactical illumination when you need it most.
Specs
Includes a Surefire watch
Rechargeable
Features a precision faceted reflector
Offers a MaxVision Beam
Who is it Best for?
If you work with search and rescue, law enforcement, or the military, you may find this timepiece useful. It forms part of SureFire's MaxVision series that is designed to provide a beam pattern that 'floods the entire 170-degree field of human vision with shadow-filling light.' No matter how dark the outdoors becomes, you will be able to light it up in an instant.
The wristband is made from sturdy nylon that is durable and resistant to water and mud, so no matter where your mission takes you, your watch will be along for the ride.
If it's analog watch faces you prefer, you're in for a treat. Included with the light is an analog SureFire watch that makes keeping the time efficient and straightforward.
Key features
This wristwatch by SureFire offers sound construction and a light that is unrivaled by any others on the market. The EDC light features a precision faceted reflector that provides optimum illumination from the MaxVision beam.
You can use the light at three different levels. At its brightest, it sits at 300 lumens, while mid-range offers 60 lumens. If you switch it over to the lowest setting, it will provide a discreet 15 lumens of light.
Incorporated with the light is a SureFire watch fact. This analog watch runs off quartz movement and is rechargeable. A fuel gauge indicates the amount of battery life left and when the wristwatch will need recharging.
The all-black design on the watch is both stylish and minimalistic. It features vibrant white Arabic numerals that illuminate in the dark.
Pros
Offers three light settings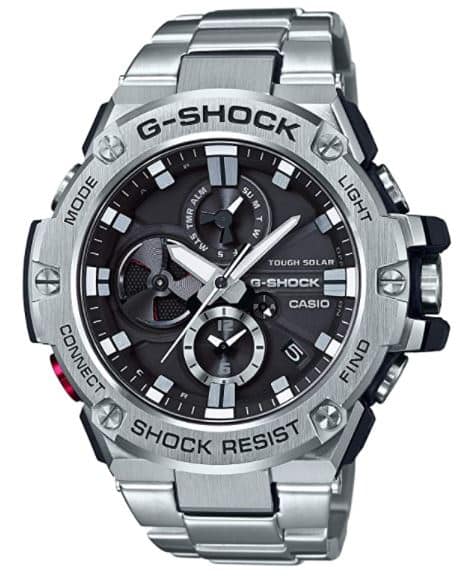 Casio is known for its durable tactical watches designed for use in rugged outdoor situations. But, what about when you are heading to a meeting with your superior, or you're connecting with clients? A rough all-terrain watch with vibrant colored detailing is not always the smartest option.
Casio knows this, which is why they have designed the sleek and stylish Casio Men's G-Steel by G-Shock Quartz Solar Bluetooth Connected Watch. This timepiece is the Rolls Royce of tactical watches when it comes to style and elegance.
Specs
Includes a chronograph
Quartz movement
Stainless steel strap
Water-resistant to 200m
Who is it Best for?
If you're looking for a wristwatch that offers all the tactical features of a Casio G-shock, but that is elegant in the way it looks, then this is the ideal solution. Casio's G-steel provides you with a wide array of functions and features; all packed neatly into this sleek stainless steel watch.
If you're a Waterpolo player or work as a swim instructor, then you can benefit from this watch too. It provides water resistance to a depth of 200m, making it safe to wear while you train, snorkel, or swim.
The watch comes with a sleek gift box/storage tin that makes this an excellent gift too. If you have a dad, brother, or son who requires a more fashionable tactical watch, this is the one to give them.
Key features
Casio crafts this timepiece from a carbon case and a stainless steel band. A mineral crystal dial cover keeps it free from scratches and scuffs, leaving it looking like new, even years down the line.
The G-steel offers a smartphone connection and works via Bluetooth. Powered by solar, the watch recharges each time you are in the sun, keeping the battery recharged constantly.
The analog dial works off quartz movement and features a chronograph. A dual dial offers world time, and the numerals and hands are treated with Neobrite so that you can see the time, even in low lighting conditions.
It includes a stopwatch and countdown timer too, as well as five multi-functional alarms and a full auto-calendar. The watch can run for up to six months off a full charge and no exposure to light, making it ideal for every situation.
Pros
Super illuminator LED light
Cons
Is not magnetic-resistant
Things to Consider When Buying The Best Tactical Watches
A tactical watch isn't your average wristwatch. Instead, these timepieces offer remarkable durability and can meet the needs of EMTs, law enforcement officers, military personnel, and extreme athletes. With that being said, there are a few things to consider when buying a tactical watch to ensure you end up with one that meets your needs and offers high quality.
Giving thought to these various elements will also make it less of a challenge to find the watch that appeals to you most because let's face it, you could be trawling through options for days on end with all the options out there and still not find one you love.
1. Durability
When buying a tactical watch, one of the most important aspects to consider is durability. You want a timepiece that can withstand almost anything. How robust a tactical watch is will lie predominantly with the design and the materials from which it is made.
Case:
When it comes to a watch case, you want one that is going to protect the internal workings of your watch from water, moisture, dirt, and collisions.
A stainless steel case is one of the most durable because it is resistant to rust and corrosion, and it still looks impressive.
Carbon fiber is another material you may come across. While this looks impressive, it is rather costly and is not nearly as scratch-resistant as stainless steel.
Dial Cover:
Dial covers are also made from an assortment of materials, from acrylic and glass to mineral and sapphire. Acrylic and glass are not worth looking at when buying a tactical watch. The former scratches and scuffs at the drop of a hat, and the latter is easily breakable, not something you want in combat.
Mineral crystal is heat-treated to make it more resistant to scratches and scuffs. It is far more durable than acrylic or regular glass.
If you want the best of the best, go with a sapphire crystal dial cover. Second, in hardness to diamonds, sapphire offers a clear view of your watch dial and is impervious to scratches and scuffs.
2. Accuracy
Accuracy in a tactical watch could mean a matter of life or death if you are military personnel or law enforcement. For this reason, we suggest keeping away from a mechanical wristwatch that requires constant winding and instead opt for a digital or quartz movement timepiece.
A mechanical watch may drift up to six seconds a day, whereas a quartz watch is not allowed to drift more than 0,07seconds a day to be deemed accurate. We don't know about you, but for us, that's a vast difference.
Mechanical watches are not as resistant to shock or collisions as digital or quartz watches, which also should be an indicator that they don't make for ideal tactical timepieces.
3. Luminescence and Visibility
Having a tactical watch that is visible no matter how poor the lighting is, is essential, especially if you work in search and rescue or the military. Different brands will use different methods to illuminate their watch dials, some highly effective, and others not so much.
Today, tactical watches will generally come with two types of luminosity:
A luminous coating such as Casio's Neobrite technology is a luminous coating found on watch hands and numerals. After a short exposure to light, this coating will glow or provide luminescence in poor lighting conditions. The only problem is that this light only lasts between three and five hours, and it needs exposure to sunlight to be activated.
This is a type of luminescence that covers the entire dial face. It appears as a pale blue tint to the dial face in the light, but in poor lighting conditions, it glows a vivid greenish-blue, making it easier to see the numbers and hands on the dial.
Tritium or Self-Luminance:
This type of illumination on a tactical watch is becoming more and more popular. It sees tubes filled with a hydrogen isotope, Tritium, that luminesces continuously for up to 25 years. This continual source of light means your watch will be permanently luminescent, making it ideal for divers, or search and rescue workers who find themselves in the pitch dark frequently.
Another form of watch face visibility is a backlight which comes in handy with a digital watch face. You will want to look at a watch that offers a durable and powerful backlight, and if it can double as a torch, even better.
4. Water and Pressure Resistance
If you want a tactical watch that is water-resistant and can be used at depth, then the thing to look out for is Iso water resistance or ATM.
This is not a measure of depth but rather how much atmospheric pressure your watch can withstand. Remember, when diving, your wristwatch is subjected to greater water pressure the deeper you go. If you surpass the pressure your watch can withstand, the likelihood of it springing a leak or cracking will increase.
When the watch manufacturer says your watch is water-resistant to a depth of 200m, they mean that the watch can withstand the pressure that comes with that depth, where after the pressure will be too great, and the timepiece will begin to take on water.
A watch that is water-resistant up to 200m can withstand 20ATM. If you're looking for a tactical watch that you can dive with, this is the minimum suggested ATM.
5. Additional Features
Tactical watches are not all made equally. Some are designed for wear with more land-based activities, others are better for use with water sports or search and rescue, and some come with features that accommodate both. Give some thought to why you want a tactical watch and the sort of features that will be most beneficial to you.
An altimeter is an altitude meter that allows you to read or measure your altitude above a fixed point, such as sea level. This is useful for hikers, mountaineers, and pilots.
A barometer measures the changes in air pressure. This handy device will help you to see if a storm is on its way. A sudden pressure drop is a good indicator that a storm is heading your way.
A thermometer allows you to keep track of the temperature around you or of your body temperature.
Whether analog or digital, a built-in compass makes it easy to navigate your surroundings and is used both at sea or while traversing terrain, especially that which is rugged or unplotted on a map.
Some tactical watches, usually those of a digital kind, come with this feature. It allows you to erase all user information such as GPS locations, distance traveled, and any other sensitive data stored on your watch with the touch of a button.
This allows your watch to operate as usual, but it essentially hides your GPS location and tracking information, and it also prevents the watch from logging the route you are taking when this mode is activated.
This unique coating prevents light from reflecting off the surface of your dial cover, so you won't be discovered if you're hiding out and a flashlight is aimed in your direction.
Some watches allow you to connect to your smartphone to change settings, log data, or respond to text messages.
Buying an excellent tactical watch can be challenging. With so many options out there and a vast assortment of features to choose from, things can get confusing. We hope our insights and reviews have made it a little more straightforward when it comes to finding the best tactical watch for your needs.
If you're still in doubt, our top pick goes to the Garmin tactix Delta Solar with Ballistics Solar-Powered Specialized Tactical Watch. This timepiece offers an impressive selection of features, and it looks sleek too.