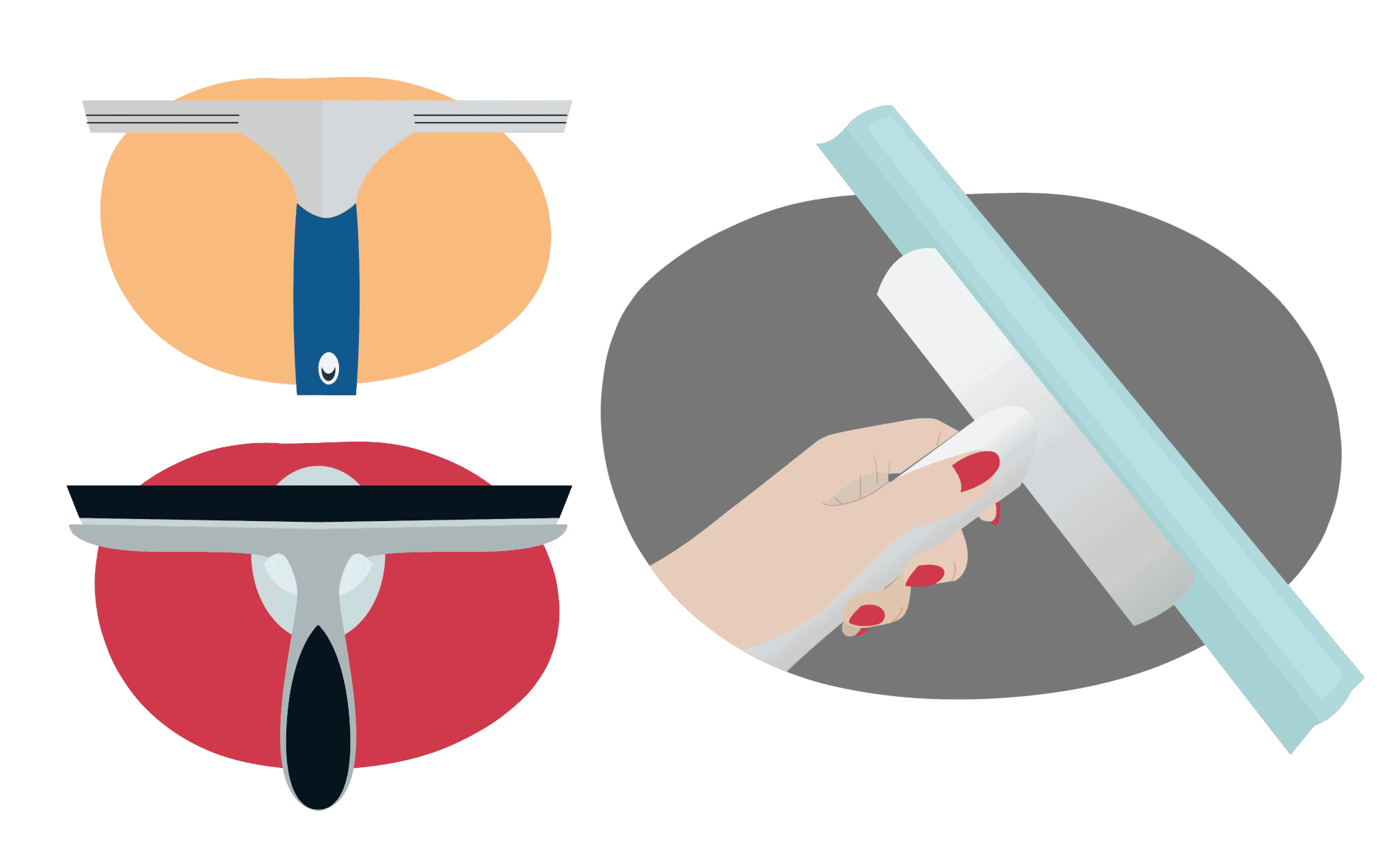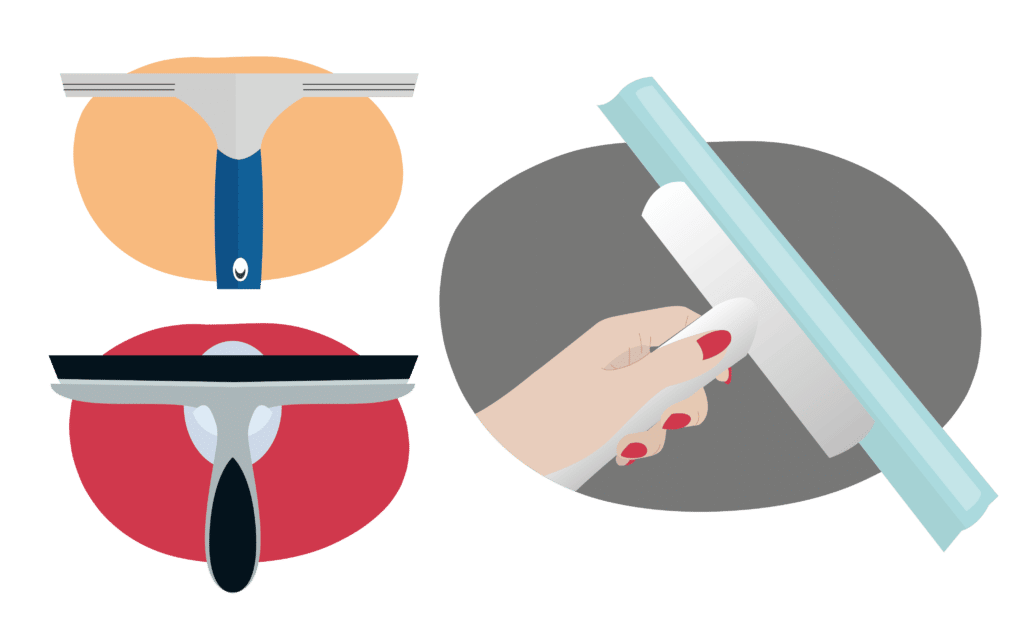 Modern bathroom design sees the use of expansive sheets of marble and glass. While both these materials look luxurious and elegant, both need to be wiped clean of water to avoid watermarks and staining. I'm not sure about you, but the idea of having to wipe down the walls and door of my shower stall after each shower sounds like a lot of work. So, what is the solution?
A good shower squeegee should do the trick. Quite quickly and painlessly too. They remove excess water in an instant, leaving your surfaces gleaming.
But, you will find that not all squeegees are made the same. Some come with sharp edges or are poorly put together, in which case, they won't last. We have put together reviews on the six best shower squeegees that Amazon has to offer, making it easy for you to find one that won't scratch your glass or fall apart after two passes over the shower door.
[Hubnav]
To find the bathroom squeegee, and six at that, we researched the various options available. Each squeegee on this list offers efficiency, functionality, durability, and a touch of style. They are simple to use and won't fall apart after a few uses. Let's look more closely at each shower squeegee that made the list.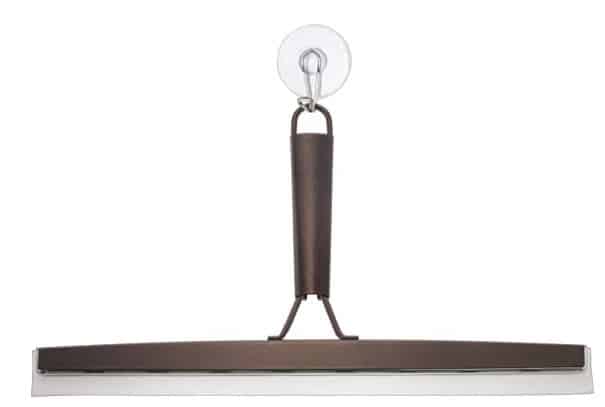 InterDesign, or iDesign as they are now known, offers practical solutions for home organization, making life simple. They combine innovation, flexibility, and practicality to create handy household products that won't break the bank.
iDesign's Forma Metal and Plastic Bathroom Squeegee is one such product. It makes cleaning surfaces such as shower doors, glass windows, and marble cladding quick and easy. Eliminate water spots in seconds with this durable, lightweight bathroom squeegee.
Specs
Made from stainless steel
Includes a suction hook for storage
12-inches in length
Compact
Who is it Best for?
This dual scraper and squeegee are ideal for anyone with a shower with a glass door or walls or marble cladding. It features a scraper that helps remove soap scum and a squeegee that efficiently removes water droplets from your flat surfaces. This goes a long way in preventing watermarks on the glass and marble.
If you're not a fan of spending time wiping down your walls with a terry cloth or other microfiber towels to remove water from your shower stall, then you need this squeegee. Unlike cloths, it won't leave lint or fluff on the shower glass, something that can be just as unsightly as water spots.
If you have large outdoor windows, this gadget will work well there too. It is perfect for any large, flat surface.
Key features
This bathroom squeegee by InterDesign is made to last. The stainless steel squeegee is rust-proof and resistant to corrosion, just what you need for a device you're planning to keep in the shower. The lifespan of a stainless steel tool is remarkable and makes it well worth your hard-earned money.
A durable, flexible blade seamlessly cleans steam, water droplets, and soap off your shower walls, doors, car windows, and household windows.
The squeegee comes in a stylish bronze shade that gives it a more elegant look than your average household cleaning appliance. Because it looks so great, hanging it in the shower from the provided suction cup hook won't detract from the interior decor of your bathroom.
The 12-inch blade is the ideal size for cleaning a range of surfaces. It allows you to clean even the sharpest corners. Because it is so lightweight, it is easy to wield and won't leave you with hand or wrist fatigue.
Pros
Comes in a subtle bronze shade
Can be used on car windows much like a windshield wiper
Cons
Tends to make a screeching noise when in use.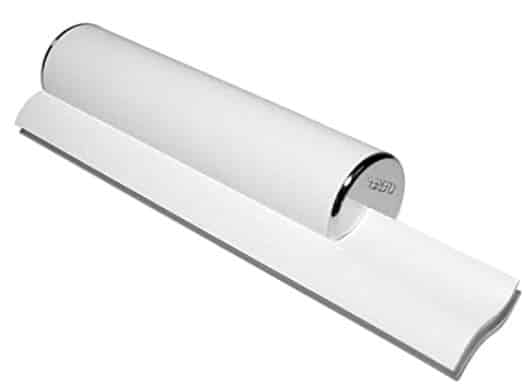 When you design a squeegee that becomes declared a work of functional art, and that piece then earns a spot in the Smithsonian's permanent design collection, you know it is something special.
The Cleret Elite Bath & Shower Squeegee has earned this award and many others to boot. This unique piece of homeware has even been described as "A squeegee for people who don't do windows" by The Wall Street Journal. It is sleek, minimalist, and elegant, everything you wouldn't expect a squeegee to be.
Specs
Features 10-inch cleaning blades
Works on smooth or irregular surfaces
Includes polished chrome end caps
Durable
Who is it Best for?
If you have a bathroom that is a work of art itself, you will need an equally elegant bathroom squeegee to match. This one by Cleret is just the one for you. It is sleek, stylish, and awe-inspiring.
Aside from being a work of art, this squeegee is highly functional too. Make no mistake; it is not one of those elements that look great but is useless otherwise. This squeegee is remarkable in the way it cleans water spots off the glass, tiles, marble, and even metal.
If you have a bathroom with a large amount of glass, large mirrors, or marble cladding, this squeegee is for you. It is easy to use and won't leave fluff or lint on your surfaces the way a terry cloth will. It is also much faster than using a cloth.
Key features
This unique squeegee features two polished chrome end caps. These caps add a touch of style to the device but, they also act as a base that stands the squeegee up in the bath or shower. This minimalist design ensures the unit doesn't take up too much space.
Dual ten-inch cleaning blades work together to clean water of just about any surface, even those that are irregular such as a curved car windshield.
The blades are made of durable, specially formulated PVC that offers a squeaky clean and spotless surface after just one pass. The handle is easy to hold thanks to the ergonomic design, making it simple to use. The shape prevents your hand and wrist from becoming fatigued, making utilizing the squeegee pleasurable.
Cons
Replacement blades are not sold separately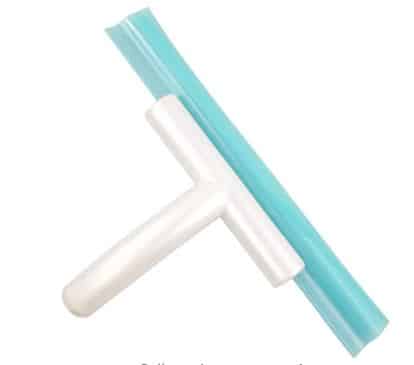 Cleret created the first shower squeegee in 1989. Since then, they have been crafting top-of-the-line squeegees. The brand places focus on design, function, and quality, and it shows. Not only have their squeegees won design awards, but they work incredibly well too.
The Cleret iDO Shower Squeegee is the perfect solution for getting rid of watermarks, soap scum, and water drops on your glass-walled or marble shower. It is elegant, lightweight, and simple to use, making it a must-have item for any home with a shower.
Specs
Made from plastic
Lightweight
Features a dual wiping edge
Ergonomically designed
Who is it Best for?
If you're looking for a simple and relatively quick way to clean your glass shower door, or marble-clad shower stall, or even the mirrors in your bathroom, then this is it. This minimalistic shower squeegee is efficient and lightweight, making it simple to clean your shower and other surfaces with ease. Because this handy gadget barely weighs anything, you won't get hand or wrist fatigue.
If you're fed-up with the lint and bits of fluff a cloth leaves on your bathroom shower surfaces, then give this device a try. It efficiently wipes away water, soap scum, and water spots for a gleaming shower.
Those with a large home with many bathrooms will find this squeegee very helpful as it makes cleaning your bathroom a task that is both easy to do and relatively enjoyable.
Key features
Cleret fashions this elegant wiper from durable plastic that won't rust or corrode as a metal squeegee might. The plastic makes the device lightweight and simple to wield even when wiping edges. Unlike heavier squeegees, if you drop this one on your foot or the bathroom tiles, nothing will get damaged.
It comes with a dual 12-inch flexible blade that works hard to remove the water stains that come with showers that use hard water.
The unembellished, simplistic design of this wiper is so elegant you won't want to hide it away in your bathroom cabinet. The sleek white plastic and crystalline blue blades make it more of a decor piece than anything else. It is for this reason that Cleret includes a near-invisible wall-mounted hanger to keep your squeegee within reach.
The hanger mounts to the wall with adhesive, but not to worry, the glue isn't permanent and won't damage your bathroom walls.
Pros
Includes a wall-mounted holder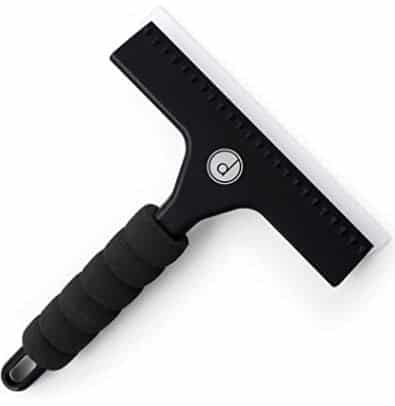 Desired Tools produces premium quality tools designed for use with your car and home. Their products are made with convenience in mind and are created to be hassle-free and straightforward to use.
The Squeegee for Shower by Desired Tools is just one of their many effective and helpful offerings. This lightweight squeegee is the ideal tool to have when it comes to leaving your shower, bathroom, or car windows looking spotless.
Specs
Can be used on a car windshield or windows
Includes three dual-edge blades
Non-slip foam handle
Comfortable grip
Who is it Best for?
If you have one of those expansive, marble-clad showers that span the length of your bathroom wall and features a large glass shower door, then you need this wiper. It is the perfect size for cleaning the glass and marble after your shower and only takes a matter of minutes to use.
No heavy pressure needed and no vigorous wiping that comes with using a cloth, because let's be honest, by the time you're done with that workout, you may as well take another shower.
If you own multiple cars or you're tired of unsightly water spots on your windows, then this squeegee is the ideal tool for the job. It is simple to use and will leave any glass surface looking crystal clear.
Key features
Desired Tools fashions their squeegee from lightweight plastic that makes it easy to use for extended periods. An ergonomically designed foam handle offers a comfortable, non-slip grip that makes the device even easier to hold, no matter how wet it gets. This foam handle is also removable, so if you'd prefer to use the wiper without it, you can.
A built-in hook makes the wiper easy to hang up when not in use.
The high-quality silicone blades ensure an even, squeak-free clean that leaves no streaks and no water spots behind. The eight-inch blades make it simple to clean, even in the smaller spaces and corners. The flexible blade targets all areas of the surface you run it over, removing mildew, soap scum build-up, and water stains.
Desired Tools also includes two replacement blades, so you won't need to buy new ones for quite some time.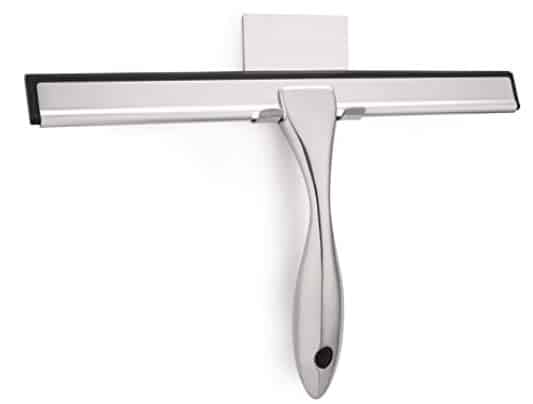 Hiware manufactures and sells a range of homeware goods designed to make life simple and easy. Their products all offer top-quality and durability. Each item is made with convenience in mind so that you can enjoy your home even more.
The Hiware All-Purpose Shower Squeegee is one of the remarkable products the brand offers. It is sleek, stylish, and as functional as they come. What makes this wiper even more impressive is the versatility it provides. Use it on your car windows, home windows, shower doors, bathroom tiles, and flat surfaces.
Specs
Streak-free clean
Ergonomically designed
Lightweight
Ten-inch rubber blade
Who is it Best for?
If you're looking for the best shower squeegee that not only works well but that looks great too, this may be the solution you need. It is sleek, minimalistic, and looks like a decor piece rather than a homeware cleaning tool.
Hiware offers their squeegee in four unique finishes, including silver, matte black, brass, and bronze, so whatever finishes you have in your bathroom, you can find a wiper to match.
This versatile device works well with a range of smooth surfaces from marble vanity countertops, bathroom tiles, marble-cladding, glass, and even metal and mirrors.
It takes a fraction of the time to clean these surfaces, making it ideal for men with multiple bathrooms, large windows, glass shower stalls, or more than one vehicle to clean.
Key features
Hiware's all-purpose squeegee is fashioned from durable stainless steel. This material is ideal for any tool that you want to leave in the bathroom as it is corrosion and rust-resistant.
Although it is made from metal, this wiper is lightweight and easy to use. The ergonomically designed handle makes it comfortable to hold. The anti-slip design also means you can use a more relaxed grip and prevent your hand from becoming fatigued.
A precision blade offers a sleek clean that is streak-free and squeak-free, too, leaving your surfaces looking like new and your ears feeling happy.
Included with the squeegee are a set of hooks so you can hang it where you please. These hooks are not mounted with a suction cup but adhesive that offers a slightly stronger bond. This adhesive won't cause damage to your walls, though, making it safe to use on your surfaces.
Pros
Offered in four unique shades
Can be used indoors and outdoors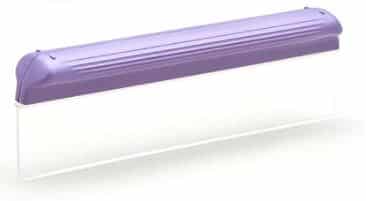 One Pass is an American company founded in 1996 by Don Varner. Don, known for his custom Hot Rod designs, needed a squeegee to help keep the windows of his hot rods looking sharp, and along came the Water Blade.
The Original Water Blade by One Pass is a unique squeegee that has over 10 000 documented uses. If that isn't the epitome of versatility, we don't know what is.
Specs
Patented T-Bar edge
Ergonomic handle
Flexible silicone blade
12-inch blade
Who is it Best for?
This window squeegee offers a multitude of uses. Whether you are looking to keep water off a metal surface to ensure it stays rust-free or looking to keep your shower stall gleaming, this wiper is a must-have for any home or automobile owner.
The One Pass Waterblade is ideal for cleaning water off your motor vehicles. It creates 15 times less friction than terry cloth, and it won't leave behind bits of lint and fluff, so you can get that gleaming finish on the car before it's even been waxed.
This water blade isn't the most sophisticated-looking tool, but where it lacks in elegance, it makes up for in functionality. It is versatile enough that you can use it for outdoor items or for cleaning indoor surfaces.
Key features
The One Pass Waterblade comes with a patented T-bar edge that removes up to 90% of standing water. The handle is ergonomic in design and is easy to grip. A telescopic pole handle can be attached to the squeegee for those high-up and hard-to-reach places such as double-story windows or double-volume tiled areas.
The medical-grade silicone blade is as durable as they come. This flexible blade adjusts to fit the contours of the surfaces you are cleaning, making it great for use on flat surfaces and irregular surfaces. The flexible nature of the silicone also ensures that it won't scratch or scuff your surfaces.
A unique and highly versatile tool, this squeegee is ideal for cleaning off mildew and eliminating water droplets that leave water spots and stains. It is sturdy enough to remove these elements yet gentle enough for use on the body of a car, marble, glass, and mirror, and it won't cause damage to any of these surfaces.
Pros
Includes an extension pole adapter
Cons
Does not have a hook for hanging up in the shower stall
Things to Consider When Buying A Shower Squeegee
Buying a shower squeegee doesn't appear to be a challenging task but, there is a lot more to it than meets the eye. You'll want to get one that has a decent lifespan, that won't scratch or scuff your smooth surfaces, and that offers a little style. Here are a few things to consider when buying a squeegee for your shower glass:
1. Brand
While we all know brands aren't everything, some are more reputable than others. The Oxo good grips stainless steel squeegee is excellent if you're looking for a quality metal tool. If it's a plastic squeegee you'd rather have, then the Cleret Elite Bath and Shower Squeegee is the way to go.
Ultimately, there is also an assortment of lesser-known brands that offer impressive quality squeegees too. You just need to do your research to find them. So, whether you want to buy a simplehuman, Baban, or Oxo good grips squeegee or one from a lesser-known brand comes down to personal preference.
2. Materials and Quality
A quality squeegee offers an extensive lifespan as it is made to last. You don't want to fork out money on a wiper that will need replacing in a month or two. Take note of the material the squeegee is made from. Both the handle and the blade should be made from premium materials.
When it comes to blades, silicone blades or uniquely formulated PVC blades are the way to go. They are strong enough to remove soap scum or mildew build-up, but they won't scuff your smooth surfaces.
A handle made from rust-resistant stainless steel is ideal, or if you're looking for a more lightweight option, go for a good quality plastic one. Steer clear of metals that rust or cheap plastics that will crack as the temperature in the bathroom shower increases.
When buying a squeegee to use in your bathroom shower or even outdoors, take the time to consider aspects such as quality, materials, and functionality. If you're planning on mounting it in your bathroom, you could consider the design too.
We hope our reviews have introduced you to a few squeegees that meet your needs. If you're still unsure which to try, our top pick goes to both Cleret squeegees. They are elegant, versatile, and hey, if they're good enough for a museum, they're good enough for us.