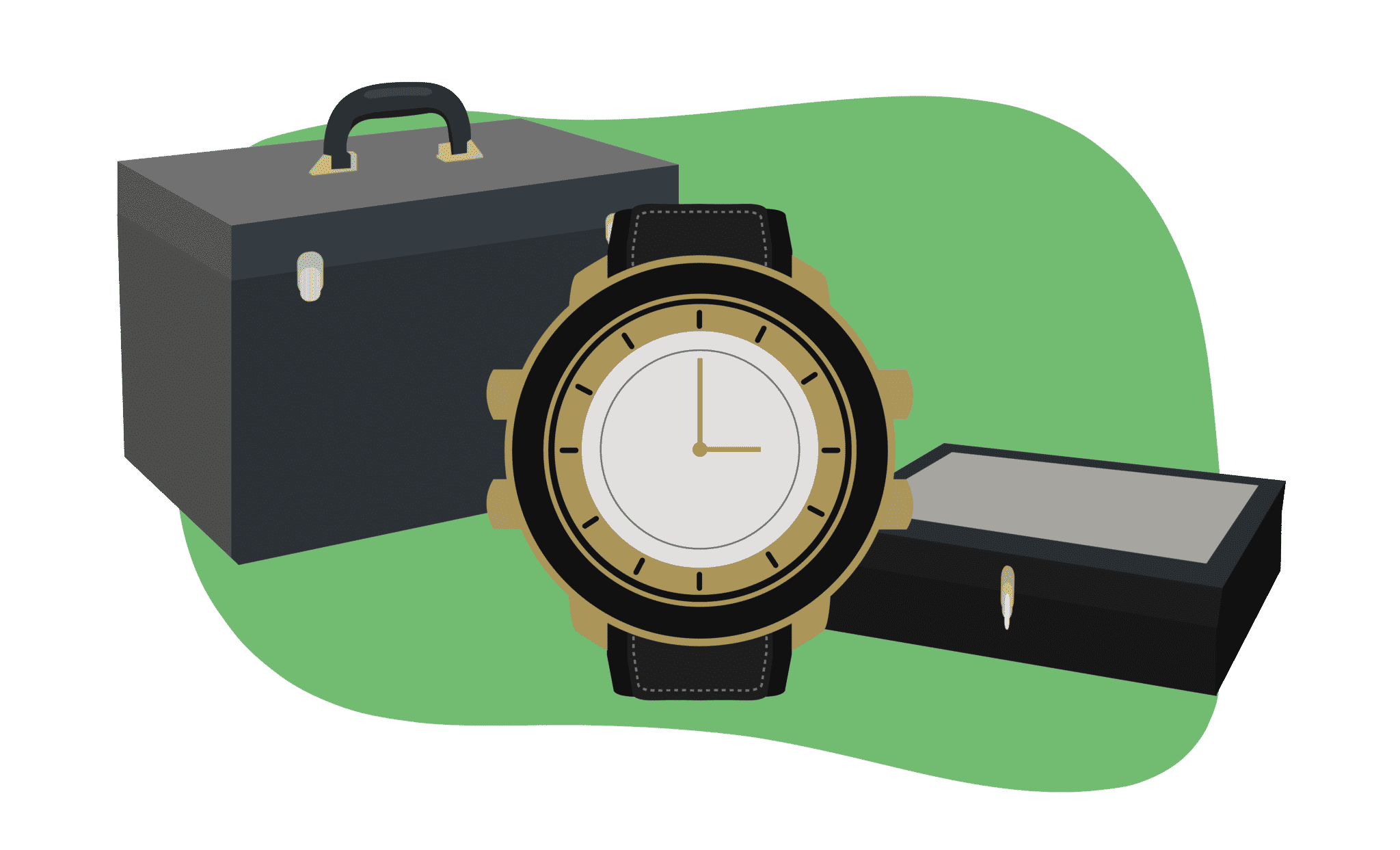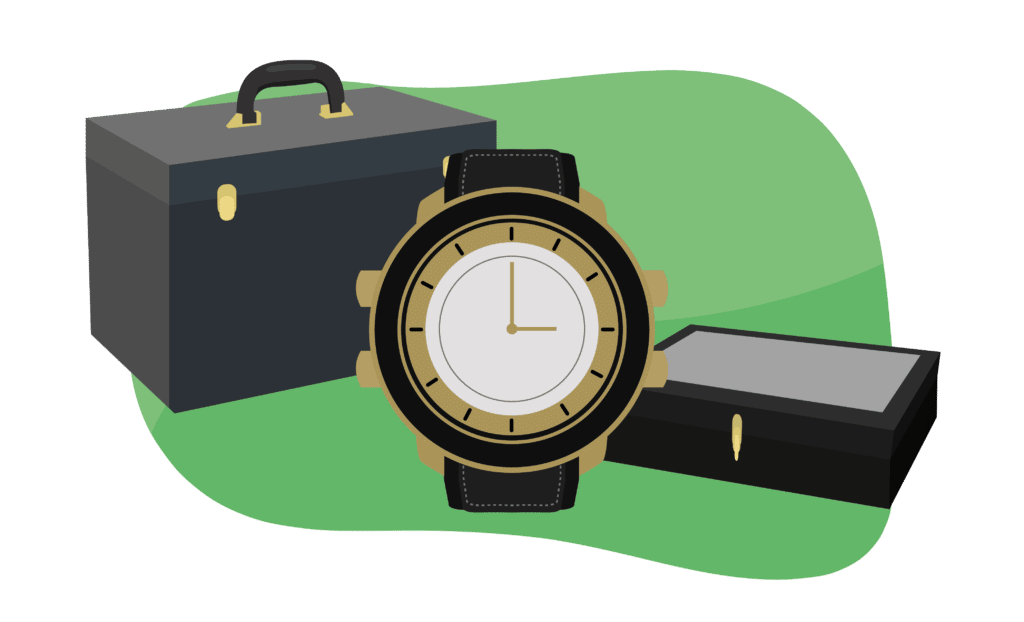 If you have just started collecting watches or you have already amassed a selection of timepieces, chances are you'll need somewhere to store them. And, wouldn't it be nice to display them or travel with your collection too? But how?
The best watch box provides the answer to these questions. A watch display case is multifunctional. It provides a place to safely store your watches when they're not on your wrist, they allow you to display them, and they will often provide you with a way to transport your timepieces should you wish to take them with you on your travels.
Finding the perfect watch box for you will come down primarily to personal choice, but knowing which ones are worth your money proves a little more challenging because not all watch cases are made equally. To make it more simple for you to find a watch storage case that best suits your needs, we have curated a selection of the best watch boxes Amazon has to offer and reviewed each of them. Keep reading to find out more about the premium watch boxes available on Amazon.
When it came to putting together our collection of the best watch cases on Amazon, we did our research first. We chatted to avid timepiece collectors to find out what they value most in a watch box. These collectors all mentioned style, design, durability, ample space, and soft interiors. The watch cases from Amazon we have reviewed ticks each of these boxes and more, so let's dive in and find out which ones we recommend.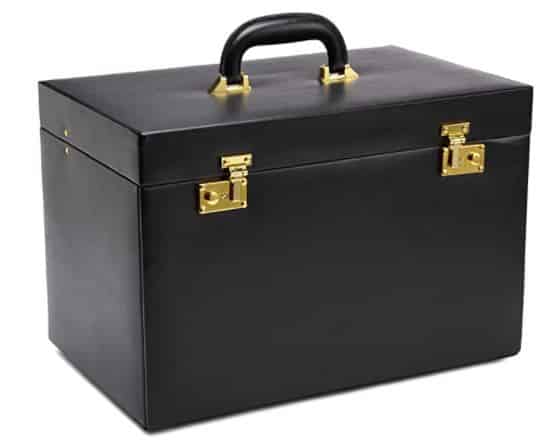 Wolf is a British brand founded in 1834; this family-run business has always been associated with luxury, supplying customers with expertly crafted leather goods. The brand is most recognized for its luxurious jewelry cases, watch winders, and boxes. Today the brand is still family-run and continues the legacy of style, quality, and perfection.
If it's a premium quality jewelry box you're after, then give the WOLF Heritage Jewelry Armoire a try. You won't be disappointed.
Specs
Heritage jewelry box design
Ultra suede interior
Offers four watch compartments
Gold-finish hardware
Who is it Best for?
If you own an impressive collection of jewelry, or you're looking for a jewelry armoire that you can use to store both your accessories and those of your wife, then this jewelry box is precisely what you need. It offers ample space in the form of multiple drawers, allowing you to keep everything neatly stored and protected.
Men who travel frequently and like to bring their watches, tie pins, and cufflinks along with them will find this watch box useful. It features two snap-lock closures that keep your jewelry secure, and it comes with a sturdy handle that makes carrying it simple.
The box's neat and compact shape makes it easy to store, either on your dresser or tucked away in your closet.
Key features
This unique jewelry box is packed with impressive features. The exterior features a stylish faux black leather exterior, while the interior is lined with soft faux suede that is gentle on your jewelry.
A mirror placed on the lid's inner surface allows you to check that your accessories are perfectly applied before you start your day.
The box contains a total of 37 compartments that comprise 59 ring rolls, 136 earring holes, four watch compartments, seven necklace holders, and a necklace tray. There are a series of elasticated pouches on the lid's inner surface and plenty of space for an assortment of other accessories too.
While some may find the jewelry box a little heavy, it is designed to be robust and sturdy, offering top-quality protection for your jewelry collection.
Pros
Ideal as a watch travel case
Provides space for other jewelry such as cufflinks
Cons
Only offers four single watch compartments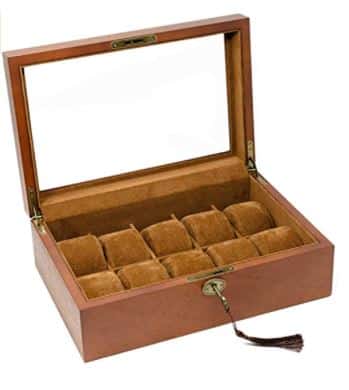 Caddy Bay Collection was born to bring quality and style to the watch box industry. The founders, tired of the poor quality and lack of choice when it came to jewelry boxes and watch cases, decided something needed to be done. And, voila, the Caddy Bay Collection was created.
If you're seeking out the ideal way to keep your watches well protected and beautifully displayed, then the Caddy Bay Collection Vintage Wood Watch Box with Glass Top is worth a closer look.
Specs
Glass lid display top
Made from real wood with a vintage finish
Offers ten display compartments
Comes with ten soft watch pillows
Who is it Best for?
If you have a reasonably expansive watch collection or a small one that you're looking to expand, then this box case is just what you need. It offers enough space for up to ten watches and provides each timepiece with its own compartment.
Men who tend to travel frequently for work or pleasure will benefit from this watch box too. It allows you to pack your prized collection safely and makes it easy to transport your watches together.
If your watches are something you would like to have on display in your bedroom or your wardrobe, either for show or so that they are easier to see, this watch case is ideal for going about it. The unique window in the lid makes it simple to see your collection without opening up the box each time.
Key features
This elegant watch box organizer is made from genuine wood and features a vintage finish that adds to its charm. The lid of the watch case comes with a large glass window that puts your luxury watch collection on display in the most sophisticated way.
A matching faux suede interior lines the box, providing a soft protective layer to rest your timepieces on; this same interior is equally divided into ten compartments. Each of these compartments comes with a suede watch pillow to slip your watches onto, to prevent damage to the watch bands, and to display them elegantly.
The pillows won't stretch or distort the watch bands, keeping your timepieces well looked after.
When it comes to security, this box will keep your collection safe. It is fully lockable and comes with a vintage-style lock and key.
Pros
High clearance for larger watches
Provides space for ten watches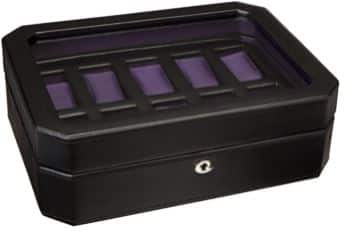 Wolf is a fifth-generation, family-run business. Founded in Britain in 1834, this brand is firmly established with a reputation for offering the best of the best when it comes to leather goods. Wolf prides itself on its undying pursuit of style, perfection, and luxury.
Known for designing some of the world's most exquisite jewelry and watch cases, you will find the brand offers only the highest quality. The Windsor 10-Piece Watch Box by Wolf is no exception.
Specs
PU leather exterior
Chrome-finish hardware
Silk lining
Includes watch pillows
Who is it Best for?
If you are a watch collector looking for an elegant watch case to store your collection in, then look no further. This luxury watch box offers the ideal place to store your timepieces, keeping them safe and elegantly displayed.
This high-quality watch case forms part of Wolf's Windsor Collection that sees a series of mid-century inspired storage boxes. Offering the unique look and feel of jewelry cases popular during this period, this watch case brings with it a sense of old-world refinement and sophistication. If you prefer antique-style pieces, then this watch case is the one for you.
If you are in search of the perfect gift, consider this watch box organizer. It is expertly made and offers only the finest materials and design, making it a gift that will last a lifetime.
Key features
This versatile watch case from Wolf features a sleek faux leather exterior with a silk-lined interior that provides a soft and protective setting on which to place your watches.
The lockable lid comes with a large glass window that elegantly puts your luxury watches on display and allows you to see them without having to open up the box each time. The lid offers excellent security in that it is fully lockable.
The interior of the case is divided into ten individual compartments, providing a place for each of your timepieces. Each compartment is completed with a watch roll that allows you to store your watches so that it does not damage their bands or straps.
These boxes come in two color offerings, black leather with a purple silk lining or brown leather with a burnt orange silk lining.
Pros
Offered in two unique colors
Provides space for ten watches
Cons
Not everyone will enjoy the design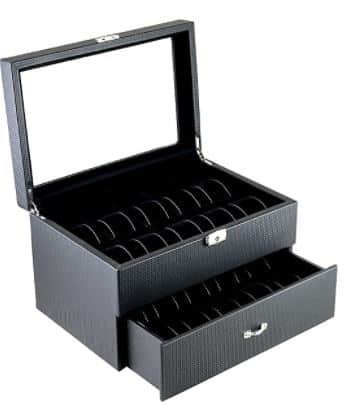 Caddy Bay Collection was founded as a reaction from the founders, who were tired of the poor quality and lackluster offerings when it came to jewelry boxes and watch cases. They believe that the best watches should be housed in the best watch cases and not relegated to a dingy old box that doesn't display them in the manner they deserve.
As a result, we are now able to find elegant and stylish watch cases such as the Caddy Bay Collection Carbon Fiber Pattern Glass Top Watch Display Storage Box.
Specs
Carbon fiber patterned fabric exterior
Includes watch pillows
Suede style lining
Offers place for 20 watches
Who is it Best for?
If you have a large watch collection, then this may be the best watch case for you. It offers sufficient space to store up to 20 individual watches, and it comes with a drawer that provides space for your watch accessories and even a watch winder for your automatic watch collection.
If you are looking for a watch box that features a slightly more contemporary look to fit with your decor or personal tastes, then this box may be the one you need. It features a sleek carbon fiber patterning on the exterior that offers a more modern and elegant feel.
This look adds a hint of masculinity to the watch case, too, declaring it for the use of fashion-forward men who take good care of their prized watch collection.
Key features
This watch storage box features two tiers, each offering ten individual compartments that allow you to store up to 20 watches. Both layers provide a high depth that makes it easy to place a large watch or two in the case as well, without them becoming squashed or damaged.
The interior of the case comes lined with faux suede that provides a soft cushioning for your timepieces. Each compartment is completed with a suede watch roll that features elegant contrasting topstitching.
The exterior of the case is covered with a carbon fiber print material that adds to the box's overall style. A silver-finish handle on the drawer and lockable clasp add to this design.
A large glass window is located on the box's lid, allowing you to see some of your collection without having to open up the case each time.
Pros
Can be used to store other jewelry and watch winder
Cons
Lower drawer is not lockable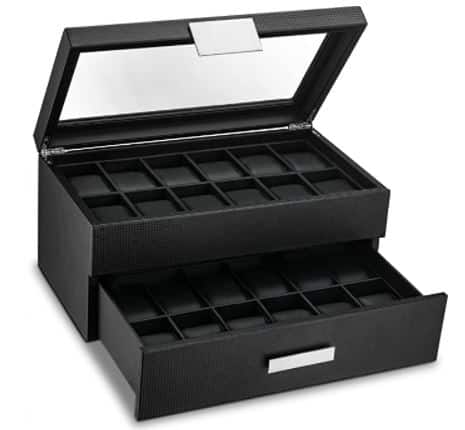 Glenor Co. believes each piece of jewelry has a story to tell and that you should display each piece prominently. The brand, therefore, places its focus on creating elegant storage organizers that allow you to display each article beautifully and with style.
The Glenor Co Watch Box for Men – 24 Slot Luxury Display Box With Carbon Fiber Design is just one of the exquisite cases the brand offers, allowing you to place your jewelry as the star of the show.
Specs
Large glass window
Stainless steel metal finishes
PU leather interior
Carbon fiber style exterior
Who is it Best for?
Men who are avid watch collectors and have a vast collection or one that is growing will love this sophisticated dual-layer watch box. This case provides space for 24 individual timepieces, with 12 placed on the lower tier and 12 on the upper one. These two layers allow you to cycle your display and keep things interesting or to hide your more valuable wristwatches from view.
If you love the carbon fiber look and are looking for a watch case that errs more on the side of the masculine, then this may be the one you need. It features a sleek carbon fiber print exterior that gives it a steely and fashionable look that will complement any wristwatch you place within the organizer.
Key features
This watch display case comes with a carbon fiber material exterior that features neat, stitchless corners. The lid of the box comes with a large viewing panel made from glass that allows you to see the watches on the top layer without having to open up the case. It also allows you to display your timepieces without them becoming dusty.
This watch box has sturdy, thickened walls that offer durability and sturdiness that will keep your wrist watches safe. Two layers come in the form of a lower drawer and an upper layer with a flip-open lid.
Each layer offers 12 compartments, each complete with a watch pillow for storing your timepieces to prevent the watch bands from becoming damaged.
A stainless steel metal plate on the exterior of the box elegantly rounds off the design.
Pros
Includes a PU leather watch roll in each slot
Opens easily with one hand
Cons
Watch holder is not lockable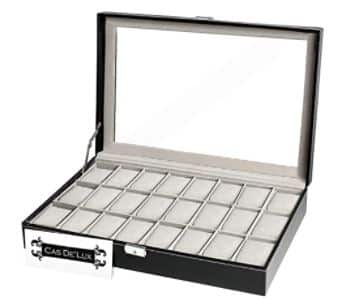 Cas De'Lux is a unique brand that offers customers a selection of contemporary and elegant watch cases and jewelry boxes. Each organizer is made with high-quality materials and is based on top-of-the-range designs. These sturdy and sophisticated display cases come in a variety of styles, making it easy for you to find one that best suits your needs.
If it's a sleek and fashionable watch box you're after, you may want to look a little closer at the Watch Box Organizer 24 Slot Display Case with Watch Pillows by Cas De'Lux.
Specs
Glass window lid
Features 24 watch compartments
PU leather exterior
Faux suede interior
Who is it Best for?
If you are looking for an elegant organizer for your wristwatch collection that doubles as a travel case, then this one may be the solution you need. It offers a single layer that makes it easy to pack in a suitcase as it is not bulky and won't take up a lot of space in your luggage.
Men with an extensive watch collection will enjoy this watch case. It provides individual compartments or slots for 24 timepieces so that you can view them as the entire set and not as separated layers.
If you are looking for a gift for the man in your life, be it your father, brother, son, or husband, this watch case makes an excellent choice.
Key features
This single-layer watch case features a faux suede interior that sees 24 individual compartments, one for each watch in your collection. Placed in each compartment, you will find a suede watch pillow. These handy cushions allow you to display your timepieces neatly while preventing the watch band or strap from becoming damaged or squashed.
The PU leather watch box exterior lends it a sleek and modern look while also making it simple to keep the box clean. Built into this watch case's lid is a large glass window that allows you to display your collection in its entirety. It also allows you to see each of your luxury timepieces and smart watches without having to open up the case each time.
Best of all, this watch box for men is fully lockable, keeping your prized collection safe and secure.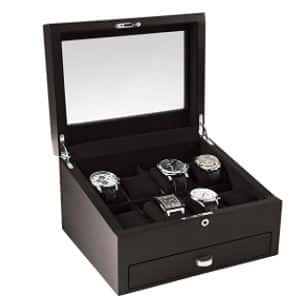 Milford offers a selection of the best watch boxes you can find on the market. Each of their products is designed with sophistication in mind and expertly crafted using the finest materials. Milford offers unique jewelry story solutions that provide high-quality and elegance.
If you don't believe us, just take a look at the MILFORD Watch Case. It comes fashioned from sturdy materials and shows off remarkable craftsmanship that serves to highlight each of the watches in your prized collection.
Specs
Walnut exterior
Velvet interior
Glass window lid
Offers space for eight watches
Who is it Best for?
If you prefer a more sturdy and substantial design for your watch box for men, you may want to look a little closer at this men's watch case. It is compact, robust, and offers enough space for you to store up to eight individual watches. Best of all, the box is designed to provide excellent depth that makes storing larger watches simple.
If you have a refined sense of taste and style and prefer the classic wooden look to that of grain leather, this box was made for you. It comes made from authentic walnut wood that offers a rich depth of color and a unique look and feel. This wooden construction gives the display case its robust nature and its minimalistic appeal.
Key features
Easily one of the best watch cases on this list, this wooden watch box offers sophistication and style. The soft velvet interior elegantly complements the durable and sturdy walnut exterior. This gentle interior lining is the ideal surface for placing your prized wristwatches as it prevents scuffing and scratches. Each watch comes with its own compartment and matching velvet watch pillow that allows you to display eight of your most-valued timepieces in style.
The lid of the case features a large transparent window, allowing you to see your collection without opening up the case. It also makes it easy to display your timepieces without them gathering dust or becoming damaged.
Included in this display case is also a drawer that provides a place to store any watch accessories you may have. This lockable watch display case is the epitome of elegance.
Pros
Includes an organizer drawer
Cons
Only offers space for eight watches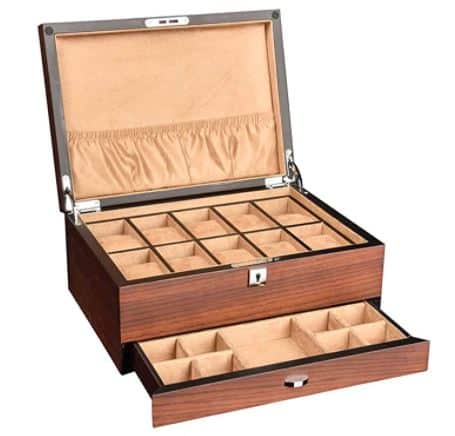 CJVJKN is a unique brand that offers an assortment of household storage solutions. They are well-versed in designing elegant solutions to your storage needs, from laundry baskets and children's jewelry boxes to bedside tables and car refrigerators.
If it happens to be a sleek men's watch box you need, then you may want to take a look at the Solid Wood Watch Storage Box by CJVJKN. This sophisticated watch storage case is perfect for keeping your luxury timepieces safe and secure.
Specs
Made from solid wood
Faux suede lining
Features stainless steel finishes
Offers space for ten watches
Who is it Best for?
If your taste leans more to wood finishes instead of full-grain or vegan leather, then this watch case was made for you. It comes fashioned from solid wood that is robust, durable, and elegant.
Men who enjoy variety and the ability to select a watch box in a shade of their choice will appreciate these offerings by CJVJKN. The watch case comes in two shades, a mahogany-style exterior with a beige faux suede interior or a darker walnut-style exterior with an espresso brown faux suede interior. Both options offer an elegant platform to keep your watches protected.
If you specifically want a travel case for your watches, this watch box may not be the best choice. The solid wood construction makes it heavy and will add substantial weight to your luggage.
Key features
This solid wood watch box features a high-quality and sturdy design, made to last you for years to come. The design of the case sees a lid that comes without a glass window. While it may not be the ideal display case, this watch box makes an excellent way to store your timepieces safely and securely. The sturdy lock built into the case adds further security, making the watch box ideal for your more valuable pieces.
The watch case offers a place for storing ten individual wristwatches and comes with a drawer below that provides a place for tie pins or cufflinks to keep or your valuables in one safe place.
Each watch compartment comes with a faux suede watch pillow that makes storing your watches simple.
Pros
Includes a storage pocket
Comes with a drawer for other jewelry and watch accessories
Features watch pillows for each watch
Cons
Does not include a glass viewing top
Things to Consider When Buying The Best Watch Box
When buying a watch case, there are a few things to consider to ensure you end up with the watch box that best meets your needs. Taking aspects such as size and compartments into consideration, materials, and security will help you streamline your choices.
1. Size and Capacity
When buying a watch box, give some thought to how many watches you already own and whether you are considering adding a few more to your collection. This will help you figure out how many compartments your watch case will need and how large it will be.
If you only have three watches and don't foresee yourself buying too many more, then an eight-compartment case is ideal. If you have a larger collection and plan to add to this collection over the years, a ten, 12, or even a 24 slot case may be a better option.
2. Materials
Watch cases and boxes come fashioned from a selection of unique materials such as wood, full-grain leather, and even vegan leather or PU leather.
Wood makes for a more solid and sturdy watch box; however, it does make the case considerably heavier, so if you intend to travel with this case, then a wood option shouldn't be your first choice.
A full-grain leather watch case is far more lightweight than a wooden one, and it offers impressive durability and style. These cases are ideal for storing, displaying, and transporting your timepieces.
This is often made from mushroom mycelium, plant materials, or polyurethane, otherwise known as PU leather. This material looks and feels like leather, but it isn't nearly as durable. This fabric is also often printed to look like other materials such as carbon fiber.
3. Security
When it comes to storing your watches, you may want to think about security. Do you want to be able to lock up your collection, in which case a lockable watch box is the better choice? Or is the box more of a display unit, and locking it up is not really something you're concerned with?
When searching for the best watch case for your wristwatch collection, there are many things to consider to ensure you get the box that suits your needs and offers excellent quality and functionality.
We hope our reviews have narrowed down the choices for you and have made finding that perfect watch display organizer a little easier. If you're still unsure, the Milford Watch Case makes an excellent option. It is sturdy, classic, and sophisticated, offering the ideal number of slots for a new collector or a timepiece aficionado.