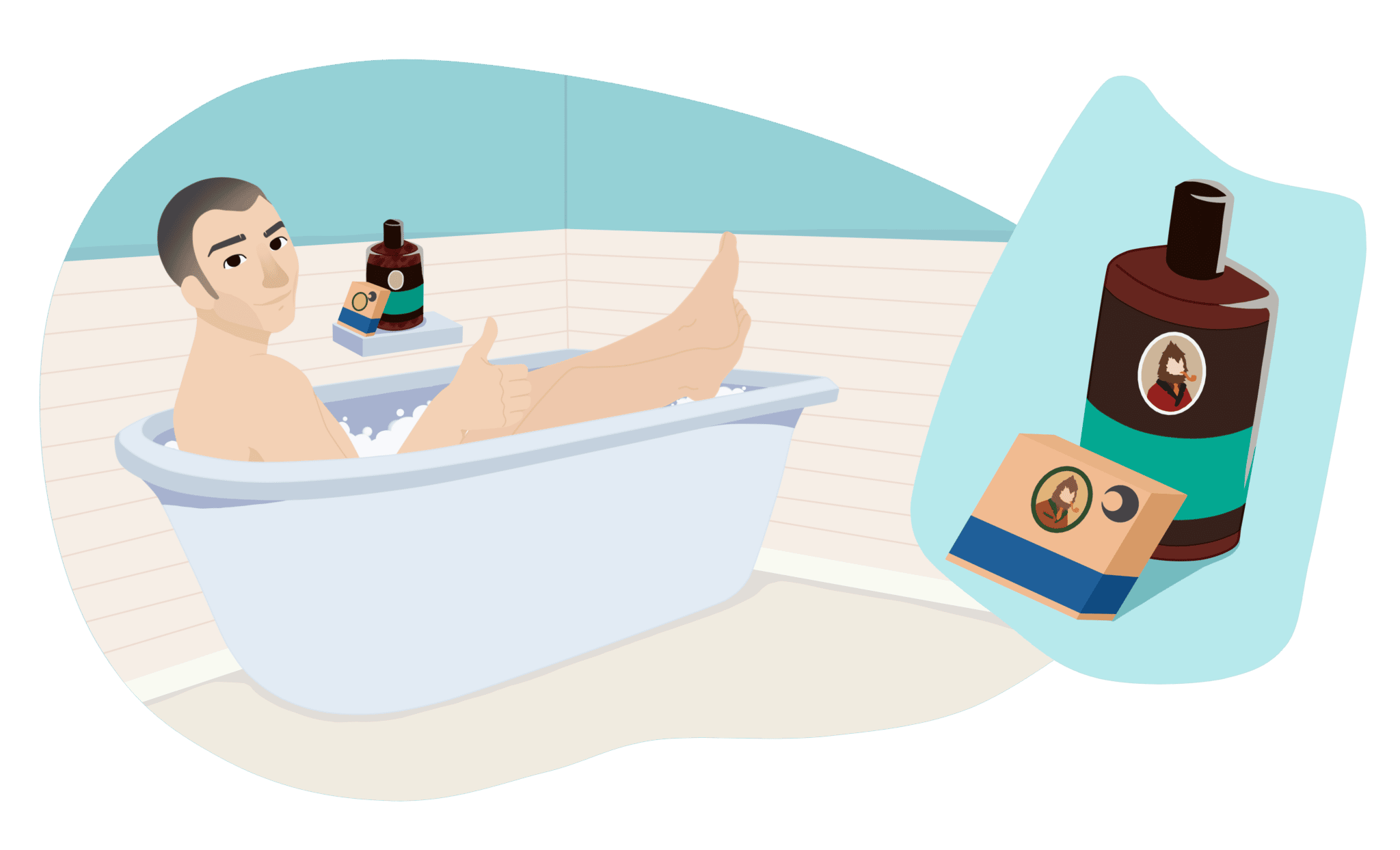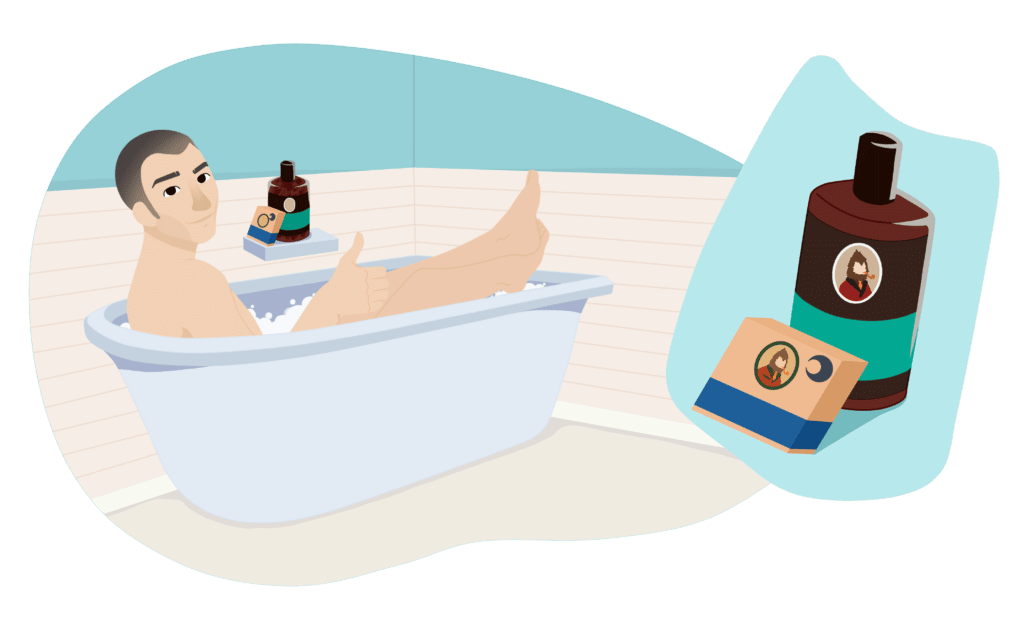 Pros
Uses all-natural products free from chemicals and preservatives
Comes in 18 unique scents
Dr. Squatch offers a Satisfaction Guarantee on all products
Cons
The other products come in a limited selection
Men's grooming products, especially those made with all-natural ingredients, are fast gaining popularity. Soaps, beard oil, shaving cream, and colognes are no longer only offered in a singular scent and made with the same harsh chemicals from brand to brand.
The way we experience men's grooming products is forever changed. Companies now consider men's personal care products with as much enthusiasm as they do women's body care.
One brand, in particular, is taking men's products to the next level. Dr. Squatch is a unique brand that strives to educate and inspire men helping them to become happier and healthier individuals. Come with us as we review the brand's luxurious men's soaps to see whether they are worth all the fuss.
A young man named Jack Haldrup, frustrated by the lack of high-quality men's natural products, decided to create his own. And, Dr. Squatch was born. Today, Dr. Squatch offers skincare for men that not only leaves you feeling moisturized but that also comes in a range of masculine scents.
But where did the name come from? Since World War, I, where costs had to be kept to a minimum, soap became one of those cheaply made products. It ended up with an ingredient base of most chemicals, and natural soap became as elusive as the Sasquatch, as Jack likes to say. Naming his brand, Dr. Squatch is Jack's tongue-in-cheek way of relaying he has rediscovered the beauty of soap made with natural products and fragrances.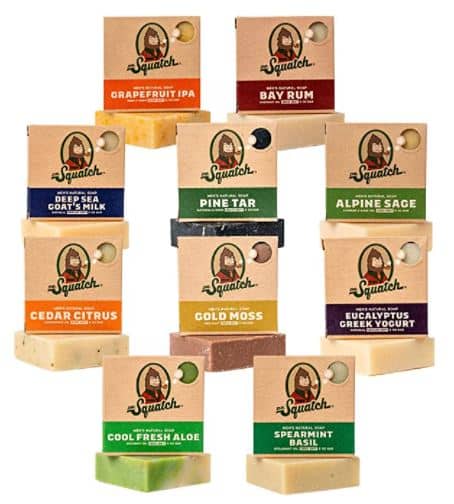 Dr. Squatch offers various products, but it all started with soap. You can purchase Dr. Squatch soap directly off the Dr. Squatch website (drsquatch.com) or from a platform such as Amazon.
The soap comes packaged in a rustic brown cardboard box that features the Dr.Squatch logo, a cutout that lets you view the soap, and a colored banner with the soap name. This minimal design keeps the brand's tone, echoing the simplicity of the natural ingredients and the ruggedness of nature itself.
Key features printed on the sides of the box include the "Story" of the soap and that the packaging is made from recycled materials. You are also informed that the soap is handcrafted from five natural oils and is free from chemicals. Dr. Squatch also asks that you recycle the box.
As mentioned before, Dr.Squatch Soap is made from natural products and is free from chemicals. This means it's gentler on the skin and the environment.
Dr. Squatch soap is made using the cold process soap-making method, which sees the saponification of oils when you mix them with lye. Most handmade soap is made using this process.
Each bar of soap made by Dr.Squatch has a base that features the following natural ingredients:
Saponified Oils
Most cold process soaps are made with a blend of natural oils. These oils are then heated together, cooled, and then have lye added to them. Different oils add unique qualities to the soap. Dr. Squatch makes use of a few of these:
Olive Oil – This oil gives the soap its moisturizing quality.
Sustainable Palm Oil – This product provides the bars their hardness and helps produce lather.
Coconut Oil – This oil provides a rich lather and offers excellent cleansing properties.
Shea Butter
Shea butter is a natural moisturizer that helps harden the soap and makes the bar last longer. It also works as a natural conditioner by creating a silky, moisture-rich lather.
Lye
Lye is also known as caustic soda or sodium hydroxide. While dangerous on its own, when mixed with oils to create a saponification process, Lye becomes harmless, making it safe to use on the skin. Lye is integral in the soap-making process as it reacts with the oils causing them to harden and form the soap bar.
Natural fragrance oils
Dr. Squatch uses natural fragrance oils and essential oils to add a scent to their soaps. The brand's 18 available scents feature a combination of these essential oils. These oils are gentle on the skin and often bring additional properties that help keep your skin glowing. Tea-Tree oil, for example, offers a fresh scent, and it's excellent for treating skin impurities.
Natural Colorants
Dr. Squatch uses natural colorants to add a pop of brightness to its soap bars. By not using chemical or synthetic pigments, the brand ensures the soap won't irritate your skin. Some of the colorants they use include Indigo Powder, Charcoal Powder, and Iron Oxide.
Clay
Clay is the secret weapon of soap-making. It makes the lather silkier, helps to remove impurities from your skin, and works as a gentle exfoliant. Dr. Squatch uses various clays in their soaps, such as Kaolin clay and Alaskan Glacier Mineral clay.
Sea Salt
While sea salt is a great exfoliator and offers cleansing properties, it also helps to harden soap during the curing process, making sure that your Dr. Squatch soap lasts that little bit longer.
An Exfoliant
Some, but not all, Dr. Squatch soaps contain an exfoliant. For example, the Pine Tar soap features sand which works as a heavy-duty exfoliant, perfect for those days when you have sweated a lot and need a little more grit than usual. Other types of exfoliants the brand uses include oatmeal, cornmeal, and coffee grounds. Some Dr. Squatch bars offer a heavy grit exfoliant, while others provide a lighter grit or no exfoliant at all.
Using natural soap is an altogether different experience from using your typical bar of Dove. These bars are usually harder and feature none of the harsh chemicals found in regular store-bought men's soap.
After trying more than one bar of Dr. Squatch soap, we have decided to break the experience down into these different categories so you get a good idea of what to expect.
Color
Each Dr. Squatch soap bar comes with a unique color that relates to the fragrance of the soap. For example, fresh Falls offers an icy-blue shade, while Squatch Pine Tar has a rich black color.
When unboxing the soap, the color appears muted. This is because of the natural pigments used. Lemon-scented soaps in the store may be vivid yellow, but you have synthetic coloring to thank for that.
Place your Dr. Squatch soap in the water, and the color brightens instantly. You will find that the lather of the soap matches its color. Pine Tar, which uses charcoal powder as the pigment, gives off a dark lather, but don't be alarmed; the color won't transfer onto your skin.
Texture
The texture you experience from your Dr. Squatch soap depends on the grit of the soap and which exfoliant it contains.
We tried out the Pine Tar soap, which has a high grit level and features ingredients such as sand (yes, real sand) and oatmeal. This particular bar feels a little like sandpaper and does an excellent job of removing dead skin and dirt.
We do not suggest using it on sensitive areas or using it too frequently. You should aim to exfoliate your skin approximately three times weekly.
Fresh Falls is another Dr. Squatch soap we tried, and this one offers zero grit. It has a slightly tacky texture thanks to the sea salt, but the lather is silky and creamy thanks to the Alaskan Glacier Mineral Clay used in the formula.
Lather
While the lather of the soap has minimal bearing on whether the soap cleans you or not, it provides a great visual cue that it is getting the job done. The more lather we see, the more secure we feel that the soap was a good buy.
The lather produced by Dr. Squatch soap is impressive. Thanks to the clay content of these soap bars, the lather is silky and smooth while also bubbly. These bars make it clear that your soap is doing its job.
Often soap manufacturers use sodium lauryl sulfate to make soap and body wash to create a rich lather. Because natural soap does not include any chemicals, you can appreciate the rich lather Dr. Squatch soap produces.
Lasting Power
An important consideration when buying organic soap is how long the bar lasts. Many companies use synthetic ingredients to prolong the life of the bar once you get it in the shower. And, understandably so. There is nothing worse than using a bar of soap and finding the next day that it has reduced to mush or crumbled. Soaps that last a week before they need replacing are also not very impressive, work out to be expensive, and as a result, you probably won't repurchase them.
Natural soaps, because they don't use chemicals, are more likely to finish faster. However, there are ingredients you can add to the soap that improves its longevity, such as high-quality lye, particular butter and oils, and clay.
Dr. Squatch includes all these ingredients in its soap, and it shows. These bars lasted us the same as a typical store-bought soap and didn't soften, melt, or crumble. In our opinion, they score a hard ten-out-of-ten for lasting power.
Skin Texture
The exfoliant in the Dr. Squatch Pine Tar soap and the inclusion of the ultra-moisturizing shea butter left us with the expectation that our skin would be left feeling smooth and soft.
Instead, we were left with skin that felt the opposite when running our hand over it under the water. The soap had removed the dirt and debris so well that the skin had a grip to it that showed us just how clean we now were: no grease, no slippery dirt, and no slimy dead skin cells.
Exiting the shower was the next test. Again, the soap didn't leave our skin feeling dry or tight, and, once dried off, our skin was impressively smooth.
Another thing to consider about why the Pine Tar soap left our skin feeling so tacky is the inclusion of the Pine Tar itself. This ingredient is often used in baseball to give the bat a bit of grip, and perhaps it had a similar effect on our skin.
However, we prefer to stick with the idea that the soap cleaned us off that well since the grippy feeling didn't last once we toweled off.
Scent Strength
The minute our Dr. Squatch soap slid out of its box, we could smell the scent. Strong and heady, there was a little concern that the fragrance would linger long after the shower. In most instances, this is no problem, but if you are a cologne-wearing man like us, you don't want the fragrance left behind by your soap to clash with this.
The scent the soap gave off was invigorating nonetheless and left us impressed; it offers a deeper, more earthy scent than any synthetic fragrance could ever achieve.
Heading into the shower, the soap mixed with the steam, filling our nostrils with the rustic notes of Pine Tar, transporting us to the pine forests found in the great outdoors. Relaxing and refreshing, the scent filled the shower for an almost aromatherapeutic experience.
Once out of the shower and towel-dried off, we found the scent was as potent on the skin as it was off. So while fine for the days you don't want to wear cologne, this isn't ideal for the days you do.
We suggest buying a Dr. Squatch soap that carries similar scent notes to those found in your cologne so that the two complement each other rather than clashing.
The Different Dr. Squatch Soap Scents
One of Jack Haldrup's pet peeves with the men's products available on the market was the lack of fragrance offerings. Soap came scented like a cologne or in a fresh linen scent, and that was as exciting as it got. So, the Dr. Squatch founder set his sights on offering men various uniquely scented soaps that appealed to different tastes.
Today, Dr. Squatch offers 18 unique soaps, four of which come as the popular Star Wars set. So, let's look a little closer at the soap scents you can find:
Pine Tar – Offers notes of an old forest grove for an ultra-manly scent. It features natural pine extract and orange essential oil. If you like a woodsy scent, this is one to try.
Fresh Falls – If an aqua scent is what you are after, this crisp forest waterfall fragranced soap is a good bet.
Bay Rum – A fruity tropical note with a spicy zing makes this soap ideal for any man who wants to be transported to paradise. This soap comes with notes of cinnamon, cloves, pine, and orange zest. It features cedarwood and fir needle essential oils.
Birchwood Breeze – Notes of a woodsy birchwood forest leave you feeling rugged and manly. Niaouli oil and birch bark combine to leave you with a woody and fresh fragrance.
Wood Barrel Bourbon – Described as oaky, spicey, and smooth, this soap leaves you with the notes of barrel-aged bourbon, ideal for those who love a more sophisticated scent.
Cool Fresh Aloe – As refreshing as a spring morning, this Dr. Squatch soap features a light and fresh Aloe scent that is best suited to those who prefer a lighter-fragranced soap bar.
Alpine Sage – An earthy, crisp scent that smells like a mountain breeze, this soap contains cypress, lavender, and clary sage oils.
Cedar Citrus – An energizing and refreshing scent, this soap smells of orange-infused cedar. Light and invigorating, the soap comes with peppermint leaves that lift the orange notes.
Deep-Sea Goat's Milk – A bar with a rich, smooth fragrance, it offers a hint of musk that highlights the milky notes.
Gold Moss – An earthy oak fragrance that is sophisticated and natural. Scented with oakmoss, this woodsy scent is ideal if you love the smell of the outdoors.
Spearmint Basil – Fresh and cool, this scent offers a green fragrance complemented by notes of spearmint and peppermint.
Eucalyptus Yogurt – A calming yet aromatic soap. It features a strong Eucalyptus scent that refreshes and soothes, perfect for winding down after a busy day.
Cold Brew Cleanse – A gourmand scent that offers notes of coffee and brown sugar. It is ideal for the man who loves the warm notes of coffee or is looking for a fragrance for fall.
Grapefruit IPA – Bold, sweet, and invigorating, this soap offers notes of citrus and hops.
The Star Wars Collection:
In its fight against synthetic detergents and chemical-ridden body care, Dr. Squatch is fighting against the Dark Side with its Star Wars-inspired soap collection.
Two bars that come from the Light Side and two from the Dark Side, the forces combine to fight dirt and body odor using natural ingredients. This concept is one we can get behind.
From the themed packaging to the unique fragrances, this is one collection we couldn't miss out on. These are the scents found in this range:
Wisdom Wash – If you love Yoda, this one is for you. It comes with Lotus leaf and a fresh, herbaceous scent.
Only Hope Soap – Obi-Wan-Kenobi fans, this one is for you. It features an aromatic, uplifting scent that is infused with Thyme leaves.
Dark Side Scrub – Fans of Darth Vader will appreciate the rich, smokey scent of this amber-infused soap.
Ruthless Rinse – Wild and bold, the scent of this Darth Maul-inspired soap comes with notes of Dragon fruit and spicy aromas.
What if I Have Sensitive Skin?
If you have sensitive skin and are concerned that the fragrance will irritate your skin, you shouldn't be. Because the ingredients used within these soaps are natural, they are gentle on the skin, making them ideal for people with skin sensitivities.
Unless you find a particular ingredient that agitates your skin, these soaps shouldn't cause you any problems. However, we would suggest staying away from those soaps with a high grit content, which may cause some irritation.
Value
When looking at value, it is hard not to head straight to the price tag, which on a bar of Dr. Squatch soap is $7. While this is relatively expensive for a bar of soap, we need to consider whether this price is worthwhile.
Because it is an artisanal and handmade product, the cost will be higher. If you add in the fact that all the ingredients are high-quality and natural, the price makes even more sense. Chemicals are often produced in bulk and are much cheaper, as is the ability to mass-produce soap, making soap you will find at retailers like Walmart or Target much less expensive. But, you don't get the quality a natural soap offers.
Another point to consider when looking at value is how long the bar of soap lasts. The longer you get to use it, the better the value for money. While these soaps from Dr. Squatch do last, you can extend their longevity further by removing them from the shower when not in use. Doing this prevents them from melting a little more each time someone else in the home showers.
Also, if you use one of the exfoliation bars only three times a week, it will last far longer.
There are other ways to save a few bucks when buying your Dr. Squatch soap and products. The brand offers a subscription service, promos and coupons, and even a discount for essential and military personnel.
Subscriptions
If you are concerned about the soap running out, you can always make use of Dr. Squatch's subscription service. The "Soapscription" service allows you to have soaps delivered to your home regularly, keeping you well-stocked. This service also provides you with your soaps at a discounted rate, saving you a little on each bar. These are the packages the website offers you:
A Quarterly Subscription (Delivered every three months):
9 Bars of your choosing – $54 ($6 per soap)
6 Bars of your choosing – $36 ($6 per soap)
3 Bars of your choosing – $18 ($6 per soap)
Coupons and Promos
You can also make use of coupons and promo codes offered by the brand. For example, subscribing to the Dr.Squatch mailing system will earn you a 15% off coupon, and once you start receiving mailers, you will find more specials and discounts in your inbox throughout the year that you can take advantage of.
The Hero Discount
The Hero Discount left us the most impressed. It offers an across-the-board 10% discount to members of the military, first responders, and medical workers.
Rewards System
Dr. Squatch has recently included a Rewards System on its website. By signing up to this system, you can earn rewards points which then translate into money off your purchase or discounts.
There are various ways to rack up points. For example, sign up for a subscription and earn 15 points, successfully refer a friend and earn 100 points, or earn a single point for every dollar spent on a purchase.
Once you have gathered sufficient points, you can redeem them against purchases.
Redeeming your points provides you these discounts:
50 points – $5 off a purchase over $15
100 points – $10 off a purchase over $30
150 points – $15 off a purchase over $45
200 points – $20 off a purchase over $60
Other Dr. Squatch Products
While this review focuses predominantly on the brand's soap bars, there are various other Dr. Squatch products worth mentioning. If you love the soap as much as we did, and you want to include a few of the brand's other products in your grooming routine, here are some of the items you can expect to find:
Hair Care
Dr. Squatch offers natural hair care in the form of shampoo and conditioner. You can buy these products individually or as a bundled set. Currently, you can find a Cypress and Citrus bundle or a Fresh Falls bundle.
Toothpaste
Dr. Squatch brings its A-game when it comes to keeping your teeth pearly white. The natural toothpaste comes in a Citrus Mint for use in the mornings to combat morning breath and a Soothing Spearmint for use at night to help fight staining on your teeth while you sleep.
Liquid Soap
Nourishing liquid hand soap made with glycerine comes in Mountain Mint and Crisp Citrus. These liquid soaps are designed to keep your hands clean and soft.
Hand Sanitizer
Follow up your handwash with a spritz of sanitizer also offered in Mountain Mint and Crisp Citrus. The natural ingredients are gentle on the skin but tough on germs.
Beard Oil
Moisturize, shape, and protect your beard using nourishing Sandalwood Bourbon or Crushed Pine beard oil.
Colognes
Accentuate your pheromones and add a dash of fragrance by using a Dr. Squatch Sandalwood Bourbon or Crushed Pine natural cologne.
Deodorant
Prevent BO with Dr.Squatch glide-on natural deodorant. These deodorant sticks come in six fragrances and are designed to keep you smelling fresh without clogging your pores.
Apparel
If the Dr. Squatch style appeals to you, invest in a Dr. Squatch hat, shirt, sock, hat, or mug.
Candles
Add a Dr. Squatch candle to your man cave to keep things fresh. The candles come in four of the brand's signature scents, including Pine Tar, Bay Rum, Alpine Sage, and Fresh Falls. The amber jar and wooden lid give these candles a masculine appeal.
Shower Boosters
Improve the way you shower with these handy boosters. A wooden soap saver prevents your soap from sitting in water and becoming soggy, prolonging its longevity. The soap gripper makes it easier to grab hold of your soap and prevents it from slipping out of your hand.
Customer Reviews
Online platforms such as Amazon see Dr. Squatch products, particularly the soap, receiving rave reviews. On Amazon alone, many of the soap bars have reviews from over ten thousand shoppers, and they are all positive. With near five-star ratings, it is clear that the Dr. Squatch soap left many people as impressed as we were.
Other sites such as Trust Pilot and even Instagram offer the same sentiment, making it evident that this soap is worth trying, even just once.
Dr. Squatch takes body care, and in particular, men's soap, to the next level. The use of natural ingredients and the extensive offering of manly scents make these soaps worth adding to your daily routine. The brand's uncompromising goal to use only the highest quality ingredients and the commitment to developing a vast selection of additional products shows that Dr. Squatch is serious about what they do.
If you are looking for a soap that gets you clean, leaves you smelling great, and keeps your skin soft and supple, Dr. Squatch soap is precisely what you need.