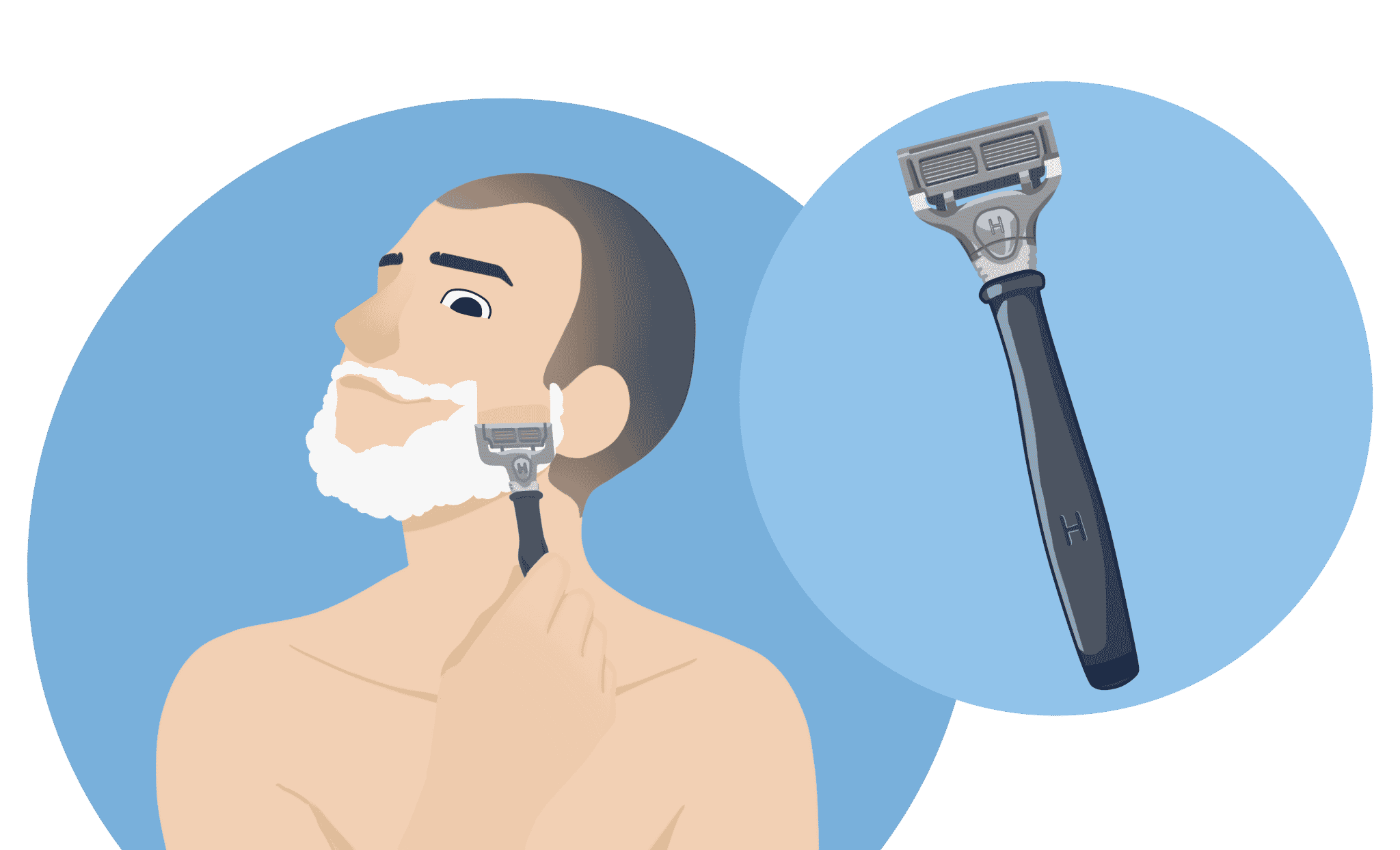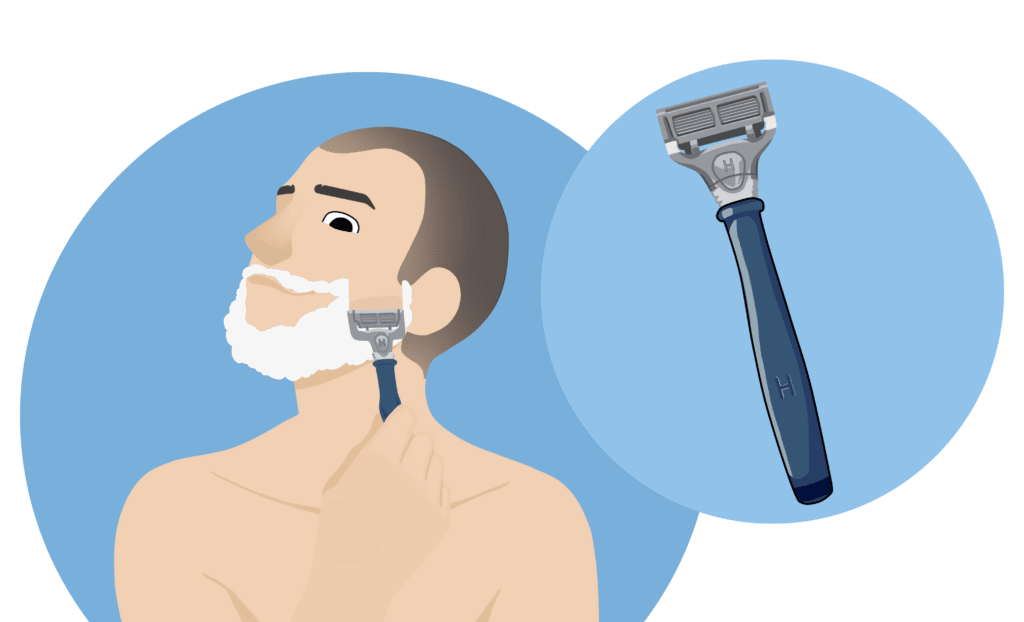 Shaving can easily be described as one of the more tedious grooming tasks we men must endure.
Personally, I prefer to give it a miss as often as possible. I would rather use a trimmer to keep things looking neat than having to go through the rigmarole of shaving cream, tackling the jawline, dealing with nicks, and cuts, and then the irritation that comes after. As a result, my Mach 3 and Schick Quattro razors were relegated to the back of my bathroom cupboard. But good riddance anyway, the exorbitant cost of the blade cartridges alone left me wanting to toss them in the trash.
But recently, a friend mentioned a lesser-known shaving brand he found to be rather impressive. It was the first time I had seen or heard of Harry's, and I decided I needed to give these razors a try. Perhaps Harry's razors would forever change my view on shaving, or maybe it would be more proof I needed to stick with my trimmer.
Pros
The packaging is well-considered and offers excellent attention to detail.
The blades are inexpensive and well-made from German steel.
The rubber slip-proof handle is excellent and comfortable to hold.
Cons
The blade head is too broad for shaving a mustache.
It causes relatively severe irritation post-shave.
The lubricating strip on the razor is ineffective.
Harry's Is No New Kid on the Block
Harry's was founded in 2013 by two gents by the names of Andy and Jeff. Tired of the overpriced and overdesigned razors offered by the stalwarts of the shaving industry, these two entrepreneurs decided to create their own razors.
Disappointed with the high cost of razor blades even at the manufacturing level, Harry's decided to do something about it. So they raised over $450 million in venture capital funding and spent the money on buying a factory that makes razor blades, in Germany of all places.
The acquisition of this factory allowed Harry's to streamline their manufacturing process and, better still, considerably lower their production costs. As a result, we, the purchasers, benefit the most. Gone are the days of paying astronomical prices for blade cartridges; that is if you buy from Harry's. In addition, the brand's ability to keep quality control regulated is also now much more straightforward.
After nearly a decade of producing shaving goods and personal care products, Harry's is now up there, creating competition with some of the more prominent brands like Gillette and the Dollar Shave Club. And to cement their growth, Harry's has even partnered with Target, allowing them to offer their products at a far lesser price than you would find in a drugstore.
Harry's Razors and Products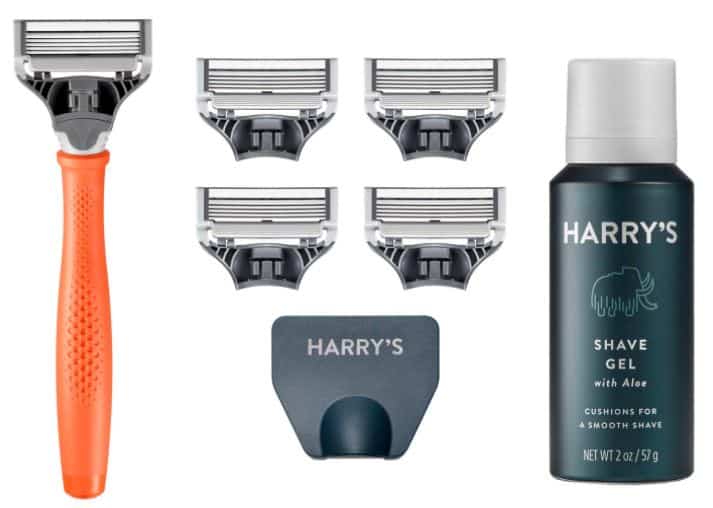 If you make your way over to Harry's website, you will find there are various Harry's products that range from skincare and hair care to an assortment of shaving products, body wash, and post-shave balm and lotion.
I was most interested in their shaving products. Under its banner of shaving supplies, you can find a range of post-shave products, shaving gel and cream, handles, and stands.
There are also Harry's blades. The brand creates one type of blade that fits all their different handles; these razor cartridges feature five blades made from high-quality Swiss steel. You can buy these as a box of replacement blades or in one of the brand's subscription sets.
Harry's offers three subscription sets, and while they aren't the first brand to offer this, the concept is far more impressive than scrambling about at a drugstore trying to find a razor, razor cartridges, shaving gel, and lotion. So let's take a look at Harry's subscription boxes:
Starter Set
Harry's offers the ideal way to learn about and experience its products before investing in a more pricey subscription service by offering a Starter Set. This set costs a mere $5 and has free shipping, so trying the products will cost very little. The set includes:
A weighted rubberized handle (you can pick the color from four unique options).
A five-blade razor cartridge.
A 2.0oz foaming shave gel.
A blade cover.
If you're trying the brand and its products for the first time, this makes an excellent way to see whether the Harry's razor is for you.
The Truman Set
Harry's Truman set offers a complete shaving kit in one neat box. The set includes the Truman handle that features a weighted core and a rubberized grip that comes with impressive tactile texturing. Also included in this box you will find:
Three German-engineered five blade razor cartridges that each have a lubricating strip and a flex hinge.
A 4.0 oz. canister of foaming shave gel or cream dependant on your preference
A travel cover for your razor
The Truman razor comes in three colors, and you can pick your shade from tropical green, indigo blue or bright orange.
The Winston Set
This set is Harry's luxury shaving kit. It includes the Winston razor that features a die-cast zinc body and a graphite finish. This razor is weighty, and if you prefer the feel of a slightly heavier metal razor to a barely-there plastic one, this set is for you. Also included in the box are:
Three German-engineered razor cartridges, each with a lubricating strip and a flex hinge
Foaming shave gel or shave cream that comes in a 4.0oz canister based on your preference.
A travel blade cover
It is important to note a few things about Harry's shaving products. Firstly, their blades are not designed to shave your head, and they state this clearly, multiple times across the website.
Secondly, Harry's does not differentiate their offerings based on blades as many other shaving companies do. Instead, they offer a single style and make of blade that matches their various razor handles. And it is in these handles that Harry's provides a difference. Choose between a heavier die-cast metal Winston or a weighted-core rubberized Truman handle.
Putting Harry's Razors to the Test
There is no better way to really get a good feel for the product than to give it a few test runs. So, I ordered Harry's Starter Set, a simple kit that includes the Truman razor handle, foaming shave gel, a razor cartridge, and the blade cover.
The ordering process was relatively straightforward, and I had no hiccups placing my order or making payment. Within a few days, my package had arrived.
The Packaging
Taking Harry's box out of the courier packaging left me feeling like I was on to a good thing. The brown craft box with the simple "H" logo on the bottom left of the box and the logo printed on the side was sturdy, undamaged, and stylish.
The concept of less-is-more was not lost on the brand's designers, and the packaging perfectly complements the minimalist design of the products themselves.
Inside the box, you will find a fun message on the fold-top and then a "Hi There" flyer and note from the founders on the reverse. Again, I found this to be a pretty neat touch, excellent and personalized, and again, attention to detail that made me, as the customer, feel special.
The shaving kit then came in a funky sealed pouch that made me confident that my razor and its accessories were well protected. I didn't expect it but was surprised and happy to find a few notes on how to change the blades on the razor head and a couple of shaving tips to boot.
The packaging was simple to open. There was no bulky or rigid plastic that was challenging to get into before I could hold my Harry's products (yes, multipacks of disposable razors, I'm looking at you!) Instead, the razor comes elegantly packaged in a stylish cardboard box with an insert that holds it neatly in place. If you're giving this set as a gift, your recipient is sure to be impressed.
Weight and Balance
Included in the Starter kit is the Truman Razor. This razor features a slightly longer handle than, say, the Gillette Fusion Razor, which is great if you're like me and you have slightly larger hands. This razor handle is much easier to hold.
The Truman razor comes with a weighted core and features a rubber casing; however, compared to the Gillette Fusion ProGlide, it is much lighter in weight, making it easy to maneuver. The ergonomic design also prevents any wrist fatigue. Overall, it was much easier and far more comfortable to hold than any other disposable razor I have used.
Grip
The grip is where the Truman Razor truly shines. A rubberized coating on the razor handle provides a finish that is soft to the touch but is by no means slippery. It offers an excellent tactile quality that makes you feel like you have a good hold on the razor.
Harry's takes things a step further by including a tire-like track on the underside of the rubberized grip. This patterning provides even greater traction, perfect for when you're shaving in the shower.
A neat "H" logo is embossed on the rubberized handle, too, a nice touch adding to the sophistication of the look and feel of the product.
The Shave
Testing out the razor was the least fun part for me. As I said before, I am not fond of shaving as it is, and I have relatively sensitive skin, so I wasn't looking forward to the task. However, I was keen to test out Harry's razor and see whether it could turn my dislike of shaving around with a truly impressive razor.
The razor comes with a unique precision trimmer to help with the more tricky areas and places like sideburns. It also features a rather sizeable lubricating strip. The five blade razor is what then tackles your facial hair. The blades on the cartridge are wide-set, which, if you have sensitive skin, is not ideal as it increases the surface area of the blade on your skin and could lead to irritation.
The razor head achieves an exceptional pivot and allows the blade to sit almost flat, enabling it to shape to the contours of your face with ease.
Included with the set is also Harry's own foaming shave gel that comes infused with soothing aloe. Everything seemed lined up for a comfortable shave and hopefully also a smooth shave.
While this wasn't the worst shave I have ever had, it wasn't the most impressive either, and I found myself feeling somewhat disappointed. The sophisticated packaging, comfortable handle, perfect pivot, and German steel blades set me up for what I thought would be the ultimate shave.
I have reasonably thick beard hair, and if you have thinner or longer beard hair, you may find you have a different experience.
I set out by rinsing my face with warm water, patting it dry, and then applied Harry's shave gel. Then, I set out shaving my beard. For the most part, I had no problems although; the razor head is quite broad, which became problematic when shaving my top lip. I ended up having to use the precision edge to cut my mustache.
When it came time to shave my neck, I found things went pretty smoothly here too. However, after finishing up, my skin began to flare up, and the irritation started. The razor burn on my skin was not helped by the few minor nicks and cuts across my cheeks. While I was left with a close shave, my skin was left red and irritated.
I could only put this down to the widely spaced positioning of the blades. As great as this concept is in that it prevents hairs from clogging, it increases the surface area of the blades against the skin, which leads to irritation. If I had to rate this shaving experience, it would earn points for being a good shave, but not an excellent one.
Blade Replacement
Harry's five blade razors come with replacement blades in the complete shaving kits. You can also buy them separately as refills in packs of 4, 8, or 16 blades. These new blades are relatively straightforward to attach to the razor head, and a little instruction sheet walks you through the process.
While a stylish safety razor, Harry's men's razors don't quite meet the mark for me. Perhaps it was my sensitive skin that caused the issue, but I want to pick up a razor and not walk away post-shave with angry red skin at the end of the day.
I found this somewhat unfortunate, too, because everything else scored a ten-out-of-ten for me. The design, packaging, balancing, weight, and grip were all impressive and something other brands could take into consideration.
How do Harry's Razors Compare to Other Brands
Two other brands that stand out as offering a relatively decent shaver are Gillette and the Dollar Shave Club. I ordered the Gillette Fusion ProGlide and the Dollar Shave Club Six Blade Bundle off Amazon and got to work testing them out.
Gillette vs. Dollar Shave Club vs. Harry's
When it comes to comfort, Harry's is by far the most comfortable razor to hold. It features a longer handle, perfect for men with larger hands. As a result, it is easier to grip and much more manageable. The Dollar Shave Club handles pale in comparison. It is slick, difficult to grasp, and if you have big hands, forget it.
In terms of how well the blade moves to the contours of your face, again, Harry's comes out tops. Gillette's pivoting head leaves a lot to be desired and makes tackling the jawline a challenge.
When it comes to the shave, Gillette was ahead this time, purely because although this too was a five blade razor, the blades are spaced closer together. So, yes, there was clogging of hairs but no skin irritation afterward, and that, for me, is always a win.
One thing about the Dollar Shave Club razors is that you can use them to shave your head, a feature Harry's is yet to provide.
All three brands offer a shaving subscription service, with Harry's coming out on top in terms of cost-effectiveness. The price of Gillette shaving cartridges is mind-blowing and not in a good way.
In terms of packaging, Harry's takes the win here. It is simple to get into, and it is elegant. There is not a single piece of tough plastic to hack your way through, nor are there any overly bright kitsch colors or designs.
Harry's Razors have all the makings of the perfect shaving experience. Every detail is considered, from the cost the customer has to pay to the logo embossed on the travel cover and even the elegant packaging. In addition, Harry's offers exceptional prices on their blades and their razor subscriptions, making this an affordable shaving journey, if nothing else.
Were Harry's to improve the spacing of the blades on the cartridges and include a lubricating strip that works as it should, I would happily give the razors another try.