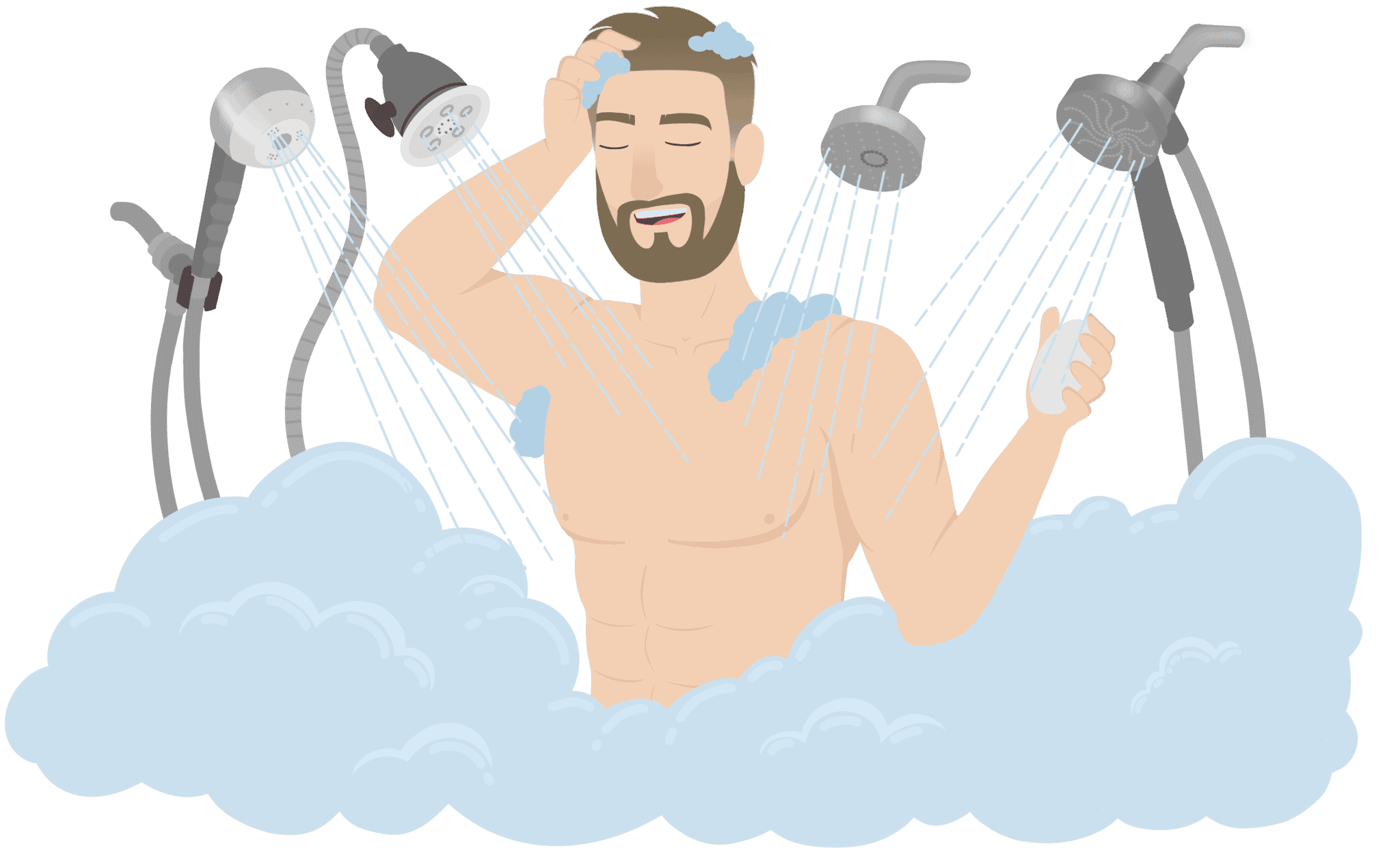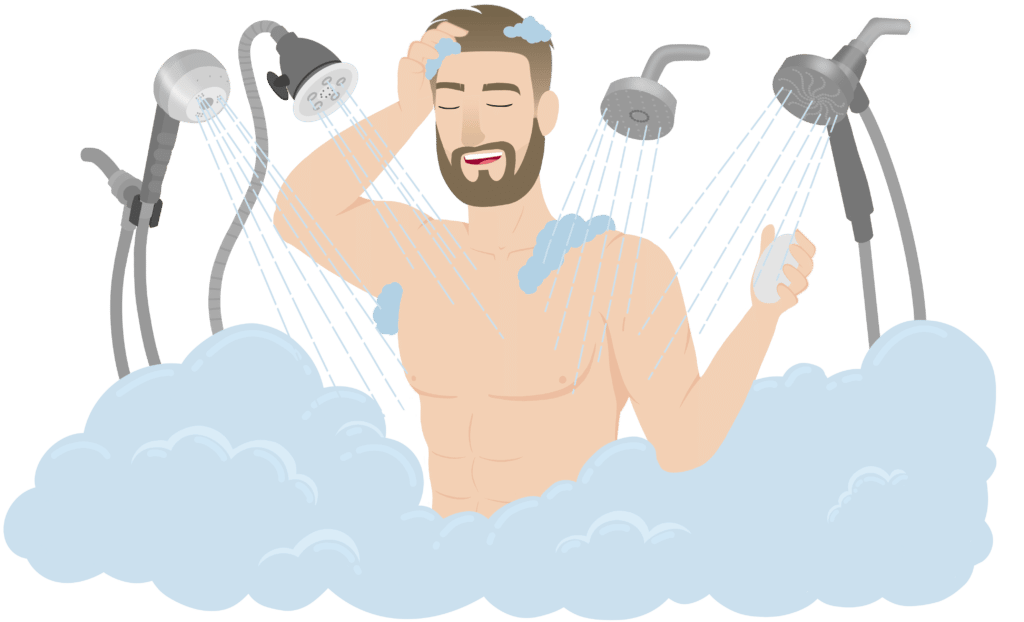 Perhaps you've experienced it before? Stepping into the shower, lathering your hair in foamy shampoo. Only the trickle that comes from your shower head is going to take an age to rinse it out. You hop about, shampoo now burning your eyes as you try to find that one solid section of water flow. Not fun.
Do you know what solves this? A high-pressure . A streaming jet of luxurious warm water that rinses your hair in minutes. Now that sounds more like our kind of shower.
If you are tired of having shampoo in your eyes or just want a unique shower experience, a high-pressure shower head is something to try. Keep reading to find out which ones are the best of the best.
Best High Pressure Shower Head
Searching high and low, we have found the best high-pressure showerheads out there. Each made it onto this list for its ability to provide a shower experience like never before.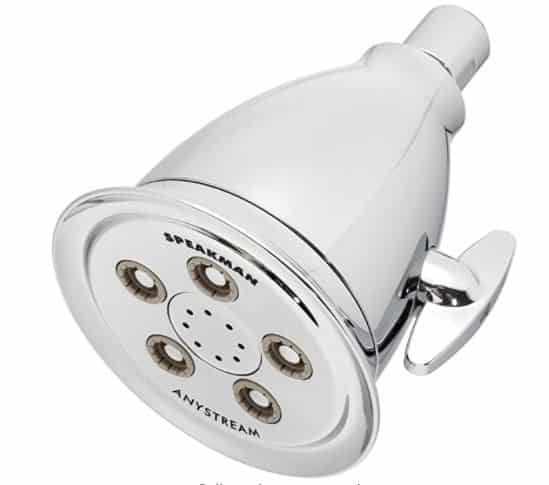 You may begin your day with one or end your day with one. Either way, the shower plays an integral part in our daily lives. For over 150 years, Speakman has worked to perfect the art of the shower, transforming it into a luxurious experience.
Speakman's Speakman Hotel Anystream Showerhead is a testament to their years of perfecting the showerhead. They offer contemporary designs combined with high pressure to bring you a unique shower experience.
Specs
Features Anystream technology
Offers high-pressure spray
Plungers are self-cleaning
Includes unique shower settings
Who is it Best for?
If you're that person who could spend hours in the shower, then this is one shower head you have to try. It sends down streams of massaging water onto your body, leaving you refreshed and relaxed.
Staying environmentally friendly is simple with this strong pressure shower head. With the added pressure, you would think that you use more water, but in fact, the reverse happens. The showerhead comes with water control technology, saving up to four gallons of water per shower.
And just because it's eco-friendly, it doesn't mean this shower head needs to look dull. Speakman's showerhead comes with an elegant chrome finish that adds a touch of class to any shower area. It's no wonder this bathroom fitting is the choice of hotels all over the globe.
Key features
Speakman's showerhead offers remarkable attention to detail. It features five plungers, each of which is self-cleaning. Hello, low maintenance! It also comes with 50 spray jets, eight massage jets, and, if that's not enough, three spray settings.
Whether you are in the mood for gentle rain, therapeutic needling, or a full pulsating massage, this showerhead has you covered. These remarkable fixtures offer this same experience no matter how low your water pressure is. The showerhead works to distribute water evenly, allowing you an invigorating shower experience.
Because the plungers are self-cleaning, they won't become blocked with sediment that accompanies hard-water. This low-maintenance design ensures cleaning and upkeep of the showerhead are kept to a minimum. It prevents the disruption of the water flow.
The elements that combine to form this elegant fitting are all non-corrosive. You can be sure of this durable bathroom hardware.
Pros
Contemporary chrome finish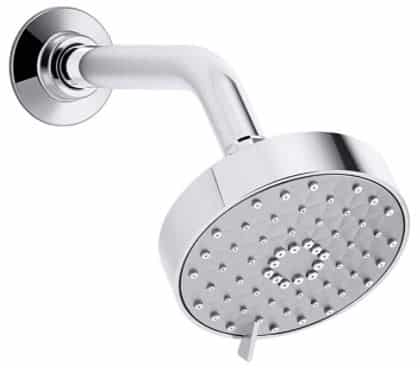 Since 1873 Kohler Co. has been crafting homeware elements designed for better living. Their passion for enhancing the quality of life shines through in their products. However, it was their Awaken G110 Multifunction Shower head that caught our eye.
A contemporary bathroom fixture that brings with it an understated sense of style. Not only will it add a touch of class to your bathroom, but it will enhance your entire shower experience.
Specs
Made from metal
Easy to clean
Includes an ergonomically designed thumb tab
Features three spray patterns
Who is it Best for?
Showers offer so much more than just a way to wash. They provide a place to wash away the stresses of the day or invigorate the senses before tackling the new morning ahead. Each occasion calls for a unique spray, and Kohler's showerhead offers just that. Whether you love a targeted spray that eases sore muscles or a more gentle, wider spray, you will find it with this showerhead.
People with longer hair that they wash in the shower will love this showerhead. It offers a drenching setting that quickly washes the shampoo from your hair—no more hopping about trying to find the strongest stream of water. No more walking around with stringy hair because you didn't get all the shampoo out. Kohler's Awaken showerhead will do the job right.
Key features
For nearly 150years, Kohler has been working to produce innovative and luxurious showerheads. The Awaken Showerhead offers a two-gallon per minute flow rate, leaving you feeling refreshed.
It offers three unique spray settings, a drenching setting to allow for quick and easy hair washing, a target setting for a powerful massage, perfect for sore muscles after a long day at the office. And a broader, gentler spray that is ideal for your daily shower.
The sizable shower head is simple to clean, making upkeep a quick task. Spray nozzles coat the entire head, so you can expect full coverage of water.
Made with only the best materials, you can also expect this shower head to last. The metal components are resistant to rusting and corrosion, while the chrome finish is tarnish-free.
Pros
Offered in four unique finishes
Cons
Shower arm and flange not included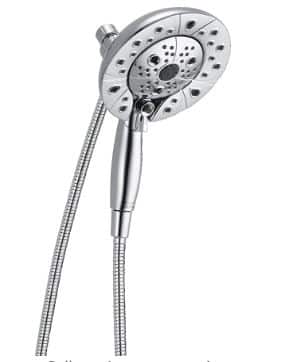 Delta Faucet has three principles they stand by. These include "water has the power to transform the way people feel every day, there can be magic in simple solutions, and innovations flow from human insight." These core values translate perfectly into their 5-Spray H2Okinetic In2ition 2-in-1 Dual Hand Held Shower Head.
This sleek and impressive showerhead offers, as Delta puts it, "water where you need it most." With broad water coverage and evenly distributed heat, this is the showerhead you have been waiting for.
Specs
Features five spray settings
Uses MagnaTite docking
Offers three times more water coverage
Includes a spray pause feature
Who is it Best for?
If you are looking for a high-pressure handheld showerhead, then give this one a try. Delta Faucet's unique shower doubles up as a handheld unit or as a docked shower. You can use it both ways. If you shave your legs in the shower, we know you will find this especially handy.
Attach this shower head in minutes to your existing shower arm or invest in one that matches. Either way, the system installs quickly and without fuss. So, if you're not really a maintenance-oriented person, this shower head is for you.
And if you frequently replace parts of your shower, then this stylish fixture will leave you smiling. The stainless steel hose is resistant to rust and corrosion, making it as durable as they come.
Key features
Delta Faucet offers a shower head that gives you options. Some days require a more gentle spray, while others call for a full body massaging spray. And sometimes, you just need to hit pause.
This showerhead features five spray settings that range from a full coverage massage to a power-drench spray. It also features a very hand spray pause setting that reduces the jet to a trickle to conserve water while you shampoo your hair or shave your legs.
Delta Faucet makes use of its unique H2OKinetic technology. This increases the water droplets' size, offering you more generous coverage, more warmth, and increased pressure.
And to keep the showerhead in place while docked? The impressive MagnaTite design. This technology makes use of an integrated magnet that keeps your shower head in place while it is anchored. No more water spraying about because the shower head was slipping about in its dock.
Pros
Promotes water conservation
Can be used docked or hand-held
Cons
Shower arm is sold separately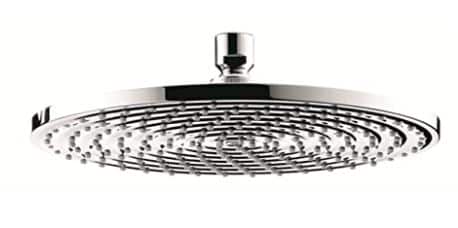 Hansgrohe's Raindance Showerhead offers what is arguably the most tranquil shower experience. It has been likened to standing in a rainstorm in the middle of a forest.
We expect nothing less from a company that has been around for over a century. Hans Grohe, the founder of the sanitation-focused company, played a vital role in the evolution of the private bathroom. It makes sense then that we enjoy a great shower head that continues his legacy of innovation.
Specs
Extra-large ten-inch diameter showerhead
Features AirPower Technology
Made with brass
2.5 GPM flow rate
Who is it Best for?
Everyone has their personal preference when it comes to showering. The spray setting, water pressure, and water coverage all play a role in defining how we best like our showers. If you are someone who enjoys a shower that feels like you're standing in the rain, then you will love this showerhead.
Keeping your finger on the pulse of style is easy with this understated yet stylish showerhead. Offered in chrome or brushed nickel, you can pick the finish that best suits your bathroom. Over-sized by design, this shower head lends a contemporary feel to any bathroom.
If you are looking for the best high-flow shower head, then this is one you should try. It features a flow of 2.5 gallons per minute for full, intensive coverage.
Key features
It may only offer one spray setting, but it is so luxurious you may find it is the only spray setting you ever need. Hansgrohe's innovative RainAir function provides you a refreshing shower experience. The large showerhead offers you an immersive experience as you stand under what feels like fresh summer rain.
AirPower technology infuses the water droplets with air as they fall from the showerhead. The thinking behind this is to aerate the drops to make them lighter, softer, and fuller. This way, as they fall, they are gentle on your skin, giving you the sensation of standing in rainfall.
A QuickClean feature means this shower head is simple to clean. Silicone spray nozzles collect the deposits made by hard-water, so all you need to do is gently wipe them clean.
Pros
Offered in chrome or nickel
Cons
Only offers one spray mode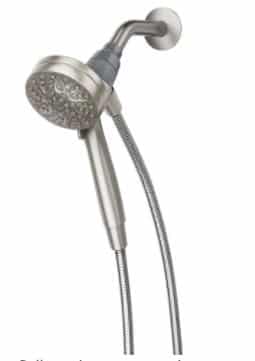 For over 80 years, Moen has prided itself on making quality products that are made to last. Each fitting comes with the perfect finish, designed to add style and luxury to your home.
Their shower heads fit that bill to the T. Some even consider them to be the best high-pressure shower head with a hose you can find. Durable and sleek, these handheld shower heads transform your bathroom and shower time into something magical.
Specs
Magnetic docking
Finished with spot-resistant nickel
3.5-inch shower head
Complies with Americans with Disabilities Act
Who is it Best for?
If you enjoy a sparkling, fresh-looking bathroom, then this shower head is one you need to look at. It comes with a spot-resistant nickel finish that is resistant to fingerprints and watermarks. This leaves it as a relatively low maintenance fixture and will leave your bathroom looking spotless.
For those who prefer showering over bathing but find it tough to shave in the shower, you may find your solution in this showerhead. Because it works as both a docked and a hand-held unit, you can quickly rinse your legs while you shave. It is also the perfect hair-washing accessory, allowing you to rinse all the shampoo off with ease. This convenience is ideal for busy individuals that need to get things done in a flash.
Showerheads should not be something you replace often, and Moen makes sure of that. They craft their bathroom fittings with premium quality materials, leaving you with a product that lasts.
Key features
For a custom shower that leaves you feeling your best, Moen provides you with multiple settings. Selecting the spray function that best suits your mood is ideal for starting or ending your day. Whether it's a strong jet you need or a more gentle spray, you get to decide how your shower feels.
Moen has made sure that when docked, the showerhead doesn't move about. We are confident that you have experienced, at some point, a showerhead that writhes about the minute the water pressure becomes too much. It's not a fun experience and the cleanup after isn't great either.
By fitting the docking station with a magnet, Moen ensures your shower head stays in place. This design also makes it simple to remove the hand-held mechanism with ease because there is no longer a need for a unique contraption to hold it in place.
Pros
Use it docked or as a handheld device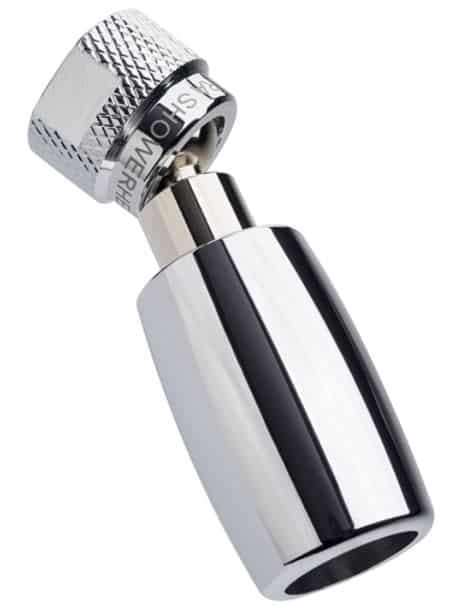 High Sierra Showerheads came to be through the creation of sprinkler irrigation. Seeing how the nozzles he created took water from low pressure and pushed them out as large, high-energy droplets gave him an idea. Home showers could benefit from this too, and as they say, the rest is history.
Today, High Sierra Showerheads offers us their High Efficiency Low Flow Showerhead. The award-winning, patented design leaves us with an experience that transforms the way we shower.
Specs
Offers a 1.5gpm flow
Solid metal construction
WaterSense certified
Energy-saving
Who is it Best for?
If conserving water and keeping your energy bill down matter to you, then this is the showerhead you need. It may look as though barely a trickle could escape it. Still, this showerhead delivers power without over-drawing on energy.
This compact and minimalistic shower head comes offered in four contemporary finishes—a perfect feature for those who prefer their bathrooms to carry a touch of pizazz. There is a finish for each style of bathroom, from a slick oil-brushed brass to a gleaming silvery chrome.
The nozzle's unique shape left us wondering whether anything much came out of it at all – surely for extensive water coverage, you need a larger showerhead? High Sierra proved this notion wrong, giving us a compact, high-impact design.
Key features
We may have already discussed this, but it is so impressive it bears mentioning again. The small, unusually shaped nozzle features a patented design that uses water that runs at low pressure. This water comes out as large, energy-infused droplets that provide you with a high-pressure shower.
Because the drops are larger, they offer increased coverage without over-using water. The high-energy of the droplets gives them increased force and pressure. Ladies with long hair will love this, as it makes washing shampoo out even the longest hair a quick and painless task.
And then there is the issue of sediment build-up from the minerals found in hard water. Well, maybe with other showerheads, but not this one. High Sierra's nozzle is designed to be clog-free. A low-maintenance shower head is always the best kind.
Made from solid metal, these shower heads are durable and will last for years to come. In our books, this is easily the best shower head to increase water pressure you can find.
Pros
Offered in four unique finishes
Features a clog-free nozzle
Cons
Does not offer a hand-held option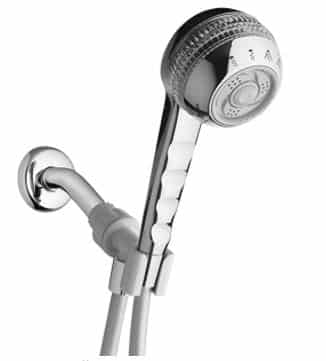 Waterpik first designed the original shower massager in 1974. Since then, they have refined the design into the impressive showerhead we see today. Useable as a docked shower or as a hand-held device, you get luxury and convenience in one.
Their mission? To provide us with a shower experience that is both relaxing and rejuvenating. Do they meet their target? We think so, but you will need to try the Original Massage Hand Held Shower Head to see for yourself.
Specs
Offers a flow of 1.8 gallons per minute
Features four unique spray modes
Includes a five-foot shower hose
Hand-held or docked
Who is it Best for?
If you have long hair that is tough to wash or shave your legs in the shower, then this handy hand-held shower head is just what you need. It comes with a five-foot-long shower hose that makes rinsing off your shampoo so simple.
Because the hose is so extensive, this shower head is also ideal for people with pets. Bathing your pet can be a struggle, but not with this massage head. It makes rinsing them off quick and easy so bath time doesn't become traumatic for them or for you.
Not everyone is a DIY fanatic, and for some, any sort of home maintenance is downright scary. If you're that person, get this showerhead. Installation of the device requires barely any work on your part. You can rest assured adding this shower head to your bathroom is a painless process.
Key features
Waterpik offers us an elegant chrome and crystal version of their original massage showerhead. It comes with a neat docking station and can be used as a hand-held device or as a docked shower.
This showerhead offers four spray modes, so you can choose the one that most suits your needs. Make your selection from a full-body coverage spray, an intense massage, a gentle massage, or a combination of the full-body coverage and massage settings. Wake yourself up with a rejuvenating shower, or wind down after a long day with an intense massage.
Waterpik uses innovative OptiFLOW technology to transform theirs into the best high-pressure shower head on the market. This power shower head takes water from low pressure and transforms it into a concentrated, high-pressure jet. Never again do you have to dance about searching for a spray of water strong enough to rinse your hair.
Cons
Does not feature a magnetic docking station
Things to Consider When Buying A High Pressure Shower Head
When searching for the best water pressure shower head for your bathroom, there will be a few factors that influence your choice. While to some, these may seem pretty obvious. Others may not consider these factors until it's too late and the showerhead is already installed.
There is no harm in going through the aspects to consider, that way, they are fresh in your mind when you do purchase a new showerhead.
1. Aerated or Laminar Flow
High-pressure showers offer two options when it comes to water flow. Each style works to provide increased pressure differently. These differing techniques also affect the way the water emerges from the showerhead.
Aerated flow sees the droplets of water infused with air. This softens the droplets and gives them higher energy, so they erupt from the showerhead at a higher force. While there is nothing wrong with this system, it causes the water to come out with more of a mist effect.
If you live in a cooler climate, this is probably ideal for you, as it warms the air surrounding you too. However, if you live in an area with high humidity, this may not be the best option for you, as the mist will only increase the moisture in the air further.
A laminar-flow shower head is your normal shower head flow. This one offers a more uniform, jet-type stream of water. This style of water flow suits any climate perfectly, making it the more popular choice.
2. Versatility
When choosing a new shower head, you need to think about how and what you want to use it for.
If you're a guy with short hair and no pets, a fixed shower head is most likely a better bet for you. Unless, of course, you prefer a hand-held style of a shower, or you're a dad to little girls with long hair.
Conversely, if you're a woman with long hair and a few pets, a hand-held shower head with a dock may be the solution you need. These sorts of showers offer more reach and flexibility to rinse your hair or your pet's hair free of shampoo.
3. Finish
Showerheads come in an assortment of finishes these days. While the plastic options don't always look so smart, you can bank on the choices we discuss in our reviews. These all offer a sleek metallic finish that brings a dash of style to any bathroom interior.
Some finishes you can expect to find are:
– Brushed nickel, which offers a more matte metallic look.
– Chrome, which is your more popular gleaming silver finish.
– Oil-brushed brass that provides a matte metallic black.
– Polished brass that sees a dazzling glossy gold look.
4. Rainfall or Jet Style
Another vital aspect to consider is the style of spray your new shower head offers.
A jet spray often allows for selecting modes or settings that may include a massage spray, a fuller spray, or a more gentle spray. These are far more versatile in their options and allow you to set your shower according to your mood or your needs.
A rainfall shower, while extremely relaxing, is not always as versatile. Often these showerheads offer only one spray setting. They are also not ideal if you need a quick, powerful shower or if you have very long hair you need to wash.
Think about the style of spray you may want and how that benefits you. By doing this, you will easily find the perfect shower for your home.
Showering with low water pressure isn't great. The best way to fix this is with a high-pressure showerhead. While there are many variations, styles, finishes, and spray options, you should consider each aspect. Taking these elements into account will help you find the perfect shower head for your bathroom. We hope our reviews play a part in helping you too.
After all, these shower heads not only give you a sensational shower experience, but they go a long way in saving you money and water too.