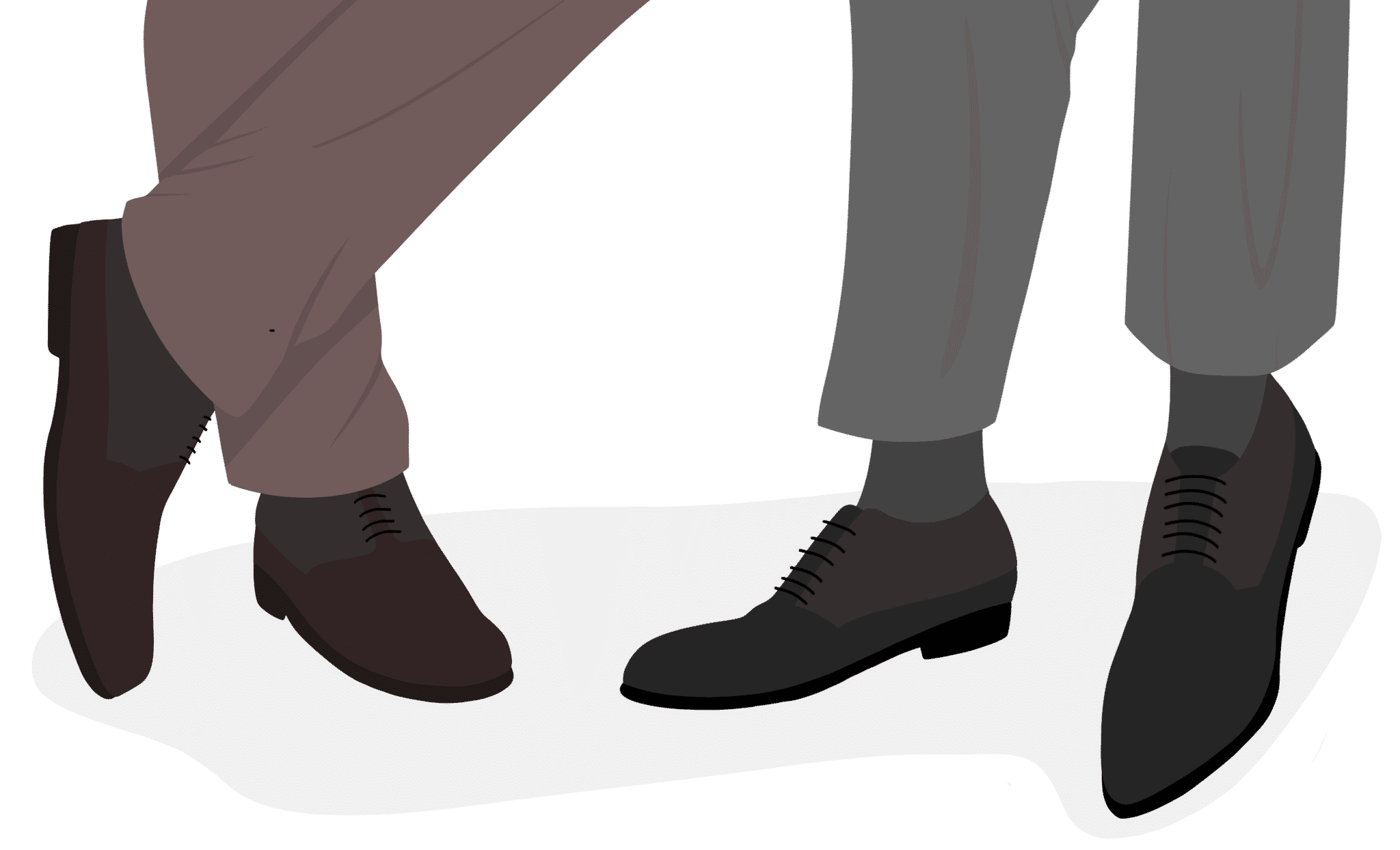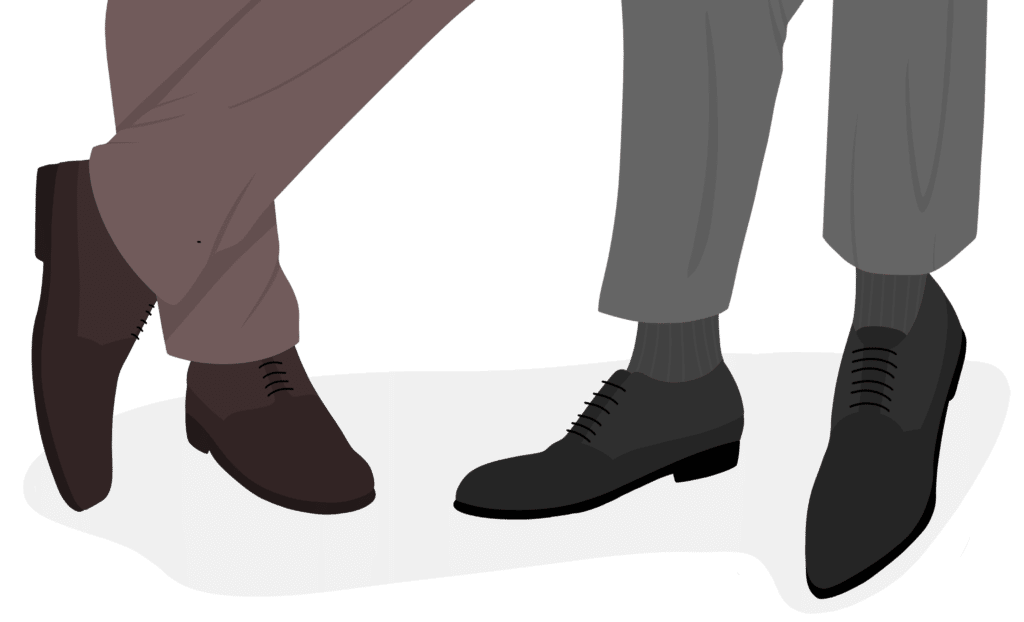 There are more styles than you can count on one hand when it comes to men's shoes. With all the fabulous sneakers and hi-tops out there, it is easy to forget about the more formal dress boots and shoes, which can be problematic for a work interview or a wedding.
Dress shoes themselves come in an assortment of styles, from Lace-up oxfords and derby shoes to the slip-on penny loafer and monk strap shoes. And that's just the shoes. There is an assortment of dress boots for colder weather, such as the Chelsea boot and chukka boots. These sleek and fashionable pieces of menswear add a touch of style to any formal outfit, taking your look to the next level.
The challenge comes in when trying to find a pair that is best suited for you, not because of the multiple styles but because not all men's dress shoes are made equal. To make it easier for you to find a pair of good quality dress shoes, we have collected a selection of the best men's dress shoes Amazon has to offer and reviewed each of them. So, let's jump in.
To find the best dress shoes Amazon has to offer, we studied and tested numerous pairs and concluded that these eight are the best men's dress shoes available on Amazon. We used the approach to chat to men and shoemakers about what they felt were the most important criteria for a quality pair of dress shoes, and then we reviewed pairs that met these standards. Our evaluation of these shoes was based on the following factors: style, comfort, quality of the materials and craftsmanship, and durability.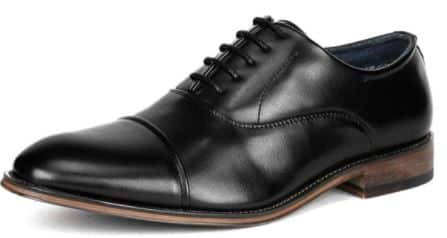 Bruno Marc is a relatively new brand, founded in 2013, but you wouldn't say so by looking at their shoes. The brand offers a selection of dress shoes made for every occasion, each with a unique design, expert craftsmanship, and quality materials.
The Bruno Marc Men's Leather Lined Dress Oxford Shoes form part of their formal business collection, offering a sleek and elegant cut and style.
Specs
Made with a rubber sole
Synthetic leather upper with a cap toe design
Lace-up closed construction
Latex padded footbed with premium leather lining
Who is it Best for?
According to the Bruno Marc website, these Derby Oxford shoes are made for more formal wear, although they would add a dash of sophistication to a jeans and sweater look too.
The shoes are expertly crafted and come with a cushioned footbed and are resistant to odor which makes them ideal for extended wear. I put them to the test, wearing them to work three to four times a week. I found them extremely comfortable, but the synthetic leather on the upper began to peel after a while.
In my opinion, if you're looking for a stylish pair of dress shoes to wear to an all-day event every so often, these are ideal, but I wouldn't recommend them for frequent use.
Key features
Bruno Marc makes these dress shoes from synthetic leather of such a quality that they look like genuine leather. The downside is that the shoes won't stretch out the way genuine leather does, so take note when choosing sizes.
What impressed me with these shoes is the shock-absorbing rubber sole and that anti-skid patch on the outsole, although it would have been nicer if this patch covered the entire sole and not just an area. I also found that if you bumped the leather sole against the upper of the other shoe, it left black marks but these buffed out quickly enough.
The sleek cap toe and lace-up closure added that typical dress shoe looks and feel. The laces made it much easier to fit the shoe to my foot and left them feeling comfortable rather than restrictive.
Pros
The shoes are extremely comfortable
The stitching is impeccable and stays put
The rubber soles wear well
Cons
Black markings from the rubber solecan dirty the shoes
They won't stretch out the way genuine leather does
Black markings from the rubber solecan dirty the shoes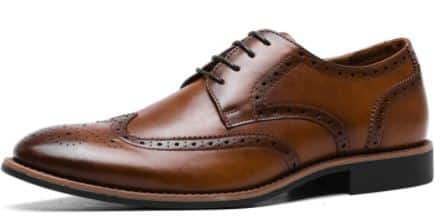 Kararao designs shoes of all shapes and sizes for men and women, from chukka boots to snow boots, double monk strap shoes, and derby shoes; they offer something for both casual and formal occasions.
When we came across the Kararao Men's Oxford Shoes Classic Lace-up Slip-on Leather Dress Shoes, they instantly caught our attention. The sophisticated design paired with the broguing left us wanting to know more and whether the comfort matched the style.
Specs
Features a classic wingtip oxford style
Lace-up closure
Rubber soles and a leather upper
Ergonomically designed with a velvet lining and cushioned footbed
Who is it Best for?
Kararao expertly crafts these men's dress shoes to be both sophisticated and fashionable. The brand offers these oxford shoes in both olive-brown and olive black, so you can have a pair to match every suit you own.
The wingtip toe combines with the broguing (detailed perforations) on the edges to offer a design that takes formal to the next level. If you want a pair of formal shoes that are fashionable without being stuffy, these are an excellent choice.
Compared to Kenneth Cole's REACTION Men's Sim-Plicity Oxford, these offer far greater style, a much more affordable price tag, and they're made from genuine leather.
If you're concerned about sizing, don't be. The leather stretches with time to fit your foot comfortably, and as someone with broad feet, I can attest to this.
Key features
These men's dress shoes come with a durable rubber sole that works well to absorb shock. The cushioned insole and velvet lining add extreme comfort to the shoe's interior while also making it breathable, so your feet don't overheat.
After testing them out, I found that they are as comfortable as the Kararao website claims them to be. What I found to be most impressive is that the sole of the shoe offers a slip-proof texture that made all the difference. Lacing them up also made it much easier to fit them to my feet.
Compared to better-known brands such as Clarks, these measure up, and because they cost so much less, I may be inclined to buy these in the future instead.
Pros
The style and construction is impeccable
Sizing is perfect and the leather molds well to your feet
The rubber sole offers a really good grip
Cons
They only come in two shades and it would be nice to have them in a darker brown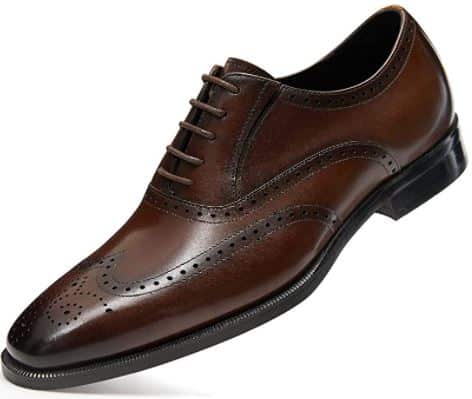 Frasoicus specializes in the design and manufacture of men's dress shoes. Loafers, Oxford, Derby, and Monk strap shoes are all available from this brand.
Suppose it's a pair of timeless and durable dress shoes ideal for business casual wear you're after. In that case, we suggest giving the FRASOICUS Men's Dress Shoes with Genuine Leather in Classic Brogue Oxford Formal Shoes a try. They left us suitably impressed with both the design and materials used.
Specs
Made from genuine cowhide leather
Features an elegant wingtip and broguing detailing
The inner comes with an elastic band fitting for comfort
Includes a rubber sole
Who is it Best for?
If you want a pair of genuine leather shoes, we suggest trying these. They are made with soft cowhide leather that is breathable and stretches to fit the shape of your foot with time. Frasoicus takes extra care in the final finish of these shoes, coloring the leather by hand, leaving no two pairs looking exactly alike but offers a unique and well-detailed finish.
These oxford shoes are offered in tan, black, and a rich chocolate brown that makes it easy to find a shade that pairs well with your suits, although I wore my tan ones with chinos, and they looked great.
Over and above the color options, the broguing detail adds a nice touch to the shoe, making them a little more contemporary and not so stuffy looking. For this reason, I felt comfortable in pairing them with a slightly less formal outfit.
Key features
The thing that made these shoes so unique is the addition of the elastic band on the shoe's interior that offers a little more stretch to the shape. While I found this rather handy when first wearing them, no blisters from new shoes, finally, I did have to wonder about how this would work when the leather stretched to better fit my foot. Would the shoes then become too loose on my feet?
The rubber sole provides an excellent shockproof and anti-slip base, but the shoes fall short on the interior. There is minimal cushioning on the insole, which makes them uncomfortable to wear after a few hours. If you're looking for well-made dress shoes to wear for a few hours at a time, then these are a great choice.
Pros
The leather is breathable and looks amazing
Rubber soles make for great anti-slip shoes
They don't cause blisters that often come with new shoes
Cons
The interior of the shoes are uncomfortable after an extended period
The elastic band design may be counterproductive in the long run.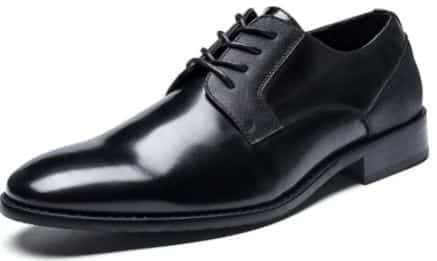 Amapo is a brand that dedicates its process to the creation of stylish and comfortable shoes. Their tagline, wear comfort, was the hook that caught us, and then when we looked more closely at the AMAPO Oxford Lace-Up Men's Dress Shoes Wingtip Brogue Shoes, we knew we had to give them a try; and, we're glad we did.
These shoes offer a slightly more formal style than some of the others we have reviewed, making them ideal for that important job interview or your brother's wedding.
Specs
Made from synthetic leather uppers
Latex cushioning on the footbed
Soft and breathable lining and insole
Hand stitched finish
Who is it Best for?
If you are looking for a pair of dress shoes that offer a minimalistic and more formal look, then these are worth looking at a little more closely. The shoes come in black and a light brown that almost hints at tan, so they will fit with most of the suits you own.
Although the shoes don't necessarily look that eye-catching, they are beautifully made, hand stitched, and crafted in such a way that the shoes take on an air of sophistication.
The punched hidden eyelets add to the minimalism of the design. The durable rubber sole adds cushioning and an excellent grip that comes in handy in poor weather conditions or high-shine tiles.
One would expect shoes of this caliber and craftsmanship to be rather expensive, but they aren't making them affordable and well worth your while.
Key features
Amapo purports on their website that their shoes offer remarkable comfort, which is the aspect of the shoes we most wanted to put to the test.
The brand claims the shoes are lightweight and are made from premium faux leather with a breathable lining and a latex cushioned footbed. After wearing these shoes a few times a week for just over a month, I found that they did indeed offer the comfort they claimed.
The thicker sole and the latex cushioning combine to leave you feeling as though you are walking on air. While the synthetic leather won't stretch out to fit your foot, the lace-up design more than compensates for this, making them ideal for those of us with broader feet.
Pros
The sole is quite thick and provides an added cushioning
These shoes are really well crafted and look as though they could be real leather
Although minimalistic, this style adds to the sophistication of the shoe
Cons
It would have been the perfect shoe if the uppers were made from genuine leather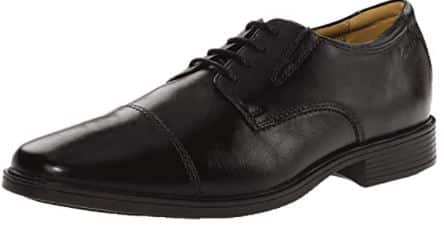 Clarks Shoes was founded almost 200 years ago in 1825 in Somerset, England. The know-how and understanding about what a gentleman's shoe should be, along with the knowledge of shoemaking, has been passed down over the centuries, leaving those of us today to reap the benefits.
The Clarks Men's Tilden Cap Toe Oxford Shoe shows the brand's attention to detail and expert craftsmanship. It is a shoe like this that elevates any look from good to unique.
Specs
Made from genuine leather
Includes stretch gore panels that give the shoe greater flexibility and a better fit
Features an OrthoLite foot bed
Comes with a leather lining
Who is it Best for?
Clark's shoes are most well-known for being comfortable, and these are just that. If you are looking for a pair of work shoes that you can wear daily, then these are them.
The shoes come fitted with a breathable leather lining, and it certainly kept my feet dry and sweat-free. Aside from the soft lining, the shoes are equipped with Clarks' own OrthoLite footbed. Ortholite is a unique technology that offers the softest cushioning while being breathable and wicking away moisture.
The only downside to this buttery soft, walking-on-air cushioning is that after time it began to wear, and because it is attached to the shoe, you can't remove or replace it. With that being said, the softness it does offer left me feeling comfy throughout the day.
Key features
Clarks makes these dress shoes from premium full-grain leather that is both soft and breathable. What I found impressive was that, unlike most other leather shoes, these didn't take a long time to wear in and were comfortable from the get-go.
While a little noisy on high-shine flooring, the TPR sole offered excellent support and grip, which, in my opinion, is far better than a wooden sole. These soles wear well, too, and provide better shock absorption.
Included in the design of the shoes are stretch gore panels that allow for greater flexibility when you walk. I enjoyed this as you often find inflexible shoes bite into the sides of your feet and leave blisters, which I didn't experience here.
Pros
These shoes wear in quickly and without hassle
The flexibility offers more comfort
Your feet remain dry and sweat-free even after a full days' wearing
Cons
The Ortholite insole may wear thin after some time and can't be replaced or removed
The shoes can be quite squeaky on high-shine flooring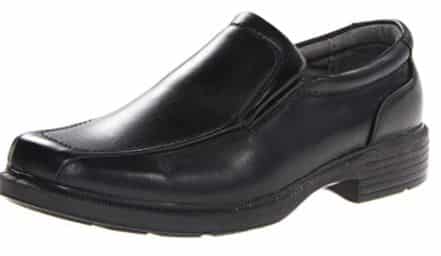 Deer Stags is a men's and children's shoe brand that focuses on three things when designing their shoes: comfort, value, and style.
The brand creates a range of shoe styles from Loafers, Monk Strap, Oxford, and even slippers and boots.
The Deer Stags Men's Greenpoint Dress Casual Cushioned Comfort Slip-On Loafer offers a unique look and a comfortable style. These slip-on shoes make life easier and a whole lot more comfortable, as we found out.
Specs
Made from simulated faux leather
Slip-on style
Features a bicycle toe and elasticated goring
The insole is padded but lightly so
Who is it Best for?
If you aren't into lace-up shoes and prefer more of a slip-on style, these make an excellent option. These loafers from Stag Deer slip neatly onto your feet without the hassle of tying laces.
The loafers offer outstanding support, too, with their synthetic soles and stacked heels. The stacked heels help with posture while the soles add support. What I think Deer Stags could improve on with these shoes, though, is that they don't come with an anti-slip bottom, making them a little unsteady on slippery or wet surfaces.
The sole also tends to be a little squeaky on some flooring, which can be a little frustrating.
Deer Stag offers these loafers in both black and brown, which in my opinion is excellent; this way, you can have two pairs that combine well with most of your work wardrobe.
Key features
Deer Stags make these shoes from synthetic products, making them cruelty-free. The leather is simulated, so the shoes still look sophisticated, but you will find they don't offer the same durability as genuine leather. I discovered that they scuffed pretty easily but could cover up these marks without hassle using a little shoe polish.
The bicycle toe and the squared tip give these loafers a unique look that works well for casual and formal occasions, making the shoes quite versatile.
I enjoyed the fact that I could just slip these on and off my feet under my desk with no fuss, and the stretch goring on either side of the tongue helped with this. When it came to comfort, these got top marks, as they are soft and feature a padded insole that offers just enough support.
Pros
The shoes offer exceptional comfort and are simple to kick off and slip on again
Scuffs are easy to cover up
The stacked heel gives better back support
Cons
The shoes don't last as long as genuine leather shoes
They can be squeaky on some surfaces and offer very little grip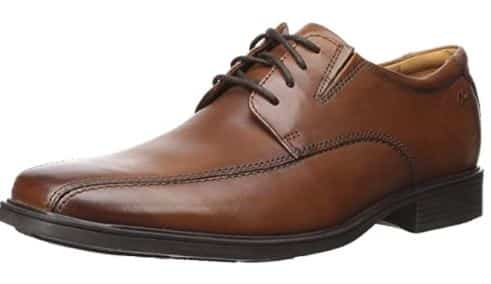 When it comes to designing and manufacturing elegant and comfortable shoes, Clarks has things taped. They should after nearly 200 years of being in the shoemaking business. The brand name is well-known and loved across the globe, and when looking at shoes such as the Clarks Men's Tilden Walk Oxford, it is easy to see why.
Made with premium materials and featuring a style and design that will leave any onlooker impressed, these shoes are a superb addition to any working man's wardrobe.
Specs
Made from genuine leather
Cushioned Ortholite footbed
Lace-up closure
Dual goring for greater flexibility
Who is it Best for?
When buying shoes, I always enjoy a pair that doesn't pinch. Finding dress shoes that offer this is like finding that magical unicorn until now. After wearing these Oxfords from Clarks, I can happily tell you; they don't pinch. This may be due to the dual goring that sits on either side of the tongue or from the leather material of the shoes, but whatever it is, it works.
If you battle with broad feet, then the lace-up design Clarks uses for this shoe will make things easier, allowing you to adjust how tightly they sit on your feet. They also come in sizes designed for guys who need wider-fitting shoes.
Compared to the Bruno Marc Men's Leather Lined Dress Oxfords Shoes, these Clarks come in at a slightly higher price point, but that is to be expected since they're made from genuine leather, and they offer a more sophisticated design.
Key features
Clarks makes these men's dress shoes from 100% genuine leather that, with time, softens to mold to your foot. The leather uppers attach to the synthetic outer sole that offers a perfect grip. Clarks lines these shoes with leather that sits over the OrthoLite cushioned footbed.
What stood out about these oxfords is that they took no time at all to break in; making them comfy from the very first time I slipped them on my feet.
While the price point of these is slightly higher than what I am used to paying, I would gladly pay it again because not only are these shoes high-quality, they are versatile too and look as good with a pair of dark blue jeans as they do with dress pants.
Pros
The shoes offer versatility
These come with a pinch-free design
The shoes are very comfortable and take very little time to break in
Cons
They are relatively pricey (but worth it)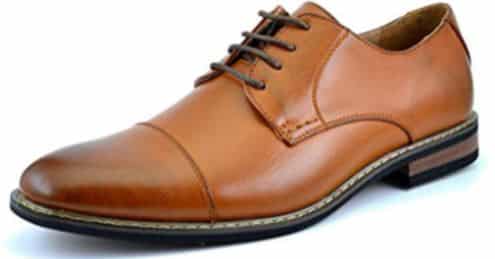 Bruno Marc is a unique brand that focuses on creating elegant and durable men's dress shoes. The brand offers a wide selection of dress shoes, including Derby, Monk strap, Oxford, and Loafers.
It was the Bruno Marc Moda Italy Men's Prince Classic Oxford Wingtip Lace-Up Dress Shoes that had us wanting to don our best suit and give a pair of Bruno Marc's a spin. How did we find them? Let's take a look.
Specs
Made from PU leather
Offered in an open or closed lacing system
Features a quintessential brogue wing tip design
Includes a wooden sole
Who is it Best for?
Understated, minimalistic, and definitely less-is-more, these dress shoes offer a style like no other dress shoe out there. Bruno Marc understands the need to craft shoes that suit every taste and do that well with these. The shoes come in six different shades that range from black to tan and even white. The only downside is that they don't come in cognac, a color I have wanted shoes in for some time now.
What left us even more impressed are the additional style options you can choose from. You can opt for the minimalistic unadorned look or go for a highly detailed broguing. For the laces, choose from a closed lacing or an open lacing design depending on whether you want the vamp visible or not.
Key features
Bruno Marc fashions these brogues from PU leather that looks just as good as genuine Italian leather. The wooden sole offers a sturdy base that may not be as durable as a rubber outsole, but it certainly adds style.
The faux leather lining combines with the latex insole to add cushioning, making the shoes comfortable to wear for long periods. Unfortunately, these materials aren't as breathable, which means that they can make your feet sweat and become a little odorous after wearing them for some time.
Speaking of odors, another thing I picked up is that the glue used in making the shoes tends to be a little pungent, taking on the smell of fuel, but I found that after airing them for some time and dusting the interior with baby powder solved the problem.
Pros
The shoes are well priced for what you get
The range of colors and style options are impressive
These shoes wear comfortably
Cons
Not as breathable as I had hoped
The glue used in manufacturing the shoes tends to be a little pungent
Things to Consider When Buying Dress Shoes
1. Materials
Finding a high-quality pair of men's dress shoes relies heavily on the materials used to make them. Here are a few of the better materials used to make dress shoes and why they are the better option.
Whether you buy dress shoes made from genuine leather from Italy or full-grain leather, you are guaranteed a pair that will last. What makes leather so great, aside from its durability, is that it is breathable and won't leave your feet feeling hot or sweaty. Leather shoes are also able to stretch and mold to your feet and prevent pinching. A leather sole also ensures the shoes last longer and wear better.
A memory foam insole offers the best comfort for shoes you will be wearing all day. The memory foam provides a soft cushioning that fits the contours of your feet, and once you're done wearing them, the foam pops back up to its original form, so you don't end up with areas that have no cushioning.
While this isn't a material per se, it is a design element to a dress shoe that offers greater durability and style. A welted shoe features a strip of leather or rubber that runs along the perimeter of the shoe's outsole. This strip connects the upper to the insole and makes it easy to change out the shoe's outsole to extend the life of the boot.
2. Style
There is a wide selection of shoe styles available in the category of men's dress shoes. Men's style and taste will generally dictate the sort of shoe chosen, but let's look a little closer at the options available:
These are the ultimate formal dress shoes. They feature a closed lace system and come with a wingtip, cap toe, or plain toe design. Oxford shoes often come with a broguing detail that leaves them with a slightly less formal look ideal for business-casual wear.
These feature an open lacing system and offer a slightly less formal look than an Oxford shoe, making them ideal for businessmen.
A whole-cut shoe is made from a single piece of imperfection-free leather. These shoes also feature a closed lace system and are sometimes categorized as Oxford shoes. This features no detailing such as a cap toe or wingtip and is used for highly formal attire.
These shoes sit in between an Oxford shoe and a Derby shoe when it comes to how formal the shoe is. The monk strap features no laces but instead comes with a single or double strap that sits over the top of the shoe, fastening on the outer side with a buckle.
A loafer is the most casual of the dress shoes. It features no laces or straps and simply slips onto your foot. Loafers often come with tassels and are frequently made from suede.
Dress boots are slightly more formal than men's boots. They come in a range of styles, from a more formal Chelsea boot that is the boot version of a whole-cut or the Chukka boot that can be likened to a high-top version of an Oxford shoe.
When looking for the best dress shoes, a selection of variables come into play from personal taste to shoe style, material, durability, quality, and versatility. It makes it much simpler to find the dress shoe that best suits your needs by narrowing down the style you want, your budget, where you intend to wear the shoes, and how frequently.
Once you have all of that figured out, taking a look at a review such as this will hope you find a dress shoe that ticks all your boxes while ensuring you find shoes that feature quality and expert craftsmanship.