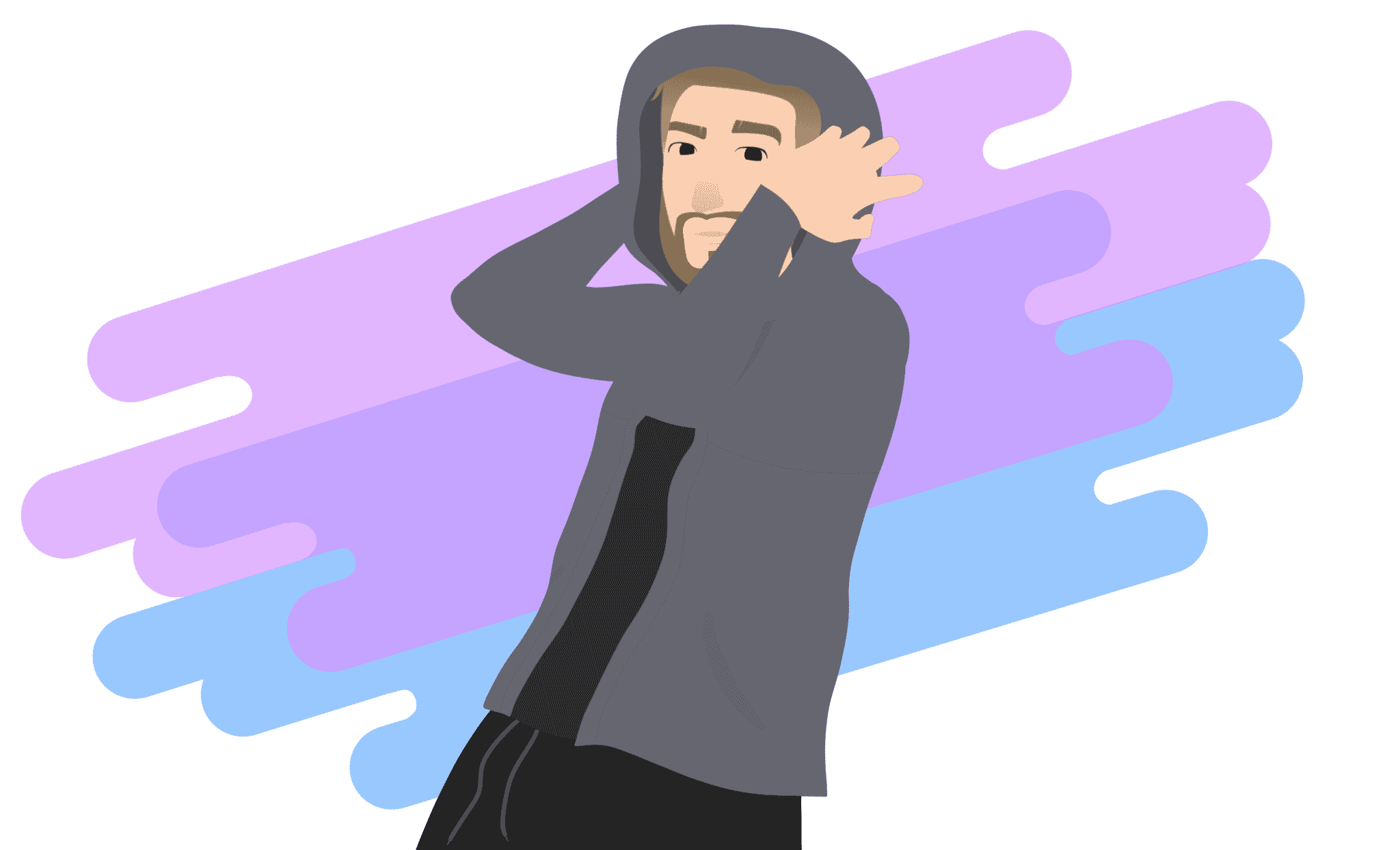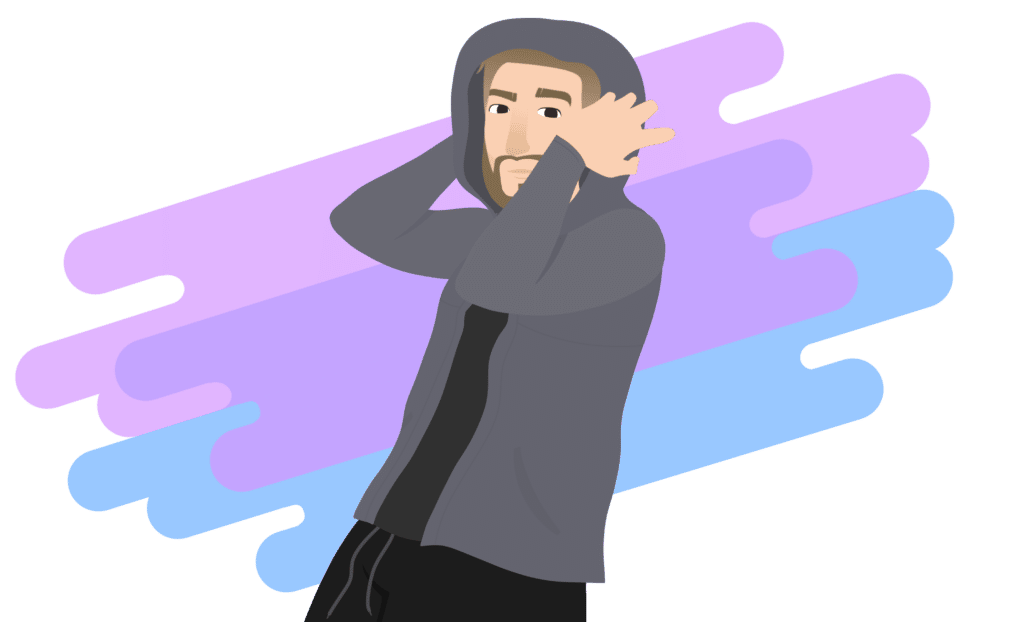 When spring comes around, we can say goodbye to sub-zero temperatures, snow, sleet, and numb fingers and toes. But, as the seasons change, the weather becomes unpredictable. Some spring days it rains, other days it's sunny. In the shade, it's freezing, and in the sun, it's hot. So how do you figure out the best thing to wear on days like these?
Spring calls for layering your clothes. Lots of light layers that make you warm when it's colder and that you can remove when the temperature warms up. One of the best layers you can add is a spring jacket. These often come in an assortment of designs, fabrics, and options.
The countless choices make finding the best spring jackets a little challenging. To make it simpler to find the coat that best suits your needs, we have reviewed the top spring jackets Amazon has to offer.
Best Spring Jackets for Men
To find the best quality spring jackets that make it easier to leave your winter coats behind, we scoured Amazon to find their top offerings. The jackets that made it onto this list each offer durability, quality, style, and warmth. With that being said, let's dive in and take a closer look at the Amazon jackets that made our list.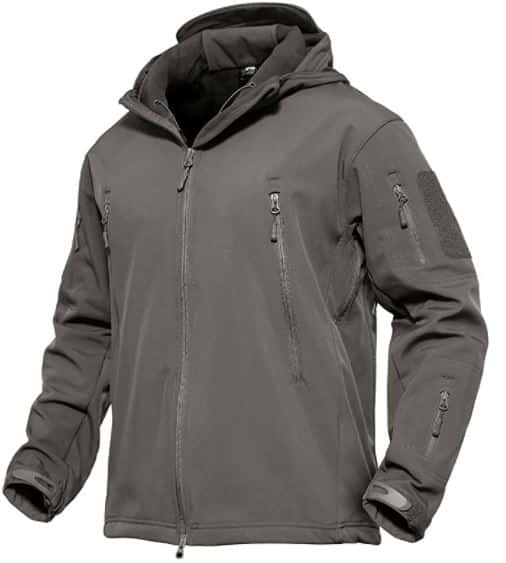 Magcomsen is a clothing brand that specializes in tactical and outdoor apparel and gear. From hiking jackets to sunglasses, this brand covers everything you need for a successful outdoor adventure.
The Magcomsen Men's Hooded Tactical Jacket makes the perfect spring coat not only because it looks great, but because of the functionality it offers. This durable jacket provides impressive durability and versatility, which is why it finds itself on our list of jackets to review.
Specs
Water-resistant
Includes a hoodie
Inner fleece lining
Made from a softshell fabric
Who is it Best for?
Men looking for a stylish spring jacket that is lightweight and durable need to look no further; this jacket is for you. Magcomsen ensures you will be kept warm and dry with their take on the trendy and functional parka jacket.
If you are looking for a cozy jacket that comes with a hood, this is it. It comes with a built-in hood that folds up into the collar, so you can wear the hood up when it rains or neatly tucked away in dry weather.
Men who appreciate variety or those who like to buy a particular jacket style in multiple colors will be impressed with this offering by Magcomsen. The brand offers this parka in seven unique colors: Army green, navy, khaki, sand, blue, black, and grey.
Key features
Magcomsen fashions this jacket from a sharkskin softshell fabric. The jacket's inner lining is made from warm fleece that keeps you cozy when the cold winds or rain blow in.
This fabric combination is breathable, making the jacket a pleasure to wear as it allows air to circulate through the coat, regulating your temperature and preventing you from overheating.
The jacket's outer layer is wind and water-resistant, ensuring you stay protected, warm, and dry no matter what the weather brings.
Both the waist and the hood of the coat come fitted with drawstrings. You can pull these drawstrings tight to create a thermal environment that keeps the warmth in and the cold out.
Also included are seven pockets. Two large zippered pockets at the back, two breast pockets, two sleeve pockets, and a forearm pocket leave you with ample space to store an assortment of items and belongings.
Pros
Offered in seven different colors
Cons
The hood is not detachable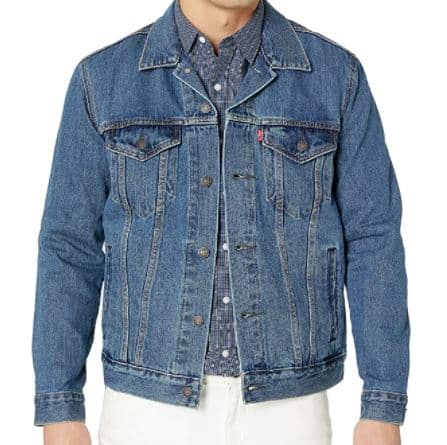 In 1873, Levi Strauss and his business partner received a patent, "Improvement in Fastening Pocket-Openings." that saw them place metal rivets on work pants that became known as blue jeans. The rest is history.
Over 150 years later, Levi is still producing some of the most popular denim apparel globally. One such item is the Levi Men's Trucker Jacket Outerwear. This denim jacket offers quality, style, and functionality all rolled into one, making it one of the best spring jackets for men you can buy.
Specs
Made from a cotton and elastane blend
Button closure
Includes four pockets
Regular fit
Who is it Best for?
Men looking for a stylish button-down jacket that adds an edge to any outfit need to look more closely at this denim jacket offered by Levi. It is rugged and versatile and fits well with chinos or with jeans. Layer it over a plain white t-shirt for a James Dean-inspired look or over a black shirt for a casual evening out.
If you like having many of the same jacket styles in various shades, Levi has your back. They offer this trucker jacket in 38 unique shades and patterns that range from a paisley print to a plaid combo and then an assortment of denim blues, black, and even white. There are colors and designs for every day of the month and then some.
Key features
Levi fashions this trendy jacket from a blend of cotton and elastane. The cotton allows for breathability, allowing air to circulate between the jacket and your body, keeping your temperature regulated and preventing you from overheating. This material blend is soft against the skin and highly durable, so you can be sure it will last for years.
The jacket comes with a button-down closure that makes it simple to wear open in warmer weather or fastened when it gets chilly. The buttons also add to the overall look and feel of the coat.
Two side slant pockets and two button-down breast pockets provide ample places to store your belongings.
The jacket offers a regular fit and comes with an adjustable waistband so you can tuck it more snugly around your body should you wish.
Pros
Offered in an assortment of shades
Adjustable button waistband
Cons
Not as warm as other jackets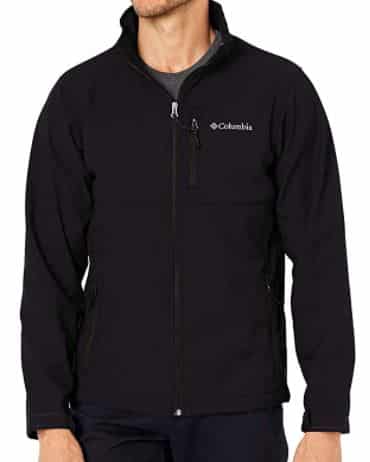 Columbia is a company that designs, manufactures, and distributes a range of apparel that includes outerwear, sportswear, ski apparel, headgear, footwear, and camping equipment. The brand was founded in Oregon in 1938. This family-run business strives to create durable and functional products for customers who love the outdoors just as much as they do.
The Columbia Men's Ascender Softshell Front-zip Jacket makes the perfect coat for spring, enabling you to handle the outdoors better and whatever the weather may bring.
Specs
Made from 100% polyester
Zippered closure
Water repellant
Wind-resistant
Who is it Best for?
If you are searching for a windbreaker that will keep you protected from the elements, this jacket from Columbia will do the trick.
Men who enjoy spending time outdoors hiking, paddling, kayaking, or fishing will find that they need a little extra protection during the spring. Wind and rain can come through in the blink of an eye, leaving you with the need for a protective coat just like this one.
If you like being able to select a jacket from a variety of shades, then you will appreciate Columbia's offering. The brand offers this windbreaker in 13 different colors, including black, red jasper, stone green, bluestone, grey, and tusk (beige).
If you are not keen on owning a jacket that requires dry cleaning, this coat is a great solution. It is machine washable and can be hung out to dry on the line.
Key features
Columbia fashions this jacket from 100% polyester. The fabric makes the windbreaker resistant to wind and water, so whether you get caught fishing in the rain or hiking in a howling gale, you will remain warm and dry.
The jacket comes with a zippered closure that makes it simple to pull on and off. It also allows you to wear the jacket open on warmer days or zipped up when the weather turns.
Because it is lightweight, the jacket is easy to carry when you're not wearing it and will pack easily into a backpack.
Two slider side pockets and one chest pocket all come with zippered closures and provide ample space to store your keys, wallet, and phone.
Pros
Offered in 13 different colors
Cons
It May fit a little large on some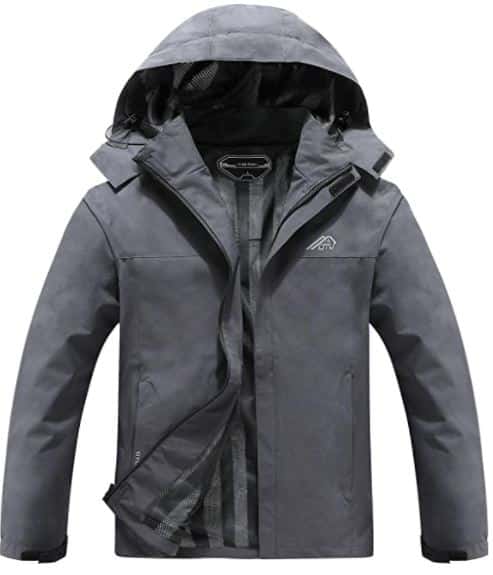 OTU is known for its durable outdoor apparel. The brand offers a range of jackets and coats, from fishing jackets to raincoats, and even this Men's Lightweight Waterproof Hooded Rain Jacket.
The brand strives to offer stylish outerwear that keeps you protected from the elements while allows you to remain stylish and comfortable. Out of the many jackets we chose to review, this one stood out for its functionality and style.
Specs
Waterproof
Breathable
Made from 100% polyester
Includes a detachable hood
Who is it Best for?
If you are planning on spending more time outdoors now that winter and its freezing snow have given way to warmer spring days, then you will need a jacket that will keep you protected from the elements that come with this season.
Rain, chilly winds, and a fluctuating temperature all come into play with this seasonal change. This means you will likely need a jacket that protects you from wind, rain and keeps you warm, just like this one from OTU.
If you like having a coat in a vibrant color, then you will love these from OTU. The brand offers the jacket in seven unique shades: black, dark grey, bright yellow, fluorescent green, navy, red, and black camo. Now you can have a vivid jacket that leaves you feeling ready for whatever spring brings your way.
Key features
OTU fashions this jacket from 100% polyester, making it lightweight, soft, and durable. This fabric is breathable, allowing you to regulate your body temperature, keeping you comfortable, and preventing you from overheating.
The polyester makes the jacket lightweight, so it is easy to carry with you when you're not wearing it. It is also simple to fold up and tuck away in your backpack or luggage.
A zippered closure makes the jacket a breeze to put on and take off, and it allows you to wear it open when the weather warms up. Another functional feature is the detachable hood. Wear the jacket with just the collar, or, on days when it might rain, attach the hood to keep you dry.
Two zippered side pockets leave you with a great place to keep your hands warm and toasty.
Pros
Offered in seven different colors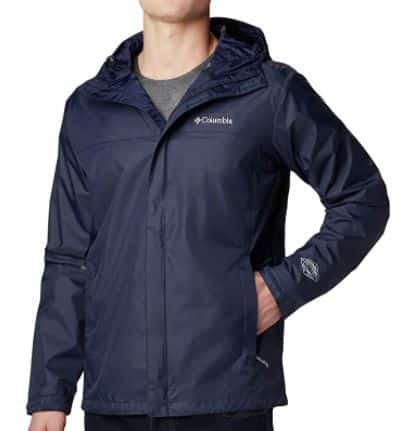 Columbia was founded in 1938 in Oregon, USA. The brand manufactures an assortment of outerwear, sportswear, footwear, camping gear, and ski apparel. These products were not manufactured by chance but instead are based on the founder's love for outdoor adventuring.
This family-run brand shows a passion for the outdoors, which is why you can be sure that the Columbia Men's Watertight II Jacket offers all the functionality you need when spending time in the great wide open.
Specs
Made from a nylon shell and a polyester lining
Zippered closure
Includes two zippered pockets
Water-repellant
Who is it Best for?
One would expect an outdoor-style jacket to come only in shades of khaki, brown, and olive green, and, in most cases, you'd be right. Columbia, however, decided that they were taking a different route with their men's jackets. If you are a fan of vibrantly colored jackets, then you will be astounded by the 40 shades Columbia offers this jacket in, and yes, you read that right – forty!
Some of the colors you can expect to find include: green boa, black cherry, golden yellow, thyme green, red spark, and modern turquoise.
If the thought of having to take your jacket to the dry cleaners after every wear sees you not wearing it just to avoid the cleaning process, then you need this jacket instead. Columbia's coat is machine washable, and to dry it, hang it on the line.
Key features
Columbia fashions this jacket from two layers of fabric, an outer nylon shell, and a polyester lining.
The nylon shell makes the jacket 100% waterproof, so whether you get caught in a light drizzle or a torrential downpour, you will keep dry and comfy.
The Omni-Shield technology sees the jacket coated with a water and stain repellant coating that prevents it from absorbing any liquids and allows it to dry quickly.
Columbia has designed this jacket to be lightweight and easily folded into a small package that fits neatly into backpacks and even back pockets.
A range of additional features sees the jacket come with elasticated cuffs and hem that keep the warmth in and the cold and wet out. Two zippered slide pockets give you a place to keep your hands or belongings.
Pros
Offered in 40 different shades
Cons
Not everyone will appreciate the snug fit
Things to Consider When Buying A Spring Jacket
When it comes to buying the best spring jacket for men, you want to ensure that the jacket you get is right for you and your needs. Considering things such as style, material, and brand will make it much simpler to find the jacket you want.
1. Style
When it comes to jackets, you would think there would be one or two styles, at the most four, but you'd be mistaken. Here are a few types you can expect to find:
Parka, Anorak, Windbreaker:
These three styles are incredibly similar. They are all waterproof and extremely warm. A windbreaker is the thinnest of the three and doesn't necessarily have a hood. A Parka is quite a bit thicker and usually comes with a faux fur or fleece-lined hood. An anorak is similar to a Parker, except this quilted jacket features a pullover style with no front closure.
Chore Jacket or Chore Coat:
A chore coat is a jacket designed as workwear and often comes fashioned from denim or cotton twill. Workers use these to keep warm when working outdoors.
These are lightweight and remarkably warm. Puffer jackets offer excellent insulation, making them ideal for winter wear.
Field Jackets and Trench Coats:
Field jackets are based on military coats, are lightweight and great for layering, and usually offer four pockets. Trench coats were designed for soldiers to help to keep out the wind and the rain. They are longer, generally falling just on or below the knee, and work well with multiple layers.
Shirt Jacket or Overshirt:
An overshirt, shirt jacket, or shacket, as they are sometimes known, is a cross between a shirt and a jacket; they often come in the form of a button-up shirt made from thicker jacket-style fabric. An overshirt
Harrington Jacket and Bomber Jacket or Streetwear Jacket:
These three styles are relatively similar. A Bomber jacket comes with a standup collar, knitted cuffs, and raglan sleeves, whereas a Harrington jacket features a standard collar and a tartan or checkerboard lining and is often made from suede. Another name for a bomber jacket is a Streetwear jacket.
Henley or Blazer and Cardigan:
A Henley is a form of Blazer, and they usually feature a fitted cut with a notched collar and two buttons with a single-breasted closure. These pair well with chinos. A cardigan is more of a sweater; it comes with a button-down closure and is usually made from knitted fabric.
Denim Jacket and Leather Jacket:
These two styles are staples of menswear. They both offer a similar style that sees a collar and a fit that sits at the waist. Both are highly durable. The only difference lies in the fabric and fit. Denim jackets are often made from twill or cotton and feature a regular fit. The leather jacket sees a more fitted cut and is made from genuine leather or faux leather. Neither of these fabrics offers excellent warmth.
2. Brand
When buying a spring jacket, you want one that offers premium quality. The best way to ensure the coat you buy won't fall apart after one wash is to buy one from a reputable brand.
Besides the brands we have discussed in our reviews, here are a few others to try:
J. Crew
Barbour
Everlane
Nike
Bonobos
Carhartt
NYC
Todd Snyder
Alpha Industries
Patagonia
Uniqlo
When it comes to buying a great lightweight jacket, you want one that will keep you warm, layer well with other clothing, and if you plan on spending a lot of time outdoors, then you may want it to be waterproof and wind-resistant too.
We hope our reviews have made it easy to find the right jacket for you. If you're still in doubt, our top pick goes to Levi's trucker jacket; it oozes style and functionality.