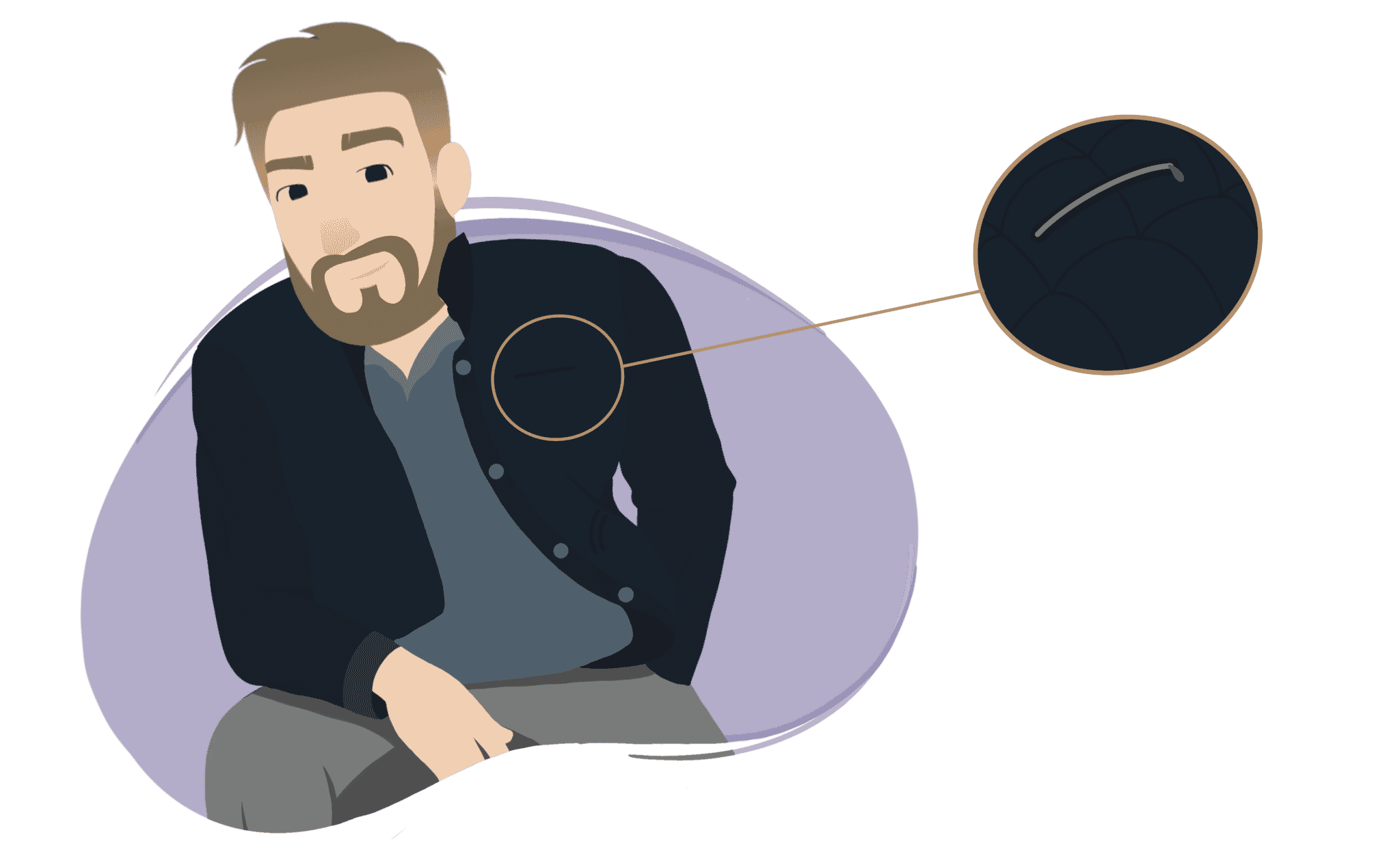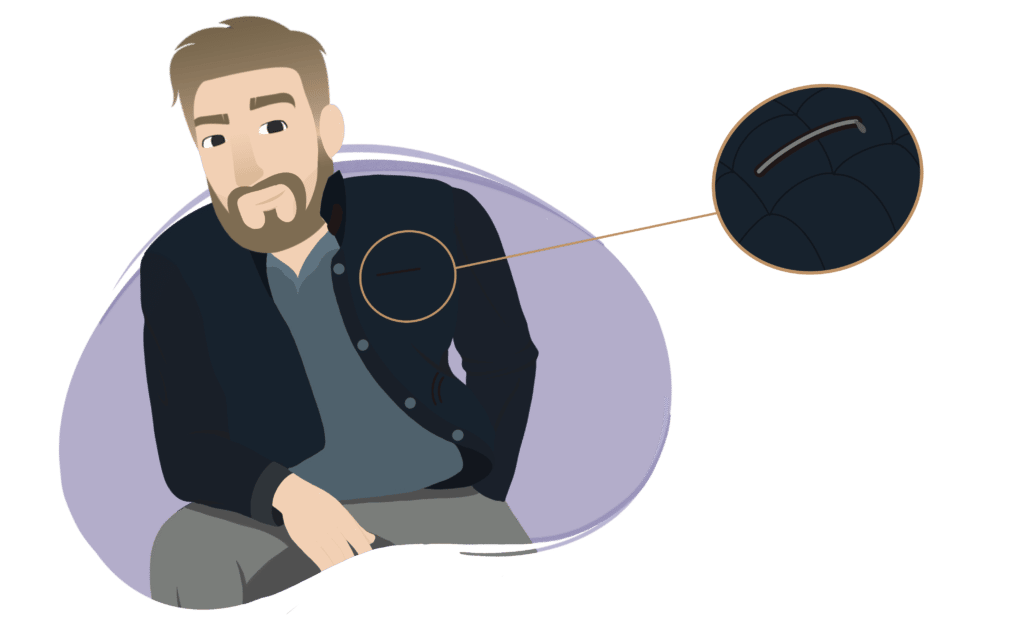 When it comes to coats and jackets, you will most often find ones that err on the side of smarter wear or more casual wear. This can be frustrating when you need a coat that can be worn for both. A handy jacket that you can dress up or down to suit every occasion.
Luckily, jackets such as this do exist, the most popular being a men's quilted jacket. These coats are made up of various layers that are then quilted together with a unique diamond-style stitch. This combination of layers and stitching makes the jackets warm and lightweight, and easily adaptable to any occasion.
Finding the perfect quilted jacket is not as simple as just picking up the first one you see. You will need to look a little closer at the jacket's fabric, design, and quality. To make things easier, we have reviewed the best men's quilted jackets, so you can focus on finding the one that most appeals to you.
Best Men's Quilted Jacket
The best quilted jacket is made from quality fabric, expertly sewn, and looks dapper. We combed the web seeking out the men's quilted jackets that tick all these boxes. Each of the jackets we reviewed below made it onto this list, and they offer comfort and style. Keep reading to find out which quilted jackets are worth your time and money.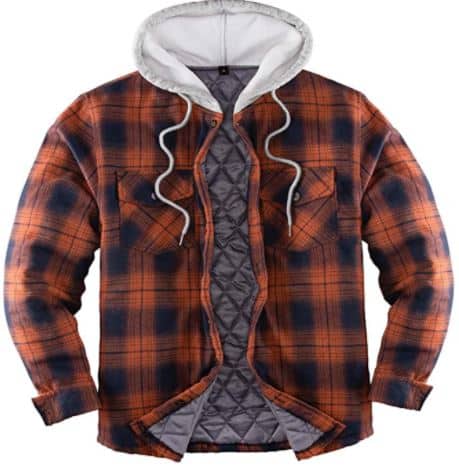 Zenthace is known for its quality men's and women's apparel. They offer everything from pants and shirts to coats and jeans. One of their products, in particular, stood out to us, their Men's Quilted Lined Button Down Plaid Flannel Shirt Jacket.
This unique jacket offers comfort, style, and quality, making it a men's quilted jacket you want to have in your wardrobe. The plaid fabric leans it a little more towards the casual side of things, but it is well worth the buy.
Specs
Made from a woolen polyester blend
Snap button closure
Includes a hood
Dual chest pockets
Who is it Best for?
If you're looking for a jacket that offers impressive warmth without being bulky or restrictive, you need to give this one a try. It features padded layers that keep you cozy without feeling cumbersome, and it looks pretty stylish too.
Guys who are into plaid will love these jackets. They come in an assortment of plaid patterns in unique colors. Rust, red, and forest green are all on offer, and a stylish contrasting grey hood adds a sophisticated touch to each jacket.
If you're not a fan of having to queue up at the dry cleaners, then this jacket is just up your alley. It is machine washable and can be hung up to dry—no need for ironing or dry cleaning, just a simple wash.
Key features
This men's quilted jacket comes fashioned from a shell of a woolen and polyester blend. The interior sees a quilted polyester lining that adds extra warmth and softness.
A snap button closure up the front of the jacket makes it simple to fasten up and unbutton. Wear it buttoned-up or open depending on how cold it is and how casual the occasion may be.
Two chest pockets with snap button closures provide the perfect place to store your belongings, and they add a dash of style to the overall design.
The hood features a drawstring that allows you to tighten the hood, keeping it on your head when it's windy or offering a more snug fit when it gets cold. The stylish cuffs add to the sleek look and feel of the jacket.
Pros
Offered in four unique colors
Cons
Not everyone enjoys a plaid pattern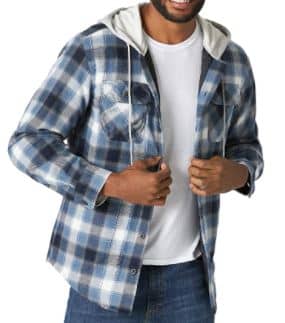 Wrangler was established in 1947, and since then, they have been supplying the world with quality clothing designed for cowboys. Today, their clothing has loved the world over, appreciated for its durability, comfort, and style.
Wrangler Authentics' Men's Long Sleeve Quilted Lined Flannel Shirt Jacket with Hood is one piece of apparel you shouldn't do without. It offers a soft and cozy option for men looking for a jacket that looks sleek but feels great.
Specs
Includes a hood
Made from 100% cotton
Relaxed fit
Quilted polyester padding
Who is it Best for?
If a jacket with a hood is your kind of style, then look closely at these jackets from Wrangler. They come with a grey contrasted hood that keeps you warm and adds a touch of fresh style to the look of the coat.
When it comes to variety, Wrangler does it best. They offer this jacket in six different color combinations – from biker red and black to light blue and granite-grey. There is a color combo to suit every man.
If plaid patterns make you smile, then these jackets will too. They each come in a plaid design that never goes out of fashion. The outer shell of the coat offers a soft flannel feel that wraps you in warmth while giving a sophisticated look to your outfit.
Key features
The exterior of this jacket is made from 100% cotton flannel. It is soft, breathable, and lightweight that makes the coat cozy and warm. The inner of the jacket is padded with quilted polyester that keeps the warmth in while keeping the jacket light and comfortable to wear.
The jacket's long-sleeved design adds extra warmth, while the stylish buttoned cuffs carry the look of the button-up front closure. This complimentary design gives the coat a sophisticated look that makes it more than just a casual jacket.
A button-up front closure brings a classic look to the jacket and gives the appeal of a button-up shirt, making it perfect for more formal occasions and casual ones.
Two chest pockets offer a place to store your items while adding to the design of the jacket.
Pros
Offered in six plaid colors
Includes two chest pockets
Cons
Not everyone will enjoy plaid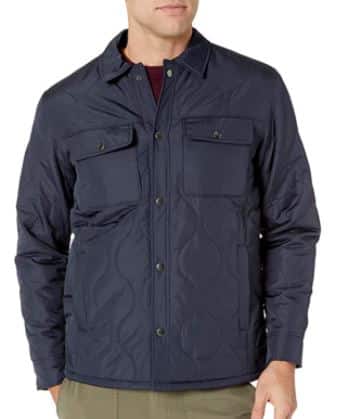 Amazon Essentials focuses on offering customers quality everyday clothing that lasts but doesn't cost an arm and a leg. They strive to provide premium apparel that is durable and looks great. Their men's line offers an assortment of garments, but one that stood out to us is their Men's Quilted Shirt Jacket.
This coat ticks all the boxes when it comes to a men's quilted bomber jacket. It offers comfort, warmth, style, quality, and durability.
Specs
Made from 100% polyester
Snap closure
Lightweight
Includes two chest pockets
Who is it Best for?
Not everyone enjoys having too many options for colors, too many choices make it tough to choose! Amazon Basics understands how their customers think, which is why they offer these coats in the three most sought-after shades – black, navy, and olive. Each of these shades pairs well with most other colors, making the jackets versatile. They are easily dressed up or down for a more casual look. If you're looking for a smart coat that looks good with anything, then this is a must-have.
If having to take your jacket to the dry cleaners to be washed is something you can do without, then this one is for you. It is easily machine washable and dries quickly outdoors—no more fussing with dropping off or collecting your dry cleaning and no ironing either.
Key features
This jacket by Amazon Basics comes fashioned from 100% polyester, making it warmer and far snugger. As a bonus, the coat is lightweight and durable too. Even better than that, the jacket requires no ironing.
While this jacket comes with no hood, it does feature four pockets. Two chest pockets provide the perfect place to store your belongings, and they add a dash of style to the coat too. On either side of the closure are two side entry pockets to keep your hands warm.
The jacket features a snap-button closure that makes it simple to put on and pull off. It keeps the cold and the wind out without being fussy like standard button closures.
Designed with a relaxed fit, the jacket is fitted without being tight, making it comfortable and warm.
Pros
Offered in three unique colors
Includes two side pockets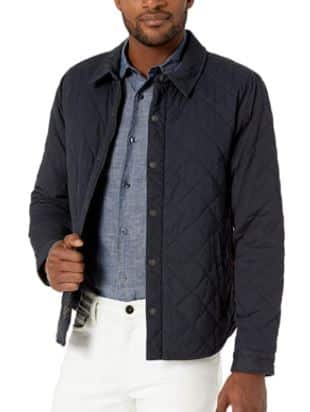 Levi Strauss was founded in 1853 in San Francisco. The company started out creating durable work pants for men that became the first-ever jeans. Today, they offer an assortment of sturdy and stylish apparel that people across the globe can't do without.
Levi's Men's Stretch Cotton Diamond Quilted Shirt Jacket is one of their most-loved garments. This unique jacket offers warmth and comfort while providing that quintessential American look that people love.
Specs
Made from 100% cotton
Zippered and button closure
Includes four pockets
Gingham flannel lining
Who is it Best for?
Men who love the typical American style will enjoy these quilted jackets. They offer a sleek yet rugged look that is easily dressed up or down to suit any occasion.
Levis provides this coat in five unique colors, from navy and black to the well-loved camouflage pattern that sees browns, khakis, and greens. The exterior quilted design adds to the look and feel of the coat, giving it an air of sophistication.
Guys who prefer clothing that can be popped in the washing machine and hung out to dry instead of having to be traipsed off to the dry cleaners will appreciate this Levi jacket. It is easily machine washable, making caring for the coat fuss-free and straightforward. Better yet, the jacket requires no ironing either.
Key features
This quilted jacket by Levis comes fashioned from 100% cotton. A quilted bomber jacket menswear has never been seen before, this coat is soft, lightweight, and breathable. The material allows air to circulate between the coat and your skin, keeping you warm without causing you to overheat. A cotton flannel gingham lining provides a softness that feels great against the skin.
The jacket features four stylish pockets that enhance the sophisticated look of the coat. Two top chest pockets offer a place to store your items, and these come with a button closure to add extra security for your belongings. Two sides welted pockets provide a place to keep your hands warm.
The closure of this jacket is ideal for wear in colder places. It features a zipper that offers extra warmth and then a button-up closure that conceals the zipper. This button closure adds a dash of style to the jacket too.
Pros
Offered in five unique colors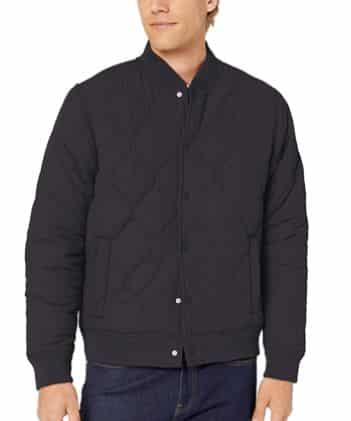 Goodthreads is a subsidiary of Amazon. The company strives to provide men with apparel that offers both quality and style without costing a fortune. They offer wardrobe staples that leave you looking like a million bucks and feeling remarkably comfortable.
Goodthreads' Men's Quilted Liner Jacket is a must-have jacket for the colder months. It is as sleek as they come, easily dressed up or worn casually; this coat is an item of basic-wear that makes life simple.
Specs
Made from 100% nylon
Snap button closure
Ribbed cuffs and hem
Cozy
Who is it Best for?
When the cold rolls in, you want a cozy and comfy jacket – this coat offers just that. It is thick and warm without being bulky or cumbersome. Goodthreads' quilted jacket will impress men who want a coat they can dress up or down depending on where they are headed.
If you enjoy a jacket that comes in a solid color that you can pair with an assortment of trousers or jeans, then take a closer look at these. Goodthreads offers its coats in four unique shades that include black, tan, navy, and stone. Each of these colors is stylish and easily matched with a range of colors.
A quilted finish on the coats leaves them with an air of sophistication and luxury. The quilted, padded style gives the sense of a plush feel that the jacket certainly offers. So if you love slipping on a cozy coat, give this one a try.
Key features
Goodthreads' men's quilted jacket comes fashioned from 100% nylon. The nylon makes the coat lightweight but soft and incredibly warm, which is just what you need on cold, windy days.
The cuffs and collar of the jacket are ribbed. This means that they sit snuggly against your skin, keeping the warmth in and the cold out. The ribbed look also adds a sense of style to the jacket and a unique texture.
A snap-button closure makes it simple to button the jacket up and take it off—no fussing with fiddly buttons when your hands are cold or in gloves.
The jacket comes with two side pockets that offer a cozy place to keep your hands when they get cold. Or, use them to store your smartphone when your hands are full.
Pros
Offered in four unique colors
Cons
Only comes in solid colors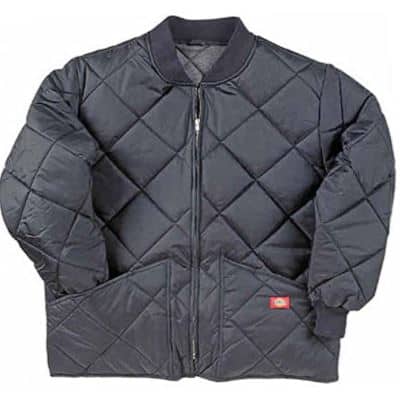 For nearly 100 years, Dickies has been creating apparel that is comfortable and durable. Founded in 1922, Dickies focuses on producing quality garments that can be used for workwear or casual wear.
A quilted jacket men all need in their wardrobe is undoubtedly Dickies' Men's Water-Resistant Diamond Quilted Nylon Jacket. This coat is excellent for wear outdoors, indoors, to a casual gathering, or to a more formal occasion. The sleek design and cozy lining will keep you looking dapper and feeling great.
Specs
Water-resistant
Made from 100% nylon
Ribbed collar and cuffs
Zippered closure
Who is it Best for?
If you spend a lot of time outdoors, then this jacket is for you. It offers a water-resistant exterior that keeps you protected from rain, sleet, and wind. Keeping warm has never been this simple. Better yet, it is stylish enough for indoor wear too.
Men looking for a solid-color jacket in a shade that matches everything will enjoy these coats. Dickies offers the in a sleek black or navy, to hues you can be sure will pair well with everything in your wardrobe. These jackets will complement them well, whether it is a lighter pair of chinos or dark denim jeans.
When it comes to durability, Dickies' quilted jacket menswear won't let you down. It is expertly made from quality fabrics that will leave you warm and cozy.
Key features
Dickies' quilted jacket comes fashioned from a 100% nylon taffeta exterior that is then padded with a nylon filler. The interior is lined with warm fleece that is soft against the skin. The outer layer is protected with a polyurethane coating and DWR finish that renders the jacket water-resistant.
The coat comes with a ribbed collar and cuffs that hug the skin closely without being restrictive or uncomfortable. This snug fit keeps the cold air out and the warmth in.
Zippered front closure makes it easy to pull the jacket on and off and allows you to fasten it according to how warm or cool you are feeling. Leave it open and unzipped on a more temperate day, or wear it fully zippered on a cold day.
Two front slide pockets provide the perfect place to keep your hands toasty when it's cold.
Pros
Offered in black and navy
Front hand-warmer pockets
Things to Consider When Buying a Quilted Jacket
There are a few things to consider when buying a quilted jacket. How warm you want it to be, what lining and padding you would prefer, and whether or not you want your coat to come with a hood. Narrowing down these considerations will make it simpler to find a jacket that best suits your needs.
1. Warmth
There are various quilted jackets available to buy, but before you get one, give some thought to how thick and warm you want it to be. If you're buying it to wear during warmer weather or as a layer, you may want one with slightly thinner fabric and padding.
If you are looking for a jacket to wear when the weather is colder, then a warmer, thicker quilted jacket would be best.
2. Lining and Padding
When it comes to the padding you choose for your jacket, there are a few options:
Down: A quilted down jacket comes with goose or duck feathers as the padding. Down jackets offer excellent insulation and are great at keeping you warm. However, they aren't the ideal choice for someone who is not a fan of animal products. Down jackets can also be quite challenging to clean and often need to be taken to a dry cleaner.
Synthetic: A synthetic filler usually comes in the form of nylon or polyester. These cost less than the down-alternative and retain heat really well. Synthetic fillers are often far more durable, and they're easier to clean.
When it comes to lining, give some thought about whether you want a softer, plusher fleece lining, a cozier flannel lining, or a lightweight cotton lining.
3. Extras
The extras that come with the jacket are also essential. You will need to think about whether you would like your jacket to have a hood or just a collar. How many pockets and where they should be placed is another consideration, and so is whether you would prefer a button-down, zippered, or snap-button closure.
Buying a quilted men's jacket is the best thing you can do for yourself and your wardrobe. They are versatile, easily layered, and cozy. We hope our reviews have made it a little simpler to find the quilted jacket that fits your needs and sense of style.
Our top pick goes to Levi's Men's Stretch Cotton Diamond Quilted Shirt Jacket. It is comfy, stylish, and warm – added to that, it is made by a well-known brand that knows what its customers love.