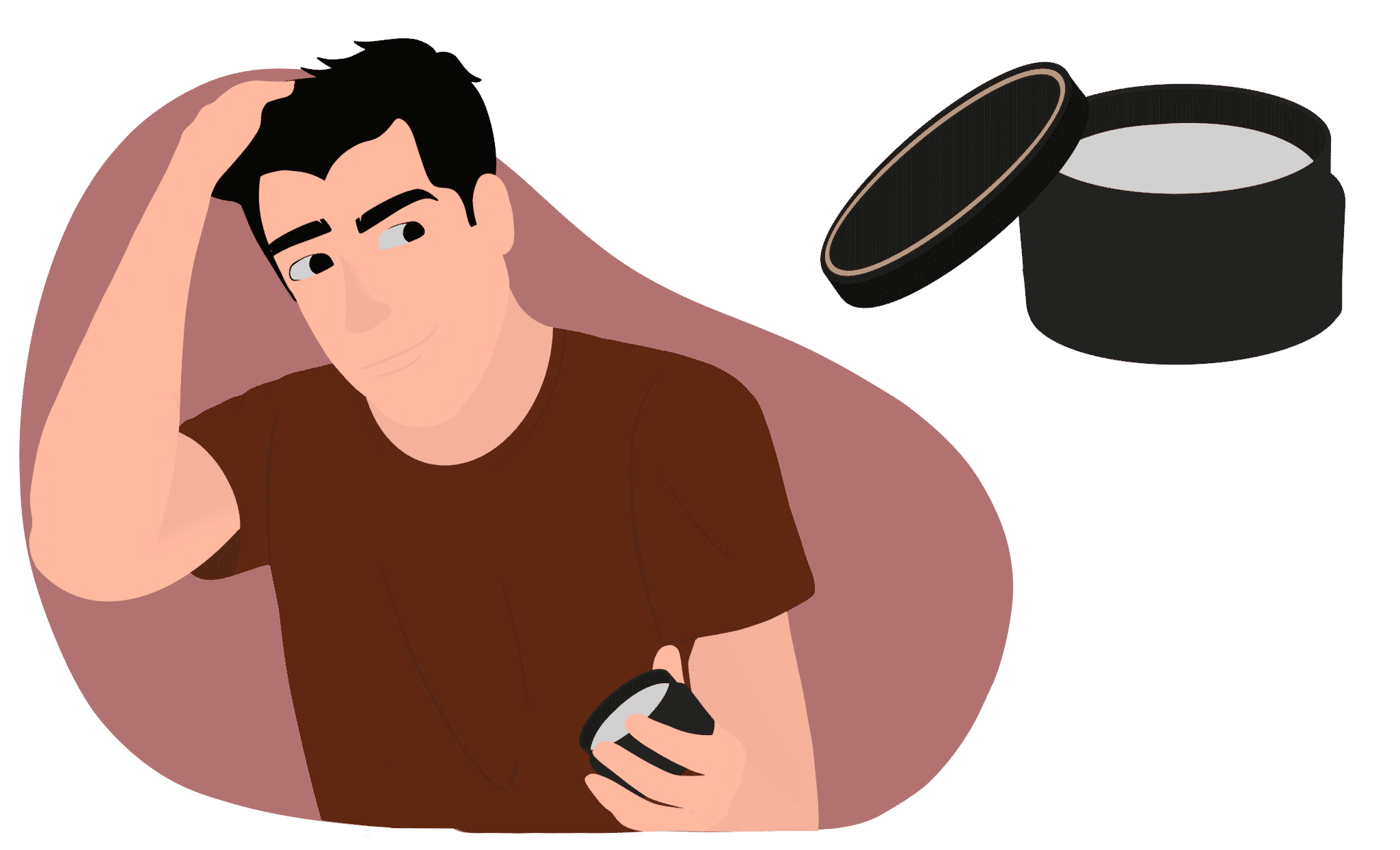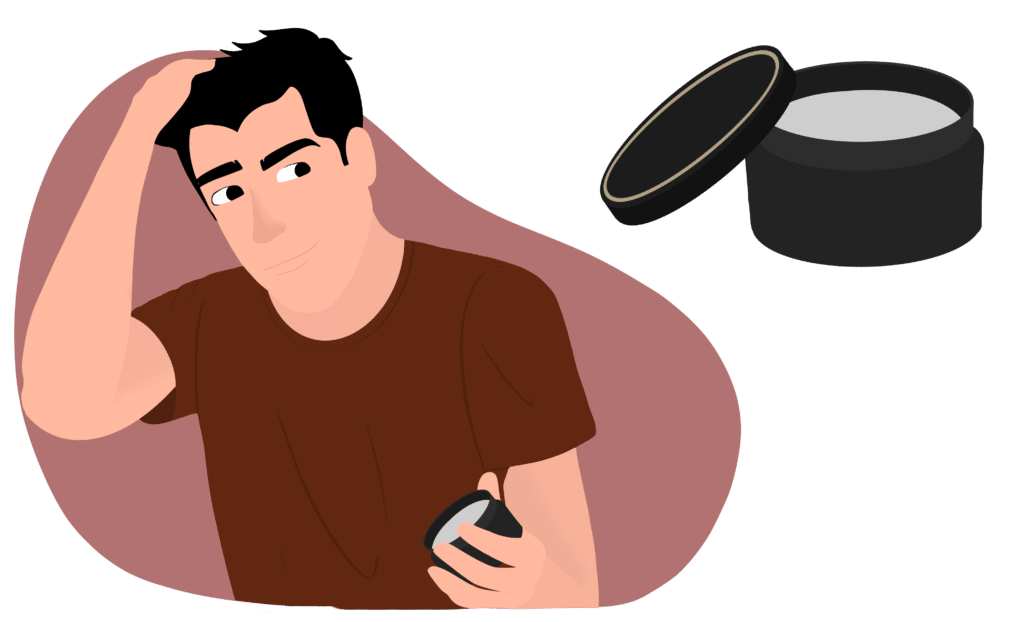 When hair gel just doesn't cut it anymore, and you're tired of the hard bicycle helmet feel it leaves in your hair, then you need to find another way to keep your hair perfectly quaffed. But how?
Hair pomade is the way to go. This versatile substance offers a waxy, greasy, or water-base and allows you to style your hair. It leaves your hair looking slick, like gel, but it doesn't harden. The best hair pomade lasts longer than other hair styling products and usually takes a few washes to remove.
Finding a decent pomade can be challenging, especially if this is your first time buying it. To make life easier, we have found some of the best pomades and reviewed them for you, so you can more easily find the one that suits your needs. Let's dive in!
To find pomade hair and men will appreciate, we combed the web, finding a selection that is versatile, flexible in texture, and easy to use. The pomades that made it onto this list tick all these boxes and more, so let's take a closer look.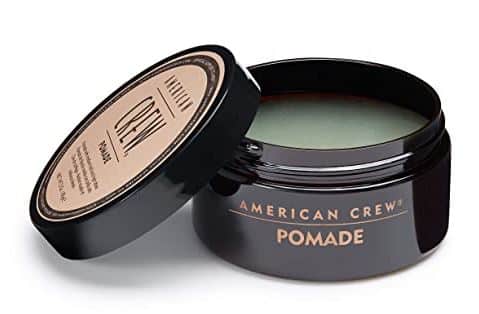 American Crew is a leader in men's grooming and hair care. They offer a range of products that fall into the shaving, body care, hair care, and fragrance categories. For over 25 years, American Crew has supplied men the world over with top-quality products that grooming professionals approve of.
American Crew's Pomade is one of their products you need to try. It is a water-based solution that makes styling your hair simple and leaves you looking great.
Specs
Works with any hair type
Provides medium hold
Offers a high shine
Comes in a three-ounce tub
Who is it Best for?
This pomade is best for men with all hair types. Whether your hair is straight, curly, thick, or thin, this pomade will work for you. It is designed to give you a smooth, sleek look, and it does just that.
Men looking for a medium hold should consider this pomade. It offers a medium-strength grip that won't dry out or turn hard.
American Crew designs their pomade for men to provide you with a slicked-back look that stays in place all day and won't let a single hair out of place.
If you are looking for a hair styling product that professional stylists give the thumbs up, then American Crew's pomade is worth considering. It offers excellent style and is simple to use.
Key features
American Crew's pomade is water-based. This means that it has no oil or grease and is easy to wash out of your hair at the end of the day. It also won't leave your hair looking excessively greasy and is excellent for use by men with naturally oily hair.
This pomade is ideal for use with all lengths of hair, making it versatile and straightforward to use. Rubbing a small amount between your hands and then running them through your hair is all it takes.
The pomade offers a dramatic high shine that adds to the style and looks it is designed to help achieve.
The pomade comes in a three-ounce tub that makes it simple to use and store.
Pros
Great for men with curly hair
Cons
Does not offer a strong hold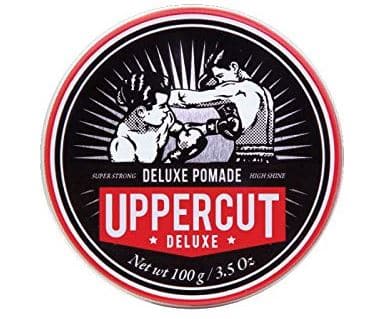 Uppercut Deluxe is an Australian brand inspired by 1950's barbershop grooming products. They strive to provide their customers with high-quality grooming products that don't bring the fuss and fancy of salon products.
Uppercut Deluxe Hair Pomade is one such product designed for men by men. It offers a high shine and a stronghold for styles that last. This unique pomade is water-based and straightforward to use, making it ideal for daily use.
Specs
Offers a strong hold
Suitable for all hair types
Designed for medium-length hair
Washes out easily
Who is it Best for?
Men who love the tropical scent of coconut will appreciate this men's pomade. It is infused with a smooth coconut fragrance that will leave you feeling as though you've spent the morning on a tropical island. If coconut isn't for you, then steer clear of this pomade.
If you have thicker or hair that is more unruly than most, this pomade is one to try. It offers an impressive strength that will keep your hair in place throughout the day.
When it comes to washing pomade out of your hair, ones that take multiple washes to remove can be frustrating. Luckily this pomade is water-based, so it washes out easily with shampoo. This makes it great for daily use.
Key features
Uppercut Deluxe's hair pomade features a creamy texture that makes it easy to use. Placing a small blob in your hands, rubbing them together, and then pushing your hands through your hair is all it takes.
This pomade offers a high shine that is great for that slicked-back look. It provides a firm hold that is ideal for all hair types, especially those that are more unmanageable. The best thing is that the pomade won't dry out in your hair.
The formula is designed for use with short to medium length hair that is styled slicked back or in a side or middle partings.
Uppercut Deluxe provides their pomade in a neat and straightforward to store 3.5-ounce tin. The tin makes the product easy to access, and it gives the old-school barbershop look and feels.
Pros
Features a creamy texture
Cons
Not everyone will enjoy the coconut scent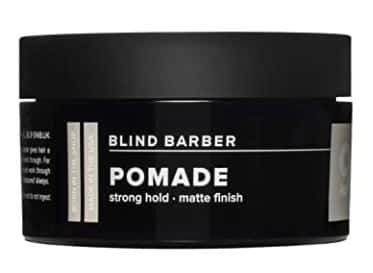 Blind Barber is a haircare brand that offers quality hair products designed by professional hairstylists. These products provide a simple way to keep your hair looking impressive and healthy.
Blind Barber's 90 Proof Pomade is a matte pomade that comes infused with hops and Tonka bean for a unique take on the usual high-shine formula that you would expect of a pomade. This remarkable product is the new-new when it comes to hairstyling.
Specs
Matte formula
Offers a strong hold
Comes in a 2.5-ounce tub
Water-based
Who is it Best for?
If you're impressed with products designed by professionals, then this pomade is one you'll want to try. Hairstylists and hair professionals formulate it to ensure you are only putting the best ingredients in your hair.
Men who aren't too keen on the slick, greasy look will also want to give this a try. It is a matte pomade that only offers minimal shine, so it won't leave your hair looking wet. What it will do, though, is give you a strong hold.
If you're not a fan of vanilla-style scents, then you may want to steer away from this pomade. It comes scented with Tonka Bean that gives off a very subtle fragrance that can be likened to vanilla. However, if you love this sort of scent, then you will enjoy this pomade.
Key features
Blind Barber 90 Proof Pomade comes as a paste. It is water-based, which means it is easy to wash it out of your hair at the end of the day. A little shampoo will easily do the trick.
The pomade is infused with hops. Hops help to create greater hair volume, and they help prevent dandruff. This pomade is also infused with Tonka bean that gently fragrances the pomade with a vanilla-almond scent.
This pomade offers a firm hold making it ideal for men with all hair types. It is free from sulfates, parabens, and artificial dyes, so you know only the good stuff is going into your hair.
It comes in a neat 2.5-ounce tub that is easy to store and makes accessing the product simple.
Pros
Infused with hops and tonka bean
Cons
Not everyone enjoys the scent of tonka bean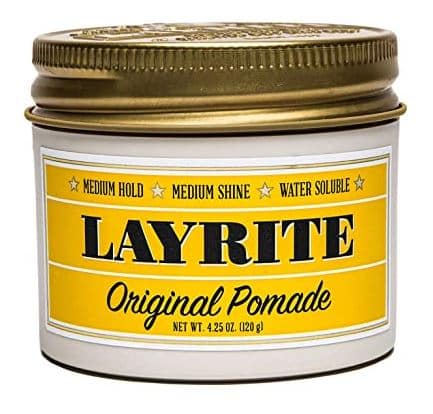 Layrite was founded in 1999. It is a unique brand that specializes in men's grooming products. Founder Donnie Hawley, a barber, frustrated by the way petroleum-based products made his hair sit, set about formulating a product that worked the way he wanted. After plenty of research and work, he finally came up with a product that gives the hold of wax but rinses out like gel – Layrite Original Pomade.
This pomade is designed for men with hair of a fine to medium thickness. It offers a medium hold and shine and is ideal for those messy wet looks that never seem to go out of style.
Specs
Medium hold
Easy to wash out
Best for fine to medium hair
Ideal for short or medium length hair
Who is it Best for?
If you love the scent of cream soda, then this pomade was made for you. It carries a light cream-soda fragrance that transports you back to childhood in an instant. Conversely, if you're not the sort of guy who is keen on walking around smelling like a beverage, then perhaps this pomade is not one you want to try. You will be missing out, though.
This versatile pomade is ideal for men looking for that slick, greased back look. It offers a medium shine that looks sleek without appearing slimy.
Guys that use pomade daily will want something that washes out easily. This is an excellent solution as it holds like wax, but it rinses out easily with shampoo because it is water-based.
Key features
Layrite's Deluxe Original Pomade is perfect for creating a natural pomade look. It slicks back short to medium-length hair and offers a medium hold.
The pomade is easy to apply. Rub a little product in your palms, and then spread it evenly through your hair. It's that quick and straightforward. If you feel your style needs sprucing during the day, your fingers or a wet comb will do the trick.
We love this pomade because it gives the same shine and hold as gel, but it doesn't harden, crack, or dry out.
Layrite's pomade comes in a retro jar with a metal lid and their bespoke old-school label. The pot makes it easy to access the product and makes it easy to store too.
Pros
Comes in a 4.25-ounce jar
Cons
Not everyone wants their hair smelling of cream-soda
Things to Consider When Buying Men's Hair Pomade
When it comes to buying the best pomade, there are a few things to think about first to ensure you get the right one for your needs.
1. Shine
Some pomades offer more shine, while others provide more of a matte finish. You need to give some thought to whether you want an ultra-slick look or prefer the hold but not the shine. Luckily pomades offer a range of sheen, from matte through to high-gloss.
2. Hold
Different pomades offer different grades of hold. Men with thicker, curly, or unruly hair will want to stick with a pomade that provides a stronger hold.
If you have fine to medium-thick hair, then a medium hold should suffice.
Unless, of course, you want to achieve a more adventurous style or your hair is longer than usual, in which case a strong hold pomade is better.
When looking for the best pomade for men, you need to consider your hair type and the style you want to achieve. Once you have these in check and have taken a look at the better options out there (if you haven't already, check out our reviews), you will see that finding the perfect pomade for you is simple.
Our top pick goes to Layrite's Original Pomade. It offers just the right amount of shine and hold. And best of all, it smells like cream soda!