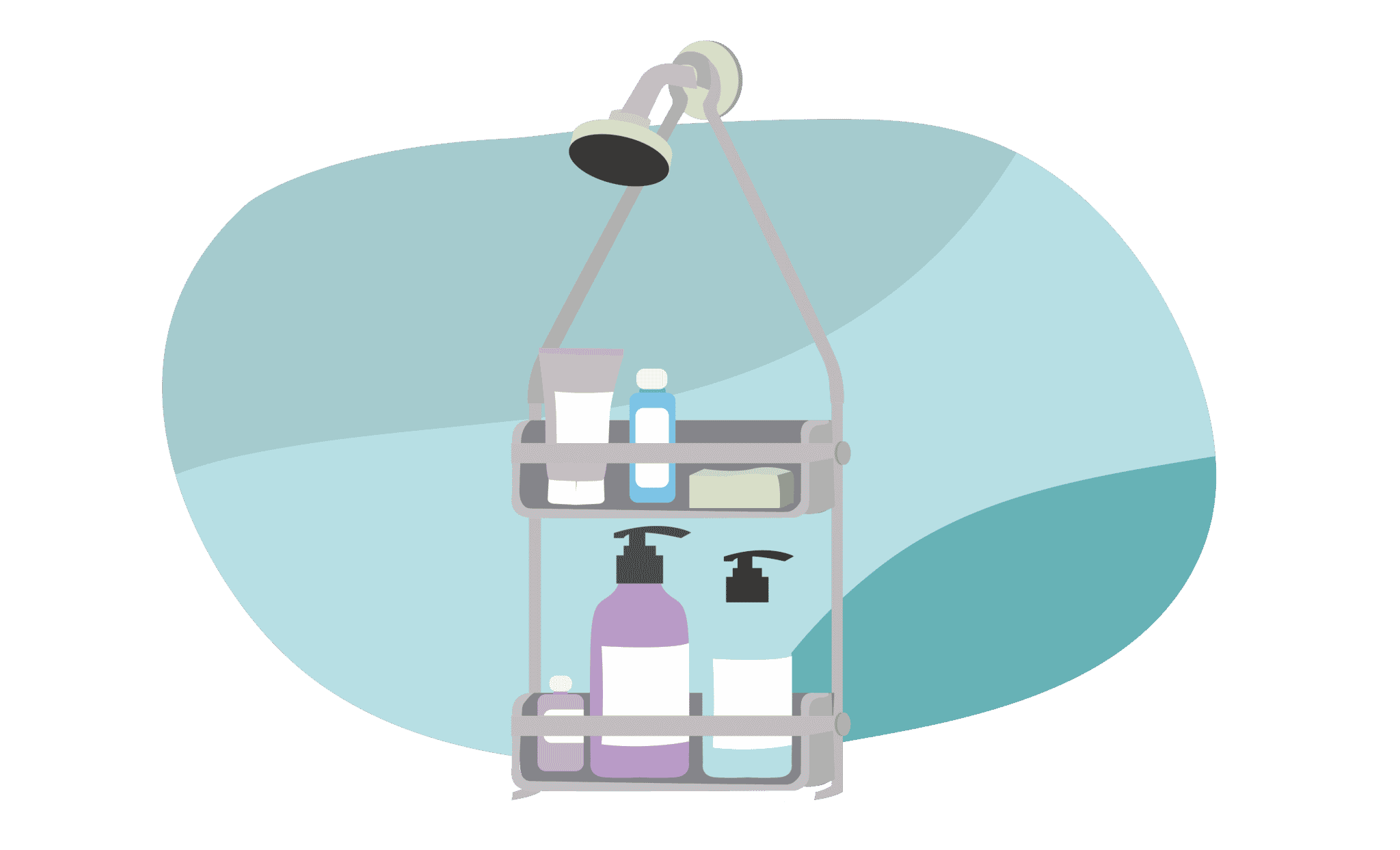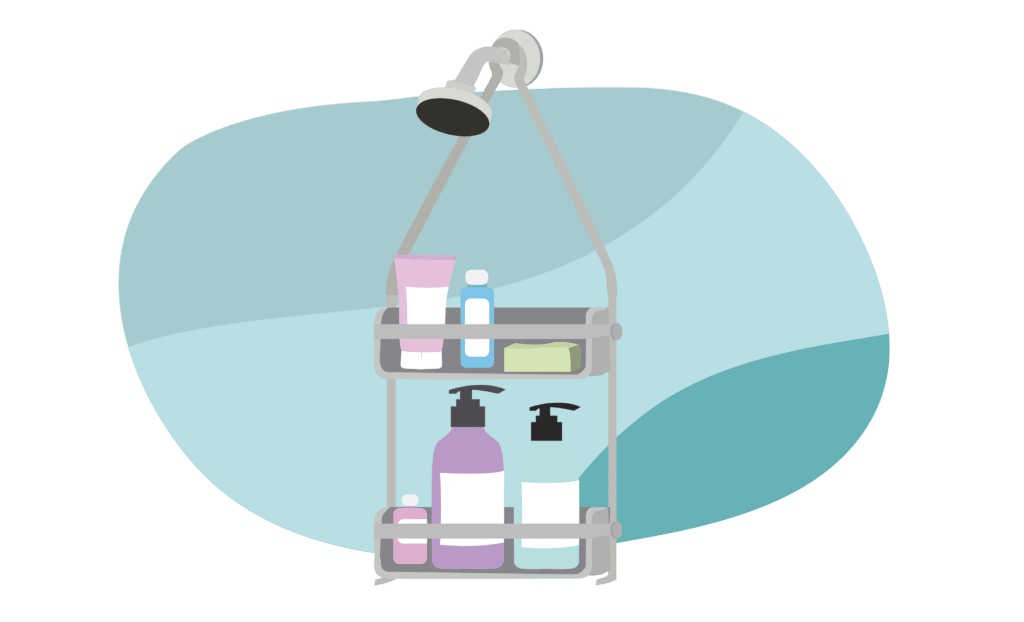 So, your shower didn't come with a built-in caddy, and you're tired of the multiple shampoo bottles and bar soap sitting on the shower floor. Not only does it look untidy, but the level of hygiene is questionable too. So what's the solution?
The best shower caddy you can find will solve these problems for you. A quality shower caddy that won't rust offers the perfect place to store your shampoo bottles, body wash and bar soap, all while neatening up your shower.
When it comes to finding the best caddy for bathroom storage, there are a few things to look out for because, unfortunately, they're not all made the same. You want one that will last and that you won't have to spray with never rust constantly. The way the caddy attaches to your shower is also meaningful, and so is the size and design.
To make it simpler for you to find a storage solution for your shower, we have rounded up the best caddies in Amazon and reviewed each of them. This way, you can find the one you need without fuss.
To find the best shower organizer for you, we have reviewed a selection of the ones we thought to be the cream of the crop. After conducting our research and chatting with men who use these caddies, we searched the web to find storage units that are durable, stylish, and functional. Let's take a closer look.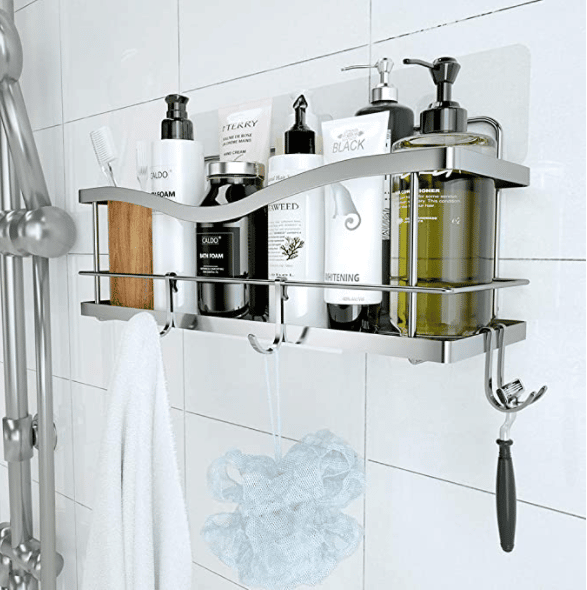 Kincmax prides itself on creating innovative solutions when it comes to bathroom storage. The brand focuses on three areas: quality, style, and convenience. Customers can expect the products they buy from Kincmax to be of high-quality and well worth their money.
The KINCMAX Shower Caddy Basket Shelf with Hooks offers the ideal solution to your shower clutter. It provides ample space for your toiletries while adding a touch of style to your shower. And best of all, it requires no tricky installation methods.
Specs
Wall-mounted
Made from stainless steel
Fast draining
Includes moveable hooks
Who is it Best for?
If you're looking for a way to store your shampoo and conditioner in your shower without having to whip out your electric drill, then this may just be the solution you're after. This holder's unique adhesion method allows you to attach it to the wall of your shower with a strip of adhesive. It's that simple! The only challenging part is getting that adhesive strip to sit straight on your wall.
The application method is as easy as pie and requires nothing more than for you to wipe down your bathroom wall, remove the protective film from the strip, place it and press it down. After waiting between 12 and 24 hours for the glue to set, you can get to storing your lotions and potions.
The only downside to this adhesive is that it won't stick to painted walls, have rough textures, or are wall-papered.
Key features
This shower caddy is made to last. It comes fashioned from stainless steel, a material resistant to rust and corrosion. Usually, this wouldn't matter much, but since this caddy will be getting wet daily, it needs to be durable.
This caddy comes with a unique design to prevent your loofah, body washes, and bar soaps from sitting in water once your shower is over. A metal wire base allows water to drain through the unit, so your items can dry quicker, preventing mold buildup.
Four movable hooks make it easy for you to space them to suit your needs. Use them to hang up your washcloth, sponges, or shower tote while you get clean.
A sturdy bar across the front of the rack will keep your bottles of hair shampoo, liquid soap, and shaving foam upright and in place.
Pros
Suitable for all skin types
Cons
Applying the adhesive may be tricky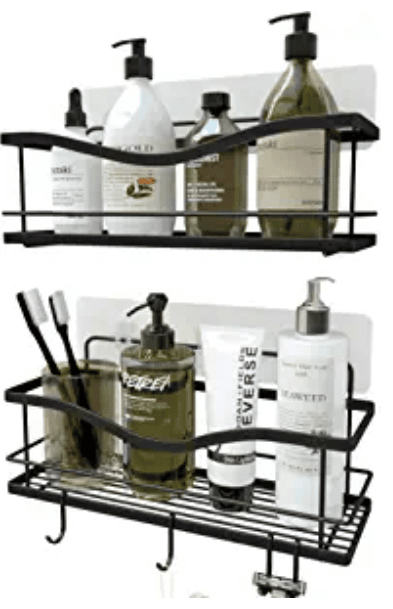 Kincmax, while focusing on quality and style, also knows that not every bathroom is designed to look the same, and not every customer has the same needs. Whether you need a larger storage unit in your shower or a smaller one, Kincmax has you covered.
The KINCMAX Shower Caddy offers remarkable versatility and could even double as a spice rack for your kitchen. It features a minimalist design and a sleek black finish that blends well with most interiors. When it comes to space, there is no issue, as this basket is both deep and wide, making it simple to store bottles in an assortment of sizes and even a soap dish.
Specs
Rustproof
Made from stainless steel
Dual-layer design
Resists mildew
Who is it Best for?
If you are tired of the same old metallic-look shower caddies and you're in search of a more contemporary style, then this one's for you. Kincmax's storage shelf comes with a matte black coating that adds a modern touch to any bathroom.
Men who have multiple shampoo bottles, body scrub, various loofahs, a washcloth, and a canister of shaving cream in their shower will benefit significantly from this handy holder. It offers a wide and deep basket area that keeps your bathroom accessories in place and allows you to fit in a good few while you're at it.
When it comes to sponges, clothes, and totes, you want to be able to hang them up. Having these items sitting on your shower floor is a mildew problem waiting to happen. If you need a caddy that offers multiple hangers, then this one is your best bet. It provides four hooks that you can place according to your needs.
Key features
Kincmax's shower storage is made from stainless steel. This material is resistant to rusting and corrosion, making it ideal for use in the shower. No matter how much steam or water it comes into contact with, it will remain looking brand new even years down the line, offering remarkable durability.
The design of the caddy is such that it promotes convenience. It comes with a steel wire mesh bottom that allows the water to drain through so your toiletries can dry preventing mildew buildup. The rounded corners prevent you from catching yourself and ending up with a cut or bruise.
And then there is installation. If you're not into DIY, you will enjoy this unit. It comes with an adhesive backing. All you need to do is wipe your shower wall, peel off the protective film, and apply the caddy to your wall. It will take a matter of moments. A few things to keep in mind, though, is positioning the backing in a straight line. This adhesive won't stick to paint, rough surfaces, or wallpaper, so remember to apply it to the tiles instead.
Cons
Black won't match every bathroom interior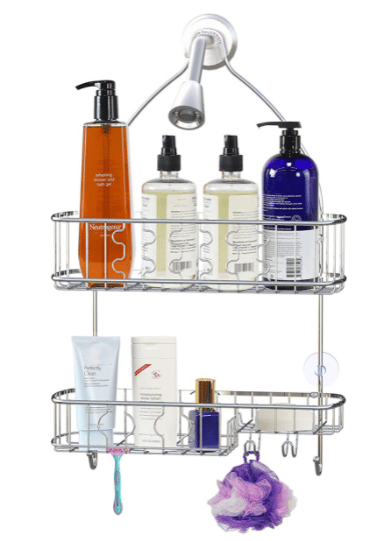 Simple Houseware is all about convenience. The brand offers simple solutions to your household needs by providing you with durable and fashionable products. Best of all? Their designs won't blow your budget.
The SimpleHouseware Bathroom Hanging Shower Head Caddy Organizer is no exception. This handy holder provides ample space for your bottles, clothes, and razors while leaving your shower looking neat and free from mold. It is quick to install and adds a touch of glam to your bathroom.
Specs
Rust-resistant
Made from alloy steel
Chrome finish
Non-slip grip with two suction cups
Who is it Best for?
This shower organizer is perfect for any man with many bottles, tubs, and canisters in his shower. It comes with a dual-layer that provides ample place for an assortment of bathroom accessories, including sponges, razors, and even your toothbrush if you so wish.
If you have been searching for a chrome finish caddy, then look closely at this one. It features a sleek and contemporary mirror finish that gleams and shines.
The men out there who are not keen on DIY anything will appreciate this caddy. It requires no installation. Instead, it hangs not over the door but over the showerhead, suctioning to the wall behind it with two suction cups to keep it stable. All you have to do is slide it on and push it against the wall, and it's in place in a matter of minutes.
Key features
This shower storage basket comes fashioned from alloy steel. Now, this on its own is not resistant to rust. However, the chrome coating gives it the resistance it needs and protects it from corrosion too.
The caddy comes in three different color finishes chrome, bronze, and silver, so that you can find the one best suited to the decor in your bathroom.
Two baskets, each with a wire mesh base, allows water to drain off your bottles, preventing mold and keeping them from discoloring. The lower shelf comes with four hooks for hanging up your sponges and facecloths, while cleverly designed openings provide a place to store your razors.
Suction cups keep this caddy firmly connected to the wall, preventing it from swinging about and having all your bottles upside down and spilling their contents everywhere, there really is nothing greater than the best suction shower caddy.
Pros
Includes a shelf and a basket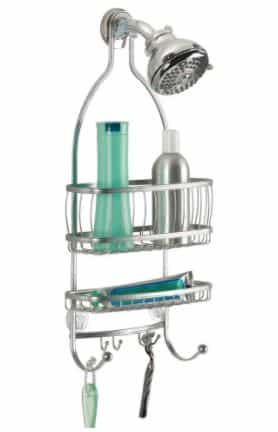 iDesign is a brand that produces homeware solutions. The brand places its focus on practicality, functionality, and simplicity. The wide range of products they offer each serves to make life more convenient while adding a touch of style at the same time.
The iDesign York Metal Wire Hanging Shower Caddy is one such product that brings value to its surroundings. Not only does this shower organizer keeps things neat, but it makes them easily accessible too.
Specs
Made from steel
Hangs from the showerhead
Uses suction cups
Integrated hooks
Who is it Best for?
If you're searching for a caddy that matches the metal finishes in your bathroom, then iDesign may just have the one you need. They offer their holders in seven unique metallic shades that include rose gold, bronze, and pearl-white, to name a few.
The assortment of shades combined with the elegant design makes it a stylish touch to any shower and bathroom.
For those men who do not have the time or inclination to fuss with DIY installations, drilling, or the mess that comes with it, this shower caddy was made with you in mind. It features a design that sees it slip over the showerhead, where it then hangs. To keep it firmly in place and prevent it from swinging about should you bump it, two suction cups fasten it to the wall.
In essence, there is no installation at all; you just need to slide it in place and press it down.
Key features
iDesign makes its organizers from sturdy steel. They then coat the metal with a finish that makes it resistant to rust and corrosion, ensuring it is durable and able to withstand the continual damp environment that comes with a shower.
The holder features two storage spaces. A top basket that is deeper is perfect for holding bottles of shampoo, large bottles of body wash, conditioner, and canisters of shaving cream.
A shelf sits below the basket and, although it is not as deep, offers the ideal place to keep bar soap and tubes of shaving cream. A little holder provides a spot for your razors, and two larger hooks make it easy to hang up your loofah or sponge.
The extra-wide design offers more than enough space for all your necessities without being cumbersome. The hanger is made to fit most showerheads, although we do not suggest hanging it on handheld showerheads.
Pros
Offered in seven unique finishes
Cons
Not for use as a corner caddy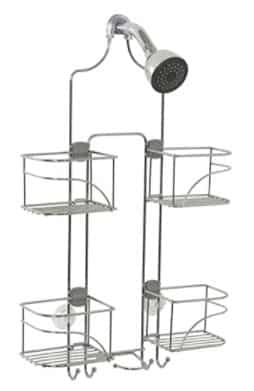 Zenna Home's slogan is Refresh, Renew, Relax. They seek to provide that home experience for you through their durable and stylish products. They design their bathroom organization tools to offer you convenience while maximizing the space you have.
The Zenna Home Expandable Over-The-Shower Caddy offers all these features and more, providing you with a simple storage solution that looks impressive and keeps things tidy. Transform the way your shower looks with this sleek and handy organizer.
Specs
Made from steel
Suction mounting
Features four baskets
Includes built-in hooks
Who is it Best for?
If you prefer a sleeker, upright style to your organizing unit, then give this one a closer look. Zenna Home's storage system is designed in a vertical style instead of the typical horizontal design we often see.
The rack is split into four individual baskets. But, the real surprise comes in when you realize that this unit is expandable. Zenna does this to accommodate a range of unique shower types and is ideal for a narrow shower stall. So whether you have a handheld showerhead that features a cord or fixed shower, you can place the baskets together or expand them and place them apart.
This universal design certainly adds convenience to the mix. The only downside to this is that the individual holders don't offer as much space as a single horizontal holder. But, if you only have a few items in your shower, you won't need much space, anyway.
Key features
This elegant caddy is made from steel, and it comes with either a bronze or chrome coating. It is this coat that not only gives the holder its color but provides it with a waterproof and rustproof finish.
A hanger sits on the neck of the shower mount, and two suction cups, then secure it in place. The cups are helpful because they prevent the organizer from swinging about while you're trying to get your shampoo or soap out of the holder. This design also means no installation is required. You can breathe a sigh of relief at the idea that your electric drill can remain safely tucked away in your garage.
Hooks and holders on the bottom rung of the holder make it easy to hang up your loofahs and razors too.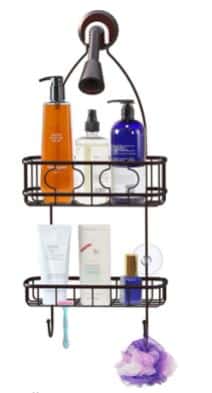 Simple Houseware's name says it all. The brand offers household goods that make storage around the home simple. Their durable products help make the most of the space you have while adding a stylish touch to their surroundings.
The Simple Houseware Bathroom Hanging Shower Head Caddy Organizer certainly makes your shower neater and makes it easier to grab your bar soap or conditioner as you need it. No more bending over to find the soap, only to knock your head on the faucet.
Specs
Made from alloy steel
Offers a basket and a shelf
Includes hooks
Uses hanging and suction cup mounting
Who is it Best for?
If you're looking for a smaller storage piece for your shower stall, then this one is an excellent option. Whether you have a shower that lacks space or you don't have a heap of toiletries to store, this caddy offers the perfect solution. Its compact design and sleek look allow you to keep your necessities off the ground without taking up too much shower space.
Men looking for a bronze, chrome, or silver organizer will enjoy Simple Houseware's holder. It is offered in all three of these finishes so that you can coordinate the interior of your bathroom.
Guys who would rather run a marathon than attempt a DIY project will benefit from this unique design. Instead of being drilled into the wall, this caddy simply slips over your showerhead, resting on the neck. Two suction cups, then plant it firmly in place on the wall to keep it steady, making this the best suction cup shower caddy you can find.
Key features
When it comes to anything metal that stays in the shower, you want it to be durable. Untreated metal items that rust and corrode will not only mark your shower but look appalling too. This caddy is made from alloy steel that comes with a coating that prevents it from deteriorating.
A broader and deeper basket offers the perfect place for your larger bottles of conditioner, shampoo, and shaving cream. A second, lower shelf is not as deep but creates the ideal place to put your soaps and smaller jars or tubs. Two hooks on either side of the organizer are great for hanging your washcloths or keeping your loofah.
Men looking for a simple solution to their shower organization problems will enjoy this caddy, and we can assure you it's worth every penny.
Pros
Offered in three unique finishes
Cons
The hooks are fixed in place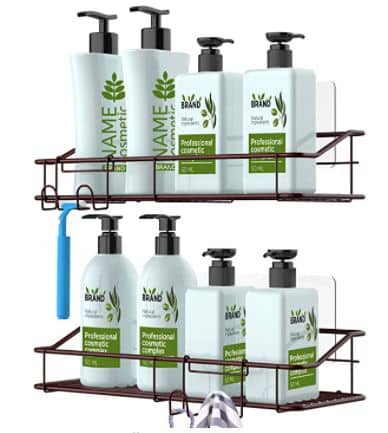 Nieifi is all about minimalism blended with functionality and a pinch of style. Their bathroom storage solutions make keeping your toiletries in order and allow your bathroom to look neat and tidy.
Nieifi Shower Caddy Shelf with Hooks Storage is a testament to the brand's innovative products. This storage unit is sleek and fuss-free, yet it performs its function perfectly. If you want a top-quality shower caddy, then this one deserves your attention.
Specs
Made from stainless steel
Rust-resistant
Adhesive mounting
Fast draining
Who is it Best for?
If you have a larger shower or have a big family and lots of different shampoos, conditioners, and body wash that all need storing, this is the ideal organizer. It provides two spacious shelves on which to store your necessities.
Most shower storage units come as one fixed piece. These shelves, however, are separate, so you can space them as you need to, making it easier to get the configuration that best suits your needs.
Men who prefer not to drill into their bathroom walls will enjoy this caddy and the way it installs. An adhesive strip attaches the unit to the wall, allowing for a seamless look and a hassle-free installation. The most challenging part is getting the holder positioned perfectly straight. It is simple considerations such as this that make this caddy so convenient.
Key features
Shower holders need to be durable. There is no point in spending your hard-earned money on a unit that will rust in the space of a few months. You will spend your life replacing them and needlessly wasting money. Investing in a caddy that is made to last is a far better bet.
Nieifi fashions this unit from stainless steel, a material resistant to both rust and corrosion, so you can be sure it will last.
Both the shelves are wide and feature two handy hooks for storing things such as loofahs, nail brushes, razors, and facecloths. You could even hang your shower tote from one if you own such a thing.
The hooks are detachable, too, so you can place them where you need them, put them both on one shelf or locate them in a position on the rail that best suits your needs.
Pros
Comes in a pack of two shelves
Offered in three different finishes
No drilling required for installation
Cons
The adhesive may be tricky to apply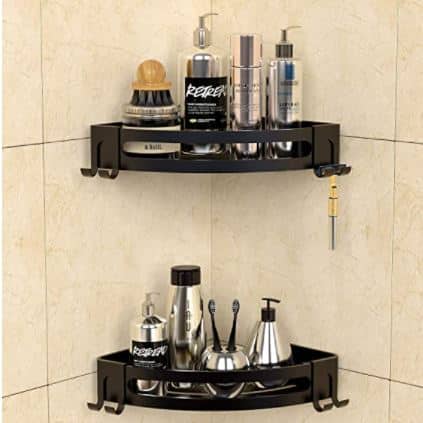 Geekdigg is known for its comprehensive storage solutions. From stands for gaming headsets to bathroom storage units, they offer it all. Yet, their designs aren't your average, run-of-the-mill style organizers. They combine innovation with the latest trends to create products that are both useful and stylish.
GeekDigg's 2 Pack Corner Shower Caddy is the perfect unit for a smaller shower that could use a corner storage unit. The elegant yet contemporary design of these shelves makes them the best corner shower caddy for any modern home.
Specs
Corner shower caddy design
Made from anodized aluminum
Fast draining
Secures to most wall finishes
Who is it Best for?
If you have a showerhead that sits relatively high up or doesn't allow for a shower caddy to be hung from it, you may want to consider a corner shower caddy instead.
These unique shelves attach to a 90-degree corner (where the two walls meet) in your shower. They not only offer a cleaner look, but they offer a little more space than your typical hanging organizer. The additional space comes from the shape of the adjustable shelves.
Some people don't enjoy the restriction that comes with a fixed design shower unit. Often large bottles don't fit properly, or they are too tall. These freestanding shelves solve that problem in that they come in a set of two, allowing you to position them as you please.
Place them lower on the wall so your kids can reach them too, or have them spaced out to accommodate bottles of all sizes.
Key features
Geekdigg fashions their storage organizers from anodized aluminum; this is a more robust aluminum treated to be rust-resistant and not easily corroded, making it ideal for use in the damp environment found in the shower.
They offer the shelves in matte black or silver, so you can choose the set in the shade that best matches your bathroom's decor.
Each shelf comes with a barrier that prevents your shampoo, body wash, or conditioner from falling out. On either side of each unit, you will find two hooks; these can either be used together as a razor holder or use them individually to hang your sponges and washcloths.
Installation of these holders is simple too. You can choose one of two ways to mount them. If you are looking for a more heavy-duty connection, you can drill them into the wall. We suggest using this method if your bathroom walls are painted, covered with wallpaper, or have a textured surface, or if you're seeking greater durability.
We say this because the other installation option uses an adhesive sealant, which works fine on tiles, wood, glass, or metal but not so well on the different surfaces we mentioned previously.
Pros
Offered in black or silver
Cons
Only for 90-degree corner use
Things to Consider When Buying a Shower Caddy
When spending money on a shower caddy, you want to invest in one that will last. Storage units that rust in a few weeks are a waste of time and money. You'll also want one that fits neatly into your shower stall and doesn't take up too much space. Giving thought to where in the shower you can place your shelves will also go a long way in helping you find the perfect set.
1. Style
There is an assortment of styles of shower caddy. Let's take a closer look at what they are:
Door Shower Caddy: These usually clip over the top of your shower door. They are great for use in smaller showers or use when traveling.
Hanging Caddy: These come with a hanger that rests on the neck of your showerhead. They often come with suction cups that fasten the lower end of the organizer to the wall.
Corner Caddy: These install into the corner of your shower space and will only work with a 90-degree angle. They offer more flexibility than your standard caddy.
Tension Shower Caddy: These see a string of interdesign shelves held together by a tension rod. They usually fit into the corner of a shower as a freestanding unit and are great space savers.
2. Durability
When it comes to a storage unit, you want a high-quality caddy that offers durability. To ensure you find one, always check first to see what materials your caddy is made from. Metals such as stainless steel, anodized aluminum, and coated alloy steel are all good options as they are resistant to rusting and corrosion.
3. Size
Make sure when you choose a caddy that you find one that fits neatly into your shower space. You don't want to be constantly bumping into it and knocking your toiletries flying.
4. Brand
There is a range of shower caddy brands available. Some are more well-known, like Simple Human, Forma, Mdesign, Simple Houseware, Zenna, or Allzone. But whether you buy a Simplehuman adjustable shower caddy or a Geekdigg corner shelf, they will each offer a style and design of their own. If the organizer is made from quality material and appeals to your sense of taste, brands won't factor in all that much.
When it comes to buying a shower organizer, take the time to find the one that will fit your shower stall, work with your style of shower, and offer outstanding durability. We hope our reviews on the shower caddies above have helped you gain a little inspiration for buying your own. Our top pick of the lot goes to Zenna's Expandable Caddy purely because of its versatility, unique design, and durable nature