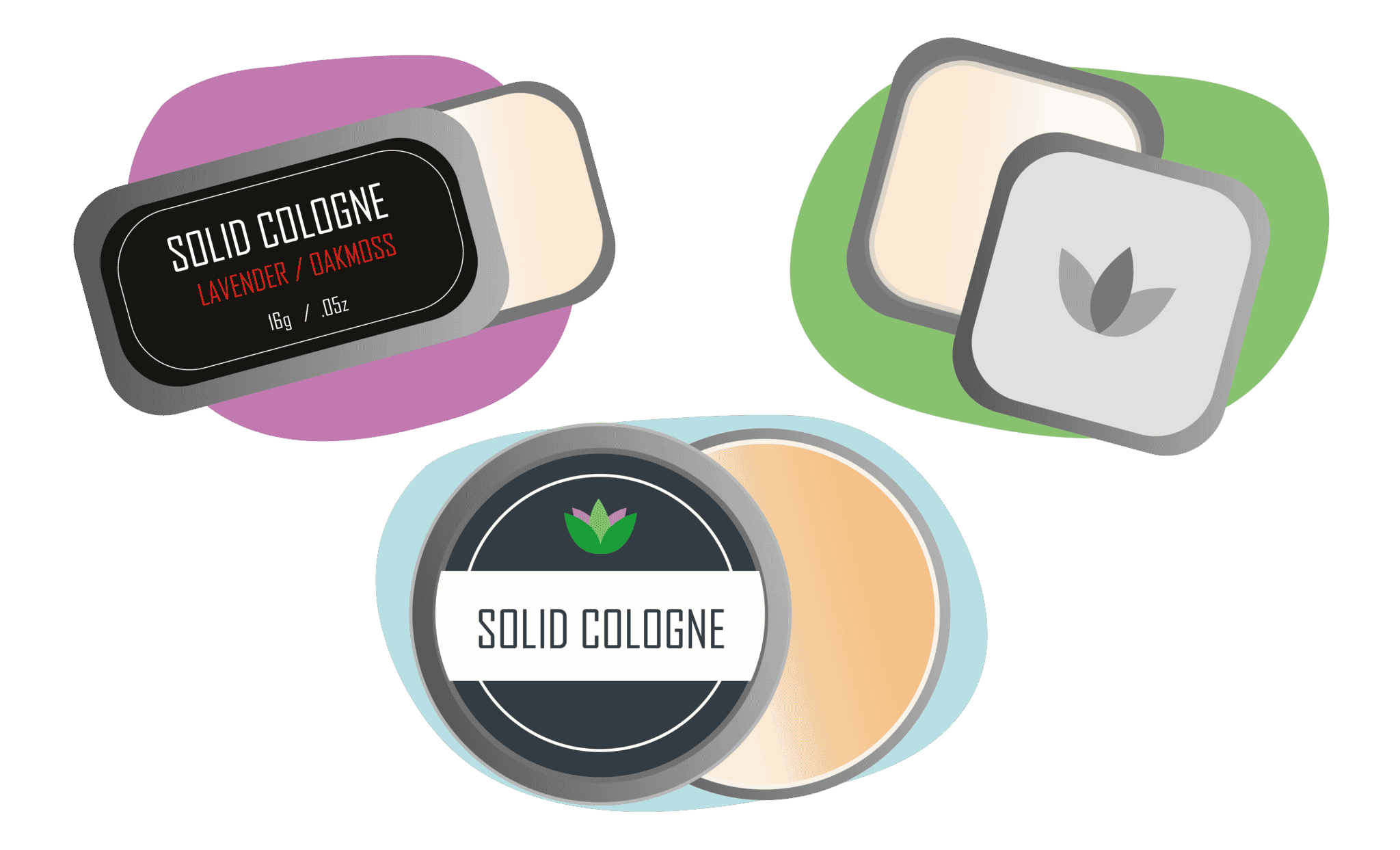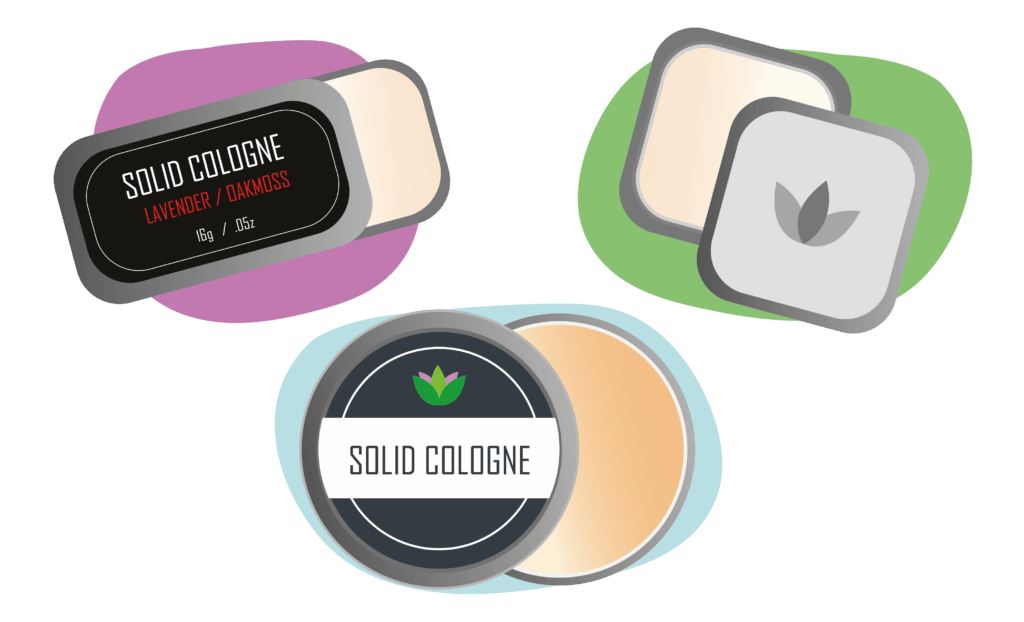 Cologne is the quintessential way to round off an outfit perfectly, and it makes you smell great. The problem comes in when you're leaving work and going straight to an event; whipping out a bottle of cologne just looks odd, and it's a pain to carry about. And let's not get started on travel. If you only have hand luggage, there is no way you're going to be allowed on board the plane with a 3.4ounce bottle of Armani's finest. So what now?
This is where some of the best solid colognes come in. Men's solid cologne comes in a small, travel-size tin and fits neatly in your pocket. Rubbing your finger lightly over the substance warms it up, melting it to make it easy to rub on your neck and wrists.
Solid cologne works just as well as bottled fragrance, but not all are made the same. You don't want to end up with a solid cologne that has barely any scent to it, nor do you want one that will irritate your skin. To make life a little simpler, we have reviewed the best solid colognes available on Amazon, so you can find one that best suits your needs.
To find the best men's solid cologne to review for you, we first chatted to a few guys to find out what they want most from this unique fragrance. The most common points included:
A long-lasting sillage, excellent quality, a noticeable but not overpowering scent, and a fragrance that is simple to travel with.
The solid cologne we have reviewed here ticks each of these boxes and more. So, let's dive in and see which ones made it onto our list.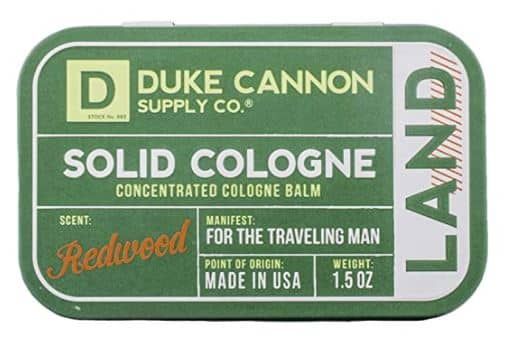 Duke Cannon is an American-born company with a simple purpose: "to make superior-quality grooming goods that meet the high standards of hard-working men." Their products are designed for men of substance who value quality over quantity.
Duke Cannon Men's Solid Cologne is made for the traveling man. The scent offers an impressive sillage for men who spend their day working hard. This quality scent is packaged in a durable tin, the old-fashioned way.
Specs
Made with sunflower oil, beeswax, coconut oil, and sandalwood
Features a Redwood scent that combines fresh and citrusy notes
Comes in a 1.5 ounce tin
Melts at body temperature
Who is it Best for?
Men looking for a scent that they can keep with them and reapply throughout the day will benefit from this solid cologne by Duke Cannon. Because the tin fits neatly into your pocket, you can whip it out at any point and reapply it. Best of all, it looks a little like a tub of lip balm, so you won't end up with the guys at work ragging on you for wanting to smell good.
If you frequently travel, especially for work, this is the cologne you need. When traveling, you can only bring a specific amount of liquid with you, especially if you are using carry-on luggage only. Solid cologne means one less bottle of liquid to take with you. This one pops into your backpack or briefcase, and away you go.
Key features
Duke Cannon makes their solid cologne from a selection of organic ingredients to formulate their cologne. Some elements you can expect to find include sunflower oil, beeswax, sandalwood fragrance, amber fragrance, coconut oil, orange essential oils, clove bud essential oil, mixed tocopherols, rosemary extract, and calendula extract. They use only natural extracts, making this cologne paraben-free.
This cologne is aptly named Redwood, and it offers a warm, masculine scent with heart notes of sandalwood, citrus, rosemary, and clove. The fresh, citrusy fragrance is great for daytime wear and is perfect for any season.
The fragrance comes in a 1.5 ounce tin that lasts a good while. A great thing about this tin is that it fits neatly into your briefcase, gym bag, or back pocket.
Solid cologne is simple to use; rub your fingers over the substance. It will melt slightly, allowing you to dab a little on your wrists and neck.
Cons
Not everyone enjoys citrus scents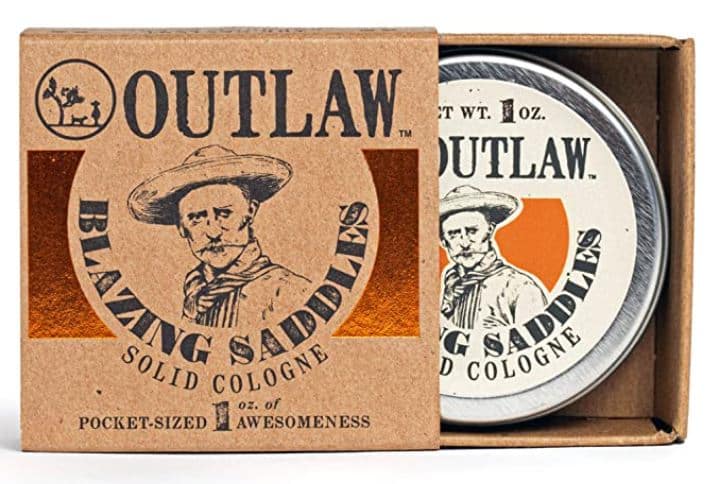 Outlaw Soap Company originates from the woodsy and wild Sierra Nevada mountains. Made for the adventurous people of the world, Outlaw Soaps offers a selection of grooming products such as soap, solid cologne, and lotions.
Outlaw Blazing Saddles – The Sexiest Solid Cologne Ever is very well described. It is a woodsy masculine scent that harkens back to the wild wild west, the perfect fragrance for a bona fide cowboy.
Specs
Made with beeswax and cocoa butter
Comes in a pocket-sized tin
Notes of sagebrush, leather, gunpowder, and sandalwood
FDA compliant
Who is it Best for?
Men who prefer a more rugged, woodsy scent will appreciate this solid cologne. It is the perfect addition to any gym bag, briefcase, or backpack. If you are looking for a substitute for a spray cologne or aftershave, this is just the solution you need.
If you suffer from sensitive skin, a solid cologne made with natural ingredients such as this one is an excellent option. It is alcohol-free, which means it won't irritate sensitive skin.
Businessmen who frequently travel will also find a tin of solid cologne handy. The TSA stipulates that you can only travel with a certain amount of fluid items; using a solid cologne makes it much simpler to meet these regulations. It is also much easier to fit into your luggage and weighs far less.
Key features
Outlaw Soaps crafts their Blazing Saddles cologne in small batches. This allows them to meet quality control standards as well as those of the FDA.
The brand's solid cologne is made from various ingredients that include Beeswax, cocoa butter, grapeseed oil, Vitamin C, Vitamin E, rosemary seed extract, and fragrance oil. These natural ingredients combine to create a lightly moisturizing, intensely scented balm that will leave you smelling great for hours.
The scent notes found in this men's solid cologne are leather, sandalwood, gunpowder, sagebrush, and campfire—an eclectic mix of deep masculine notes that evokes your inner cowboy.
Outlaw soaps package their soli cologne in handy one ounce tins, making it simple to carry it in your pocket for when you need it most.
Cons
You may need to store it in the refrigerator in hotter climates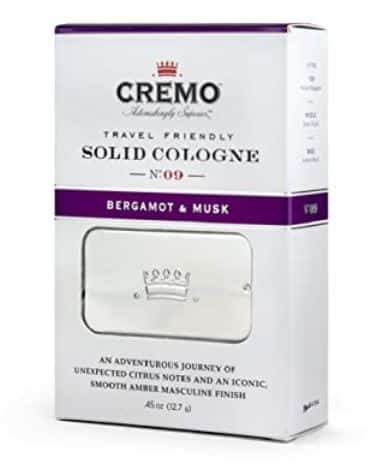 Cremo began as a shaving cream company that has since expanded to offer a wide assortment of men's grooming products. From body wash and soap to shave cream, lotion, and colognes, each product is masterfully crafted, offering full, lush scents that are created with some of the world's best scent masters.
Cremo Bergamot & Musk Travel-Friendly Solid Cologne is just one of many in the Good Uncommon Scents range by Cremo. This particular scent is Number 9 in the collection and leaves you with a fresh, musky aroma.
Specs
Made with hydrogenated vegetable oil, Jojoba oil, and Ozokerite Wax
Features notes of bergamot, musk, and amber
Comes in a TSA-friendly metal tin
Offers a concentrated scent
Who is it Best for?
This solid cologne is perfect for men who travel. It comes in a neat, TSA-friendly tin that is discreet and durable. The container holds 0.45 ounces of solid cologne, making it slim enough to keep in your pocket.
Men who appreciate variety will enjoy Cremo's extensive selection of scents. Aside from this citrusy one, they also offer fragrances such as Blue Cedar and Cypress, Bourbon and Oak, Leather and Oud, Silver Water and Birch, and Spice and Black Vanilla. With so many options, it is easy to have a scent to suit your every mood.
This concentrated balm is simple to apply, so if your deodorant fails you, you can add a dab to your skin while you're on the go.
Key features
Cremo makes their solid cologne from an assortment of ingredients that include Caprylic Triglycerides, Fragrance, Ozokerite, Hydrogenated Vegetable Oil, and Jojoba Oil, to name a few. While these elements are not all natural, the cologne still nourishes your skin and leaves you smelling incredible.
This cologne's main accords are citrusy and musky, with scent notes that include bergamot, musk, and amber. This scent is fresh yet alluring and offers an impressive sillage. It is a cologne that wouldn't be out of place in a high-end fragrance house.
The application of this balm is simple. Slide open the tin, and rub your finger in a circular fashion across the top of the balm. The friction will cause the substance to melt, making it simple to then dab on your pulse points, which you can find behind your ears, on your neck, and wrists.
Pros
Comes in an assortment of fragrances
Easily applied to pulse points
Cons
Not everyone enjoys musky fragrances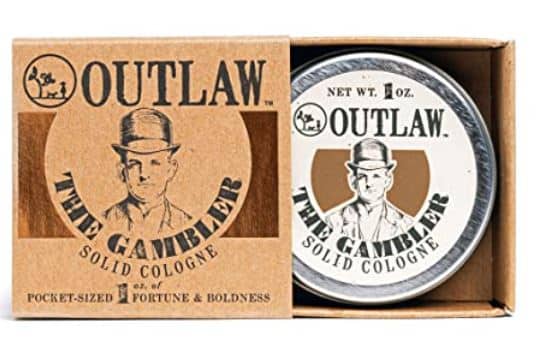 Outlaw Soap Company is made for those with a deep sense of adventure. The brand wants its customers to "get out there and try stuff, challenge routines, and focus on living life to the limits." The grooming products Outlaw Soaps creates are all inspired by these ideals, and they evoke the adventurous spirit in us all.
Outlaw The Gambler Bourbon-Inspired Solid Cologne expresses this boundary-pushing element to a T. Made for the man who isn't afraid to take a risk, this scent is powerful and masculine.
Specs
Made from beeswax, cocoa butter, and grapeseed oil
Made in small batches
Notes of bourbon. leather and smoke
Paraben free
Who is it Best for?
Men with sensitive skin need to stop right here. Outlaw Soaps makes their cologne with natural ingredients free from parabens, which makes it gentle on the skin. The infusion of Vitamin E into the balm further helps to soothe dry or irritated skin.
If you're environmentally conscious, then you won't mind giving this balm a bash. It is cruelty-free and never tested on animals.
Men who frequently travel will find this solid cologne somewhat helpful. It comes in a one ounce tin that sees a screw-top lid. This container is small enough to pop in your pocket, your gym bag, or in your luggage. Best of all, because it isn't liquid, it won't cause you hassles with TSA regulations when flying.
Key features
Outlaw Soaps uses a selection of natural ingredients that soothe your skin instead of inflaming it like other colognes that see an assortment of chemicals and alcohol additives.
Some of the ingredients you can expect to find include beeswax, cocoa butter, grapeseed oil, Vitamin C, Vitamin E, rosemary seed extract, and fragrance oil.
The Gambler offers a rich, smokey accord, with heart notes of bourbon, tobacco, and leather. The fragrance takes you back to a backroom poker game, with puffs of tobacco-rich cigars clouding the air, glasses of bourbon mellowing in the dim lighting, and the leather scent of the old chairs you're sat in while the outlaw to your left ponders his next move.
Outlaw Soaps crafts their colognes in small batches of 15 to allow for optimal quality.
Cons
Not everyone will enjoy the fragrance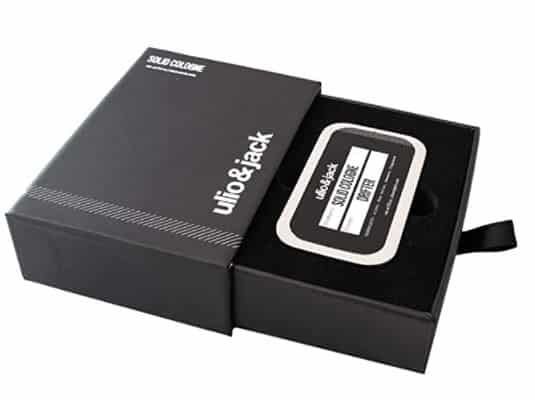 Named for the founders' grandfathers, Ulio & Jack began as a solution to a problem. The founders were constantly on-the-go, and so stopping to spritz cologne wasn't always an option, and so their solid cologne was born. Friends and family loved the unique scents they created, and soon, it became clear that selling the fragrances was a must.
Today, the brand offers just three unique scents, Drifter, Explorer, and Aviator. Yet, it was the Drifter Men's Solid Cologne by Ulio & Jack that captured our interest and our noses.
Specs
Made with Jojoba Oil, shea butter, and beeswax
Comes in a 0.5 ounce tin
Fragrance notes of cardamom, mandarin, and sandalwood
Tin is travel-friendly
Who is it Best for?
Ulio & Jack make this cologne for the frequent traveler. It is alcohol-free and comes in a case that is airport-approved. Because the tin is so small, holding just 0.5 ounces of fragrance, you can keep it in your pocket, even when you're on the plane, without experiencing any hassle. Leave your flight smelling fresh and feeling great.
If you suffer from sensitive skin, this solid cologne is the perfect solution. Because it is free from alcohol and phthalates, both known to irritate sensitive skin, you won't experience rashes or breakouts. Best of all, the oils within the balm won't leave your skin feeling greasy or slimy.
If you're a man who appreciates variety and likes to alternate scents according to mood or occasion, you will enjoy Ulio & Jack's two other fragrances. Aviator offers neroli, tangerine, and patchouli scent notes for a slightly softer, more floral accord. Conversely, Explorer comes with a citrusy bouquet with spicy and floral elements to it, offering scent notes of Japanese grapefruit, bergamot, jasmine, and peppermint.
Key features
Ulio & Jack manufacture their solid cologne using only natural ingredients, including Jojoba oil, shea butter, beeswax, and fragrance oil.
The Drifter cologne offers a lightly sweet accord with top notes of sandalwood and clove, heart notes of cardamom and mandarin, and subtle leather undertones. It provides a clean yet refined fragrance that is ideal for daily use. This scent is great for year-round use.
Because it is so simple to apply, you can use this solid cologne on-the-go, and while it is strong enough for those around you to notice, it isn't overpowering.
Ulio & Jack prides itself on being a sustainable business, using low energy consumption and creating low waste levels. They even source their materials from environmentally friendly companies.
Pros
Made with natural ingredients
Cons
Not everyone will enjoy the spicy aroma
Things to Consider When Buying Solid Cologne
When buying the best solid colognes, you want to look for two things, quality, and scent. A premium cologne will last on your skin and hold its scent for hours. You also want to find a scent that appeals to your taste.
1. Scent Notes
Fragrances come in an assortment of scent notes. Let's take a look at some of them:
Citrusy: These colognes will usually feature scents such as bergamot, mandarin, grapefruit, and lemongrass.
Fruity: Colognes with fruity notes may include elements such as plum, apple, or pineapple.
Floral: A cologne with a floral bouquet may include scents such as neroli, ylang-ylang, or patchouli.
Green Notes: These usually refer to fresh-cut greenery such as grass and herbs such as rosemary and peppermint.
Spicy: This one is relatively self-explanatory and includes notes such as cardamom and nutmeg.
Woodsy: These scents are earthier and are often used as base notes. They see notes such as vetiver, cedarwood, oakmoss, and douglas fir.
Other notes you can find in a cologne include scents such as leather, amber, resin, gunpowder, and even old paper.
2. Brand
When it comes to buying quality cologne, you can't go wrong in supporting a reputable brand. This way, you know you are guaranteed to receive a solid cologne with a good sillage and well put together fragrance notes.
Besides the brands we speak about in our reviews, a few others to try include Fulton & Roark, Le Labo, Otter Wax, and Walton Wood Farm.
When buying the best men's solid cologne, it helps to think about the scents you prefer and whether you would instead carry a smaller tin with you than use a larger bottle of spritz on cologne, especially if you travel.
We hope our reviews have made it easier for you to find a solid cologne that appeals to you. If you're still unsure, either of the scents by Outlaw is a great choice.