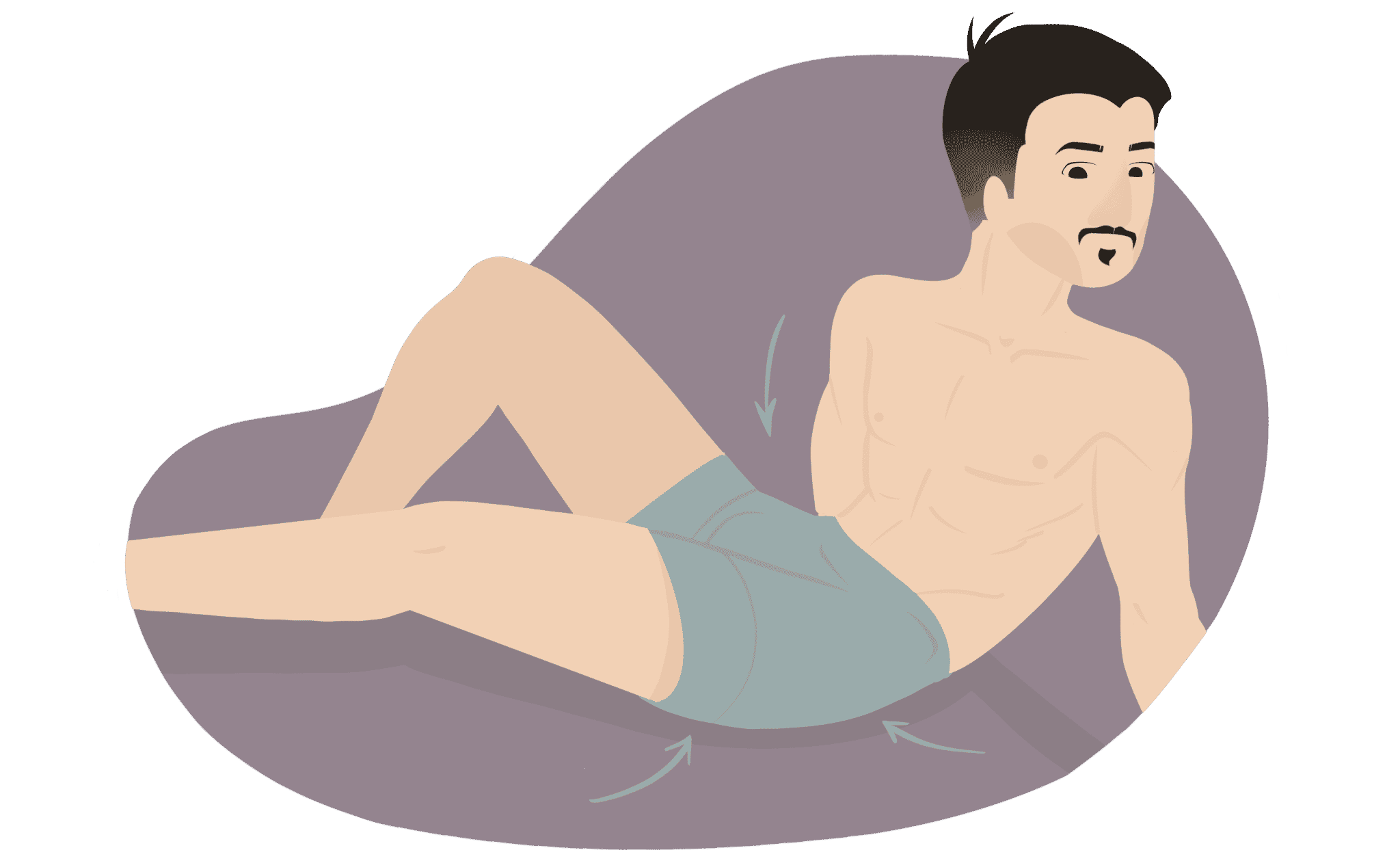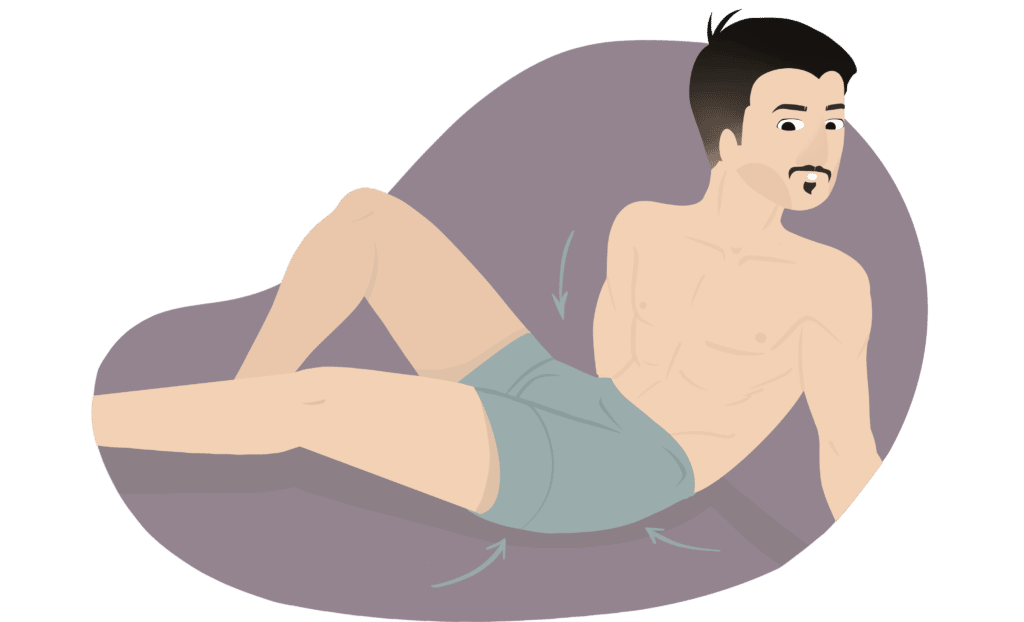 When it comes to men's underwear, especially those you choose to sleep in, there is nothing worse than scratchy, tight pants that leave you uncomfortable and feeling hot. So what should you be wearing then?
The best silk boxers, of course. This underwear is soft, cool, and it looks incredible. Silk offers excellent quality, and it lasts. You're less likely to rip or tear a pair of silk boxers than you are a cotton pair.
We understand that finding premium men's boxers is time-consuming and challenging, but we also know that not all silk boxers are made from silk, as they claim. To save you time and money, we have reviewed the best silk boxers for men that Amazon has to offer. We hope this makes it easier for you to find a pair or two that leaves you smiling and feeling great.
We have done our research and chatted with men to find out what they want out of a pair of boxer shorts. The list they left us withheld key points such as comfort, design, quality, and style. Each of the boxer briefs we sourced on Amazon ticked each of these boxes and more, leaving you with a selection of products that are worth your money.
Let's look a little closer at the boxer shorts that made the list.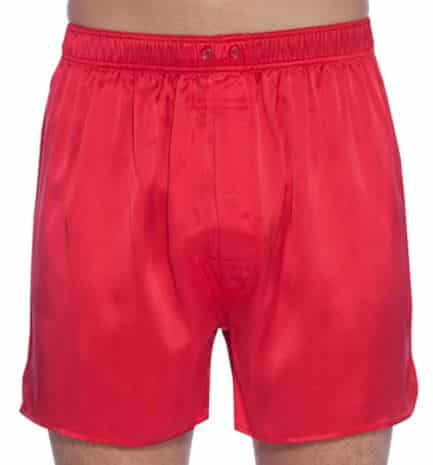 Intimo is a subsidiary of Pjammys, a company specializing in unique sleepwear for men, women, and children of all ages. Their primary offering is officially licensed sleepwear that comes printed with an assortment of the latest and greatest characters from the world's most-loved movies.
But, they offer luxurious jammies for adults too. Their INTIMO Men's Classic Silk Full Cut Boxers are a great example of this. These sleek and uber comfy men's boxer shorts are perfect for wearing on warm summer nights.
Specs
Full cut design
Button-down fly
Made from 100% silk
Elastic waistband
Who is it Best for?
These soft, silky pants are perfect for any man looking for a pair of cool, luxurious silk underwear. They are sleek against the skin and will keep you feeling comfortable all night long.
Men looking for sleepwear in shades of red or burgundy, whether it's for an anniversary or just because you like those colors, will find them here. Intimo offers their men's loungewear in these two hues and many other colors too.
When it comes to silk boxers, the seat area can often be cut a little on the small side, causing bunching and discomfort. If you're looking for a pair of sleep shorts that don't have this problem, you've just found them. Intimo's shorts come with a relaxed fit seat area, making it easier to sit, stand, and bend without any bunching.
Key features
Intimo men's classic silk boxers come made from 100% pure silk. These quality silk boxers are ideal for wear on hot summer nights, thanks to the fabric's breathable nature. Silk is known for its ability to allow air to circulate through the fabric keeping your body temperature regulated and preventing you from overheating as you sleep.
These sleep shorts come with an elastic waistband that makes them quick and easy to pull on and off. And a double button fly makes things simpler should you need to use the bathroom in the middle of the night.
The detail in the way of two color-matched buttons on the waistband adds a fun touch, while a small slit in the hem of each leg prevents your movement from being restricted.
When it comes to keeping these soft silky shorts clean, you will need to take care. Silk should always be washed by hand in cold water.
Pros
Offered in red or burgundy
Cons
Should be cleaned by hand washing only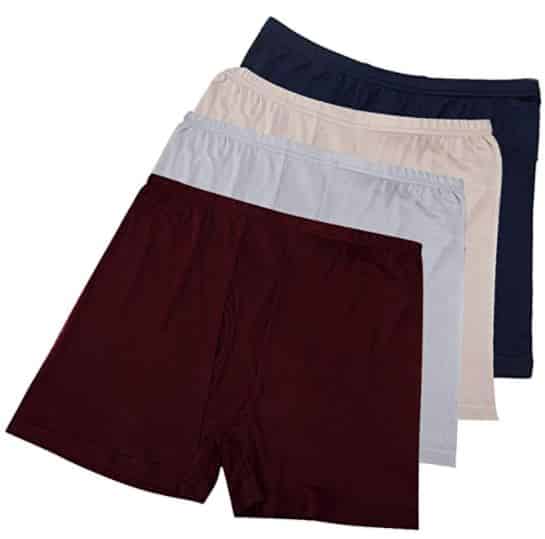 LinaSilk places its focus on crafting exquisite garments from pure mulberry silk. Mulberry silk is the highest quality silk you can get and is made by feeding silkworms mulberry leaves. These silkworms then spin silk cocoons, and these cocoons are then unraveled to create silken yarn. Creating this silk is intensive, making it understandable why it is often referred to as royal silk.
The Men's 100% Silk Knitted Boxers by Linasilk are made from this mulberry silk and offer the most luxurious texture. So, if you're looking for a pair of pure mulberry silk boxers, these are the ones to buy.
Specs
Made from 100% Mulberry silk
Elastic waistband
Durable
Fabric offers a slight stretch
Who is it Best for?
If you prefer the more luxurious things in life, this is the best silk underwear you can find. It is soft, luxurious, cool to the touch, and breathable.
LinaSilk offers its silk underpants in four unique shades: navy, burgundy, stone, and grey. Each of these colors comes in a single pack of four, so you can wear a different shade each day of the week, making these perfect for men who like variety.
These stylish boxers offer everything you could want from your sleepwear. They are soft, comfortable, and free of embellishments such as buttons or hooks that cause irritation.
Men who don't enjoy washing garments by hand might want to steer clear of these. Silk, especially of this caliber, should always be washed by hand in cold water using a neutral detergent. Silk should be dried by air but not in direct sunlight, and it should never be dry cleaned.
Key features
LinaSilk makes the best silk boxers using mulberry silk. This unique fabric is knitted to create soft, breathable underwear that offers a slight stretch. The material allows air to circulate through the woven threads, keeping your legs cool and preventing you from overheating as you sleep.
An elastic waistband makes wearing the pants even more comfortable as it allows them to rest on your waistline without being restrictive. It also makes pulling them on and off quick and easy.
The hidden fly makes visits to the bathroom in the middle of the night a simple task. The lack of buttons or zippers prevents discomfort. These durable pants hug your form, offering a softness that may have you wanting never to take them off.
Pros
Feature four unique colors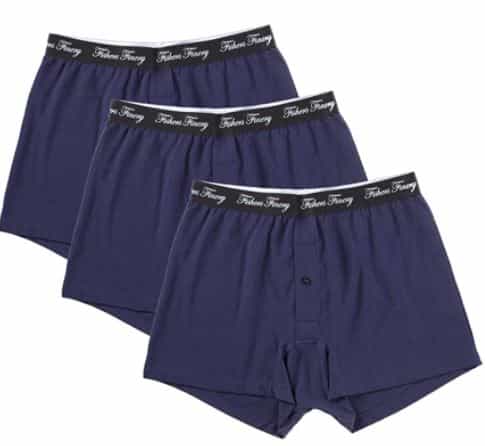 Fishers Finery is known for its luxurious garments made from the finest fabrics. Pillowcases of mulberry silk, jumpers of cashmere, and sleepwear crafted from pure cotton. Their unique offerings stem from a desire for quality, style, and comfort. Using ecologically responsible fabrics, Fishers Finery designs clothing that is durable and elegant.
Fishers Finery Men's Relaxed Stretch Knit Boxers are just one of the luxurious garments they offer. These modal cotton microfiber boxers are as soft as they come, and they're offered in a three-pack.
Specs
Made from a blend of modal, cotton, and elastane
Moisture-wicking properties
Breathable
Button closure
Who is it Best for?
Men looking for the best cotton boxers look no further; you've just found them. These stylish sleep shorts come in a pack of three, so you've got more than one pair to keep you going. Fishers Finery offers its underwear in an assortment of colors, from grey to navy and black or white. Buy them in a pack of just one shade or get a variety; the choice is yours.
Guys who are not keen on handwashing their boxers will love these. You can machine wash them on a cold cycle and hang them out to dry, so you don't need to spend time with your hands in cold water.
And, if you're tired of boxers that bunch up, the relaxed fit of these will leave you smiling. They offer enough room to move about without being restrictive.
Key features
Fishers Finery fashions their men's sleepwear from a blend of modal, cotton, and elastane. These pants are breathable and allow the air to circulate between the fabric and your legs, regulating your body temperature and keeping you comfortable. The moisture-wicking cotton wicks away sweat to keep you dry and cozy.
An elastic waistband gives the boxer shorts a relaxed fit that hugs your body without being restrictive. The slight stretch in the fabric does the same, giving you an uninhibited range of motion.
The fly with a single button closure makes nighttime visits to the bathroom simple. A relaxed fit through the hip and thigh offers a more flowing fit, while a crotch gusset adds additional comfort.
Men looking for durable boxers that are soft and unrestrictive will want to take a closer look at these.
Pros
Offered in a range of colors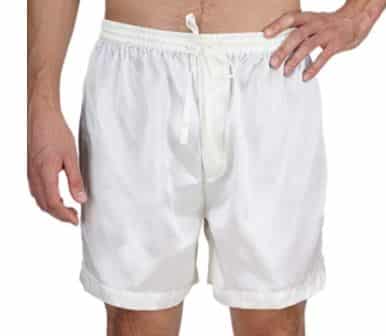 Oscar Rossa is an internationally renowned brand that produces luxury silk sleepwear. Their luxurious garments are expertly crafted and offer a silky alternative to cotton. Robes, kimonos, lingerie, nightgowns, and men's boxers are all among the products the company offers.
OSCAR ROSSA Men's 100% Silk Boxer Shorts are the epitome of luxury and opulence. These sleek slip-on boxers are soft, lightweight, and come in an assortment of colors for men who know what it is to get a good night's sleep.
Specs
Made from 100% pure mulberry silk
Elastic waistband
Drawstring closure
French Seams
Who is it Best for?
If you're tired of buying luxury sleepwear that frays within a few washes, then give these a try. They come sewn with French seams, a unique sewing method that prevents any raw edges will fray or come apart.
Men who are looking for luxury silk boxers in a variety of colors will enjoy these. Oscar Rosso offers them in four unique shades that include ivory, black, silver, and midnight blue.
If you're all about machine washable clothing, then stay away from these; they are hand wash only unless you're happy to take them to the dry cleaners. If you ask us, hand washing them in cold water is quick and easy and will only take a matter of minutes to do.
Key features
Oscar Rosso fashions their silk boxers from the highest quality, 19 momme, 100% Pure Mulberry Silk Charmeuse, a fabric regarded as the choice of royalty. This elegant silk is breathable, keeping you cool even when the nights grow warm. Gone are the days of waking up because you're suddenly feeling hot in your sleepwear.
These artfully crafted men's boxer shorts feature an elastic waistband that sits comfortably and makes the pants simple to slip on and off. A drawstring detail allows you to adjust the fit to best suit your needs. The button closure fly offers great convenience, especially for those nighttime trips to the bathroom.
These quality silk boxers come offered in an assortment of sizes that ranges from medium up to XXL, making finding the perfect pair quick and painless.
Pros
Offered in four unique colors
Cons
Dry clean or hand wash only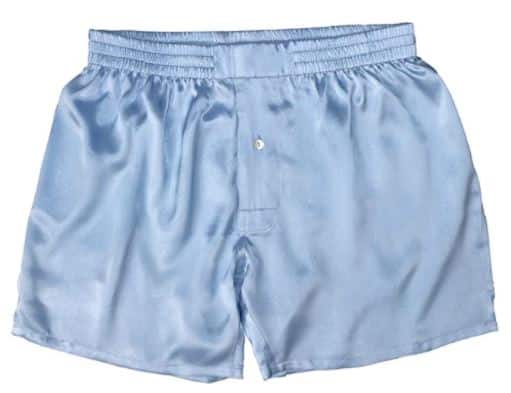 Founded in the 1970s, Royal Silk has, for over 50 years, crafted for its customers' regal designs in the finest silk. The brand aims to provide individuals across the globe with luxury items at an affordable price. Each of their garments is made with care to offer you clothing that you will remember for a lifetime.
Royal Silk Glowing Satin Silk Boxers are made in India, where they know more about silk than the average person. The elegant and soft men's sleep shorts offer exquisite luxury and style for a night of sleep as you've never had before.
Specs
Made from 100% silk
Elastic waistband
Button closure fly
Three-panel construction
Who is it Best for?
If you love buying a garment in multiple colors, then these sleep shorts are for you. Royal Silk offers their silk underwear men love in a variety of jewel tones; 11 to be exact. Whether you want blue ice silk boxers, mint jewel, or purple amethyst ones, you're bound to find them here.
Men who love the feeling of satin silk against their legs will love these boxers. They are incredibly soft and a pleasure to wear. Creamy, silky fabric that loosely hugs your figure in a gentle hug is just the kind you should be falling asleep in.
If you're not into washing your jammies by hand, then perhaps these are not for you. Silk needs to be hand washed in cold water and never machine washed. They won't need to be ironed either, though, which is a bonus in our books.
Key features
Royal Silk fashions their men's silk boxers from 100% pure silk. This material is both soft and breathable and allows the air to circulate, keeping you cool and comfortable throughout the night.
This underwear features inseams of the perfect length to prevent bunching and discomfort. The three-panel construction of the pants makes them roomier and easier to move about in, so your range of motion is never restricted.
A mother-of-pearl button closure secures the convenient fly, adding to the style of the sleep shorts. The design of this fly makes going to the bathroom quick and easy, especially in the morning's early hours.
The elastic waistband makes pulling these boxers on or off a breeze. Now you can slip into your comfy sleep shorts in a matter of seconds, shedding your work clothes for a far more relaxed garment that is as cozy as a hug.
Pros
Offered in 11 jewel colors
Machine washable in a laundry bag
Cons
Best cleaned by hand washing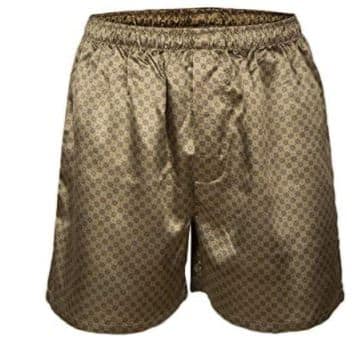 Up2Date Fashion is an online retailer that specializes in high-quality sleepwear. The brand offers stylish and fashionable bedtime attire that is beautifully made from durable fabrics that are luxurious and soft.
Up2date Fashion Men's Satin Boxers are just one of the exquisite garments this brand offers. A unique style of sleep shorts for men that are silky, smooth, and a pleasure to wear. They make getting dressed for bed something to look forward to for even the most avid night owls out there.
Specs
Made from poly-satin
Elastic waistband
Machine washable
Lightweight
Who is it Best for?
If you're all about patterns and color, then this set of satin boxers is just what you need. The pack sees five pairs of boxer shorts in a checkered pattern, each in a unique color. Red and white, slate grey, midnight blue, olive green, and chocolate brown shades offer you a different look for each working day. Come home and slip out of your work pants into these satin boxers for the ultimate end to your day.
If you prefer buying in bulk, then these are for you. Up2Date Fashion offers their men's boxer shorts in a pack of five, saving you time and money.
If hand washing clothes is not for you, then these boxers are! They are machine washable and can be hung up to dry. No ironing is necessary, making it simple to launder them.
Key features
Up2Date Fashion makes their men's boxers from a soft, durable poly satin. This luxurious fabric is lightweight and gives the same soft feel like silk. Although it is not as breathable, it is far easier to clean, making it perfect for busy men.
The boxer shorts feature an elasticized waistband that sits comfortably on your hips while staying in place. This waistband also makes it simple to slip into and out of this underwear quickly and easily.
When it comes to going to the bathroom in the middle of the night, the last thing you want to have to battle with is a complicated fly. Up2Date Fashion has made sure this is never a problem you face by creating a sleek hidden fly.
Pros
Offered in S, M, L, XL, and XXL
Comes in an assortment of patterns
Cons
Do not come in solid colors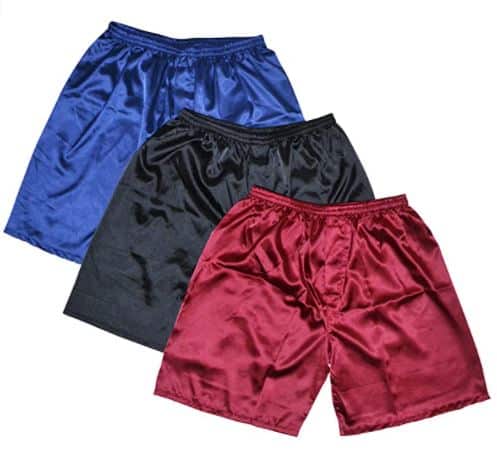 Tony & Candice was founded in 2014. This stylish brand focuses on providing its customers with top-quality, luxurious, durable, and fashionable sleepwear. The brand collects premium fabric from around the world to craft elegant garments to make your nights as comfy as possible.
Tony & Candice Men's Satin Boxers are the best satin polyester boxers you will ever buy for yourself. They are expertly made using a design that affords comfort and style.
Specs
made from Poly-satin
Elastic waistband
Button closure fly
Tailored fit
Who is it Best for?
If you prefer your boxers to have a slightly tailored fit, then these are right up your alley. Tony & Candice designs their men's underwear to have a slightly longer length with a more fitted cut. This shape is both flattering and will enhance your physique.
When it comes to color offerings, this brand pulls out all the stops. They offer their boxers in a range of regal colors that include deep wine red, plum purple, rich black, royal blue, and silver. The boxers come in a pack of two or three, so if you prefer buying your underwear in sets, you can.
Men who prefer to toss their jammies in the washer instead of having to fuss with handwashing them will benefit from these. They can be popped in the wash and then hung up to dry.
Key features
These sleek and opulent boxer shorts come fashioned from satin polyester fabric. While polyester is certainly not as breathable as silk, it offers a similar silky feel. Better yet, it is easily washed in the machine, so no fussing when it comes to laundry day. The only thing you will need to be aware of is that the colors of these shorts may run, so wash your darks together and your lights separately.
These shorts see a slightly longer length for added comfort and to prevent bunching of the fabric in the crotch area.
A single button fly provides a little more coverage so that you can walk around in these comfy boxers with ease. The design of the fly also makes midnight trips to the men's room a little less complicated. An elasticated waistband that offers a stretch similar to spandex allows the pants to rest comfortably on your waistline.
Pros
Offered in a variety of colors
Cons
Color may run when washed
Things to Consider When Buying Men's Silk Boxers
When choosing a pair of men's silk underwear, there are a few things to keep in mind that will make finding the perfect ones a quick and painless task. Considering things such as the type of fabric they're made from, the cut of the pants, the kind of waistband they feature, and the fly they have will place you firmly on your way to getting the ones that appeal to you most. Let's take a closer look!
1. Fabric
When it comes to men's silk boxers, there is silk, and then there is "silk". Some are made from 100% pure silk others come made from a poly satin that feels like silk, and then these are those made from cotton.
Silk: This fabric is the way to go if you want a pair of soft, breathable, and luxurious sleep shorts. The only downside to these is that you'd need to wash them by hand and they cost a fair bit more than those made from other materials. They are durable, though, offering a great return on investment.
Satin Polyester: This material is polyester woven to a satin finish. Boxer shorts made from this fabric are soft and silky, lightweight, and really simple to wash. However, they're not as breathable as silk and aren't as durable, which is why they also cost a lot less.
Cotton: Cotton: is excellent if you want a breathable fabric that is moisture-wicking and lightweight. It doesn't offer the silky texture that poly satin or silk provides, though.
2. Design
The design of the boxers is vital as it dictates how the pants will fit you. Deciding whether you want a more relaxed cut or a tailored one will determine how the boxers fit your body.
Considering the waistband is also essential. Would you prefer an elasticated one or perhaps one that ties with a drawstring?
The fly style may be something you wish to consider; do you want an open fly or one with a single or double button closure? Or, would you prefer to have a hidden fly that makes use of folds in the fabric?
Considering whether you would prefer a slightly longer inseam to prevent bunching or French seams to prevent fraying will also help you decide which ones to buy.
When buying the best silk boxers, you need to consider a few things. Most of these considerations are personal and according to your taste. Giving thought to these aspects will help you find a high-quality pair that suits your needs.
We hope our reviews have helped you find a pair that ticks all your boxes. If you're still unsure, you can't go wrong with a set of Men's 100% Silk Knitted Boxers from Linasilk.