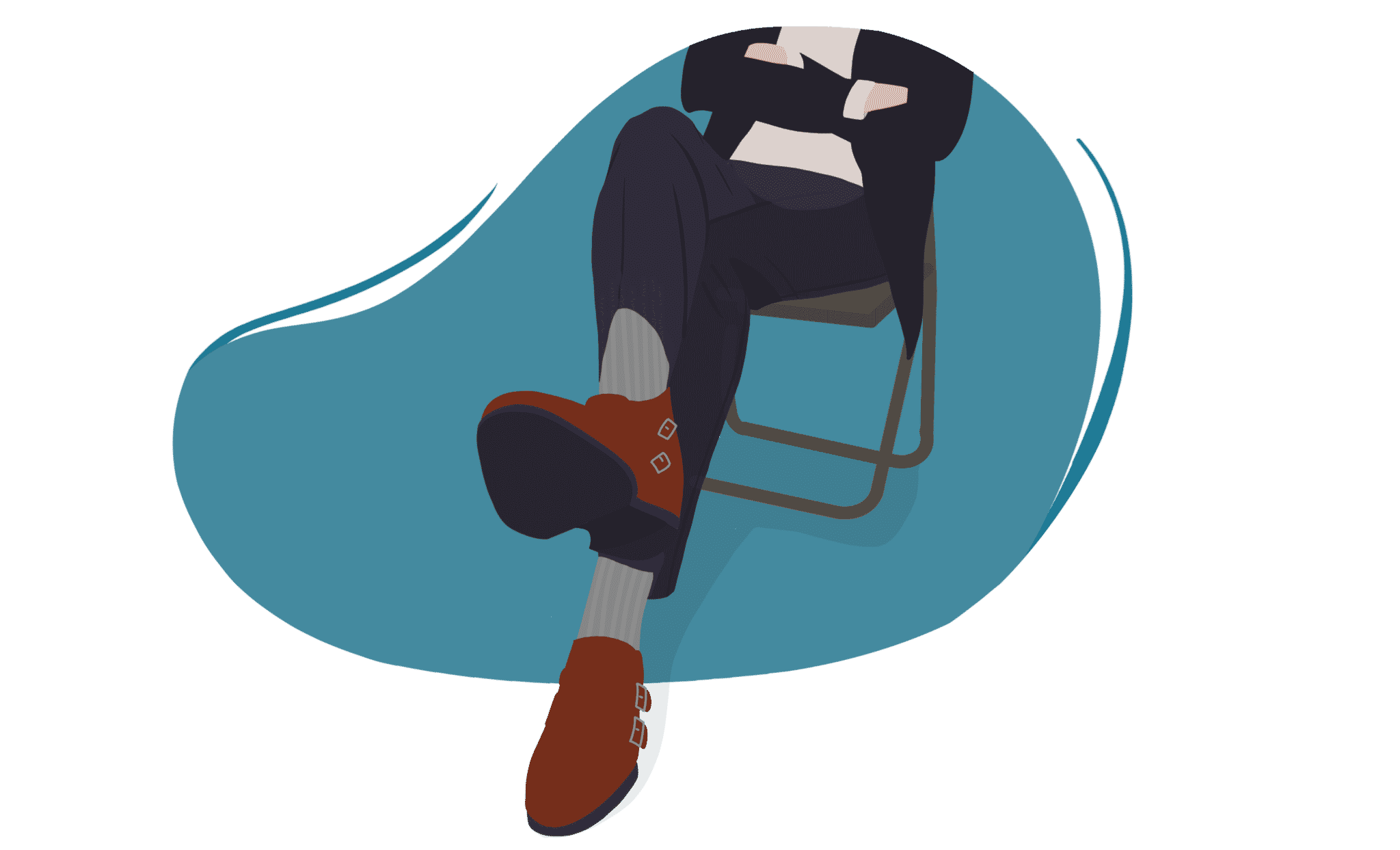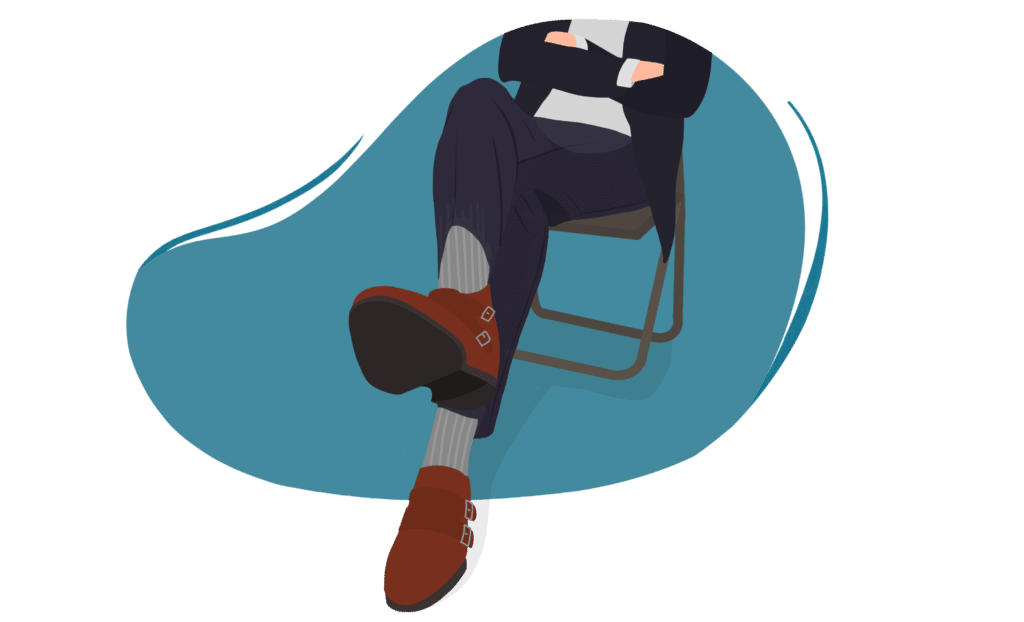 You may have the perfect outfit for that smart-casual event you'll be attending, but the only thing you're stuck on is your shoes. You're not going to be needing a pair of oxford or derby shoes because your tuxedo is staying firmly in your cupboard, but your All-Stars are a little too casual for this occasion, so what shoes should you wear?
A pair of double monk strap shoes are the ideal choice for this occasion. These dress shoes air more on the side of casual yet still are considered formal enough to be paired with a blazer and trousers.
While it may now seem like all you need to do is pop down to the store and pick up a pair of double monk dress shoes, unfortunately, they're not all made equally. With this in mind, we have taken steps to make your life a little simpler by reviewing the best double monk strap shoes amazon has to offer.
QUICK OVERVIEW: Best Single Double Monk Shoes
Bruno Marc Men's Dress Loafer Shoes Monk Strap Slip On Loafers

Slip-on design
Rubber sole

VIEW ON AMAZON →

La Milano Men's Double Monk Strap Slip-on Loafer

Double monk strap
Memory foam insole

VIEW ON AMAZON →

Deer Stags Men's Cyprus Dress Comfort Monk Strap

Double monk strap
Adjustable buckles

VIEW ON AMAZON →

Nunn Bush Men's Newton Monk Strap Slip-on Loafer

Offered in black, brown, and cognac
Wears well with jeans and chinos

VIEW ON AMAZON →
Best Single Double Monk Shoes
To find the best monk strap shoes on amazon, we first did our research and chatted to men who wear monk strap shoes as though they are a second skin. It became clear that to be considered as a quality pair of monk strap shoes, this footwear needed to offer quality, durability, and style. Each pair of monk strap shoes we have reviewed tick these boxes and more.
Keep reading to find out which dress shoes made the list.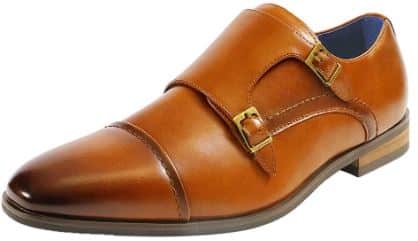 Bruno Marc is a brand focused on bringing gentlemen stylish and comfortable shoes. Their goal is to provide men with footwear that is of the highest quality, which adds to their overall look.
Bruno Marc Men's Dress Loafer Shoes Monk Strap Slip-On Loafers are one of the elegant styles of dress shoes the brand offers. These faux leather shoes come with a modern cap toe design that makes them perfect for more formal events.
Specs
Premium synthetic leather uppers
Rubber outsole
Soft, latex cushioned insole
Stacked heel
Who is it Best for?
If you're the sort of guy who finds a pair of shoes that you love and then buys them in a range of colors, these are for you. Bruno Marc offers their pair of monk strap shoes in three unique shades. Brown, black, and camel, which is a close cousin of tan, are all on offer. We would have loved to have seen these in an oxblood red or stone, but the colors they do offer are impressive.
If lace-up shoes are not for you, then perhaps these are. These double strap monk shoes feature a double buckle fastener that secures a strap over the bridge of the foot. These shoes are easy enough to slip your foot into and offer a firm and comfortable fit that won't easily slip off.
Key features
These double monk strap shoes come fashioned from synthetic leather. This unique fabric is resistant to wrinkles and creases that make the shoes appear aged. They feature a firm rubber outsole that provides durability and grip and a one-inch wooden stacked heel.
The insole of these monk shoes is fashioned from soft latex that provides cushioning for your foot, keeping you comfortable throughout the day.
The double monk strap design gives these shoes a timeless look. And, while they may not be made from Italian calfskin, they are well worth your hard-earned money. These monk strap shoes slip onto your foot with ease and add a touch of style to any menswear, and are ideal for wearing to an assortment of different occasions.
Pros
Offered in three unique shades
Cons
Not made from real leather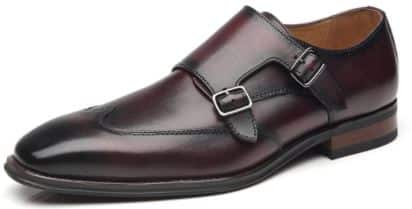 La Milan Men's Shoes are a brand that places their values of style and design on quintessential Italian men's footwear. Since 2003 they have been using innovation and the designs of a master shoemaker to create men's shoes that offer quality, style, and comfort.
La Milano Men's Double Monk Strap Slip-on Loafer is one of the distinctive styles they offer. Fashioned from leather, these durable shoes take on a look similar to an oxford shoe, making them perfect for any smart-casual event.
Specs
Loafer design
Cap toe finish
Leather upper
Durable
Who is it Best for?
These men's dress shoes are ideal for anyone looking for a pair of shoes that will last. Fashioned from durable materials and put together masterfully, they offer quality and style.
La Milano offers their monk strap loafers in an assortment of shades. Oxblood, cognac, black, and Mendez brown are just a few of the colors you can choose from, making these shoes ideal for men who like having one style in multiple colors.
If you can't decide whether you want a cap toe finish or a wingtip, you're in luck because La Milano offers these monk strap shoes in both.
These shoes are ideal for a casual business meeting, a less formal dinner, or a family event. They offer a slightly smarter look than a typical loafer or an open derby but are less formal than an oxford shoe.
Key features
La Milano crafts their monk strap shoes from leather. This material is ideal for men's footwear as not only is it durable, but it softens with time offering a more comfortable fit the more the shoes are worn.
A block heel gives just the right amount of height, while the synthetic lining and insole are made for comfort. The memory foam insole offers a cozy fit that will have you feeling as though you're walking on air throughout the day.
The double monk strap design of the shoe is modern, offering a more contemporary take on the single monk strap design.
These leather shoes make the ideal addition to any man's wardrobe, pairing well with chinos and a blazer for a semi-formal look.
Pros
Offered in numerous color options
Cons
Some may find the shoe a little narrow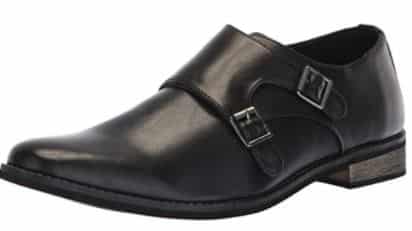 Deer Stags is a shoe brand that focuses on creating timeless shoes for men and kids. The brand bases its ethos on three core values: comfort, quality, and style. They believe that new shoes should already feel worn in and that wearing shoes that pinch for the first few weeks is a no-no. This theory, combined with durability and an ever-evolving style that fits with the current trends, leaves you with shoes you may never want to take off.
Don't believe us? Just give the Deer Stags Men's Cyprus Dress Comfort Monk Strap Shoes a try.
Specs
Synthetic uppers
Memory foam insole
Burnished round toe
Rubber outsole
Who is it Best for?
If you're into the burnished look, then these loafers are for you. Deer Stags finishes off their shoes with a unique burnished look that adds an antique style. Men looking for straight-up brown or black shoes will find these to be just what they need. They come in a sleek black or a sultry brown shade, both of which match just about any outfit combination.
When looking for a dress shoe that offers excellent versatility, you would do well to try a pair of double monk strap shoes such as these. This unique style of dress shoe provides a more lofty look than an open derby shoe but is less formal than an oxford, making them perfect for that smart casual event that doesn't require a tuxedo.
Key features
Deer Stags' double monk strap dress shoes feature a synthetic upper and outsole. These durable shoes feature a block heel that gives you just the right amount of additional height that prevents you from getting a sore back.
Memory foam insoles ensure your feet remain comfortable and protected throughout the day. The soft cushioning is gentle on your feet, making these shoes perfect for wearing when you expect to be on your feet most of the day. A sturdy fabric lining makes the inner shoe breathable, allowing air to circulate, preventing your feet from sweating.
The double strap monk style sees dual adjustable buckles so you can fit the strap to suit your foot.
The durable rubber outsole offers outstanding grip and helps to absorb shock as you walk.
Pros
Offered in black or burgundy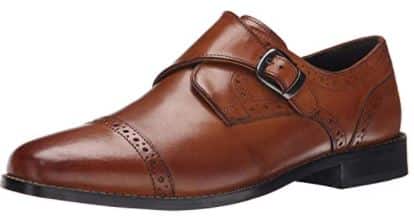 Nunn Bush was founded in Milwaukee in 1912 to provide quality men's shoes at affordable prices. A century later, they're still at it. Nunn Bush offers various quality men's shoes, from loafers to brogues and even single monk strap and double monk strap shoes.
The Nunn Bush Men's Newton Monk Strap Slip-on Loafer is just one example of this brand's dedication to quality, comfort, and style. These single monk strap shoes offer impressive detailing and are exceptionally comfortable to wear.
Specs
Slip-on loafer
Leather upper
Cap toe
Comfort gel-cushioned heel
Who is it Best for?
Men who prefer the look of a single monk strap shoe to that of a double monk strap will love these. The loafers come with a broad single monk strap that ends in an adjustable buckle so you can fit it to your foot more comfortably.
If you like to own a shoe style in an assortment of shades, you may want to consider these. Nunn Bush offers their single monk strap shoe in three shades: cognac, brown, and black. These versatile colors, especially the black leather, match almost all outfits, making the shoe ideal for work or semi-formal events.
The cognac shoes feature a slightly burnished detailing, but the black and brown styles feature a plain toe look.
Key features
Nunn Bush crafts their cognac monk strap shoes and their brown and black pairs from premium full-grain leather. The leather uppers are soft, durable, and will mold to the shape of your feet.
Long-wearing outsoles combine with a gel-cushioned heel to offer you comfort throughout the day. A padded insole allows your foot to breathe, making it simple to wear these brogues with or without socks.
When it comes to detailing, Nunn Bush knows their stuff. These shoes come with elegant broguing detail on the edging on the seams of the monk leather around the vamp of the shoe.
Although these shoes don't feature a leather lining or a leather sole, the combo of leather uppers with sturdy outsoles provides durability that will have you wearing these leather monk strap shoes for years to come.
Pros
Offered in black, brown, and cognac
Wears well with jeans and chinos
Cons
Does not come in a wingtip toe design
Things to Consider When Buying Single or Double Monk Shoes
When looking for the best monk shoes, there are a few things to consider. Aspects such as brand, material, and whether you would prefer a single or double strap design all come into play.
1. Brand
When it comes to the brand of monk strap shoes you choose, you will find that this largely depends on personal preference. A range of reputable brands offers leather monk shoes that are known for their quality and durability. Some of these brands include Chelsea, Cole Haan, Florsheim, or Nunn bush. These shoes often feature a durable Goodyear welt that adds further longevity to the shoe.
Keep in mind that other brands such as the ones we mention in this review offer synthetic monk strap shoes that offer quality and style.
2. Material
Originally, monk shoes were made from calf leather or suede. Today, they still come in these materials but are offered in synthetic materials too.
Leather monk shoes typically are the most durable, while synthetic ones are the easiest to keep clean. The material you end up choosing to have your monk shoes made from depends mainly on your budget. If you decide to have bespoke leather shoes made, you will find that you may need to have a rather impressive sum saved.
3. Single or Double Strap
Choosing between a single or a double monk strap shoes men's wear has to offer will come down to personal taste. A double monk is more contemporary, while a single monk strap is an old-school look.
When it comes to buying a pair of the best monk shoes, you want to find ones that will last. Considering aspects such as quality, material, color, shape, and brand will help you get closer to finding a pair that fits your budget and meets your needs.
We hope that our reviews have made it simpler to find a few pairs of monk strap shoes that appeal to you. If you're still unsure, we suggest Nunn Bush's Single Monk Strap Shoes; these are the most authentic ones you can find!