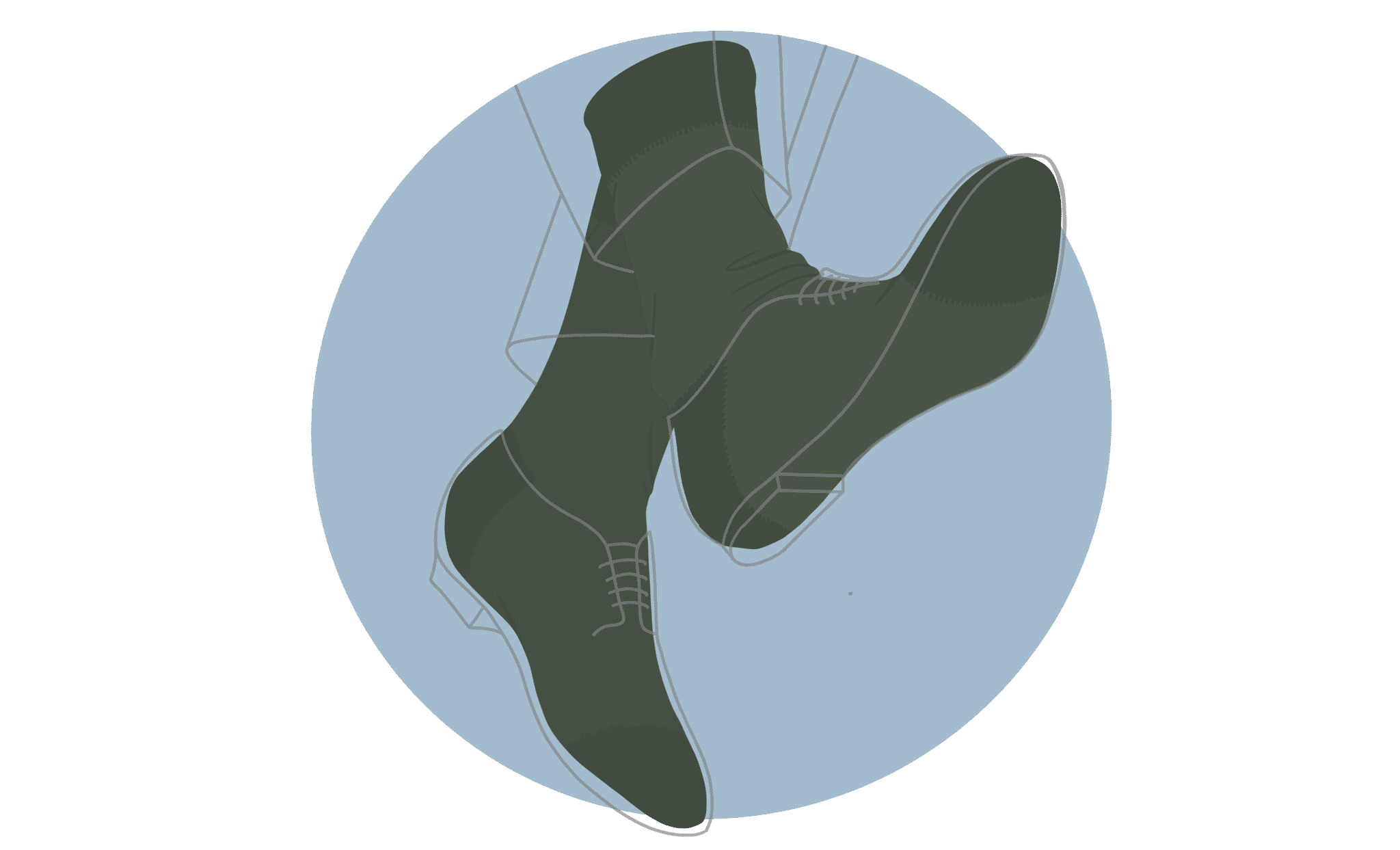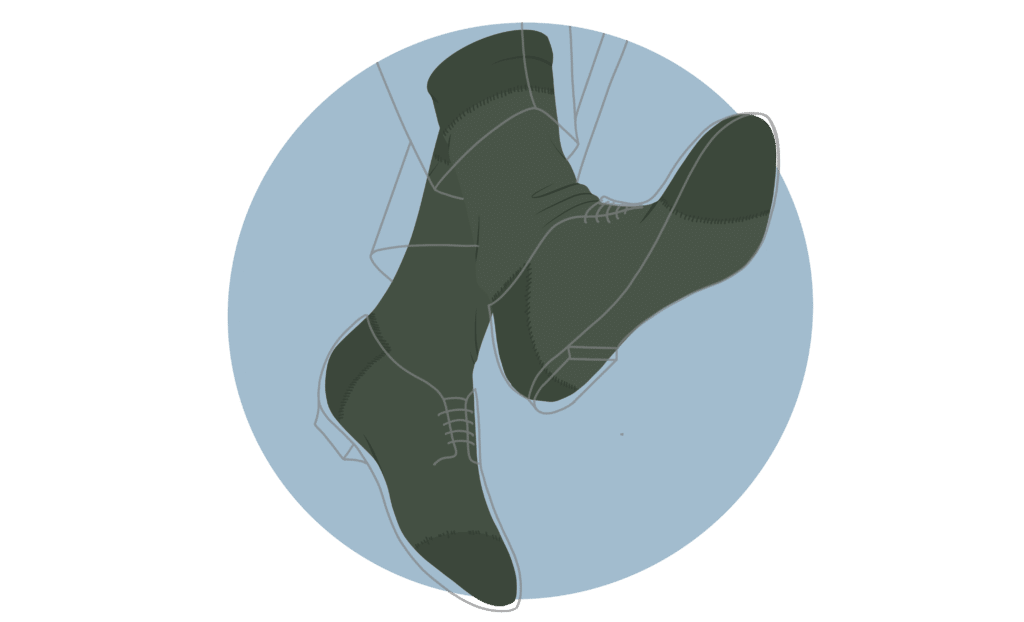 Buying a pair of socks should be a reasonably simple task, right? But how often do you end up with socks that are too thin, that end up with a hole, or that shed profusely? Then some feel great but leave your feet smelling like a block of blue cheese that passed its expiry date three years ago. So how do you find that perfect pair?
Taking the time to think about what it is you want from your socks always helps. The style, fabric, and what you intend to use your socks for will all help the process along.
To make things that much easier for you, we have curated a selection of the best socks for men on Amazon and reviewed each of them. These reviews cover a wide variety of socks that each offer quality, style, and durability.
Before scouring Amazon for the socks even the best men would appreciate, we did our research. We chatted to guys about what they're looking for in a sock. The list of must-haves included durability, breathability, style, cushioning, all-day comfort, and lastly, they shouldn't cause sweaty feet. Each of the socks you find reviewed here, tick all these boxes, and more. So, let's dive in!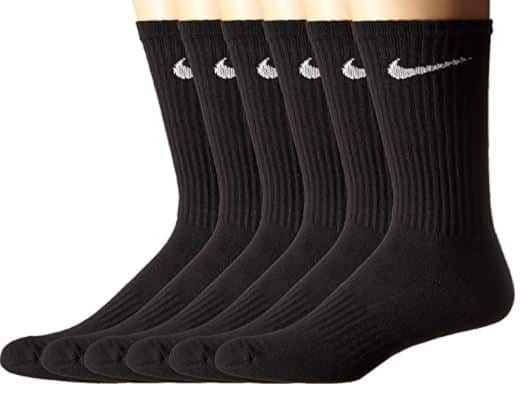 Nike started as a footwear company when it was founded in 1964 in Oregon. Today, the much-loved brand sells footwear, apparel, equipment, and accessories across the globe. Their primary focus lies with the sporting world, with their most recognized shoe being the Nike Air Jordan.
The NIKE Performance Cushion Crew Socks offer the same durability, comfort, and style as any other apparel provided by the brand. And, if you're unsure whether or not to get these, as the slogan says, Just Do It!
Specs
Made from a blend of cotton, polyester, nylon, and spandex
Machine washable
Offers arch support
Reinforced heel and toe
Who is it Best for?
If you are looking for a pair of performance socks that also work well as everyday socks, these are a great solution. These calf socks are stylish and durable, making them ideal for wearing to work under your chinos or when you hit the court for a game of basketball.
If you prefer buying your socks in a multipack, you will appreciate these. They come in a pack of six pairs of socks, so you have a fresh set for just about every day of the week.
Nike offers these in three unique colors that include black, white, and dark grey. The only unfortunate thing is that each pack features one color only, not a variety. However, if having six pairs in the same color is what you prefer, then these are a fantastic option.
Key features
Nike fashions their socks from a cotton blend that also includes a touch of spandex. This unique fabric offers just enough stretch to make sure the socks sit comfortably on your foot and leg without being too tight. The cotton component ensures the socks are breathable, allowing air to circulate between the fabric and your foot, something that goes a long way in preventing sweaty feet.
Included in the design is arch support that gives a little extra support.
Nike creates socks that provide remarkable durability by reinforcing the heel and toe, the two areas that see the most wear and are prone to holes.
One of these socks' benefits is that they're machine washable, making it easy to keep them clean and smelling fresh.
Pros
Comes in a pack with six pairs
Offered in three different colors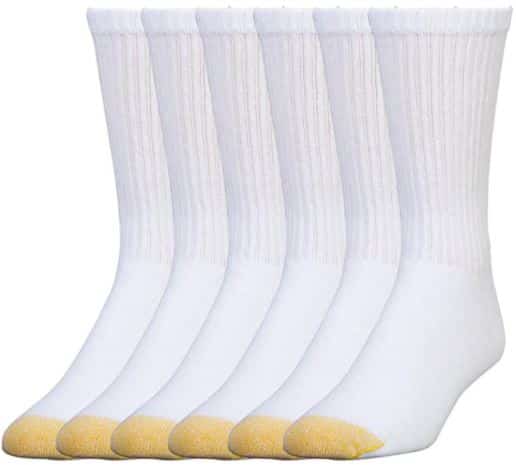 The Gold Toe brand was born in 1934, with the addition of a gold-colored thread being added to Irish linen socks. Today, Gold Toe is still dedicated to providing customers with style, durability, and comfort. The brand creates high-quality socks for men, women, children, and athletes.
However, it was the Gold Toe Men's 656s Cotton Crew Athletic Socks that caught our eye. These socks offer the perfect balance of comfort and a long-lasting design to provide you with quality socks you will love.
Specs
Crew socks style
Made from a blend of cotton, polyester, nylon, and spandex
Features AquaFX moisture control
Smooth comfort toe seam
Who is it Best for?
If you are looking for athletic socks that sit mid-calf, then these crew socks are just what you need. They offer protection and comfort, making them great for runners, cyclists, and other athletes.
When it comes to iconic looks, the Gold Toe finish of the lightly golden toe-end adds to the look and feel of these socks. So, while they come in white, blue, grey, and an assortment of other shades, it is this golden tip that gives them the mark of genuine authenticity.
Men who prefer buying their socks in a multipack will enjoy these. They come in a set of six pairs of socks, so you have some to wear nearly every day of the week without having to hassle about running out before laundry day.
Speaking of laundry, these socks are machine washable, making them simple to keep clean and fresh.
Key features
Gold Toe makes their socks with a premium cotton blend. This material also features AquaFX technology that provides you with moisture control. The fabric is breathable, allowing air to circulate, regulating the temperature of your feet, and keeping them odor-free. The cotton also wicks away moisture, so your feet remain dry and smelling fresh. Gone are the days of sweaty feet!
The golden thread ensures your socks come with a reinforced toe. The toe area of a sock sees the most wear and tear, which is why holes often develop here first, something the reinforcement will prevent.
A smooth comfort toe seam combines with the footbed cushioning to offer you the softest, most comfortable socks available.
These impressive socks are not too thick, nor are they too thin, and they offer enough stretch to keep them in place.
Pros
Comes in a pack of six pairs
Offered in a variety of shades
Cons
Not everyone enjoys a mid-calf style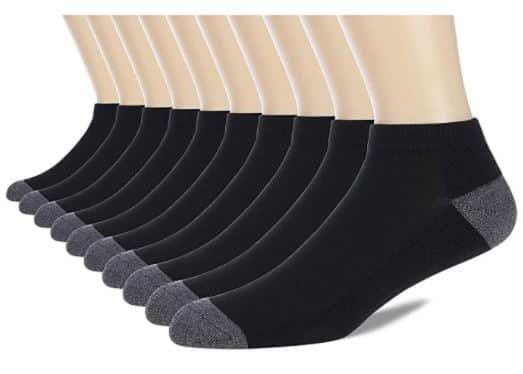 Coovan, while not as well known as, say, American Trench or Uniqlo, offers socks that are just as durable and fashionable. Their focus rests on the craftsmanship and performance of the socks they produce, providing nothing but the best men could want.
The Coovan 10 Pairs Men's Cushion Ankle Socks is a multipack of some of the best ankle socks you can find. These versatile items of menswear are the perfect addition to any man's wardrobe.
Specs
Made from a polyester and elastane blend
Moisture-wicking properties
Cushioning on the toes
Reinforced toe and heel
Who is it Best for?
If you prefer ankle socks over crew socks that sit over the calf, then these make an excellent choice. Because they sit just above the ankle, they protect to prevent blisters from forming on your ankle bones. These socks are ideal as running socks or wearing dress shoes or loafers as they're not highly visible.
The socks come in a pack of ten pairs, which we find exceptionally useful, especially if you only do laundry every fortnight. They also come in a multipack of 20 pairs for those who prefer a larger bundle.
Coovan offers these ankle socks in an assortment of shades so you can easily find the ones that best suit your needs. Whether it's plain black, black with a grey toe, grey, or white, you'll find them here.
Key features
Coovan's socks come made from a polyester and elastane blend. This fabric is ultra-soft and provides sufficient stretch to allow the socks to envelop your foot comfortably.
They are low-cut, which means they are cooler, to begin with; however, the breathability of the socks makes them more permeable, allowing air to circulate through the fabric.
This material also comes with moisture-wicking properties, allowing sweat to be swiftly wicked away to keep your feet dry and odor-free.
Designed to be high-performance socks, they come with a reinforced heel and toe. Soft sole cushioning adds comfort and support, protecting the most sensitive part of your foot.
Elasticated cuffs ensure your socks stay in place and don't bunch up or slide down into your shoes.
Pros
Comes in a pack of ten pairs
Offered in multiple colors
Cons
Some may find the socks a little thin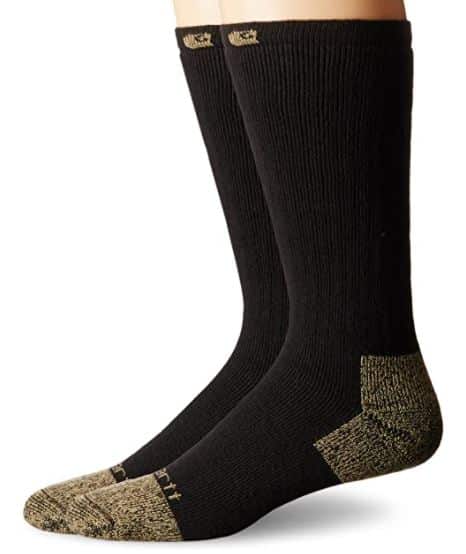 Carhartt was founded in 1889 and started with the production of work overalls that fitted the needs of the workmen who wore them. The brand's motto became "Honest value for an honest dollar." Today, the brand supplies more than just workwear but everyday apparel to customers across the globe.
The Carhartt Men's 2 Pack Full Cushion Steel-Toe Cotton Work Boot Socks are a prime example of the fashionable and quality workwear the brand still produces today.
Specs
Made from a cotton blend
Offers arch support
machine washable
Abrasion-resistant to prevent blisters
Who is it Best for?
While these socks are designed specifically for workers who wear steel-toe boots, they can still be worn by anyone who wears boots. They make excellent hiking socks too.
Whether you have uniform requirements that need to be met or a personal preference, you can choose the socks in a shade that best suits your needs. Carhartt offers their socks in three colors, black, white, and grey.
Men who suffer from sweaty or odorous feet will benefit from these socks. They feature an anti-odor design that helps to keep the socks and your feet smelling fresh.
If you want a pair of true American-made socks, these are an excellent option, as this brand was born in Detroit and has continued to grow its American roots.
Key features
Carhartt's cotton socks are soft, durable, and breathable. Air flows between the socks and your feet, circulating to prevent odors and to keep your feet at a constant temperature.
The spandex component of the socks keeps them firmly in place as they are designed to sit over the calf, just below the knee.
Carhartt understands that laboring on your feet for a day in and out means that you are far more likely to suffer from blisters. To ensure that their socks don't cause you this problem, they use Coralast abrasion-resistant fibers in their socks. These fibers reduce friction and keep your feet protected.
Reinforcing on each sock's toe and heel extends their durability, so you are not left replacing your socks every few months. Built-in arch support offers you a more comfortable sock that helps prevent your feet from feeling fatigued.
Pros
offered in various shades
Cons
Not everyone enjoys socks that sit over the calf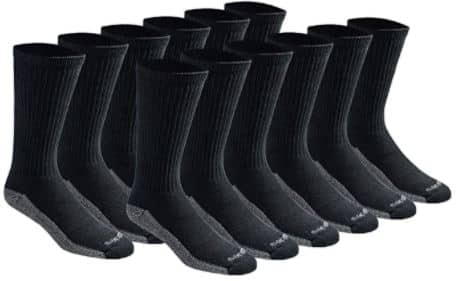 Dickies was founded in Fort Worth, Texas, in 1922. The initial product offered by the company was workwear and, in particular, denim work bibs. Today the brand manufactures and designs a range of apparel, including jeans and chinos.
Dickies' Men's Dri Tech Moisture Control Crew Socks are just one of the durable everyday apparel items that the brand now offers. These socks are top of the charts when it comes to quality, comfort, and style.
Specs
Crew sock style
Features breathable moisture control fibers
Reinforced heel and toe
Arch compression support
Who is it Best for?
If you have a sock drawer filled with hundreds of pairs of mismatched socks or ones with a huge hole in them, then these are for you. Dickies offers their crew socks in a multipack that sees 12 pairs of socks, enough to replace all the useless ones that litter your drawers.
The crew style of these socks sees them sit mid-calf, making them the ideal dress socks for businessmen.
Dickies offers these socks in a vast array of colors that include navy, brown, khaki, black, high-visibility orange, yellow, and grey. Whether you need a particular shade as part of a work uniform or just like a specific color, you can find it here. These dress socks are soft and stylish, making them ideal for daily wear to work.
Key features
These quality socks come fashioned from a cotton-rich blend that includes polyester, spandex, and nylon. The high cotton content makes these socks breathable, allowing air to travel between them and your feet, keeping you comfortable throughout the day. The placement of ventilation channels further enhances the breathability of these socks. Soft moisture control fibers wick away moisture, keeping your feet free from sweat and the odors that accompany it.
The length of these crew socks makes them perfect for wear in cold weather as they keep your foot, ankle, and calf warm.
Dickies offers excellent support for men who are mainly on their feet during the day by incorporating arch support into the socks. A reinforced toe and heel add to the durability of this men's footwear, making them some of the longer-lasting socks you can find.
Pros
Offered in various colors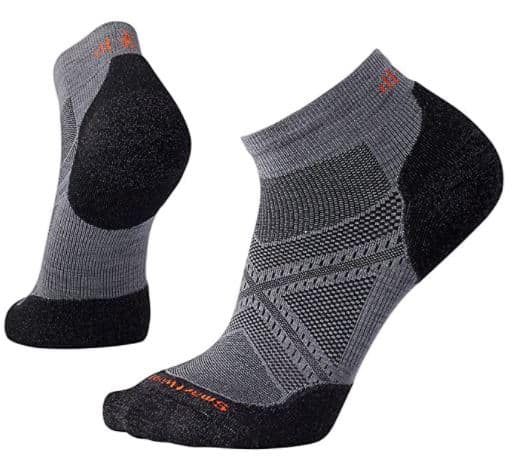 Smartwool is a company that specializes in crafting the finest merino wool socks and apparel. Their merchandise is all made with premium merino wool to offer you the coolest gear for your outdoor adventures. Smartwool features a guarantee with all their products that reads, "Go far. Feel good."
The Smartwool PhD Outdoor Light Low Cut Socks fit this guarantee to a T. Their men's socks are durable, lightweight, and comfortable, making them ideal for any adventure you embark on.
Specs
Soft wool socks
Indestructawool technology for durability
The socks offer breathability
Seamless toe
Who is it Best for?
Whether you enjoy hiking, long trail walks, running, cycling, or a good workout at the gym, these socks are for you. They offer a low-cut design that sits just above the ankle, making them great for wear with sneakers or running shoes.
You can wear them casually too if you want without having to worry if they will clash with your favorite t-shirts. These no-show socks barely peep out above the top of your shoe so that you can wear them with confidence.
Smartwool offers their men's socks in an exciting and vibrant range of colors that include green, lunar grey, Neptune blue, and black.
These performance socks are easily laundered, too, despite their luxurious fabric. Simply pop them in the washing machine on a warm, gentle cycle before tumble drying them on low heat.
Key features
Smartwool fashions their socks from merino wool that features a high knit density. The socks are lightweight, making them ideal for athletes. The wool offers impressive breathability that is added to by the inclusion of strategically placed mesh vents. These vents allow for moisture control and for air to circulate, regulating the temperature of your feet.
Cushioning on the footbed provides you with comfort, while an Achilles tab and a virtually non-existent toe seam prevent irritation.
Reliawool technology ensures these socks last for a long time, while the reinforced toe and heel areas also add extra durability to the design.
The 4 Degree Elite Fit System uses two elastics for improved stretch and recovery of the socks after wear.
Pros
Offered in an assortment of colors
Performance socks ideal for runners
Includes one pair of socks
Cons
Does not come in a multipack
Things to Consider When Buying Socks for Men
When it comes to buying a comfortable pair of men's socks, there are a few things you may want to consider before making your purchase. Giving thought to these aspects will help you find the pair that is best suited to your needs.
1. Material
Socks are not made from just one fabric; they come in an assortment of different materials. They are usually divided into three different categories:
Cotton and Cotton Blends: Cotton socks are the most common because of the fabric's breathability. The weave of cotton allows air to circulate between your feet and the socks, preventing your feet from overheating. When your feet do overheat, they produce sweat and odor-causing bacteria, which is why a breathable pair of socks is always an excellent idea. Supima cotton socks are particularly worth giving a try.
Wool and Wool Blends: Wool socks are often made from cashmere or merino wool. These socks are incredibly soft and warm, making them the ideal choice for wear during cold weather. They also offer increased protection which is why hiking socks are often made from wool or wool blends. Merino wool also has natural anti-odor properties, keeping your feet and socks smelling fresh.
Polyester: Socks made from polyester are often more durable but are far less breathable. If the socks contain a high level of polyester, you may want to keep away from them.
Spandex and Elastane: While socks are not made purely from either of these, they are essential to making socks. These materials add stretch to your socks, allowing them to fit your feet firmly without being restrictive.
2. Style and Intent
Give some thought to what you want to use your socks for, such as dress socks, running socks, hiking socks, or workmen's socks. Figuring out where you will be using them will help you determine which style is best suited to your needs.
No-Show Socks: These are often referred to as "secret socks" as they sit hidden within your shoe. Men usually wear these with loafers.
Ankle Socks: Athletes generally favor these and, in particular, runners who want enough fabric to protect their feet without covering their calves.
Crew Socks: These generally sit mid-calf and are worn by skaters or by businessmen as dress socks.
Boot Socks: Workers who wear steel cap-toe boots will often choose these as they come up to rest just below the knee. They are also usually thicker than your usual dress socks and prevent friction and blisters.
3. Brand
Finding a good quality pair of socks will often come down to where they are made. You will find that most well-known brands offer excellent quality socks that are designed to last.
Besides the brands we have already discussed in our reviews, a few others to look out for include Bombas, Darn Tough, Saucony, and Pantherella.
When it comes to buying a pair of socks, there is a range of considerations that will ultimately influence your decision. One thing you should never compromise on, though, is quality.
We hope our reviews have provided you with sufficient options when it comes to premium men's socks. If you're still undecided, go with Dickies, their socks are as durable and comfortable as they come, making them our top pick tie and again.