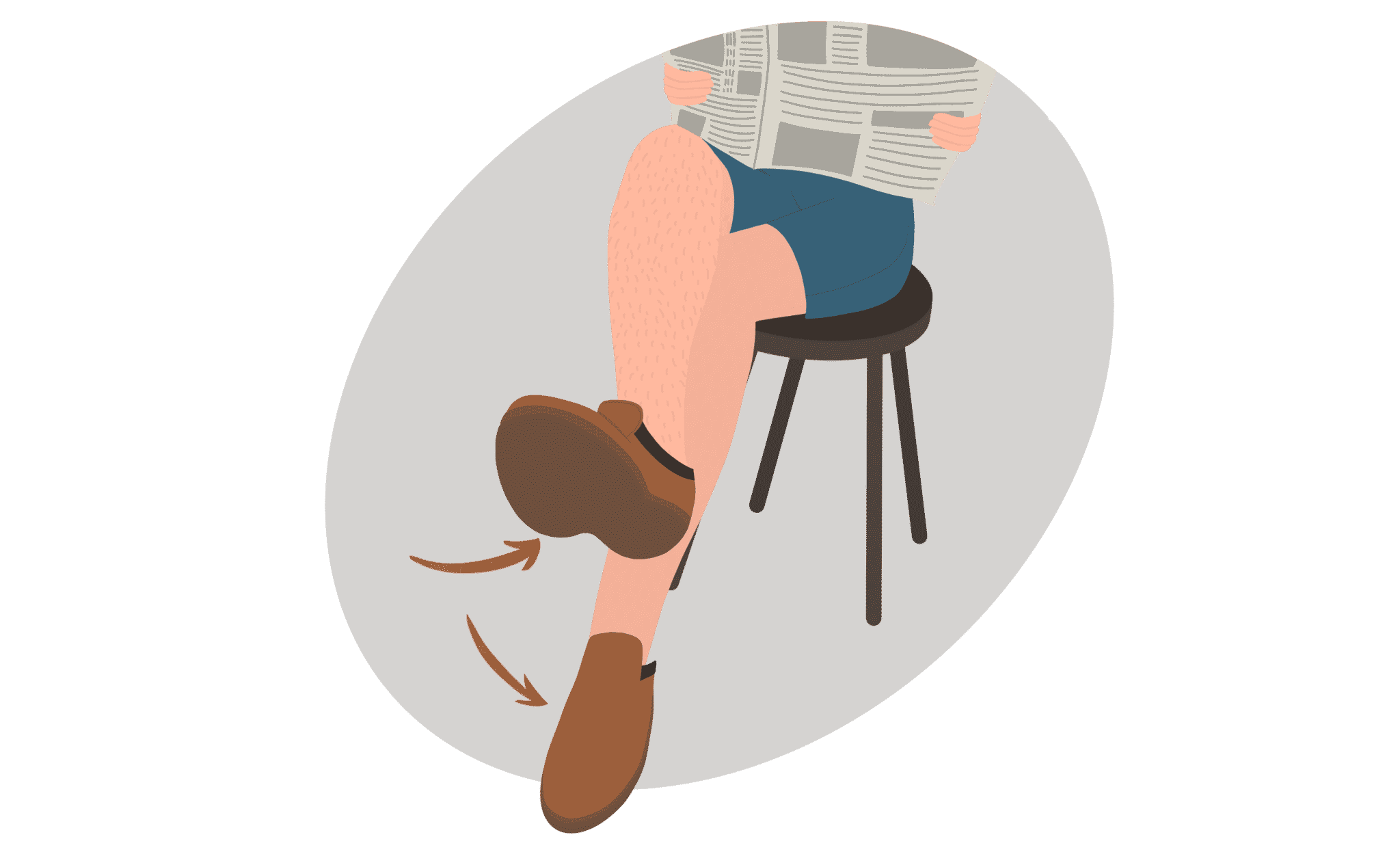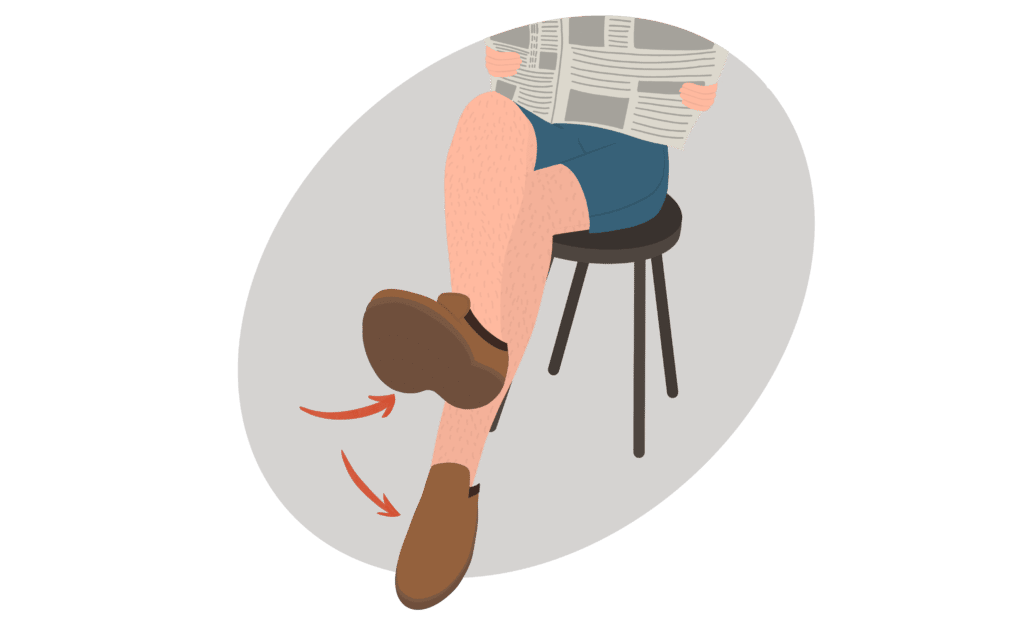 There is nothing comfier than kicking off your shoes at the end of the day. Tired feet and a cold hard floor don't match up well, do they? And if you are predisposed to having naturally cold feet, winter can be challenging. So how do you set about making your feet feel cozy and relaxed?
The best men's slippers Amazon has to offer is a good start. These soft, warm mocassins slip onto your feet with ease, creating a snug barrier between your feet and the cold.
While the perfect pair of slippers seems simple enough to find, it isn't always as easy as it looks. Unfortunately, not all slippers are made to offer the level of quality and comfort you deserve. To make things a little less challenging, we have gathered a selection of the best men's slippers available on Amazon and reviewed each of them, making it a cinch for you to find a great pair that suits your needs.
For a pair of slippers to be considered premium quality, they need to tick a few boxes. These boxes include durability, style, comfort, and softness. We scoured the web to find seven pairs of men's mocassin slippers fitted into each of these categories and more. So let's dive in and see which ones made the cut!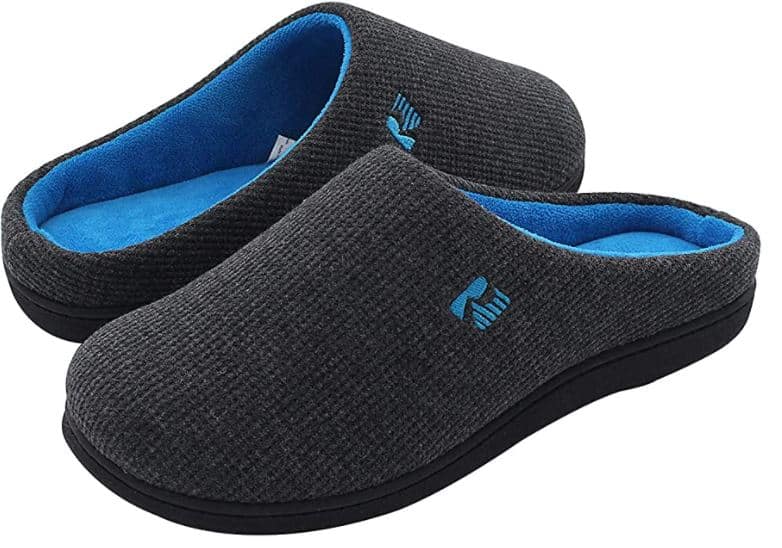 Lace & Lawn started out as a family-run boot repair shop. Today, they are one of America's most widely known retailers of casual and indoor shoes. RockDove is the company's flagship brand and its focus? Soft, comfy slippers.
The RockDove Men's Original Two-Tone Memory Foam Slipper is a set of footwear men shouldn't be without – it is both stylish and cozy. The design of these slippers combines quality fabric and durable craftsmanship to leave you with a pair of house shoes like you've never worn before.
Specs
Memory foam insole
Cotton and spandex waffle knit upper
Durable rubber sole
Slip-on clog style
Who is it Best for?
If you're all about comfort, then these slippers are ones you will love. They feature a slip-on style that comes with a slight lip at the back to keep them in place while you walk.
When it comes to men's slippers, you will all too often find the usual uninspired shades of fawn brown or grey. And while RockDove caters to everyone, even those who prefer more muted shades, they offer their slippers in an assortment of vibrant tones too.
This particular design comes in a two-tone look and feel; the inner is one shade while the upper is another. You can expect to find these fun slippers in color combinations such as blue and maize-yellow, forest and lime green, and even black and orange.
Key features
RockDove fashions its slippers from a variety of quality materials that offer durability and style. The uppers are made from a blend of cotton and spandex that provides a soft, sturdy fit. The cotton allows the slippers to breathe, keeping your feet comfortable and sweat-free.
A durable rubber outsole offers grip and stability as you walk. It absorbs any shock or vibration, keeping your feet cozy and well-protected. The rubber also is noise-free, so if you live in a home with wooden or tiled flooring, your slippers won't scuff and squeak.
The memory foam insole takes these slip-on shoes to a new level of cozy. This unique padding protects your feet, cushioning and soothing them after a long day. Best of all, the foam rebounds, restoring to its original shape within two minutes of you removing your feet.
Pros
Offered in an assortment of two-tone colors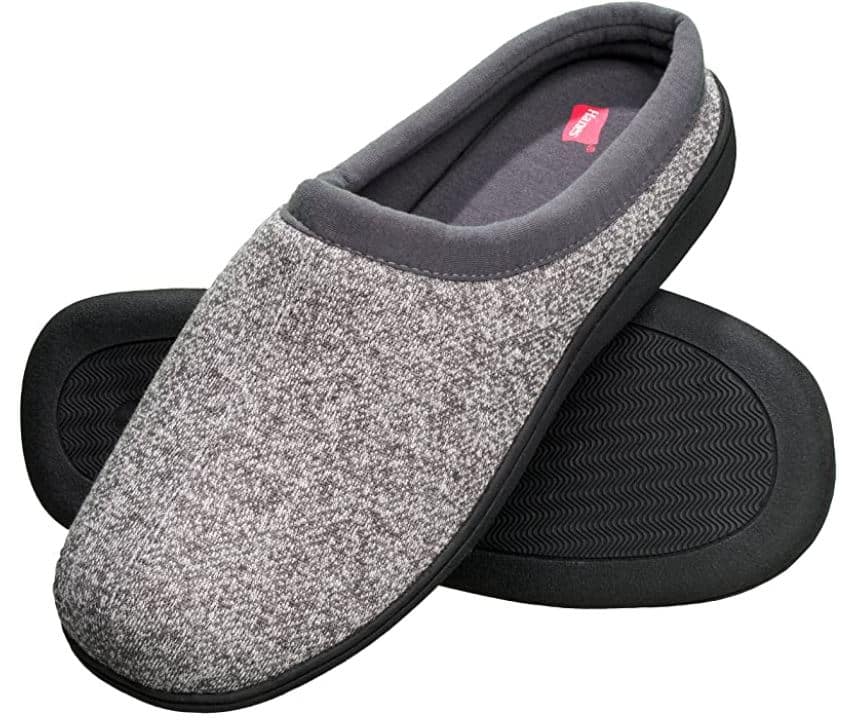 Hanesbrands has been producing comfortable clothing since 1901. Today, the brand is known globally for its everyday, essential clothing that packs a punch when it comes to comfort and durability.
The Hanes Men's Memory Foam Indoor Outdoor Clog Slipper is one of their items of apparel that we can get behind. It offers remarkable comfort and style but, it won't break the bank, making these slippers ideal for daily wear.
Specs
Clog style
Memory foam insole
Fresh IQ odor control
Grip sole
Who is it Best for?
When it comes to wearing slippers, we often think about how soft they are, how warm and comfortable they make your feet. With the warmth, though, often comes a little sweat and, unfortunately, odors. If you're prone to sweaty feet, then you need these slippers. Hanes uses a unique technology called Fresh IQ that will keep your slippers smelling great and odor-free season after season.
If you love slippers in muted shades, then these are for you too. Hanes creates this style in black, grey, and navy, so you can find a pair that matches your jammies or your gown.
Men who aren't fans of slippers with a full heel will appreciate these. They come with a slight cuff at the back that holds them in place but allows you to slip them on and off with ease.
Key features
Hanes' men's slippers are designed for comfort, whether you wear them indoors around the house or outdoors to collect your mail. The synthetic rubber sole provides a firm footing. It comes with a grip on the outsole that prevents you from slipping.
The insole is padded with thick memory foam that offers a soft, cushioned platform on which to rest your feet. A plush lining coats these insoles, adding to the luxurious soft feel of these slippers.
The upper is durable and soft too, and covers the top of the foot, ensuring you stay warm and cozy on even the coldest of nights.
If you're concerned about how to keep these moccasins clean, don't be. Hanes makes things easy by designing them to be machine washable.
Pros
Offered in an assortment of shades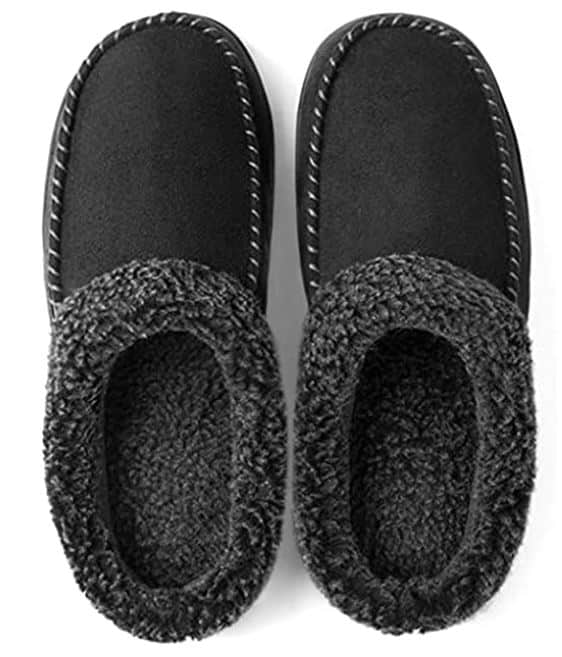 UltraIdeas is a subsidiary of RockDove. Their focus is on providing the entire family with soft, warm slippers that keep your feet cozy on even the coldest nights.
ULTRAIDEAS Men's Cozy Memory Foam Moccasin Suede Slippers are just the thing to give dads for Fathers' Day or husbands for birthdays. They are plush, modern, and stylish, just what every man needs to slip his feet into after a long day at work.
Specs
Moccasin style
Soft suede upper
Faux fur lining
Memory foam insole
Who is it Best for?
If you love a pair of slippers with a soft faux sheepskin lining, then you will love these. UltraIdeas lines the inner of their men's moccasins with a soft faux shearling lining that is soft, cozy, and warm.
When it comes to color choices, these foot warmers come in three unique shades, navy, coffee brown, and grey. If you're into owning more than one pair in a variety of colors, then these may just be the men's slippers you need.
Keeping these slippers laundered is simple, thanks to UltraIdeas' unique design. These moccasins are easily cleaned by simply popping them in the washing machine; no hand washing or spot cleaning necessary. If that isn't convenient, we don't know what is!
Key features
UltraIdeas fashions their men's moccasins from a selection of premium quality fabrics and materials. The sole of these slippers is made from rubber, which offers an impressive grip while also providing support to your foot and absorbing shock.
An EVA insole and plush memory foam inner will leave you feeling as though you're walking on air. A warm and fuzzy faux fur lining is soft against your skin and adds to the cozy experience.
UltraIdeas covers the uppers in soft suede that offers a modern take on the humble slipper.
You may want to keep in mind that the faux lining of the slipper is quite thick. So, if you're planning on wearing these with socks, particularly thick socks, you may want to order the slippers one size larger than usual to accommodate the additional fabric.
Cons
The lining is not real sheepskin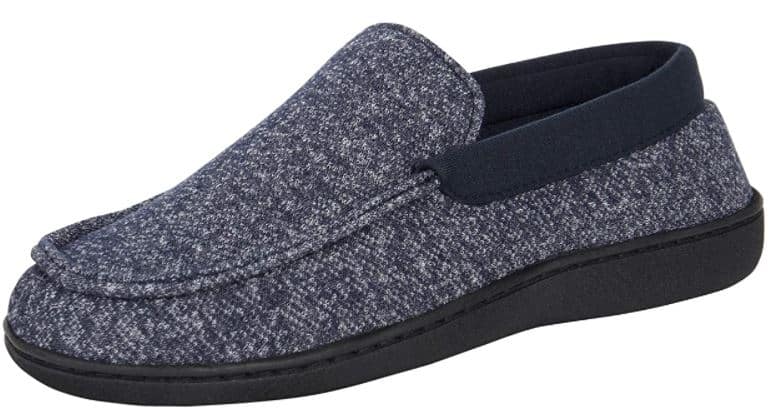 Hanes has been around since 1901, that's over a century of providing us with quality clothing that offers durability and comfort. The apparel designed by the brand is made in such a way that it uses sustainable practices to create clothing for everyday use.
Hanes Men's Closed Back Indoor Outdoor Slipper House Shoes is one of many comfy items Hanes produces to make daily life easier. These house shoes for men are stylish, comfortable, and ideal for daily wear.
Specs
Closed-back house shoe design
Memory foam inner
Fresh IQ technology
Synthetic outsole
Who is it Best for?
Not everyone loves an open-back slipper, especially if you live in colder climes. If a closed-back house shoe style slipper is what you're after, then you may want to invest in a pair of these. They come with a complete closed back that provides warmth the entire way around the foot, leaving no room for the cold.
Hanes offers these cozy slippers in a vast assortment of colors, making it easy for you to find a shade you love most. If you're the kind of guy who likes owning a couple of pairs of identical shoes in multiple shades, then you will be impressed with the options offered here. Hanes makes these slippers in 12 unique colors and styles, including navy, tan, light or dark grey, and black.
Key features
These slippers offer remarkable durability thanks to the premium materials Hanes uses to make them. The house shoes' synthetic soles provide a sturdy grip, making them ideal for wear indoors or outdoors.
The insoles are padded with a thick layer of memory foam that cushions your feet each time you slide them into these slippers. This foam molds to fit the form of your foot, providing you with the support you need.
The upper is made from soft cotton that is designed to last.
Hanes uses a unique technology called Fresh IQ. This tech helps to keep your slippers smelling fresh season after season. So, if you battle with sweaty feet or feet that are prone to becoming odorous, these slippers are just what you need.
Pros
Offered in an assortment of colors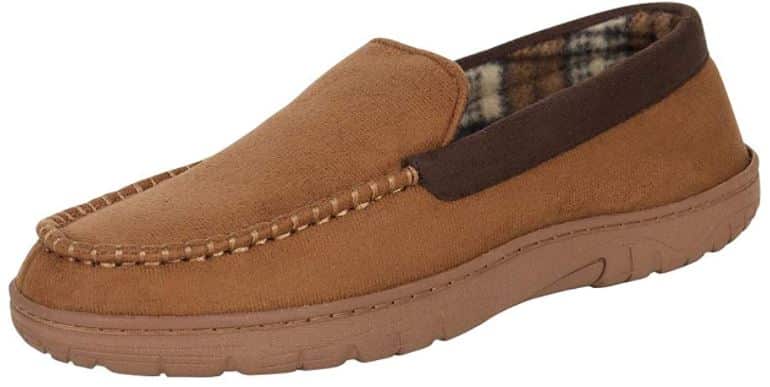 Hanes is all about designing and producing apparel suited to everyday wear. They offer stylish clothing that is durable but won't cost you your entire month's salary. Because the brand doesn't skimp on quality, you can be sure that the clothing you buy from Hanes will last season after season.
Men looking for a decent quality slipper will find themselves impressed with the Hanes Men's Moccasin Slipper House Shoe. This stylish footwear offers unrivaled comfort and serious warmth.
Specs
Moccasin design
Memory foam insole
Synthetic outsole
Fleece-lined footbed
Who is it Best for?
Some men are prone to having sweaty feet and, as a result, often end up with odorous shoes. If this is something you suffer from, then these slippers may be the solution you need. Hanes uses a unique technology called Fresh IQ to prevent your slippers from becoming odorous and keeps them smelling fresh season after season.
The lining of the slippers also features moisture-wicking properties that help your feet to remain cool and dry.
Hanes offers these moccasin slippers in a range of colors, from tan and burgundy to brown moc or black moc. So no matter what shade you're after, you're sure to find it. You may even find yourself purchasing more than one pair; the offerings are so great.
Key features
One of the best features of these slippers is that they're machine washable—no more fussing with spot cleaning or hand washing to keep your slippers smelling fresh and laundered.
Hanes crafts these house shoes to be durable. A synthetic outsole provides grip and a sturdy base for these moccasins.
The insole sees a memory foam padding that fits the contours of your feet, providing comfort and support.
The inner fleece lining is soft against your skin and produces a soothing warmth. This fabric also wicks away moisture, keeping your feet dry and cozy. A suede upper rounds off the shoes by giving them a modern look that is both stylish and sleek, leaving you with a pair of slippers that are as cozy as they are dapper.
Pros
Fresh IQ technology for odor control
Offered in multiple colors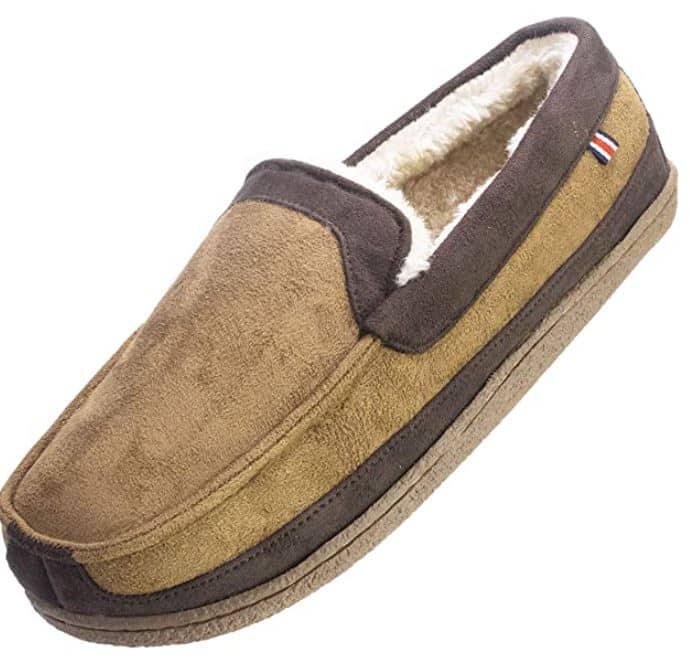 IZOD was founded in 1938 and since then has been producing dressy-casual clothing, men's sportswear, and footwear. Loved for decades, this American brand offers affordable apparel that doesn't cut corners when it comes to style and quality.
If you're looking for a pair of slippers that will keep your feet cozy and that will last, you would do well to try the IZOD Men's Classic Two-Tone Moccasin Slipper set. Not only do they look smart, they feel great too.
Specs
Memory foam inner
Rubber sole
Moccasin style
Faux fur lining
Who is it Best for?
If you love a moccasin-style slipper, but you're not a fan of the open back design, then these slippers are ideal. They feature a fully closed fit that keeps your entire foot warm and toasty.
While most manufacturers offer their slippers in a wide range of colors and shades, IZOD keeps things simple by providing their moccasin slippers in two options. Don't be misled; these house shoes come in a unique two-tone design that leaves them with a contemporary look and feel. Opt for a grey and black pair or a solid black pair with a cozy white lining.
These slippers are also great for anyone who doesn't enjoy lace-up slippers. They slip on with ease and then stay in place, making them quick and simple to put on or take off.
Key features
IZOD's slippers come with a durable rubber sole that ensures the slippers will last. On the base of the sole is a textured treatment that offers an impressive grip and keeps you from slipping on wet or high-shine surfaces. IZOD also crafts these moccasins so you can wear them indoors or outdoors, making them ideal for those times you need to collect your mail or the newspaper.
A memory foam footbed provides a soft cushioning that provides you with comfort and stability. Lining the inner of these slippers is a faux fur sherpa fleece that is cozy against the skin of your feet and provides warmth. Not only are these slippers comfortable, but they are durable too. They are designed to last more than one season and can withstand daily wear.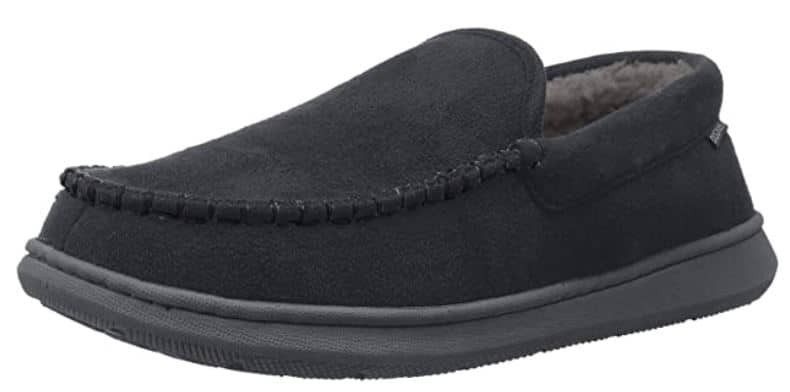 Dockers were founded in 1986 and are a subsidiary of Levi Strauss. This all-American company started off as the go-to place for men's khakis; today, they offer an assortment of apparel for men that is innovative and designed with thoughtful detailing.
Dockers Men's Douglas Ultra-Light Moccasin Premium Slippers are just what you need to keep your feet toasty on a cold winter's night or on rainy days when the air is chilly. They are also an ideal way to soothe your feet after a long day at the office.
Specs
Lightweight
Memory foam inner
Foam outsole
Odor-free technology
Who is it Best for?
If you're not into chunky, heavy slippers and prefer something more lightweight and easy to move about in, these are just the ones you need. Dockers design their slippers to be ultra-lightweight.
Whether you want a pair in a lighter shade or a darker shade, Dockers has you covered. They offer these stylish moccasin-style slippers in three different colors that include taupe, brown, and black.
Men who suffer from foot odor will appreciate these cozy clogs. They feature a technology that prevents your slippers from becoming odorous, keeping them smelling fresh throughout the season. These clogs neutralize odors at a micro-tech level, preventing the shoes from picking up any unwanted scents from the get-go.
Key features
Dockers design their slippers to be ultra-lightweight. The foam outsoles feature a patterning that works to provide you with grip, preventing you from falling or slipping on wet or high-shine surfaces.
A soft, cushioned insole made from memory foam cradles your feet, providing them with support.
The inner slipper is lined with a sherpa fleece that provides warmth and is gentle on the skin. Slipping these clogs on will leave your feet feeling cozy and relaxed.
These fancy footwarmers can be worn indoors or outdoors and come with that quintessential moccasin look and feel, complete with the blanket stitching around the top edge of the shoe. For a snug, cozy slipper that is made to last, you can't go wrong with these stylish offerings from Dockers.
Pros
Offered in three different colors
Cons
Soles not as durable as rubber soles
Things to Consider When Buying Slippers
When buying a pair of house slippers, there are a few considerations to take to make it simpler to find the perfect pair. Looking at what type or style of slipper you would prefer is always a good starting point. Once you have that figured out, you can look more closely at the slippers' design, what fabric they're made from, and what, if any, additional features or brand name you want them to have.
1. Style of Slippers
Slippers come in an assortment of styles. Let's take a closer look at some of them:
Boot Slippers: These usually cover the entire foot right up to the ankle, just like a pair of boots. They are ideal for freezing days and for people who find their feet get cold rather quickly. They often take on a look similar to that of an Ugg boot but are far warmer unless you buy the Ugg Ascot slipper.
Loafers: This style of slipper is excellent if you're looking for a pair that slip-on with ease. They usually cover both the front of your foot and the heel providing you with a great deal of warmth.
Clog Slippers: These have a style similar to loafers, except these don't cover your heel. They slip-on with ease and are great for lounging around the home.
Moccasins: These are fashioned after the style of shoe worn by Native Americans. They enclose the foot fully and are often lined with faux fur or a wool lining. The tops of these slippers are blanket stitched together, giving them their unique appearance.
Orthopedic Slippers: An orthopedic surgeon or podiatrist usually recommends this particular style of slipper. They are made for people who suffer from flat feet, fallen arches, or back problems and often come with arch support. They also usually have a gel-lined inner and steer away from a hard sole design.
Slipper Socks: These are great for chilling at home and offer a unique take on the humble sock. While not as versatile as your average slipper, these certainly provide comfort. They are designed to look and feel like a thicker pair of socks and often feature a grip on the underneath to prevent you from slipping. They are not great for outdoor wear, though.
2. Design and Extras
Most slippers will come fashioned from soft, warm materials that promote comfort. Some of the outer fabrics you will find are suede, corduroy, cotton, and polyester. Slippers also come with an assortment of linings: faux fur, sherpa, fleece, and even wool slippers lined with merino wool.
Other extras you may give some thought to include things such as rubber outsoles that offer more grip, a memory foam footbed for increased support and cushioning, anti-scuff slipper, moisture-wicking, and odor control.
3. Brand
When it comes to buying slippers, choosing a brand will ultimately be a personal choice based on the preference of materials used, look, and style of the brand itself. There is a large assortment of brands that offer men's slippers, from a pair of Falcon Ridge Slippers by Sorel to various others such as Deer Stags, Haflinger, Glerups, L.L.Bean, Acorn, Tamarac, Minnetonka, and Zappos, to name but a few.
When it comes to finding a pair of high-quality slippers for men, things can get a little challenging, purely because there is so much on offer. Knowing which ones are worth your time and hard-earned money get tricky. We hope our reviews have made it a little easier to find a pair that suit your needs.
If you're still unsure, you may want to try our top pick, RockDove's Men's Original Two-Tone Memory Foam Slipper. They offer the perfect blend of style, comfort, versatility, and durability.