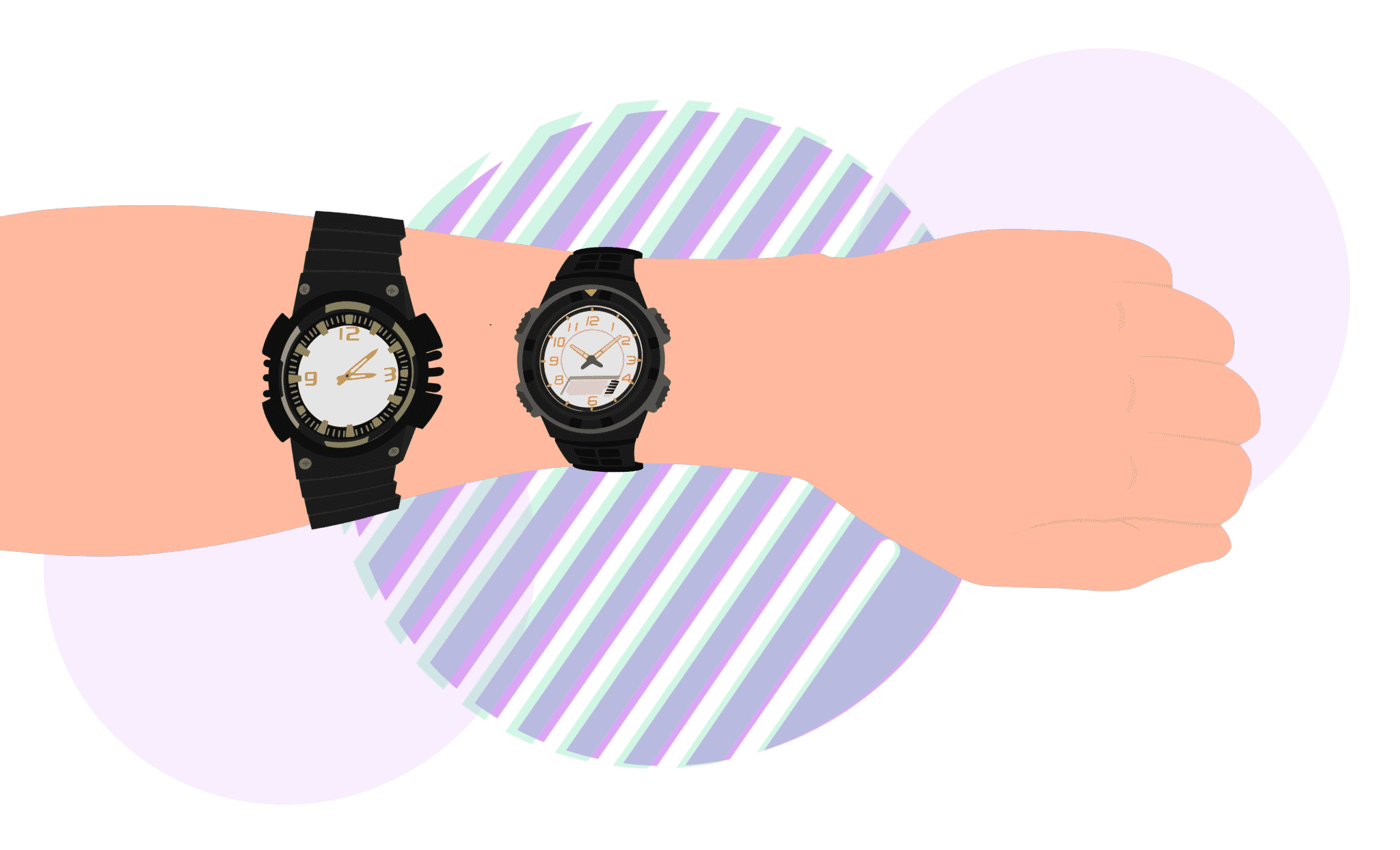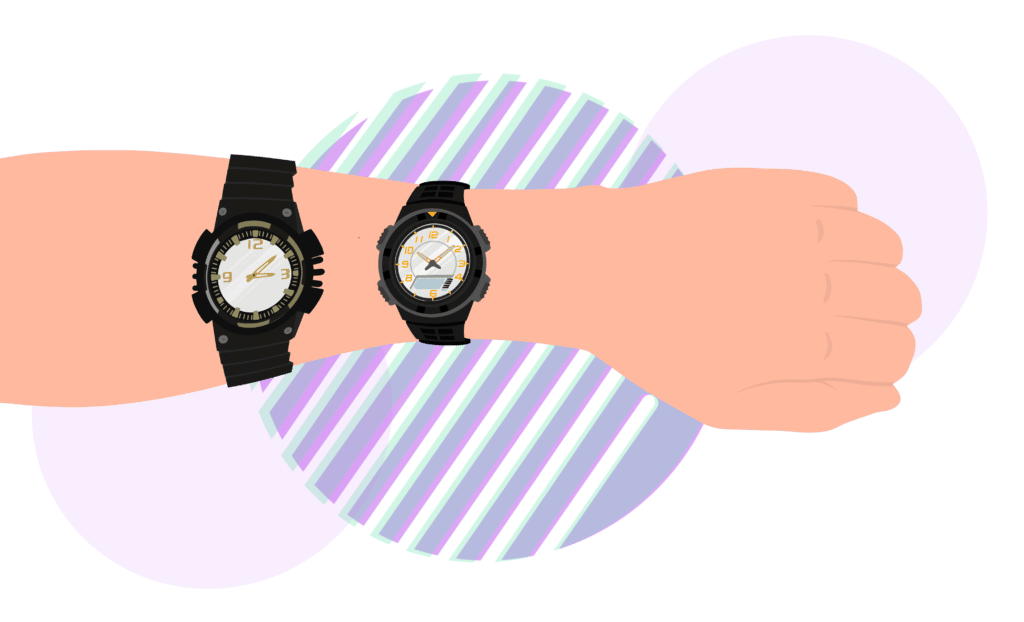 When it comes to wristwatches and sports watches, you will find that they often stop at the most inconvenient time. The problem? The battery needs replacing. Not always great when you're on a trail run logging your time. So what is the solution?
The best solar-powered watches are usually your best bet. Some use sunlight, while others use the sun or artificial light to recharge, so you never have to worry about battery replacement. Better yet, most of them tore power, too, allowing them to work for months on end without hassle.
The unfortunate thing about solar power watches is that they are seldom made the same, leading to problems with quality and durability. To make things simpler for you, we have reviewed the best solar-powered watches available on Amazon.
To select the best solar energy watches, we took the time and did our research before searching high and low on Amazon to find the ones that each tick the right boxes. The timepieces that made it onto this list each offer quality, impressive functionality, style, water resistance, and durability. So, let's dive in!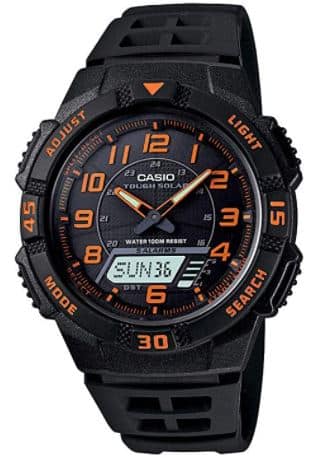 Casio is a Japanese company specializing in a range of electronics that include calculators, musical instruments, digital cameras, and analog and digital watches.
Casio, known for its durable digital timepieces that make excellent sports watches and analog watches that offer style and sophistication, doesn't disappoint their Casio Men Slim Solar Multi-Function Analog-Digital Watch. This timepiece offers durability, functionality, and remarkable style, all while helping you stay on time for meetings and other important events.
Specs
Analog-digital design
100m water resistant
Solar-powered self-charging
LED backlight
Who is it Best for?
Men searching for a dress watch that offers a more sporty finish should take a closer look at this watch from Casio. It provides the perfect combination of style, seen in the sophisticated analog face, while the digital dial window and vibrant orange detailing adds a sporty touch.
If you're looking for a watch, you can wear while snorkeling or swimming, this solar watch is a great option. It is water-resistant down to 100m, making it great to keep track of time while you are enjoying a water sport.
Checking the time in the middle of the night or when the power goes out can be challenging unless your watch is backlit with an LED light. Luckily this Casio watch has this type of lighting, making it simple to tell the time no matter how dark it is.
Key features
This Casio watch uses the Casio solar-recharging system that uses even faint light from artificial sources to power the timepiece without interruption to the functionality. Tough solar, a self-charging solar power system, means that this watch will never need to have its battery replaced.
The black face of this G-shock watch sees vibrant orange Arabic numerals as well as a digital window. Multiple functions include five daily alarms, a calendar, a stopwatch function, world time zones, and a timer.
This watch offers durability, style, and impressive functionality, making it ideal for work or sport.
It is backlit by an LED light but also features luminous hands that make telling the time at night a breeze.
Cons
Only comes in black and orange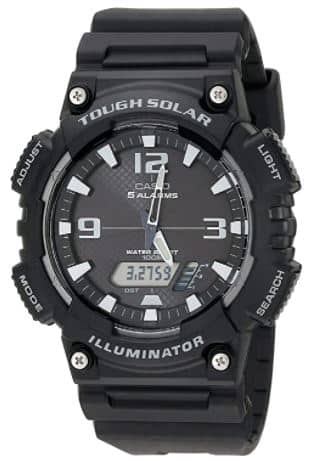 Casio's founders were once quoted as saying, "Necessity is not the mother of invention; the invention is the mother of necessity." The brand places focus on providing customers with electronics that meet latent needs using never-seen-before technology.
This mission is apparent in the design and style of the Casio Men Solar Sport Combination Watch. The remarkable timepiece uses tough solar to provide stable operations and unhindered functionality. Add in the sleek style of the watch, and you have a chronometer that is a must-have for any sportsman.
Specs
Solar-powered
10 months battery life on full charge
100m water resistant
Neo-brite luminous hands
Who is it Best for?
Men who appreciate variety will enjoy this watch. Casio offers it in both a sleek black and an olive green, allowing you to pick the one that best suits your sense of style.
If you want a watch that looks sleek enough to wear to the office but that is also hardy and able to withstand the rough and tumble of outdoor activities, then this one is worth a try. It is water-resistant to 100m, making it great for use when snorkeling, swimming, or even during sporting activities that cause you to sweat excessively.
The unique analog face brings a sense of sophistication to this otherwise sporty watch, making it easy to wear even to the office.
Key features
This sports watch by Casio features Tough solar technology that allows the battery to recharge using sunlight or fluorescent light. Even the faintest light can keep the battery charged, so you will never again have to worry or hassle with having the battery replaced.
The watch comes with a black analog face that sees Neo-brite luminous hands and hour markers. An LED light with Afterglow lights up the watch face when the surrounding lighting conditions are no longer optimal.
Above the six, you will find a digital window that allows you to see the time in digital format.
This timepiece offers a range of functions that includes a multi-lingual day of the week indicator, world time for multiple time zones, a stopwatch, two countdown timers, five daily alarms, and a full auto calendar.
Pros
Offered in black or green
Includes five daily alarms
Cons
No snooze function for the alarms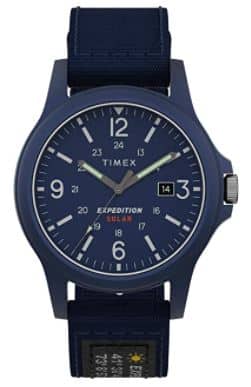 Timex was founded in Connecticut, USA, in 1854. The brand blended American ingenuity with European clock making to provide its customers with high-quality products that were easily affordable. And they didn't stop there; for over 150 years, Timex has been innovating and designing contemporary timepieces that never fail to amaze.
The Timex Men's Expedition Acadia Solar-Powered 40mm Watch is one of the brand's multiple solar-powered wristwatch options. The simplistic yet sophisticated style makes this watch ideal as a dress watch or as a sports watch.
Specs
Adjustable fabric strap
Durable resin case
Acrylic crystal cover
Water resistance up to 50m
Who is it Best for?
This extraordinary chronograph offers an understated style that adds to the piece's sophistication. Men wanting an uncomplicated watch that looks impressive will want to give this one a try.
Timex offers the watch in a deep royal blue or olive green, so you can choose the one that best suits your sense of taste and style.
An adjustable 20mm fabric strap allows you to fit the watch to sit on your wrist perfectly. Men who have relatively small wrists will appreciate the sizing of both the strap and the 40mm watch face.
The timepiece works well as a dress watch or as a sports watch. However, if you plan to use it for water sports, keep in mind that it only offers water resistance up to 50m. This means it is ideal for a short swim or a sweat-inducing workout, but scuba diving or snorkeling is not recommended.
Key features
This stylish chronograph features a durable resin case set in a color matching the analog face and the strap. The dial features Arabic numbers as well as 24-hour military numbers. A date window alongside the numeral three makes it easy to keep track of the day of the month.
An acrylic crystal cover keeps the face protected and is scratch-resistant, while the helpful bezel function tachymeter allows you to measure speed in miles, knots, or kilometers per hour.
Times uses Expedition solar technology to keep the battery of the watch charged. This solar-powered watch draws energy from any light source, even from artificial lighting. A power reserve stores energy that keeps the battery going for up to four months.
Pros
Charged with sunlight or artificial light
Cons
Not for use when scuba diving or snorkeling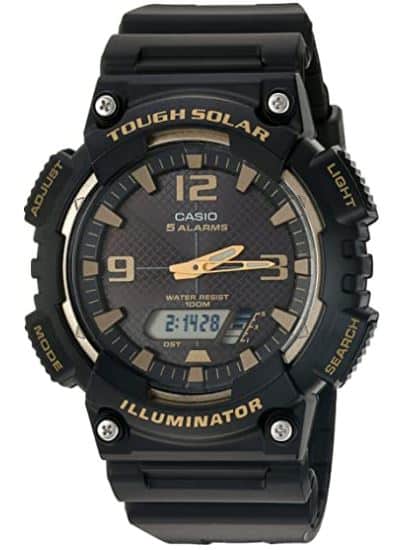 Casio focuses firmly on providing customers with products that serve a purpose, fulfill a need, and offer impressive technological solutions. The brand takes pride in its innovative designs and advanced functionality.
The Casio Men's Tough (Solar Powered) Quartz Watch with Resin Strap is just one of the brand's advanced technological designs that take away the hassle of battery replacement. This unique watch is durable, stylish, and sporty; all rolled into one.
Specs
Quartz watch
Shows world time
Features a resin strap
Tough solar powered
Who is it Best for?
This chronograph is ideal for sportsmen or men who enjoy doing outdoor activities. The watch offers impressive durability and is designed for wear in water up to 100m. It is perfect for wear while snorkeling, swimming, and even workouts that cause you to sweat profusely. It is also great for hiking or outdoor wear, where you may get caught in a rainstorm.
The resin strap is as durable as the rest of the watch, and unlike fabric, won't absorb moisture, making it ideal for water sports. This strap is also easy to clean and won't easily break.
Telling the time at night or in the dark becomes simple thanks to the LED light that provides backlighting for the watch.
Key features
Casio's solar-powered watch uses light from fluorescent lights or sunlight to keep the battery of the timepiece charged and fully functional.
The watch face sees a 47mm case diameter and features a matching black dial with just three Arabic numerals that give it a minimalistic feel. The bezel remains stationary. However, the watch face does include a digital window that offers up a selection of functions.
This unique sports watch offers the world time over 31 different time zones for up to 48 countries. It also provides a multi-lingual day of the week display and offers time formats in both 12 and 24-hours.
The watch also offers five alarms, a mute function, a stopwatch, and dual countdown timers.
The quartz movement of the watch ensures it stays on time always.
Pros
Offers water resistance up to 100m
Cons
Does not come with a leather strap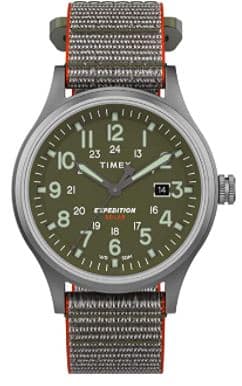 Timex has been creating valuable timepieces for over 150 years, so it is safe to say they know what they're doing when it comes to designing and manufacturing some of the best solar watches available.
The Timex Men's Expedition Scout Solar-Powered 40mm Watch offers a minimalist approach to an analog watch while bringing a touch of sophistication to the table. It is the perfect everyday watch, and because it is solar-powered, you need never waste time on battery replacement.
Specs
Mineral crystal cover
Adjustable strap
Arabic numerals
Four-month power reserve
Who is it Best for?
Timex offers this unique solar-powered watch in three color options, army green and silver, tan and gunmetal grey, and a sleek black. Men who enjoy variety will appreciate the opportunity to choose the color combination that best suits their sense of style.
This watch comes with a fabric 20mm adjustable Fast Wrap strap that sees a hook and look closure making it simple to get the timepiece on and off your wrist. The strap and size of the watch face (40mm) make it ideal for men who have relatively small wrists.
While this is certainly not a dive watch, offering water resistance of up to 50m, you can wear the watch during a brief swim. It also prevents the wristwatch from packing up should you get caught in the rain, making it an excellent choice for men who spend time outdoors.
Key features
Timex's high-quality timepiece uses solar-powered technology to keep the battery running. Energy can be gathered from any light source, whether an inside lamp bulb or from the sun. The watch features a power-saving reserve that stores energy that will keep the wristwatch in working order for up to four months.
The face of the watch is solid green, while the case is made from silver-toned brass. The hands and Arabic numerals are luminous, making it easy to tell the time even when it's dark.
A mineral glass cover protects the watch's face and is scratch-resistant, making it perfect for wear during outdoor activities. The analog face is kept at the correct time thanks to the stable quartz movement.
Pros
Comes in three unique color options
Water resistance up to 50m
Cons
Does not feature a built-in stopwatch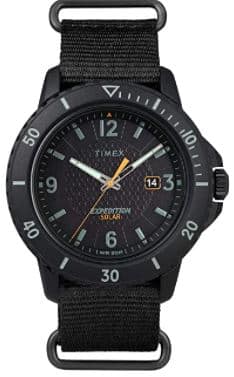 Timex offers a range of solar-powered watches. Some wear better as a dress watch and feature a more sophisticated style. Others are more robust and rugged and are better suited to being worn as a sports watch. Either way, a Timex watch offers functionality, durability, and a contemporary design.
The Timex Men's Expedition Gallatin Solar-Powered Watch offers a sportier look and feel than the Timex Scout, which we reviewed earlier.
Specs
Black dial
Adjustable nylon double strap
Four-month power reserve
Luminous hands
Who is it Best for?
Men looking for durability in a watch will be hard-pressed to find a better option than this offering from Timex. The Gallatin comes with either a fabric or a leather strap that ensures it stays where it's needed, on your wrist.
If you appreciate variety, then this one is for you. Timex isn't shy when it comes to offering their timepieces in an assortment of color options. This particular watch comes in six unique colors that include black and orange, blue, solid black, black and green, and even brown and blue. A selection such as this makes finding a watch that suits your sense of style a breeze.
When it comes to straps, some prefer a fabric option; if that's you, this may be the watch you need. It features a nylon double-layer strap that offers remarkable durability, and it's easy to put on.
Key features
The Gallatin features a large 45mm resin case that comes fitted with an acrylic lens. A solid color face provides a backing for the Arabic numerals and hands. Timex uses luminous hands for its timepieces, making reading the time in the dark a simple task.
A date window alongside the three allows you to keep track of the day of the month so you can stay on top of meetings and events.
The watch is powered by solar energy that uses multiple light sources to create power. It even stores power reserves that allow the wristwatch to operate for up to four months without recharging.
This watch provides water resistance up to 50m, making it perfect for men who spend time outdoors and may find themselves caught in a downpour.
Pros
Offered in six unique color options
Water resistance up to 50m
Cons
Not for use with water sports such as scuba diving or snorkeling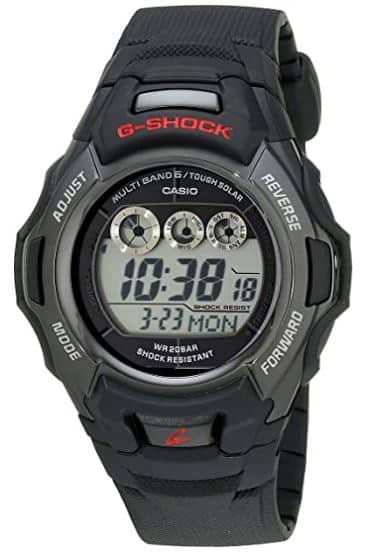 Casio is known for its advanced electronics and timepieces. The brand strives to continually use innovative techniques and advanced technology to create products that meet our every need. Casio's goal is to provide us with solutions that save time and are hassle-free, making life easier and more enjoyable.
The Casio G-Shock Men's Tough Solar Black Resin Sport Watch ticks all these boxes and more, offering unrivaled durability and an assortment of functions that will leave you impressed.
Specs
Multi-Band Atomic timekeeping
Nine months battery life on full charge
Shock resistant
Includes a countdown timer
Who is it Best for?
Men looking for a unique watch that offers an unusual method of timekeeping will love this watch. It uses multi-band atomic timekeeping. This means that a signal holding the exact time, day, and date, measured by an atomic clock accurate to one second, is sent directly to the timepiece using standard radio waves. The watch picks up this signal overnight, automatically adjusting to the sent date and time.
If your preference of watch strap is a resin one, then look more closely at this one. It features a durable resin strap that makes it ideal for use in the water. The water-resistance of up to 200m doesn't hurt either, making the G-shock great for surfers and swimmers.
Key features
The Casio G-shock is not short on features. The solar-powered watch uses solar technology to keep the battery charged. Any light source will provide enough energy to keep this atomic watch ticking. The solar technology used is so impressive that it will give the timepiece up to nine months of battery life off a full charge, with no further exposure to light. If you live in Alaska, you may want to look more closely at the G-shock!
This watch is shock-resistant, making it ideal for use by sportsmen. It features a backlight with an afterglow and comes with an assortment of functions. This digital watch features a stopwatch with various measuring modes, a dual countdown timer, and world time for 31 different time zones.
The digital face of the G-shock also comes with three subdials and a stationary bezel function.
Pros
Includes a 1/100 second stopwatch
Water resistance up to 200m
Offers world time with 31 time zones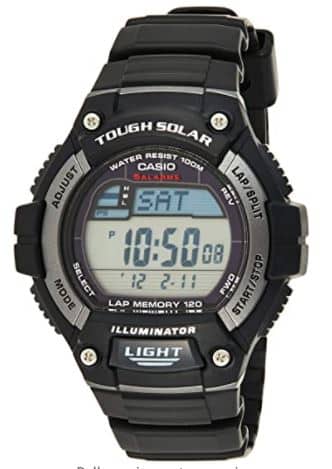 Casio is known for its technologically advanced electronics, and they don't disappoint when it comes to analog or digital timepieces either. Anyone involved in sports or angling will tell you that the most durable watch to wear while playing or practicing a sporting activity is a Casio.
The Casio Men's WS220 Tough Solar Digital Sport Watch is the perfect example of its exemplary sports watches. The sleek digital face and resin strap combined with the solar-powered battery make this timepiece a must-have.
Specs
Tough solar digital watch
Japanese quartz movement with digital display
Water-resistant to 100m
Digital dial with LED light
Who is it Best for?
Men wanting a solar-powered watch that doesn't come with an enormous solar panel will appreciate this timepiece. The solar cells are fitted around the sides of the face making them barely visible. What makes this design so great is that the solar panel, as small as it is, will pick up light even from a faint source and use it to power the watch optimally.
Runners, swimmers, and men who spend time outdoors frequently will enjoy this watch. It is water-resistant to 100m, making it perfect for any of these activities or if you get caught in the rain. One activity it won't withstand is scuba diving, so make sure to remove it from your wrist before hitting the ocean.
Key features
Casio is not shy when it comes to adding features to their watches. This one comes with a digital face that sits in a 50mm resin case and is protected by a scratch-resistant mineral glass lens. An LED backlight illuminates the digital face making it simple to tell the time even when it's dark.
Other features you can expect to find on this digital watch include an auto calendar, a stopwatch with a 120-lap counter, and five daily alarms. The world times are also accessible, allowing you to keep on track with international meetings and events.
Another of the Casio G-shock watches, this timepiece offers a stylish and easy-to-read digital face that not only gives the time but the day as well. It uses Japanese quartz movement to offer accurate readings.
Pros
Features five daily alarms
Great for tracking workouts
Cons
Not to be used when scuba diving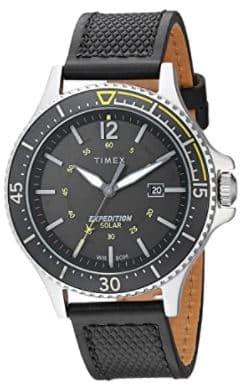 Timex believes that how you make something is just as important as what you make. We can see this value expressed in their solar-powered watches. The brand came up with an Expedition series that saw four unique solar timepieces: the Scout, Acadia, Ranger, and Gallatin.
While the Gallatin offers a far more sporty style, the Timex Men's Expedition Ranger Solar-Powered Watch sits on the other end of the spectrum. This timeless wristwatch is both sophisticated and stylish, making it the perfect dress watch.
Specs
Adjustable leather strap
Two-month power reserve
Brass case
Features luminous hands
Who is it Best for?
Men looking for a slightly smarter and more refined-looking solar-powered watch can't go wrong with the Timex Ranger. This timepiece is the epitome of timeless style. The leather strap adds elegance that complements the analog face perfectly.
Timex offers this watch in three unique color options that make it simple for you to find one that best suits your sense of style or your favorite suit. Whether you prefer a dark brown strap with an olive green face and orange accents, a black face and strap with yellow accents, or a classic tan strap with a royal blue dial and orange accents, you are sure to find it here.
This wristwatch offers a water-resistance up to 50m, so if you accidentally fall in the pool or get caught in a downpour, your watch won't stop working. Yet, take it on a scuba dive, and you can kiss it goodbye.
Key features
Timex's Ranger solar watch features a 43mm brass case with a silver tone. The face is analog and features Arabic numerals. A handy date window at the three allows you to keep track of the day of the month and makes life a lot simpler to navigate.
The hands are luminous, making it simple to tell the time even in the dark. Covering the face is a scratch-resistant mineral glass lens that keeps the intricate details of your watch well-protected.
The Ranger is powered by solar technology that uses artificial light sources and the sun's rays to recharge the battery. Never again will you have to fuss with replacing a battery on your watch.
This unique and elegant timepiece is the perfect addition to any chronograph collection.
Pros
Makes a great dress watch
Offered in three color options
Cons
This is less of a sports watch and more of a dress watch
Things to Consider When Buying Solar Watches
When it comes to selecting the best solar-powered watches, there are a few things to consider. Giving thought to these aspects will make finding the perfect timepiece that much more straightforward.
Things such as power reserve, features, materials, what you intend to use the watch for, and brand may all play a role in your final choice.
1. Materials
When choosing a timepiece, it is a good idea to consider the materials it is made from, as these usually dictate the durability and quality of the watch and where you can use it.
Bands or Straps:
A watch strap is often overlooked, and it shouldn't be, as a significant aspect of the watch's comfort and design fall to the band.
Leather: A leather strap offers excellent durability and style. Wristwatches designed for wear to the office or daily will often feature a leather strap.
Resin: A resin or silicone strap is ideal for a sports watch as it is waterproof and highly durable.
Metal or Linked: These are designed for wearing to more casual occasions, although some are more dressy. These links are often made from stainless steel or titanium and usually accompany a timepiece that features a titanium or stainless steel case.
Nylon or Fabric: Watches with straps from either of these materials are usually far more eco-friendly, and so, if you're on an eco-drive, you may want a timepiece with a fabric band. These are also the comfiest and most affordable straps making them a real bonus.
Cases:
A watch case is as important as the strap. These come in a variety of materials, including resin, stainless steel, titanium, and brass. These are all durable materials but some, such as brass, are not ideal for water use. An authentic, waterproof watch will have a stainless steel or resin case.
2. Watch Crystal
A watch crystal is a lens that provides a protective covering over the face of the watch. Not all watch crystals are made from the same substance, leaving some offering a lesser quality than others.
Sapphire crystal: A sapphire crystal dial window is the best of the best. It is hard, durable, and virtually resistant to scratches of any kind. This particular watch crystal is most commonly found on high-end and luxury timepieces.
Hybrid crystal: This is a manufactured crystal; an example would be Hardlex, the proprietory hybrid crystal sued by Seiko in their watches, such as the Seiko Prospex. This hybrid crystal offers the durability of sapphire crystal at the price of mineral glass.
Mineral Glass: This type of watch crystal is often used in more affordable watches. It is excellent because it provides impressive clarity and is scratch-resistant, but it won't cost an arm and a leg.
Acrylic: Dial windows made from acrylic are generally not the greatest as they scratch and scuff quickly, leading to poor visibility. This also makes the watch look aged and cheap.
3. Features
Give some thought to the features you want your watch to have. An idea of what you intend to use the wristwatch for will make this easier. If you want a watch to wear while you swim, surf, or work out, you may want to opt for one that is waterproof. If you're looking for a timepiece that you will wear to meetings abroad, you might want a world clock incorporated. Let's look at some of the features:
Altimeter: This helpful device allows you to measure altitude and the watch's position above sea level. This feature is ideal for runners, hikers, and climbers.
Barometer: This feature is used to measure the atmospheric pressure, which helps you see what the weather might be doing. A rise in pressure means the weather is clearing, while a pressure drop usually indicates an impending storm. A watch that features both a barometer and an altimeter is the Casio Rangeman, which uses a unique triple sensor and a T-touch to gain readings.
World Time: A watch that offers world time allows you to check the current time in any given city across a range of time zones. This feature is convenient if you travel frequently.
Stopwatch: This feature is perfect for athletes who want to clock their time or attempt to complete an activity within a specific timeframe.
Daily Alarm: A helpful feature that makes waking up in the morning much more effortless. It also helps you stay on time or set reminders for yourself.
4. Brand
Finding a suitable solar wristwatch can be challenging as there is an assortment of options out there. One of the best ways to guarantee you will get a high-quality timepiece is finding one made by a reputable brand. Each brand also offers a unique or signature look that might also influence your choice.
Some of the more reputable and better-known brands include Tissot and Bering.
Suppose you're looking for specifics other than the watches specified in our reviews. In that case, you can't go wrong with a Citizen Promaster or any of Casio's offerings, including the Pathfinder and Pro trek.
Solar-powered watches are both convenient and reliable. They make a great alternative to your usual battery-powered timepieces, and they are far more sustainable. We hope our reviews have provided you with a bit of insight as to which of these unique watches are worth taking a closer look at.
If you're still unsure, the Timex Ranger is always a solid choice which is why it is our top pick when it comes to the best solar-powered watches available.