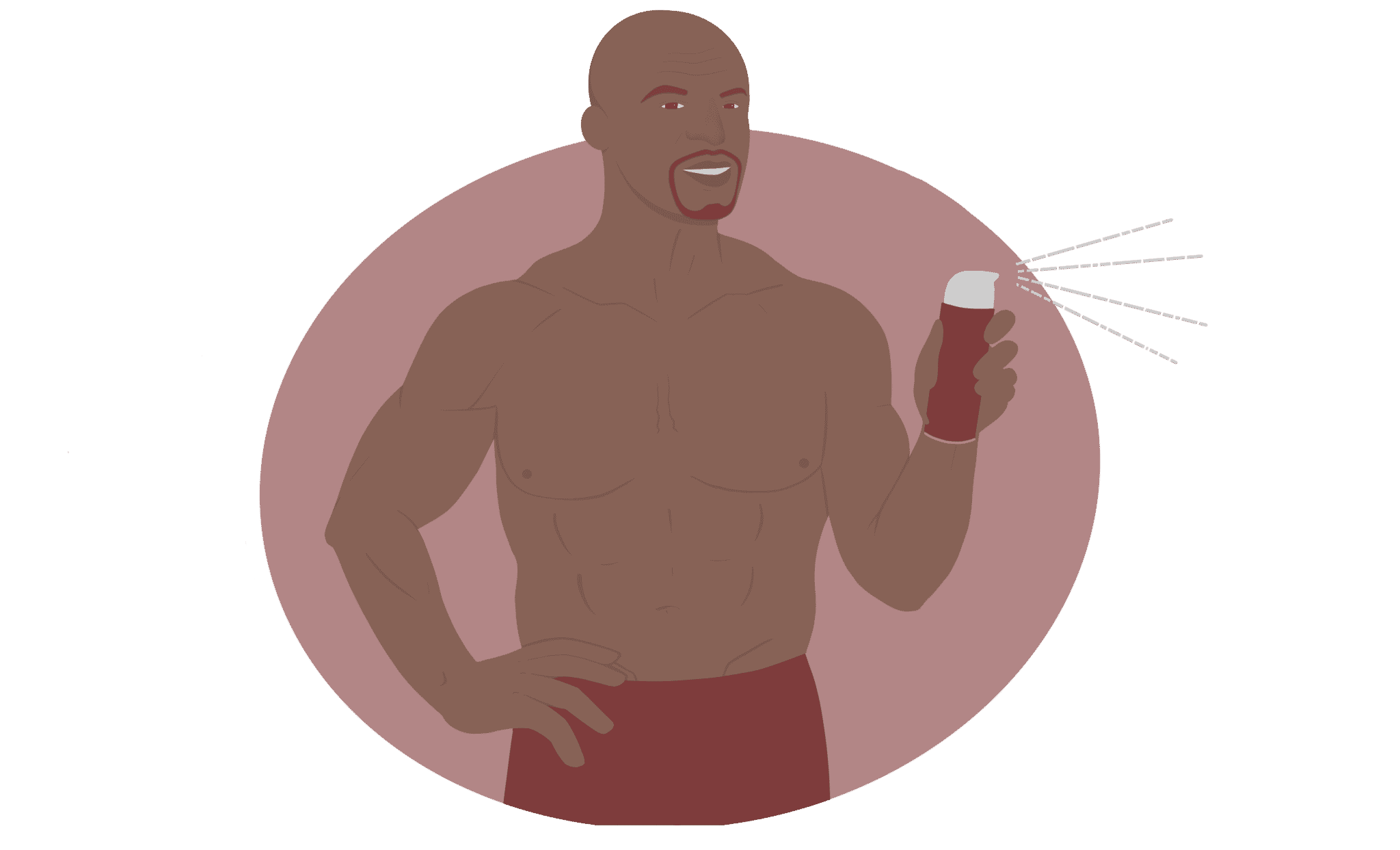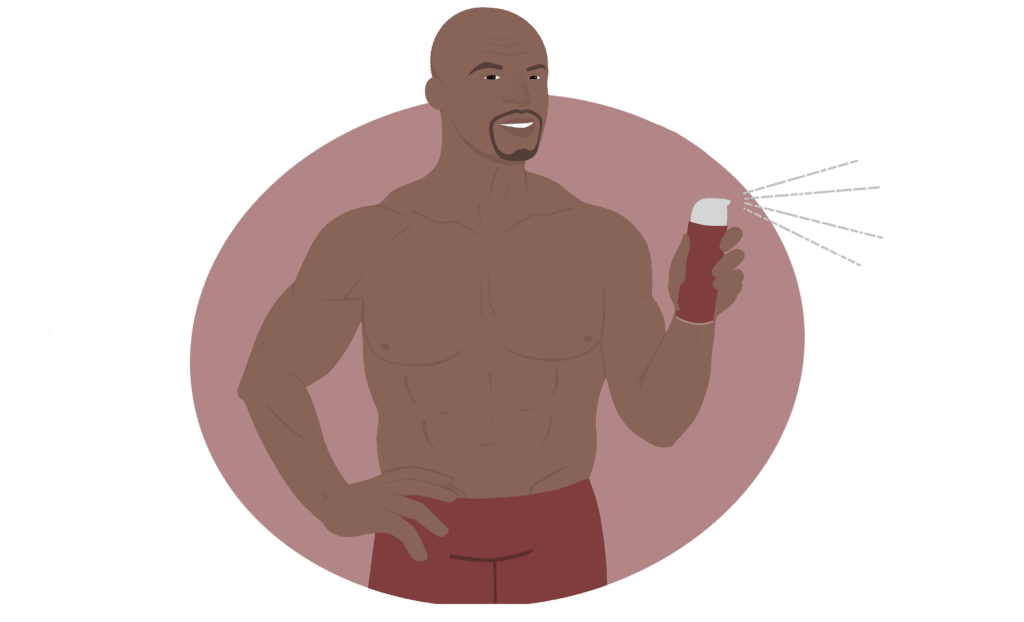 One of the unfortunate things about the human body is that it sweats. When we get hot, we sweat. When we get too cold and shiver, we sweat. Got a big presentation at work that's left you nervous? I'll bet you've broken out in a sweat. Not only does this bodily function leave us feeling wet and uncomfortable, but it also leaves us rather smelly. So how do we work around this?
One of the best ways to beat perspiration and body odor is by using the best deodorants you can find. While you can find various types such as natural deodorant that uses baking soda as one of the natural ingredients or roll-on deodorant, the best deodorants, in our opinion, come as a body spray.
Finding the best spray deodorants may seem simple, but there are so many available that finding one that does what it promises becomes tricky. To make your life simpler, we have reviewed the best spray deodorants on Amazon to help you narrow down your choices.
To find the best deodorant spray Amazon had to offer, we first needed to know what men wanted most from their antiperspirant. We chatted with some men and quickly realized that long-lasting protection, a fresh scent, and no unsightly marks on clothing were what mattered most. We then scoured Amazon to find the deodorant sprays that ticked all these boxes. So, let's get started and see which ones made the cut.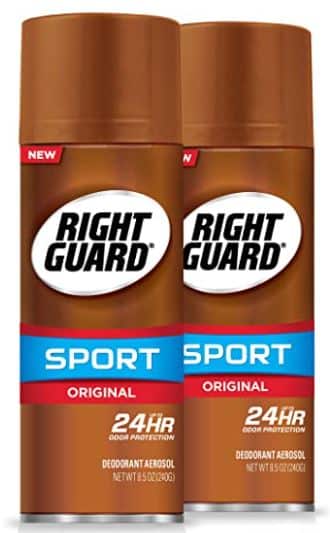 Right Guard is a deodorant and antiperspirant manufacturer specializing in creating spray deodorant, roll-on, and deodorant stick formulas that leave active men feeling fresh. The brand offers an assortment of deodorizing solutions that offer sweat protection for up to 72-hours and a variety of different strengths that go right up to clinical strength.
Right Guard Sport Original Deodorant Aerosol Spray is the ideal body spray to keep you feeling dry and free from odors.
Specs
Deodorant aerosol
Up to 24-hour odor protection
Offers complete coverage in one spray
Neutralizes odors
Who is it Best for?
 Men who prefer spray deodorant instead of a deodorant stick or roll-on will enjoy this aerosol by Right Guard. It offers a fresh scent that features woodsy fragrance notes with a hint of amber for that alluring masculine scent.
If you like a bargain, then you will find it here. This pack sees two 240g tins of spray, saving you money and time.
This spray is ideal for athletes who need extra sweat protection, busy businessmen who need to keep smelling fresh throughout the day, and men who sweat more frequently than most. This deodorant will keep you dry and protected and will leave you smelling great no matter how tough your day gets.
Key features
Right Guard's Original Sports Deodorant offers a selection of features. Most importantly, it keeps you smelling amazing. It provides long-lasting freshness and offers full coverage with just one spray. No more wasting your fragrance having to cover an area multiple times to ensure you didn't miss a spot.
The spray features odor-neutralizing technology that prevents you from having odorous armpits. You can smell fresh throughout the day and well into the evening, leaving you prepared for anything.
What we love about this deodorant is that it dries on contact. No more fanning wet pits so that your shirt doesn't stick to your underarms and becomes wet too.
Right Guard features an anti-staining formula so you can be sure your clothing won't yellow or turn white as a result of your deodorant.
Pros
Comes in a pack of two tins
Features an anti-stain formula
Cons
Not everyone will enjoy the fragrance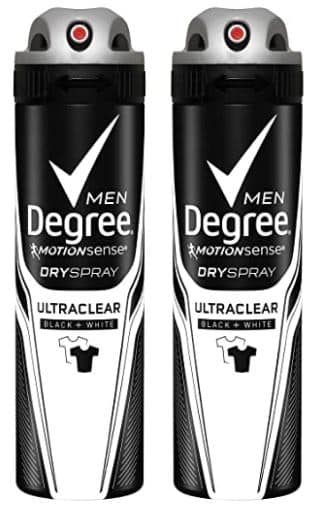 Degree is a brand that specializes in manufacturing deodorants and antiperspirants. These aren't just any deodorants, though; they are designed to work as hard as you do, providing you with hour after hour of freshness and comfort.
Degree Men is the men's division that offers an assortment of deodorants that use Motionsense technology, offer clinical strength, and keeps your clothing protected. One such deodorant is the Degree Men Antiperspirant Deodorant Dry Spray Ultraclear Black+White.
Specs
Dry spray antiperspirant deodorant
Offers Motionsense technology
Protects against white marks on clothing
Fights against sweat and body odor
Who is it Best for?
This antiperspirant is ideal for men who need a little extra help when it comes to perspiration. It offers clinical strength sweat protection to keep you dry and smelling great.
It is perfect for men on the go, athletes, and gym-goers. Pop a can in your gym bag, and you're ready to go. It fits neatly into most backpacks and bags and even in the cubbyhole of your car.
If you like a good deal, then don't miss out on this one. These aerosol deodorants come in a pack of three, providing you with up to three months of fresh and great-smelling armpits.
If you suffer from sensitive skin, then this is a deodorant to try. It is free from alcohol which means it won't dry out or irritate already sensitive skin.
Key features
If you're looking for the best antiperspirant, then this is it. It offers clinical-grade protection, and it keeps you dry. Degree Men's deodorant is a dry deodorant which means it goes no dry, no waiting about for your underarms to dry off before you can put on your shirt.
Degree Men uses Motionsense technology to keep you fresher than ever. This technology responds to your movement; the more you move, the better you smell. Microcapsules are sprayed onto your skin when you apply the deodorant. As you move, these capsules break, releasing the fragrance and keeping you free from body odor.
This antiperspirant provides a stain-free formula that prevents yellow markings on white clothing and white marks on darker clothing. Instead of stains, it provides you with 48-hour protection.
Pros
Offers woody and amber scent notes
Won't create yellow marks on white clothing
Cons
Not for use on broken skin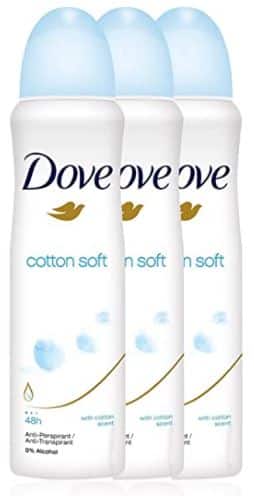 Dove is a subsidiary of Unilever and comes with a men's department called Dove Men+Care. Dove believes that beauty should inspire confidence and calm, not anxiety. The brand offers cruelty-free products that nourish and protect your skin, leaving it soft and smelling great.
Dove men offer a unique deodorant, the Dove Cotton Soft Antiperspirant Spray, designed to leave you feeling fresh and protected throughout the day. For a fresh scent deodorant that is gentle on the skin, we suggest giving Dove a try.
Specs
Antiperspirant deodorant
Offers 48-hour protection
Alcohol-free
Ideal for sensitive skin
Who is it Best for?
Men looking for a deal will appreciate this pack from Dove that comes with six aerosol bottles that will last you up to six months.
If you suffer from sensitive skin, this is the best antiperspirant for you. Any dermatologist will tell you that people with sensitive skin should steer clear of products containing parabens and alcohol. Dove's antiperspirant is alcohol-free, and it includes 1/4 moisturizing cream, so it won't dry out your skin and cause further irritation, but instead keep it soft, dry, and moisturized.
If you prefer unscented or mildly fragranced deodorants, then give this one a try. It offers a very soft cotton-fresh fragrance that leaves you smelling like freshly laundered clothes.
Key features
Dove's deodorant works as an antiperspirant. It offers 48-hours protection from sweat and odor. The spray goes on dry, so you're not left flapping your hands at your underarms, trying to get them dry before you put on your work shirt. And let's face it, there is nothing worse than having your clothing stuck to your armpit.
Dove deodorant also won't leave white marks on your clothing. While it is great that we wear deodorant, no one wants to advertise that we do, and especially not in the way of flakey white half-moons on our black gym vests. Yellow stains on clothing are also not ideal; luckily, Dove deodorant doesn't do that either.
This antiperspirant goes on quickly and easily, making it quick to use and simple to implement in your skincare and grooming routine.
Pros
Offers a fresh cotton scent
Cons
Not everyone will enjoy the fragrance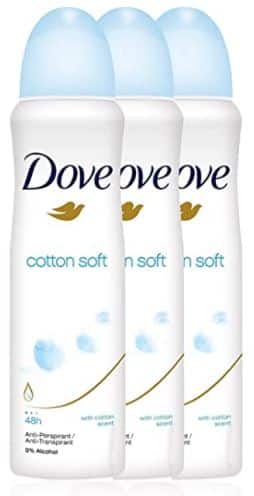 Arrid is a deodorant and antiperspirant manufacturer that offers an assortment of products that provide solutions for men who perspire excessively. From stick deodorant to spray deodorant and even gel formulas, Arrid features a wide range of options to keep you dry and fresh.
The ARRID XX Ultra Clear Anti-Perspirant Deodorant Spray provides you with hours of freshness and sweat protection, keeping you comfortable and smelling fantastic. If you want a heavy-duty deodorant, this is it.
Specs
Maximum strength
Fresh scent
Ultraclear aerosol
Antiperspirant deodorant
Who is it Best for?
If you are looking for an antiperspirant that offers extra dry protection, this is it. Arrid offers maximum strength protection against sweating, wetness, and odors.
There is nothing worse than putting on a good blast of deodorant and then slipping on your crisp white work shirt, only to have it stick to your armpit and leave a stain. Arrid deodorant goes on dry, so there is no waiting for the spray you have just applied to settle before getting dressed.
Sportsmen, gym-goers, and busy men on the run can all benefit from this antiperspirant. It keeps you smelling fresh and feeling comfortable no matter how crazy work becomes or how intense your workout gets.
Key features
Arrid's Extra, extra dry deodorant uses ultraclear technology designed to keep your white clothes white and your dark clothes dark, meaning this antiperspirant won't leave your clothing stained yellow or covered in flakey white marks.
The ultra fresh fragrance carries floral and citrus notes for a refreshing and invigorating aroma.
The spray goes on quickly and easily and offers all-day protection so you can stay cool under pressure.
Arrid offers this antiperspirant deodorant in a pack of four 170g aerosol tins so you can stay dry and protected for up to four months before needing to buy more.
This deodorant works with you for a highly effective solution to sweating and body odor. It keeps you dry even when you are at your most active, so you can focus on what matters most and not on your armpits.
Pros
Offers a citrusy floral notes
Cons
This is not an aluminum-free deodorant
Things to Consider When Buying The Best Spray Deodorant
When buying a deodorant you want to be sure that the kind of deodorant you choose works best for you and that you find the fragrance appealing.
1. Type of deodorant
There are various types of deodorant or antiperspirant:
Roll-on deodorant comes as a canister with a ball applicator that rolls across the surface of your skin. As you move the ball, it applies an even layer of deodorant or antiperspirant to your underarm. This application method often leaves a wet residue that will need to dry before you put on clothing.
These are sticks of solid deodorant or antiperspirant that you apply directly to your armpit. This deodorant style is to prevent that wet residue that comes with roll-on or spray-on varieties. These formulas often come infused with waxes, essential oils, and silicone.
This form of deodorant comes in a can as an aerosol. It sprays directly onto the skin and, in some cases, offers a dry spray that produces no wet residue.
Natural Deodorant or Organic Deodorant:
Instead of using aluminum compounds to block your pores, natural deodorants use natural ingredients such as coconut oil, activated charcoal, or baking soda to block your pores. They are often infused with aloe to soothe the skin and are fragranced with essential oils such as tea tree or eucalyptus oil or come as a fragrance-free variety. You can buy this natural deodorant spray and roll-on at your local drugstore.
2. Fragrance
The best men's deodorant spray comes in a wide variety of fragrances. There are many to choose from fresh-smelling cottony fragrances to more woodsy scents that offer notes of sandalwood or cedarwood to a more spicy and warm fragrance like that of Old Spice. Ultimately this choice comes down to personal preference and what mixes best with your skin chemistry.
When it comes to finding the best antiperspirant or men's deodorant, many things will influence your final choices, such as fragrance, intent, and type of deodorant.
We hope our reviews have made it a little less challenging to find an antiperspirant deodorant that works for you. If you're still unsure, give the Dove Cotton Fresh a try, it is excellent for all skin types and offers impressive sweat and odor protection.