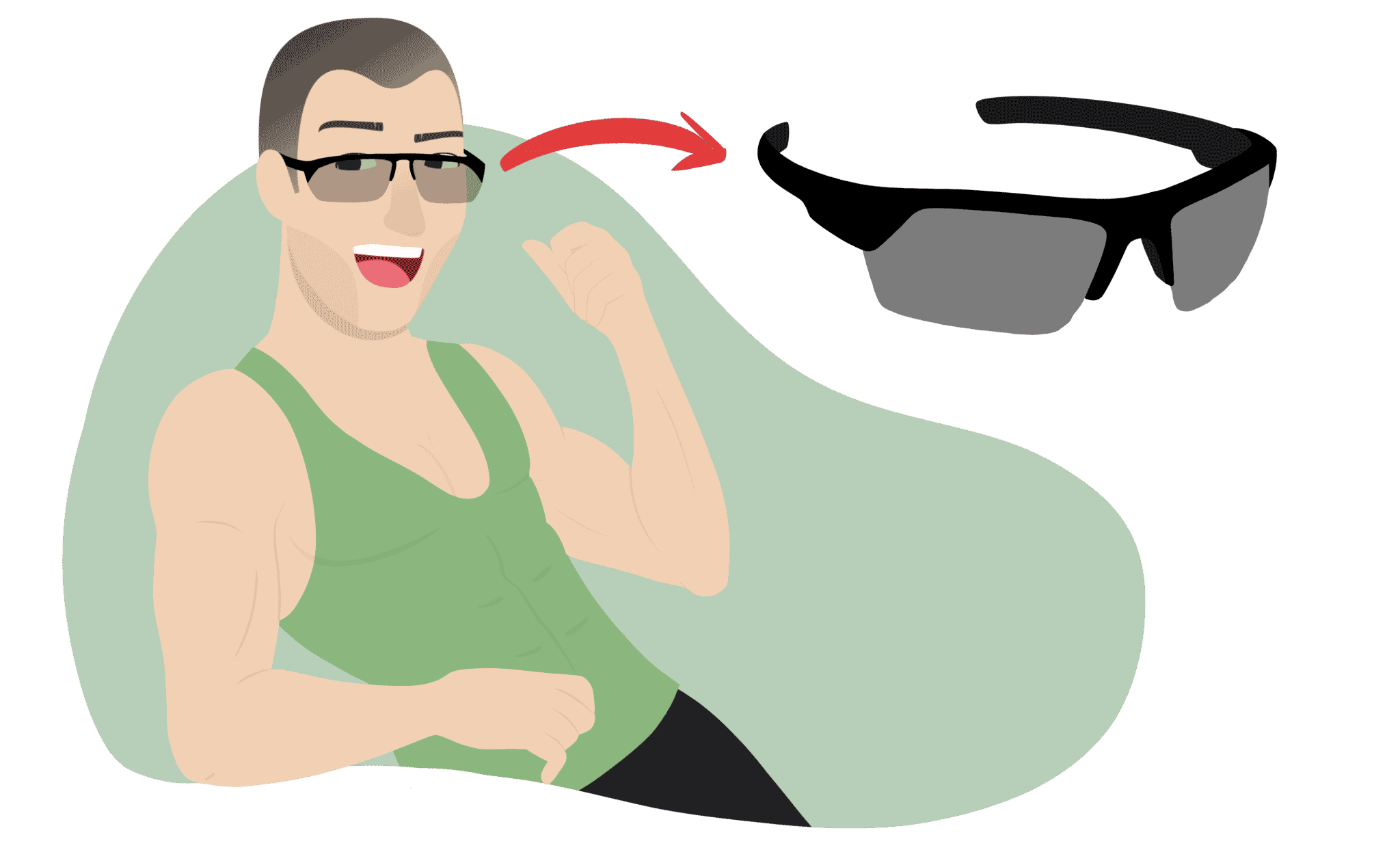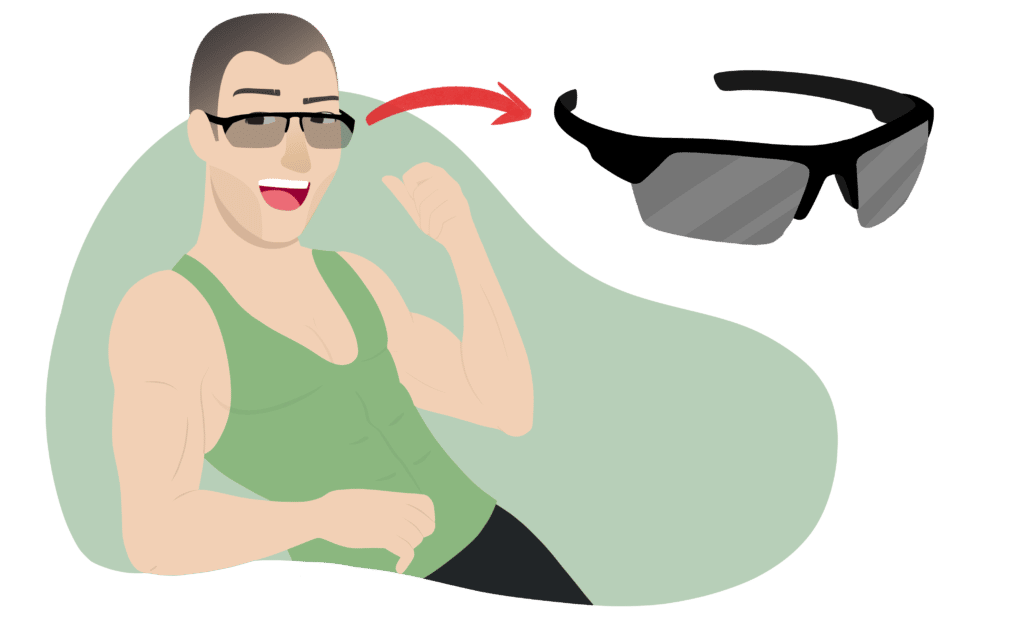 Whether it's the blazing summer sun or the wintery glare, chances are you've found your eyes streaming from the brightness. This is not a great experience at the best of times, and when you're trying to drive somewhere, it's even worse.
The best way to shield your eyes from the sun is with a new pair of shades. Not only do these eyeglasses keep your eyes protected, but they add a pretty sleek touch to your overall look too. There is an assortment of colors and styles, from the classic aviator to wayfarers and even rimless glasses.
While it would seem relatively simple to find the best sunglasses to suit your needs, they, unfortunately, are not all made the same. When buying eyewear, you want a pair that offers high quality, which is why we have found the top sunglasses available on Amazon and reviewed each pair for you.
Finding good quality glasses meant that we had to set a list of criteria they had to meet before we could add them to our list. They needed to be durable, stylish, lightweight, and offer protection for your eyes. Each of the pairs on this list ticks all these boxes and more. So, let's dive in and see what Amazon has to offer.

Ray-Ban is an Italian/American brand that specializes in luxury sunglasses. Founded in 1936, the brand began as a result of a US Army Air Corps Colonel looking to create a pair of glasses for pilots that wouldn't fog up at high altitudes and would soften the glare that they experienced when flying.
Today, the brand is most well-known for its wayfarer, aviator, and clubmaster styles. The Ray-Ban Rb4187 Chris Square Sunglasses are a unique take on the classic wayfarer style, offering a unique keyhole nose bridge and a whole lot of style.
Specs
Plastic lens
100% Nylon frame
UV protection coating
Keyhole nose bridge design
Who is it Best for?
Men looking for an iconic look that a brand of the same popularity produces will do well with a pair of the Ray-Ban glasses reviewed here.
These wayfarer sunglasses became famous in the 1950s and became loved by even the most famed actors and musicians of Hollywood, including Roy Orbison and Jack Nicholson. So, if it is a stylish pair of sunnies you want, you can't go wrong with these Ray-Bans.
If it's a pair of sunglasses that offer an extra grip while sitting on the bridge of your nose while still looking retro, then these may be your solution. These eyeglasses feature a unique keyhole nose bridge that offers a slightly firmer seat on your face, preventing them from sliding about. Skaters love these glasses because they're guaranteed to stay in place.
Key features
Ray-Ban goes the extra mile with these glasses, providing a protective case to go along with them, and believe us; these shades are worth protecting.
They come in an assortment of color options, from tortoiseshell with brown gradient lenses to matte black with grey gradient lenses. You can even find a vibrant orange pair with mirrored lenses in the same vivid hue.
While these shades aren't polarized, they offer a UV protective coating that protects your eyes from UVA and UVB sun rays. The plastic lenses offer unrivaled visibility, giving you a clear view of the world around you. Together with the plastic frame, they ensure these sunglasses are lightweight and durable.
These square sunglasses are designed to complement most face shapes, so whether you have a round face or a square jawline, you will look great.
Pros
Includes a protective case
Offered in nine unique colors
Cons
These shades are not polarized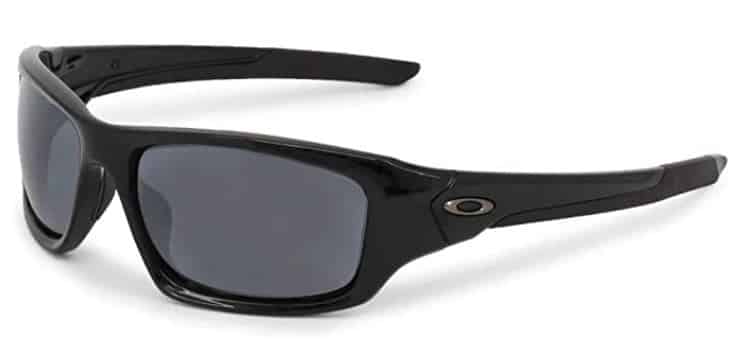 Oakley was founded in 1975 in a garage in the founder's backyard and is named after his dog. Today, the company is a subsidiary of Luxottica, an Italian company that also happens to be the world's largest eyewear company. Oakley sunglasses are made mainly with sportspeople in mind, which is why the brand formulated many of its designs with the input of various athletes.
One such pair that sportsmen the world over seem to love the most are the Oakley Men's Oo9236 Valve Rectangular Sunglasses. They are sleek, stylish and keep the sun out of your eyes.
Specs
Plastic frame
Plastic lens
Polarized
Includes a UV protection coating
Who is it Best for?
Whether you're a sportsman or just someone looking for an excellent pair of shades, you can't go wrong with the Oakley Men's Oo9236 Valve Rectangular Sunglasses. They offer a unique wrap-around style that hugs your face, keeping them in place while you jog, cycle, or fish.
These unique shades are made in the USA and come offered in a vast assortment of color options. Whether you're looking for a pair with black frames and grey lenses, or silver frames with a fiery orange lense, or even a dark grey frame with an emerald lens, you will find it here.
Men who enjoy having more than one pair of sunglasses in various colors will appreciate this selection.
Key features
Oakley makes their frames and lenses from a durable plastic that allows the glasses to be lightweight and sit comfortably on your face.
When it comes to protecting your eyes, Oakley takes things seriously. Their lenses are polarized, featuring a filter that only allows vertical rays to meet the eyes but bounces off the horizontal light that causes glare and brightness.
Added to this polarization is a UV protective coating. What this coating does is block deep penetrating UVA rays and surface-damaging UVB rays from your eyes.
The frames' design allows the glasses to wrap around the sides of your head, fitting snugly but not uncomfortably. This fit makes these shades so perfect for athletes, as it is far more streamlined than most other styles and are less likely to fall off your face.
Pros
Offered in eight unique colors
Cons
Style may not suit every face shape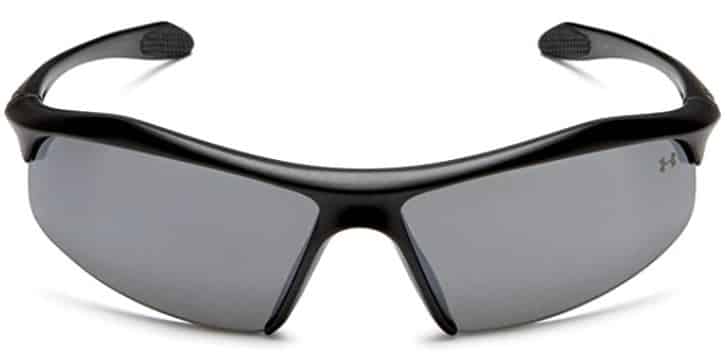 Under Armour is an American sports apparel company that offers a range of sports equipment and training gear, and casual wear. The brand's vision is to provide you with solutions you never knew you needed and ones you can't live without.
The Under Armour Zone Sunglasses are the perfect example of a product you can't imagine not having. They are stylish, sturdy, and functional, and once you put them on, you won't want to take them off.
Specs
Polycarbonate lens
Nylon plastic frame
UV protection coating
ArmourSight lenses offer superior clarity
Who is it Best for?
If you're looking for a pair of shades that offer a sportier look and feel, these are an excellent option. They feature a wrap-around style that gently hugs the contours of your head, keeping them in place while you play your sport, go for a jog, or simply relax in your back garden.
These sunglasses also have a unique look about them, as they come with a rimless design. The lenses attach to the top of the frame but feature no rim that surrounds them. This design gives them a sportier feel and helps them offer a more streamlined fit.
Under Armour only offers these shades in one color option, but the style is so striking that you don't need an extravagant color to make them more appealing.
Key features
Under Armour shades feature a nylon plastic frame combined with polycarbonate lenses. The brand builds its Ultralight ArmourFusion frames to offer remarkable strength and durability, making them even more perfect for use while playing sports.
The ArmourSight lenses are designed to offer superior optical clarity and impact resistance. Not only do these lenses allow you to see with crystal clarity, but they keep your eyes protected from the sun's harmful rays. A UV protection coating ensures your eyes are shielded from damaging UVA and UVB rays.
The shades come with a wire core that allows you to adjust the temples and nose pads for a customized fit. This makes the sunglasses more comfortable to wear for longer periods or while taking part in sporting activities.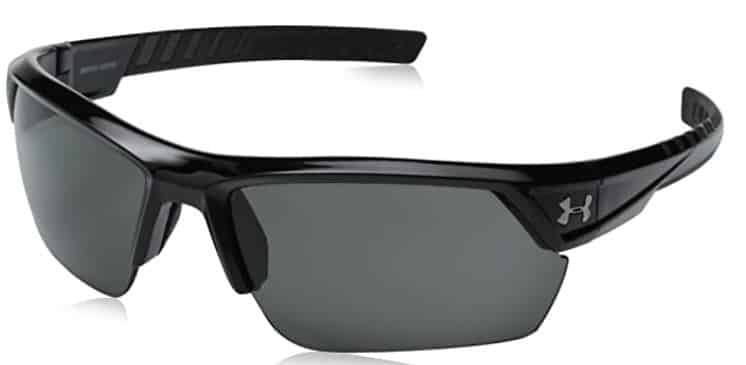 Under Armour was founded in 1996 with the design of a T-shirt called "The Shorty". The brand's focus was on creating apparel for athletes that helped make training more comfortable and enjoyable.
Today the brand offers an impressive selection of activewear and sports apparel. The Under Armour Adult Igniter 2.0 Rectangular Sunglasses are just one example of its stylish and durable offerings. These shades are made for athletes and everyday wear, and with versatility like that, you can't go wrong.
Specs
Rimless design
Polycarbonate lenses
Lightweight
UV protection coating
Who is it Best for?
Athletes looking for a pair of sunglasses that fit firmly yet comfortably on the face may find these shades are worth a try. Under Armor places its focus on designing and manufacturing sports apparel, so you can be sure that these eyeglasses are excellent for use while you're active.
The shades feature UA AutoGrip temples that create a comfortable, secure fit that isn't too tight around the face. This ensures that your glasses stay in place while you cycle, jog, or play tennis.
A rimless design sees the lenses of the glasses fitted into the top frame, with no surrounding or supporting rim at the bottom of each lens. It is this shape that gives the sunglasses their sporty appearance and streamlines them to better fit your face.
Key features
The nose pads are These stylish sunglasses are made using polycarbonate lenses that offer crystal clear vision while shielding your eyes from the sun's harmful rays. The ArmourSight lenses are also resistant to impact, so they will likely come out unscathed if you drop them.
A protective UV coating on the shades shields your eyes from harmful UVA and UVB rays. These particular shades are non-polarized; however, your eyes are 100% protected from UV damage.
The plastic frame is durable and lightweight, allowing the glasses to sit comfortably on your face.
Flexible nose pads allow you to position them comfortably.
Under Armor offers these unique sunglasses in three unique shades, including this black and grey pair, as well as a striking white pair with mirrored blue frames.
Pros
Offered in four unique color options
Features adjustable nose pads
Includes a microfiber case

Infi offers a range of stylish and highly functional sunglasses. Offering customers a wide selection of shades that look fantastic while providing premium eye protection is what the brand is all about. Using high-quality materials and expert designs, Infi creates some of the world's most-loved shades.
Don't believe us? Just try the Fishing Polarized Sunglasses for Men by Infi. These unique shades keep your eyes protected even in the harshest sun conditions and leave you looking incredible at the same time.
Specs
Tri-Acetate Cellulose lens
HD Polarized
Mirror coated lenses
Lightweight plastic frame
Who is it Best for?
These sunglasses are a must-try for anyone who spends extended periods on open water or in the snow. Whether you are a fisherman, an angler, a snowboarder, or you work clearing snow, these glasses are for you. They come fully polarized, letting in only vertical light rays, preventing the harsh glare reflected off these surfaces.
Infi offers these remarkable shades in three unique colors: crystal grey frames with mirrored green lenses, black frames with grey lenses, and black frames with blue mirrored lenses. You can easily find a pair that works with your sense of fashion and lifestyle, thanks to Infi's selection.
When it comes to design, Infi offers the latest and most fashionable styles. These particular shades feature the popular wayfarer style.
Key features
Infi makes its frames from durable plastic that is lightweight and more comfortable to wear for extended periods. These wayfarers come with highly treated lenses to offer you the best protection from the sun's harmful rays.
The first line of defense is the mirror finish, this not only looks really cool, but it also helps reflect the glare. The lenses are also TAC polarized, offering you high definition vision on even the brightest of days. A UV protection coating shields your eyes from harmful UV rays, and these sunnies offer complete 400UV protection.
What is excellent about these shades is that the lenses are scratch-resistant, and the glasses as a whole are weather-resistant, so they perform well no matter how cold or humid it becomes.
Pros
Offers high weather resistance
Cons
Only comes in one style option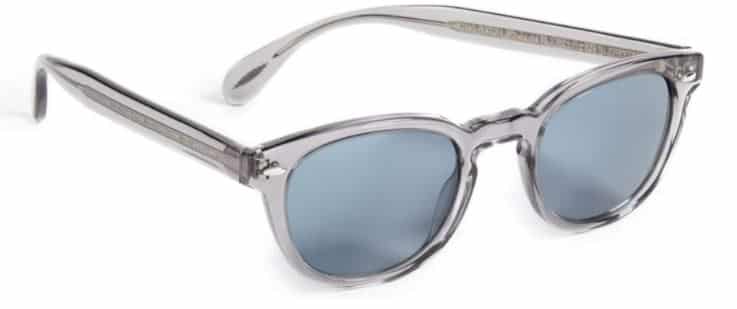 Oliver Peoples, an American luxury eyewear company, was founded in 1987. Today the brand is owned by Italian conglomerate Luxottica. The designs for these glasses are crafted in Los Angeles, but the manufacturing takes place in Italy and Japan. We thought this international assembly was quite fitting for a brand of sunglasses loved by people worldwide.
Oliver Peoples Eyewear Men's Sheldrake Sunglasses makes the perfect example of the unique and premium quality shades you can expect from this eyewear brand.
Specs
Acetate frame
Photochromatic lenses
Comes with a transparent grey frame
Durable
Who is it Best for?
When it comes to finding the right pair of sunglasses for you, you need to find ones that offer a frame shape that you find appealing. If you're looking for a pair of round sunglasses that stand out, these new wayfarer shades are for you. They feature a slightly more rounded style than the original square wayfarer design, which is what makes them such stylish sunglasses.
If you're a guy who is impressed with accessories, then you will appreciate this deal. Included with the shades is a cleaning cloth to keep your lenses free from fingerprints and smudges, a soft case, and a hard-shell carrying case to keep them protected when you aren't wearing the sunglasses.
Key features
Oliver Peoples fashions these frames from durable, crystal-like layers that leave the shades with a transparent grey acetate frame. Within the acetate frame, you will find a core wire. This handy wire allows you to custom shape the frame to fit your face perfectly, and it gives excellent structural integrity to the frame.
The lenses are made from mineral glass and offer a 400UV coating, offering UVA and UVB protection and a unique vintage-style tint.
A unique five-barrel hinge provides these sunnies with remarkable durability and the ability to sit on your face comfortably without sliding down your nose.
These stylish sunglasses will take your look to the next level, making them the ideal addition to any fashion-forward gentleman's outfit.
Pros
Includes a hard-shell and soft case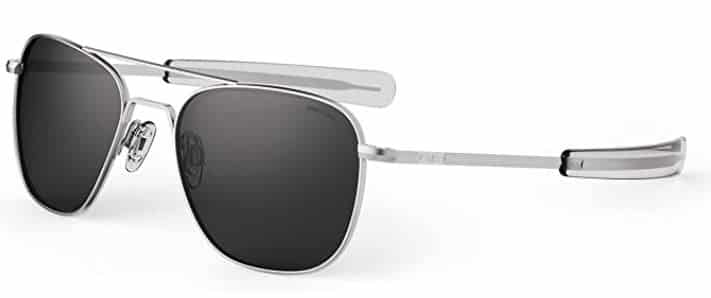 When two former Royal Air Force pilots moved to America with just a few bucks to their name, they had one goal in sight, to create the world's best sunglasses. They embarked on their mission, opening Randolph in 1973, just outside Boston. The founders put their backgrounds in engineering to use and designed eyewear that would pass the rigorous standards of the US Department of Defense.
Today, Randolph designs and manufactures eyewear for anyone who wants better than the average. One such pair that is the perfect example of this is the Randolph USA | Matte Chrome Classic Aviator Sunglasses for Men .
Specs
Aviator style
Polarized
Anti-reflective coating
Blue light management lens
Who is it Best for?
If you're in search of a brand new pair of aviator style sunglasses, then these are worth giving a try. If they are good enough for military pilots, you know they offer style, durability, and functionality.
These aviator sunglasses come offered in an assortment of color options. The matte chrome frames remain the same, but the lenses come in a deep blue, a light blue gradient, green, and grey. With all these color options, you're sure to find a look that best suits your tastes.
These shades are handmade in Massachusetts, and each pair is carefully inspected before being packaged, so you can always be sure you'll get high-quality eyewear. Men who prefer American-made products will enjoy these shades and the style they provide.
Key features
Randolph Aviator sunglasses come with a lifetime warranty. They are that sturdy and offer remarkable durability; if a business backs their product in this way, you know it's worth your money.
Randolph designs their sunglasses to meet the highest military standards. The durable metal frames ensure your glasses will last while resting on your face comfortably.
The lenses are double-baked for durability and offer resistance to scratches. Unique technology sees SkyTec-P mineral glass lenses that are fully polarized, combating glare and intense brightness. These lenses also provide 100% UVA and UVB ray protection to shield your eyes from the sun.
A Vector Anti-Reflective backside coating further protects your eyes from natural light. The Blue Wave HEV Blue Light Management on the lenses protects your eyes from the harmful blue light emitted from electrical devices such as computers and smartphones.
Self-adjusting cushioned nose pads allow the sunglasses to sit comfortably on the bridge of your nose and prevent the sunglasses from sliding down your nose should you begin sweating.
Pros
Offered in 16 different color options
Cons
May not suit every face shape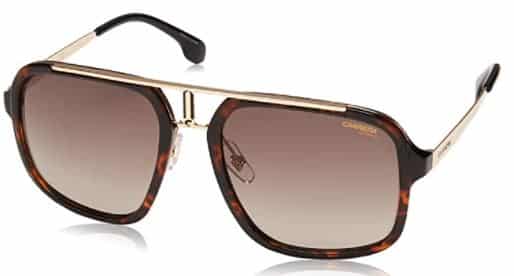 Carerra has been designing and manufacturing sunglasses since 1956. The brand was founded in Austria, but today it is part of the Safilo Group and operates from Italy. This brand is the same one that partnered with Porsche to develop the Porsche Carrera sunglasses collection in 1974.
A luxury brand, Hollywood stars, and musicians such as Al Pacino and James Franco have been spotted sporting a pair of Carrera sunglasses. The Carrera Men's Ca1004/S Pilot Sunglasses is just one of the many contemporary designs this brand has to offer, and boy, do they look good!
Specs
Plastic frame
Polycarbonate lenses
UV protection coating
RX-able
Who is it Best for?
Men looking for a contemporary style of sunglasses should give these shades a try. They feature a pilot profile with a square shape finish. You could say that these are the perfect blend of the wayfarer and aviator styles.
The front of the glasses sees a double bridge design with a monogrammed C in the center, a unique finish to a pair of shades.
Men who enjoy collecting a type of sunglasses in various colors will appreciate the offerings of Carrera. These pilot-style shades come in three different options. These include tortoiseshell frames with brown gradient lenses, black and gold frames with burgundy lenses, and matte black frames with dark grey gradient lenses.
The shades are accompanied by a branded case that keeps them safe when you're not wearing them.
Key features
Carrera fashions these frames from a blend of gold-toned metal and acetate. The acetate gives the frames their transparent appearance and allows them to be as lightweight as they are.
The lenses are made from polycarbonate, a durable material that is also lightweight and allows for pristine visual clarity. A gradient tint adds a touch of style to the glasses and protects your eyes from the sun.
A 100% UV protection coating shields your eyes from damaging UVA and UVB rays, allowing you to see without hurting or straining your eyes. Although these shades are non-polarized, they still offer complete protection from the sun.
If you are looking for a unique pair of shades that offers a more fashionable look instead of a sporty one, these are the shades to try.
Pros
Offered in three unique color options

Ray-Ban is a luxury sunglasses and eyewear manufacturer that originated in American in 1936. Today it is Italian-owned. The first pair of aviators was designed for the military airforce and became popular for public wear in the late 1940s.
The Ray-Ban Aviators first offered real glare protection, and today the brand is still offering remarkable aviator sunglasses, such as the Ray-Ban RB3025 Metal Aviator Sunglasses . These sleek shades have captivated the world with their universal style.
Specs
Aviator style
Metal frame
Glass lenses
Mirror finish coating
Who is it Best for?
Men wanting a pair of sunglasses with that all-American style need look no further than these classic shades.
Ray-Ban offers their aviators in a wide range of color options that include matte gold frames and orange mirror lenses, gold frames with crystal brown lenses, silver frames with a grey gradient lens, and even the more common gold frames with grey-green lenses. All in all, there are over 28 unique color styles to choose from, so if you like variety, you will find it here.
Ray-Ban goes the extra mile by adding in a cleaning kit with these shades, so you can keep them looking like new. The kit includes a one-ounce bottle of cleaning solution, a microfiber cloth, a mirror, and a keychain with a screwdriver attached.
Key features
Ray-ban Aviators come with a lightweight metal frame that is minimalist in design. The shape of the frames allows the glasses to rest gently on your face, sitting comfortably and snugly.
The lenses of these glasses are made from glass and offer three different finishes: a solid tint, a gradient tint, and a mirrored look.
While these shades are not polarized, they certainly make up for it in style.
Two silicone nose pads keep the sunglasses neatly on the bridge of your nose, ensuring comfort and that the sunnies stay in place, especially when you bend your head down. There is nothing more annoying than your shades sliding off your face each time you look down, and Ray-Ban knows it.
Pros
Offered in 29 unique colors
Comes with the option of gradient lenses
Includes a free cleaning kit
Things to Consider When Buying The Best Men's Sunglasses
When you are looking for a pair of the best sunglasses, there are a few things you will want to take into consideration before shelling out your hard-earned cash. By giving thought to each of the elements below, you will find it much simpler to find the pair that is best suited to you.
1. Face Shape
While it would be great to have every pair of shades you try on make you look like a film star, this is often not the case. There are some styles of sunglasses that suit most face shapes, and then there are others that are more complementary to some but not to others. Let's take a closer look:
Round Face Shape: If you have a round face shape, round glasses are a no-no as they enhance your face's roundness. Rather go for a square style such as wayfarers or aviators.
Square Face Shape: People with a square-shaped face often find that the brow's width is the same as the length of the face. Individuals with this face shape are best suited to round-style sunglasses such as the clubmaster or aviator style glasses.
Oval Face Shape: If you have this face shape, you're in luck, as most sunglasses styles look fabulous in this face shape. The only type that isn't advised is those sunglasses with oversized frames.
Rectangular Face Shape: If you have an oblong face shape, the best styles for you include aviators, wayfarers, rectangular-shaped glasses, and wrap-around. Steer clear of small frames, though, and instead opt for oversized frames because with this face shape, you can pull them off.
Diamond Face Shape: If you have a narrow jawline and forehead, you probably have a diamond face shape. The best sunglasses for you are rimless or oval designs, and the glasses shouldn't be wider than your cheekbones.
Heart Face Shape: People with heart-shaped faces usually have a wider forehead and a narrow chin. The styles that will compliment you best are aviators, shield style, or rimless glasses such as Clubmasters.
2. Style
There is quite an assortment to choose from when it comes to styles, which can make things confusing. Let's take a look at some of the options:
Aviators: These are your typical pilot's sunshades. They feature a thin metal frame and teardrop-shaped lenses. Those iconic sunglasses Tom Cruise wore in Top Gun? Those were aviators.
Butterfly: These are those oversized frames that celebs such as Lay Gaga seem to favor. A take on the butterfly style is the cat-eye that sees the frames culminate in a slight point on the shades' outer tip.
Rectangular: These sunnies are wider than they are tall, creating a rectangular lens that almost wraps around the face.
Round/Semi-Rimless: These are pretty self-explanatory. A semi-rimless pair of glasses is the clubmaster style that sees a frame at the top of the lenses but no bottom rim.
Shield: These glasses offer larger than usual lenses that wrap around the side of the head, shielding your eyes from the front and the side.
Wayfarer: These shades offer a unique look that isn't quite square but is pretty close. Surfers and musicians love the iconic wayfarer style.
Wrap-Around: This style sees sunglasses that offer a streamlined look and feel. They are generally rimless and feature a single lens that spans the width of your face, offering greater protection from the sun.
3. Tint and Finish
Men's sunglasses often come with the option of three unique finishes or tints to the lenses.
Solid: A solid tint sees lenses that are single color only. The entire lens is this shade like a solid block of color.
Gradient: A gradient tint sees the lenses start with a darker color at the top of the lens that fades lighter and lighter towards the bottom of the lens.
Mirror: A mirror finish sees the lens with a highly reflective surface that often comes in an assortment of vibrant colors from orange and green to aqua and purple.
4. Brand
The best way to ensure the sunglasses you buy are of excellent quality is to go with a well-known brand. Besides the top brands we have spoken about in our reviews, a few others to look at include Tom Ford, Persol, Gucci, Steve McQueen, Warby Parker, Garrett Leight, Maui Jim, and Moscot.
5. Intent
Thinking about where you are most likely to be wearing your sunglasses most frequently will also help you choose the right pair. If you are looking for shades to cycle or jog in, you will not go for a pair of stainless steel aviators; you're more likely to choose a pair of wrap-around glasses.
The same goes for someone looking for shades to add an extra touch to their daily look; sleek wayfarers with black frames or clubmaster frame sunglasses are more likely to be your choice over sports-style sunnies.
Buying the best men's sunglasses is not as simple as it first may seem, especially if you are to get a pair that makes you look more stylish than ever before. We hope our reviews have made things a little easier to navigate.
If you're still in doubt, Ray-ban Aviators are our top pick because not only are they a classic, but because the aviator style suits most face shapes.