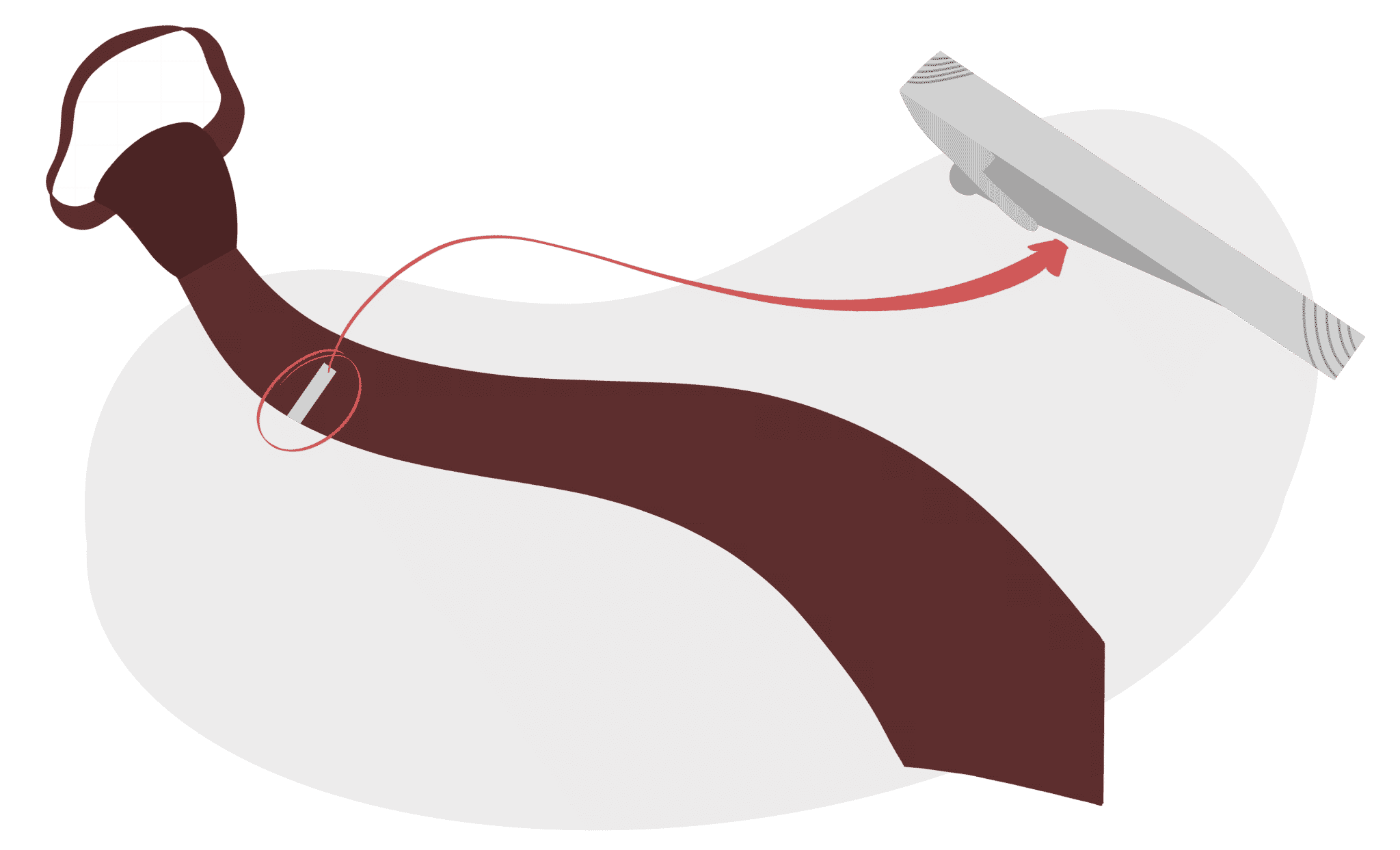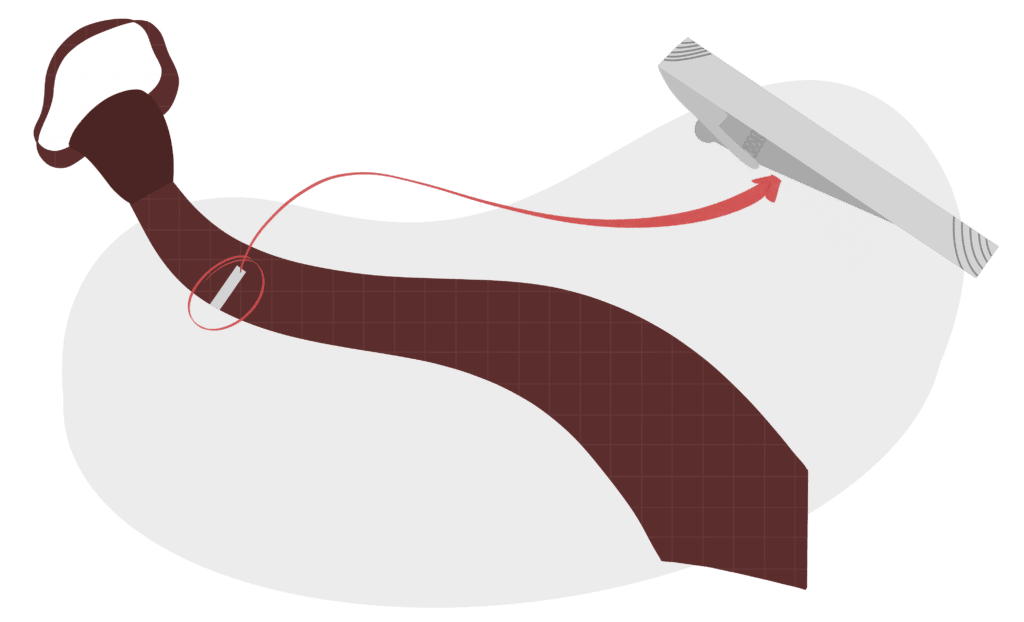 When we think about accessories to smarten up a suit and tie, we often think about cufflinks or lapel pins. But, there are other ways to smarten up your look and show the world that you're a dapper individual with an unrivaled sense of style and taste. How?
With the best tie clips, you can find. These tie bars have been around for decades, which is why they're often thought of as being old-school. But, wear them correctly, and you will be putting across a clear message that you not only take care of your appearance but that you are meticulous when it comes to detail.
The only unfortunate thing with tie clips is that they're not all made to offer the same quality. To make it less of a challenge for you to find tie bars that offer impeccable style and quality, we have reviewed the best tie clips Amazon has to offer.
Before scouring Amazon to find the best tie bars to review for you, we did some research. After chatting to tie and tie clip aficionados, it became clear that for a tie clip to be worth your time and money, it needs to tick a few boxes. The bar should never be as wide as or wider than your tie, but rather two-thirds or three-quarters the width of your tie. The clips should be well made from durable materials and should add to your look rather than detract from it.
So, let's dive in and see which tie clips made our list!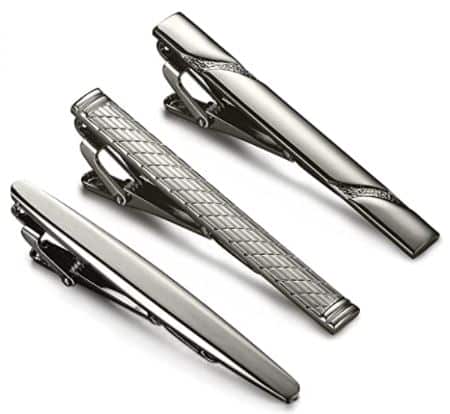 Jstyle is a brand firmly focused on all things fashion, offering a vast range of men's and women's clothing and accessories. Their focus is on providing customers with premium quality apparel at affordable prices.
The Jstyle 3 Pcs Tie Clip for Men caught our eye immediately, thanks to the clips' sleek and stylish look. Made to offer quality and to transform your look, this clip set is one worth a closer look.
Specs
Features three unique designs
Each measures 2.4-inches in length
Made from brass
Features a silver tone
Who is it Best for?
Men looking for a classic tie bar to smarten up their dress shirt and work tie would benefit from these tie clips from Jstyle. While pocket squares look cool, you won't always have your blazer on, but your necktie stays put, making a tie bar a sleek accessory.
If you are looking for a fashionable gift to give your husband for your wedding anniversary or birthday, a set of tie clips such as these make the ideal gift. Not only can your hubby get great use from them, but they will elevate his style too.
If a tie that flaps about and doesn't stay put leaves you frustrated, a stylish tie bar offers the perfect solution. These handy clips keep your necktie in place and looking neat.
Key features
Jstyle offers their men's tie bars in a set of three. The clips are each made from brass that is then finished with a silver tone. Each bar features its own unique design that adds to the overall look of the clip. A plain bar with narrowed, rounded edges works well with a vibrant novelty tie, while the more detailed and textured design will pair better with a solid color tie. The tie bar that features a more simplistic design will work well with neckties that come with a pattern.
These tie bars each measure 2.4-inches in length, making it ideal for use with a regular-sized tie as these usually measure 3.5-inches in length. These bars clip neatly and easily onto your tie and won't damage the fabric.
Pros
Comes in a pack of three clips
Works well with most ties
Cons
Not made from sterling silver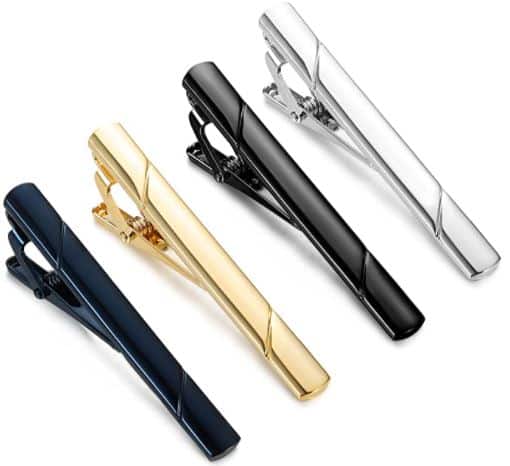 As a fashion brand, Jstyle has its finger on the pulse of what's hot and trending. It is no surprise then that one of their top menswear items is the Jstyle 4 Pcs Tie Clips for Men.
These sleek clips mean business, making them perfect for those fashion-forward businessmen out there. Offering premium quality, remarkable style, and a selection of elegant shades, we can see why men across the globe choose these clips as their go-to accessories.
Specs
Measures the average width of your tie
Simple design
Designed for use with various ties
Durable
Who is it Best for?
Men who enjoy using accessories to upscale their look will enjoy this set of tie bars. If you appreciate variety, then these are for you too. Jstyle includes four clips in this set, each offering the same elegant design but in four unique colors.
There is a silver tone clip and a gold tone clip, both of which pair well with a black tie or a patterned tie.
If you prefer wearing neckties with patterns in shades of blue, the navy blue tie bar will accent these wonderfully. If you like a more contemporary look, the black-tie bar will add an edge to any solid color tie.
This tie tack set makes the ideal gift for any man who has a collection of neckwear that he uses often.
Key features
This tie bar set from Jstyle is made from durable metal. Each clip is well coated to leave it with a dazzling finish that enhances the elegant design on each.
The tie clips each feature a functional spring clasp that keeps them firmly in place without damaging the material of your neckwear. You can be sure that your tie stays put throughout the day.
Each clip measures 2.3-inches in length, making them the perfect size to wear with a normal-sized tie that will usually measure 3.5-inches in width. When wearing a tie bar clip, the rule of thumb is for the bar not to extend further than three-quarters of the way across your tie. Any longer than this and you are sure to gain a few odd looks from your fellow tie wearers.
Pros
Features four color finishes
Comes with a drawstring pouch
Cons
Not made from sterling silver or pure gold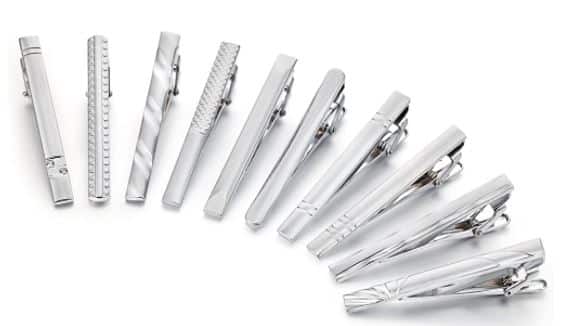 Another Kiss is a jewelry brand that offers various elegant and meaningful designs that expertly complement any outfit. The brand designs premium jewelry for men and women, allowing customers to accessorize their looks with statement pieces.
The AnotherKiss Silver Tie Clip Set for Men is just one of the many sleek men's style pieces they have available. These opulent and masterfully crafted tie bars are the ideal addition to any fashion-forward gentleman's wardrobe.
Specs
Set in a silver tone
Each measures 2.3-inches in length
Made from solid copper
Features a safety spring buckle
Who is it Best for?
If you like variety and are looking for a selection of tie clips, each with a unique pattern, then you've just stumbled across the perfect solution.
Another Kiss offers a men's tie bar set that includes ten different clips. Each clip comes with a dazzling silver tone finish, but that is where the similarity ends. All ten bars offer a different design that range from more intricate styles that pair well with solid color ties to more minimalistic looks that pair well with patterned or vibrantly colored neckwear.
If you seek a thoughtful and functional gift for the man in your life, this is an excellent option. These bar clips add a dash of style to a suit and tie and complement cufflinks and lapel pins. They also make a great change from the usual tie pin.
Key features
Another Kiss fashions their men's tie bars from sturdy solid copper, so you can be sure they are durable and will last you a while. These copper bars are then finished with a sleek and prismatic silver tone that leaves them looking similar to a stainless steel tie bar.
The clips each come with a sturdy safety spring buckle that makes them easy and safe to use. Best of all? They won't damage your clothing or neckties.
These bar clips each measure 2.3-inches in length, a size ideal for wear with a regular 3.5-inch wide tie. We don't suggest you use them with a skinny tie, though, as they measure between 1.5 and 2.5-inches in width, and the tie bar will overextend.
Pros
Comes in a set of ten clips
Each clip features a unique design
Cons
Silver finish may wear off or tarnish with time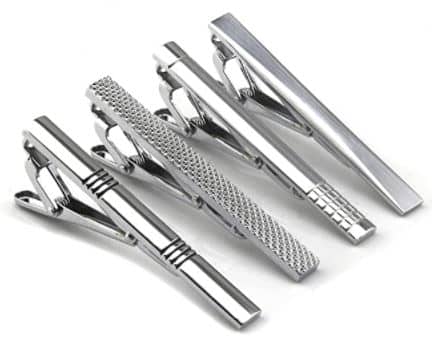 Lystaii is easily regarded as the go-to brand for fashionable accessories. The company offers an expansive range of products such as LED light waterproof shoelaces, hair clips, and menswear accessories. Each product is made with quality in mind and is fashioned according to the latest in style trends.
The Lystaii 4pcs Tie Bar Clip Set caught our attention, offering unique designs and premium quality, all rolled up into one elegant set.
Specs
Each measures 2.2-inches in length
Durable
Includes a spring hinge
Won't damage your clothing
Who is it Best for?
If you're tired of the usual cufflinks and lapel pins, then it is time for a change. What better way to change things up than with a contemporary take on an old classic? This unique men's tie bar set is the ideal way to do just that.
When it comes to men's style, variety is key. If you enjoy being able to select an accessory from a few options, you will enjoy the selection offered by Lystaii. Their men's tie bar clip set features four gleaming silver tie bar pieces, each with their own design. Pair the more intricate designs with a solid color tie to show off the patterning, or match up a more vivid necktie with a more simple design.
Key features
These necktie clips by Lystaii are ideal for a slightly narrower tie or a regular tie. They measure 2.2-inches in length, which means they will cover two-thirds of a traditional tie or three-quarters of a slightly less wide tie.
While these tie bars only come in silver, they do offer an assortment of designs that add a touch of style to their durable nature. They are made to last, offering you years of good wear.
The sturdy spring keeps the clip in place, preventing it from sliding about while also allowing you to clip ties made from thicker fabric neatly. These spring clips won't damage the fabric of your tie, so you can be sure your neckwear is always left looking as good as new.
Pros
Each clip features a different design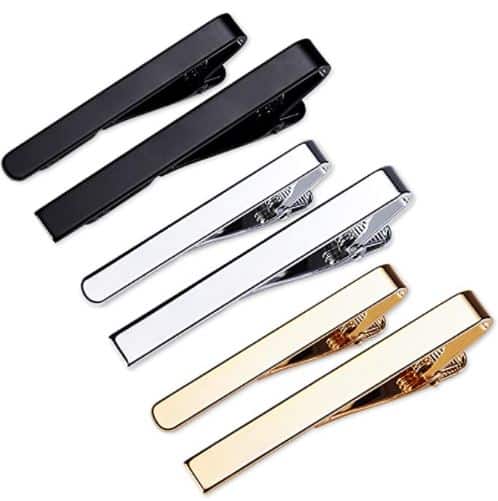 When it comes to clothing, apparel, and accessories, Viaky has your back. The brand offers stylish solutions to completing your look, leaving you looking classy and sleek. Each product is made to provide quality and upscale, fashionable pieces that complement your wardrobe.
The Viaky Necktie Bar Pinch Clip ticks all these boxes and more by providing you with a contemporary way to keep your tie in place and your look on-trend.
Specs
Includes clips with rounded and square edges
Uses a spring-loaded clasp
Clips come in two lengths
Made from copper and then surface plated and polished
Who is it Best for?
If you own a collection of ties that come in various widths, then these tie bars are for you. Viaky offers them in a set of six, three designed for use with narrower ties and three for use with regular neckties. The shorter clips are ideal for use with skinny ties as they measure 2.1-inches in length. The longer bars each measure 2.3-inches in length.
Aside from the size of the bars, you can also tell them apart by the end finish, as the shorter ones come with rounded ends, whereas the longer ones come with a squared-off finish.
If you prefer a more simple, less flashy style, these bar clips are for you. They feature no design, offering a solid, smooth finish instead.
Key features
Viaky makes its men's bar clips from solid copper, so you can be sure they are as durable as they come. Each clasp is then surface plated and polished, leaving them with a vibrant metallic finish that gleams.
The clips come in three colors, black, silver, and gold. This selection makes it simple to find a bar that best suits the tie you are wearing, complementing it while adding just a dash of elegance to round off your look.
These clips will keep your necktie in place, preventing it from flapping about, especially on days when the wind picks up. This way, you can be sure you will always look neat and well kept, instead of appearing windswept and untidy.
A spring-loaded clasp keeps the clips in place, ensuring you always look your best.
Cons
Features no detailed design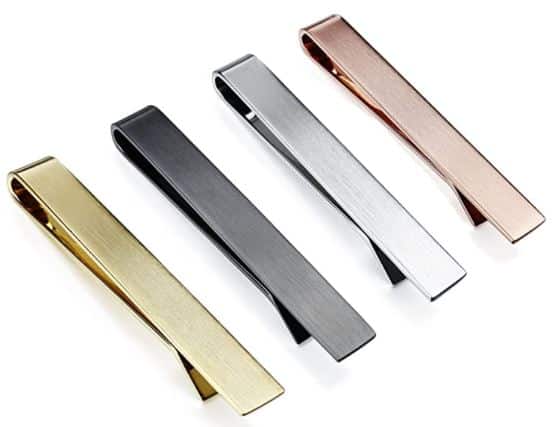 Hawson has a slogan that reads "elegance within reach" and offers insight into the ethos and values the brand favors. Providing customers with quality products that feature expert craftsmanship and upscale designs is what the brand is all about.
Elegance comes naturally with the HAWSON 2-inch Tie Clips for Men's-Skinny Tie Personalized Bars. They are unique because the bars allow for that personal touch that will set you aside from every other tie bar-wearing gentleman around.
Specs
Can be personalized and monogrammed
Measures two inches in length
Made from copper
Comes in a stylish box
Who is it Best for?
If you are on the lookout for a gift for the man in your life that is both functional and stylish, then you've found the perfect solution. This set of tie bars is a dapper addition to any suit and tie combo. These elegant tie bar clips come packaged in a luxurious black box that works well as a gift box and storage space.
If you're the sort of guy who loves monogrammed towels and robes, you will love these. Hawson's offers you the opportunity to have your initials engraved on the end of each bar. The engraved lettering adds a sleek touch to these accessories, and it shows you're a man with great taste.
Personalized bar clips also make ideal gifts for anniversaries and birthdays.
Key features
Hawson's tie clips come in a set of four, with each bar featuring a unique color. The shades you will find include silver, gold, rose gold, and black gun. Each bar comes with a brushed finish that leaves the colors with a matte look that gives a contemporary edge to this classic men's accessory.
Hawsons fashions these bar clips from copper and then surface plates them to give them their metallic look.
These tie bars are shorter than your average tie clip, measuring in at two inches in length. These clips are designed for use with a skinny tie, a style of necktie gaining in popularity with men across the globe.
The bars do not feature any springs or clasps but instead slide smoothly onto your tie to keep it neat and in place.
Pros
Features four unique matte shades
Cons
Should not come into contact with water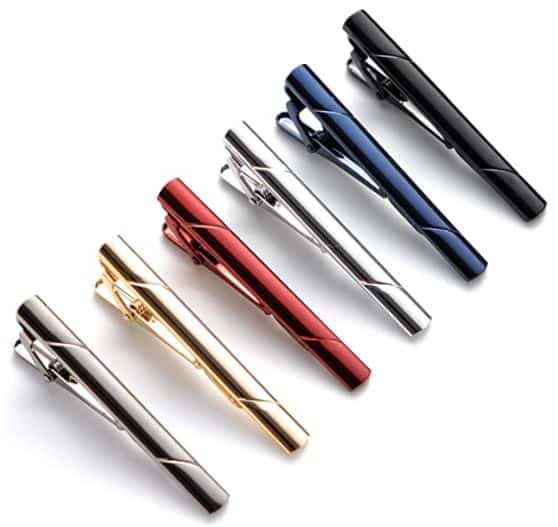 Qimoshi is a Chinese jewelry company that offers unique and beautiful pieces that add a dash of style to any outfit. From earrings and pendants to bracelets and hair accessories, the brand offers it all. Each item is expertly made, offering quality and exquisite craftsmanship.
The QIMOSHI 6 Pcs Tie Clips for Men form part of their men's collection. These sleek and modern suit and tie accessories will elevate your look, leaving you feeling like you have walked off a men's fashion magazine.
Specs
Made from copper that is surface plated
Features a spring-loaded clasp
Measure 2.3-inches in length
Durable
Who is it Best for?
If you are a collector of tie bars, you will want to add this set to your growing selection. These tie clips come in a pack of six, each in a unique color. Qimoshi offers the standard gold, silver, and black, but they also include metallic blue, red, and gunmetal grey in the set.
These trendy bars offer the same design, a simple rounded bar with two diagonal lines that transect it. This style allows the colors to shine and prevents them from being overshadowed by an intricate pattern detail.
If you are looking for a unique and useful gift for the man in your life, for a birthday, Father's Day, or even an anniversary, these bar clips make an excellent option.
Key features
Qimoshi fashions it's men's tie clips from solid copper. The copper is then surface plated with a unique coating that gives the bars their color and improves durability.
Each bar features a spring clasp that keeps the clip in place, preventing it from sliding down your tie, ensuring you always look on top form. These clasps also stop your necktie from flapping. They won't damage the fabric of your clothing, making them a practical option that brings with them great style.
The bars all measure 2.3-inches, making them the ideal length to use in conjunction with a regular-sized tie. These ties often feature a width of 3.5-inches, ensuring the bar clip does not extend over the edge of the tie but instead sits neatly at the two-thirds mark.
Pros
Features six unique colors
Offers a unique patterned design
Cons
Not made from stainless steel
Things to Consider When Buying Tie Bar Clips
When buying tie bar clips there are a few things to consider before making your purchase to ensure you end up with one that is durable and worth your money.
1. Quality
When choosing your new tie bar, you want to ensure that it is of high quality. Taking quality into consideration is essential if you want a clip that looks good and won't bend or tarnish. The best way to ensure you get a premium tie clip is by getting one from a reputable brand.
Besides the brands we chat about in this review, a few others to try are:
Brooks Brothers
Dunhill
Hook & Albert
2. Material
Tie clips and bars are made from an assortment of different metals. Some of these are:
Brass: This material is often used for jewelry and accessories as it is both durable and cost-effective. It is often plated to tint it with other colors such as silver or gold. The only downside to brass is that it can tarnish with time.
Rhodium: This metal is silvery-white and gives off a high shine and sheen. It is also resistant to corrosion, making it a popular metal for jewelry.
Copper: Copper is highly durable and withstands daily wear very well. This metal is often plated to make it look gold or silver. Copper won't corrode, but it does develop a green patina over time that can discolor your skin.
Sterling Silver: Sterling silver is more robust than gold, and it is highly durable, making it an ideal choice for jewelry that you intend to wear daily. A sterling silver tie bar makes a fantastic addition to any man's look.
Gold: Gold is less sturdy than silver, but it won't rust or corrode, and it offers an elegant shine, making it a sought-after material for jewelry making.
If you're looking for an additional accessory to add to your tie and suspenders look, then a tie clip is an excellent choice. While these handy fashion pieces look great, it is always a good idea to invest in the best tie clips you can find.
We hope our reviews have made it simple to find a tie bar that suits your needs. If you're still in doubt, try the Viaky Necktie Bar Pinch Clip. These come in various sizes and an elegant finish that rounds off any look perfectly.