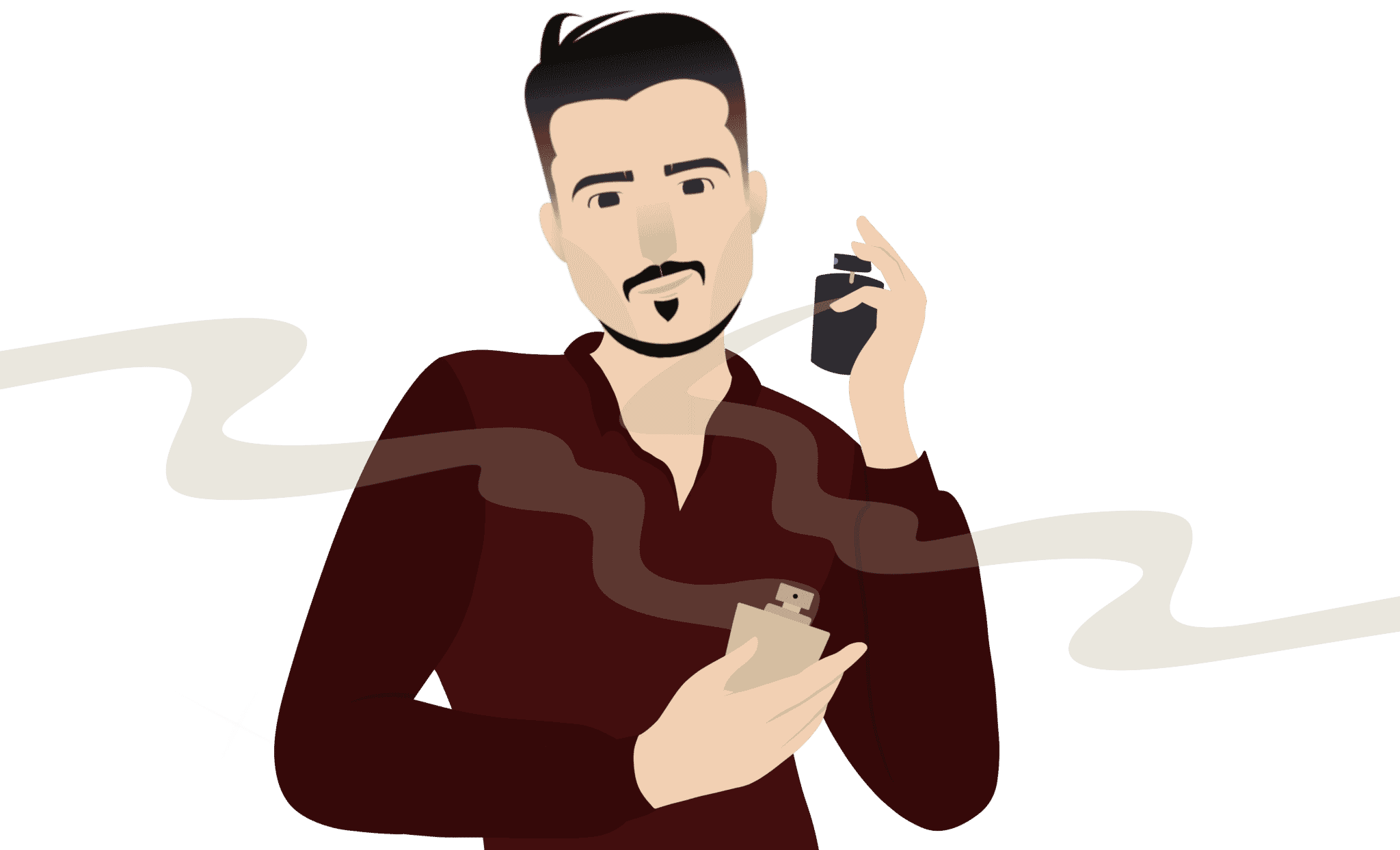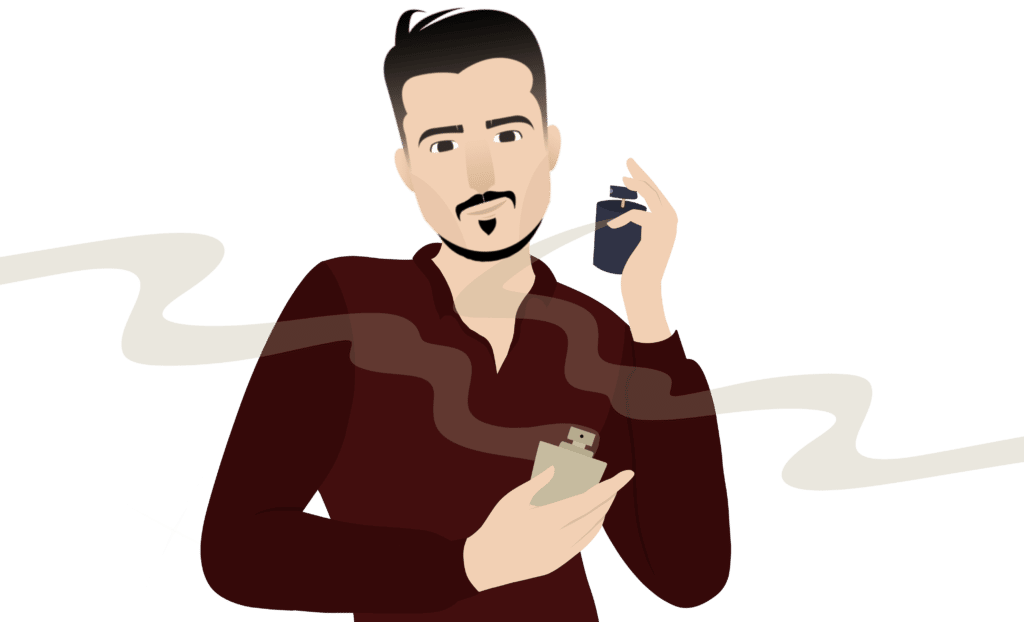 When it comes to heading out on a date, attending a work function, or meeting friends for lunch over the weekend, there is nothing that quite completes a look like a vibrant and alluring cologne. But, with so many to choose from and so many varying scents, finding the right one can get challenging.
The best men's cologne comes in various offerings, Eau de toilette, Eau de parfum, and even solid colognes. Knowing which is which, and what some of the more popular scents out there are will make it simpler to find the right one for you.
To make this world of scents and fragrances a little easier for you to navigate, we have sourced some of the best smelling colognes available and reviewed each of them, so you get a better feel for what each scent offers. Let's dive in!
Best Smelling Men's Cologne
Finding the best cologne is not as simple as choosing something that just smells nice. It considers how long the scent lasts, whether it is better for use during the day or at night, and how sophisticated the fragrance may be. In finding a selection of quality colognes on Amazon, we ensured each offers long-lasting wear, a delectable scent, and is suitable for most occasions. Let's see which ones made the list!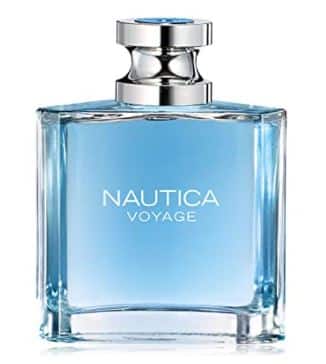 Designer David Chu, who sought to bring a little bit of the ocean into our everyday lives, found Nautica in 1983. The brand offers unique clothing that incorporates elements of the sea into the design, and today, this apparel is sold in over 65 countries.
But Nautica doesn't just offer apparel; they also offer the ideal way to round off an outfit, with an ocean-inspired fragrance: Nautica Voyage By Nautica For Men Eau De Toilette Spray.
Specs
Eau de toilette
Offers a green, woody scent
Top notes: green leaf, apple, mimosa
Long-lasting
Who is it Best for?
If you're looking for a leafy green, fresh scent that is light but present, then this one is for you. It comes in the form of an Eau de toilette, a fragrance not as concentrated as a parfum. This style of scent leaves a lingering scent without being overpowering.
This unique fragrance is ideal for casual wear and makes the perfect daytime cologne. Light and engaging, it offers an aroma that adds charm to any relaxed outfit, putting a stylish note to a casual pair of jeans and a t-shirt.
Nautica offers this cologne in two sizes, a 100ml, and a 200ml bottle, so you always have this mesmerizing scent on hand. The smaller bottle is neat enough to pack in a suitcase, making it the perfect fragrance to travel with.
Key features
Nautica's cologne for men, Voyage, transports your senses to an Oceanside resort with warm, soft sands and fresh fruit platters. The cologne's top notes include green leaves, apple, and lotus, a fruity, fresh blend that tempts and delights. The scent settles to release the base notes of cedarwood, marine notes, amber, and musk. It lingers on the skin as a deeper, more woody scent with hints of green apple.
This crisp aquatic scent is designed to last long, keeping you smelling great for hours after you apply the perfume to your body. The soft blue fragrance comes in a delicate glass bottle with an easy-to-use spray nozzle. A sleek silver lid rounds off the look for a men's cologne that not only smells terrific, but that looks dazzling on your shelf too.
Pros
Offered in 100ml and 200ml
Cons
Not for men who don't enjoy a fresh scent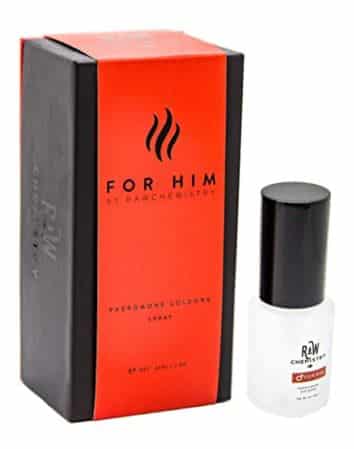 RawChemistry was founded by a family in 2015 to create natural, sustainable products that never compromise on quality and effective in what they do. The brand offers an assortment of sustainably designed face creams, perfumes, and colognes.
One such cologne is the RawChemistry Pheromone Cologne. Claimed to be the best pheromone cologne available, this scent is designed to reignite a spark or start one off with that someone special.
Specs
Alcohol-free
Silicone and BPA free
Uses natural oils and pheromones
Vegan-friendly
Who is it Best for?
RawChemistry is all about natural, sustainable ingredients that work with your body chemistry instead of against it. If you are environmentally conscious or you suffer from sensitive skin, this cologne is for you.
The fragrance is made using only natural ingredients. RawChemistry makes their cologne without using alcohol. This means that the scent won't dry out or irritate your skin. It is also free from silicone and BPA's, so you know it's safe for use on your skin. Better yet, it is vegan-friendly, so you know it is cruelty-free too.
This unusual cologne is excellent to wear on a night out or too casual daytime activities, so if you're looking for an effective scent that you can wear to most occasions, this is a great solution.
Key features
This unique cologne is made not with chemicals and alcohol as most are but instead with a patented blend of scents, oils, and natural human-grade pheromones. This cologne is designed to attract, reignite a spark, or improve confidence.
While it doesn't use manufactured scents, this cologne is not a faint scent at all. In fact, it is quite the opposite, offering a strong, musky fragrance that the ladies love. The oils in this cologne also moisturize the skin, leaving it soft and supple and more able to absorb the scents.
The cologne comes in a stylish white glass bottle with a sleek black lid. This bottle comes elegantly packaged in a gift box that looks great in your bedroom or on a shelf.
Pros
Comes in a three-ounce bottle
Cons
Some may find the scent a little strong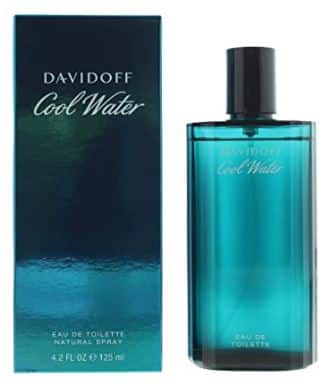 Davidoff is a Swiss-based brand founded and run by Zino Davidoff. Zino places great value on simplicity and the joy derived from enjoying beautiful things. Zino sought to share this zest for life and is renowned today for his timeless products that echo simplicity and great style.
Cool Water By Davidoff For Men is no exception. This unique fragrance is designed for wear by men from all walks of life. The revolutionary scent was first released in 1988 and is still loved by many today.
Specs
Designed for daytime wear
Casual fragrance
Notes include: Lavender, Jasmine, Oakmoss, Musk, and Sandalwood
Offered in various sizes
Who is it Best for?
If you're looking for an iconic scent to add to your collection, this is a perfect choice. Cool Water by Davidoff revolutionized the world of men's fragrance by bringing to the table a light, breezy scent that lingered throughout the day.
Men seeking a vibrant, intense scent will do well with this cologne too. It is striking, vivid, and long-lasting. It offers the perfect way to make a statement without saying anything at all.
Yet, despite its intensity, it is designed to be worn as a casual scent, paired with jeans and a leather jacket. It works well for any daytime occasion, evoking the aromas of the ocean and the coolness of a sea breeze.
Key features
This fragrance's main accords are aromatic, marine, green, lavender, woodsy, and salty. A unique whiff of ocean air as it passes through bushels of wild lavender and driftwood along the banks of the beach.
This aquatic aroma for men sees top notes of seawater, lavender, mint, rosemary, and crisp greenery. It simmers down to middle notes of sandalwood, neroli, and jasmine, before relaxing into the base notes of musk, oakmoss, cedarwood, and amber.
The fragrance offers a moderate sillage or degree to which it lingers. It offers remarkable value for money in that it lasts all day, retaining its masculine notes that delight and inspire.
Davidoff packages this fragrance in a striking teal-blue glass bottle, topped with a sleek black lid that echoes the style and masculinity of the scent itself.
Cons
Not everyone enjoys a lavender-based scent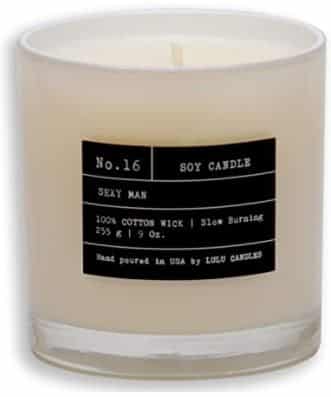 While not exactly a men's cologne, Lulu's Candles offers us a unique take on this well-loved accessory. Offering an assortment of hand-poured scents, these candles add aromas to your home you would expect to smell only out of a bottle of expensive cologne.
Lulu Candles | Sexy Man (Smells Like Men's Cologne) offers you a men's cologne for your home. This unique scented candle will leave your bachelor pad smelling like a bottle of a fragrance house's finest.
Specs
Soy wax candle
100% cotton wick
Strong throw
Slow burn
Who is it Best for?
This modern candle is designed for any man looking to fill his home with the scent of cologne without having to rush about spritzing it throughout the house. It comes scented just like men's cologne, and thanks to its impressive throw, it will leave your home smelling like a high-class fashion house.
The candle is perfect for a bachelor pad, thanks to its minimalistic jar design. A white frosted jar is blank except for a matte black label with a typewriter script that tells you the batch number, fragrance, and candle materials. The label bears a resemblance to those seen on small-batch artisanal whiskeys, gin, and wine.
These candles are offered in a six-ounce and nine-ounce jar, as well as in a pillar format.
Key features
Lulu Candles make their candles from pure soy wax that is known to hold a more concentrated scent. They also offer a more intense throw than your average paraffin wax candle.
These candles come with a 100% cotton wick that provides a slow and even burn. The cotton also prevents the wicks from mushrooming and sparking. The candles burn for up to four hours at a time but burning them for longer than this is not recommended as the glass jar can crack from extended exposure to heat.
Another important aspect of these candles is that they're free from parabens, making them safe to burn around pets and children; just keep them out of reach to avoid any accidents.
Pros
Scented like men's cologne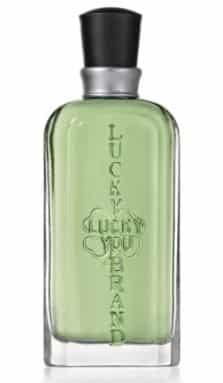 Lucky Brand Jeans was founded in 1990, with the brand focusing mainly on designing and producing denim jeans, outdoor wear, and general apparel. You can find their clothing in stores such as Bloomingdales and Nordstrom.
But, their offerings don't end there. They have also released a scent for men: Lucky You Cologne Spray for Men. This unique scent offers a blend of woody notes mixed in with spicy and green notes.
Specs
Sophisticated scent
Designed for daytime or nighttime wear
Fragrance notes: tamarind, cardamom, and bamboo stem
Long-lasting
Who is it Best for?
This scent is perfect for any man looking for a sophisticated fragrance that wears well on any occasion. It offers a very masculine scent that has a lightness that makes the fragrance ideal for wear for daytime events. The woody notes add a depth to the scent that makes it great for wearing at night too.
Lucky Brand offers this scent as a deodorant, too, so you can match up your fragrances for a greater sillage.
Men who appreciate a larger bottle of fragrance that lasts longer and offers value for money will enjoy this 3,4Fl.Oz bottle of men's cologne.
This scent is designed for men who want to exude confidence and add a touch of finesse and fun to their appearance.
Key features
Lucky Brand offers a woodsy scent that blends in greens and spices that leaves you with a fresh, exotic scent that is striking and clean.
The fragrance's main accords are woody, green, warm spicy, fresh, and a light touch of floral.
The fragrance offers top notes of tamarind, grass, and florals that bring an intriguing spicy element to the scent. The middle notes that come in once the top notes have settled are those of cardamom that brings an exotic richness that brings depth to the fragrance.
The base notes that linger throughout the day are Bamboo stem, teakwood, and Brazilian Rosewood. These notes round off the scent with a deep, masculine woodiness that is as sensual as they come.
Pros
Also offered in a deodorant format
Comes in a 3.4Fl.oz bottle
Cons
Not for use on dry, cracked skin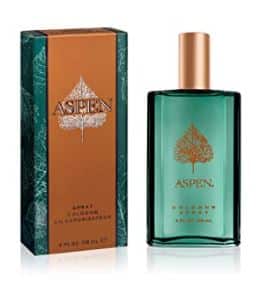 Coty was founded in 1904 by Francois Coty. The brand offers luxury and consumer products that span skin care cosmetics and fragrances. As a leader in beauty products, Coty has a mission, "to challenge the definition of beauty, to encourage authenticity and celebrate diversity."
This brand's repertoire includes men's fragrances, one of which happens to be Coty Aspen for Men Cologne Spray. An Aromatic Fougere fragrance for men, this fresh, clean scent is the ideal addition to any fragrance collection.
Specs
A spicy, outdoorsy scent
Fragrance notes: spicy, lavender, amber, woods, and citrus
Great for daytime wear
Long-lasting
Who is it Best for?
Men who are looking for a fresh daytime scent will enjoy this unique fragrance. It is designed to be worn as a casual day scent and is most appropriate for spring and summer use.
There is nothing more frustrating than buying a fragrance spritzing it on, and within an hour, the scent has all but faded. If you're tired of struggling with this, then this men's cologne by Coty is just what you need. It offers a long-lasting sillage and will keep you smelling great throughout the day.
This unique scent is offered in a 3.4Fl. Oz bottle that makes it well worth the price. Coty offers exceptional value for money by providing customers with a relatively large amount of fragrance at a cost that won't break the bank. When it comes to quality for money, this is it.
Key features
Coty's Aspen for men features fragrance notes that echo its rather apt name. The cologne's main accords are aromatic, woody, fresh spicy, green, and citrusy.
The scent begins with top notes of bergamot, lemon, Galbanum, and green notes. These fresh, light citrusy scents soften to the middle notes that see elements of lavender, juniper, geranium, cyclamen, coriander, orange blossom, and jasmine.
The floral middle notes finally rest, giving way to woody base notes that include balsam fir, cedar, oakmoss, musk, and amber.
This cologne gives rise to a clean, fresh scent that harkens to the fragrances of lush pine forests associated with the ski slopes of Aspen.
Coty launched this scent for men in 1989, and since then, it has remained a firm favorite. If woodsy is your vibe, this is one to try.
Pros
Softens to a smokey, woodsy scent
Cons
Not to be used on dry or irritated skin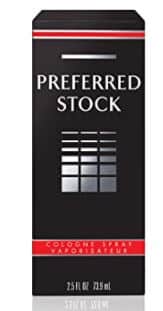 Stetson is a subsidiary of Coty. Stetson is committed to creating bold, timeless scents that evoke the true style and spirit of men the world over. A brand that holds its own against the likes of Calvin Klein The One, Jean-Paul Gaultier, Gucci, and Acqua di Parma, this scent is made for men with passion and style.
The Stetson Preferred Stock Cologne Spray for Men offers a strong masculine scent that mingles with your pheromones to leave you with an alluring fragrance of your own.
Specs
Fragrance notes: sandalwood, vetiver, and citrus, with notes of fir resin, sage, leather, and musk.
Long-lasting
Can be used for day or nightwear
Considered a classic scent
Who is it Best for?
When it comes to fragrances, there is a wide variety to choose from, some more fruity, others more floral; then there are those that are fresher. If you are looking for a woodsy scent, then this is a great one to try.
If you want an undoubtedly masculine fragrance, then you, too, should give this cologne a try. It is the epitome of a manly scent that inspires confidence, passion, and drive. Considered a classic and timeless fragrance, this men's cologne is the perfect addition to any fragrance collection.
The moody blue bottle with a sleek black lid makes an excellent piece to put on display too. The 2.5Fl.Oz spray bottle is the ideal size to travel with, so if you constantly travel for work, this fragrance is perfect for taking along with you.
Key features
Preferred Stock for Men was released by Stetson (Coty) in 1990. Loved by men across the globe, this cologne is known for its long-lasting sillage and impressively strong scent.
The cologne's main accords are woody, aromatic, and fresh spicy rounded off with a touch of musk.
The top notes of the scent see cypress, lavender, and citrus, starting it off light and fresh.
Middle notes blend down to elements of balsam fir, Clary sage, and nutmeg that bring in the more woody, spicy tones.
The fragrance, with time, settles to base notes of musk, leather, resin, amber, oakmoss, sandalwood, vetiver, and patchouli. It is these deep and complex woody scents and, in particular, the earthy notes of vetiver that give this cologne its woody staying power.
Cons
The packaging is not always top quality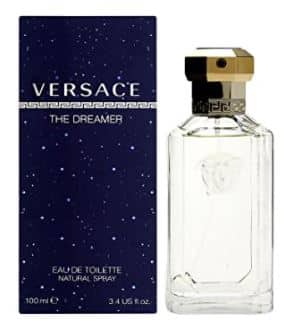 Gianni Versace founded the company named for him in 1978 in Milan, Italy. A symbol of Italian luxury, the fashion house designs and manufactures lifestyle and fashion products. Among these products are haute couture, eyewear, jewelry, homeware, and fragrances.
The Dreamer by Versace for Men is just one of Versace's knockout fragrances in their men's line. A unique floral scent for men, it offers a richness and refinement that speaks of quality and timelessness.
Specs
Eau de toilette
Long-lasting
Fragrance notes: juniper, mugwort, and tarragon
Launched in 1996
Who is it Best for?
If you enjoyed Versace Eros, then you will want to give this unique scent a try. One of the best smelling men's floral colognes, this stand-out fragrance offers more than the usual woody notes we expect from men's cologne.
Men looking for a year-round scent should give this one a try; it is perfect for all seasons and wears well as both a daytime and nighttime fragrance. It combines a powdery note with that of tobacco flower as its heart notes, making it light enough for daywear but alluring enough to work for evening occasions too.
The appeal of this scent also lies in the idea that it could be considered a unisex fragrance. However, many feel that it does err on the side of the masculine, giving it a strong element of intrigue.
Key features
Designed for men, this fragrance brings with it a sense of refinement and timelessness. In a world saturated with citrusy and woodsy men's colognes, this floral scent offers a unique experience.
The Dreamer's main accords are white floral, aromatic, iris, amber, powdery, and fresh spicy.
This unique cologne sees top notes of juniper, tarragon, and artemisia. These fresh scents soften down to the middle notes of iris, lily, and flax. Three heady florals bring with them an alluring and sophisticated bouquet.
The cologne finally settles to base notes of tobacco blossom and amber. It is the tobacco blossom that lingers, lending the fragrance its powdery notes.
While some may feel it is a little too flowery for men, others find it immensely appealing. If you're looking for something new, give this scent a try.
Pros
Comes in a 3.4Fl.oz bottle
Cons
Not everyone will enjoy the powdery scent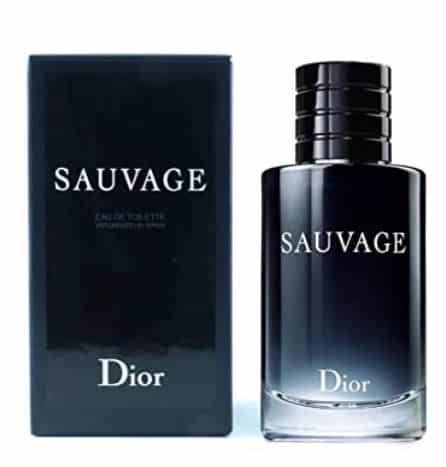 Christian Dior is a luxury French fashion house founded in 1946. The brand is known for its unique offerings in the world of haute couture, homeware, makeup, skincare, and fragrance. Christian Dior is responsible for mentoring other well-known fashion greats such as Yves Saint-Laurent, and it is no surprise that his classic takes on men's fragrance are loved the world over.
Dior Sauvage for Men, Eau de Parfum Spray, is a modern fragrance by Dior. It offers a scent that has been described as "fresh, raw, and noble."
Specs
Eau de parfum
Fragrance notes: bergamot, vanilla, and Ambroxan
Great nighttime scent
Exotic and spicy
Who is it Best for?
If you want a signature scent inspired by the wilderness, this is it. Sauvage is inspired by wild, open spaces and the arid desert as twilight descends, cooling the scorching sands.
Dior designed this scent to be both long-lasting and versatile. It offers a sillage that lasts throughout the day. This men's cologne is ideal for year-round use and doesn't box itself into just one season. The notes of this men's fragrance make it suitable for daytime use and for wearing to nighttime events.
Suave and mysterious, it lends the wearer a sensuality and allure that keeps people guessing while delighting their senses.
If you don't mind spending slightly more on your cologne, then give this one a try. Being from a luxury brand, it will cost a little more but is well worth it.
Key features
Designed to evoke the sensual, the mysterious, and to give the wearer an air of charm, this fragrance comes with a unique bouquet that borders on oriental.
The cologne's main accords are fresh spicy, citrus, amber, musk, lavender, and vanilla. This sophisticated blend has a warm spiciness to it that lingers and entices.
The scent sees a top bergamot note. This fresh, citrus note settles to mid notes of Sichuan Pepper, lavender, star anise, and nutmeg that bring through the spicier notes that add warmth to the scent. These middle notes eventually simmer down to reveal the base notes of Ambroxan and vanilla.
This masterful men's cologne is both vibrant and robust, making it the ideal scent to lead you from day into night, all you need is a light spritz.
Things to Consider When Buying Men's Cologne
When it comes to deciding on which is the best men's cologne, things can get challenging. Many factors will influence your final decision, things such as when you want to wear your cologne, how strong you want the scent to be, how long it lasts, and most importantly, what fragrance notes you prefer.
1. Fragrance Notes
We can sort the fragrance notes of cologne into two main components: The notes themselves and their place in the scent.
Colognes usually have three "layers" to them:
Top Notes: These are the lightest notes of a fragrance, the ones you usually smell first.
Middle Notes: These notes develop a little bit after the top notes. We usually consider middle notes as the heart notes as these last longer and offer a more intense scent.
Base Notes: These notes are the ones you experience once the fragrance has dried and settled onto your skin. It is these notes that linger throughout the day and leave a lasting impression.
Understanding this hierarchy of scents makes it simpler to choose the right cologne for you because you can more easily see which aromas of the fragrance will last.
Fragrances each offer a bouquet of scent notes, yet each will offer a more prominent scent. This aroma is created by compiling particular notes together. Let's look more closely at the different notes and what elements are used to create them:
Fragrances each offer a bouquet of scent notes, yet each will offer a more prominent scent. This aroma is created by compiling particular notes together. Let's look more closely at the different notes and what elements are used to make them:
Citrus Smells: These are relatively self-explanatory, and you can find notes such as grapefruit, lemon, verbena, bergamot, and lemongrass in citrusy colognes. A great citrusy cologne to try is Bleu de Chanel by Chanel, Polo Red by Ralph Lauren, or Armani Code by Armani.
Greens, Herbs, and Fougeres: A "green" note usually refers to that fresh, crisp scent that comes with a freshly snapped plant or newly cut grass. Some of the notes used for these fragrances include artemisia, clary sage, juniper, and tarragon. Pour Homme by Paco Rabanne is an excellent aromatic or herbal scent.
Woods and Mosses: Woody notes are dependable and add depth to any scent. They are particularly favored when creating men's fragrances. Some woodsy notes include Oud, vetiver, sandalwood, and oakmoss. Byredo by Byredo is another great woody fragrance to try, as is Oud Wood by Tom Ford.
Spice Smells: Spice notes often add warmth to a scent. Some of the more common spice notes are pink pepper, black pepper, tonka bean, and vanilla. Popular warm, spicy colognes include L'Homme by Yves Saint Laurent or The One by Dolce & Gabbana.
Floral Smells: Florals are often more common in women's perfume but sometimes appear in men's cologne. Some of the more common notes you may find include Tobacco blossom, mimosa, and lavender. A great scent for men that incorporates a rose scent is Burberry Brit for Men by Burberry.
Fruity Smells: These are often used for lighter, daytime fragrances. Some notes you can expect include apple, winterberry, and pineapple. A great fruity scent is Mont Blanc Legend by Mont Blanc or Aventus by Creed.
Other notes you may encounter are leather notes such as suede, gourmand notes such as chocolate, and Resins and balsam notes such as myrrh and incense.
2. Wearability
Decide whether you want to wear your cologne as a daytime scent, as a fragrance for nighttime events, or if you want one that works well for both. Not all colognes come created for use for both, so it is vital to find out when the cologne is best used. Some fragrance houses will also design their cologne for wear during a specific season, with lighter notes being more attuned to wear in summer and more heady notes for winter.
3. Sillage and Strength
You will want to check the sillage or the amount of time a fragrance lingers after being applied. You don't want to get a cologne that disappears after an hour of wear. You also don't want a scent that causes people to sneeze as you pass them in the passageway. Reviews are a great way to find out the strength and sillage of a cologne.
When it comes to finding a scent that appeals to you, it is essential to do your research. Reading up on the different scent notes, giving thought to which of them you want to smell throughout the day, and also that you want others to associate with you is important.
We hope our reviews have made things a little simpler, and if you find yourself in doubt, go and have a sniff at your local fragrance store before buying a scent online.