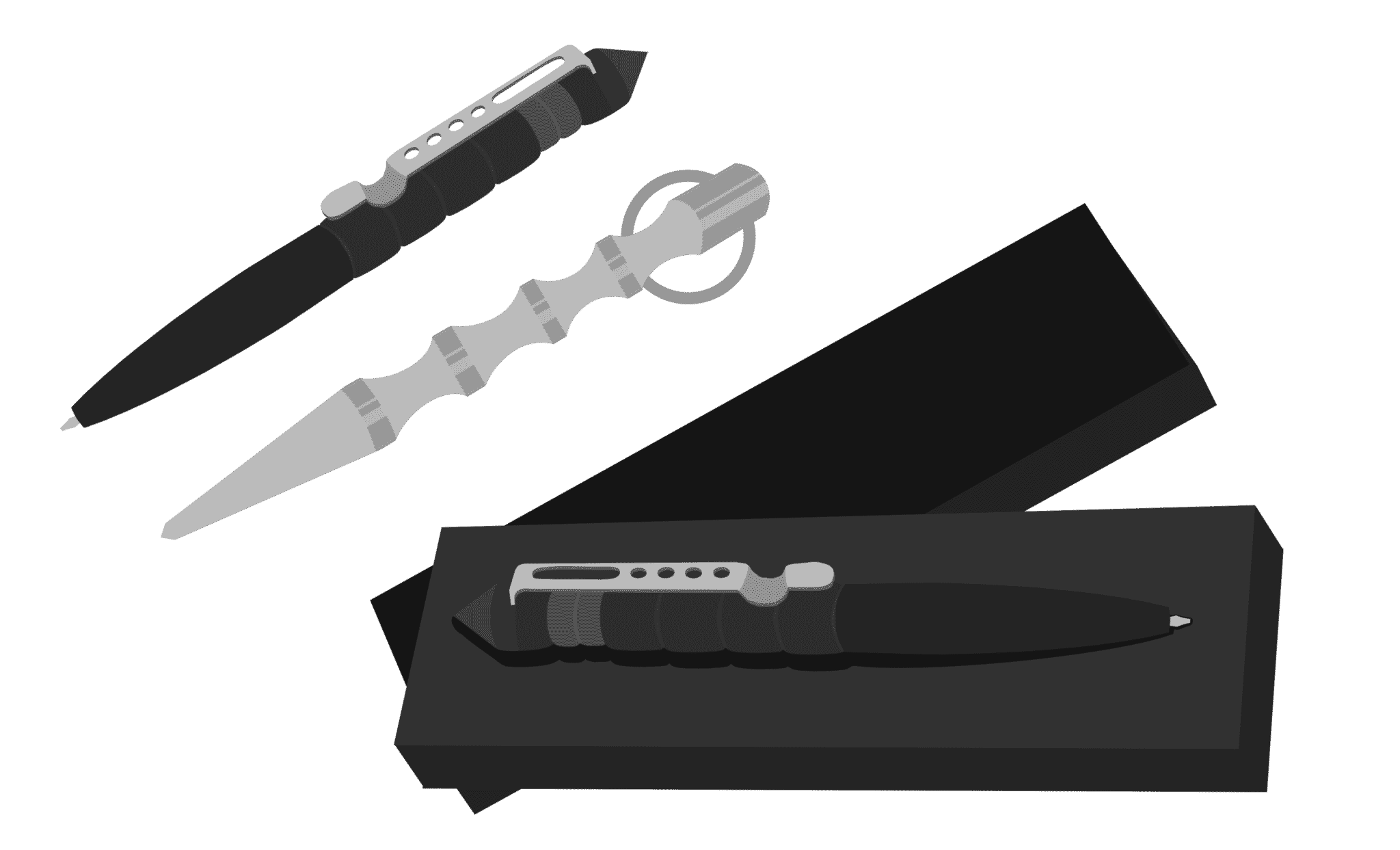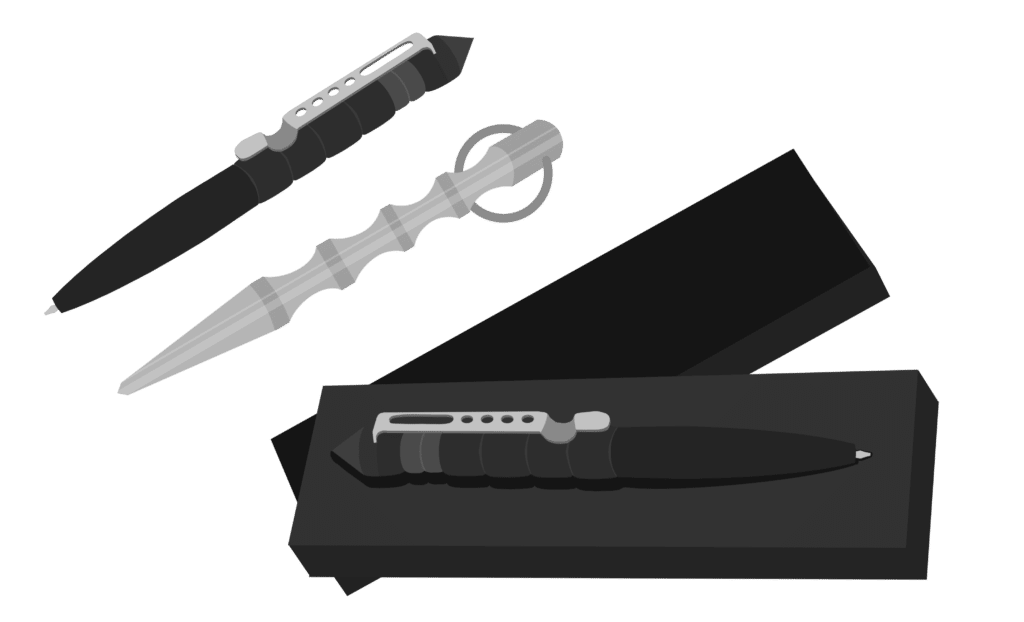 Perhaps you are heading out on a camping trip and need a survival tool for additional protection. Or maybe you are a law enforcement official who needs a tool to help you break a car window to rescue a person in an automobile accident. A tactical device that is small and easy to wield is your best bet.
An excellent solution is the best tactical pens you can find. They blend well with daily accessories, making them discreet, and offer a way to protect yourself in an emergency. These pens are multi-functional, working well as a writing utensil, so you are prepared for anything no matter where you go.
The only unfortunate thing about the many tactical EDC pens is that they're not all made the same. Not all offer a high-quality design or are made from premium materials. Keeping this in mind, we have gathered a selection of the best tactical pens on Amazon and reviewed each of them. These Amazon reviews are intended to make it simpler for you to find a self-defense pen that best suits your needs.
To find the best tactical pens on Amazon, we first did our research by chatting to various law enforcement, EMS officers, and individuals trained in tactical defense. We spent time finding out what makes the perfect EDC pen and what features it should have. Each of the pens on this list offers high-quality functionality, durability, and strength, offering you a selection of the best tactical pens.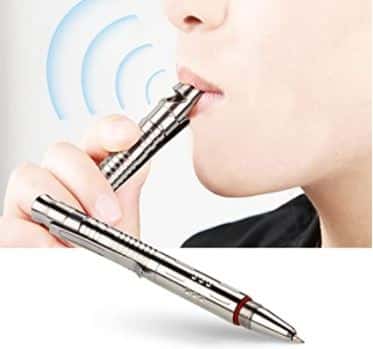 SmootherPro is a brand that specializes in tactical and survival equipment, and more specifically in tactical pens. Once something we only ever saw in spy movies, these pens have fast become a defense tool that is efficient but that doesn't carry the same bearing as a gun or knife.
These pens are ideal for everyday carry. They are lightweight and offer great dual functionality. (yes, they work very well as a regular pen) The SMOOTHERPRO Stainless Steel Tactical Pen with Whistle and Clip is one of the handy writing tools this brand has to offer.
Specs
Made from stainless steel
Glass breaker tip
Includes two ink refills
Comes with a survival whistle
Who is it Best for?
This pen is ideal for men looking for a way to keep their wives, daughters, girlfriends, or sisters safe. They are lightweight, easy to carry, and feature a built-in whistle that makes catching a passersby's attention quick and straightforward. This pen is also not hazardous to carry in your handbags, such as a knife or a gun, and it looks inconspicuous too.
Men who often go jogging or camping may find these pens helpful. Because they are small and store well in a pocket and clip onto a shirt or vest, these pens can go with you on any adventure. The whistle is ideal for scaring off unwanted animals that may enter your campground.
Key features
SmootherPro fashions these pens from durable stainless steel. This steel body is resistant to rust and corrosion, making it ideal for use under any weather conditions.
Multiple features offered by this tactical pen include a ballpoint pen, a glass breaker for emergencies, and a survival whistle. These features make the pen the perfect tool to have in a fire, a flood, or in an attack.
Included with the pen are two ink cartridge refills. Both the cartridges and the pen are leak-proof, so you won't experience any spills and risk ruining your favorite shirt.
A steel pocket clip makes attaching the pen to your shirt or pocket easy and keeps it in reach should you ever need it in an emergency.
Cons
Ink may not last as long as you would like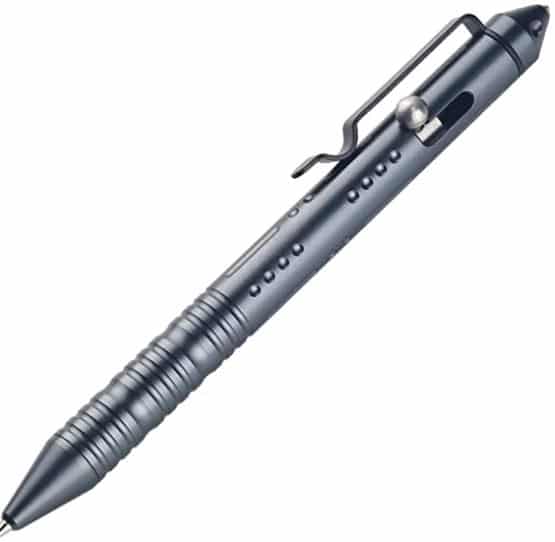 SmootherPro's tactical pens are a great line of self-defense and, because they work well as proper pens too, they offer daily use instead of being a tool you may use once in a lifetime. This dual-functionality makes these pens well worth your hard-earned money.
The SMOOTHERPRO Tactical Bolt Action Pen with Tungsten Tip 3 Colors EDC Pocket Military Design is a military-grade tactical pen that offers you an exceptional writing tool that may also save your life.
Specs
Made from aircraft-grade aluminum
Comes with a pocket clip
Tungsten tip
Uses Parker pen refills
Who is it Best for?
Men who would like a tactical survival tool that provides a sense of safety and security will do well to give one of these pens a try. They offer a range of features that help keep you safe in various situations.
Whether you become trapped in a car or someone else does, you can use this pen to break a window to create an escape route. The pen is also ideal for instances where you are being attacked and need to cause pain to your attacker (without causing grievous bodily harm), providing you with a moment to get away.
SmootherPro offers this pen in three unique shades, grey, black, and rose gold, so you can present them as gifts to friends, co-workers, or family, ensuring everyone you love remains safe.
Key features
SmootherPro makes this versatile tactical pen from indestructible aircraft-grade aluminum. The pen is lightweight but is also well-balanced, making it easy and comfortable to hold.
Pen refills from brands such as Parker, Schneider, and Fisher Space Pens are compatible with this writing tool, making it simple to find refills as and when you need them.
The pen's tactical side sees a range of helpful features that include a Tungsten tip that can be used as a glass breaker and a bolt-action mechanism.
An extra-strong pocket clip keeps the pen in place on your collar or in your pocket, even in a scuffle, so you can reach this instrument with ease and not have to worry about it falling and getting lost.
Pros
Includes a bolt-action mechanism
Well-balanced and simple to hold
Cons
Does not include a built-in flashlight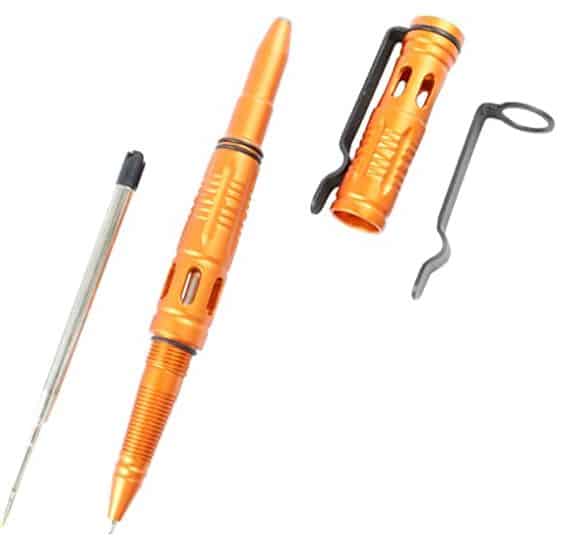 HuntDown is a brand that offers an assortment of tactical self-defense tools, knives, medical and surgical equipment, hunting, and tactical gear. The brand is dedicated to providing its customers with premium quality tools and gear that make life simpler and safer.
The Hunt-Down New 6″ Orange EMS Tactical Pen for Self Defence with Glass Breaker was initially designed for emergency services workers and first responders. Still, today it is available for use by the public too.
Specs
Ideal self-defense tool
Six-inches in length
Includes a glass breaker
Works as a ballpoint pen
Who is it Best for?
Firefighters, EMS workers, first responders, law enforcement, and even first aid kits can benefit from having one of these handy tactical pens. They provide a safety device at the tips of your fingers, making it more straightforward to navigate an emergency. These pens can be used as a line of defense or can assist in breaking windows to help create an escape route for trapped individuals.
If you are looking for a multi-functional gift, you've just found it. The pen works well as a writing utensil and as a self-defense tool, and better yet, it comes in a stylish gift box, making it perfect for giving to a friend, family member, or even a colleague for a birthday or special occasion.
Key features
This tactical pen makes an ideal self-defense tool as it comes with a glass breaker on the one end, making it easier to inflict pain on a would-be attacker, giving you time to escape. The glass breaker also breaks the glass, so you can remove windows if need be.
The vibrant orange shade of the tool makes it quick to find in a moment of panic or trauma and is easily seen in the dark.
Included with the pen is a medium ballpoint pen ink cartridge that allows you to use the tool as a proper pen, too, keeping the survival tool discreet and inconspicuous.
The six-inch pen also comes with a sturdy pocket clip that allows you to keep it on your person at all times.
Pros
Offers dual-purpose functionality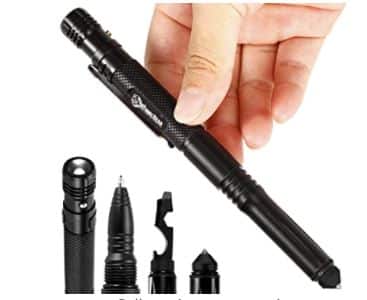 The Atomic Bear comes with the slogan "Prepare to Survive," a statement backed up well by their unique multi-faceted defense pens and knives, medical pouches, and seed packs. This brand's ethos is to leave its customers prepared for anything by providing them with premium quality survival tools and tactical gear.
The MTP-6 Tactical Pen – Multi-tool – Self Defense for Women & Men by Atomic Bear is one of many stellar products offered by this forward-thinking brand.
Specs
Includes a range of EDC tools
Includes an LED flashlight
Made from aircraft-grade aluminum
Features a bottle opener
Who is it Best for?
Men who appreciate a tool so well made that it comes with a lifetime warranty will approve of this durable pen. It offers a warranty of this kind, showing the brand is happy to stand by its offerings.
If you spend a lot of time outdoors or are an avid camper, this tactical device is for you. Atomic Bear includes an LED flashlight as part of the pen's design, making it simple to see at night when darkness falls.
This light also comes in handy for law enforcement or EMS workers who work around the clock, often at night, and need a torch for certain situations and emergency rescues.
The flashlight offers a remarkable brightness of 130 lumens, making it perfect for flagging down traffic should there be an automobile collision.
Key features
Atomic Bear creates these tactical pens with aircraft-grade aluminum. This material allows the pens to be durable and sturdy while keeping them lightweight and easily portable.
A tungsten ultra-hard tip transforms the pen tip into a glass breaker that is ideal in situations that require a window to be broken to initiate an escape.
A stainless steel pocket clip allows the pen to attach neatly to your clothing, preventing it from coming loose or getting lost. It also makes it easy to retrieve the pen in an instant.
Although you cannot use this tactical pen as a stylus, it works well as a writing tool. Included with it are three black ink cartridge refills and four sets of batteries that keep the flashlight powered.
Pros
Comes with three ink refills
Ideal for any self-defense situation
Includes a lifetime warranty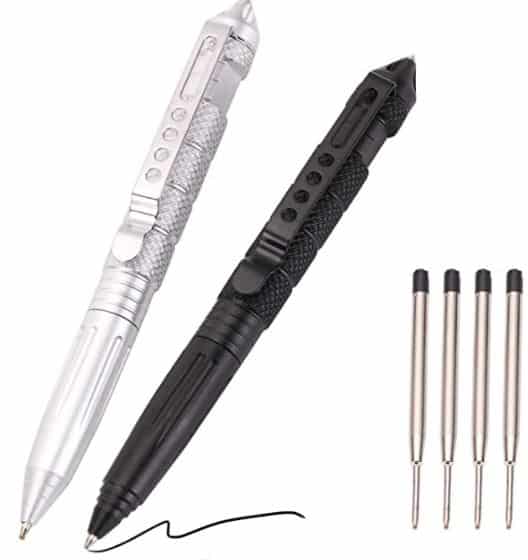 Yizerel is a lifestyle brand that designs and manufactures various products from swimming goggles and clothing to plug connectors and tactical pens. The brand is dedicated to supplying its customers with tools for daily life that offer impressive quality and style.
The 2 Pack Military Tactical Pen Set by Yizerel makes it simple to stay safe and get your work done simultaneously. This duo of tactical pens offers remarkable dual functionality.
Specs
Aerospace grade aluminum body
Tungsten steel tip
Easy to grip
Offers great durability
Who is it Best for?
If you're looking for a pack of two tactical pens, one for at home and the other for the office, or one for you and one for a friend, then you've just found the ideal pair. Yizerel offers their pens in a pack of two, and you can choose between a set of silver and black or gold and grey. No matter what your preference is, you're bound to find it here.
Whether you are an EMS official, a firefighter, or a law enforcement officer, these tactical pens are handy. They allow you to navigate tricky situations and keep you protected.
If finding a decent pen that comes with ink refills is a challenge for you, then you have just found a great solution. This tactical pen comes with six ink cartridge refills, keeping you stocked up on ink for months to come.
Key features
Yizerel's tactical pens are fashioned from aerospace-grade aluminum. What this means is that these pens are durable, sturdy, and forceful. They are built to last and won't let you down when you need them most.
The tip is made from tungsten steel that offers a hard point that works well for breaking glass in an emergency. It also packs a punch should an attacker attempt to cause you harm.
The pen is designed to look and feel like a normal everyday pen, keeping its tactical use discreet and making it easier for you to keep yourself protected.
A non-slip thread design on the body of the pen makes it easy to grip so that it doesn't slip out of your hand when in use.
Pros
Comes in a pack of two pens
Includes six ballpoint refills
Cons
Does not include a bottle opener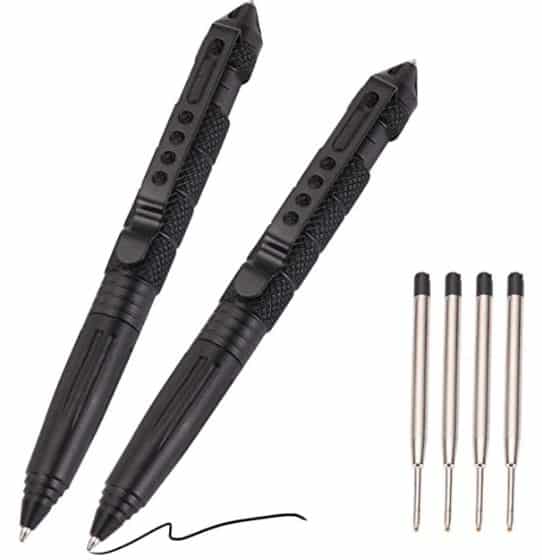 Fpxnb is a brand that offers it all, from golf club brushes and cigar cutters to PS3 controller chargers and reading lamps. While they don't focus on one specialized niche, the brand assures its customers that each product offers high-quality materials and craftsmanship.
Of all the products they offer, it was the 2 Pack Military Tactical Pen Set by Fpxnb that caught our eye. This set of survival pens ticks the boxes of style and durability, not to mention functionality.
Specs
Tungsten steel tip
Aerospace grade aluminum body
Non-slip thread design
Includes a glass breaker
Who is it Best for?
Men who work in an environment where it is impossible to carry heavy-duty weaponry such as guns or knives, or perhaps you don't want to own a gun or a knife but would like something to assist you should you be attacked, will benefit from these tactical pens.
They are designed to look discreet by working as an actual pen; however, they also offer tactical features that help you in various emergencies.
These writing devices come in a pack of two, so you can keep a spare on hand or gift the second one to your wife, mom, or sister to keep them safe. Both pens come in a sleek matte black that is not flashy and won't draw attention.
Key features
A tungsten steel pen tip transforms this device from being a mere pen to a glass breaker instantly. This sturdy material makes breaking through glass windows and panels quick and straightforward, a helpful tool to have in an emergency. Whether you or someone else is stuck in a building or a vehicle, you can get them out safely.
The pen's body is fashioned from aerospace-grade aluminum, so you can be sure the pens are sturdy and built to last.
A non-slip thread design covers the body of the pen in a unique textured surface that makes it easy to grip no matter how sweaty or wet your hands are.
Included in the set are six ink cartridge refills, so you can use your pen daily as a typical writing utensil, making it well worth your money.
Pros
Includes six ballpoint refills
Offers impressive durability and functionality
Cons
Only comes in matte black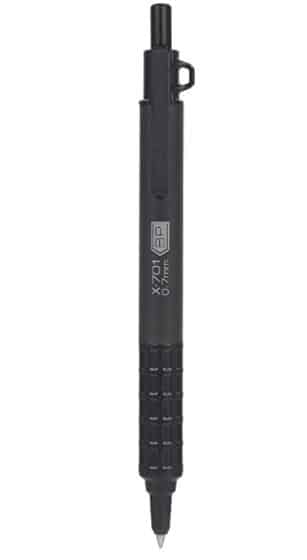 Zebra is a brand that focuses on designing and manufacturing a vast assortment of writing tools that range from calligraphy pens to highlighters, ballpoint pens to gel pens, and even technical and tactical pens. The brand focuses on crafting quality writing utensils that offer quality and durability.
The Zebra Pen X-701 Tactical Ballpoint Pen with Bonus Refills combines the usual pen uses with self-defense to offer you a daily tool designed to keep you safe.
Specs
Matte black stainless steel barrel
Works in extreme weather conditions
Includes heavy-duty plastic features
Pressurized barrel allows for writing upside down
Who is it Best for?
If you're looking for a pen that gets the job done, then you've found it. Zebra is known for its high-performance pens that offer smooth, fluid writing and quality ink.
Men looking for a well-disguised self-defense device will enjoy this survival pen. It looks and works like your typical ballpoint pen but offers great functionality as a tactical tool too.
This writing utensil's design makes it ideal for use by men who enjoy spending time in the great outdoors or those who work with emergency services. The pen is designed to work efficiently under any weather conditions and can withstand temperatures as low as -30 degrees Fahrenheit and as high as 250 degrees Fahrenheit. So whether you are working in proximity to a fire or the snow, you can be sure your tactical pen will work.
Key features
Zebra's tactical pen is certified as military-grade and is even military-grade drop tested. The body of the pen is fashioned from a durable stainless steel barrel that is resistant to rust and corrosion. A matte black finish on the pen ensures it is non-reflective and that it won't draw attention, making it easier for you to use in an attack.
The pen comes with heavy-duty plastic elements five times more durable than typical plastic parts you would expect to find on a pen.
When writing with a pen, you will find that using it at an unusual angle or upside-down results in a reduced or non-existent ink flow and causes your pen to stop working. Zebra has used unique technology that results in a pressurized barrel ensuring this is not the case with their tactical pens. Use them at any angle you wish and still achieve great results.
Pros
Comes with a textured metal grip
Cons
Does not include a flashlight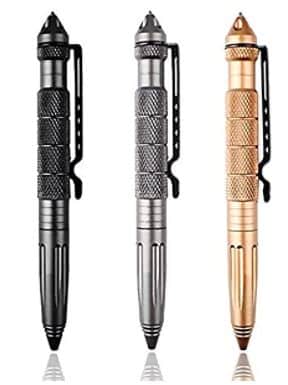 Axmerdal is a brand that predominantly designs and manufactures jewelry of all shapes and styles. The brand offers stylish pieces expertly crafted from premium materials. However, it is not just brooches and bracelets that they offer.
The Pack of 3 Aircraft-Grade Aluminum Defender Tactical Pens by Axmerdal is another of the brand's impressive products that offer style and remarkable functionality. These pens look sleek and high-end, but they offer a self-defense feature that no one would suspect.
Specs
Aviation aluminum barrel
Tungsten steel tip
Diamond thread design for grip
Manganese steel holder
Who is it Best for?
If you are looking for a tactical pen that looks more like a premium quality ballpoint pen, then you have found the perfect solution. Axmerdal offers its tactical pens in a design that looks as though the pen is nothing more than a sleek and elegant writing tool crafted by a jeweler.
The brand offers this pen in a set of three, with each pen in a unique shade that includes black, silver, and rose gold. Because the pens come in a set of three, you can have one in multiple locations, such as at home, at the office, and in your car, or you can gift the extras to friends and family. The differing shades make it easy to tell which pen belongs to whom.
Key features
Axmerdal fashions their Defender Tactical Pen from aircraft-grade aluminum, making the tool hardy, sturdy, and long-lasting.
A tungsten steel head makes breaking glass in an emergency quick and straightforward, allowing you to tend to the emergency at hand.
The diamond thread on the pen's body creates a unique texture that looks elegant and provides a grip that allows you to hang onto the pen when you become sweaty or start to rain.
A manganese holder clips the pen onto your shirt or pocket, so you have it on hand when you need it most without having to worry about it slipping off or becoming lost.
These survival pens are favored by the Navy Seals, SWAT, and law enforcement, which means they are the ideal way to keep yourself safe.
Pros
Works well as a writing instrument
Cons
Does not include a tactical flashlight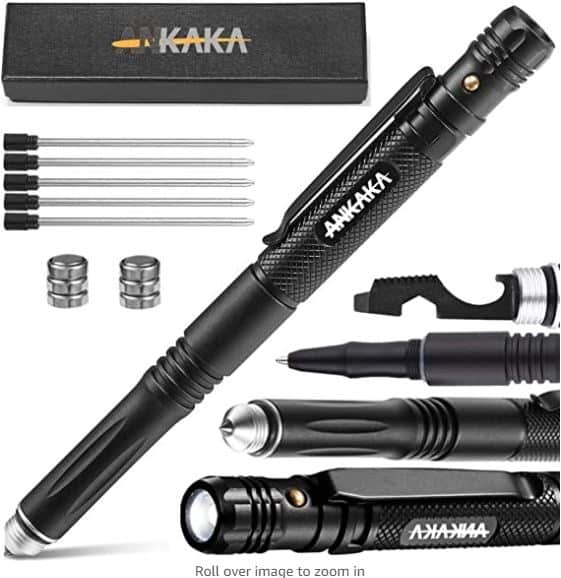 Ankaka is the self-proclaimed leading maker of tactical pens, and we would tend to agree. The brand offers heavy-duty tactical pens that come with all the features you could want in a survival pen and more.
The Most Loaded 6-in-1 Tactical Pen by Ankaka is the best of the best when it comes to multifunctional tactical pens, offering over six unique functions and tools over and above working as a regular ballpoint pen.
Specs
Aircraft aluminum body
Includes five ink refills
Comes with a flashlight, screwdriver, and wrench
Durable self-defense weapon
Who is it Best for?
If you work as a bodyguard, as a law enforcement officer, or as an EMT, you may find this writing device more than handy. It offers an assortment of features and works well as a ballpoint pen too.
When it comes to birthdays or other special occasions, the best gift you can give is one that ensures your loved ones' safety. This tactical pen does just that. Ankaka makes it an easy present to give by packaging it beautifully in a sleek black gift box. Simply wrap it up with a bow, and you have a stylish and functional gift.
If you find yourself camping frequently, then you will also benefit from this useful pen. It comes with features that will help you out no matter how dark it becomes in the great wide open.
Key features
Ankaka crafts their tactical pens from ultra-strong aircraft aluminum, guaranteeing you strength and durability. It features a patented thread design at the thumb rest and at the handgrip to ensure it remains firmly in your hand.
The thumb rest allows you to exert a greater force with the pen by transferring more energy with a more ergonomic and sturdy hold.
The durable material used to make these pens is resistant to rust and corrosion. It is also lightweight, making writing with the pen daily comfortable to do.
Some of the features you can expect to find are a hexagonal wrench, a tactical flashlight, a bottle opener, a screwdriver, a ballpoint pen, and a self-defense tip that works as a glass breaker too.
Included are also five ink refills and six batteries to keep the torch shining bright.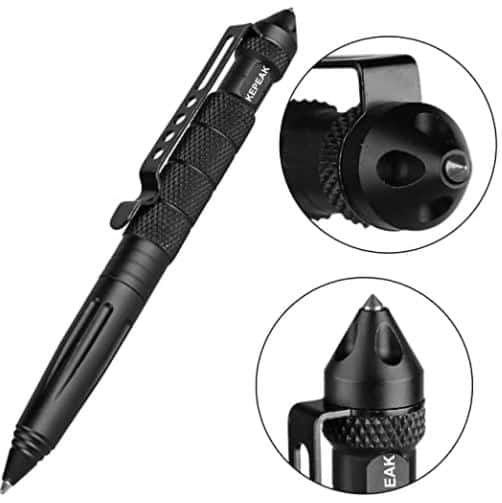 Kepeak is an outdoor and lifestyle brand that offers a range of products designed for camping, swimming, fishing, and sporting activities. Their offerings include hammocks, outdoor speakers, and fishing reels.
One of the products that caught our attention was the KEPEAK Military Tactical Pen. This unique device provides you with an everyday tool that doubles as a handy self-defense tool that is both discrete and remarkably stylish. It is easy to see why this pen made the list.
Specs
Tungsten steel pen cap
Aluminum body
Offers impressive grip
Discreet
Who is it Best for?
When it comes to daily life, attacks and accidents are not something we expect to have happened, but that doesn't mean that they can't or won't happen. It is always best to be prepared so that you can remain safe and protected. If you are looking for a tool that does just that, then here is your solution.
This tactical pen passes as a daily writing utensil, but most people won't recognize that it doubles as a tactical defense pen. The design makes it simple to keep your self-defense tool discreet and hidden in plain sight.
This dual-functionality makes it easier to keep with you on your way to the office or around town. It is also far less harmful than a knife or gun.
Key features
The Kepeak military tactical pen features a pen cap made from tungsten steel. This incredibly hard and tough material transforms the cap into a glass breaker tool and into a self-defense mechanism that makes it easy to defend yourself from would-be attackers.
An aerospace-grade aluminum body ensures the pen is durable and sturdy, and resistant to rust and corrosion.
A unique notching on the pen provides a texture that allows you to grip the pen comfortably and prevents it from slipping out of your hand while using it.
Included with the pen are six stainless steel ink cartridge refills that allow you to use the pen daily for your office work, making it well worth your hard-earned money.
Pros
Includes six ink cartridge refills
Suitable for everyday carry
Ideal for emergency situations
Cons
Does not include a flashlight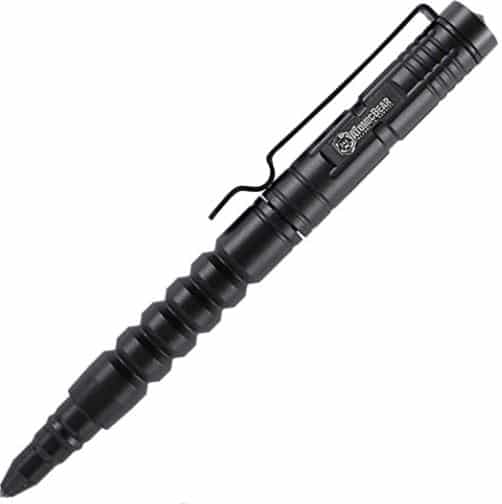 The Atomic Bear is a brand that aligns itself with excellence, ensuring customers receive products that are masterfully crafted from the finest materials and that are designed to be functional and stylish.
One product of theirs, The Atomic Bear Tactical Pen – Self Defence Pen and Window Breaker, backs up this ethos perfectly. It offers customers a great way to protect themselves without being outwardly violent and it offers day-to-day functionality too.
Specs
Made of sturdy military-grade aluminum
Ergonomically designed
Uses refills for a Fisher Space pen or for a Rite in the Rain pen
Ergonomic design
Who is it Best for?
If finding a pen that works well and is compatible with various ink cartridges is what you are after, this pen is a must-have. It writes smoothly and fluidly, making it ideal for daily use. Best of all? It is compatible with Fisher Space, Parker, Rite in the Rain, and its own Atomic Bear ink cartridges. Ink refills have never been so simple to find!
The pen also works as a tactical self-defense tool that is non-lethal but provides you with the ability to create enough pain for your assailant to afford you time to escape.
When it comes to emergencies, this pen also makes a helpful tool that will help you in an assortment of situations, making it a must-have for rescue workers, EMTs, and law enforcement officials.
Key features
Atomic Bear's SWAT pen is simple yet remarkably effective. It offers a firm grip that prevents your hand from slipping, and it includes a thumb rest that allows you to deliver a more powerful blow.
A glass breaker is included in the design, making it ideal for emergency situations that require a car window to be broken.
Included with this pen are a heavy-duty nylon belt sheath and an Atomic Bear tac pen self-defense online class.
This heavy-duty pen is made from military-grade aluminum that is resistant to rust and corrosion. Atomic Bear backs up the quality of its product by covering it with a lifetime warranty.
The ergonomic design of the pen ensures it is comfortable to hold, and the well-balanced nature of the design makes it simple to wield.
Pros
Includes a heavy-duty nylon belt sheath
Cons
Does not include a multi-tool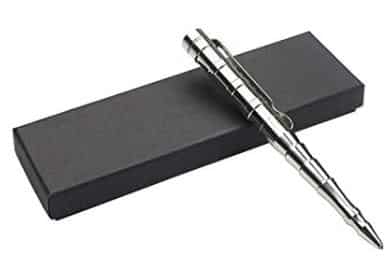 LX offers a selection of versatile and durable tac pens. The brand focuses on crafting EDC pens made to last, fashioned from materials that provide premium quality and feature designs that offer style and functionality.
The Originality Stainless Steel Self Defence Outdoor Tactical Pen Glass Breaker by LX is just one of many remarkable tac pens offered by the brand. However, this one caught our eye with its unique body shape and grip.
Specs
Stainless steel body
Twist function to open and close
Heavy-duty
Built-in grooves for good grip
Who is it Best for?
Men looking for a stylish office pen that doubles as a self-defense mechanism need to look no further. This unique pen looks like a premium pen but, it also works as a glass breaker, a self-defense tool, and a tactical device.
The pen features a design that leaves it looking like nothing more than a writing utensil, keeping it hidden in plain sight, allowing you time to catch any would-be attacker unawares. As a result, the pen is great for men who travel to work or work as a rescue official.
If you are looking for a unique gift for a loved one, then consider this handy tool. LX packages it in a sleek matte black box that just needs a glittering bow, and you have a gift that will keep friends and family members safe.
Key features
LX fashions these tactical pens from elegant stainless steel. Not only is this material stylish, but it is durable too, resistant to rust, corrosion, and offering a solid and hard finish.
The pen twists to open and close, making it easy to deploy in a matter of seconds should you find yourself being attacked.
A sturdy pocket clip allows you to store it safely on your person without having to worry that it will come loose and fall off, even during a scuffle.
The body of the pen features an unusual wave-like design that sees indentations situated ideally to allow you to grip the pen with ease. This ergonomic design makes the pen simpler and more comfortable to hold and prevents it from slipping out of your hand.
Pros
Uses Parker or Fisher Space Pen refills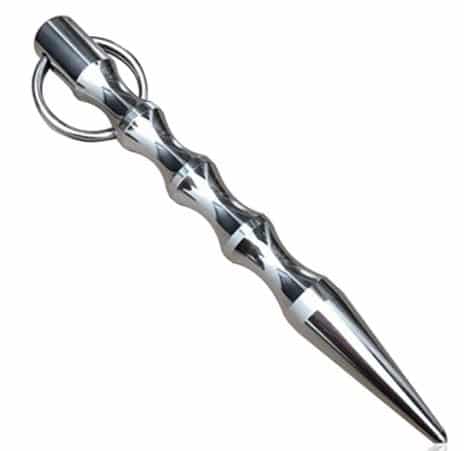 Odowalker is a versatile brand that offers a selection of products that range from self-defense tools to handcuff holders, posture correctors, and even fishing scales. While the selection of products is vast, there is one thing you can be sure of; each item is masterfully crafted to provide you with durability and functionality.
The Odowalker Self Defense Keychain Kubaton Solid Key Chain Tactical Pen is no different. This handy keychain is the ideal tool to keep you safe on the streets.
Specs
Made of solid 304 stainless steel
Grooved handbar for grip
5.5-inches in length
Comes with a keychain
Who is it Best for?
This neat and extremely compact keychain is the ideal way to stay safe without carrying a knife, gun, or other harmful weaponry. Men looking for a tool to keep them safe without looking conspicuous will want to try out this handy little device.
A Kubotan is a self-defense keychain weapon developed by Sōke Takayuki Kubota in the late 1960s and is made to look like a simple design rather than a self-defense tool. Known as the "instrument of attitude adjustment," this handy tool is not designed for inflicting severe harm but rather for allowing you enough time to make a getaway.
If you're against violence but are looking for an efficient way to protect yourself, this tool is the ideal solution.
Key features
This durable EDC tool is made from stainless steel. It is resistant to rust and corrosion, so if your keys get wet, this device won't be affected.
The design of this Kubotan sees a length of metal measuring 5.5-inches or 14cm in length. Along the body of the tool are a series of grooves that provide finger placings. These grooves offer a substantial grip, preventing the Kubotan from slipping out of your gasp while using it.
The one end of the stick features a flat thumb rest that allows you to hold it in such a way that it provides a more powerful strike.
On the opposite end is a rounded point used to jab into an assailant's pressure points or break a glass window.
Pros
Works as a concealed kubotan
Cons
Does not function as a pen

Gerber was founded in 1939 in Portland, Oregon, and the brand is renowned for its knives and tools designed to be problem-solving and life-saving. Their tools are designed for use by hunters, tradesmen, and soldiers.
Backed by a lifetime warranty, you can be sure that the products Gerber offers are each worth the money you spend on them. One such tool is the Gerber Impromptu Tactical Pen – Flat Dark Earth.
Specs
Machined steel body
Stainless steel pocket clip
Made in the USA
Uses a Rite in the rain ink cartridge
Who is it Best for?
This tac pen is perfect for men who spend a lot of time outdoors. Not only is it the ideal tactical and self-defense weapon, but it also works well as a pen to be used in outdoor conditions. Whether you are a hunter, a soldier, a camper, or a businessman, this pen is for you.
If you are looking to support local businesses then this one is for you too. Gerber is based in Organ and ensures all its products are made in the USA.
The pen is also ideal for law enforcement and police offices who often approach vehicles that have an individual passed out inside that they need to break out of the car, or an individual who poses a threat. A tac pen is far less likely to cause harm to either party than a gun would.
Key features
This Impromptu tactical pen is fashioned from machined steel with Cerakote. A stainless steel pocket clip makes securing the pen safely to your pocket or clothing a cinch and prevents it from coming loose even when you're in rugged terrain or a scuffle.
The tempered steel glass breaker provides the ultimate tactical tool for emergency responders and works well as a self-defense mechanism.
This pen uses Rite in the Rain ink cartridges, which enable you to write in any weather conditions, no matter how wet or how hot it becomes. It also makes finding replacement cartridges fuss-free and straightforward.
The Cerakote coating on the pen adds a unique surfacing to the steel body that makes it easy to grip under any conditions, allowing you to wield it with ease when writing or using force.
Pros
Writes in all weather conditions
Cons
Features a rather high price tag
Things to Consider When Buying The Best Tactical Pens
When it comes to buying a tactical pen, you should consider a few things before purchasing the first one you see. Taking these aspects and mulling them over will not only make it easier to find the one that best suits your needs but one that is well worth your hard-earned money.
1. Weight and Size
It is essential to understand that a tactical pen is often far heavier than your average everyday pen. This is because of the materials it is made from, and it is done to add a little more oomph should you ever need to use the pen in an emergency, be it to break glass or defend yourself from an attacker.
Give some thought to how heavy you want the pen to be, as you want one that you can wield properly when writing or using it as a self-defense weapon. Make sure the one you get is also well balanced as this makes it more comfortable and natural-feeling.
Size is another aspect to keep in mind. Not all tactical pens are the same length. Some are smaller than your average BIC pen, while others offer a greater size. Think about whether you intend to keep it in a pocket or elsewhere and whether the pen's length is suitable for this.
2. Features
Tactical pens often come with features other than working as a regular ballpoint pen and working as a glass breaker. Some of the additional features you can expect to find are:
A bottle opener – Ideal for when you're out camping and have left your bottle opener at home
An LED Flashlight – This feature is excellent for emergency responders who work at night and need to see inside a vehicle before breaking a window. It also works well for campers and hikers.
A Screwdriver – This is handy for men who work with their hands, for campers, or for those times when you need a screwdriver but don't have your tool kit with you.
A DNA Collector – Most tactical pens of recent design come with a handy DNA collector attached. This tool gathers essential evidence that could help the police identify your attacker.
3. Quality
When buying a tactical pen, you want to ensure you get one that offers top-quality, not one that will fall apart the minute you take it out of your pocket.
You also don't want a pen that is going to crumple or bend on impact. Buying a tactical pen from a reputable brand should prevent you from purchasing a pen of poor quality. Taking the time to research the materials used to make the pens will also help, as will reading reviews such as this one.
When buying a tactical pen, it is essential to purchase one that feels comfortable in your hand and offers the features that best suit your needs. Taking aspects such as materials, brand, design, and additional features will make it simpler to find the exact self-defense pen you need.
We hope our reviews have made it less challenging to find the best tactical pens for your needs. If you're still unsure, though, our top pick goes to The Atomic Bear Tactical Pen – Self Defence Pen and Window Breaker. It is durable, offers high-quality, and comes with a range of features.