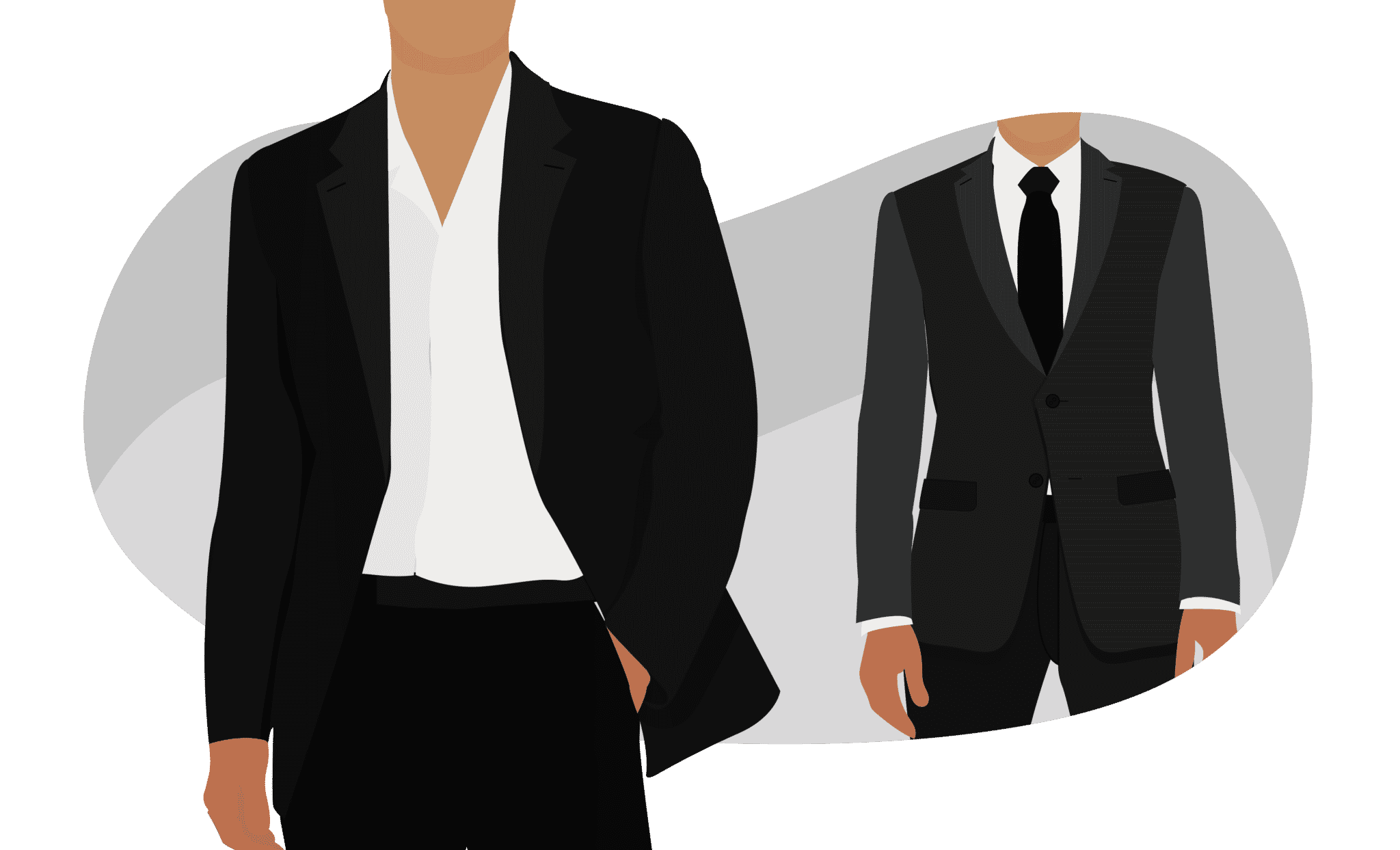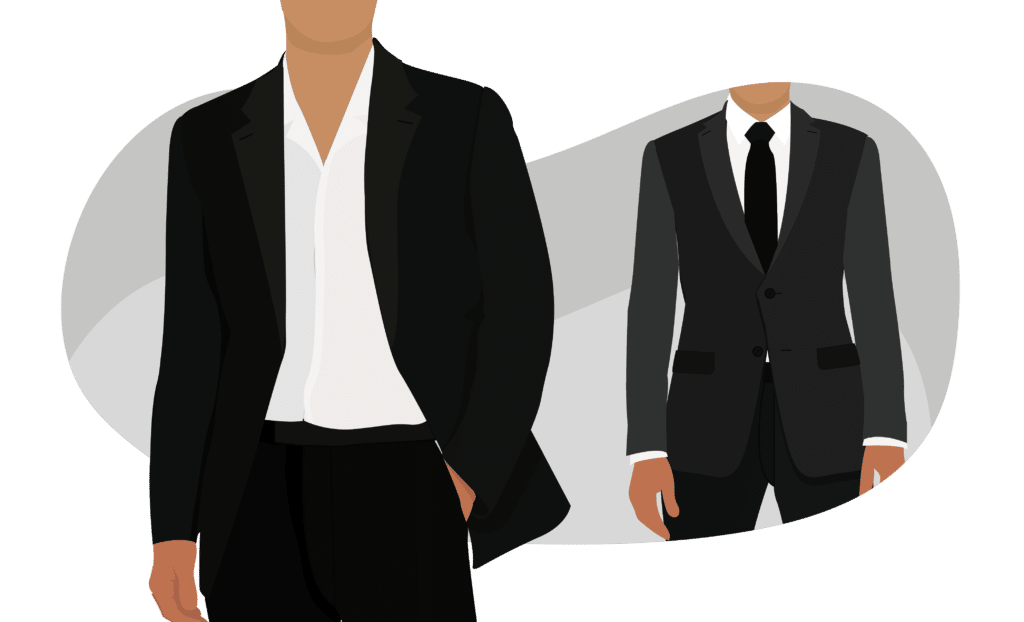 When you think of men's dress for a black-tie event, chances are you're picturing a tuxedo suit, or if it is an exceptionally formal event, you may even be considering a coat and tails.
But if neither of those options appeals to you, you're in luck. Men's fashion has expanded over the years and now offers sophisticated suits that are so well-tailored that they give the tux a run for its money. So, if you're more of a suit guy, you can easily pair a two-piece suit with a bow tie and head off to various formal occasions looking the part.
Unfortunately, not all suit separates are made equal, making it challenging to find a good quality suit. To make things a little easier for you, we have gathered together and reviewed some of the best suits Amazon offers. So let's take a closer look.
We tried multiple men's suits from Amazon and concluded that these six are the best menswear for a formal occasion. We used the approach to chat to men about what they looked for in a high-quality formal suit and collected together the ones that ticked these boxes. We then reviewed each of them. Our evaluation of each was based on the following criteria: the fabric used, the cut and tailoring, the pants, comfort, and durability.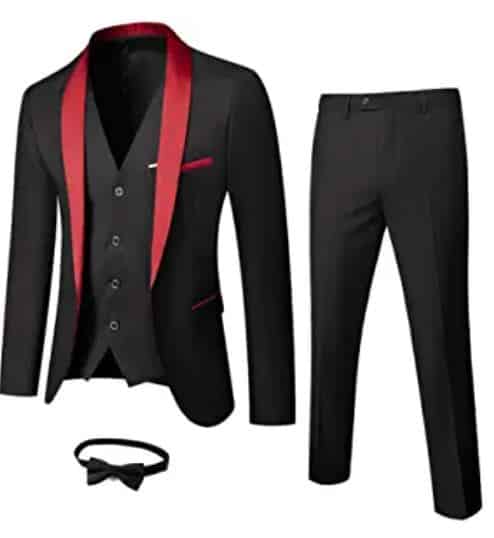 If you're looking for formal wear that will knock the socks off anyone, then MYS is an excellent place to start. The brand focuses on the design and manufacture of suits and tuxedos. MYS takes the detailing and construction of the suits seriously, ensuring each handmade garment is fashioned from premium quality fabrics.
The idea of having a full three-piece suit with a unique shawl lapel ordered online left us intrigued, so we gave the MY'S Men's 3-Piece Shawl Lapel Slim Fit Tuxedo a try.
Specs
Made from a blend of viscose and polyester
Offers a slim fit cut
Includes a jacket, vest, and pants
The jacket features a single button closure
Who is it Best for?
If it's a three-piece tuxedo suit you're after, then this offering from MYS is worth looking into. It offers a unique style and cut that combines the class of a suit with the sophisticated detailing of a tuxedo, leaving you with a three-piece suit that James Bond would envy.
MYS offers the set in five color options, including plain black, deep grey, burgundy with black trim, navy with black detailing, and black with burgundy detailing. This assortment of options makes it easy to find a style that suits your needs and your tastes.
The variety and the look of the set appealed to us, so we decided to order one and see how it turned out. It arrived relatively quickly and left us impressed in terms of the fit and the tailoring. The size was spot-on and extremely comfortable overall.
The downside to the experience was the color, described as black with red trimming, the suit arrived, and the red was more of a wine red or burgundy. Keep this in mind when ordering a suit of your own.
Key features
MYS takes great care when creating this suit. It comes fully lined with breathable, moisture-wicking polyester that is soft against the skin and keeps you from overheating. In addition, the suit's exterior is made from a blend of viscose and polyester, leaving you with a suit that looks sleek but that is also breathable and soft.
The suit comes with a jacket that features a single button closure and a unique shawl lapel. These features combine with the slim fit of the suit to leave you looking more dapper than ever before.
Paired with the jacket are trousers and a four-button vest to tie the look together. One thing to note about the suit is the pockets. While they look fantastic, they offer no functionality.
Pros
They are expertly tailored
Cons
The color is off, the red comes as more of a burgundy
The pockets are decorative only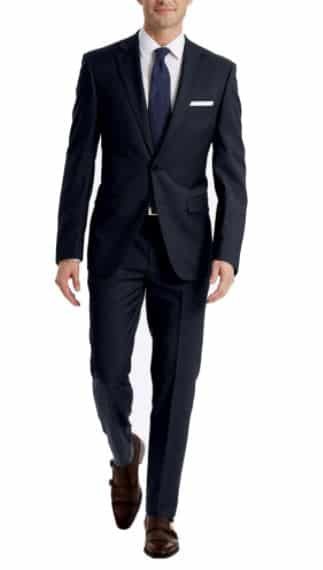 Calvin Klein is an internationally recognized fashion brand specializing in an assortment of ready-to-wear garments, accessories, fragrances, jewelry, watches, and home furnishings. Founded in 1968 by American designer Calvin Klein, the fashion house is synonymous with a fresh, classic look that favors simplicity over bold opulence.
While you may know about Calvin Klein's underwear range, what you may not be aware of is that the brand also designs exquisite men's suits. One of which is the Calvin Klein Men's Slim-Fit Wool Suit Separates.
Specs
Made from 100% wool
Features a slim-fit design
Includes pants and a jacket
The pants and jacket are both lined
Who is it Best for?
Whether you're after a business suit, an outfit for a cocktail party, or formal wear for a wedding, this wool suit from Calvin Klein will leave you looking and feeling like a million bucks.
The suit comes in six varying shades of blue, black, and grey, offering you the chance to select a shade that most appeals to you. Each of the colors is sophisticated and has been picked by the designers to leave you with options that are both stylish and flattering.
If you're not a fan of doing laundry, then you will appreciate this suit. Because it is made from wool, it can only be dry cleaned. Toss it in the wash, and you may be disappointed with the way your suit looks when it comes out.
Key features
Calvin Klein's slim-fit suit is made from 100% wool. Wool is an excellent fabric for suiting as it works well as a natural insulator, making the suit ideal for wear all year round. Wool is also highly breathable, allowing air to circulate your body, keeping you cool and comfortable. In addition, the moisture-wicking properties of the fabric move any sweat to the surface of the suit, where it can then evaporate.
The suit features a slim-fit design that sees the pants sitting slightly lower on the hips and tapering through the thigh to the ankle. This cut is flattering and contemporary, making it popular with men across the globe.
Calvin Klein offers these suits separate such that you can select the size of your pants and jacket independently of one another, allowing you to get that perfect fit.
Pros
Offered in six unique shades
Pants and jacket sizes can be selected separately
The overall fit is comfortable
Cons
The pants don't come hemmed
The suit is dry-clean only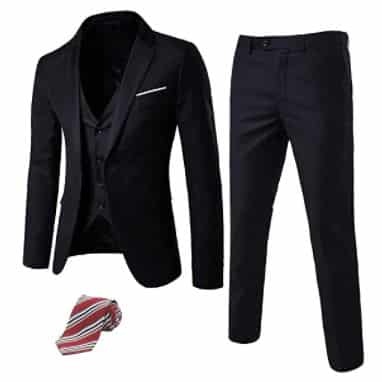 MYS takes men's fashion seriously. The brand offers a wide selection of expertly tailored men's formal wear that comes in an assortment of cuts and designs. Each formal suit is made from high-quality fabric and is lined for comfort and durability.
Having tried their tuxedo, we needed to find out what the brand's suits were all about, so we settled on the MY'S Men's 3 Piece Slim Fit Suit Set to see if it measured up.
Specs
Made from a blend of polyester and viscose
Includes a 100% polyester lining
Features a slim-fit design
Comes in a set that includes a jacket, vest, and trousers
Who is it Best for?
If it's a formal suit with expert tailoring and a sleek finish, this one from MYS may be the solution you need. It comes in a set of three garments that include trousers, a smart four-button vest, and a single button blazer. Pair this set off with a crisp white dress shirt and loafers, and you have a look that will leave passersby stunned.
MYS considers that personal tastes may differ, as may the need for unique suiting options, which is why this particular suit is offered in 20 different colors. You can find every shade available, from light pink and lilac to bright yellow and even vibrant red.
While this rainbow of colors is impressive, it is important to note that the color of the actual suit may be slightly lighter or darker than that displayed on your screen.
Key features
MYS makes this suit with a blend of viscose and polyester. The viscose is soft to the touch but adds durability to the garment. Polyester adds breathability and moisture-wicking properties. This means that air can circulate between the suit and your body, regulating your temperature to prevent you from overheating. In addition, should you begin to sweat, the fabric will wick the moisture to the surface of the suit where it can evaporate, keeping you dry and confident. A polyester lining in the suit pants and blazer allows for this further.
Each suit is expertly hand-crafted by a professional tailor, ensuring the fit is just right, leaving you looking sleek and stylish. These suits feature a slim-fit design. The trousers taper from mid-thigh down to the ankle openings, creating a fitted silhouette that is flattering and modern.
Pros
The elasticated waistband offers a comfortable fit
The buttons are well attached and stylish
The set comes in 20 different colors
Cons
The coloring differs substantially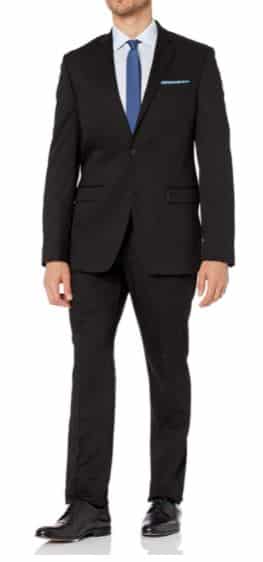 Perry Ellis was founded in 1976 by fashion designer Perry Ellis. The brand favors fresh and fun over traditional, and this approach is evident in the men's clothing the brand designs and offers.
While Perry Ellis is known for its premium menswear steeped in color and pattern, the brand also does equally well in the design of sophisticated formal wear. The brand's dress suits are stylish and sleek. If you don't believe us give the Perry Ellis Men's Two-Piece Suit a try.
Specs
Made from a blend of polyester and rayon
Design sees a two-button suit jacket
Jacket features three internal pockets
Features a slim fit cut
Who is it Best for?
Perry Ellis is known for its contemporary designs, and this suit jacket and pants are no different. If you want a modern and well-made dress suit, then this offering from Perry Ellis is an option you may want to consider.
The suit is offered only in a deep black, making it one of the best suits for men seeking that quintessential black formal wear.
We compared this two-piece suit to others on the market and found it to be relatively inexpensive considering it is a brand suit made from high-quality materials.
After trying the dress pants and blazer to a few functions that required a slightly more formal dress code, we can say that this outfit is exceptionally comfortable and remarkably designed. The only aspect that needs improvement is the sizing which was slightly larger than we had hoped it to be.
Key features
Perry Ellis offers this suit in a stylish and sleek slim fit. A slim-fit suit is more fitted and provides a more tailored look. The dress pants taper from the thigh down to the ankle, hugging your form a little more snugly than a classic fit would. This enhances your body shape and can be rather flattering.
The suit is made from a blend of rayon and polyester. The rayon is soft to the touch and makes the suit feel great against the skin. Polyester gives the garments their breathability and moisture-wicking properties, keeping you cool, comfortable, and free from sweat and odor.
Perry Ellis's jacket comes with two buttons for a more formal and professional look. Paired with a dress shirt and Oxford shoes, this suit will leave you looking sleek and well-styled. The blazer also includes three internal pockets that come as two chest besom pockets and a lower one for your cell phone.
Also included with the suit is a branded pocket square, lining, and piping that adds to the final look.
Pros
The suit is well-priced for what you get
The set is extremely comfortable
The slim fit is flattering
Cons
The sizing is slightly off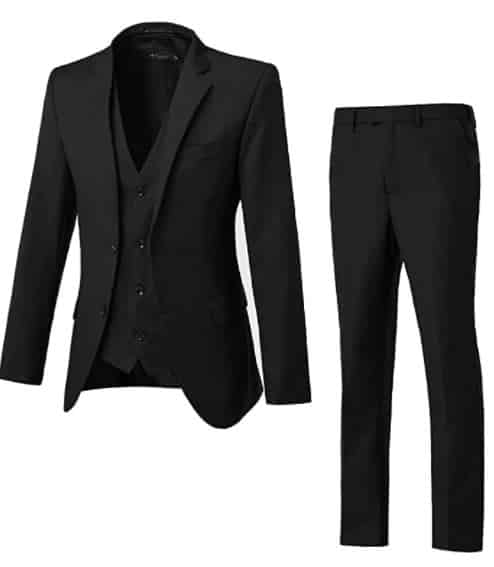 High-End Suits is a brand that offers premium men's formal wear for all occasions. Whether you need a flashy get-up for a wedding or an office party, High-End Suits will have a suit for the event.
The brand's unique collection of styles, designs, and colors caught our interest and left us wanting to know more. We decided to try the High-End Suits Three-Piece Regular Fit Suit Set, and we weren't disappointed.
Specs
Made from a blend of viscose and polyester
Features a regular fit cut
The fabric is designed to be wrinkle-free
The set comes with a blazer, pants, and a vest
Who is it Best for?
One of the aspects of a suit that makes it impressive is its versatility. If you want a suit that can be dressed up for a more formal setting or dressed down with a t-shirt and jeans for a more casual look, then this three-piece set from High-End Suits is worth a closer look.
These suits come in a vast selection of shades, 24 to be exact. The options range from black and mint green to bright yellow and lilac. These different colors allow you to express your personal tastes or match a wedding party with ease.
If you're not a fan of a skinny fit or a slim fit, this option is for you as it features a regular fit instead.
Key features
High-End Suits' regular fit three-piece suit set is made from a blend of viscose and polyester. The polyester lining is breathable, allowing air to circulate through the suit, maintaining your body temperature, and preventing you from overheating. Viscose adds an element of convenience to the set. Not only is it soft and comfortable, but it also prevents the suit from becoming wrinkled, leaving you looking as fresh when you leave the party as you did when you arrived.
This fabric blend means that the suit is dry clean only and cannot be washed at home in your washing machine.
The suit is cut with a regular fit. This cut is flattering to all body types and tapers slightly from the knee. It offers more room, too, making it more comfortable for taller or more heavyset men. The versatile two-button suit features a stylishly notched lapel for a sleek finish.
Pros
You can send in your measurements for a more custom fit
The suit is expertly tailored
It comes in 24 different colors
Cons
The buttons look a little cheap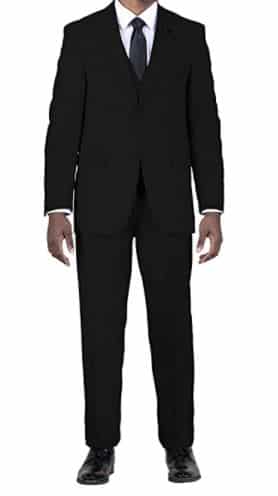 Stacy Adams was founded in 1875 in Massachusetts. The brand started off as a shoe company that today has a wide following with loyal customers across the globe. As it expanded, the brand honed its ethos to provide comfortable clothing for men who want to set trends and make their mark in the world.
The brand has grown its offerings to provide a wide selection of menswear. One such item is the STACY ADAMS Men's Suny Vested 3 Piece Suit.
Specs
Made from a blend of polyester and rayon
Features a notch lapel
Comes with a vet that has a four-button placket
The dress pants come with an expandable waistband
Who is it Best for?
Men looking for a classic fit suit can't go wrong with this three-piece set from Stacy Adams. The suit is sleek and features expert tailoring that makes it comfortable to wear and leaves the wearer looking stylish and professional.
If you want a black suit but also want the same cut in various other elegant shades, then perhaps this set is worth a closer look. It comes in seven different shades, including black, two shades of grey, brown, white, tan, and navy.
Compared to other suit sets available, this set is relatively inexpensive, making it a good bargain considering the durability, style, and comfort it offers.
Key features
Stacy Adams's Suny suit comes with a classic fit. It fits the form without being overly tight and suits all body types.
The set is made from a blend of rayon and polyester. These fabrics combine to leave you with a blazer and pants set that is breathable, lightweight, and that is soft to the touch. The rayon prevents the suit from creasing, keeping you looking smart and fresh throughout the day. Leave the disheveled look for the other guys.
The jacket comes with a two-button closure and a sleek notch lapel that lends the suit its classic look.
The pants come with an elasticated waistband that expands to fit your waist more comfortably. Welted pockets at the back of the pants add to the overall look of the set and allow you to carry your wallet with ease.
Pros
The suit is reasonably priced
Offered in seven unique colors
The expandable waistband makes the pants very comfortable
Cons
The sizing of the pants is slightly off
Things to Consider When Buying The Best Black Suit for Men
1. The Lapel
Men's suits offer more than one style. One of the most prominent styling options is the shape or design of the lapel:
This lapel features a triangular indentation or notch where the collar and lapel meet. It is the most common design.
A broader design that sees the lapel rises up into peaks or points where it joins the collar.
This is a rounded design that sees the collar round smoothly into the lapel, like a shawl. There are no points or notches here, and the design is often seen on a tuxedo.
2. The Fit
The fit of your suit is important. If you are looking for a more figure-hugging suit, then a slim or skinny fit is a good option. However, if you prefer a little more room and accessibility, the classic or regular fit is a good option.
When looking for the best men's suits, there are several things to consider. Giving thought to the brand, durability, fit, fabric, lapel design, and quality will all put you a step closer to finding the formal black suit that most suits your needs.
By closely examining and testing each of the black suits in this review, we concluded that they meet the criteria discussed above, making it simpler to find the best men's black suits to meet your taste and style.