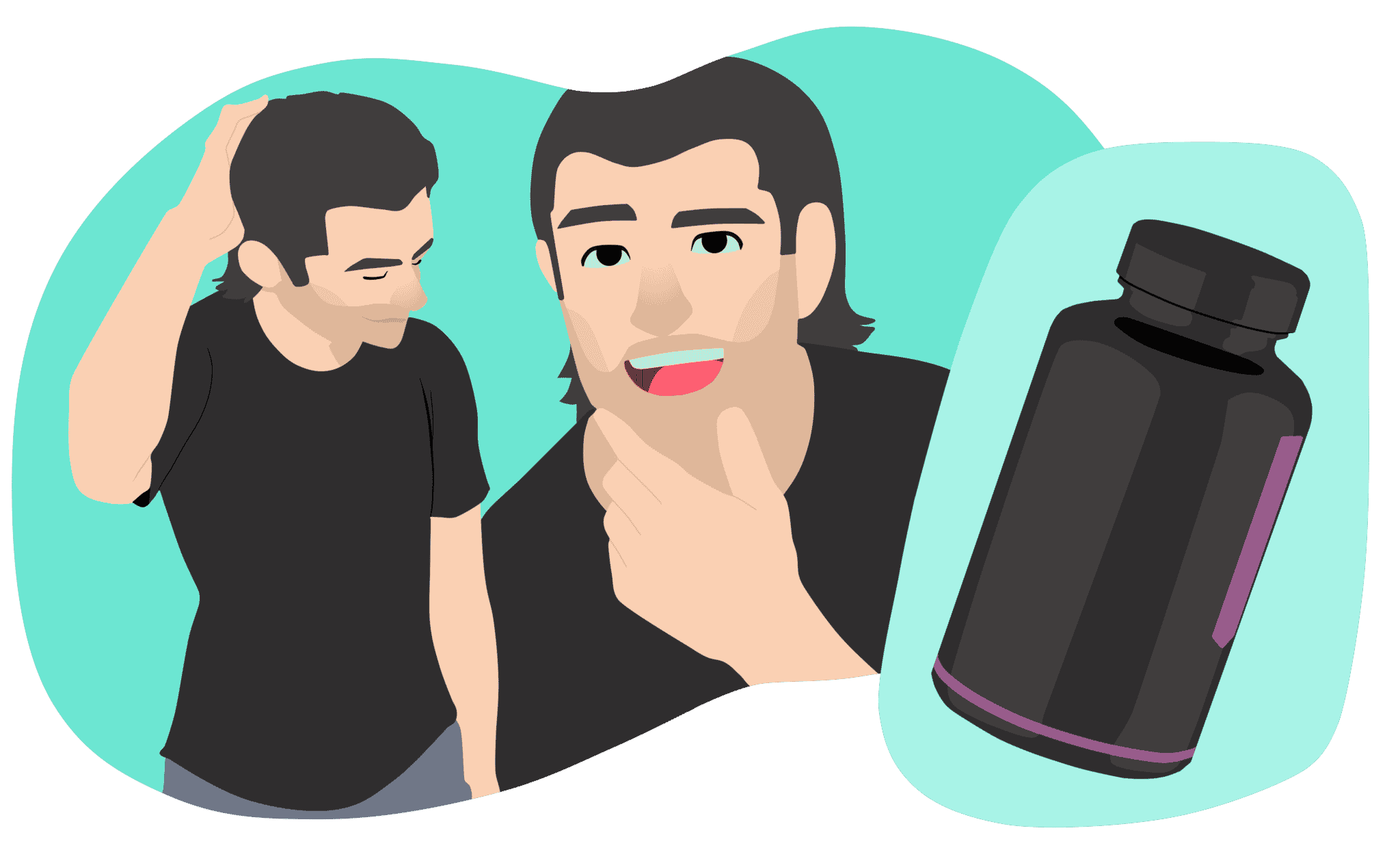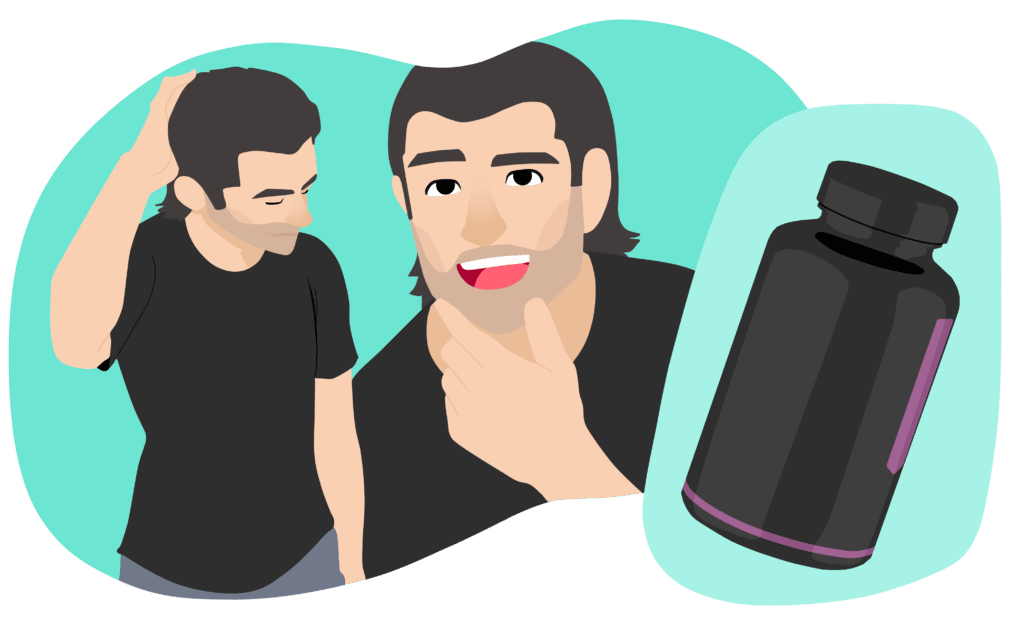 Biotin, also known as Vitamin H, is a water-soluble B vitamin (Vitamin B7) that turns specific nutrients into energy. Biotin is also known for enhancing and maintaining the strength and growth of hair, skin, and nails. If you suffer from a Biotin deficiency, you will find you have brittle nails, thinning hair, hair loss, and skin rashes.
Taking high potency biotin supplements will help to alleviate these symptoms, leaving you with strong hair and nails and glowing skin. If you feel your symptoms aren't as severe, you can always take dietary supplements or a multivitamin containing biotin. Biotin works to improve the Keratin framework within your body, and since Keratin is a protein that makes up a large portion of your hair and nails, by enhancing your Keratin, you, in turn, make your nails stronger, and your hair grows better.
There are numerous biotin supplements available; searching Amazon will turn up hundreds of options. The challenge comes with finding a biotin supplement that offers quality and actually works. To help simplify things, we have collected a selection of the best biotin supplements available on Amazon and reviewed each of them.
We have studied and tested several Biotin Supplements and concluded that the six options reviewed below are the best on the market. We used the approach to chat with medical and health professionals about what criteria they felt a high-quality biotin supplement should have. Our evaluation was based on the following factors: high-quality ingredients, accuracy, and functionality.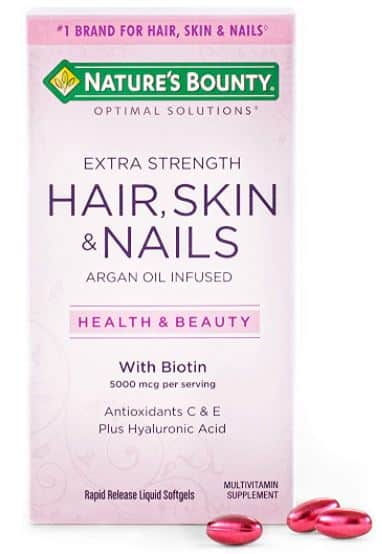 Nature's Bounty is a health and wellness brand that has been around for decades. According to their website, the brand takes special care to ensure they only use the best ingredients that meet high-quality standards. Their products are tested and retested to ensure purity and potency.
The Nature's Bounty Optimal Solutions Hair Skin & Nails Extra Strength Soft gels are purported as being some of the best on the market, so naturally, we had to give them a try.
Specs
Contains 5000 mcg (micrograms) of biotin per soft gel capsule
Infused with Argan Oil, Hyaluronic acid, and antioxidant vitamin C and E
Non-GMO, gluten-free, and free from sugar, starch, lactose, and fish
Contains oil from soybeans and gelatin
Who is it Best for?
This biotin supplement is sold as an extra-strength hair skin and nails multivitamin designed to increase nail growth and hair growth and leave you with soft, healthy hair.
If you are trying to grow your hair longer, improve thinning hair, or improve the strength of your nails, these supplements are a great way to go about it.
I started using them, with the decision to try them out for three months, and, with just two, there was visible hair growth on my head, much less shedding, and my nails looked better than they had in years. The key here is patience. The first month produced barely any results, but after month two, things changed rapidly. It is important to remember that everyone is different, and effects will kick in at varying times.
Key features
Nature's Bounty creates these fast-release soft gels with a wide selection of natural products to aid health issues rather than make more. The tub comes with 150 soft gels, each containing 5000 mcg of biotin and a host of other vitamins and minerals to strengthen hair skin, and nails.
The way this works is for you to take three capsules daily. (I took mine at night) They are known to cause some side effects, such as weight gain or diarrhea, but I didn't experience any.
Nature's Bounty also infuses these caps with vitamin B12 that is great for circulation, and argan oil helps moisturize and strengthen hair and nails. Extra vitamin E is also added, and I believe it is this that makes my skin feels so much softer.
Pros
The capsules are relatively small in size and are easier to swallow than most soft gels
These work well as a multivitamin not just one to target hair skin and nails
The bottle comes with two months' supply
Cons
The capsules smell a little and don't taste the greatest
Results only become apparent after a few months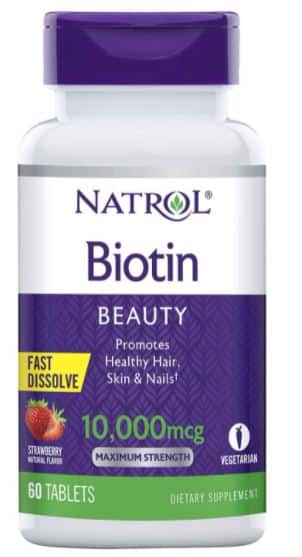 Natrol, according to its website, was founded in 1980 and initially started as a beauty and cosmetics company. Over the years, the brand has evolved, moving away from cosmetics to become one of the top competitors in the Nutraceuticals industry.
The Natrol Biotin Beauty Tablets 10,000mcg come in a two-month supply of fast dissolving tablets. Said to be one of the best biotin tabs on the market, we had to see if it lived up to the claims.
Specs
Each tablet features 10,000 mcg of biotin
The bottle contains 60 chewable tablets in a strawberry flavor
These tablets are designed to be easily dissolvable
They are completely vegetarian and are free from colorants and preservatives
Who is it Best for?
If you're not a fan of soft gels or swallowing tablets, these are worth a try. They come in a fast-dissolving tablet form and feature a strawberry flavor. This taste is slightly chalky, but it is better than most I've tried; you only need to take one tablet a day, so it is doable. Natrol makes each biotin tablet a 10 000 mcg dose, so you only need to take one a day, making things much more manageable.
Vegetarians can take these too. They are made free from milk, fish, eggs, soybeans, crustacean shellfish, yeast, and artificial colors and preservatives.
It is important to note that these tablets are designed to treat hair and nails and improve skin health. They don't feature any other minerals or vitamins and won't work as a multivitamin.
Key features
These tabs offer high doses of biotin, making it possible to take just one a day. Aside from giving you radiant skin and strong nails and hair, these biotin supplements also aid in energy metabolism and the conversion of food into energy.
Compared to competitor Trio Nutrition Biotin 10,000mcg, they cost about a third of the price, offer double the amount of tablets and the same amount of biotin, making these supplements from Natrol an excellent deal.
These tablets took around two to three months to show any visible results but left me with an abundance of baby hairs, and my shedding became significantly less.
What I didn't like was it did cause minor acne around my jawline, although after consulting a dermatologist, the suggestion was to start on a smaller dose of biotin and work my way up to the 10,000 mcg.
Pros
They taste better than expected
You only need to take one tablet a day
Cons
These high doses can cause breakouts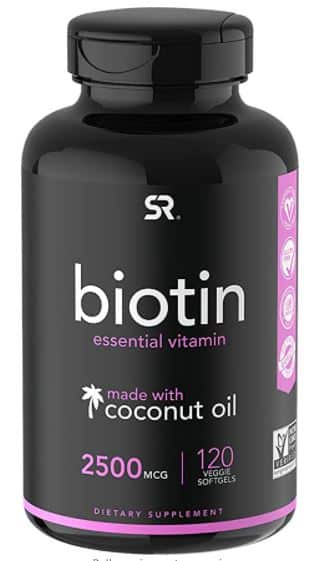 Sports Research is a brand dedicated to health, wellness, and physical fitness. The brand produces a wide range of supplements, fitness accessories, and body trimmers. Sports Research is certified as creating supplements that are non-GMO, gluten-free, and vegan friendly.
The Biotin (2,500mcg) with Coconut Oil by Sports Research comes in a vegan-friendly soft gel format. We wanted to see how these soft gel capsules faired in comparison to others we tried. Let's take a look at what we found.
Specs
The capsules each offer 2500 mcg of biotin
The bottle comes with 120 capsules
These capsules are free from soy, gluten, and artificial coloring
Made with organic coconut oil
Who is it Best for?
Sports Research makes these soft gel capsules in a vegan-friendly way, making them ideal for those on diets that require no animal products. I enjoyed that you only needed to take one pill a day and that Sports Research shaped them in such a way that made them easy to swallow. The bottle comes with 120 capsules, giving you a four-month supply.
Aside from being non-GMO certified and vegan compliant, these tablets are also third-party tested, which means they have been thoroughly checked for potency, quality of ingredients, and label accuracy.
While these biotin caps don't offer maximum strength, they do feature a pure and potent concentration of biotin blended only with coconut oil for easy absorption.
Key features
These biotin dietary supplements may not be FDA approved, but they do produce results. I saw a definite reduction in shedding within the first month, and by the second month, my hair and nails felt and looked stronger and thicker. Something I didn't expect was for my eyelashes to grow out longer and thicker too, but they did. Best of all, these didn't cause my skin to break out.
Another thing that impressed me with these capsules was the purity of the formula, no added fillers, artificial sweeteners, or colorants, so you know exactly what you're putting into your body.
The four-month supply in one bottle was a real bonus, too; it meant that I wouldn't need to hassle with replenishing my supply each month.
Pros
No fillers only the biotin and coconut oil
Certified as vegan and third-party certified
You only need to take one capsule a day
Cons
They are relatively pricey compared to other brands that offer a higher strength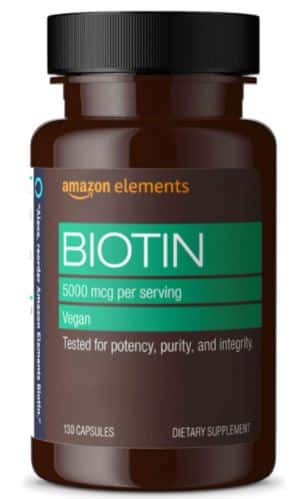 Amazon Elements is a subsidiary of Amazon. The brand focuses on producing a selection of vitamins and supplements to improve health and wellness. On its website, Amazon Essentials assures its supplements offer premium potency, purity, and integrity.
The Amazon Elements Vegan Biotin 5000 mcg caught our eye, and with such a series of claims and a well-known brand, we decided to give these biotin supplements a try.
Specs
Each capsule contains 5000 mcg of biotin
The bottle comes with 130 capsules
These are vegan-friendly
The soft gels contain no fillers or binders
Who is it Best for?
If you are suffering from brittle nails that peel and split easily excessive hair shedding, hair thinning, or hair that just won't grow, then these biotin supplements from Amazon Essentials may be the solution you need.
These capsules contain no fillers and come in vegan-friendly capsules. If you are vegan or vegetarian, these make an excellent option. And if you have sensitivities, you can enjoy them too, as the caps are free from preservatives, binders, artificial colorants, and gluten-free.
Compared to other brands on the market, these capsules hold their own, offering competitive pricing and purity as well as potency. If you are looking for a quality product that comes in with a more affordable price tag, this is it.
Key features
Amazon Essentials fills each vegan-friendly soft gel with 5000 mcg of biotin undiluted and free from fillers and binders.
The capsules only need to be taken once daily and are so small you could compare them to the size of a tic-tac. Better still, they have no flavor and no revolting aftertaste.
The bottle comes with a four-month supply which makes life much more straightforward, and Amazon even makes it possible to order your next bottle through Alexa.
I used these for three months and began seeing results (small baby hairs) in just over a month and longer, stronger nails in just over two months.
The bottles the soft gels come in are colored in a deep amber shade to protect the integrity of the ingredients from the sun.
Pros
The capsules are really small and easy to swallow
The supplements begin to work within the first month or two
Cons
The biotin is not combined with collagen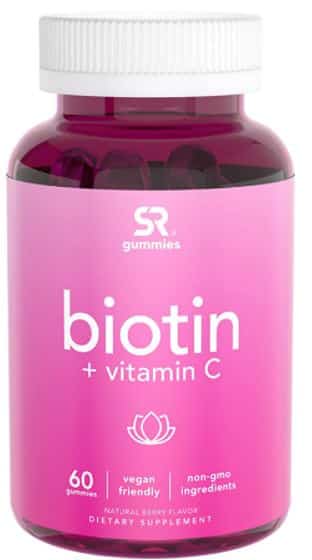 Sports Research was founded in 1980. The family-owned and run business offers a wide selection of fitness accessories, tools, and supplements designed to make your fitness journey more enjoyable.
The brand offers a wide selection of supplements in a variety of different formats, so when we saw the Biotin Gummies (5,000mcg) with Vitamin C | Vegan Certified & Non-GMO Verified by Sports Research, we had to give them a try.
Specs
Comes in a bottle with 60 gummies
Made from 5000 mcg of biotin, 45mg Vitamin C, and 25mg berry blend
The gummies are small and easy to take
The bottle offers a two-month supply
Who is it Best for?
If you're not a fan of pills, capsules, or soft gels, then this biotin supplement may be the solution you're after. Sports Research offers their 5000 mcg biotin in a gummy that not only tastes like candy but is easy to consume. The problem comes in when you have to limit yourself to just one a day – taking supplements has never been so yummy.
The bottle comes with 60 gummies that equate to a two-month supply, which is handy, but the gummies tend to be pricier than your soft gels and tablet forms. If you don't mind paying a little extra to enjoy the experience of taking your biotin, then it is worth it.
Key features
Sports Research makes these gummies include more than just biotin; they also come with 45mg Vitamin C and 25mg of berry blend. The berry blend sees a combination of strawberry, raspberry, blueberry, tart cherry, elderberry, and cranberry fruit powders that give these gummies their color and flavor.
The downside to these gummies is that they feature quite a high sugar content of 2g per serving. But, they are certified as non-GMO, and they are vegan-friendly.
I tried these gummies for a little over two months, and within four weeks, I saw results. My hair became much thicker, and I found myself trimming my nails far more frequently. I also noticed a change in my eyelashes, finding them more prominent and much thicker too. In my opinion, 5000 mcg is the ideal amount of biotin to leave you with great results and no side effects.
Pros
The results from these gummies show in as little as four weeks
They smell really good and don't have a bitter flavor
Cons
The gummies have quite a high sugar content
These gummies are more pricey than the soft gels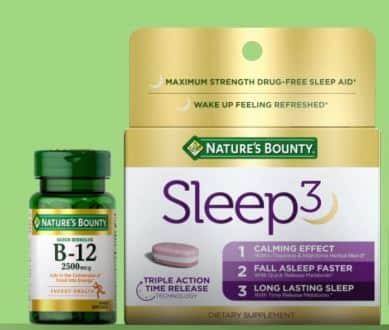 Nature's Bounty is a well-recognized brand that specializes in nutraceuticals or what we call vitamins and supplements. The brand prides itself on using the purest ingredients and offering high-potency products that provide quality and results.
The Nature's Bounty Biotin Supplement, Supports Metabolism for Energy and Healthy Hair, Skin, and Nails, 10000 mcg, 120 Rapid Release Softgels offers high levels of Biotin. We wanted to see how this higher potency faired against some of the others we tried.
Specs
Each capsule contains 10,000 mcg of biotin
The capsules are fast-release
The formula is non-GMO
These capsules contain no fillers
Who is it Best for?
If you are searching for a high-potency 10,000 mcg biotin supplement, these soft gels are worth trying. Natures Bounty soft gels contain biotin primarily, making the product free from fillers. The biotin is blended with soybean oil and placed in a capsule made from gelatin and beeswax.
If you suffer from sensitivities or intolerances to elements, then these also make a great option. They are free from gluten, fish, milk, lactose, wheat, sodium, glucose, artificial sweeteners, yeast, starch, and artificial flavors.
The capsules are designed to offer rapid release, which allows you to absorb the biotin faster. I usually take mine at night, and since you only need to take one capsule, it made life simple.
Key features
Nature's Bounty produces these biotin soft gels at this potency to improve biotin levels of people suffering from a deficiency. They work to offer greater health benefits by maintaining energy metabolism and supporting hair, skin, and nails, allowing them to grow faster and stronger.
Compared to a competitor product, Biotin 10000mcg 250 Fast Dissolve Tablets by Carlyle, these from Nature's Bounty came out around $2 more and offered half the amount of capsules, placing them a little on the pricy side.
I took these soft gels for just over four months, but after only two weeks, I noticed my shedding had stopped, and within four months, my hair was thicker than ever and had grown much faster than usual. My nails needed to be trimmed much more frequently, and they were rock solid.
Pros
The results became apparent after just two weeks
The capsules come in a three month supply (120 capsules)
You can take these any time of day
Cons
These are quite pricy compared to others on the market
They are quite odorous but worth it
Things to Consider When Buying Biotin Supplements
1. Brand
When buying biotin supplements, it is important to find one of good quality, purity, and potency. The best way to ensure you end up with a biotin supplement that offers this is by purchasing one from a reputable brand.
Besides the brands discussed in our reviews, a few others to try include:
Solgar Biotin 10,000 mcg, 120 Vegetable Capsules
VitaFusion Biotin 5000 mcg Dietary Supplement Gummies
Solgar Biotin 5000 mcg, 100 Veg Caps
Bluebonnet Nutrition Biotin 5000 Mcg Vegetable Capsules
2. Combination Supplements
Biotin comes in a variety of different ways. You can purchase it as a unique supplement that comes without fillers and binders, or you can buy it as a combination supplement or multivitamin.
Biotin is often found as part of a vitamin B complex or combined with other elements such as Vitamin D, Calcium, Collagen, Amino Acids, and even Fatty Acids.
Give some thought to whether you want to combine this supplement with other beneficial ones or if you want a more potent version to tackle issues such as brittle nails, thinning hair, or improving blood sugar levels.
Biotin comes in many forms: soft gels, tablets, gummies, a vitamin complex, or a standalone supplement. It also comes in a variety of strengths and potencies. Giving thought to how you want to take your biotin, whether you like it combined with other elements, and how strong you want it to be, will help you narrow down your choices.
Reviews such as this will put you on the path to finding a premium quality Biotin supplement that is worth your money and time.