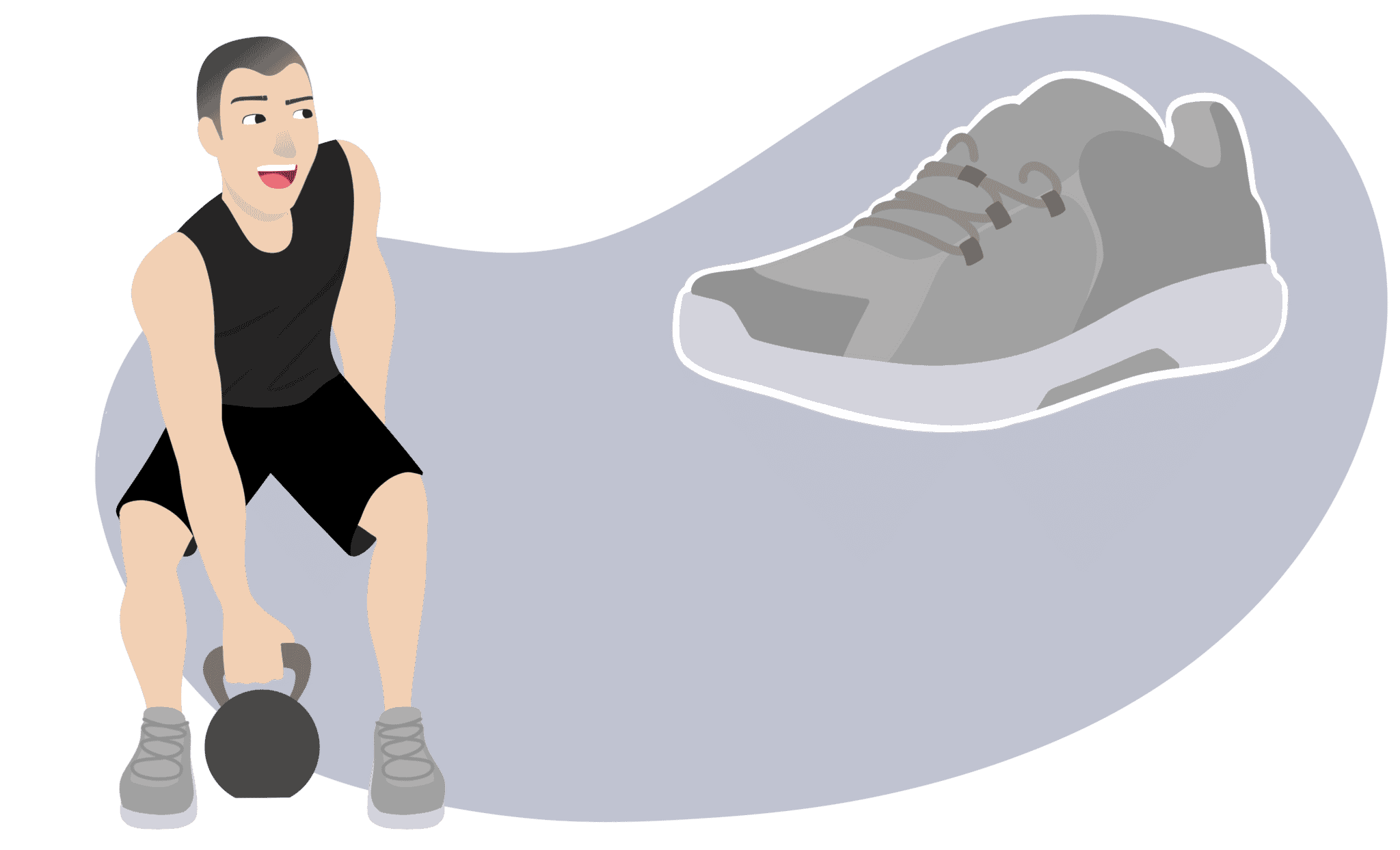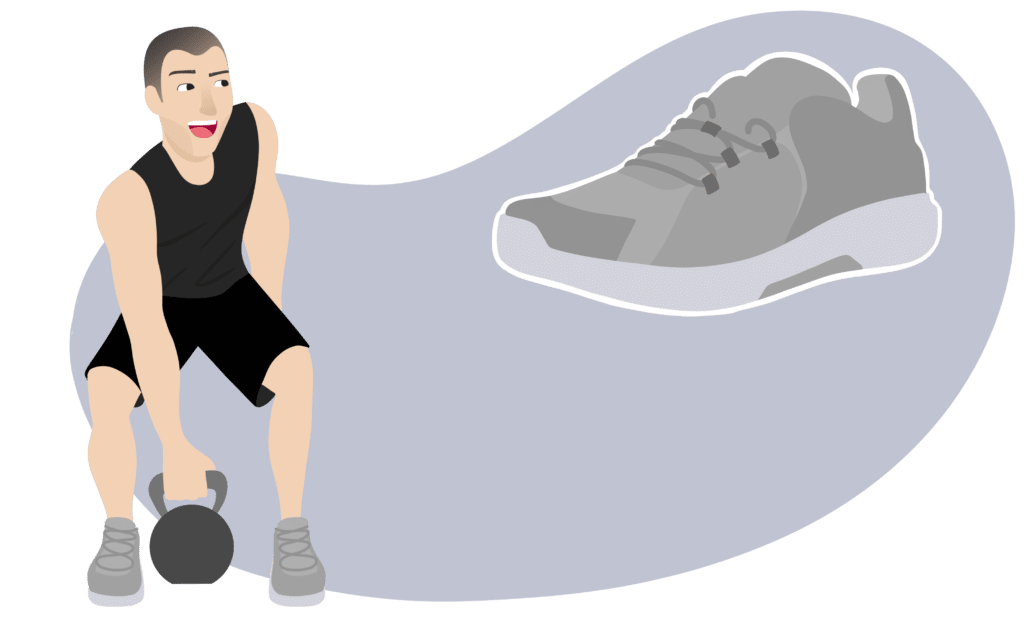 Gone are the days when exercising meant hopping on a treadmill or lifting a few weights. Nowadays, there is an assortment of movement-based exercises that falls under the banner of cross-training and, more specifically, Crossfit. These workouts include high-intensity interval training (also known as HIIT workouts), box jumps, rope climbs, deadlifts, and burpees.
To make sure you have the correct arch and ankle support, you need a pair of shoes that functions well with each of these movements. Luckily shoe brands have developed a shoe that does just that, the cross-trainer.
Unfortunately, not all workout shoes are made equal to take the challenge out of finding a high-quality pair; we have gathered together the best cross trainers Amazon offers. We then reviewed each pair of shoes from Amazon to provide you with an in-depth look at what's hot and what's not.
Best Cross Training Shoes
We tried out a selection of cross-training shoes from Amazon and concluded that these ten are the best workout shoes for both cardio and strength training. We used the approach to chat to men about what they looked for in high-quality gym shoes and collected together those that ticked these boxes and then reviewed each of these cross-trainers. We based our evaluation of each on the following criteria: the materials used to make the shoes, style and versatility, comfort, functionality, and support.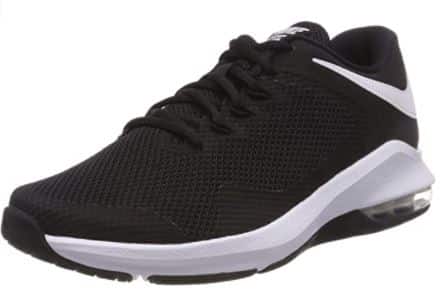 Nike, an American brand, focuses on designing and manufacturing apparel, equipment, accessories, and footwear. Founded in Oregon in 1964, Nike has fast become one of the world's most-loved brands; its iconic white tick logo is instantly recognizable. It is for the high-quality and stylish designs this company outputs that have put them on the map.
The Nike Air Max Alpha Trainer Men's Cross Training Shoes are one pair of footwear that shows the brand knows what it's doing when it comes to making premium sports apparel.
Specs
Durable rubber outsole
Features a heel with Max Air technology for cushioning
Includes a foam insole
Comes with an engineered mesh upper for added breathability
Who is it Best for?
Nike designs these trainers to be lightweight while offering comfort, durability, and support. We gave these cross trainers a try, wearing them at various exercise events and then as fashion shoes too. We found that while the shoes are exceptionally lightweight as promised, they are somewhat tight around the upper. If you have broad feet, we suggest giving these a miss.
However, they did provide excellent support, especially around the ankle and arch of the foot during cardio, making them great for a range of different workouts. If you want a lightweight shoe that supports your foot, these are an excellent option.
Compared to other offerings from Nike, such as the Nike Air Zoom Pegasus, these cross trainers sit lower on the price scale, although not that much, with the only visible difference being the placement of the logo.
Key features
Nike's Air Max Alpha Trainer features a low-profile design that offers mobility of the ankle while still offering the support necessary for workouts and training. Using a combination of Flywire technology for the perfect fit and the Air Max cushioned heel, these shoes are made for comfort, durability, and stability.
The outsole of these trainers is made from durable rubber that provides impressive traction even in wet conditions. Air Max technology in the heel offers responsive cushioning that provides the support and shock absorption needed when exercising.
A soft foam insole offers comfortable cushioning for your feet. What we love is that it is removable so that you can slip your ones in should you prefer.
When it comes to the uppers, Nike fashions them from a breathable mesh with an inner sleeve for added strength and comfort. This sleeve wicks away moisture while the mesh allows the vapor to evaporate, keeping your feet cool and dry.
Pros
The shoes offer remarkable support
The comfort these trainers offer is impressive
The multi-directional traction is excellent for wear even on wet or high-shine floors
Cons
The upper is tight-fitting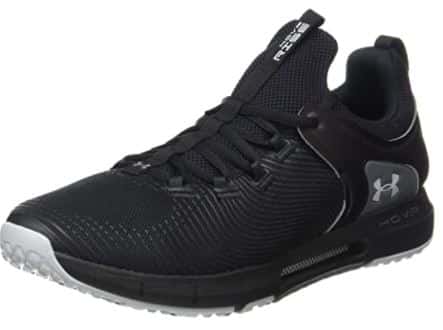 Under Armour is an American brand founded in 1996 with the aim to provide premium quality sports and casual apparel, footwear, and equipment. The brand is best known for its unique moisture-wicking material that keeps you dry and cool like nothing else on the market.
But, it is Under Armour's sports shoes that deserve mention. Offering taglines such as – this is what fast feels like – you can believe that shoes such as the Under Armour Men's HOVR Rise 2 Cross Trainers offer comfort, style, and functionality.
Specs
Features an abrasion-resistant mesh upper
UA HOVR technology provides a lightweight design and impact protection
Features an extended tongue and ankle collar for added support
Includes a slip-resistant rubber sole
Who is it Best for?
Whether you suffer from plantar fascitis or you prefer shoes that provide a little extra support for your arch and ankle, then these cross-trainers from Under Armour are precisely what you need. The brand creates these shoes to feature an extended tongue and a heel collar that rises to offer stability past your ankle. These features keep your foot in place and keep it stable as you move about, preventing sprains, strains, and twinges.
Compared to a competitor brand, Fila and the Fila Men's Disruptor SE Training Shoe, this offering from Under Armour is slightly higher in price, but it offers the support that the shoe from Fila is missing.
After wearing these shoes for a few weeks in various settings, we found them durable and very comfortable. There was some concern that the extended tongue would be uncomfortable, but we are happy to report that you will find it to offer quite the opposite.
Key features
Under Armour has taken the time to design these shoes specifically for cross-training, powerlifting, or cardio workouts. The sturdy rubber outsole offers excellent grip on surfaces of all kinds, even in wet conditions. The insole incorporates UA HOVR foam technology that provides a unique cushioning that works as a shock absorber without depleting the energy of your step. This technology also makes the shoe extremely lightweight, making them comfortable to wear during exercise.
Breathable mesh with an inner sleeve forms the upper of the shoe. This mesh allows for a shoe that is moisture-wicking and breathable, preventing your feet from overheating and becoming sweaty and odorous. The compression mesh also offers stretch that helps the shoe fit your foot comfortably while still providing the support you need.
What we loved most about these shoes is that they fit well, whether you have wide feet or not, making them ideal for extended wear and use during your workouts.
Pros
Excellent for people with broad feet
The lacing is simple to navigate
Your heels don't slip in these shoes
Cons
The inner may not be as durable as the exterior of the shoe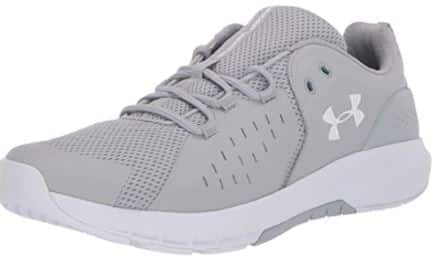 Under Armour has been around since 1996; following that, the brand has grown from strength to strength. Now loved and supported across the globe, Under Armour's unique and innovative sports and casual apparel, footwear, and sporting equipment are regarded as some of the best on the market.
The Under Armour Men's Charged Commit 2.0 Cross Trainers are made for athletes who participate in various workouts, from running and weightlifting to plyometrics such as jumping rope and lunges. Let's see how they held up in our review.
Specs
Features a leather midfoot saddle for extra stability
Includes a Charged Cushioning technology in the midsole
Lightweight mesh upper
Rubber high-traction outsole
Who is it Best for?
Suppose you need a sports shoe that offers excellent traction and comes with an outsole that doesn't hinder flexibility and your ability to make the movements you need to. In that case, this shoe from Under Armour is the solution you need.
The shoe comes with a sturdy rubber outsole that features flex grooves in strategically placed areas that creates traction and grip while still allowing the shoe to flex when you need to move about.
When it came time to give these shoes a try, we wore them for just over a week and came to the following conclusions: the shoes offer extra depth and provide a roomy fit. They also have well-placed laces that don't do up over the foot's pressure points, and best of all, the insole offers excellent arch support and provides enough room for an orthotic insert of your own.
Key features
Under Armour designed these shoes for wear during a range of exercises and training, including HIIT sessions. The outsole is made of durable rubber that is thick and offers impressive cushioning. It comes with edges rounded enough to allow for easy lateral movement, but that is square enough to provide stability. The shoes provide excellent support across the top of the toe box and adequate space to move your foot while keeping it stable.
A leather midfoot saddle is incorporated into the shoe to increase the stability offered. The mesh upper allows your foot to breathe, making it easier for fresh air to circulate between your foot and the shoe, preventing your heat from becoming hot, sweaty, and odorous. A cushioned sock liner inside the shoe molds to the form of your foot to provide you with comfort.
Pros
Excellent for people with wide feet
The laces don't straighten on your pressure points
The soles offer the perfect shape for lateral movements but still offer stability
Cons
Under Armour could improve on the quality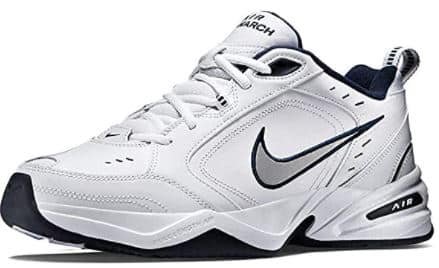 No one does iconic like Nike, from the brand's minimalist logo to the design of the apparel and footwear they offer. The sleek look for which Nike is known is what makes their products so well-loved by people the world over. But it is by placing the focus more on durability, functionality, and quality that Nike has kept people coming back for more.
The Nike Air Monarch IV Men White Cross Training Shoes are an excellent example of the brand's products that provide premium quality and style.
Specs
Features a full-length encapsulated Air-Sole for added support and comfort
Includes a solid rubber sole with traction design
Is made from leather and faux leather for a durable design
Comes with a lightweight foam for added comfort
Who is it Best for?
If you want a pair of shoes that offers the perfect blend of style and functionality, you've found them. Nike designs these kicks to be worn as fashion shoes or cross-trainers, making them versatile and comfortable.
A sleek leather upper ensures these shoes offer the durability and softness you need while lending the sneakers a touch of style. The only downside to this is keeping these trainers in excellent condition; the leather will need maintenance.
If you're not into squeaky shoes, you may want to give these a miss. After wearing them reasonably frequently over a few months, we found them to develop a squeak that made itself known. We weren't sure whether this developed due to the way we wore the shoes in or it is just a design flaw.
Key features
Nike makes the upper of these shoes from genuine leather that offers durability and a touch of style. The leather provides the bonus of softening to fit the shape of your foot, a real plus for those with broad feet.
The outsole is made from another durable and sturdy material, rubber. These soles absorb shock as you move while providing excellent traction on even the most slippery of floors. Nike Air Cushioning technology is combined with the lightweight foam insole to ensure each step is as comfortable as the last, making this shoe a firm favorite for those who enjoy plyometric and HITT exercise.
The impressive combination of style and functionality these shoes offer makes them some of our favorite cross-trainers.
Pros
The shoes feature a roomy interior 
Over time they stretch to fit your foot more comfortably
The lightweight design makes them ideal for HIIT workouts
Cons
They have been known to develop a squeak after extended wear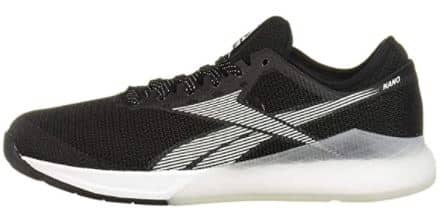 Reebok, a British-American brand founded in 1958, became a subsidiary of Adidas in 2005. Reebok designs and manufactures running, fitness, and CrossFit sportswear and footwear. The footwear offered by Reebok is so cleverly designed that you can wear it for fitness or fashion.
The Reebok Men's Nano 9 Cross Trainers are one such pair of footwear made to offer comfort, functionality, and style. This unique pair of trainers is ideal for anyone who spends their time doing plyometrics or CrossFit.
Specs
Features a rubber outsole
Includes a support cage
Comes with responsive cushioning
Made with a Stretch Flexweave upper
Who is it Best for?
If you're a heavyweight lifter looking for a good quality pair of weightlifting shoes that double as gym shoes, then these may be the trainers you need.
Reebok fits these cross-trainers with a unique midfoot support cage that offers stability for those days you tackle the heavy weight workout at the gym. This cage provides a locked-in fit that keeps your feet firmly supported to prevent injury. So, whether you are into powerlifting or engage in weight training at the gym, these trainers will give you the support you need.
What we found impressive about these shoes is the comfort they provide. While not ideal for those with dropped arches or flat feet, the shoes accommodate those with wide feet and offer a roomy fit.
Key features
Reebok makes these trainers with a woven textile they term Stretch Flexweave. This material offers unrivaled stretch and targeted stability and support where it is needed most.
Adding to the support offered by the midfoot cage is a PU NanoShell that provides additional support during heavy weightlifting and protects the midsole from abrasion.
The rubber outsole is as durable as they come and features flex grooves for advanced flexion. This outsole is also resistant to abrasion, ensuring your new kicks stay looking like new.
When it comes to the cuff of the shoe, you will find it offers a low-profile cut that allows for fast transitioning of the foot, making it easy to move about during HIIT classes and training.
Pros
These shoes are heavier than most, offering excellent stability
They offer unrivaled support while weightlifting
Perfect for people with broad feet
Cons
Not designed for people with flat feet
The outsoles could be improved upon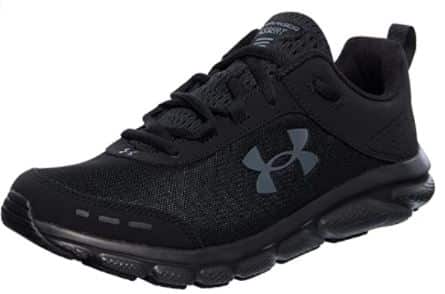 When it comes to sports apparel, footwear, and breathability, there is only one brand you want to seek out, Under Armour. Known for its uniquely developed breathable and moisture-wicking fabrics, the brand has extended this technology to its footwear, too, providing lightweight trainers that offer support, comfort, and of course, breathability.
The Under Armour Men's Charged Assert 8 Running Shoes are designed specifically for runners and offer impressive comfort and support.
Specs
Features an EVA sock liner
Includes Charged Cushioning midsoles that feature compression-molded foam
Synthetic sole
Comes with a breathable mesh upper
Who is it Best for?
If you're a runner or an athlete who incorporates running into your training, then these running trainers are ideal for you. They are lightweight and provide the perfect balance between flexibility, stability, and cushioning.
Compared to other similar sneakers on the market, these are slightly more pricey. However, they are, in our opinion, worth the price tag they come with, due to the reputable brand that makes them and the excellent support and style the shoes offer.
We tried these kicks out for a few weeks under varying circumstances, including a full day's wear here and there, and we must say, we were left remarkably impressed at the comfort they offer. Some sports shoes, when worn for extended periods, can become uncomfortable, but not these. You can wear these for hours and feel as comfortable as when you first put them on.
Key features
Under Armour makes these shoes from a breathable mesh upper, something you want in a sports shoe, as it allows fresh air to circulate your foot, preventing your feet from overheating, sweating, and becoming odorous.
Sitting beneath the mesh is an EVA sock liner that allows you to slip your foot into the shoe quickly and comfortably. It is soft against the skin and helps to wick away moisture from the foot.
The midsole of the shoe features Under Armour's Charged Cushioning, a compression molded foam that offers excellent responsiveness, energy return, durability, and comfort.
Robust leather overlays lock in your midfoot for a more stable design, and the rubber outsole, while solid, is lightweight and adds further durability to the shoe.
Pros
The excellent traction makes these shoes ideal for running in any condition
The fit of the shoe is quite roomy 
The cushioning of the trainer provides premium comfort
Cons
The support offered by the shoe could be improved on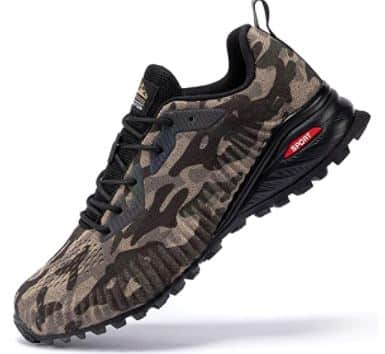 Every now and then, a relatively unknown brand sneaks in with an incredible product. Kricely is one such brand. Kricely designs sports and fitness shoes for running and cross-training and does so in style. The shoes this brand offers are as fashionable as they are functional, making them an excellent choice for workout shoes.
The Kricely Men's Trail Running Shoes are one of the brand's most popular pairs of trainers, and it is easy to see why. A robust design made with durable materials and a pinch of style makes these worth a closer look.
Specs
Made from a TPU and mesh knit upper
Includes an X-Grip sole and impressive traction
Features reflective strips for enhanced visibility
The sole is non-slip and wear-resistant
Who is it Best for?
Kricely makes these shoes specifically for trail runners and outdoorsmen. These men's shoes work well as trainers for gyming and exercise too.
Compared to other sneakers on the market, these are very reasonably priced considering the quality and functionality they offer. We wore them for a while to try them out and found them to be very comfortable. We noticed that they are pretty angled from the heel to the toe, creating a steep toe drop, and don't offer the firm fit you may want from your shoe. However, if you pair them with a pair of thick socks, you may end up with the perfect fit.
Kricely offers these trainers in a wide selection of colors and designs, making it simple to find a pair that matches your training gear. We gave the camouflage ones a try and quickly fell in love with the unique pattern.
Key features
Kricely blends a few materials to create these shoes. A blend of TPU and a mesh knit upper leaves you with trainers that are durable and breathable, keeping your feet cool and odor-free no matter how hard you push yourself during training.
The X-Grop sole comes with a unique traction pattern, offering exceptional grip and a non-slip design. Better still, the sole is wear-resistant, making the shoes perfect for wear in the rough terrain you would expect to encounter on a trail run.
The cushioned heel of the shoe provides shock absorption and added comfort. Running up the back of the heel is a reflective strip, making you more visible when you exercise in poor lighting conditions.
Overall these shoes left us impressed and make for an excellent footwear choice for the gym or the outdoors.
Pros
The grip these shoes offer is unrivaled
They are very well priced for what you get
These shoes are very well-constructed
Cons
The shoes may come with a slight odor that is eliminated by placing them in a well-ventilated area
The trainers are quite heavy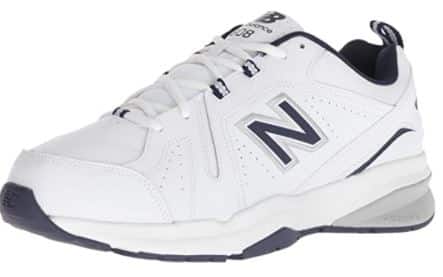 New Balance, an American sports apparel and footwear brand, was founded in 1906 in Boston, Massachusetts. The brand, originally affiliated with the New Balance Arch Support Company, knows a thing or two about comfort and support, so you can be sure the shoes you buy from New Balance will offer these features and more.
Don't believe us; give the New Balance Men's 608 V5 Casual Comfort Cross Trainer Shoes a try.
Specs
Features a premium leather upper
Uses ABZORB technology in the heel area
A dual-density foam collar protects and cushions your ankles
The outsole is highly flexible
Who is it Best for?
Whether you want a pair of cross-trainers for your CrossFit sessions, for taking a jog, or wearing them at the gym, these trainers from New Balance deserve a try. They are comfortable and offer remarkable support, making them ideal for wear during a range of fitness and training activities.
Compared to the Nike Men's Flex Control TR4 Cross Trainer, these trainers from New Balance are slightly more expensive but are well worth it, in our opinion. The sleek design, durable materials, and excellent support that these shoes offer make them worth every penny.
What we appreciated about these shoes are the comfort and the support. Slipping them on as soon as they arrived, we noticed that they feel broken-in, offering instant comfort, and this is primarily due to the softness of the leather and excellent cushioning.
Key features
New Balance makes these shoes with a 100% leather upper that is soft, durable, and wears into your foot's shape. New Balance offers next-level cushioning with these trainers, and it comes at you from every angle. The Comfort Insert is made of memory foam that molds to the contours of your foot, offering support and a soft, spongy cushioning.
New Balance continues this foam support in the form of a dual-density foam collar that sits on the inner of the shoe opening. This collar protects and stabilizes your ankles, providing you with excellent support.
ABZORB technology, a feature unique to New Balance, is incorporated into the heel of the shoe. It provides a shock absorption design that protects your feet and ankles from injury. The rubber outsole offers impressive traction and flexibility, making it easy to perform your exercises on any surface.
Pros
The insoles are removable
The ankle support is excellent
The comfort is so great they feel broken in right out of the packaging
Cons
Do not offer a wide toe box
The shoe loses support when wet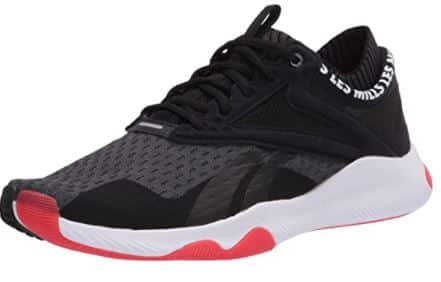 Reebok, a subsidiary of Adidas, is a brand known for sporting goods and apparel, but where the brand shines is in its footwear offerings. Partnering with a selection of celebrities such as Siya Kholisi and Cardi B, Reebok knows just as much about fashion and style as they do about functionality and quality.
The Reebok Men's HIIT Tr Cross Training Shoes are made for men with a thirst for high-energy workouts, men who want results.
Specs
Includes a rubber sole
Made with mesh uppers
Features EVA foam cushioning
Uses easy-to-manage lacing
Who is it Best for?
If you want the right shoes for your HIIT workouts, then these shoes were made for you. Reebok designs these shoes to feature a minimalist design, focusing instead on support and cushioning.
Men who struggle with getting their trainers on will enjoy the unique tongue-pull built in that helps you slip the trainers on with ease; no more fighting with the shoes and hurting your fingers in the process.
Compared to some of the other cross-trainers we have reviewed here, these sit pretty high up in the price range. This can be expected due to the specialized nature of the shoes; however, it makes them a little inaccessible to some.
After testing these shoes out in various situations, we found that they are not ideal for running shoes. At the same time, they are excellent for high-intensity interval training and other plyometric exercises.
Key features
Reebok designs these shoes specifically for HIIT workouts, with each aspect of the shoe carefully considered to provide the proper support where it is needed most.
The upper is made from breathable mesh that allows air to circulate between the shoe and your foot, keeping your feet cool, comfortable, and odor-free.
A lightweight EVA cushioning inside the shoe provides the comfort you need to get through your workout. The cushioning also provides the additional support you need to perform the various movements required during a HIIT workout, be it burpees, lunges, or skipping rope.
The rubber sole provides a stable platform and offers additional cushioning while absorbing shock and keeping your knees, ankles, and feet protected while you work out.
Pros
The shoes feature a neutral arch
These showers offer excellent support
They work well for lateral movements
Cons
Not ideal for wide feet as the toe box is pretty narrow and pinches the forefoot
Not ideal as a running shoe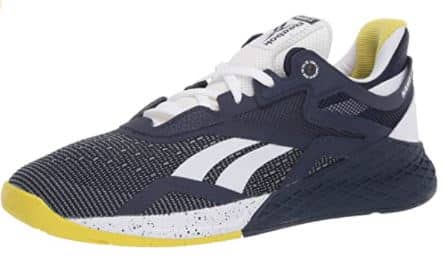 As we have discussed before, Reebok is a top performer when it comes to a brand trusted for its exceptional footwear. It is no surprise that famed sports brand Adidas snapped the company up in 2005, adding Reebok as one of its subsidiaries.
Today Reebok is still offering the same exceptional products it always has, including the Reebok Nano X Cross Training Shoes, a durable pair of trainers that provide remarkable versatility.
Specs
Features a Flexweave woven upper
Is made in part from recycled materials
Uses EVA foam cushioning
Provide support in targeted areas
Who is it Best for?
When it comes to finding shoes that offer the support and comfort needed to allow you to partake in numerous fitness workouts from jogging and HIIT to CrossFit, lifting sessions, and even cardio, things get challenging unless you have a pair of Nano shoes from Reebok. These trainers are designed for wear during a selection of workouts, including those above and many more.
What we love about these trainers is their funky design that sees a blend of three fun shades. Best of all, Reebok offers them in a selection of different colors and patterns, so you can pick the ones that suit your workout garb.
We did find these shoes to be a little thick and bulky, and the sizing runs small (we suggest buying one size up), but overall, we were left impressed.
Key features
Reebok makes these shoes from their unique woven textile they call Stretch Flexweave. This material offers a resilient stretch that rebounds after each wear to fit your foot perfectly each time you slip them on. The woven structure of this textile also makes it soft and breathable, keeping your feet comfortable throughout your training session. This fabric also offers excellent support in the areas you need it most, making the shoes perfect for the high-impact exercises that come with CrossFit and HIIT sessions.
The EVA foam cushioning is lightweight and provides comfort and stability for your feet.
A durable rubber sole that absorbs shock and impact as you move about then follows this soft EVA cushioning. The base of these shoes provides excellent traction, making them great for wear on various surfaces.
Pros
These shoes are very lightweight
The Flexweave offers more stretch than in previous versions of the Nano
The heel cup offers exceptional support
Things to Consider When Buying Cross Training Shoes
1. Intent
When purchasing a pair of cross-trainers, you may want to give thought to what you plan on using them for, and while most training shoes are relatively versatile, there are types of cross-trainers that are more suitable in one area than another.
High-intensity interval training involves a series of movements or exercises performed at high speed over a short period, with interspersed rest intervals. These exercises combine running on the spot, skipping rope, and other plyometrics such as burpees or lunges. For this form of workout, you will need a pair of cross-trainers that offer support, stability, and a lightweight design. You also want a pair that allows for lateral movement while making it easy to keep your balance.
Weightlifting is an activity that sees the lifting of barbells or other heavy weights. Here, you will need a training shoe that keeps your feet firmly in position and features a support cage of sorts to provide you with the stability you need.
Crossfit is a workout regime that features a combination of HIIT workouts, Olympic weightlifting, cardio, and calisthenics. Here you will need a trainer that offers a blend of additional support found in weightlifting trainers and HIIT trainers. You will also want a set of shoes that comes with a more neutral arch and a lesser heel-to-toe gradient.
Running shoes, especially those for long-distance training, need to provide exceptional cushioning, shock absorption, and a steeper heel-to-toe gradient. These will also need a thicker, more durable sole.
2. Heel Height
The heel height a training shoe offers makes a more significant impact than you would think on your workout and how your body is left feeling post-workout.
Trainers used for plyometric exercises, HIIT, gym, weightlifting, and Crossfit should generally offer a lesser heel height and a slighter heel-to-toe gradient. This lesser gradient makes it easier to perform most gym exercises, and it provides more excellent stability when weightlifting while protecting your feet, legs, knees, and back from undue strain.
Running shoes, by comparison, need a steeper heel-to-toe gradient to make it easier and more comfortable to run and offer additional cushioning required to keep your feet and knees protected while you run.
3. Fit
The fit of your training shoe is an essential and often overlooked aspect of buying a shoe. Purchase one that is too tight or too loose, and you will suffer later.
Many men have broad feet, and some have fallen arches. In these cases, you will want a trainer that provides adequate space for your foot and comes with a more neutral arch to prevent backache. Shoes that pinch or are too tight can cause blisters and extreme discomfort during use. Shoes that are too wide can do the same.
If your shoes don't fit correctly, chances are you will adapt your body movement to compensate for the ill-fitting shoe. This could leave you with injuries, and you won't work your body in the manner the exercises you are doing intended.
FAQ
1. What is the best shoe for cross-training?
The best shoe for cross-training is one that offers excellent support and stability while still allowing you to perform a variety of movements, including lateral motions, without hindering you or putting you off balance. You will also want a shoe that absorbs shock while offering a lightweight feel. Most importantly, the shoe needs to be of high quality. The best way to ensure this is by investing in a shoe from a reputable brand.
Aside from those shoes and brands discussed in our reviews, here are a few others you may want to consider:
New Balance Men's Minimus 10 V1 Trail Running Shoe
NOBULL Men's Training Shoes
ASICS Men's Gel-Venture 7 Running Shoes
PUMA Men's Fuse Athletic Cross Training Shoes
Nike Metcon 6 Training Shoes
Inov-8 Men's F-Lite G 300 – Cross Trainer Shoes
ASICS Gel-DS Trainer 24 Men's Running Shoe
Under Armour Men's Tribase Reign 2.0 Cross Trainer
NOBULL Men's Knit Runners – Running Shoes
PUMA Men's Axelion Cross-Trainer
Nike Air Zoom Superrep
Reebok CROSSFIT Nano 7.0 Cross Trainer
Ryka Women's Ultimate Running Shoe
New Balance Minimus 20 V7 Cross Trainer
Vibram Men's KSO EVO Cross Training Shoe
Adidas Men's Edge Cross Trainers Running Shoe
2. Can you run in cross-training shoes?
Cross-trainers are designed to be versatile and can be used for various exercises and training formats. While you can wear cross trainers for running, we suggest using them for short distances only. Why? Cross-trainers do not offer the cushioning and shock absorption needed over long distances that running shoes provide. To ensure your feet and knees stay in top condition and avoid injury, wear running shoes for long-distance jogging.
While cross-trainers are built to be durable, they aren't designed for long distances on asphalt or very rugged terrain, and you will find yourself having to replace them frequently if you use them for such activities.
3. What are the best cross-training shoes for the gym?
The best shoes for workouts at the gym offer a slightly flatter or neutral arch, a lesser toe drop, and more significant support when you engage in weightlifting. You also want a pair of breathable shoes, which will allow you to move laterally while keeping your balance.
Some excellent choices for gym shoes include:
Nike Metcon 5
Nobull Training Shoes
Under Armour HOVR Rise 2
Reebok Nano 9
Inov-8 F-Lite 235 V3
If you are looking for a unique cross-trainer that provides exceptional grip and allows for a more natural "barefoot" feel, then give the Vibram Men's KSO EVO Cross Training Shoe a try.
Conclusion
There are several things to consider when seeking out the best cross-trainers. Giving thought to the brand, durability, the support and cushioning offered, style, and quality will all put you a step closer to finding those shoes that best suit your needs. By vigorously testing the men's cross trainers in this review, we concluded that they each meet the criteria discussed above, making it more simple to find the best shoes to fit your workout needs.