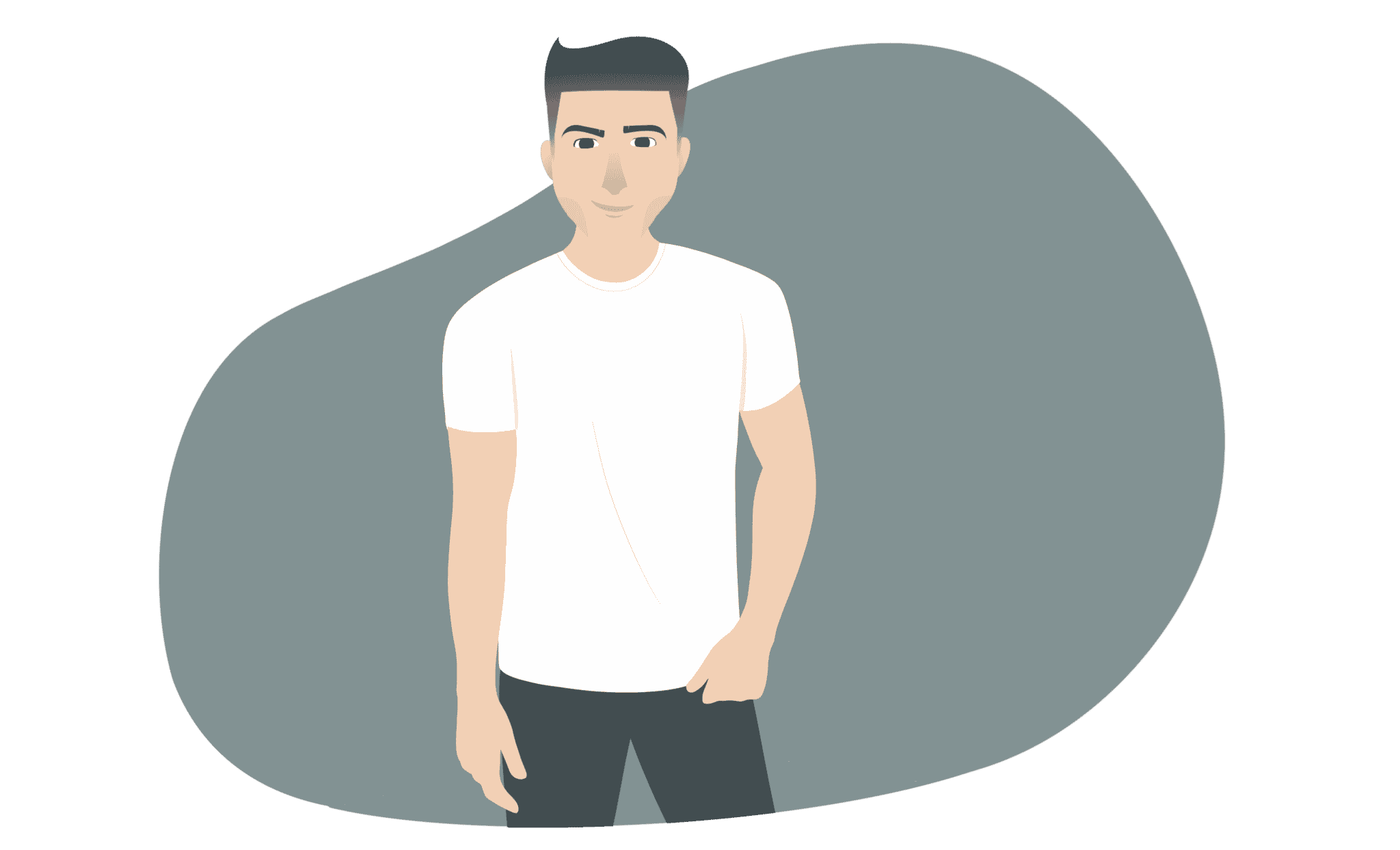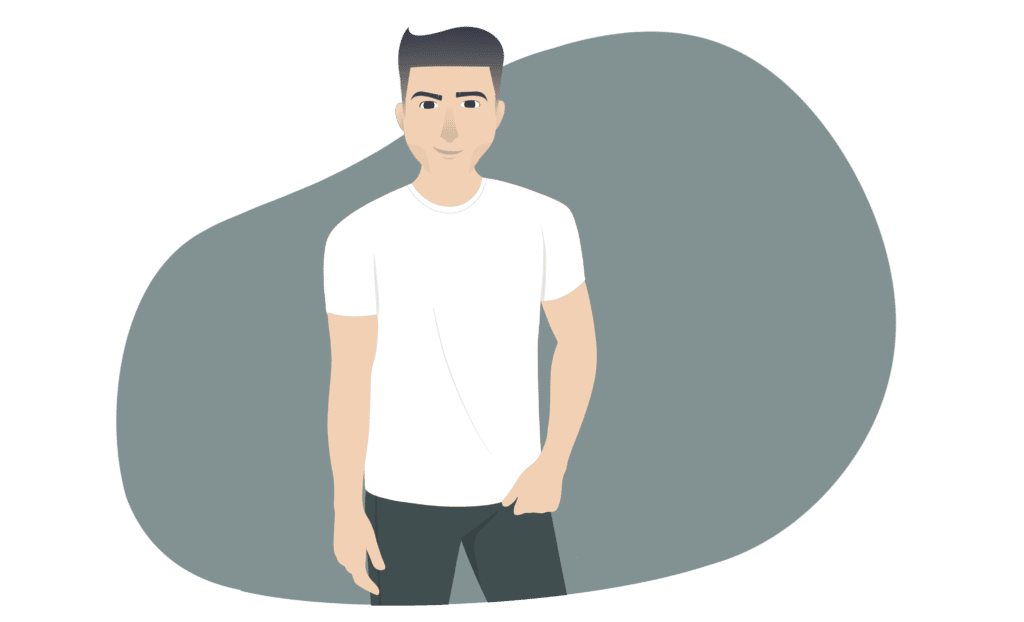 If you're one of those people who have multiple shirts and pairs of pants in their wardrobe but never seem to be able to find that perfect outfit that you can dress up or down? We hear you. Have you thought about trying a classic white tee?
The best white T-shirts are easily paired with a pair of black slim-fit dress pants and a blazer for a contemporary evening look. You can also pair a plain white T-shirt with a pair of blue jeans and boots or sneakers for that all-American look. The versatility a white tee offers is endless, which is why it is often a wardrobe staple.
There are hordes of white T-shirts available in an assortment of cuts and styles, and finding the right one is simple when you know what you are looking for. We have gathered together a selection of the best white t-shirts Amazon has to offer and reviewed each of them, making it more straightforward for you to find the basic tee that best suits your needs.
We tried and tested various white T-shirts from Amazon and concluded that these five are the best white T-shirts for casual and smart-casual wear. We used the approach to chat to men about what they looked for in a high-quality white tee and collected together the t-shirts that ticked these boxes. We then reviewed each of these short-sleeve shirts. Our evaluation of each white T-shirt was based on the following criteria: the fabric used to make the T-shirt, style and design, the cut, functionality, and comfort.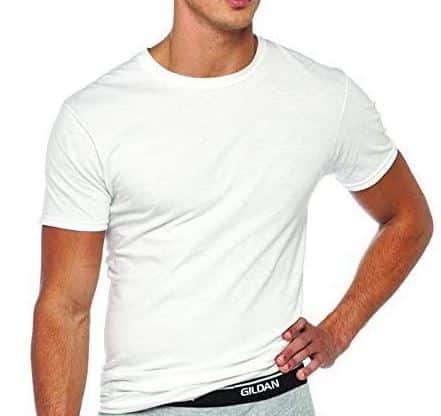 Gildan is a brand that offers basic apparel for everyday wear, from leggings to your basic tee; they have it all. It is not surprising then that this brand popped up on our radar when we were looking for the perfect white T-shirt.
The Gildan Platinum Men's Crew T-Shirts are the quintessential white tee that pairs easily with almost anything and can be worn for nearly every occasion. Let's take a closer look and see how these white tees fair.
Specs
Made from 100% ring-spun cotton
Short-sleeve design
Rounded crew-neck
Uses COOLSPIRE technology
Who is it Best for?
If you're looking for a pack of five plain white T-shirts, then you've found them. These platinum white shirts by Gildan come in a set of five, offering one for each day of the workweek, so if you intend these to form part of a work uniform, then these will be handy.
After receiving these shirts and wearing them for a while, I found them extremely soft and found they offered a fair amount of stretch that allowed the shirt to fit me more comfortably. What I also noticed, though, was that the fabric of the shirts is relatively thin. In my opinion, these may be better worn as an undershirt beneath a button-up shirt.
Key features
Gildan makes these plain white T-shirts from pure ring-spun cotton that is soft, moisture-wicking, and breathable. The light, airiness of the fabric keeps you cool and dry no matter how much the temperature increases throughout the day. Gildan claims to use COOLSPIRE technology that allows the shirts to offer ventilation that keeps you comfortable.
One of the aspects of these shirts I appreciated is the tagless design. There is nothing more irritating than a tag flapping about at the base of your neck and causing an itch.
The seams of the neck and shoulders come with reinforced seams that offer durability. This additional reinforcement seems to have improved the integrity of the neckline, too, as one of the things I have noticed is that the neckline has stayed in shape, not stretching at all.
Pros
The neckline retains its shape really well
The shirts are exceptionally soft and lightweight
They offer a slightly longer length which is great if you wear them tucked in
Cons
The fabric is a little on the thin side making these better as undershirts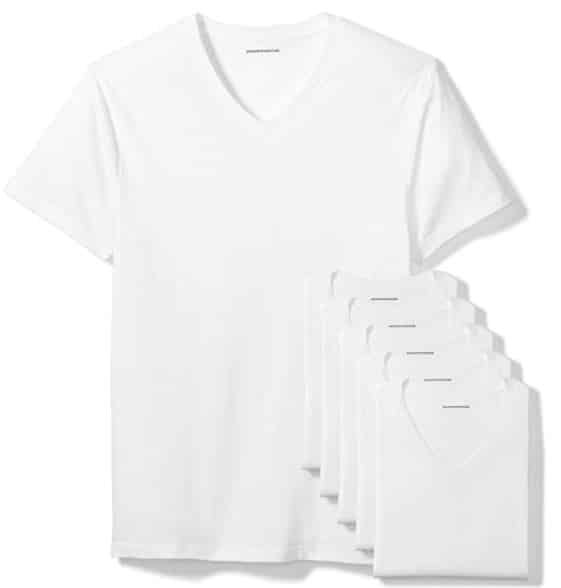 Amazon Essentials is a subsidiary of Amazon. Amazon developed the brand to offer high-quality apparel for everyday wear at affordable prices. We wanted to see if the brand lived up to this ethos when it comes to their Amazon Essentials Men's 6-Pack V-Neck Undershirts.
These undershirts come in a pack of six, making them a great option for wear during the week with an additional shirt as a backup. But, do they provide comfort and durability?
Specs
Made from 100% cotton
Short-sleeve design
V-neck T-shirt style
Tag less neckline
Who is it Best for?
If you want a V-neck tee, then these make an excellent option. Amazon Essentials certainly lives up to their ethos with these. The shirts are thick and offer a great opacity. I found that because they are not sheer, I could just as easily wear them as a regular T-shirt.
The price point on these is impressive; too, when you consider a set of two white shirts from Calvin Klein come in at nearly double the cost. The pack of six is handy too, but I can't help but wish they would just add in that seventh shirt, just to round it off to a full weeks' worth of shirts.
Another thing I enjoyed about these is that they're machine washable, and as long as I remember to wash my whites together, keeping them laundered is a breeze.
Key features
When it comes to features, these seemingly simple white tees have quite a few. Amazon Essentials makes them from 100% cotton, and you can tell they are thick, soft, and durable.
The design features short sleeves and a V-neck neckline. I found that the V-neck is a very shallow one, so if you prefer a deeper V, then perhaps these aren't the shirts to try, especially if you want to wear them beneath a button-up shirt without a tie.
Where Amazon Essentials left me impressed is with the tagless design. A pet peeve of mine is an annoying tag, so the lack of one in these shirts left me happy. This label is not ink-printed onto the shirt, though, but instead is pressed on, and with time, will start to peel off after multiple washes.
Pros
These shirts are well made and offer excellent comfort
They are not sheer at all and can be worn as a regular shirt
The shirts are simple to launder
Cons
The V-neck is quite shallow
The label peels off after some time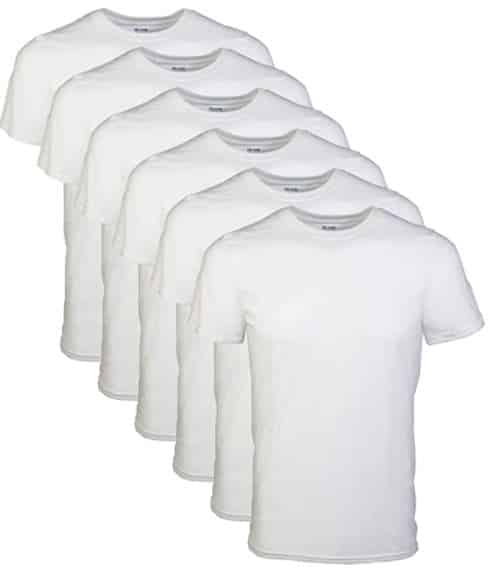 According to its website, Gildan is a Canadian brand that offers a selection of everyday apparel that is comfortable and durable. As one of the world's largest clothing and active wear manufacturers, Gildan takes the time to ensure its garments are sustainable and made using ethical practices.
We can get behind this, so we decided to give the Gildan Men's Crew T-Shirts, Multipack, a try to find out what else these shirts have to offer.
Specs
Made from 100% cotton
Round neck design
Short-sleeve
Moisture-wicking
Who is it Best for?
If you're looking for a t-shirt that offers a more boxy or relaxed fit, then this shirt makes an excellent option. This short sleeve tee provides a cut that fits most body types comfortably.
Gildan offers these shirts in various pack sizes, from a set of six like this one, right up to a pack of 12. The price point of these is impressive compared to other brands that charge the same for a single tee.
It is important to note, though, that you do get what you pay for. If you want thick, sturdy white tees that do a good job obscuring your chest when it gets cold, these are not the shirts to buy. They do come in a little on the thin side, making them a great option as an undershirt.
Key features
I decided to wear these shirts for a few weeks before sitting down to review them, and I'm glad I did. The cotton fabric of these shirts, while not sheer, is not very thick either, leaving them to feel a little like they may form a hole if hooked on something.
Another area for Gildan to improve upon is the stitching. After a few washes, I found the hem becoming unraveled. The neckline also seemed to lose shape after a while.
With that being said, the overall design and comfort of the shirt left me impressed. The reinforced shoulders offered additional durability, and the tag less design added to the convenience of the tee. While I wouldn't recommend wearing these for heavy-duty work, say on a construction site, you could get quite a bit of wear from them as an undershirt beneath a dress shirt and tie.
Pros
The tag less design prevent itching at the neckline
These shirts are not sheer
The shoulders are reinforced for durability
Cons
The fabric is not as thick as I would have liked
The neckline tends to lose shape after some time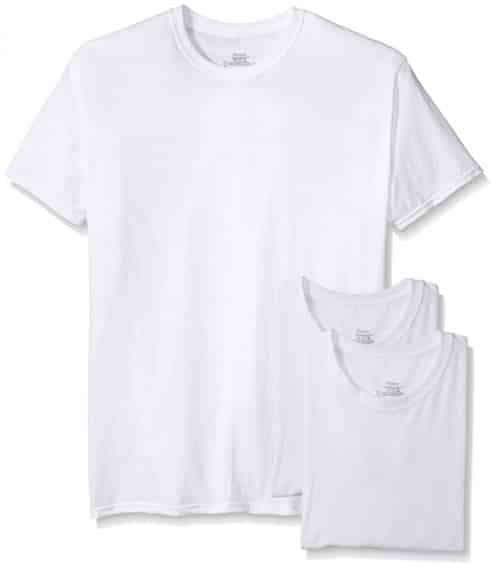 Hanes has been producing everyday apparel since 1901. With over a century of knowledge and design know-how, we figured that their clothing might just offer the quality and durability we were after.
When we came across the Hanes Men's 3-Pack Tag less Cotton Crew Neck Undershirts, we just had to give them a try and see how they fared. Hanes makes things simple by selling these undershirts in a pack of three, making it the perfect cotton tee for work or home.
Specs
Made from 100% cotton
Rounded neck with lay-flat collar
Short sleeve
Tag less design
Who is it Best for?
If you are looking for a set of soft and lightweight undershirts to buy now, then you may want to look at these a little more closely. When it comes to offering apparel as it is described, Hanes does it right. These are undershirts, not your regular short sleeve tee. I found these shirts to be far too sheer to be worn as a standalone shirt, which is fine because they are as advertised.
According to their website, Hanes makes these shirts from 100% cotton. If you want a soft undershirt that is breathable, these are excellent. However, the durability of the fabric is questionable. The sheerness and thin weave of the cotton leave me thinking that the tees won't last long. But, time will tell.
Key features
When it comes to undershirts that work well for layering, especially in winter, these are ideal. They are soft and comfortable, making them easy to wear under a dress shirt and tie.
Hanes has taken great efforts to ensure that these white undershirts offer excellent functionality. The shirts are described as having a lay-flat collar, which works wonders under other clothing. You don't end up with any funny bumps and lumps showing through your dress shirt. This lay-flat design also seems to keep the collar in shape because it was still perfectly round after washing it a few times. Another feature these shirts offer is the tagless collar which makes things far more comfortable.
What I must mention, though, is the washing and sizing. It is imperative to wash the shirts precisely as described by the care instructions on the tag, and even then, expect some shrinkage. You may even consider buying a size up from your usual to account for this.
Pros
The shirts are soft and breathable
The lay-flat collar prevents odd lumps and bumps under your dress shirts
No irritating tag at the neckline
Cons
The fabric is not as durable as it could be
These shirts shrink considerably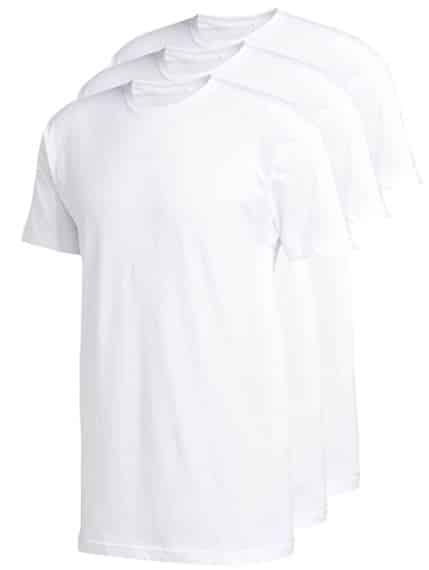 As an internationally acclaimed brand, Adidas is known for its innovative and sustainable sports apparel and goods. Those three stripes have become synonymous with style, and durability, endorsed by sporting heroes across the globe.
When we saw the Adidas Men's Athletic Comfort Crew Undershirt (Pack of 3), we had to give them a try to see if they lived up to the comfort and robust design the brand claims to offer. We know their shoes are excellent, but what about their white tees?
Specs
Slim fit cut
Made from 100% cotton
Short-sleeve
Moisture-wicking technology
Who is it Best for?
When it comes to undershirts, a more tightly fitting cut is preferable instead of a more baggy style, this prevents unsightly bunches and lumps showing through your dress shirt. Adidas understands this, which is why they have designed these undershirts with a fitted, slim-fit design.
I found the fit to be snug but not so tight that it is uncomfortable, although I would probably wear this more fitted style closer to Fall or Winter.
This crewneck T-shirt has a pretty high neckline, making it better suited to wear with dress shirts and a tie unless you don't mind the top of your undershirt showing. The neckline sits relatively flat and is comfortable, so it won't leave you feeling as though you have one too many layers on.
Key features
The best men can get when it comes to shirts are ones that offer durability and style. These undershirts from Adidas certainly provide that. They are made from thick, sustainably sourced cotton, known for their moisture-wicking properties designed to keep you dry and sweat-free. The fabric is breathable, too, keeping you cool and comfy throughout the day.
I enjoyed that these shirts were thick enough to be opaque, so you could wear them as a regular tee if you wanted. The length also really left me impressed, as did the boxy cut, making it much easier to tuck in.
If you're as into tag less tees as I am, then these are an excellent choice; they come tag-free.
Pros
These shirts are not sheer at all
The neckline sits flat and doesn't sag
The fabric is extremely soft against your skin
Cons
The shirts fit a little snug which not everyone will enjoy in summer
Things to Consider When Buying a White T-Shirt
1. Style
When buying a new white T-shirt, you will want to consider the style of the shirt. The tee style generally considers elements such as the length of the sleeve, whether the neckline is rounded, a V-neck, or a crew neck. You may also want to think about whether you want a curved hem or a straight hem, such as the Fruit of the Loom Men's Stay Tucked Crew T-Shirt. Considering each of these and choosing what suits your taste best will make it more straightforward to find the shirt that best suits your needs.
2. Fabric
The best fabric for a plain white tee is undoubtedly cotton or at very least a cotton blend. We are sure you have heard related stories from friends who have bought a tee made from a different fabric only for it to be hot, heavy, and unbreathable. No, thank you! Cotton is ideal because it wicks away moisture, and it is breathable.
There are a variety of types of cotton too:
Supima or Pima Cotton – This is the crème de la crème of cotton. It is only grown in the USA and offers longer, thicker fibers that are soft and durable.
Cotton or Organic Cotton – This is regular cotton that most shirts are made from. Organic cotton is the same as regular cotton, differing only in how it is grown.
Slub Cotton – This is regular cotton, but the weave of the fabric leaves little lumps and bumps that give the material texture.
Cotton Blends – This fabric sees a high content of cotton that is then blended with other fibers, such as spandex, to give it a slight stretch.
When looking for the perfect white tee, there are several things to consider. Giving thought to versatility, durability, the fabric used, style, and quality will all put you a step closer to finding the cotton T-shirt that most suits your needs.
By closely examining and testing each of the white cotton tees in this review, we concluded that they each meet the criteria discussed above, making it more simple to find the ideal men's white T-shirt to achieve the look you want.