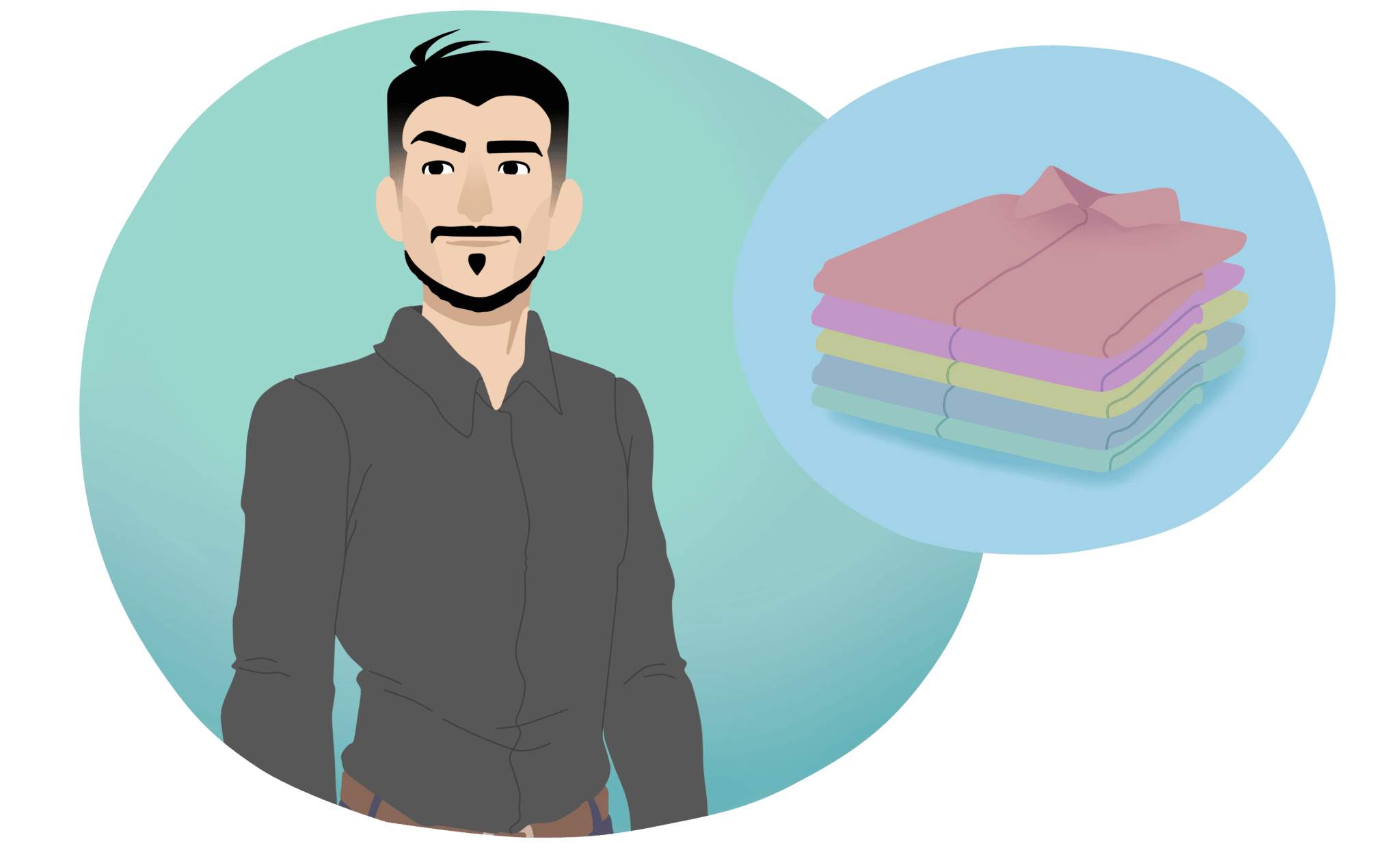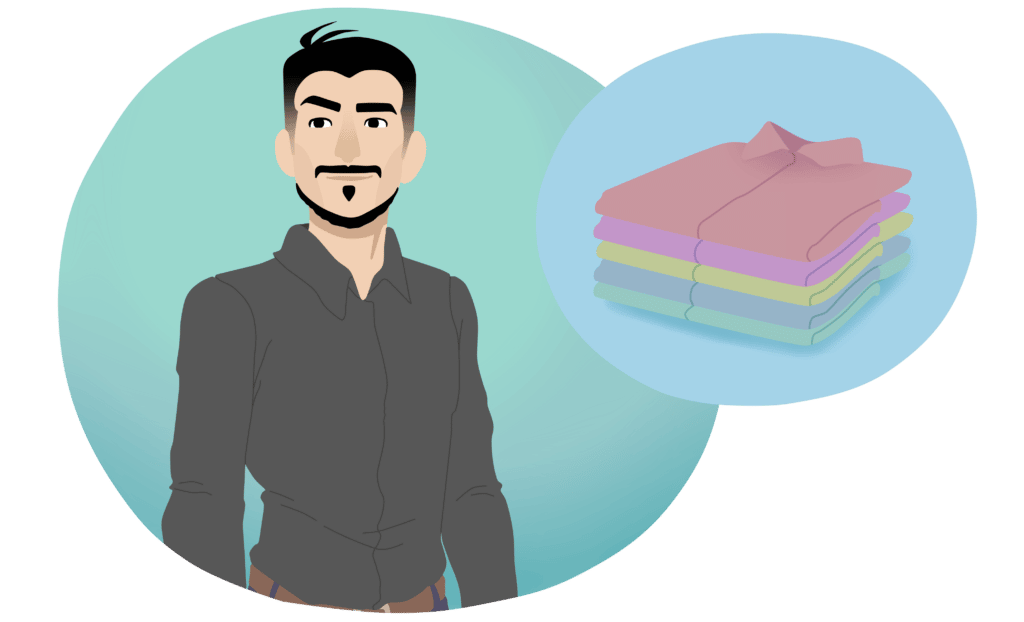 Gone are the days of extreme starched dress shirts that are ill-fitting and that button-up to the hilt. Instead, the men of today are afforded a wealth of selection when it comes to dress attire, from a soft poplin shirt that comes with short sleeves to a stylish slim-fit dress shirt with long sleeves and a contemporary gingham patterning.
When looking for a new dress shirt, there are a few elements to keep in mind. Quality, style, fit, and brand all play an essential role when it comes to the best dress shirts for men.
Unfortunately, not all dress shirts are made equal. To make life a little simpler for you, we have gathered together the best men's shirts Amazon has to offer. We reviewed each of them, leaving you with insight into the best men can get when it comes to dress shirts because, let's face it, a review is handy when you're not purchasing from a retailer, shirtmaker, or department store.
We tried and tested multiple men's dress shirts from Amazon and concluded that these seven are the best menswear for business casual dress. We used the approach to chat to men about what they looked for in a high-quality dress shirt and collected together the ones that ticked these boxes. We then reviewed each of them. Our evaluation of each was based on the following criteria: the fabric used, shirt cut and tailoring, collar style, comfort, and durability.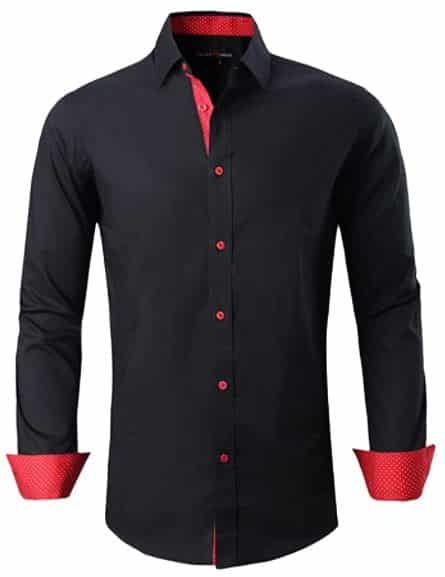 Alex Vando is a menswear brand that focuses on the design and production of men's dress shirts and button-down collar shirts that feature a European flair. Focusing on quality and fashioning its shirts from premium fabrics tailored into expertly crafted patterns, the brand offers men's shirts that are both stylish and elegant.
We tried the Alex Vando Men's Dress Shirts Regular Fit Long Sleeve to see whether this shirt was as comfortable as it looked.
Specs
Made from a blend of cotton and spandex
Tailored to offer a regular fit
Features a spread collar
Button-down closure
Who is it Best for?
If suave is a look you want to add to your repertoire, this shirt needs to find a place in your wardrobe. Alex Vando offers this stylish and elegantly cut dress shirt in more colors than the rainbow could fathom, leaving you with multiple options to style your look.
The shirt features a long sleeve making it simple to dress up or down, so whether you need a shirt for a more formal or a business casual function, this versatile garment has your back.
We found the shirt to be affordable and decided to give it a try. We were pleasantly surprised, the fit is on point, and the quality is impressive. The fabric is thick and durable and is soft against the skin.
Key features
Alex Vando makes this shirt from a blend of cotton and spandex. The cotton is soft and breathable, while the spandex provides a slight give that allows the shirt to fit your form perfectly.
The two-tone design of the fabric adds a dash of style. The chamfering cuff with a contrasting color lining is complemented by the lining of the color and the shade of buttons used.
The spread collar is sturdy and comes with a medium interlining and sees a trim on the inner collar and placket that matches that of the cuffs.
A curved hem makes the shirt easy to tuck in and adds a more contemporary design than a regular straight hem would.
The regular fit of the shirt makes it ideal for all body types.
Pros
The contrasting colors make the shirt eye-catching
The quality of the fabric is impressive
The fit is ideal for all body types
Cons
The shirt should be hand washed only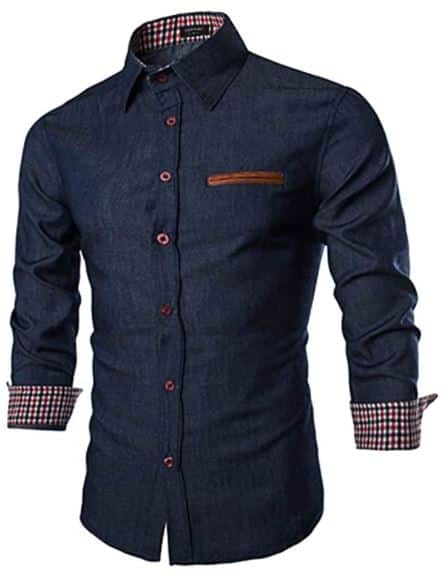 Coofandy is a menswear brand that provides a wide assortment of garments ranging from gym clothing and T-shirts to sweaters and hoodies; they even offer a blazer or two.
The brand prides itself on offering premium quality clothing at an affordable price, and it was this offering that caught our eye. So we decided to give the COOFANDY Men's Dress Shirts a try to see whether they lived up to the brand's ethos.
Specs
Made from a cotton blend
Includes a button-down closure
Long-sleeve design
Tailored to offer a regular fit
Who is it Best for?
Men looking for a dress shirt that wears perfectly in summer, spring, and fall will want to add this trendy shirt to their wardrobe. Coofandy makes these dress shirts with either a faux welted front pocket that is highly stylish or a functional pocket so that you can choose which best suits your tastes.
We compared the price of these shirts to others on the market and found them to be a little pricier than those from Alex Vando and other similar brands.
After wearing these shirts, we concluded that they are durable, comfortable, and precisely what a good dress shirt should be. The only downside to these is that they are not machine washable, making laundering them a little complicated, but otherwise, they are a win for us.
Key features
These fashionable dress shirts are made from a lightweight and breathable denim fabric. The woven material is soft and breathable, allowing air to circulate your torso, keeping you cool, comfortable, and sweat-free throughout the day. In addition, denim is known for its durability, so you can be sure this shirt will last.
The collar lining matches the cuffs, which are easy to turn up for a more fashionable look. The buttons complement the shirt perfectly, and each detail combines to leave you with a dress shirt that will turn heads.
The regular fit makes the shirt suitable for men of all body types. A button-down closure makes it easy to pull the shirt on and off and allows you to wear it as a lightweight jacket over a simple white T-shirt should you wish.
Pros
These are exceptionally comfortable
The contrasting fabrics make them stylish and eye-catching
The turn-up cuffs are comfortable and the collar is sturdy
Cons
The shirts are not machine washable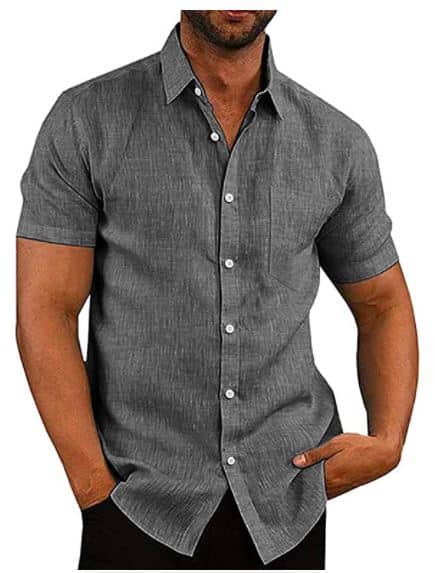 When it comes to men's clothing, Coofandy has things taped. The brand focuses specifically on the design and production of menswear and offers a wide selection of different apparel from gym clothing to casual wear and even workplace attire.
The COOFANDY Men's Chambray Button-Down Shirt caught our eye while we were browsing the brand's Amazon store and left us wanting to know more about the comfort it offered and its durability.
Specs
Features a short sleeve length
Comes with a button-down closure
Made from soft chambray linen
Sees a slim tailored fit
Who is it Best for?
The warmer months of the year often call for dress shirts made from a lightweight fabric that features a short sleeve design. This chambray shirt from Coofandy offers just that and more. Soft against the skin and made to work well as casual wear, these shirts bring with them just enough pizazz to jazz up your outfit without making you look over-dressed.
These are a little expensive for a short-sleeve shirt, which is a little frustrating since there are over 20 colors to choose from, and we wanted them all.
We ended up going with the grey chambray shirt and found it to be soft and surprisingly wrinkle-resistant. After hand washing it (yes, machine washing these shirts is not advisable), we only needed to iron the collar, so it offers convenience in one arena but not in the other when it comes to laundering.
Key features
Coofandy makes this short sleeve shirt from a lightweight chambray fabric. Chambray is a woven cotton that is similar in texture and weave to denim. It is highly breathable and offers a unique coloring that sees flecks of white that give it a mottled appearance.
This shirt features a button-down collar and closure, making it ideal for smart-casual wear and easy to pull on and off.
The trim fit design accentuates your form and gives shape to your look. In addition, a top pocket offers functional detailing that makes it easy to carry smaller items.
The sleeves are cuffed and are easily adjusted to suit your personal style. Because of the more casual design of the shirt, it pairs well with jeans and chinos.
Pros
The shirt is offered in over 20 different colors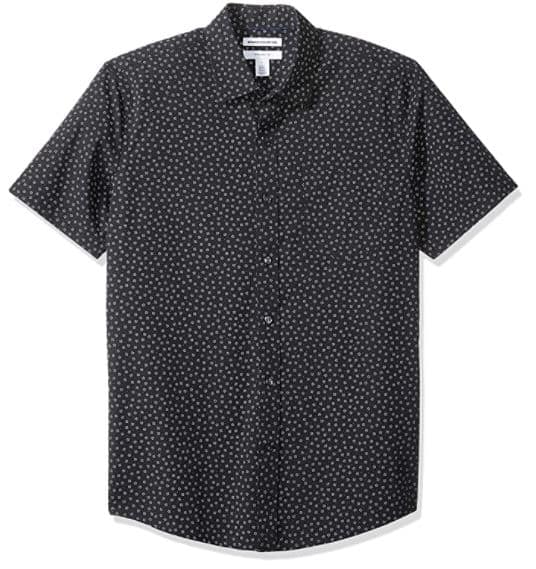 Amazon Essentials is a subsidiary of the online giant Amazon. Amazon formed the brand to fill a niche that saw the need for durable, high-quality everyday clothing at an affordable price. Today, Amazon Essentials offers a wide array of garments, including activewear, casual wear, work attire, and formal wear.
We stumbled upon the Amazon Essentials Men's Slim-fit Casual Shirts and decided to try them out to see if the comfort matched the simple style and fun design the shirts offered.
Specs
Features a short sleeve design
Made from 100% cotton
Comes with a button-down closure
Features a trim fit cut
Who is it Best for?
If you love the concept of a Hawaiian shirt, but the patterns are a little too vivid for your tastes, these shirts from Amazon Essentials are the solution you need. They come in 12 unique designs that offer a slightly more toned-down take on the quintessential Hawaiian print but still offer all the fun.
True to the brand's ethos of offering its customers affordable prices, these shirts come in at the lower end of the price scale, making it easier to buy multiple shirts without blowing your budget.
After trying these shirts out, we can happily conclude that comfort and style are right up there with the funky patterns. The sizing, however, is a little off, and you may need to purchase shirts one size smaller than you're used to. We also recommend washing the shirts first before wearing them as they arrive smelling a little odd, but, luckily, they are machine washable, so that solves the problem easily.
Key features
Amazon Essentials makes these shirts from 100% cotton. They are lightweight, breathable, and moisture-wicking, so you can be sure these shirts will leave you dry, comfortable, and sweat-free throughout the day.
The button-down closure combines with a collared design to leave you with a shirt that wears well as both a casual garment and as a business-casual shirt. The buttons make the shirt easy to pull on and off, and the collar adds that dash of glam.
The sleeves are uncuffed and enhance the look of the slim-fit cut of the shirt that accentuates the form of your torso. This well-tailored look is fashionable and flattering, making it a go-to for most men these days.
Adding a little functionality to the design is the top pocket which provides the perfect place to store smaller items.
Pros
The cotton is breathable and comfortable
The slim-fit cut is flattering
The shirts come in a range of fun patterns
Cons
The sizing is a little off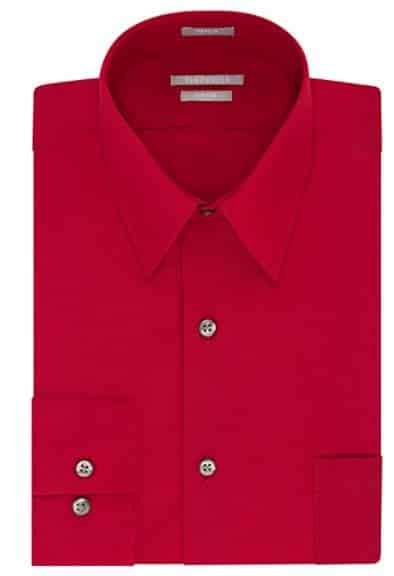 Van Heusen is an Indian brand that outshines many other menswear brands across the globe. India is known for its exceptional fabrics, and unrivaled tailoring, two elements the brand infuses into its range of stylish apparel. From t-shirts and Oxford shirts to blazers and trousers, Van Heusen offers it all.
Interested in finding out more about this brand and the clothing it offers, we purchased the Van Heusen Poplin Button-down Men's Dress Shirts to see what they were all about.
Specs
Made from a blend of cotton and polyester
Features a fitted cut
Comes with a point collar
Includes adjustable cuffs
Who is it Best for?
If you are looking for a dress shirt that offers a little more of a business look, which you can also use for casual wear, this long sleeve shirt is worth a closer look. It provides the quintessential style of a formal dress shirt with a few design elements that make it a little more modern.
The shirt is offered in 23 unique colors that include shades such as desert rose, scallop, and Persian blue. In addition, these shirts are inexpensive, making it a little easier to buy more than one color to add to your wardrobe.
We tried these shirts out and found them to be a little transparent, but that is natural for a poplin weave and nothing an undershirt can't fix. The sleeve length was also a little short, fine for when you wear the cuff up-turned but not so great when you wear them down. The comfort of the shirt was impressive, as was its durability. All-in-all these are not bad dress shirts.
Key features
Van Heusen makes these shirts from a cotton and polyester blend. The cotton provides breathability that allows air to circulate through the shirt to your skin, preventing you from overheating. The polyester brings a silky softness to the shirts and moisture-wicking properties that draws sweat off your skin to the surface of the shirt, where it can evaporate with ease.
The point collar of the shirt makes it easy to wear with a necktie or without one, so you can dress the shirt up or down. It is also believed that a point collar helps to elongate the look of your face for a more flattering finish.
Adjustable cuffs allow you to wear them rolled up, turned up, or down to suit the look you want to achieve.
Pros
They come in so many different colors
The fabric is excellent for wear on warmer days
The shirt is simple to launder and can be machine washed
Cons
The shirts are a little see-through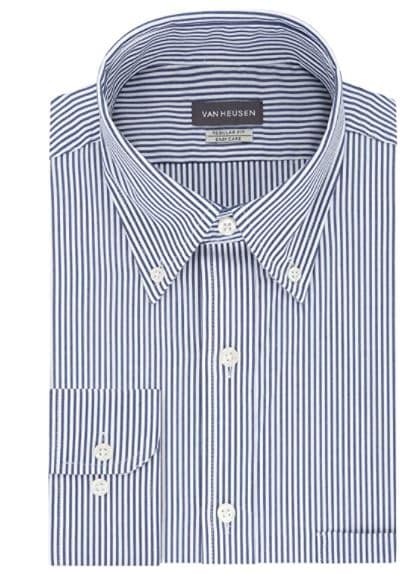 When it comes to style, Van Heusen is the name of the game. This brand offers a wide selection of apparel that is made with premium quality fabrics. In addition, each garment is sewn to perfection using specially tailored patterns to provide customers with clothing that is next-level stylish.
If you don't believe us, you may want to look a little more closely at the Van Heusen Men's Dress Shirts Regular Fit. We did, and we weren't left disappointed.
Specs
Made from a cotton and polyester blend
Comes with a button-down collar
Tailored to offer a regular fit
Machine washable
Who is it Best for?
If it's a classic dress shirt you're after, this offering from Van Heusen provides the perfect solution. These shirts feature a regular fit that suits all boy types and can be worn as formal and business casual.
The shirts are also easy-care, meaning they can be machine washed, hung out to dry, and require little to no ironing.
These shirts are very affordable, ideal for men who need a few work shirts to wear during the week. They also come in six different striped colors, so you can get a few different ones to wear throughout the week.
We tried out the light blue shirt and received multiple compliments on how great the shirt looked. The fabric is a little stiff and is relatively thick, so not ideal for wearing in summer, but the durability and fit are remarkable.
Key features
Van Heusen makes this Oxford shirt from a blend of cotton and polyester. Although slightly thick, the fabric is breathable and has moisture-wicking properties that make it comfortable to wear throughout the day without becoming hot or damp.
The shirt features a button-down collar that makes it perfect for wear with a necktie, bowtie, or on its own. This design is continued in the button-down closure that makes the shirt easy to pull on and off.
The cuffs are adjustable and wear well with cufflinks or turned up for a more casual look. The French cuff design also leaves the shirt with a more formal touch, ideal for business wear.
A regular fit provides slightly wider sleeves for a more relaxed fit and allows for less encumbered movement.
Pros
The shirt comes in various colors
It pairs well with cufflinks and a necktie
Cons
The shirt is better suited to colder months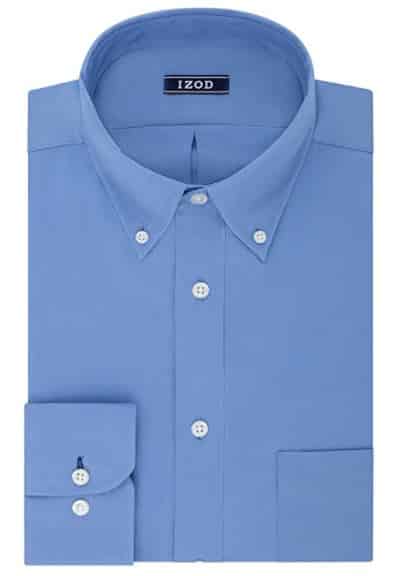 Izod is a menswear brand known for its more casual apparel designed for men who love that quintessential American laid-back style. The brand focuses on the design and production of a range of clothing that includes golf apparel, polo shirts, and comfortable shorts and trousers.
We decided to give the Izod Men's BIG FIT Dress Shirts a try to see how they fared in terms of fit, comfort, and durability.
Specs
Made from a cotton and polyester blend
Features a wrinkle-free design
Sees a big fit cut with more room
Comes with a button-down collar
Who is it Best for?
Men wanting a big-fit shirt that offers more roominess and a cut that does not restrict movement or cause discomfort will benefit from this shirt from Izod. It features a big-fit tailoring and provides a style that is both flattering and comfortable.
The shirt comes in five unique colors that make it easy to find the one that best suits your taste or the other colors you have in your wardrobe.
Compared to similar dress shirts on the market, this one is a little pricier, but the attention to detail and the softness of the fabric make it well worth it.
After wearing this shirt around, we conclude that it is one of the most comfortable dress shirts we have tried and the length and collar design are perfect, as is the fit.
Key features
This broadcloth shirt is made from a cotton and polyester blend that provides the perfect amount of softness. It is breathable, moisture-wicking, and perfect for year-round wear. The breathability keeps your body temperature regulated by allowing air to circulate against your skin, leaving you comfortable and confident no matter what the day throws at you.
The shirt features a firm button-down collar that can be worn with or without a necktie. The buttons continue down the front of the shirt for a closure that makes the shirt simple to pull on and off.
The front pocket fastens with matching buttons and provides a great place to store smaller items.
This dress shirt also features a slight stretch that makes it wrinkle-free, and this, combined with the fact that it is machine washable, makes laundering it a simple task.
Pros
It offers the perfect length
The fabric is soft but durable
The breathability is ideal
Cons
The shirt is a little expensive
Things to Consider When Buying the Best Men Dress Shirts
1. Collar Style
Shirtmakers design dress shirts and will use one of three collar styles. It is a good idea to look at the different collar styles on offer to see which one best suits your needs.
A spread collar sees a wider collar design where the ends or tips of the collar are angled outwards instead of downwards. This style suits men with longer or more narrow faces who want to give the impression of a wider jawline.
A point collar features the tips of the collar that are angled to point downwards. These points are often slightly elongated. This style is somewhat more formal and is advised for men wanting to give the appearance of a more narrow face shape.
Button-Down Collar / Oxford Collar
A button-down or Oxford collar sees buttons at the collar tips that then button down onto the shirt. These are used to keep the collar in place and help keep neckties in place too.
2. Fabric
Shirtmakers make dress shirts from a range of different fabrics. Each offers a unique feel and level of comfort. Let's take a closer look:
This material has a basketweave construction that makes it soft, lightweight, and breathable. This fabric is often used for dress shirts and offers an elegant sheen.
Twill is a form of cotton that features a unique weave that gives it slightly more texture and breathability. Twill has a similar density to chambray or denim and is highly durable.
Supima cotton is highly sought-after and is made from Pima cotton. Pima cotton is only grown in the USA and has longer fibers that are softer, stronger, and more breathable than any other cotton fiber. Therefore, shirts made from Supima cotton are often quite expensive.
Chambray is similar to denim in weave and texture but is more lightweight and features a white thread that adds a mottled look to the fabric.
This is a plain-woven fabric that is dense and not as breathable as regular cotton. It is often made from wool and is perfect for wear in the colder months.
When looking for the best dress shirts, there are several things to consider. Giving thought to the brand, durability, fit and style, fabric, collar design, and quality will all put you a step closer to finding the business casual shirt that most suits your needs.
By closely examining and testing each of the best dress shirts in this review, we concluded that they each meet the criteria discussed above, making it more simple to find the best dress shirt to meet your business wear needs.