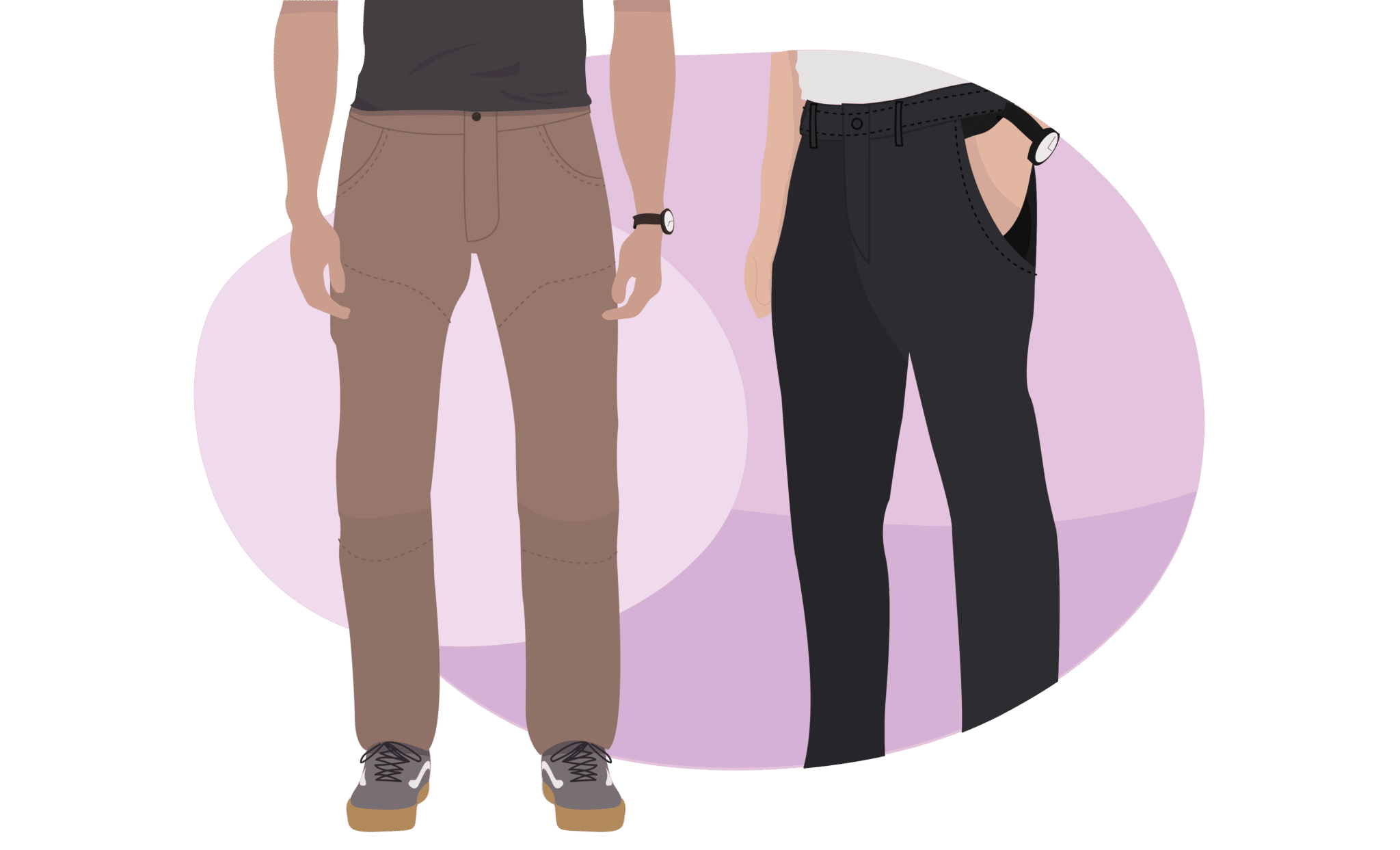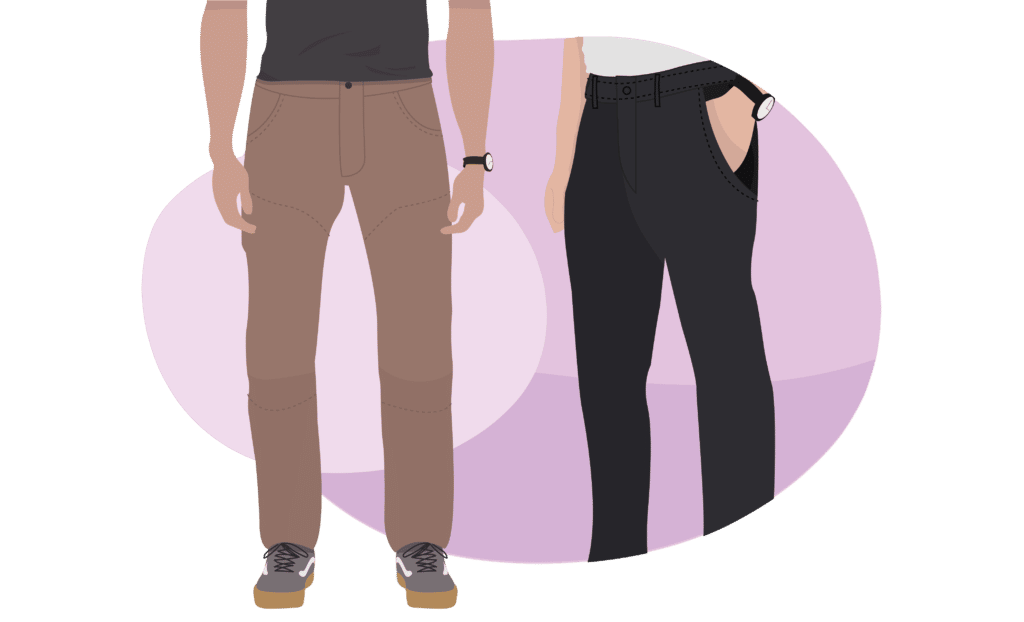 You're off on your next adventure, traveling to a far-off destination or a closer locale, perhaps to meet the in-laws. Great! Except when you stand up to disembark your long-haul flight and your dress pants are all wrinkled and showing tell-tale signs that you have been sweating.
The best way to arrive looking as fresh as you did when you set out on your journey is by wearing a pair of travel pants. These garments are designed to remain wrinkle-free, and they're often water-resistant. And did we mention comfy?
Unfortunately, not all travel pants are made equal; some end up looking just as wrinkly as regular chino pants. To make it less challenging for you to find a quality pair of travel pants, we have gathered together the best Amazon offers and reviewed each of them. Let's take a look at which ones made the cut!
We tried and tested multiple pairs of travel pants from Amazon and concluded that these six are the best pants for a long-haul flight or road trip. We used the approach to chat to men about what they looked for in high-quality travel pants and collected together the ones from Amazon that ticked these boxes. We then reviewed each of them. Our evaluation of each was based on the following criteria: the comfort offered moisture-wicking properties, style, wrinkle-resistance, breathability, and durability.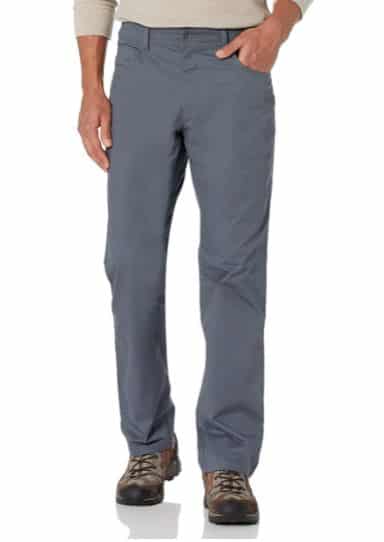 Columbia Sportswear was founded in 1938. The brand is synonymous with ski apparel, camping gear, footwear, outerwear, headgear, and other travel gear and accessories. Columbia is based in Oregon, in the Pacific Northwest, and knows how the environment affects not only us but also what we wear.
The Columbia Men's Rapid Rivers Pants are designed to be an outdoor staple in any man's wardrobe. Whether you ascend a mountain path or traverse a ravine, these are the pants to do it in.
Specs
Made from a blend of cotton and elastane
Includes OmniShade protection from UVA and UVB rays
Comes with an elastic waistband and gusset detail
Features an active fit
Who is it Best for?
If your travels include spending extensive periods outdoors in the sun, whether you're hiking, fishing, or camping, these pants are for you. Columbia designs the pants to provide a range of features that ensure you stay comfortable and protected while you spend time outside.
Offered in seven different colors, including spruce green and flax, these versatile pants look so good; you could wear them on an airplane too and not look out of place.
Interested to see how these good-looking pants fared in the wilderness, we purchased a pair and gave them a try. The pants held up surprisingly well after we wore them on a hike through a wooded area. Thorns and shrubbery were no match for the lightweight fabric that didn't rip or tear. The only downside? Don't expect them to last longer than a season or two.
Key features
Columbia makes these trendy travel pants from a cotton and elastane blend. The cotton is soft, lightweight, and breathable, allowing air to circulate your legs, keeping you cool and comfortable even in hot weather. In addition, the moisture-wicking properties of this fabric ensure any sweat moves to the surface of the pants and evaporate, keeping you dry and confident.
Elastane adds a slight stretch to the pants allowing them to fit comfortably, and it gives the garment a wrinkle-resistant quality that keeps them looking fresh after hours of wear.
Columbia uses OmniShade technology and sun protection in the making of these travel pants. This innovative design sees the tight weaving of UV absorbent yarn that protects against UVA and UVB rays emitted by the sun.
Pros
The fabric is lightweight but durable
The pockets are deep and hold items well
These pants run true to size
Cons
They only last for  a few seasons before needing replacing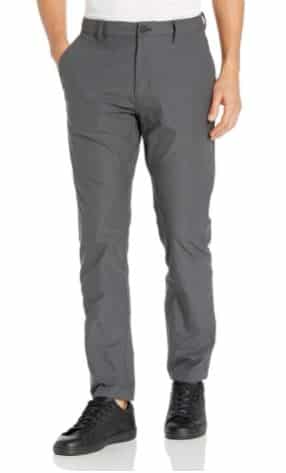 Peak Velocity is a subsidiary of online giant Amazon. Founded in October 2017, the sportswear brand offers premium performance sweatpants or joggers and sweatshirts. This apparel is notable for its moisture-wicking properties and slight stretch that adds to the comfort the garments provide.
The Peak Velocity Men's Active Travel Pants are the epitome of the brand's innovation and style. These active pants have the look of dress pants but the comfort offered by joggers.
Specs
Made from warp-knit polyester
Includes a gusset for unrestricted movement
Provides exceptional stretch
Comes in three color options
Who is it Best for?
Men on the go, these are for you! Whether you use biking as a mode of transport, need to catch a long-haul flight, or walk to work, these pants from Peak Velocity will ensure you get there looking as though you stepped off a magazine.
The pants are designed to provide a sleek look while remaining functional. In addition, they offer a versatility that you may have you thinking the pants would cost an arm and a leg. Luckily, you'd be mistaken. Coming in at a mid to lower point on the price scale compared to those of competitors, these pants are inexpensive and worth their price tag.
We tried out these travel pants from Peak Velocity and found them comfortable and remarkably durable. The brand could improve on the length of the inseam, which, in our opinion, was a little short.
Key features
Peak Velocity makes its travel pants from a unique polyester warp knit. The polyester fibers are lightweight, durable, and are moisture-wicking. Better still, the fabric is breathable and prevents you from overheating and becoming sweaty.
The warp knit these fibers are woven into creates a material that offers a natural stretch. Stretch fabric is ideal for travel pants because it is wrinkle-resistant. In addition, the four-way stretch allows for an extended range of motion, making hiking, cycling, or walking comfortable and easy.
Peak Velocity includes a gusset in the design of these pants. The functionality behind this additional piece of fabric is to further allow for uninhibited movement.
A button-up closure and fly make the pants easy to pull on and off, while front and back pockets provide a place to carry your belongings.
Pros
The pants are lightweight but durable
They wear well for smart or casual occasions
The pants provide a great range of motion
Cons
The inseam is a little short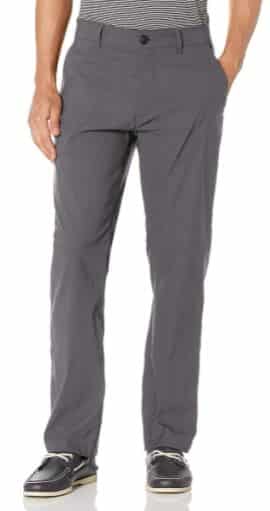 Unionbay is a lifestyle brand founded in 1981 with a goal to provide youthful, performance clothing. The brand places great emphasis on incorporating originality and a laid-back philosophy into its garments to create items of clothing that everyone can identify with.
One item of apparel that captured our attention is the Unionbay Men's Rainier Lightweight Comfort Travel Tech Chino Pants. These trousers offer a fresh and stylish take on travel wear.
Specs
Made from a nylon and spandex blend
Provides UPF 50+ sun protection
The fabric is quick-drying
Includes zipper pockets
Who is it Best for?
Men looking for a more youthful take on your traditional travel pants may want to take a closer look at these offered by Unionbay. Ideal for those who love traveling in style, these pants provide the look of chinos and the versatility of sweatpants. Whether you intend to go hiking, biking, trekking, or take leisure walks, these pants are the ones you want to wear when you do. They are designed to provide comfort and protection to your legs.
Impressed with the styling of the pants, we wanted to find out how they stood up under outdoor conditions, so we bought a pair and subjected them to a hike or two. These cargo pants held up well and were more comfortable than expected. One observation, however, is that the pants don't suit a more formal dress and are more suited to casual wear.
Key features
Unionbay's cargo travel pants are made with a stretchy material that blends nylon and spandex. The spandex gives the pants their stretch, which prevents them from becoming wrinkled and looking unkempt. It also allows for a greater range of motion that is needed when wearing long pants on a hike or while cycling.
The nylon provides the pants with their quick-drying and water repellent nature, an excellent feature to have should you get caught in the rain or drizzle. Better still, the trousers also are stain-resistant, keeping them looking like new.
Unionbay incorporates UPF 50 sun protection into the cargo pants' fabric to protect your legs from the sun's harmful rays.
Storage is no problem either, as you will find five mesh-lined pockets – two front pockets, a zippered pocket on the side, and two back pockets with zippers.
Pros
The pants are machine washable and dry in less than an hour
The stretch means no wrinkles 
The pockets are deep and secure
Cons
These are not ideal for business-casual wear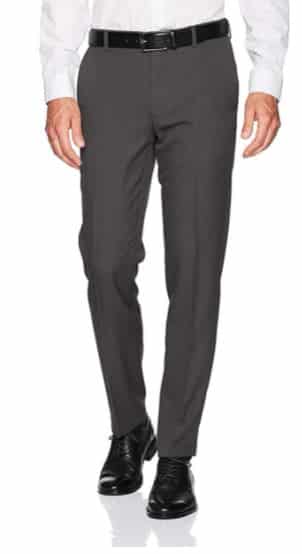 Van Heusen was founded in 1921. Since then, Van Heusen has expanded to the global brand it is today. Offering a range of apparel for men and women, the company uses innovative solutions to blend classic style with the needs of today's professionals. The result is comfortable clothing that looks great and provides exceptional durability.
The Van Heusen Men's Slim-Fit Traveler Pants are no exception. They provide men with a fashionable pair of travel pants that will stay looking like new throughout their travels.
Specs
Features temperature-activated cooling technology
Includes a stain-resistant design
Made from durable polyester
Offers a comfortable fit
Who is it Best for?
Corporate professionals who find themselves on long commutes to and from the office or frequently catch flights to attend meetings across the country may want to invest in a pair or two of Van Heusen's travel pants. These sleek dress pants offer a professional look and feel while remaining crease-free and comfortable no matter how far you travel.
These trousers come in six unique colors that include black, charcoal, and taupe, so you can easily match them up with your existing corporate wardrobe.
Interested to see just how wrinkle-free these pants were, we bought a few pairs and put them to the test. We were pleasantly surprised with the slim-fit design and the comfort the pants provide. They offer the ideal cut and are not too baggy or too tight. Our only criticism is that the hems were not stitched too well and needed to be restitched.
Key features
Van Heusen's travel pants are one of our top picks for several reasons. First, these pants come with a host of features that make them every traveler's dream, especially if you are on your way to a meeting with your new boss or top-tier client.
The trousers are made from polyester, a soft, breathable fabric that wicks away moisture to keep you dry and comfortable. In addition, the temperature-activated cooling technology found in these travel pants works effectively to transfer moisture from your skin to the surface of the pants, where it can then evaporate, so you are not left with damp or sweaty trousers.
Van Heusen then treats the pants to be resistant to stains and dirt. So whether you accidentally spill your lunch on your trousers or you brush up against a dirty rail, your pants won't become soiled.
Pros
The fit is ideal fitted but not overly tight
Impressive and versatile color options
Laundering these pants is a cinch
Cons
Quality control could be improved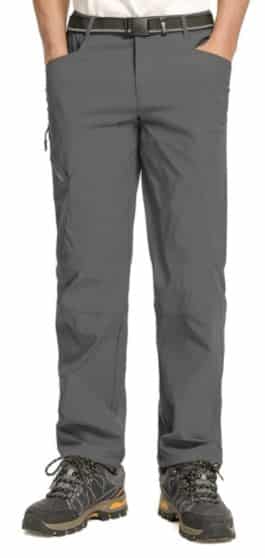 Hubunucc is a brand that focuses on the design and manufacture of outdoor wear. As a result, you can expect to find a range of apparel from women's crop tops and men's hiking pants to yoga pants and hiking shirts. Each item is made with premium quality fabrics and features a durable design.
We came across the Hubunucc Men's Hiking Cargo Pants and found ourselves impressed with their versatile design.
Specs
Made from a blend of polyester and spandex
Offer a mid-rise relaxed fit
Includes a reinforced knee area
Comes with an elasticated waistband with belt loops
Who is it Best for?
No matter what outdoor activities you decide to take part in, whether it be hiking, camping, fishing, or having a barbeque with friends and family, comfortable pants are a must-have. These travel trousers from Hubunucc offer just that and an assortment of other outstanding features.
Designed to make life outdoors a little more stylish, these pants will leave you looking great without being restrictive. While they don't offer enough stretch that you can wear the pants for a work out, you can enjoy a good hike or a game of golf in them quite easily.
Just to be sure of their quality, we bought a pair and tested them out. We found the straight leg design comfortable, and the waterproofing surpassed expectations. However, the fabric is a little light and it would be nice if it was a little thicker for use in other seasons.
Key features
Hubunucc makes these pants from a blend of polyester and spandex and features ripstop nylon reinforcing at the knees. These hiking cargo pants are soft to the touch and wick away moisture with ease, thanks to the OmniWick technology that draws sweat to the surface of the trousers, where it can then evaporate.
The Omni-Shade feature allows the pants to protect your legs from harmful UVA and UVB rays that cause burns. A UPF 50 rating ensures you receive maximum sun protection.
Storage is no problem here either. The pants feature two slide front pockets, two back pockets, cargo pockets on either leg, and a hidden security pocket to carry your phone or wallet.
The quick-dry Stretch Zion woven fabric used to make these pants are water repellent, keeping you dry should you get caught in a drizzle.
Pros
The quick-dry fabric is ideal for outdoor wear
The cut is ideal for all body types
These pants are quick and easy to launder
Cons
The fabric is a little thin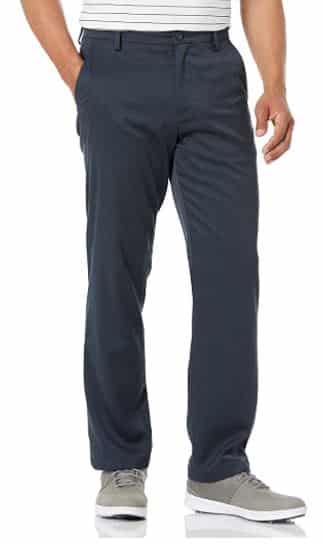 Amazon Essentials is a subsidiary of Amazon. The brand aims to supply customers with everyday apparel that offers exceptional quality at an affordable price. The brand combines innovation, high-quality fabrics, and fashionable designs to ensure each garment provides extended wear.
This holds for the Amazon Essentials Men's Classic-fit Stretch Golf Pants, durable, soft to the touch, and more stylish than you would think. We wanted to know more about these comfortable pants, so we gave them a try.
Specs
Made from a polyester and spandex blend
Features a relaxed fit with a straight leg
The pants are wrinkle-free
Machine washable
Who is it Best for?
If you are looking for a durable and comfortable pair of travel pants that are better suited to wear in cooler weather, you may have stumbled upon your solution. These golf pants from Amazon Essentials are made with a slightly heavier fabric that offers warmth and a little more protection on those colder or more windy days.
Compared to other similar travel pants on the market, these are exceptionally well priced and are the most inexpensive pair in this review.
Concerned that this lower price tag meant compromised quality, we gave these trousers a try. We found them exceptionally comfortable and durable, and best of all, they need very little attention when it comes to laundering. The downside is that the waistband was a little loose, and with the weight of the fabric, it needed pulling up every so often.
Key features
Amazon Essentials makes these golf pants from a blend of polyester and spandex. This particular fabric is slightly heavier, making the pants ideal for year-round wear. The polyester wicks away moisture to the surface of the trousers where it can evaporate, keeping you comfortable even in hot weather. Spandex fibers in the fabric provide the pants with a gentle stretch that ensures your range of motion remains unhindered. This stretch also ensures that the pants stay wrinkle-free and makes them pretty simple to launder. A quick wash and then hanging them out to dry should do the trick.
The cut ensures that the trousers are roomy through the waist and thigh, straightening out through the leg for a comfortable and flattering fit.
Pros
The pants are inexpensive
They come in various color options
They are ideal for cooler weather
Cons
The fabric is a little heavy 
Things to Consider When Buying Travel Jeans or Chinos
1. Features
When considering a new pair of travel pants, there are a few features you may want them to offer, such as:
Stretch is always a good thing to have in a pair of travel pants. It not only allows for an extended range of motion, but it also makes them pretty simple to launder – no ironing required!
Wrinkle resistance is a key feature, in our opinion. No one wants to step off an airplane and into a meeting with creased, wrinkled pants.
Pants that lift out dirt or prevent its adhesion are ideal for travel. If you spill your lunch on the airplane, it won't be the end of the world.
If you plan on wearing your travel pants on a hike or while you go fishing, a level of water resistance is always a great option. Getting caught in a drizzle won't leave you drenched for hours after that.
Whether you prefer an elasticated waistband, a drawstring, or a button and zipper, it is always important to check that your new pants offer the closure you most enjoy.
2. Pockets
Giving thought to what kind and how many pockets you want your travel pants to have is a good step in the right direction. For example, hikers or fishermen may want cargo pockets to store knives, lures, or energy bars, whereas businessmen may want few pockets or small hidden pockets to keep their wallets or phone in.
When looking for the best travel pants, there are several things to consider. Giving thought to the brand, durability, wrinkle-resistance, breathability, style, and quality will all put you a step closer to finding the travel chinos that most suit your needs.
By closely examining and testing each of the best travel pants in this review, we concluded that they each meet the criteria discussed above, making it more simple to find the best travel trousers to meet your outdoor or travel needs.