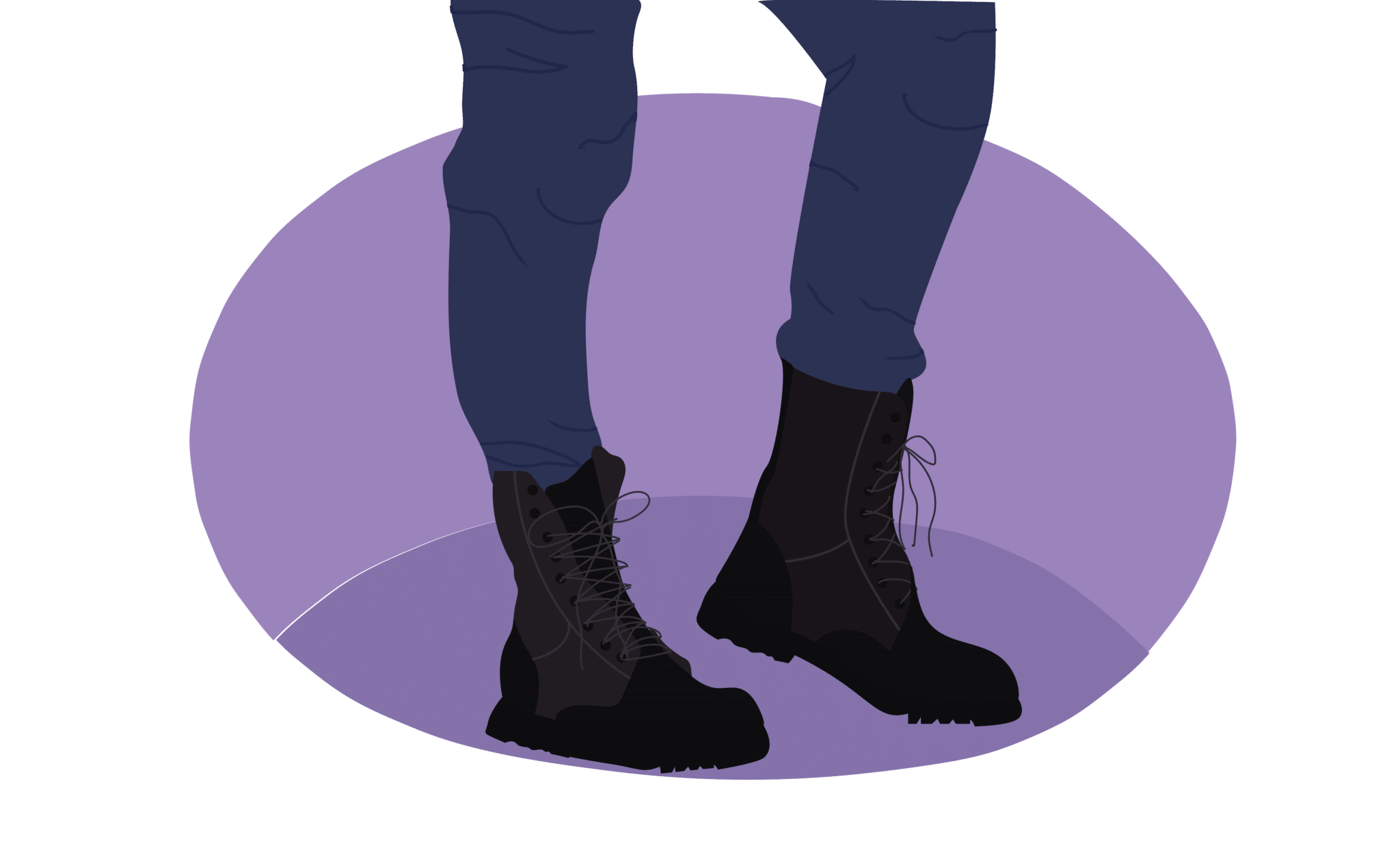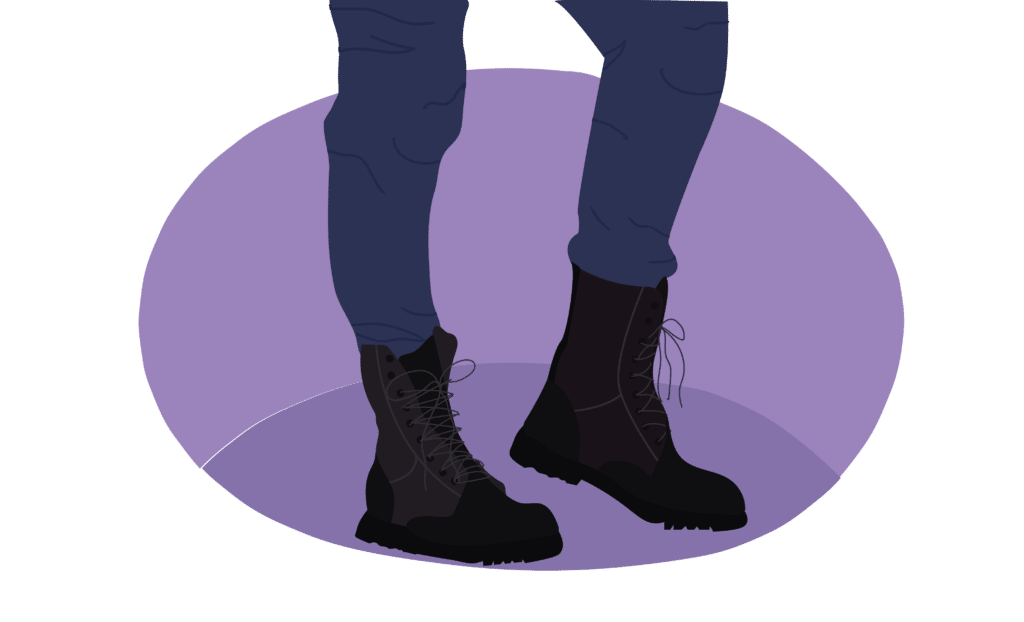 Men's footwear comes in an increasingly large range of options. From brogues and Oxfords to flip flops and sneakers, undoubtedly the most comfortable and most versatile has to be the humble military combat boots. These shoes can be used as hiking boots, work boots, or even for casual wear.
If you want shoes that offer support, comfort and that look amazing with jeans and a jacket, then a pair of men's lace-up casual boots is a must. Whether you opt for leather combat boots or a sleek pair of suede Chelsea boots, you can be sure your feet will be styling.
In this article, we take a look at our top picks from Amazon. By reviewing each pair in-depth, we make it a little simpler for you to see what's hot and what's not in the world of men's combat boots.
We tested multiple men's combat boots from Amazon and concluded that these six are the best sellers that are worth buying. We used the approach to chat to men about what they looked for in a high-quality pair of boots and collected together the ones that ticked these boxes. We then reviewed each of them. Our evaluation of each was based on the following criteria: the material used, style, support, comfort, and durability.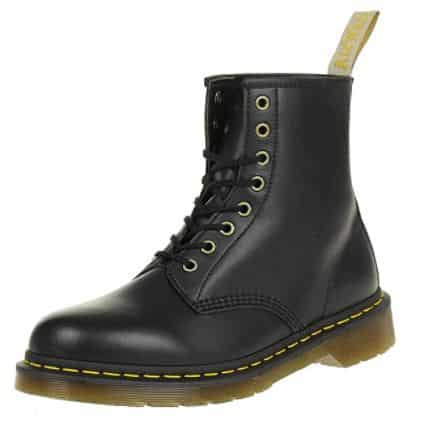 If iconic is the look you're after, then you can't get better than Dr. Martens. Founded in the English midlands in 1901, the brand began by manufacturing the humble work boot. Since then, Dr. Martens has expanded, transforming the utility boot into an expression of individual style.
If you're as non-conformist as we are, then you may want to try the Dr. Martens Men's Vegan 1460 Fashion Boot; it's cruelty-free and comfortable too.
Specs
Made from durable vegan leather
Features an abrasion-resistant design
Comes with Goodyear Welt stitching for durability
Includes a high-traction synthetic sole
Who is it Best for?
Men looking to express their personal style while keeping their feet comfortable and protected will enjoy a pair of boots from Dr. Martens. These boots are the epitome of cool, making it easy to make a statement about who you are.
If you're on your feet a lot at festivals, gigs, or even at work, a pair of "Docs," as wearers lovingly refers to them, will provide you with the protection and support you need. They wear well and offer durability not often seen in a shoe.
This particular style comes in black or deep burgundy, keeping with the traditional Dr. Martens feel. The iconic yellow stitching around the edge of the shoe further adds to their edginess.
While a little more pricey than most combat boots, the comfort, durability, and street cred these shoes give you make them well worth their cost.
Key features
Dr. Martens takes a cruelty-free approach with its iconic 1460 Fashion Boot by fashioning them from durable and soft vegan leather. If you're concerned about the use of synthetic materials affecting how well these boots wear, don't be, they provide the same comfort, wear, and abrasion resistance as the genuine leather version while keeping your conscience clear.
A sturdy synthetic sole comes with impressive lugs that create sufficient traction to keep you on your feet no matter what surface you find yourself on, be it loose gravel or slippery tiles.
The lace-up closure makes it easy to secure the boots in place, and the brass eyelets ensure that you can do up the laces as tight as you want without damaging the shoe.
Adding to the overall durability of the boots is the Goodyear welt stitching that ensures the shoes remain in excellent condition no matter how tough you are on them.
Pros
Comes in two color options with the iconic yellow stitching
Cons
They don't offer superior shock absorption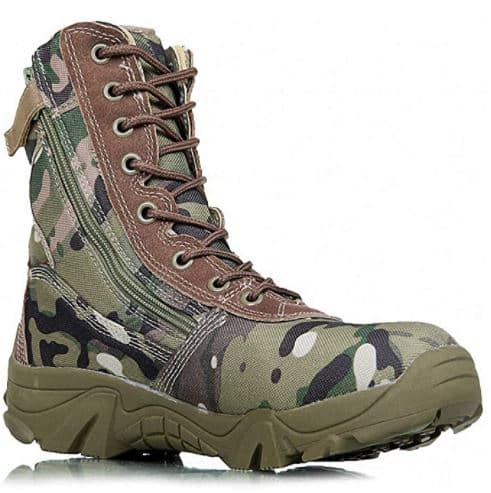 A brand known for its fashion boots, Tebapi offers a wide selection of shoes for men and women, making it easy to add a touch of style to any look. The brand focuses on diversity, offering shoes that range from rain boots to ankle boots and even dress boots.
After browsing through the brand's fashionable options, we came across the Tebapi Men's Tactical Boots. Not only are these stylish, but they offer a unique versatility too.
Specs
Comes with a durable rubber outsole
Features a full-grain leather insole
Includes a side zipper closure
Made with a high-density nylon upper
Who is it Best for?
Combat boots offer a unique versatility in that they can be used for fashionable wear, as hiking boots or as work shoes. These boots from Tebapi are no different. They feature a design and construction that makes them highly versatile.
If you are looking for a pair of combat boots that look as though they could be a military issue, then these make an excellent choice. Tebapi offers them in solid black or green camouflage. Both of these options make the shoes look as though you have just come from combat, giving them an edgy look and feel.
When considering the price, these are inexpensive. We found them to be highly comfortable, although the sizing falls slightly on the small side, so if you have broad feet or prefer wearing thick socks with your boots, this is something to consider.
Key features
Tebapi combines a few unique materials to create these rugged and versatile boots. The outsole of the shoes is made from durable rubber and features an intricate pattern that provides an impressive grip. Staying on your feet in these shoes will not be a challenge, no matter what surface you find yourself on.
The insole is made from durable full-grain leather that matches the detailing around the eyelets on the exterior. Sturdy high-density nylon renders the boots water-resistant while still allowing for breathability and comfort.
While these boots feature laces, a side zipper makes them easy to pull on and off in seconds, negating the need to do and undo the laces each time. A secure velcro strap adds additional support for the foot and ankle, protecting your foot from rolling and sustaining an injury.
Pros
The boots come in camo and back
The zipper makes them easy to pull on and off
They provide excellent grip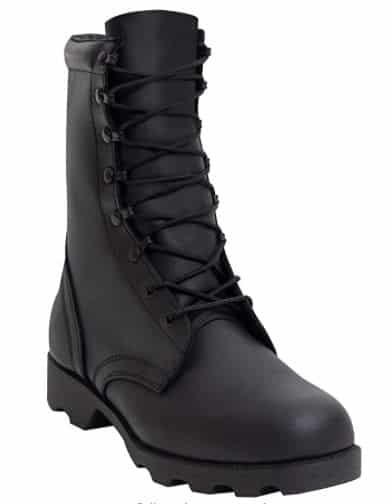 Rothco was founded in 1953 and is the foremost supplier of military and tactical gear globally. In addition to military apparel and equipment, the brand also offers a wide selection of outdoor and survival products. Specializing mainly in footwear and clothing, the family-run company prides itself on providing customers with durable, comfortable, and functional items.
Interested to see what an authentic pair of military-style combat boots felt like, we tried out the Rothco 10" Leather Speedlace Combat Boot.
Specs
Made from genuine leather
Features a Speedlace lacing design
Comes with a vulcanized rubber outsole
Includes a removable cushioned insole
Who is it Best for?
If you're looking for a pair of military-style black leather combat boots, these from Rothco may be the ones you need. The black leather boots offer a sleek and professional look while providing exceptional comfort, cushioning, and support.
These men's shoes wear well as hiking boots and are designed to withstand rugged terrain and intense wear and tear.
While they only come in black, these leather combat boots make an excellent addition to any uniform or pair well with casual wear, too, the black shade offering versatility and style.
Compared to other combat boots n the market, these sit around the middle of the price scale, but if you consider the fact that they're made from leather, they are quite a bargain. While we enjoyed the boots overall, we found that the boots could use a little improvement where the outsole joins the shoe as this area was not as durable as possible.
Key features
These leather lace-up boots are designed to withstand anything you throw at them. Made from durable leather that will soften slightly to fit the shape of your foot better, these shoes will last for years to come.
The waterproof boots combine with vulcanized rubber outsoles to keep your feet dry and protected even in wet conditions. The rubber outsole features a unique pattern that increases the traction of the tread, making crossing damp grass, slippery or muddy surfaces, or gravel effortless.
A unique lacing system, the Speedlace design, sees the boots laced-up using primarily speed hooks and only two eyelets, so you can get your black combat boots laced up in seconds.
The boots' high ankle opening and leather padded collar provide additional foot support to keep your feet protected and secure in the shoe. In addition, removable cushioned insoles absorb any shock and keep your feet comfortable throughout the day.
Pros
They are quick and easy to lace-up
The boots are water-resistant
Cons
The durability could be improved upon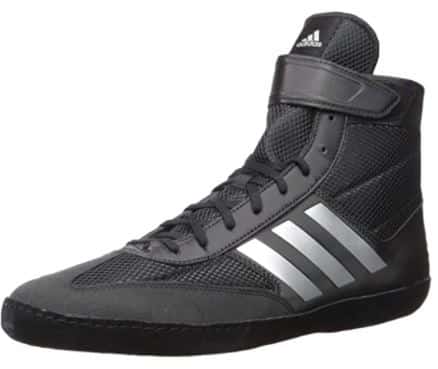 The German multinational corporation, Adidas, was founded in 1949 by a man named Adi Dassler. This gentleman set his sights on providing athletes with the best footwear possible, allowing them to improve their times and overall experience while participating in their respective sports.
Today, Adidas is the second-largest global sportswear producer, second only to Nike. Interested to see what the brand's combat-style boots would be like, we tried out a pair of the Adidas Unisex-Adult Combat Speed.5 Boots.
Specs
Includes a rubber and leather outsole
Made with a synthetic textile upper
Features a lace-up and velcro strap closure
Offers TPU stripe support
Who is it Best for?
If you're looking for a combat-style boot that wears well for sports, you've just found it. These boots from Adidas are fashioned after the combat boot and provide exemplary support and comfort combined with just the right amount of traction that makes them ideal for wear as wrestling shoes, for use when boxing, or going about your daily life.
While they do not offer soles that are thick enough for use when hiking, they are great for just about everything else.
Adidas understands the importance of personal taste and offers these boots in nine unique color options. So whether you prefer black, royal blue, red, or grey with a splash of yellow, you can find it here.
Compared to other combat boots, this sporting variety is relatively expensive. However, the comfort and support they provide make them well worth their cost.
Key features
Adidas makes these boots with a synthetic textile upper that includes a breathable mesh. This mesh allows air to circulate your feet, keeping them cool and preventing overheating. In so doing, it prevents your feet from becoming sweaty and smelly.
A TPU stripe support that doubles as the Adidas logo offers support for the foot, keeping it in place in the shoe. Adding to this is the opening of the shoe that sits above the ankle.
While these boots come with laces, an elasticated ankle strap that fastens with velcro secures the top of the shoe while ensuring your foot is anchored in correctly. This feature prevents you from rolling your ankle.
The durable rubber and leather sole of the boots provides sufficient traction for walking about or engaging in a sport. These outsoles are durable, sturdy, and slip-resistant.
Pros
Offered in various color options
Provide sufficient traction and grip
The shoes are exceptionally comfortable
Cons
They are a little tight on men with broad feet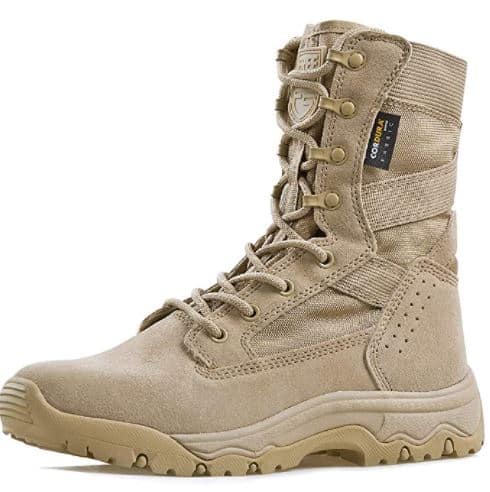 Free Soldier is a brand that specializes in boots and pants for men and women. Focusing mainly on outdoor gear, survival wear, and military and work boots, the brand offers durable and well-constructed apparel.
Whether you're looking for a composite toe boot or a military-style combat boot, Free Soldier has what you need. We gave the FREE SOLDIER Men's Tactical Boots a try and were left suitably impressed.
Specs
Features an EVA midsole
Made from suede leather and 1000D Cordura fabric uppers
Includes a removable shock-absorbing insole
Comes with a strengthened cap toe
Who is it Best for?
If you're looking for a durable pair of boots that hold up exceptionally well in various conditions, these are worth a closer look. The combat boots provide the proper support needed for your feet, whether you are hiking in damp and slippery conditions or work in an environment that requires you to have shoes that offer a little more protection than most.
Free Soldier provides these combat boots in black and tan, so you can choose a pair that best suits your uniform or apparel.
Compared to other combat boots available, these are very well priced, especially for comfort and durability. We found them to hold up well, with only one slight downside – if you have broad feet or like wearing thick socks, these may not be for you. They are slightly narrow in design.
Key features
Free Soldier makes these boots from suede leather and Cordura fabric. These two materials make the shoes durable and supportive but comfortable, while mesh inserts allow fresh air to circulate your feet. This regulates your temperature and prevents your feet from overheating, becoming sweaty or odorous.
A lightweight EVA midsole absorbs shock as you walk, protecting your feet, ankles, and knees from impact. Removable cushioned insoles add a little extra support while keeping you feeling as though you're walking on air.
The strengthened toe cap and heel both protect your feet from impact, making the boots perfect for hiking or work environments.
Durable rubber outsoles provide excellent traction and grip even in the slipperiest of surfaces.
Pros
The shoes are very lightweight
They are exceptionally comfortable
Cons
They are tight-fitting, not ideal for men with broad feet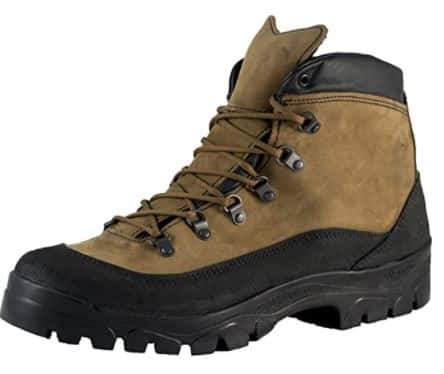 Bates was founded in 1885, and the brand focuses on the design and manufacture of military and tactical boots. Bates prides itself on the high-quality materials, expert construction, and impressive designs to create its footwear.
Bates shoes are favored by military personnel and first responders across the globe, making it clear that these shoes offer something unique. We wanted to try them out for ourselves and settled on the Bates Men's Combat Hiker Boots after perusing the various options.
Specs
Made from Nubuck leather
Features a durable Vibram sole
Includes Gore-tex waterproof lining
Comes with a lace-up closure
Who is it Best for?
If you're going hiking, these boots are definitely worth a try. They are as rugged as they come and feature a host of design elements that make hiking or traversing difficult terrain feel like a walk in the park.
The boots are sturdy and can withstand anything you throw at them. They were one of the top picks for soldiers during deployment, a testament to the durability and comfort offered by the boots.
The boots are made with robust materials, which mean they need a short break-in period. But, once the leather has stretched to accommodate your feet, the comfort is unrivaled.
Despite the high-quality materials and expert craftsmanship, these shoes are relatively inexpensive. To start, they are rather tight-fitting, but with time, they relax and transform into the most comfortable boots you'll ever own.
Key features
Bates makes these combat boots with durable and sturdy Nubuck leather. They are then lined with a Gore-tex membrane that renders them waterproof. While the leather and waterproof membrane work to keep water from entering the shoe, they also minimize the footwear's breathability. Our suggestion is to pair these boots with moisture-wicking socks to prevent your feet from becoming sweaty and smelly. On the other hand, the boots are perfect for wear in wet or snowy conditions.
While not a side zip boot, this pair of combat boots feature a unique D-ring lace-up system that makes it easy to slip-on the boots without hassle.
A Vibram rubber sole features a unique tread that is slip-resistant and holds up well against any form of surface, no matter how wet or slippery it is.
Pros
The durability of the boots is remarkable
They offer excellent traction
The waterproofing works well
Cons
The shoes run very narrow
Things to Consider When Buying Combat Boots
1. Material
Combat boots are made from various materials. While leather boots are always trending, if you're looking for a shoe better suited to hiking or long hours of outdoor wear, perhaps durable nylon or Cordura boot is better as they breathe well and are easy to clean. Leather boots are more durable, though, and they look sleek and stylish.
2. Brand
The best way to ensure you end up with a high-quality pair of tactical boots is to buy them from a reputable brand.
Besides those that we have reviewed in this article, here are a few others you may find appealing:
Frye "Carter" boots
Dr. Martens Men's Combs Washed Canvas Combat Boot
Steve Madden Men's Jotter Combat Boot
Under Armour Men's Stellar Military and Tactical Boot
Steve Madden Men's Welkom Combat Boot
Dr. Martens Shoe's 1460 Patent Leather Combat Boot
Under Armour Men's Micro G Valsetz Tactical Boot
Reebok Men's Sublite Cushion Tactical Boot
Timberland Men's Ankle Chukka Boots
Frye Men's Bowery Chukka Boot
When looking for the best combat, there are several things to consider. Giving thought to the brand, durability, comfort, support, and quality will all put you a step closer to finding the tactical boots that most suit your needs.
By closely examining and testing each of the best lace-up boots in this review, we concluded that they meet the criteria discussed above, making it simpler to find the best combat boots for every occasion.