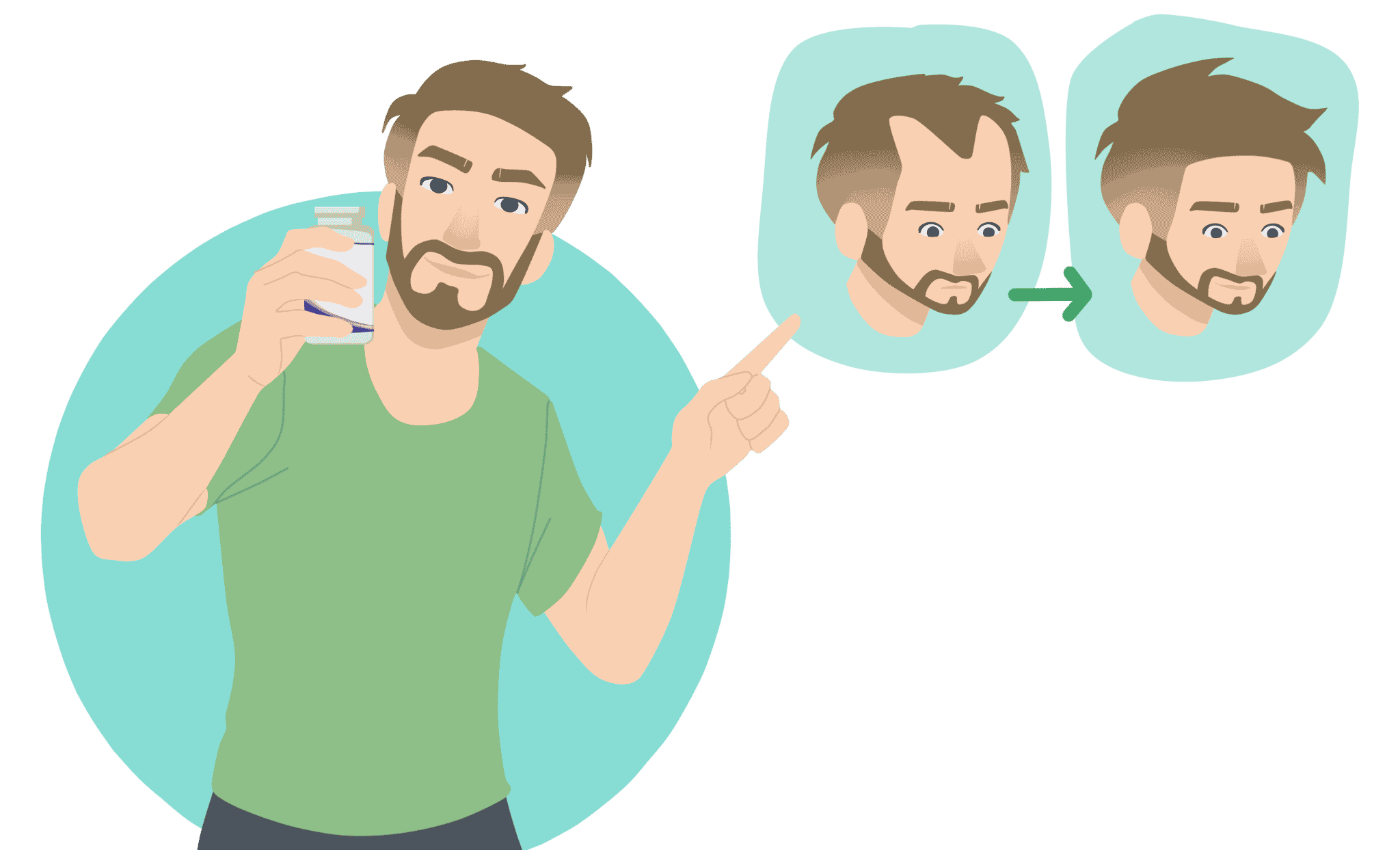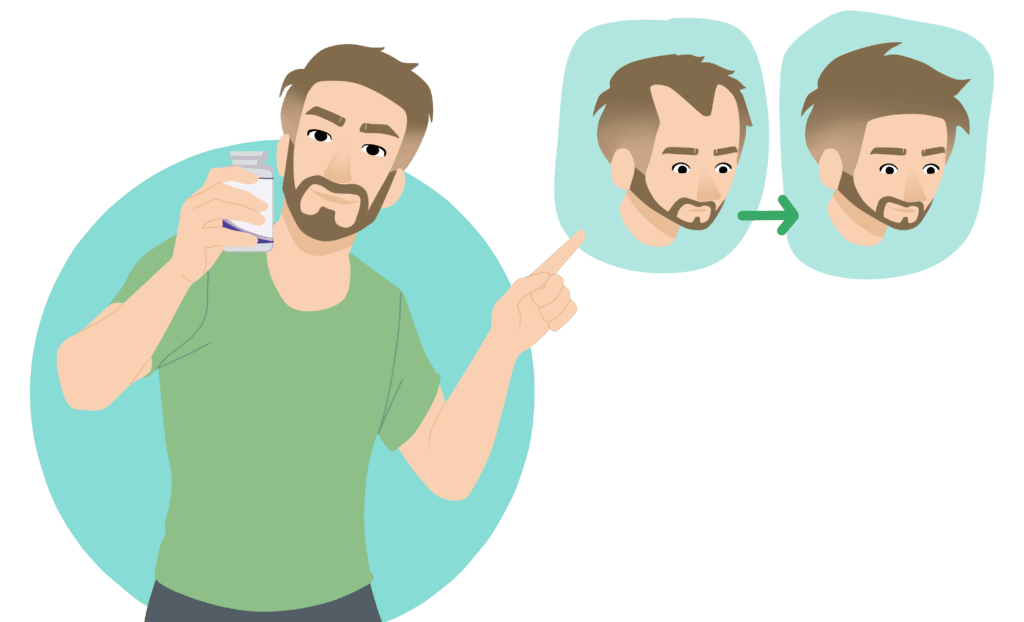 As we age, changes start to take place; one of them is hair loss. Whether it is a slight thinning or a noticeably receding hairline, no one enjoys it. This age-old problem has been catered to throughout the years by numerous lotions and potions, all promising to thicken, strengthen, and regrow your hair. But short of having hair implants or donning a wig, none of them seem to make much difference, except for one product, Minoxidil.
Minoxidil works by widening your blood vessels, allowing more oxygenated blood to flow through. This increase in oxygen stimulates hair growth from hair follicles and the formation of thicker, fuller strands. Approved by the FDA in 1988, Minoxidil was marketed in the 80s under the name Rogaine. However, today, there are a variety of Minoxidil products available.
The challenge comes in when trying to find which of these hair loss products are worth your money, because unfortunately, not all Minoxidil treatments are made equally. To make things a little simpler, we have gathered the best hair loss treatments Amazon had to offer and have reviewed each of them, giving you a better idea of what is out there.
We studied and tested 12 of the Minoxidil product offerings Amazon has to offer and concluded that these each were a hair regrowth treatment worth sharing with you. Our approach was to find the Minoxidil treatment options that met the criteria our research showed a quality hair loss treatment would offer. We then took the time and reviewed each product allowing us to formulate an evaluation based on these factors: price, ease of use, hair growth results, and fragrance.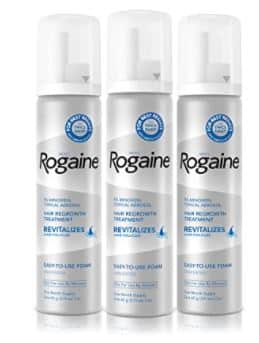 If you are looking for a topical treatment to help with hair loss, Men's Rogaine 5% Minoxidil Foam for Hair Loss and Hair Regrowth Topical Treatment for Thinning Hair, 3-Month Supply make a good option.
Besides being on the market since the 80s, Rogaine is also recognized by the FDA, so you know it does what it claims to do. The Rogaine website claims that the solution is clinically proven to regrow hair. How well the product does this is something you are soon to find out.
Specs
Active ingredient 5% Minoxidil
Comes as a foam solution
Includes botanical extracts for a healthy scalp
Comes in a three month supply or three 60g cans
Who is it Best for?
If you are battling with male pattern baldness in the form of a thinning crown or a receding hairline, Rogaine offers a solid solution. The 5% Minoxidil found in the formula boosts follicle activity and stimulates hair growth by increasing blood flow to the scalp area.
Although some men claim that it starts working in as little as three weeks, I found the results began to show closer to the three-month mark.
Another important thing to note is that if you have been visibly bald for an extended period, you may not end up with the same results as someone who has started losing hair more recently. To experience the benefits of this product, it is ideally used at the beginning stages of hair loss. Although in areas I thought I would never see a hair again, a few started to show up.
Key features
Rogaine combines a few key ingredients that work together to stimulate and encourage the regrowth of hair. Besides the 5% Minoxidil, you will also find a combination of elements that form a Tricho-Prime Technology that creates the optimal conditions for new hair growth.
Also included are natural botanicals that keep your scalp healthy, which we appreciate because replacing no hair with dandruff is not quite the tradeoff we want. Alpha hydroxy acid or AHA works as a natural exfoliant to keep your follicles open.
While these ingredients come together to form a unique foam that is easy to apply, what we couldn't understand was why it was offered in a three-month supply. It was only after digging a little deeper that it became clear that to maintain and continue this extra hair growth, Rogaine is a product you have to use consistently and continuously.
Pros
We liked that the foam formula was easy to apply and took only a few minutes
This foam version prevents dandruff and flaking
Dermatologists recommend this product
Cons
Where this product falls down is that it needs to be applied twice daily
Sadly, in order to maintain your new luscious locks, you need to apply this formula continuously to keep up the results.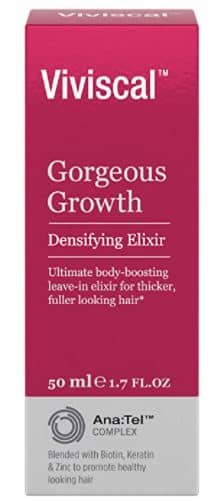 Viviscal offers an alternative to Minoxidil as a hair loss treatment. On their website, Viviscal implies they have been in the business of hair growth research for over 25 years, which leaves us hopeful about the efficacy of the Viviscal Gorgeous Growth Densifying Leave-in Elixir for Thicker, Fuller Hair.
It is important to note, though, that this product clearly states on the packaging that it is a body-boosting solution and forms part of a larger hair care regimen.
Specs
Active ingredients: Proprietary Complex Antrel, Biotin, Keratin, and Zinc
Features a botanical fragrance
Works as a leave-in serum
Lightweight application
Who is it Best for?
If you're not impressed with a chemically fragranced hair treatment, don't worry; neither are we, which is why we found this elixir so, appealing. It comes with a natural botanical fragrance that smells a lot like a fresh, citrusy shampoo.
Viviscal indicated that you could use the serum on both damp and dry hair, so we gave both a try. While it worked well on both, the application to damp hair was far more straightforward, and we found the need to use less product. Either way, the versatility the product offers is impressive, and better yet, it works well with all hair types.
The elixir offers a bit more of a bang in terms of the effect on your hair compared to the Viviscal shampoo and conditioner. Still, ultimately to reap the benefits, we suggest using the collection together.
Key features
Viviscal's Elixir is a serum that you rub into your hair and then leave it. The formula contains ingredients such as Keratin that leaves hair looking fuller and glossy, and Biotin stimulates the growth rate of your hair follicles.
While we found this serum to leave our hair thicker and looking fuller, certainly, it didn't do much to stimulate new growth. In our opinion, this product is better aimed at individuals with thinning or fine hair rather than those experiencing pattern baldness.
What was impressive is that there were visible results within three to six months with a greater hair volume, thickness, and longer length as the main noticeable points.
Pros
We liked that the formula can be applied to dry or wet hair and that it doesn't leave a greasy sheen
The product is great if you battle with thin hair that lacks fullness
There were visible results in just three months of use
Cons
Where this product doesn't quite meet the mark is that it works better when used in conjunction with the brand's shampoo, conditioners, and vitamins
The serum doesn't stimulate new hair growth, what it does is thickened your existing strands instead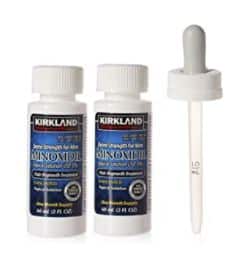 While Kirkland Signature is most well-known for its large selection of products, one that may or may not be on your radar is their hair regrowth treatment. Kirkland Minoxidil 5 % Topical Solution Extra Strength Hair Regrowth Treatment for Men comes as a liquid solution dispensed from a dropper.
Kirkland offers this Minoxidil formula in different packages that range from a two-month supply to an 18-month supply, keeping in with the brand's usual offerings of convenience.
Specs
The solution is unscented
Active ingredient is Minoxidil 5%
Supplied in a liquid solution
Extra-strength formula
Who is it Best for?
If you are looking for a balding treatment for the vertex or the middle path towards your crown, this hair regrowth serum from Kirkland is worth a look.
In comparison to its competitors, Kirkland's offering comes in at an affordable price point which is what makes it such a popular choice. Better yet, this lower price (on average $12 for two months' supply) makes it easier to give the serum a try without feeling as though you have spent big money on a new product you may not enjoy.
We enjoyed these drops because of the easy application, just one milliliter in the dropper to be placed on your area of hair loss and then rubbed into the area. The instructions come with quite a specific note to only use one milliliter, but we wanted to try and see if applying more would make it work faster – it didn't. Our results showed that no matter how much extra you use, it still does the same work, which is good because it makes the serum last its intended length.
Key features
This serum from Kirkland works very similarly to Rogaine and features the same active ingredient: 5% Minoxidil. The difference between the two is that this formula doesn't include a botanical extract to nourish your scalp, and it comes with a high level of alcohol which can dry out your scalp and lead to dandruff.
The 5% addition of Minoxidil offers an extra strength that the products with 2% don't provide.
What we enjoy about this formula is that it is unscented. There is nothing worse than walking around with hair that is scented like a treatment. This does the opposite. We didn't enjoy the side effects – an increase in facial hair, and we don't mean your beard; if you want bushy eyebrows, this is a great way to get them.
Pros
The solution is unscented and discreet
We liked the lower price point which made it a much more affordable option
Minoxidil is dermatologist recommended
Cons
This solution is not designed for use by men with a receding hairline or with frontal baldness; it is for the vertex only.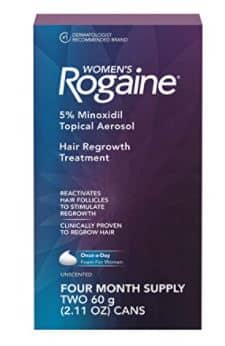 Rogaine has been around since the 80s, and their website claims that it is the only hair regrowth formula that is proven clinically to regrow hair in only three months. The brand offers these regrowth solutions for men and women.
The Women's Rogaine 5% Minoxidil Foam for Hair Thinning and Loss 4 Month Supply comes as a topical aerosol. In comparison to the men's Rogaine foam, it offers very little in the way of a difference, with one exception: you only need to apply it once a day.
Specs
It is safe for use on permed or color-treated hair
The Rogaine foam comes in an aerosol canister
Active ingredient: 5% Minoxidil
The foam offers easy application
Who is it Best for?
This Rogaine foam is designed for use by women. When we first received it, we expected to remove the lid and be hit with a floral fragrance of sorts, but instead, Rogaine chose to keep this formulation unscented. This lack of scent is ideal for those wanting to keep their use of the treatment discreet.
If you're not great at remembering to apply a treatment twice a day, this may be a better solution for you because the thing is with Rogaine, you have to use it every day to keep your hair looking the way you want. Stop the treatment, and you will lose the hair growth you have gained through hair shedding. With the Rogaine solution that requires application twice daily, it would often be the case of climbing into bed and getting cozy only to realize we hadn't applied the second dose, making this version far more favorable.
Key features
As with their other products, this Rogaine foam comes with 5% Minoxidil as the active ingredient. The minoxidil topical solution is ideal for more recent hair loss and works well on the crown area of your head. After testing it out for a few months, we realized a few things about this product.
Firstly, it can cause side effects. One of our testers began to lose large patches of skin from her scalp after a few months of promising results, and she had to discontinue using it. The upside to this, though, was that the regrowth on her crown was clearly visible before this issue. After she stopped using the product, it took a good four months before her bald patch became visible, so it was great to see that the hair loss from shedding wasn't an overnight issue.
The other thing we noticed is that the foam can either leave your hair feeling quite chalky or, in some cases, oily. This wasn't a big one to work around, though, because you only need to apply the foam once a day, which we did just before bed.
Pros
This foam only needs to be applied once a day 
In three to four months you will see visible hair regrowth
It is really simple to apply and comes unscented
Cons
Where Rogaine fell short is that this formula tends to make your hair look and feel unclean
Sadly some side effects have been experienced but in most cases, it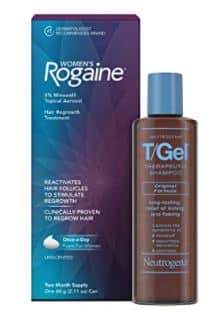 Rogaine, according to the website, is streaks ahead of its competitors for several reasons. Not only is it simple to apply, but it only comes with a few side effects, and it is FDA approved.
What we want you to know is although it is predominantly marketed as a men's product, they make formulas for women too. The Women's Rogaine 5% Minoxidil Foam for Hair Thinning and Loss 2 Month Supply is one of the brand's two options for women, the other being the Rogaine solution.
Specs
Two months' supply comes in a single 60g aerosol
Active ingredient: 5% Minoxidil
Once-a-day application
Unscented
Who is it Best for?
One of the first concerns about using this product was whether you could use it on hair that has been permed or color-treated since most of our testers have these kinds of treatments in their hair. The inner packaging assured us this was fine, and so we went about giving it a try. Our findings? This Minoxidil works on both colored and permed hair.
While the Minoxidil works well on most who use it, some may experience side effects. Some of these are elevated blood pressure (remember Minoxidil works as a vasodilator, so it causes your blood vessels to widen and can cause increased blood pressure) and puffy eyes. If you have a history of high blood pressure, we suggest chatting to your doctor before giving this treatment a try.
Key features
The key ingredient in this hair growth treatment is 5% Minoxidil, second to that is alcohol. The Minoxidil does its job, and it does it well, with results beginning to sprout in just three weeks.
The alcohol, however, proves to be a little problematic in that it does dry out your scalp. This dryness leads to your hair feeling chalky or stimulates the overproduction of oil in the scalp leaving your hair greasy. The greasiness leaves you wanting to wash your hair more frequently, which is counterproductive to eliminating hair loss and shedding.
Rogaine does add botanical extracts and AHA to open up your hair follicles and protect your scalp, but these aren't as effective for all users of the product.
Pros
The hair growth treatment leaves you with visible regrowth in just three weeks
We like that the foam comes in a simple to use aerosol that makes application a breeze
The Tricho-Prime technology gets to works after the first use and leaves your hair feeling thicker
Cons
We don't like that the Rogaine can leave your scalp feeling dry or greasy
It is better to consult with your doctor or dermatologist before trying this treatment if you have any circulation problems.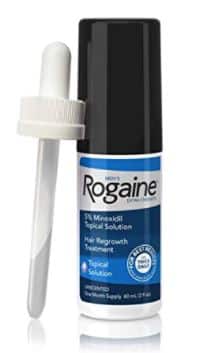 Rogaine has been around since the 80s and is still considered one of the most effective hair growth treatments available. The Men's Rogaine Extra Strength 5% Minoxidil Topical Treatment Solution for Hair Loss and Hair Regrowth is a development of the original Rogaine 2% Minoxidil Solution for Men that is still offered today. The only difference is that this formula provides extra strength. Back then, Rogaine was a prescription-only treatment, but today it is readily available and comes with FDA approval.
Specs
Comes in a 60ml bottle with a dropper applicator
Active ingredient: 5% Minoxidil
Requires application twice daily
Dermatologist recommended
Who is it Best for?
Compared to Finasteride, a prescription-only hair loss solution, Rogaine is easily bought over the counter and at a much lower price. While Finasteride is taken orally and is known for its side effects, including hormonal changes and sexual dysfunction, Rogaine is applied topically and won't affect your chemical makeup. If you are looking for a less expensive minoxidil treatment that works, then give this a try.
Of all the hair growth products we tried, we found this topical solution to be the most effective. However, this liquid formula was far trickier to apply than the foam version. There were many moments of mopping up trickles across my forehead from areas I couldn't get to rub in quickly enough once dropping the solution on my scalp.
If you find yourself forgetting to apply the solution once a day, you may need to rethink buying this solution. We found that you need to use it twice daily and every day for it to be effective.
Key features
Minoxidil works well not just to stop hair loss but to stimulate regrowth too; instead of just preventing your bald patch from expanding, it stimulates hair to regrow in that area. I found that within three months, there was a definite change to my crown and my hair strands felt thicker too.
Men with pattern hair loss and alopecia agree that Rogaine has helped restimulate their hair follicles and has seen a significant improvement in hair growth. The thing is, and I found this out the hard way, you have to be patient. While the brand states that you can see results in three months on its website, one has to remember that we are all different, and some may only see results after four months. The trick is to give it a go for a while and see what happens.
Pros
The solution comes with a dropper that allows you to get the liquid directly onto your scalp
This treatment is ideal for receding hairlines and for balding crowns
You can use it to thicken up your beard 
Cons
The liquid formula takes longer to dry down than the foam and you may find it runs
You may experience more hair shedding than usual when you first start using the product but this varies from person to person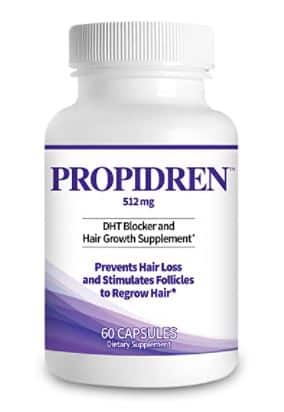 Propidren by HairGenics makes use of a formula different from that which uses Minoxidil. Propidren makes use of two key ingredients, saw palmetto and biotin, and works as a DHT blocker.
The Propidren by HairGenics – DHT Blocker with Saw Palmetto to Prevent Hair Loss comes in the form of a capsule that you are required to take once a day.
Specs
Active ingredients: Iron, biotin, zinc, saw palmetto, beta-sitosterol
Comes in a bottle of 60 capsules which is one months' supply
Shows effects after three months of use
Can be used by all hair types
Who is it Best for?
Propidren works as a DHT blocker. How a DHT blocker works is this: DHT is a hormone that causes your hair follicles to shrink. These blockers connect to 5-AR receptors to inhibit DHT production, allowing your follicles to remain open and healthy. It is important to remember that a DHT blocker will only work if your hair loss or thinning results from an excess of DHT, which is not as advertised as it should be.
The ingredient that works as the DHT blocker is the saw palmetto, an extract from the fruit of a small palm tree found mainly in Florida. If you are looking for a more natural way to stimulate hair growth, this product may be the solution you need. It is both cruelty-free and vegan, making it a far more earth-friendly option than its competitor, Minoxidil.
Key features
To formulate these capsules, HairGenics uses as its key active ingredients saw palmetto, biotin, and iron. The saw palmetto works as a DHT blocker, preventing your follicles from shrinking. This works in conjunction with the biotin of Vitamin B7, as it is often known. The biotin stimulates the absorption of keratin to leave your hair thicker and more glossy.
The problem comes in with the iron. If you are already taking iron supplements for a deficiency, then you may want to think twice about this hair growth option as it can throw your levels off pretty quickly and leave you feeling quite ill.
The supplements get to work and show results within three months. While we understand that anything ingested will take a while to get into your system and produce results, it takes a lot of patience to keep using the capsules before seeing results. What we can tell you, though, is that the hair growth will come.
Pros
The formula is vegan and cruelty-free
This supplement comes in the form of capsules that are much easier to take than fussing with a daily application of a product on your hair
We like that both men and women can use these capsules
Cons
The high level of iron in the capsules can throw off your iron levels pretty quickly if you are already on supplements for a deficiency
The results do take a fair amount of time to produce themselves
This formula only works if you have an increased level of DHT in your system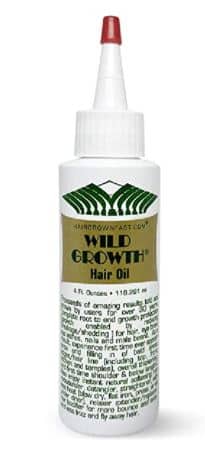 Wild Growth Hair Oil is a natural formula designed for use by all hair types. Like most of the products reviewed so far, this oil needs to be used daily and for an extended period before seeing results and maintaining your hair.
We gave it a try for three months and are happy to report that our results were impressive. While Wild Growth does not design this oil to increase hair growth, it thickens your hair and prevents breakage and hair loss.
Specs
The formula is made for use with all hair types
It is free from dyes and colorants
Main ingredients include coconut oil, olive oil, jojoba, and cocoa butter
Features a fresh, floral scent
Who is it Best for?
This natural oil is ideal for anyone wanting to nourish their hair from root to tip and prevent breakage and treat hair loss. The oils soften your hair and leave it smelling fresh and fragrant. The fragrance comes from the blend of essential oils in the formula, including clary sage, lavender, eucalyptus, grapefruit, and peppermint.
While women may love the scent, it may not be a scent you want to experience in men's hair. Personally, I enjoy the aroma and find it to be a great unisex fragrance.
While this oil is designed for use with all hair types, it works particularly well for men and women with type 4 hair. It softens and helps your hair to grow longer while stretching relaxers.
Key features
Wild Growth designs this oil not to increase hair growth but rather to nourish, thicken, and protect the hair you do have. It prevents your hair from becoming tangled and dry and makes it more pliable for styling.
We found this oil works well into a hair care regime and can be applied to damp or dry hair, a feature we enjoyed since washing hair daily went against the objective of preventing hair loss. The Wild Growth website states that the oil improves the time it takes you to blow dry your hair. We were skeptical about this and decided to test it out. Our findings? It doesn't make that much of a difference.
What it did do, though, was to allow for stronger strands and less breakage that made growing hair longer easier and more noticeable.
Pros
Makes hair noticeably softer and thicker
We liked the shine it added to our hair
The breakage of your hair will be considerably less
Cons
What we didn't like was the very strong fragrance, after a while it became quite overpowering
It can cause a sebaceous build-up if used beneath braids or a weave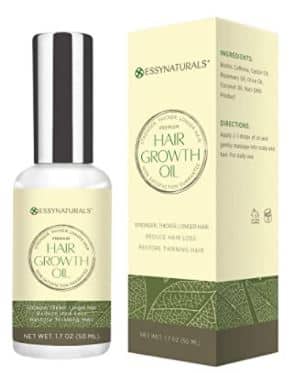 If you're looking for a natural alternative to Minoxidil hair growth products, then the Natural Hair Growth Oil with Caffeine and Biotin by EssyNaturals should be on your list.
According to the website, this product is free from harmful chemicals, including sulfate, parfum, triclosan, and GMOs. It is designed to strengthen and thicken hair, reduce hair loss, and restore thinning hair. When we saw the positive response this oil had received from other users, we knew we had to try it for ourselves.
Specs
Comes as an oil in a spray bottle
The active ingredients include: Castor oil, caffeine, rosemary oil, and biotin
Includes anti-bacterial and anti-fungal properties
Features caffeine that speeds up growth by stimulating hair follicles
Who is it Best for?
If you have sensitive skin and are trying to steer clear of sulfates, parabens, and parfum, this hair oil makes the ideal solution. EssyNaturals makes this formula free from chemicals and fragrances, utilizing only natural ingredients that promote growth and increase the strength of your hair.
Described as a magical formula on the brand's website, this natural oil combines the best natural oils and vitamins to strengthen your hair and promote new hair growth.
Compared to other products of this kind, the Essy Naturals Hair Growth Oil sits midrange in terms of pricing, but where it comes out on top is that you don't need to apply it every day, so you can use it only when you wash your hair or 30 minutes before. This makes it much more straightforward to use – we just included it in our hair care routine and found it to produce impressive results.
Key features
Essy Naturals uses a wide selection of natural ingredients to formulate this hair loss treatment. Not only did we find that this oil blend improved our hair growth, but it also stopped itchy scalps that resulted from dryness.
The formula includes caffeine to stimulate the follicles and castor oil rich in omega fatty acids, protein, and anti-fungal and anti-bacterial properties to keep your scalp fresh and revitalized.
This oil comes with a subtle menthol scent that leaves you feeling and smelling great. What we love most about this product, other than the impressive hair growth results, is the fact that it is incredibly nourishing even though it is a lighter oil that won't leave staining on your pillow. The other thing Essy Naturals did well is the stretch on this product; a little goes a long way.
Pros
It features a subtle and not overpowering scent
It won't stain your pillow if you use the product in your hair overnight
There are several ways to use the product and you don't have to use it every day to get results 
Cons
The spray nozzle is a little wishy-washy. It would have been nice to have a longer applicator that allows you to get the oil right down onto your scalp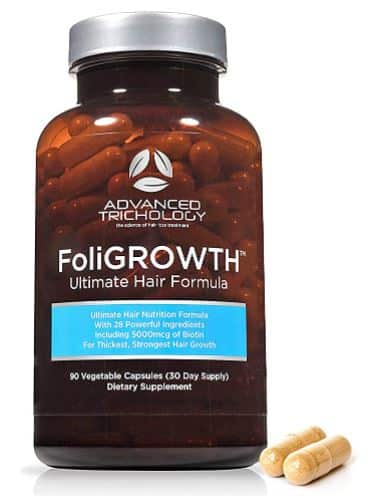 Advanced Trichology is an Arizona-based company specializing in hair loss, whether from nutritional, inflammatory, or hormonal causes. According to the brand's website, the FoliGROWTH Ultimate Hair Nutraceutical by Advanced Trichology is an all-natural capsule designed to help men and women with hair thinning, shedding and breakage, dandruff, scalp irritation, and hair loss.
The brand claims that these capsules will reduce shedding, restore the fullness of your hair, and return your hair to the point of optimal growth. Sounds good, doesn't it, which is why we had to give this one a try.
Specs
Contains 28 ingredients including saw palmetto and biotin
Made for men and women
Comes in a single months' supply (90 capsules)
Uses a vegetarian formula
Who is it Best for?
Advanced Trichology describes this product on their website as the ideal formula for anyone wanting to fight hair loss. They purport that in addition to improving the growth and thickness of your hair, the capsules will also strengthen your skin and nails.
Vegetarians and those with gluten intolerance will be able to take these capsules, too, as they are free from both gluten and animal products.
Advanced Trichology indicates that these capsules should start showing results after a month. We used them for a little over two months before noticing a visible improvement.
We suggest this if you are looking for a hair growth supplement that offers more than just a hair treatment. It comes with a range of added benefits that left us a little skeptical, but my nails needed more frequent trimming in just one month, and they became much harder.
Key features
These capsules come packed with 28 ingredients that include 5000mcg Biotin, B12, zinc (to reduce inflammation of the hair follicles), Iron, and saw palmetto. Among the different problems these capsules are said to resolve, you will find minimalizing grey hair, reducing pattern hair loss, supports stronger hair growth, and improves skin and nails. While we experienced an increase in new hairs and a thickening of strands, the number of grey hairs didn't change much, although perhaps to see a real difference here, you would need to take these caps for an extended period.
What we did notice, though, was the aroma of the capsules. They are stated as being unscented, but they had a definite odor and not a good one. While these did nothing for our appetites, they sure did leave us with more fabulous-looking hair and nails.
Pros
These caps work as a regrowth supplement but double to aid with other bodily issues too
The capsules are quick and easy to take and they start showing signs of improvement much faster than other alternatives
Taking these caps was far more convenient than having to apply a substance to our hair even though we had to take them twice daily
Cons
The fragrance that comes with these caps makes them highly unappealing to put in one's mouth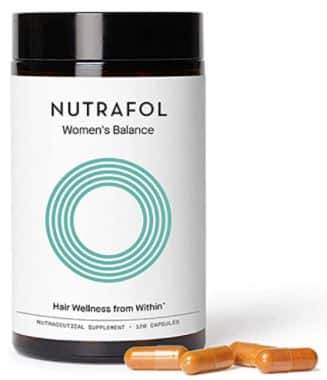 Nutrafol is a brand that, according to their website, targets the root cause of hair growth problems instead of just dealing with symptoms. Nutrafol makes use of drug-free, all-natural products that are backed by research. They create hair growth supplements for men and women individually to target gender-specific root causes that lead to hair loss and thinning.
The Nutrafol Women's Balance Hair Growth For Thicker, Stronger Hair comes in the form of capsules that aim to provide hormone and stress support.
Specs
One bottle contains one months' supply of capsules (you need to take four per day)
The caps are free from gluten, shellfish, hormones, and binders
The formula includes 21 natural ingredients including multiple vitamins and saw palmetto
Dermatologist approved
Who is it Best for?
They designed this formula for women experiencing hair loss and thinning because of environmental factors and stress.
If you have patience and a will to have stronger, longer hair, then these natural supplements may be the solution you need. According to their website, Nutrafol claims you can see the strengthening and less shedding of hair within three months, but that only after six months will you experience the full benefit of the product. Our experience was that aside from more healthy-looking hair, it didn't give us the results we wanted after three months. Perhaps after a more extended trial period, our results would have been more impressive.
If you are not keen to use chemicals, drugs, or hormone caps, then these are a great option. We like that Nutrafol steers clear of using any of these additives in their formula.
Key features
Nutrafol uses active ingredients such as saw palmetto, biotin, iodine, zinc, and a host of vitamins and minerals to create this formula. It is advised that once you start taking this supplement that you continue indefinitely to ensure the maintenance of your hair and to promote new growth and thicken strands continually.
Where we noticed a definite thickening of our hair when trying these, there wasn't as much new growth as we had hoped to see at the three-month mark. Where we feel Nutrafol falls down is that the product sits at a reasonably high price point, and to continually take a costly capsule for months on end without remarkable results faster, can be a little disheartening.
What we did enjoy was the all-natural formula free from hormones and drugs. However, it is essential to point out that if you are on thyroid medication, carefully monitor your levels as the increased level of biotin may affect them.
Pros
The lack of hormones, drugs, and binders in the formula is a definite plus
These capsules are much simpler to take than trying to apply a solution to your hair each day
The caps work really well to prevent shedding and increase thickening
Cons
We didn't like that it took between six and nine months to produce results
The price point of these is considerably high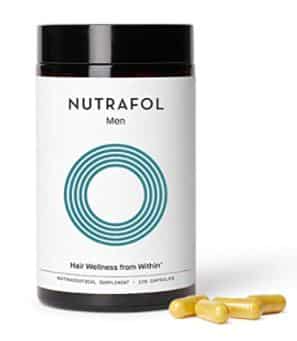 Nutrafol Men's Hair Growth Supplement for Thicker, Stronger Hair is much the same as that made for women we reviewed previously. The formula is also crafted from 100% natural ingredients and is free from drugs, hormones, and binders.
It is made from 21 natural ingredients, each included for its ability to reduce thinning and hair loss due to environmental and stress-related causes.
Specs
Comes in a container with 120 capsules (one month's supply)
Made with 21 ingredients including saw palmetto, ashwaghanda, and Tocotrienol Complex
Dermatologist approved
Free from shellfish, binders, and hormones
Who is it Best for?
Men looking for a more natural product to assist with hair thinning and stimulate regrowth may want to try this product. We put it to the test simultaneously as our female testers tried the Nutrafol for women. We found that the results were pretty similar, although the regrowth experienced by us guys did happen a little faster.
If you have patience and are willing to wait for six-plus months for results, then the product is worth your while. If you want a more cost-effective solution, this may not be it.
Key features
Nutrafol makes this formula with three key ingredients: saw palmetto to combat thinning by working as a DHT blocker, Ashwagandha to balance stress hormones, and Tocotrienol Complex to combat environmental stressors that cause thinning.
After trying this product out for a few months, we saw an improvement, but it was minimal. Aside from the prolonged results, we also found the capsules to be rather large – having to swallow four each morning was not fun.
On the plus side, though, we did find that our hair became thicker and shed less.
Pros
Suitable for all skin types
Things to Consider When Buying Minoxidil
1. Types of Minoxidil Product and Other Treatment Options
Aside from Minoxidil, there are various other ways to stimulate hair growth.
This formula comes in many forms under many brand names, from Anagen to Rogaine. Minoxidil is an effective treatment that acts as a growth agent, stimulating hair to regrow and in such a way that your hair grows thicker and faster than before. Minoxidil is usually sold as a topical treatment that you apply directly to the affected areas.
This hair growth treatment is prescription-based and is usually taken orally. It works as a blocker that prevents testosterone from forming DHT that inhibits hair growth.
Nioxin is a hair treatment regime that includes a range of shampoos, conditioners, supplements, and serums that all target hair regrowth and prevent hair loss. Nioxin is better suited to increasing the thickness of your hair than regrowing hair and is often recommended for use in conjunction with Minoxidil.
2. How Minoxidil Works and How to Use Minoxidil
Minoxidil is a vasodilator. What this means is that the product works by widening your blood vessels to improve blood flow. An increase in blood flow to the scalp means greater oxygenated blood levels stimulate hair follicles, causing hair to regrow and grow out thicker and stronger.
Minoxidil is usually applied topically directly to the areas of the scalp where you are experiencing hair loss. The treatment often comes as foam or as a serum.
Through our research, trying, and testing of each of these Minoxidil and hair regrowth treatments, we have found that various substances and forms of treatments offer remarkable results.
It is important to give thought to how quickly you want to see results, the type of application, whether topical or oral, you want to use, and whether you are okay with using a chemical-based solution or would prefer a more natural route. Taking this into account, along with our reviews, will help you pinpoint the right solution for your needs.