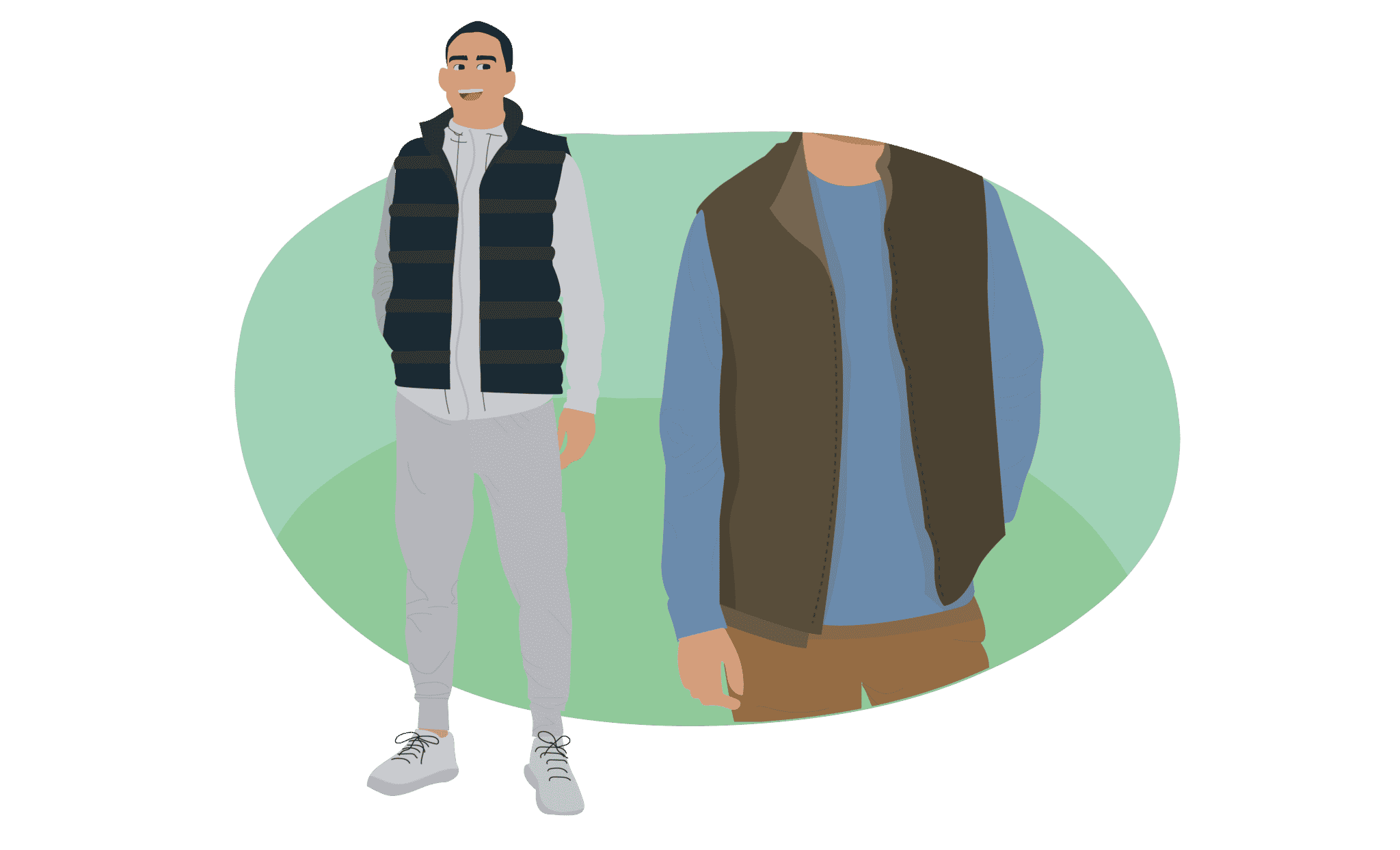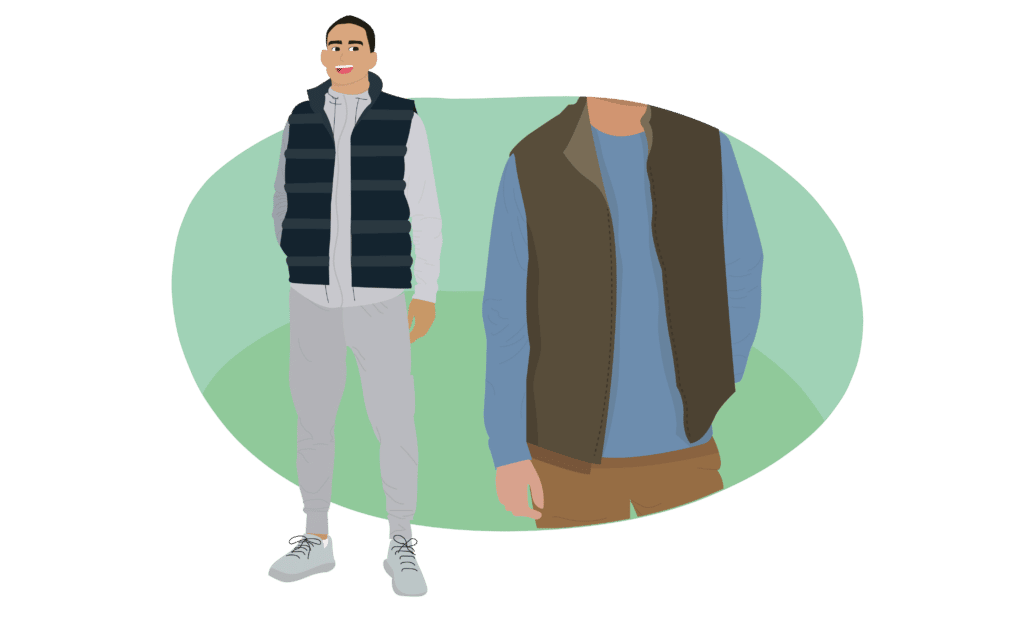 When winter starts to draw nearer and the days begin to take on an icy chill, the best way to dress for comfort is by layering your clothing. Not all apparel makes this easy, though; there are only so many long-sleeved items you can pile on top of one another before you start looking like Frosty the Snowman yourself. So what now?
Making use of a good-quality insulated vest is always your best bet. These handy sleeveless jackets layer easily over other clothes, and they add impressive warmth that you will find you need when out on a trail or camping in the wilderness. Because they are so lightweight, you can carry them easily should the weather warm up.
The only downside to these puffer vests is that they're not all made equally. Some offer unrivaled quality and durability, while others are a little lacking. To make things less of a challenge for you, we have put together a list of the best vests Amazon has to offer, making it more straightforward for you to find the one that best suits your needs.
To find the vests that offered premium quality and fashionable designs, we chatted to a few outdoor adventurers about what they value most in a quilted vest. Durability, water resistance, wind resistance, and warmth were all mentioned multiple times. The vests we have reviewed here for you each tick these boxes and more, affording you with a selection of the best-insulated vests you can find.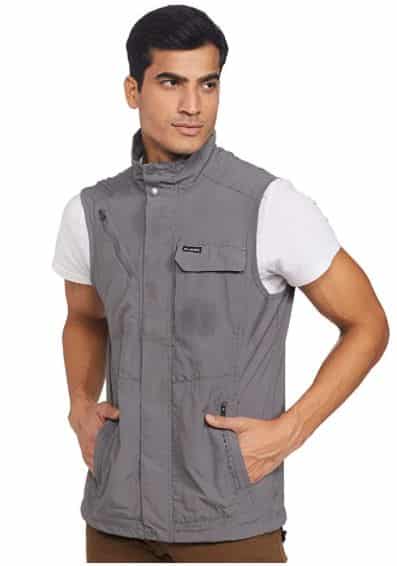 Columbia was founded in 1938 in Portland, Oregon. For over 80 years, the brand has been creating innovative outdoor apparel and gear, testing it out on the terrain Oregon is so well known for – mountain trails, rugged coastlines, and dense forests.
The footwear, gear, and apparel made by Columbia offer impressive durability, high quality, and remarkable style, making the Columbia Men's Silver Ridge II Vest one that any avid adventurer should add to their wardrobe.
Specs
Made from 100% Ripstop nylon
Moisture-wicking
Drawcord adjustable hem
Multiple zippered pockets
Who is it Best for?
If you love spending time outdoors, no matter what the weather, then this gilet is for you. It is ideal for layering over long-sleeved shirts and under jackets; that way, if you heat up on your hike, you can take off a layer or two and remain comfortable as you go.
Men looking for an outerwear vest that comes in various colors will enjoy this one. Columbia offers this vest in eight unique shades that blend in well with nature, including fossil, flint grey, sage, and cypress.
When it comes to pockets, this vest offers plenty, so if it's a well-pocketed jacket you need, give this one a try. It comes with four zippered hand pockets, a zippered security pocket, and even a chest pocket.
Key features
Columbia's men's vest features a nylon shell. This unique ripstop nylon offers impressive core warmth while wicking away moisture should you become sweaty while involved in your outdoor activities. Another great thing about nylon? It has quick-drying properties too.
The vest comes with Columbia's Omni-Wick that wicks moisture off your skin and spreads it across the surface of the vest, allowing it to evaporate quickly, keeping you dry and comfortable.
The vest also features Columbia's Omni-Shade, which provides UPF 50 protection, keeping you safe from harmful UVA and UVB rays by blocking them from your skin.
The vest features a sleeveless design and comes with a stand-up collar that buttons up for additional protection from the wind. An adjustable drawcord hem allows you to tighten the vest around your waist to keep in the warmth and keep the cold out.
Pros
Omni-Shade UPF 50 protection
Offered in various colors
Cons
Does not come with a hood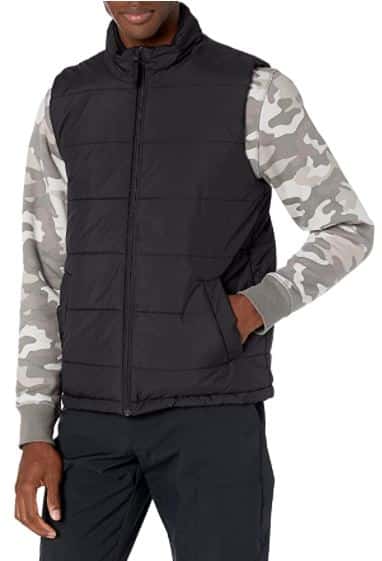 Amazon Essentials is a subsidiary of Amazon. The brand offers an impressive range of basic apparel for men, women, and children and a pretty neat active wear range. Amazon Essentials strives to provide its customers with high-quality fashion for affordable prices.
If it's a durable, expertly crafted vest for outdoor wear that you need, you may want to give the Amazon Essentials Men's Mid-Weight Puffer Vest a try. It is versatile, stylish, and warm.
Specs
Made from 100% polyester
Water-resistant
Zippered front closure
Interior media pocket
Who is it Best for?
Amazon Essentials designs this mid-weight puffer vest for everyday wear. It features a sleek, quilted look that pears well with chinos or jeans, and can be layered over long-sleeve t-shirts and sweaters, and will sit comfortably underneath a jacket. If you want a vest that layers easily and looks great with several different styles, then this vest is for you.
Men who would like a puffer vest in a few different colors will enjoy the selection Amazon Essentials these are offered in; you can find them in nine unique shades. Whether it's camo you prefer, black and blue blocked color, or a solid red, you will find it here.
If you want a puffer vest you can wash easily; then this one makes an excellent option. Popping it in the washing machine on the indicated cycle is all it takes to have your gilet fresh and clean again.
Key features
Amazon Essentials makes this quilted vest from 100% polyester. This fabric is ideal for this purpose as it offers quick-drying capabilities, is soft, lightweight, and wicks away moisture. The material is also highly breathable, allowing air to circulate through the vest, regulating your body temperature to prevent you from overheating. Polyester also offers impressive durability.
A taffeta lining helps to keep you warm, while the quilting finish on the jacket ensures the padding remains in place even after a wash.
Two snap-close side pockets offer the perfect place to keep your hands warm, while an inner pocket gives a great space to store things like car keys or a smartphone.
A full zippered closure makes this water-resistant vest easy to pull on and off when you need to add or remove a layer.
Pros
Offered in a variety of colors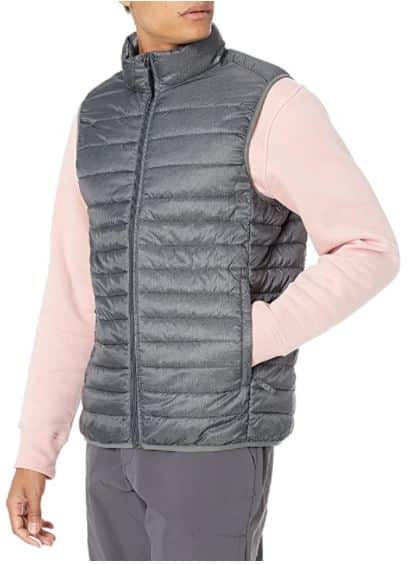 Amazon Essentials focuses on providing its customers with fun and fashionable everyday apparel that looks and feels great. Best of all, they ensure the clothing they create offers top quality without costing top dollar. A subsidiary of Amazon, Amazon Essentials places itself as a stylish brand for the entire family.
But, they don't just create everyday wear; the brand does active wear too and just as well because the Amazon Essentials Men's Lightweight Water-Resistant Packable Puffer Vest is one of the most impressive ones we've seen.
Specs
Made from 100% nylon
Water-repellent
Zippered closure
Stand-up collar
Who is it Best for?
Whether you are a hiker, a camper, a fisherman, or someone who just enjoys being outdoors, this puffer vest is for you. This unique vest is super soft and lightweight and best of all? It is packable. What we mean by that is, it rolls up pretty small, kind of like a sleeping bag, and fits neatly into the carry bag that comes with it.
Once it's in the carry bag, a drawstring allows you to close up the bag tightly so you can fit it in with your luggage or carry it over your shoulder on a hike. Better still, when you take it out of the bag, it doesn't look squashed or wrinkled so that you can look good on the go.
Key features
Amazon Essentials makes this puffer vest from 100% nylon and is designed to keep you warm and dry. The vest features a quilted design that keeps the padding in place so that it doesn't all clump in one area.
These vests make the ideal outer layer to wear over a long sleeve shirt or sweater. It also works as a great mid-layer that sits comfortably beneath a bulky jacket. Layering your apparel in cold weather not only keeps you warm but makes it easier to shed items should the temperature heat up later into the day.
A zippered closure makes the vest easy to pull on and off, and the stand-up collar will keep your neck cozy and protected from the sun or cold winds.
This toasty vest comes in multiple different colors, so you can find one that suits your tastes. And best of all? It's water-repellant, so not even the rain can mess with your look.
Pros
Offered in multiple colors
Includes a carry bag with a drawstring closure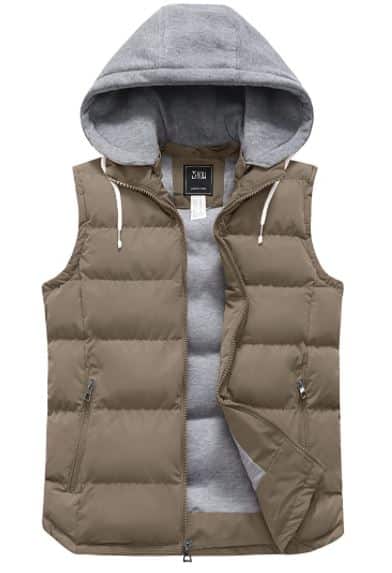 Zshow is a brand that focuses solely on designing, manufacturing, and distributing the most stylish, coziest, and most comfortable winder jackets and vests on the market. They offer everything from the casual sweater vest right through to a long sleeve faux fur-lined hooded jacket for those bitterly cold days.
Of all the brand's durable and high-quality products, it was the ZSHOW Men's Winter Removable Hooded Padded Puffer Vest that caught our eye.
Specs
Durable polyester shell
Breathable knitted lining
Includes a detachable grey hoodie
Windproof and waterproof
Who is it Best for?
When it comes to style, there are countless different options and unique tastes. If the retro look is more your scene, then this vest is for you. It features a fashionable look that brings with it great versatility. The quilted puffer vest comes with a sleek grey knit hoodie that is detachable so that you can wear it as a casual outerwear garment to a barbeque or as a hoodless vest on a hike.
If you enjoy owning more than one of the same items of clothing just in different colors, then this vest may be one you want to look at a little more closely. It comes offered in fur unique shades that include: black, grey, blue, and brown. Each vest is paired with a detachable hood that comes in a grey knit.
Key features
Zshow makes these retro vests from a blend of fabrics. The hood and inner lining are made of a soft, breathable knitted material that regulates your body temperature to keep you from overheating and sweating. The vest's outer shell is made from a durable polyester that dries quickly, is breathable, and offers excellent durability. A hand plugged cotton down fill is quilted into the vest, ensuring it remains in place, keeping you warm and toasty.
The vest features a zippered closure that makes it easy to pull on and off, while an internal chest pocket and two outer pockets offer a place to keep your items and hands.
This vest is both waterproof and windproof, keeping you protected from the elements. It makes the ideal vest for work wear, too, as it can withstand up to 3000 mmH2O, keeping you warm and dry for up to three hours in light rain or mist.
Pros
Offered in four unique colors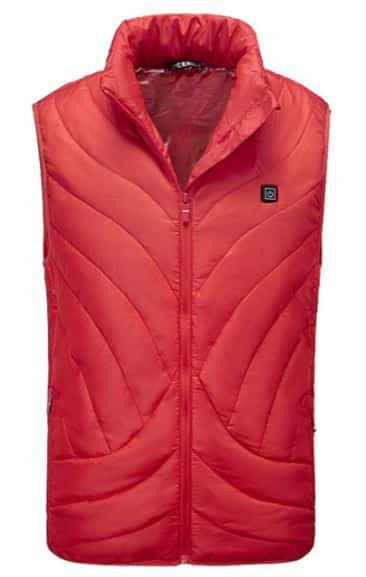 SSDXY is a brand that places its focus on creating a wide range of apparel from joggers and sweater vests to button-down shirts and dresses. The brand takes great pride in offering high-quality active wear too, and best of all, the prices they ask are reasonable, so you don't need to break the bank to look good.
The Men's Smart USB Abdominal Back Warm Down Vest Jacket Outerwear by SSDXY caught our attention, not only because of its impressive style but because it also lets you activate a heating panel on the go.
Specs
Waterproof softshell
Multiple pockets
Zippered closure
Hand plug cotton padding
Who is it Best for?
If you find yourself heading out into the wilderness on a hike, a camping trip, to go fishing, or even trekking, then chances are you will be out in the winter too when the days get icy and a little extra warmth goes a long way. If so, then this jacket is precisely what you need. It comes with a unique heating pad that charges via a USB connection, keeping you warm on the frostiest days. You can turn this heating function on and off to suit your needs and even adjust the temperature it emits.
If you prefer having a vest such as this in various colors, then you're in luck because this one comes in both a sleek black and a vibrant red, so you can mix and match them to suit your taste, your mood, or your outfit.
Key features
SSDXY makes this cozy quilted vest from a durable, water-repellent fabric. The hand plugged cotton down fill is both breathable and warm, ensuring you remain toasty without overheating. This padding is quilted into the vest in a unique design, adding style to the sleeveless jacket while keeping the padding from shifting about.
The vest features a zippered closure that makes it quick and simple to pull on and off. A stand-up collar protects your neck from the sun and cold wind.
Using water-repellent fabric, the vest is designed to keep you dry and warm no matter what the elements bring while you are enjoying time outdoors. This vest is also machine washable, although it is important not to use highly acidic detergents so as not to corrode the copper wiring that makes up the heating elements within the jacket.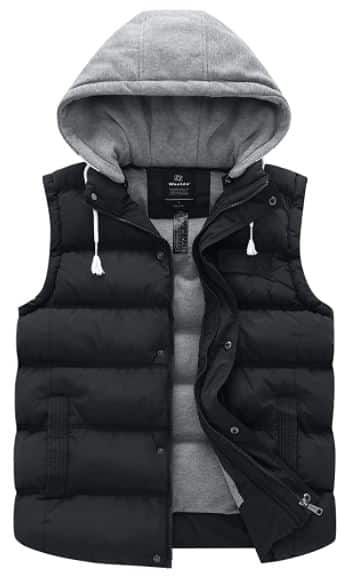 Wantdo makes its products for versatility. The brand specializes in active performance wear essentials, made for wear in any condition. Whether you are hiking in the rain, fishing in the mist, or camping in the cold, Wantdo wants you, the customer, to be comfortable. And it shows.
The Wantdo Quilted Vest Thicken Warm Winter Coat with Removable Hood is designed to keep you toasty, dry, and looking like a million bucks.
Specs
Waterproof with DWR finish
Knitted jersey lining
Thick cotton padding
Windproof
Who is it Best for?
If you're looking for a retro insulated vest that can be worn as a fashionable item or as active wear, thin this vest from Wantdo may be the solution you need. It comes with a stylish grey hoodie that detaches, so you can wear the hood to a function with friends or leave it off when you head out on a hike.
Wantdo understands that we all have different tastes and unique styles, which is why they offer this quilted vest in an assortment of colors. Whether you prefer wine red, sapphire blue, olive green, cool grey, or sleek black, Wantdo has it waiting for you.
This unique hoodie vest is one of the best men can find. It works well as outerwear or for layering in cool weather.
Key features
Wantdo makes these men's vests from a waterproof fabric shell made from stripe polyester coated with a waterproof PU membrane. The hand-plug cotton down fill is then sandwiched between the outer layer and the soft fleece inner lining. The vest is then quilted to keep the cotton padding in place, preventing it from bunching in one area.
The Durable Water Repellent finish on the jacket or DWR as it is often known will keep you warm and dry in light rain for between two to three hours.
This vest is not just waterproof; it's windproof, too, thanks to the snap-up zipper closure and the drawstring that allows you to pull the hoodie tighter around your head. Two slanted hand pockets offer you a toasty place to keep your hands warm or store items when you're out and about.
Pros
Offered in five unique colors
Includes a detachable hoodie
Quilted to keep padding in place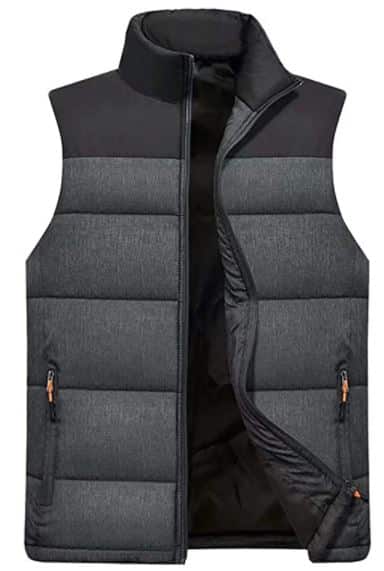 Vcansion is a brand that specializes in active wear and outdoor apparel for men and women. The brand prides itself on offering premium quality clothing that offers fashionable designs and is expertly crafted from fabrics that provide excellent durability.
One of the Vcansion garments that made an impact on us is the Vcansion Men's Outdoor Casual Stand Collar Padded Vest Coats. These stylish padded vests not only look great, but they are as warm as they come.
Specs
100% Polyester shell
Polyester filling and lining
Includes three pockets
Zippered closure
Who is it Best for?
If you're looking for the best vests when it comes to style, then you've just stumbled upon them. These vests by Vcansion offer remarkable quality and style, and even though they look as though they may have come off the shelves of a designer store, their price tags won't break the bank.
Vcansion offers these padded vests in an assortment of colors, so if you're looking for more than one to add to your wardrobe, you can pick up a few unique shades, some of which include black and dark grey, wine red and navy, camo, black and beige, and even solid black.
The vests, while padded, offer a slim fit cut that allows them to fit comfortably to the contours of your body, adding additional warmth and making them great for layering with other clothing.
Key features
Vcansion makes these vests from polyester. A polyester shell combines with a polyester filling and lining to leave you with a lightweight sleeveless jacket that is soft, breathable, and offers excellent durability. The fill power of the lining also ensures you keep toasty on even the coldest of days.
The vest jacket comes with a zippered closure that makes it simple to pull on and off. It also features two slide pockets to keep your hands in on cold days or to store things in when you are busy. Your own pocket on the inside offers a great place to store valuables, keeping them dry and protected.
This windproof vest comes with a stand-up collar that protects your neck from sun, wind, and cold.
The jacket shell is water-resistant; keeping you dry and snug should it begin to rain or turn misty.
Pros
Offered in multiple colors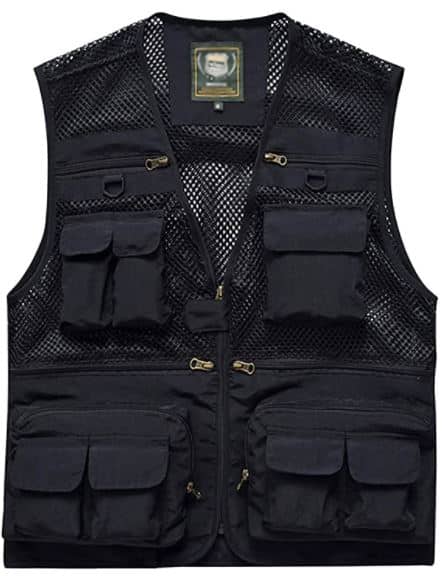 Flygo is a brand that focuses on an assortment of everyday apparel and active wear. From yoga wear to sherpa-lined joggers, this brand does it all, and they do it in style. Flygo ensures each item of clothing they make meets its high quality, fashion, and durability standards.
It is no wonder then that the Flygo Men's Summer Outdoor Work Safari Fishing Travel Photo Vest with Pockets is one of their most popular items.
Specs
Made from nylon taslan and mesh
Zippered closure
Offers 16 pockets
Breathable
Who is it Best for?
If you're all about fishing and you're looking for the ideal fishing vest for summer, then look no further. This stylish summer vest from Flygo is precisely what you need.
Men who enjoy color in their lures and on their vests will appreciate the assortment of choices Flygo has to offer. Whether it is a vibrant red, a more subtle beige, a khaki brown, or even a sleek black tone, you're after you will find it here.
This vest is lightweight, making it ideal for taking along with you on fishing trips and, when packed with lures, hooks, and extra gut, it won't weigh you down, allowing you to continue casting like a pro.
Key features
Flygo makes this heavy-duty fishing vest from a blend of Nylon Taslan, a durable fabric made from woven recycled polyester, and a sturdy mesh. The vest offers lightweight waterproof protection in places, keeping the items in your pockets protected from water and splashing.
When it comes to pockets, this jacket offers many, 16 to be exact. These pockets provide ample space for all your fishing gear, from lures, sinkers, fishing lines, flies, pliers, long-nose pliers, and leader lines.
The vest is highly breathable thanks to the mesh construction, keeping you cool while you are out catching the fish of the day. This breathability allows you to remain comfortable, and it prevents you from overheating.
This vest layers neatly over your t-shirts, jackets, and long-sleeve jumpers, thanks to the handy zippered closure.
Pros
Offered in multiple colors
Things to Consider When Buying The Best Vests for Men
When buying a new vest, there are a few things to consider, such as what you want to be using them for and the kinds of features you want your jacket to have to ensure you end up with the right one for your needs.
1. The Intent
If you are looking for a vest that will keep you cozy while you're seated outdoors at a campsite or that will give you a layer of added warmth while you're on a walk around the park, then you may want to invest in a down jacket. The only downside to a down vest is they become heavy and waterlogged when wet, so if you want something that will keep you dry, try a puffer vest instead.
If you want a puffer vest that adds extra warmth, try one with a sherpa, Primaloft, or fleece lining.
Vests you plan to wear on a fishing trip or on a hike where it may rain or become misty should have a waterproof coating. A DWR vest or even a polyester one that offers quick-dry technology is always a safe bet.
2. The Features
Consider the features you want your vest to have. Do you want one for fishing that offers multiple pockets? Would you rather have one that provides warmth and added insulation or one that protects from the wind and rain? And would you like a vest that comes with or without a hood?
Giving thought to these aspects will make it much easier to narrow down your choices.
When it comes to buying the best vests for men, you want yours to not only look and feel fantastic, but you want it to offer excellent quality and to last. With so many options available, finding the perfect one can be challenging, and we hope our reviews have simplified the matter for you.
If you're still unsure about which vest to invest in, give the ZSHOW Men's Winter Removable Hooded Padded Puffer Vest a try. It works well as activewear and for casual wear, and it comes with a stylish hood.