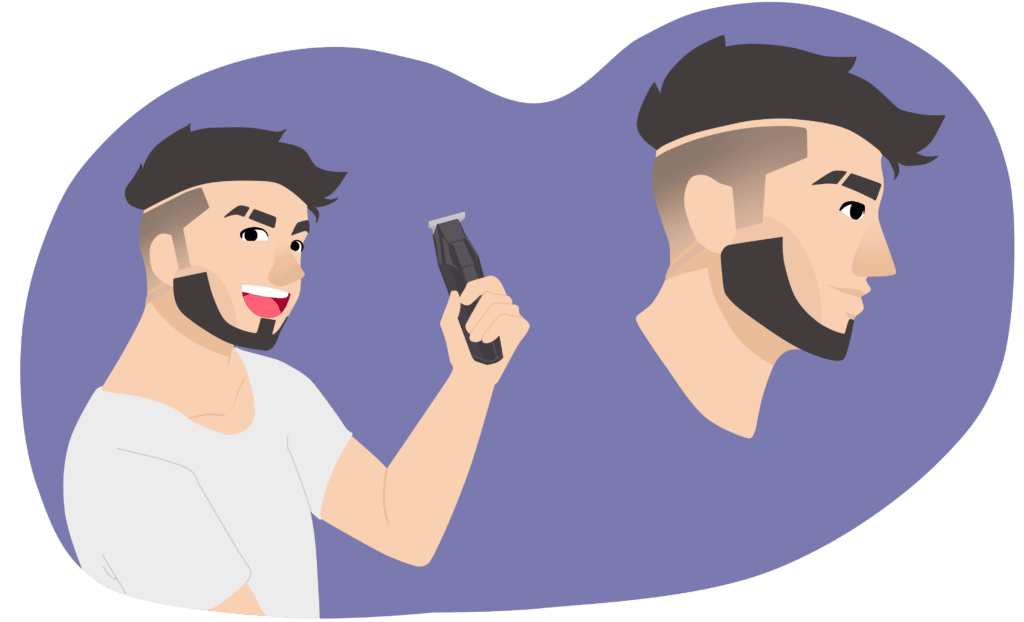 Whether you are a professional barber or a guy who likes to cut his hair in the comfort of home, you will find that a regular pair of hair clippers just do not give you that perfectly neat, sleek, and highly detailed look you want. So what will then?
A T-outliner or T-blade trimmer will give you the precision you need. These T-outliner trimmers get their name from their design that sees a broader blade than the hair clippers' body, leaving it looking like a T. This clipping tool is highly versatile, allowing for fading, dry shaving, outlining, and detail work.
If you're looking for an outline trimmer or hair edger of your own, you will have seen the wide selection available on sites such as Amazon. The challenge comes in when it comes to deciding which ones are worth your money because they're not all made equally. To make life a little simpler, we have gathered together a selection of the best hair edgers on Amazon and reviewed each of them. These reviews aim to give you greater insight as to what's hot and what's not.
We studied and tested various hair edgers from Amazon and concluded that these ten are the best hair trimmers for professional barbers and home use. The approach we used was to chat to professionals about what it is they looked for in a high-quality hair edger and gathered the trimmers that ticked these boxes. We then reviewed each of these hair outliners. Our evaluation of each set of hair clippers was based on the following criteria: the versatility of the shaver, style of motor, runtime, functionality, and the sharpness of the blades.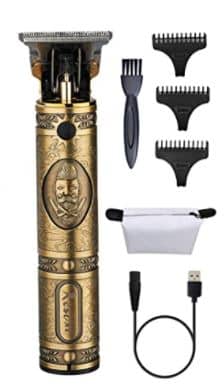 Luismia's Hair Clippers Cordless Haircutting Kit and T-Outliner Edger is a unique tool designed to give you a sleek fade, the perfect edge, or a decent shave. It is made for both professional and home use.
Included with the trimmer, you will find a charging cable, cleaning brush, three guide combs, and an organizer bag, making this more of a hair grooming kit than just a standalone edger razor.
Specs
Cordless design with a 120-minute runtime
Features a lithium-ion rechargeable battery
Includes a powerful motor
Features carbon steel blades
Who is it Best for?
If you are searching for a cordless edger that outlines, trims, edges, and cuts a decent fade, then this trimmer is a good place to start. Compared to its competitor, the Andis Professional T-Outliner Beard/Hair Trimmer with T-Blade, the Luismia came in at half the price. It also comes with a selection of accessories the Andis did not offer and is cordless.
If you want a cordless outliner, then this may be the solution you need. I was impressed with the runtime of 120 minutes and that the trimmer only took two hours to recharge.
The unique golden design that looks similar to an oriental-style artwork is a nice touch, but it doesn't do much other than looking good. When it came time to use the trimmer, it was comfortable enough to hold and weighed about the same as most of its competitors.
Key features
Luismia equips this shaver with a carbon steel T-blade that offers impressive durability. The blade was a little dull on arrival, which meant o had to sharpen it up, but once sharp; it worked like a charm.
The motor of this clipper is surprisingly powerful and far quieter than I expected it to be, making it a great option if you have a young child whose hair you will be cutting.
The carbon steel material of the blades prevents ionization, so you won't experience any pinching or pulling (at least I didn't), and the alloy ceramic of the clipper head is gentle on the skin.
What I enjoyed was the fact that Luismia included a range of additional extras, including three guide combs and a neat organizer to keep it all together. Overall, I did find that edger (please note that these are not regular hair clippers) did its job and did it well.
Pros
The trimmer was exceptionally quiet
It only takes two hours to charge fully which is convenient
It didn't pinch or pull at my hairs
Cons
This cannot be used as a regular hair clipper which narrows down its versatility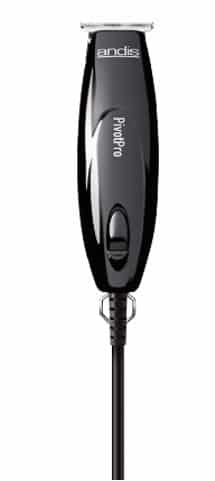 Andis has been designing and manufacturing hair and grooming tools for over 95 years, making it easy to see why the brand's products always come out as firm favorites.
The Andis 23475 PivotPro TBlade Outlining Beard / Hair Trimmer is one such grooming tool that men globally find to be a good buy, which is why we decided to try it out and see if the hype matches the tool.
Specs
Corded design
Powerful pivot motor that offers more power than the average magnetic motor
Features high-quality stainless steel blades
Comes with four guide combs and blade oil
Who is it Best for?
If it is a powerful and efficient outliner trimmer you're after, then you may want to look closely at this T-blade outliner from Andis. As described on the Andis website, this trimmer is designed to trim the neckline, mustaches, around the ears, and if used with the guide combs, as a beard trimmer.
Compared to the Andis 04710 Professional T-Outliner Beard/Hair Trimmer with T-Blade, this offering from Andis is a less powerful option in that it only offers 3600spm (strokes per minute). However, it is lighter and costs about half the price while still getting the job done and quite well too, might I add.
As one of the less expensive options from the brand, this PivotPro is a great way to test it out and see if this edger works well for you.
Key features
Andis manufactures this outliner with stainless steel blades resistant to rust and corrosion, which offers impressive durability. Designed for light clipping or edging, this outliner does its job.
While it doesn't offer a super sleek edge as one would perhaps hope, it is important to keep in mind that this isn't designed to be a professional clipper. If you are looking for a reasonably priced edger that gets things done, this is an excellent option, but if you want an authentic barbershop finish, you may want to try a clipper that sits in a more top-of-the-range category.
With that being said, this trimmer didn't disappoint; it got the job done without hassle. What I enjoyed most was the fact that I didn't have to worry about recharging it or the battery dying on me mid-shave.
Pros
The corded design means no recharging or a dead battery mid shave
It is a cost-effective option
It works well for light grooming
Cons
The motor isn't as strong as suggested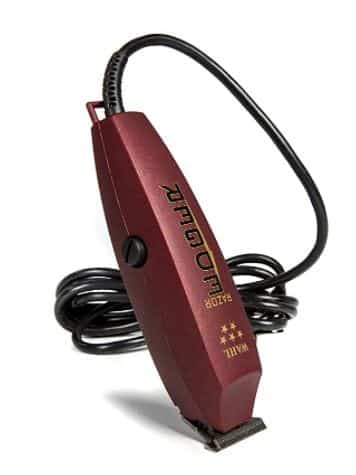 Wahl has been around since 1911, and today the brand offers a wide range of grooming tools and clippers for home use, professional use, and even for pet grooming.
The Wahl Professional 5-Star Razor Edger forms part of the brand's professional range aimed at use in barbershops. Considered by many to be the best barber tool on the market, we had to give it a try.
Specs
Features a corded design
Ergonomic handle design for ease of handling
Features an electromagnetic motor
Includes three blade guards and blade oil
Who is it Best for?
Men who work as professional barbers or those looking for a grooming tool that offers a higher standard of efficiency and cut may find they want to take a look at this offering from Wahl.
The razor edger is designed to offer precise edges and close-cutting for beards and sideburns.
In testing it out on multiple people in the space of a few hours, we also found that the edger didn't heat up while in use, even after a prolonged period, suggesting that it works well as a heavy-duty tool. Taking this into account, it was easy to see why this hair trimmer is designed for stylists and barbers.
The corded design also comes in handy when the shaver is in use for extended periods as it eliminates the need to worry about battery life.
Key features
The Wahl Professional Razor Edger comes fitted with a high-powered electromagnetic motor that offers a smooth and even cut. Compared to the Andis 04710 Professional T-Outliner Beard/Hair Trimmer with T-Blade, the Wahl provides a far better price point and a much sleeker design.
What I love about this tool is the ergonomic handle that makes it easy to maneuver, especially when using it on myself.
While it is said to be used as a trimmer and shaver for facial hair, I did find that it didn't entirely give me the close shave I wanted, so I will continue to use it for styling and beard trimming.
The sharp blades offer crisp edges that make detailing a breeze, giving you that barbershop look from the comfort of home.
Pros
The edger offers extremely precise cutting for crisp edges
It doesn't scratch you the way most detailers can
The cord that comes with the rimmer is much longer than most
Cons
The razor edger  doesn't offer a completely smooth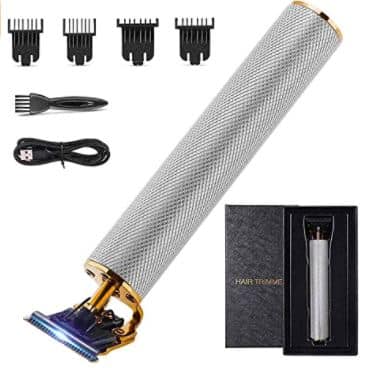 Suttik is a brand that focuses on durability, style, and precision. This New Cordless Gapped Hair Trimmer T Edger Clippers Trimmer T-blade by Suttik is explicitly designed for use as a trimmer and edger.
Suttik includes four trimmer combs and a cleaning brush along with a charging cable. Together this grooming kit makes it easy to achieve the look you want.
Specs
Adjustable come to achieve different lengths
Cordless design with a battery life of two hours
Comes with a sharp ceramic head and stainless steel blades
The rotary motor offers a rotational speed of 7000RPM
Who is it Best for?
If you are looking for a decent trimmer and edger for home use, this product from Suttik may be the solution you need. While certainly not for use at a professional establishment, it works well for home use.
The trimmer works off a USB charging system that allows you to plug it into a computer or power bank to recharge it. The downside to this is that it can take two hours to recharge, which is not ideal when you have clients coming through every 30 minutes.
The clippers come with a very low noise vibration which is great if you need to trim kids' hair and they find the noise of clippers frightening.
Key features
This edger comes with a set of four guide combs and an adjustable neck so you can set them to cut different lengths of hair. What I found with these clippers, though, is that while they work well, the blades weren't as sharp as I would have liked, and they don't offer replacement blades either.
The motor of this trimmer is relatively powerful and allows for a decent cut. While the handle just features a straight up and down cylindrical design with not much ergonomic thought to it, it does come with a pretty handy diamond-patterned texture that offers a greater grip.
The much lower price point of this edger than professional ones such as the Wahl Professional 5-Star Cordless Retro T-Cut Trimmer is impressive; it costs a quarter of what the Wahl does offers double the battery life.
Pros
The trimmer is well-priced for what it offers
It operates at a very low volume
The 100-240V dual voltage means it can be charged anywhere across the world 
Cons
The edger doesn't come with a docking station and take a fair amount of time to recharge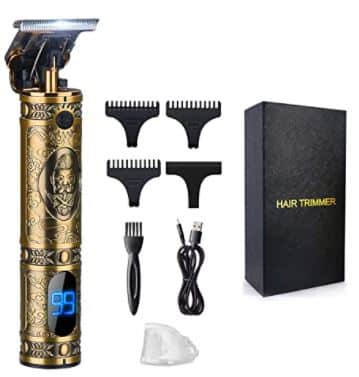 When Suttik designs and manufactures a product, they ensure each aspect of the tool is well considered. Case and point being the unique golden design found on the exterior of the handle of the Suttik New Ornate T Hair Edgers Clippers for Men.
The unique and rather eye-catching design of these hair edgers left us curious about whether the product worked as great as it looked.
We gave these clippers a try for a good few weeks, and our findings were surprising.
Specs
Comes with a pro-lithium battery that offers three hours of battery life
Features a brilliant LCD screen
Comes with extremely sharp titanium steel blades
Cordless design
Who is it Best for?
A cordless trimmer that looks as good as this one may have you thinking that it is just that, a great-looking tool that doesn't do much in terms of functionality; if this was your thinking, you'd be wrong.
After trying this trimmer for an extended period, I found that it works remarkably well in all areas.
The edger features a cordless design and a pro-lithium battery that takes just two hours to charge and then provides three hours of battery life. This combined with how easy it is to charge and the very low noise motor makes it a dream to use at home or professionally.
The only thing about these trimmers is that they aren't zero-gapped and will leave one millimeter of hair behind. If you want a smooth, clean shave, then these may not be the trimmers for you.
Key features
Suttik includes an LCD screen that allows you to keep tabs on the battery levels, which I found to be quite handy, although the luminous blue display detracts quite a bit from the elegant gold detailing on the handle.
Extremely sharp titanium steel blades make sure this trimmer does its job, and boy does it ever. I used it for beard trimming and then cut my sideburns just to see how the two aspects of the tool worked, and I found both to be the perfect cut.
What I appreciated most about this cordless hair clipper was that I could wash the clipper head under running water instead of having to fuss with a cleaning brush. They work wonders for shaping a hairline, too, and for the price they come at, in my opinion, you would be hard-pressed to find another edger that does it all the way this one does.
Pros
The handle is designed ergonomically and works with the patterning to give excellent grip
It shapes a hairline and sideburns to precision
The trimmer is lightweight making it simple to use for extended periods
Cons
The LCD display comes across as quiet kitsch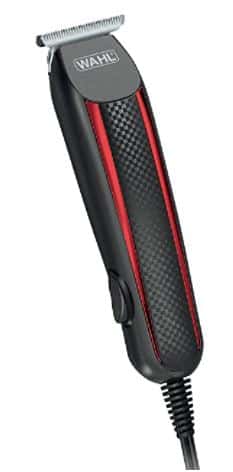 Wahl is a brand that most men know and swear by, whether home grooming or professional cutting in a salon. The Wahl T-Styler Pro Bump Free Corded Beard Trimmer works well for many uses, making it pretty versatile.
Wahl claims on their website that this, one of their best hair clippers, is ideal for edging beards, mustaches, and your hairline, for providing you with a smooth, clean shave, and for precision detailing. But, does it live up to these claims?
Specs
Offers a bump-free clean shave
The blades feature zero overlap
Includes 12 individual blade guards
Uses a high-torque rotary motor
Who is it Best for?
Men looking for the best beard trimmer that offers versatility and looks great at the same time may want to look a little closer at this trimmer from Wahl. On the outside, it appears rather understated, and my first impression was that it wasn't going to offer much, but I was wrong. The powerful and sharp blades make it easy to get the precise cut you want, and it allows for a smooth facial shave.
The corded design also makes this clipper ideal for use in a professional setting where you can't spend time hassling over how much battery life you have left or whether it would be fully charged before your next client arrived. I found the corded design to be a little frustrating for home use; I don't have a plug in my bathroom and had to use it in the kitchen instead, which wasn't ideal.
Key features
The features this motor clipper comes with are pretty exceptional. The 12 included comb guides allow you to cut various lengths and styles into your own hair or in someone else's. I found this to be quite handy on a professional level, but as someone who only uses one or two lengths, I found it quite excessive. Also, I now need to find a place to store all of the combs.
What I really love about this trimmer is the self-sharpening blades. It makes maintaining the trimmer much simpler and ensures your cut is always crisp. Dry trimming is also easier, especially if you have sensitive skin. The zero-overlap precision sharp blades prevent any bumps or rashes from forming.
What I didn't fancy about this trimmer is that it doesn't work very well for creating fades.
Pros
Includes 12 different combs and a storage pouch 
The blades are self-sharpening which lowers the maintenance needs
It comes in at a really good price point compared to competitors
Cons
The trimmer doesn't do well for creating a well-blended fade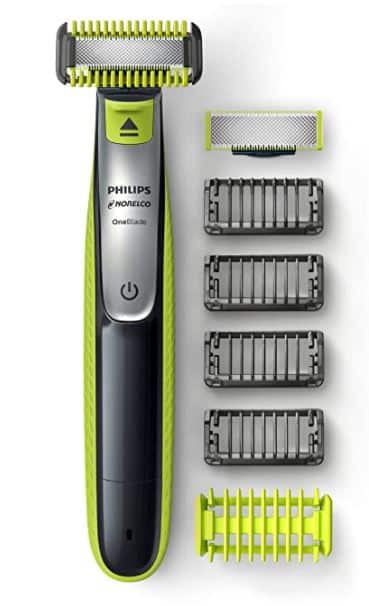 Xpreen is a brand that designs and manufactures an impressive range of beauty and grooming products for both men and women. While not as well-known as brands such as Wahl or Remington, Xpreen's T Blade Trimmer Clippers Edger for Men offers just as much style and durability.
This Pro li Outline Hair Trimmer is designed for trimming, shaving, and outlining so you can style your hair, beard, mustache, and sideburns, all with one electric razor.
Specs
Features a stainless steel cutter head and exceptionally sharp blades
Uses a powerful but quiet motor that runs as 7100rpm
Comes with three guide combs
Cordless design and extensive battery life
Who is it Best for?
If you suffer from sensitive skin, then this may be a good option for you. The Pro li Outline Hair Trimmer comes with a specially designed, rounded blade that is gentle on the skin and prevents rashes, cuts, and bumps.
When it comes to creating unique and different hairstyles, this trimmer makes it simple. It allows you to do engraving, gradation, fades, and a selection of other styles. You can also use it as a beard trimmer and to neaten your mustache and sideburns. The three guide combs that come with the trimmer allow you to cut your hair at different lengths.
One thing I did notice, though, is that you can't cut longer hair with this trimmer; it doesn't work the way a regular set of hair clippers do. You will need to cut your long hair with scissors first before using the trimmer.
Key features
Xpreen's hair outliner, when compared to competitors such as the Wahl Professional 5-Star Cordless Retro T-Cut Trimmer, stands its ground. It comes in at half the price and offers more than double the run time.
The very low noise volume makes this trimmer ideal for use with children.
What I found impressive with this outliner is that it only takes two hours to charge and offers one and a half hours of runtime. I got to use it a few times before it needed to be recharged, making life much more straightforward.
Another aspect of this trimmer that stood out is the handle design. At first glance, it looks as though it just features a stylish metal pattern; what you don't realize until you pick it up and hold it in your hand is that this patterning creates a unique texture that makes gripping the tool so much more comfortable.
Pros
The battery life is greater than that offered by many of the better-known brands
It charges in just two hours
The blade angle is set perfectly for neatening up hairlines
Cons
Sadly this trimmer does not work well with long hair so you will need to trim lengthy hair before using the edger with it.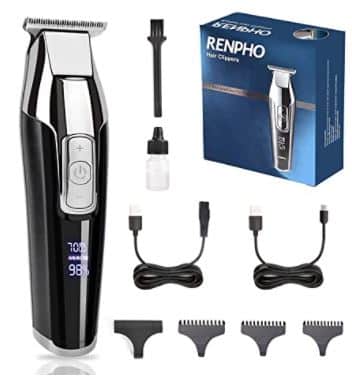 Renpho is a global brand specializing in creating products designed to make life simpler and of a higher quality. The company offers a wide selection of products, from smart home accessories and devices to fitness tools, air purifiers, and even beauty and grooming tools.
The RENPHO Professional Cordless Clippers Hair and Beard T-blade Trimmer were designed to make men's grooming at home or in their barbershops practical and straightforward.
Specs
Features four different motor speeds
It takes just two hours to charge completely
Includes a large LED display
Comes with a stainless steel T-shaped blade
Who is it Best for?
If you're after a simpler T-blade trimmer, then this one makes a great option. It features a minimalistic design that focuses on the functionality of the tool rather than on the aesthetic.
This trimmer and outliner stand out from its competitors because it handles thicker, longer hair much better than most. It is designed for trimming your neckline, beard, mustache, and sideburns while also allowing you to precision cut hairlines and behind your ears.
The included blade cover keeps your trimmer protected while it isn't in use and the three comb guide allows you to trim your beard or hair to three different lengths.
I appreciated the organizer that comes with this grooming kit; it gives you the perfect place to store everything, so you don't have to hassle about anything becoming lost.
Key features
What makes this precision trimmer unique is that it comes with a four-speed motor. You can set it to 5500, 6000, 6500, and 7000rpm; although I don't suggest using the lowest setting, the slower it goes, the more hairs it tends to pull.
Another feature that left me well impressed is the battery run time of four and a half hours. And, if you're worried about the battery dying on you, don't; the LED screens keep you updated on when the battery needs recharging.
What also needs to be noted is the size of this trimmer. It is quite compact and lightweight and combined with the fact that it is cordless; it makes a pretty good travel accessory.
Pros
It offers the longest battery life found on a precision trimmer
The blades are extra sharp
The size is more compact than you would expect
Cons
The lowest speed setting may be a bit slow for some and result in pulling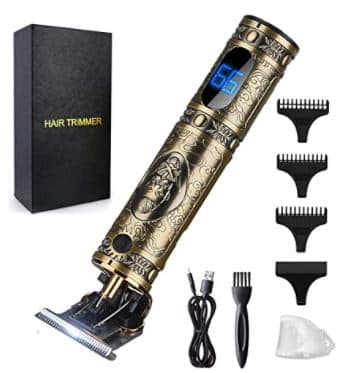 Resuxi is another brand that places as much consideration into the design as they do into functionality. This is clear in the RESUXI Ornate Hair Clippers for Men Professional Hair Trimmer and Cordless Haircut Kit. This unique clipper set features accessories, but none of them stand out quite like the bronze, ornately detailed hair clipper.
The opulent design found on the handle of this rechargeable hair trimmer is a sight to behold and wouldn't look out of place on the walls of a Mayan temple.
Specs
The trimmer uses a lithium-ion battery
It offers a cordless design with a two-hour runtime and a three-hour charge time
Includes a protective cap and a cleaning brush
Features an LCD display screen
Who is it Best for?
Men looking for a hair trimmer that looks like it belongs in an art gallery and performs like it belongs in a barbershop will want to pay special attention to this precision liner.
The extra sharp, self-sharpening stainless steel blades come at an angle that makes it simple to line up a straight hairline or neaten unruly sideburns.
The one area this trimmer does fall down in is while it is advertised as a zero-gap trimmer; this was not the case when we tried them out. The gap sits at around one millimeter.
These clippers do a good job for the price they are offered at (around half that of the Andis 04710 Professional T-Outliner Beard/Hair Trimmer with T-Blade).
Key features
After testing this outliner for a few weeks, it soon became apparent that they operated on a level similar to Andis trimmers. The USB charging worked well, and it charged the device quickly, sometimes faster than the stated three hours.
The trimmer also works well on coarse hair, which I have, making it easier to line up my hairline and beard. On the downside, a few of our other testers received the same trimmer with a blade that wasn't as sharp as it could have been, resulting in a mediocre trim.
Another so-so aspect of the outliner is that it takes three hours to charge only to offer two hours of battery life. When there are other lesser-priced trimmers on the market that feature far more impressive runtimes, Resuxi needs to relook at this aspect of their tool.
Pros
The trimmer works well on coarser hair
The patterned handle provides an impressive grip
These clippers offer a good price point
Cons
The battery life is not nearly as impressive as it could be
The blades on some of the trimmers were slightly blunt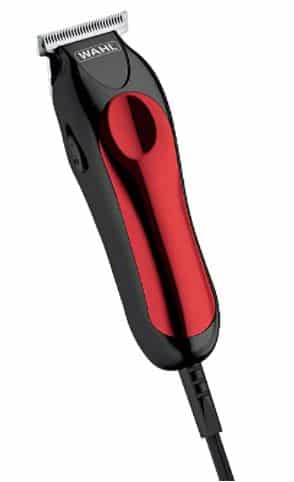 Wahl has been around for over a century making their products tried and tested for decades, giving the brand the insight needed to create products that offer durability and functionality.
The Wahl T-Pro Trimmer, Corded Hair and Beard Trimmer and Detailer come with a diamond-finish T-blade, making it an excellent tool for trimming and detailing with precision. The compact design and minimalistic style of this handy trimmer make it perfect for use at home or in a professional setting.
Specs
Features a corded design
Offers finely ground blades for a sharper cut
The design is much smaller than your regular trimmer
Includes three guide combs
Who is it Best for?
If you want a neat and very compact trimmer that is still easy and comfortable to hold, then this trimmer by Wahl is a great place to start. It is small enough to pack neatly in your luggage but remember, if you're traveling internationally, to take an adapter with you because this trimmer is corded.
This corded design makes the tool much simpler for professionals to use as it eliminates the need to continuously check to see if the battery is about to die.
What makes this trimmer so unique is the versatility it offers; use it to detail, cut fades, trim, outline, and add detail to your look. We tried out each of these functions and found the results impressive, with the detailing and outlining coming out crisp and even.
Key features
This shaver works well to save the skin of gents with sensitivities. The design ensures a shave that leaves your skin bump-free and rash-free, although it isn't hypoallergenic, which is disappointing.
The trimmer allows for precision detailing and features an exceptionally powerful motor that prevents your hair from snagging. The no-snag design helps with this too.
One thing Wahl could improve on, though, is making this a zero overlap blade system. The blades are self-sharpening, which makes up for it a little.
Although a little priciest than its competitor, the ConairMAN Beard Mustache Trimmer, this trimmer from Wahl offers a far more impressive design and a cleaner cut.
The smaller size of this trimmer makes it great for home use, but I wouldn't recommend it for heavy-duty use in a barbershop, as it is smaller than most and may take more time than usual to give the cut you want.
Pros
The trimmer offers a bump-free design
Self-sharpening blades make maintenance a cinch
The shaver is really compact and great for travel
Cons
The trimmer is on the small side making it not ideal for heavy-duty use
The blade isn't angled making it more difficult to achieve a well-blended fade
Things to Consider When Buying Hair Edgers
1. Cordless or Corded
Both corded and cordless trimmers come with their pros and cons. A corded trimmer is excellent in that you don't have to concern yourself with recharging it or the battery dying mid-shave. They generally also offer greater power and consistency for a shave that doesn't snag.
Cordless trimmers are superior because they are ideal for traveling and can be used just about anywhere. They are also easier to store and allow for unrestricted movement – no fighting with a cord while you shave.
Your personal preference and needs will help you determine which is best suited to you at the end of the day.
2. Versatility
Give some thought to what it is you want out of your outliner or trimmer. The more versatility it offers, the greater the benefits, and the less likely it will be that you need to go out and purchase a second grooming tool.
Do you want your trimmer to be able to cut longer hair and offer a zero-gap function? Would you like to use the outliner to do engraving and pattern work and cut a well-blended fade?
Finding a good quality trimmer that ticks all these boxes will make life simpler in the long run.
When looking for the best beard trimmer and best hair detailer, there are several things to consider. Giving thought to versatility, durability, the power source used, functionality, and quality will all put you a step closer to finding the trimmer the most suits your needs.
By closely examining and testing each of the hair edgers in this review, we concluded that they each meet the criteria discussed above, making it more simple to find that perfect electric shaver to achieve the hairstyle you have always wanted.