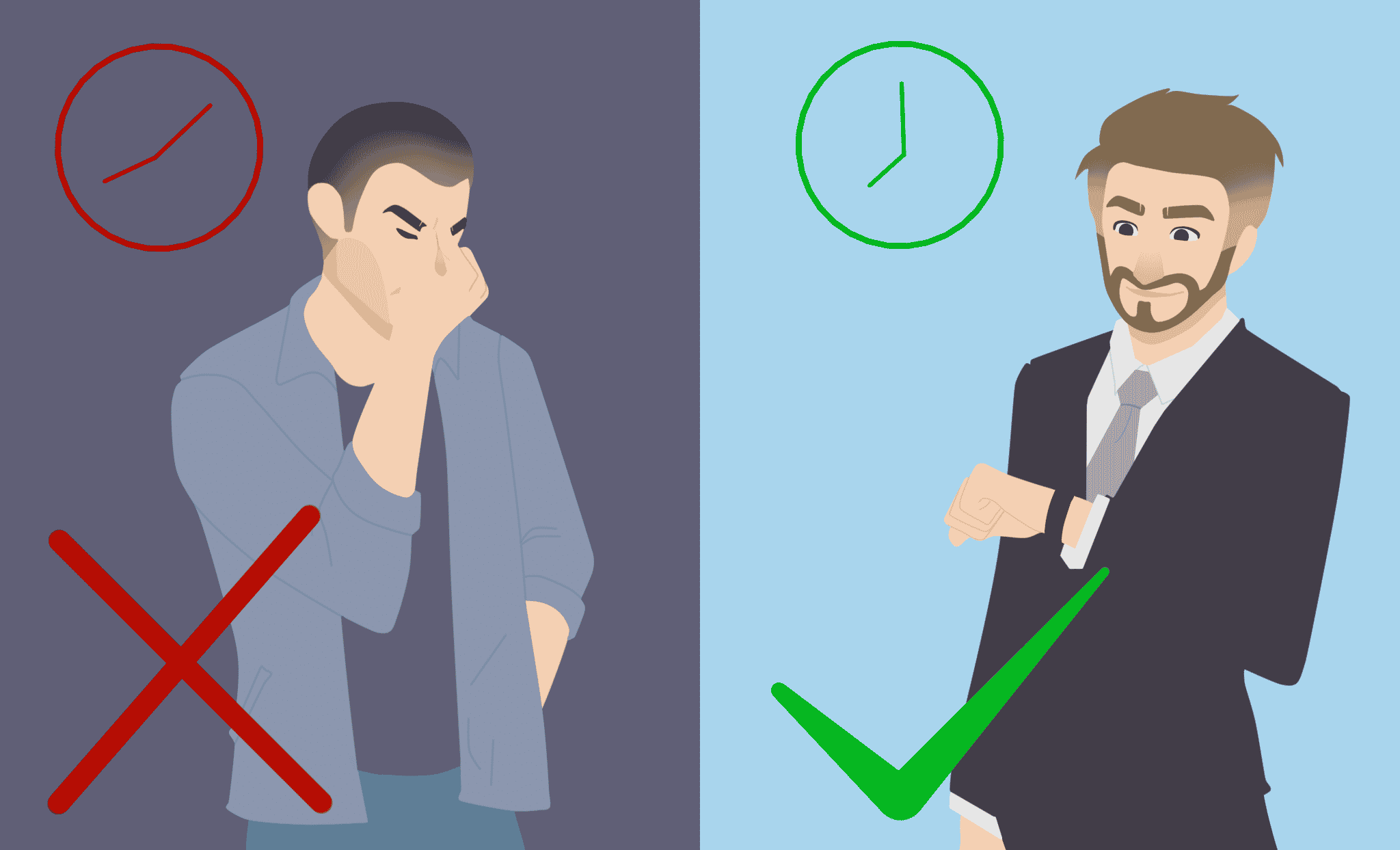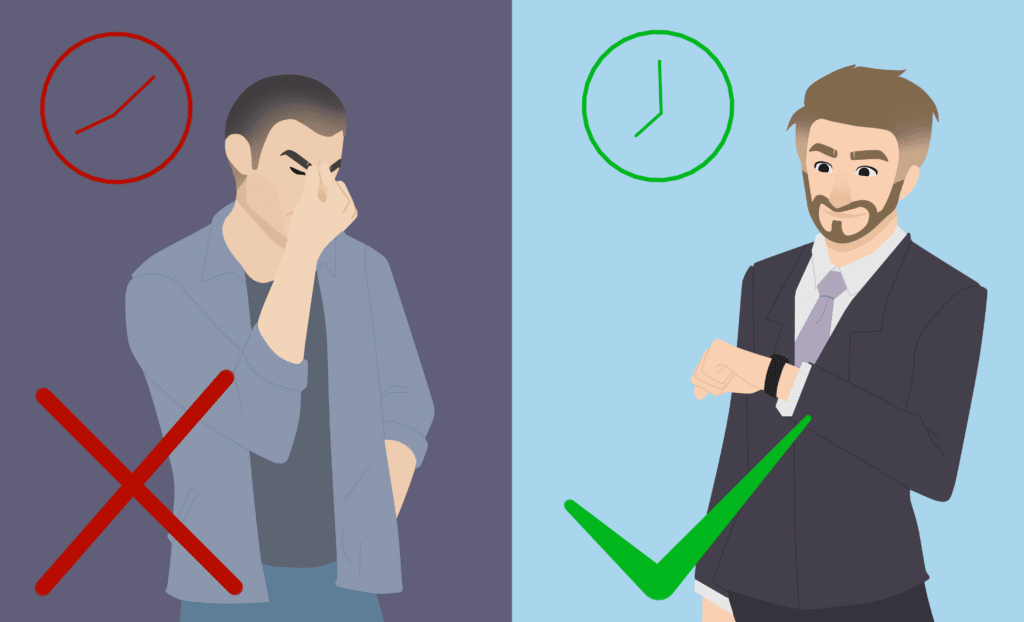 In the world of horology, you will find that a good watch is not always an expensive one. A wide selection of impressive timepieces that are functional, stylish, and accurate all come in at a lower price tag than a Patek Philippe or an Omega.
An affordable wristwatch is a perfect way to start your timepiece collection and is ideal for daily wear. It is also a great way to gauge the style and size that works best for you. If you already have an impressive luxury watch collection, a less expensive wristwatch allows you to keep time and save your collector's pieces for wear on special occasions.
One thing to keep in mind is that not all affordable watches are made equal. To make it less challenging for you to find a high-quality and stylish timepiece, we have gathered together some of the best watches Amazon offers and reviewed each of them.
We tried, tested, and wore various affordable watches from Amazon and concluded that these eight are the best timepieces for daily wear. We used the approach to chat to men about what they looked for in a high-quality wristwatch and collected together the ones that ticked these boxes. We then reviewed each of these affordable watches. Our evaluation of each was based on the following criteria: the materials used to make the watch, style and design, the movement, functionality, and accuracy.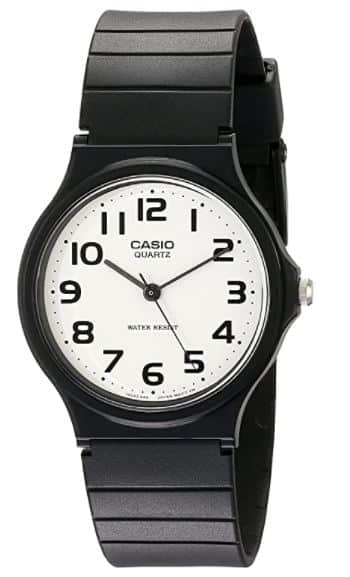 Casio is a multinational electronics brand founded in 1946 in Tokyo, Japan. The Japanese brand is known worldwide for its calculators, electronic musical instruments, and digital cameras. Another area Casio excels in is the making of watches, with their dive watches being some of the best in the world.
The Casio Men's Classic Quartz Watch features a minimalist design that brings with it sophistication and style that makes it so appealing.
Specs
Features a 35mm plastic case
Uses quartz movement to power the analog display
Includes a resin watch glass
Water-resistant to 50m
Who is it Best for?
If you want a sporty watch that is durable and looks sleek, then this offering from Casio may be what you need. It is understated in design and is made from materials that make it great for wear whether you are playing sport or using it to complement your outfit.
According to Casio's website, the watch is water-resistant to 50m, making it safe for wear while you shower, play water sports, or swim in shallow water. However, we don't suggest wearing it when you go diving or snorkeling.
Compared to other watches by the Japanese brand, this one sits mid-range in terms of price point and offers a far more legible dial.
What we love most about this wristwatch is its simplicity. It does what it needs to without complication and is a breeze to use.
Key features
Casio makes this timepiece with materials that are robust and durable. The case is made from black plastic and is complemented by the black resin strap. However, Casio could improve on the watch glass, which is made from acrylic, which is susceptible to scuffs and scratching.
The watch's dial is vivid white and features large black Arabic numerals and three hands for the hour, minutes, and seconds. A quartz movement powers the timepiece, which means you will need to have the battery replaced every few years (some say ten).
We enjoyed the simplistic look and feel of the watch and that it was lightweight on the wrist. While some may feel this makes the watch feel cheap, we would rather have a wristwatch that offers comfort than is heavy enough to cause wrist fatigue.
Pros
The watch is really easy to set
The strap doesn't get sweaty on your wrist and fits comfortably
This watch is lightweight
Cons
May not be suitable for men with larger wrists
Watch glass is made from resin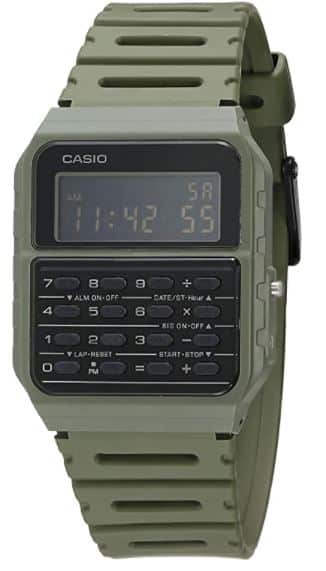 Japanese brand, Casio, was founded in 1946 but only released its first watch in 1974, at a time when wristwatches were becoming digital and used their electronic know-how to break into the market. Today Casio offers a wide selection of timepieces, both analog and digital, with various options for movement, including atomic movement.
While the Casio Data Bank Quartz Watch is digital, it offers some pretty unique features that university students, financiers, and accountants may find handy.
Specs
Digital design using quartz movement
Includes a built-in eight-digit calculator
Water-resistant
Offers features such as dual time, an alarm, an auto calendar, and an hourly time signal
Who is it Best for?
If you work with numbers, then this may be the best watch for you. Casio designs this unique timepiece to include a built-in eight-digit calculator. The calculator performs simple functions such as addition, subtraction, division, and multiplication. Whether you are a scholar, quantity surveyor, engineer, accountant, or work in the finance trade, chances are this watch will make life a lot simpler.
What we love most about this timepiece is that it is one of a kind, placing it in a league of its own. The wristwatch is relatively well-priced, costing less than $25, making it an excellent purchase for what it offers. The only downside to this watch is that the screen is relatively small and difficult to read, and it isn't backlit.
Key features
Casio makes this watch from durable materials that are lightweight and comfortable to wear. The 33mm case is made from resin and attaches to a plastic strap. The strap can cause a little sweating which is not ideal and can cause some discomfort.
The dial is split, one-third features the digital screen, and the other two-thirds sees the calculator. Because of the small size of the case, the buttons on the calculator are tiny and can be hard to press, and the screen is somewhat challenging to read.
Another area that Casio could improve on is the water-resistant nature of the watch. A few models before this one were water-resistant to an impressive depth. However, this one can withstand a light splash, and that's it.
Pros
It makes doing your sums much easier
The watch offers a unique aesthetic
It is much more lightweight than it appears
Cons
The screen is small and difficult to read
The screen features no backlighting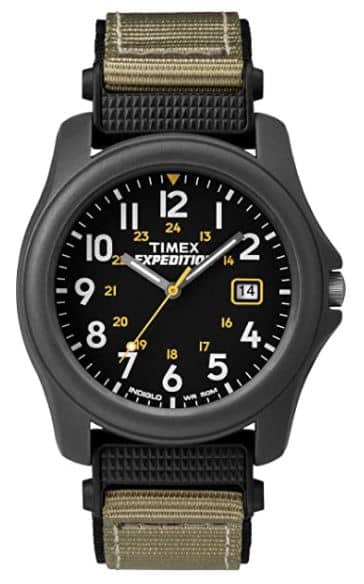 Timex is an American watchmaking brand that was founded in 1854. The brand is best known for its innovative approach to crafting timepieces. The brand upturned the watch industry when it began stamping its components from steel rather than carving them from wood. Timex combines American innovation with European watchmaking know-how to create some of the world's most-loved timepieces.
The Timex Men's Expedition Acadia Full Size Watch is a testament to the brand's style and ingenuity.
Specs
Includes a 20mm nylon strap
Features a 39mm resin case with an acrylic watch glass
The dial features Indiglo markers and the hands are luminous
Water-resistant to 50m
Who is it Best for?
If you love outdoor adventures, camping, fishing, or getting involved in sports, then this watch is an excellent option. Timex designs the watch to be robust, durable, and follows through with an outdoorsy style.
The nylon strap complements the case and dries off quickly should it become wet. Timex makes the timepiece water-resistant to 50m, meaning the wearer can partake in water sports, swim in shallow waters, or shower with the watch on and have no problem. Dive or snorkel with the wristwatch, and you can kiss it goodbye.
Compared to other timepieces from Timex, this one sits relatively low on the price scale, making it perfect for outdoor use; if it gets messed up, chances are you won't mind.
Key features
Timex makes this wristwatch from a resin case that can withstand wear and tear. The watchmaker uses an acrylic watch glass to protect the dial. A mineral glass would be a better option as it is less prone to scratching and scuffing; however, acrylic should suffice at the low cost of this watch.
The dial of the watch is where things get impressive. Timex treats the dial to feature Indiglo backlighting so you can see the time no matter how poor the lighting conditions become. Luminescent hands make seeing the time in the dark even easier. Arabic numerals mark off each of the hour indexes, with the exception of the three o'clock marker, which features a date window instead.
Quartz movement and battery power this timepiece, with the battery only requiring replacement every ten years.
Pros
The watch is easy to read in any lighting
The band is a lot more comfortable than it looks
Cons
The watch glass is acrylic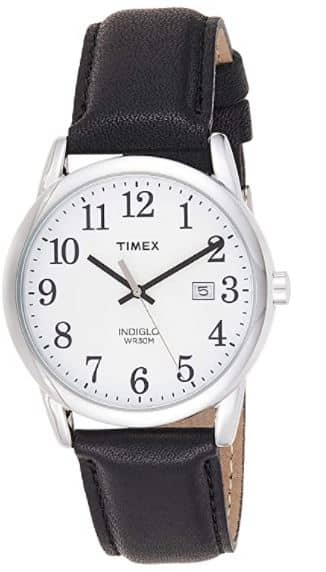 Timex, a brand that does not shy away from innovation but instead runs towards it with open arms, designed the first Easy Reader watch over 40 years ago. The minimalist style and impressive design used combine to create a classic watch that will forever be fashionable.
The Timex Men's Easy Reader 38mm Watch makes for a timeless dress watch that adds a dash of style to any look.
Specs
Features a genuine leather strap
Includes a 38mm brass case
Uses a mineral watch glass
Makes use of quartz movement
Who is it Best for?
If you are looking for a high-quality wristwatch that is sophisticated yet understated, then this timepiece has your name on it. Timex delivers a simple wristwatch that makes a statement without being ostentatious.
Compared to other watches from Timex, this one is relatively inexpensive, sitting on the lower end of the price scale. For a cheap watch, it looks pretty expensive, though; something we appreciate about the design.
After wearing the watch for a few days, we found it to be comfortable and lightweight on the wrist. However, one aspect that Timex could improve on is how loud the watch is; you can hear it from a good distance away, not something you want in a quiet office setting or an exam venue.
Key features
This elegant timepiece features a silver-toned brass case. The brass is durable and resistant to rust. Attached is a black, genuine leather strap. The bezel is fixed.
The watch comes with a round analog dial that sees Arabic numerals at the hour indexes. Timex uses Indiglo backlighting to make the numerals and hands stand out in low lighting. The dial sees three hands, one for the hour, minutes, and seconds. Next to the three o'clock marker, you will find a date window.
Covering the dial is a mineral crystal watch glass. Mineral crystal is far more resistant to scratching and scuffing than acrylic, making this durable piece indeed.
The watch is water-resistant to 30m, so rain, shower water, and brief immersion in water will not affect the workings of the wristwatch.
Pros
The straps can be swapped out and changed
The watch offers a lot for its low price
It is extremely comfortable to wear
Cons
The movement is quite loud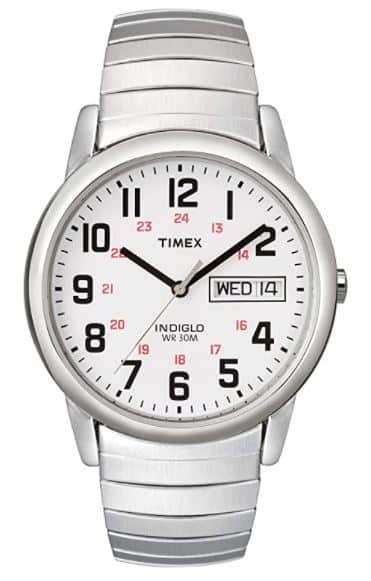 Timex is one of those watch brands that takes variety and the comments of its customers into consideration. Once settling on a style and design that people love, Timex changes things up ever so slightly to provide its customers with options designed to appease varying tastes.
The Timex Men's Easy Reader Day-Date Expansion Band Watch is a prime example of this. A different take on the watch in the review above, this version of the Easy Reader offers a more modern look and feel.
Specs
Features a stainless steel bracelet that expands and has a silver-toned finish
Uses quartz movement
Comes with a 35mm brass case with a silver-toned finish
Includes a mineral crystal watch glass
Who is it Best for?
If it's a sleek metallic look you want from your timepiece, then this stainless steel watch from Timex is just what you need. It comes with a stainless steel expandable band that sees a brushed, silver-toned finish. The bezel and case are made to match, except these come made from brass that then sees a polished silver finish.
Compared to Timex watches of a similar design but are from different collections, this watch fetches a comparable price. While it offers a smaller case size, it does come with three hands.
For the asking price of this watch, you get a lot more than you pay for, as Timex uses durable materials. The design of the wristwatch sees a unique blend of old-school and modern that we love. However, one downside is that the day-date window takes up a fair portion of space on the dal, detracting from the time.
Key features
Timex complements the durable stainless steel band and brass case and bezel with a mineral crystal watch glass. This material is far more resistant to scratching and scuffs than acrylic, often used in cheaper timepieces.
The dial itself is impressive and comes with Arabic numerals at all the hour indexes that indicate both 12-hour and 24-hour time. The three o'clock indicator is replaced with a day/date window that advises you of the day of the week and day of the month.
Indiglo backlighting treatment on the dial illuminates the numbers and the three hands making it simple to tell the time even in poor lighting conditions.
Timex's retro watch offers water resistance to 30m so that you can stand in the rain with it, shower with it, or subject it to shallow immersion for a brief period. However, we don't suggest you swim, snorkel, or dive with it.
Pros
It is easy to read the time quickly on this watch no matter the lighting conditions
The expansion bracelet is exceedingly comfortable
The links in the bracelet can be removed
Cons
As with quartz watches the battery will need replacing every few years
The case is a little small for men with bigger wrists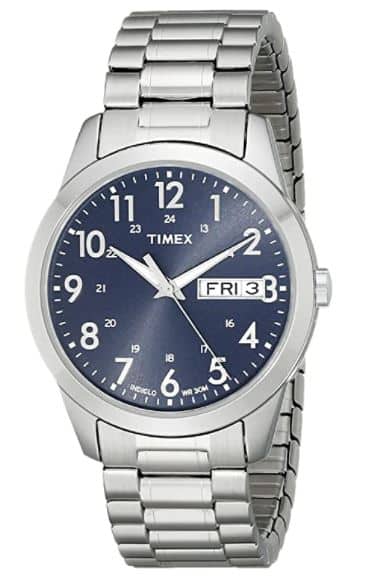 Timex has developed a unique ability to create sophisticated and durable wristwatches that look as though they are Swiss-made but cost next to nothing. Using innovative techniques, high-quality materials, and elegant designs, the brand produces fashion watches that work like luxury watches.
An excellent example of this is the timeless Timex Men's South Street Sports Watch. It is robust and perfect for sportsmen yet is still fashionable and comfortable to wear.
Specs
Includes a stainless steel silver-toned expansion band
Uses a mineral crystal watch glass
Comes with a blue dial and a 36mm silver-toned brass case
Water resistance to 30m
Who is it Best for?
Sturdy, stylish, and perfect for wear as a sports watch or a fashion timepiece, this offering from Timex is ideal for every occasion. The watch is made using high-quality materials and sees a design that is timeless and masculine.
If you prefer a watch with an expansion band that sits snugly on the wrist and is a cinch to pull on and off, then this may be the wristwatch you need. Timex uses a stainless steel expansion band treated with a silver-tone to leave it looking sleek.
One thing we enjoyed about this watch is the variety of color options it comes in; you can find it in silver with a blue or black dial, in silver with gold finishes, and even in gold with a tan leather strap.
Key features
Timex complements the stainless steel band with a silver-toned brass case with a fixed bezel. A durable mineral crystal watch glass protects the dial and is resistant to scuffs and scratches.
The dial comes in a gleaming midnight blue and features white Arabic numerals treated with Indiglo that illuminates them in poor lighting. One aspect of the timepiece we found a little unusual is that the date window sits over the three o'clock marker, partially obscuring it. While we are sure Timex did this to offer both elements, it looks rather odd, in our opinion.
The wristwatch features three hands for the hour, minutes, and seconds that make it simple to tell the time at a glance.
When it comes to water resistance, this timepiece can handle a light splash, a few minutes in the shower or rain, but it will not fare well if you take it swimming, snorkeling, or diving.
Pros
Wearers will find the expansion bracelet very comfortable
The watch is lightweight and more durable than it feels
The date is easily readable
Cons
While a sports watch, this is not a dive watch
The positioning of the date window over the three is odd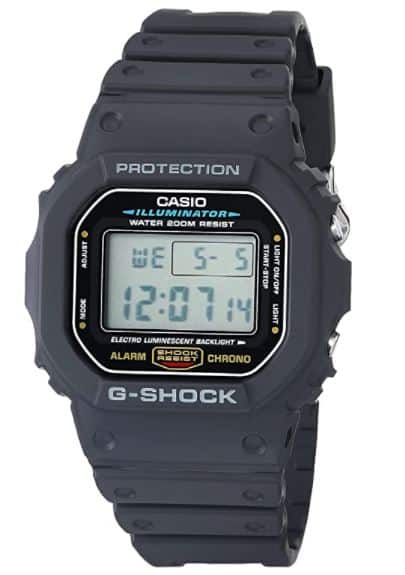 As an electronics company, Casio knows what is what when it comes to anything with a digital interface. The brand, best known for its electric musical instruments (the Casio keyboard comes to mind), calculators, and digital watches.
The Casio Men's G-Shock Quartz Watch is a robust and functional wristwatch. While it doesn't offer much style, it is perfect for wear in settings that require a little more durability from your timepiece.
Specs
Comes with a resin strap
Water-resistant to 200m
Offers exceptional sock resistance
Features a digital dial with a mineral crystal watch glass
Who is it Best for?
If you love spending time outdoors, whether you are camping, paddling, fishing, or hiking, chances are you will need a wristwatch that is durable enough to withstand wear and tear. Exposure to dirt, dust, water, and the elements is no problem for Casio's G-shock. While not very exciting to look at, the watch comes packed with features and sees a design that makes it ideal for this kind of wear.
Men in an industry that requires you to have a sturdier timepiece that offers excellent accuracy, such as policemen, military personnel, and water sportsmen, will benefit from this watch too.
Compared to competitors, this product from Casio is well-priced and relatively inexpensive. The durable and "can handle anything" nature of the watch is what left us most impressed.
Key features
When it comes to digital watches, this one is remarkable. Casio makes it from a comfortable resin strap that extends to form the case of the timepiece. The case measures 45mm making the dial easily legible.
The digital dial is covered with a durable mineral crystal watch glass that is less prone to scratching and scuffing. Displayed on the dial is both the time you can show in 12hr or 24hr formats and the date that shows day-date-month.
The timepiece's other features include a multi-function alarm, a 1/100-second stopwatch, a countdown timer, an hourly time signal, and a handy auto-calendar. Best of all, the wristwatch is water-resistant to 200m. This means that you can wear the watch in the swimming pool while snorkeling in shallow water, surfing, water skiing, or bodyboarding. While it is not designed as a dive watch, it can withstand water to a certain depth.
Pros
The watch is far more sturdy than it appears and withstands a lot of rough and tumble
The timepiece is lightweight and comfortable to wear
The watch offers excellent features for the price it comes at
Cons
It isn't anything to look at when it comes to style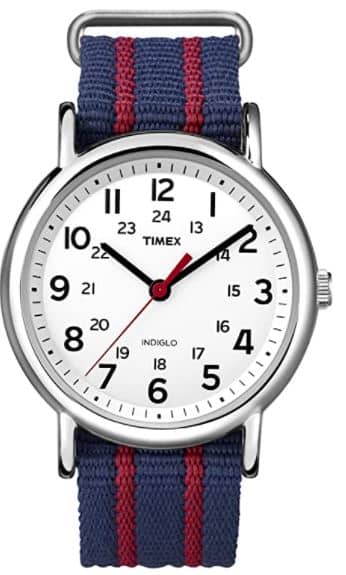 Timex takes fashion watches to the next level by designing and manufacturing timepieces that function like luxury watches and offer exceptional style without costing an arm and a leg. The brand's ability to merge innovation with durable materials makes them one of the most popular watch brands globally.
The Timex Unisex Weekender 38mm Watch provides us with a timepiece that is fun, carefree, and great to look at, but that is also functional and accurate.
Specs
Water-resistant to 30m
Keeps time in 12hr and 24hr format
Features a 38mm brass case
Mineral crystal watch glass
Who is it Best for?
If you want a timepiece that offers exceptional style mixed with durability and a little fun, then the Timex Weekender is an excellent choice. The watch comes with quick-release straps that are simple to switch out with others so you can change it up to match your current look or style.
Compared to other Timex watches such as the Expedition, the Weekender comes in a little higher in price, although it still is a lot less than the Timex Fairfield Chronograph.
The aspect of this watch that left us most impressed is its durability. The price you pay for it leads you to believe that it probably won't last for more than a month, and if this is your thinking, you'd be wrong. This timepiece is built to last.
Key features
Timex makes this affordable watch from premium materials. The 38mm case and bezel are made from silver-toned brass, while the strap is made from soft yet durable nylon.
Covering the dial is a mineral crystal watch glass that withstands scratching and scuffing relatively well. Beneath the watch glass is a white dial that comes with Arabic numerals in black. The digits come in a larger 12hr format and a smaller 24hr format below.
The dial is coated with Indiglo, a unique luminescent substance that highlights the entire dial when the lighting conditions are poor. The watch comes with three hands, a black hand for the hour and minutes and a red hand to note the seconds.
Timex makes this watch water resistance to 30m, making it safe if you splash it or get caught in the rain.
Pros
The battery only needs replacing every ten years
The quartz movement makes the watch very simple to maintain
It is lightweight and comfortable to wear
Things to Consider When Buying an Affordable Watch
1. Movement
Watches come with different movement types, and each affects how it runs and how you maintain your timepiece.
Mechanical Movement – Mechanical watches work off a similar concept to an automatic watch, although in this case, the wristwatch does not wind automatically. Instead, you will need to wind the watch manually, sometimes daily, depending on the watch's design. These timepieces are often crafted as luxury watches and are considered to be collector's items.
Automatic Movement – An automatic watch is also often referred to as a self-winding watch. These watches use the kinetic energy created by the movement of your hand and wrist when you wear the watch. This energy is then used to then automatically wind the mainspring, which causes the timepiece to operate. If you don't wear these watches for a few days, they will need to be rewound manually, so it is best to invest in a watch winder.
Quartz Movement – Quartz watches are powered by a battery. This battery sends an electrical signal through a piece of crystal or synthetic quartz. The quartz then vibrates to create a pulse every second, which causes the hand of the watch to move. This type of movement requires very little maintenance, although you will need to replace the battery every few years. The quartz used is also often specific to the region the watch is made in – Seiko often uses Japanese quartz, whereas a Swiss brand such as Tissot will use Swiss quartz.
Smartwatches – These use an electronic design and require little to no maintenance except that they will need to be charged every day or so with your smartphone.
2. Watch Brands
When it comes to watch brands, you will want to give thought to the different ones available. Different brands come from across the globe and may feature a style, design, or material unique to the region they are situated in; for example, Swiss watch brand Omega uses only in-house movements. Here are a few international brands to keep an eye out for if you want a timepiece that offers exceptional quality:
Omega, Tissot, Rolex, and TAG Heuer are all well-known brands from Switzerland.
Skagen and Nordgreen are both recognized Danish or Scandinavian brands.
Cartier, Bell & Ross, and Hermes are all French watch brands.
Hamilton and Bulova are well-known American watch brands.
When looking for the perfect affordable watch, there are several things to consider. Giving thought to the brand, durability, the movement used, style, and quality will all put you a step closer to finding the timepiece that most suits your needs.
By closely examining and testing each of the affordable men's watches in this review, we concluded that they each meet the criteria discussed above, making it simpler to find the best timepiece to meet your horology needs.