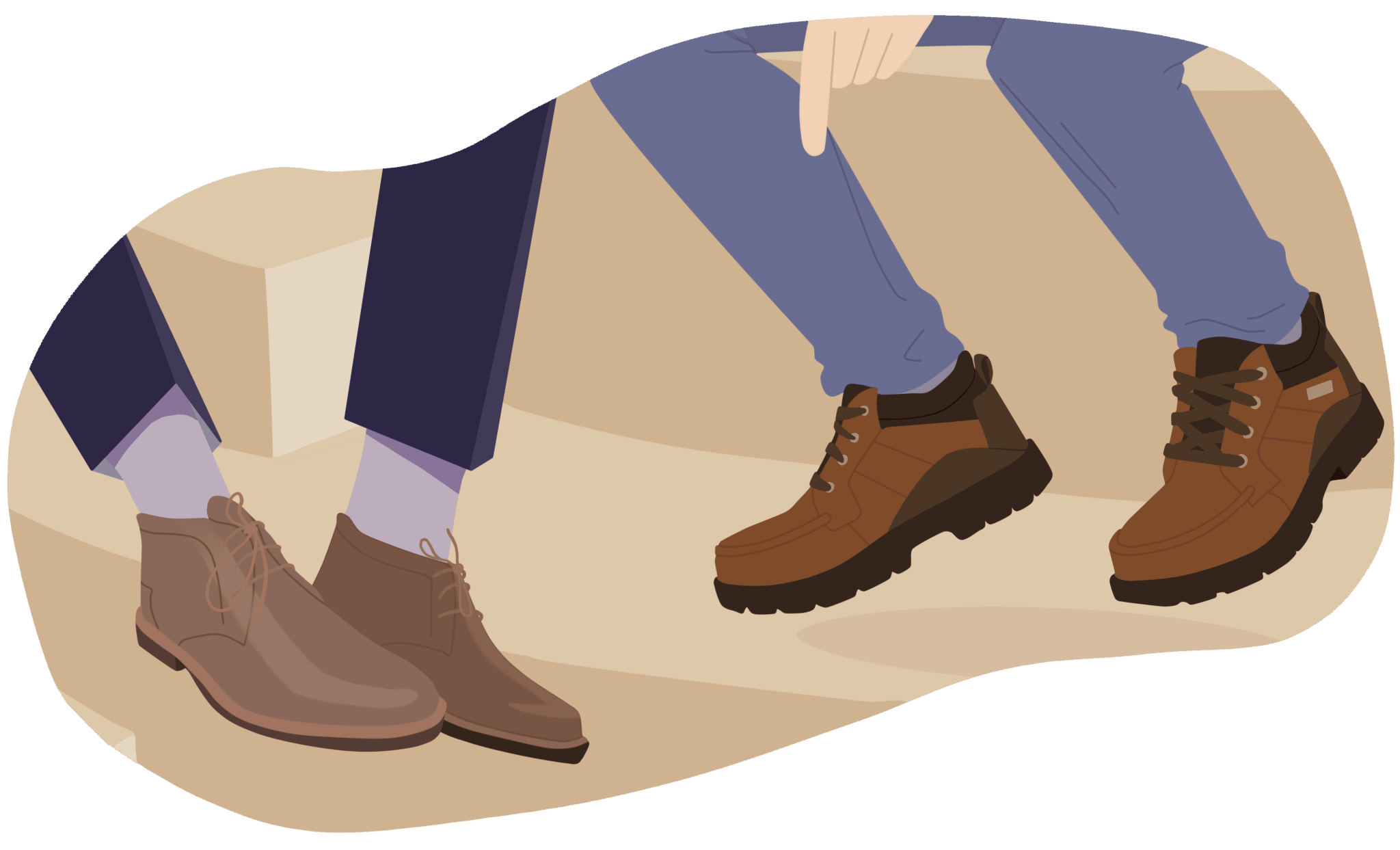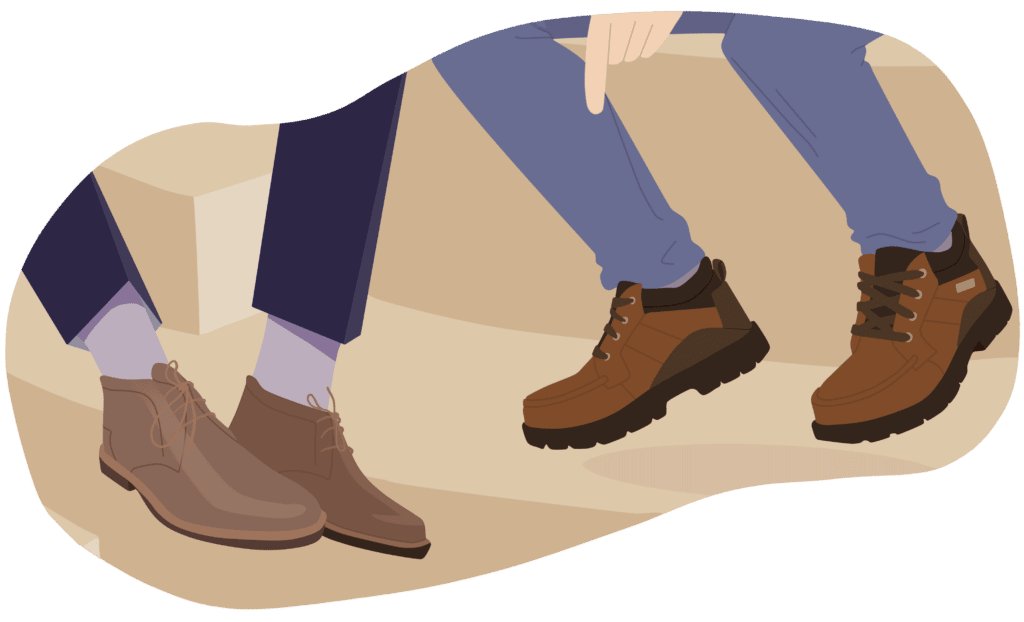 When it comes to men's shoes, there is a wide selection of casual options, with sneakers being the most loved. And then there are your more formal dress shoes with the Oxford shoe coming readily to mind. But, what there aren't a lot of is footwear that fits neatly in the middle, shoes that can be dressed up or down, easily paired with jeans or chinos, and that still looks incredible. Unless, of course, you own a pair of men's chukka boots.
Chukka boots blend the casual style of desert boots with the sophistication of Oxford dress shoes to provide you with footwear that works perfectly for just about any occasion. They come in a variety of materials and colors, with some offering a waterproof finish.
The only problem with chukka boots is that they're not all made equally. Not every pair will be well worth your money in terms of durability, quality, and style. Keeping this in mind, we have put together a list of the best chukka boots Amazon has to offer and reviewed each of them. With these reviews in hand, you should find it a lot less challenging to find the chukka shoes that best suit your needs.
Best Chukka Boots for Men
To find the best chukka boots on Amazon to review for you, we first did our research. We chatted to men who favored the chukka boot above all other footwear and found out what they consider to be key elements of a quality chukka boot. Style, versatility, comfort, and design were all mentioned countless times. So, we went out to find the chukka shoes that ticked each of these boxes and more. So, let's dive in and see which ones made our list.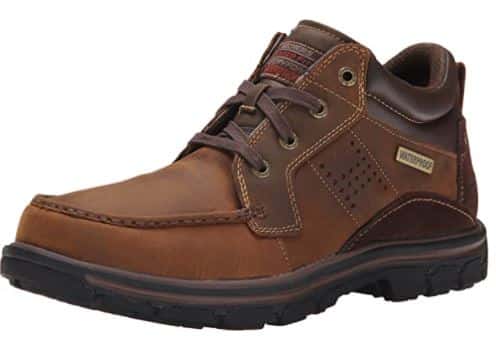 Skechers is an American footwear and lifestyle brand founded in 1992. Today it is one of the largest footwear brands in the USA. The company places great emphasis on delivery, promising customers innovative footwear rooted in comfort and style.
You can be sure to find these promises fulfilled with the Skechers Men's Segment Melego Leather Chukka Waterproof Boot. This ankle boot offers rugged sophistication and style, a unique take on an item of menswear so many love.
Specs
Smooth oiled leather upper
Soft fabric lining
Shock absorbing midsole
Gel memory foam insole
Who is it Best for?
Men looking for a stylish yet durable pair of work boots need to give these a closer look. These leather chukka boots are lightweight and comfortable, making them the ideal choice for men who spend a lot of time on their feet.
The boots offer an impressive grip thanks to the flexible rubber sole with an etched patterning that provides traction. Men who work in damp or wet conditions will appreciate these chukka boots. The waterproof design makes them even handier.
Whether you prefer your chukka boots in a dark brown or in a lighter wheat tone that looks a little like khaki, you will find them here. Skechers offers these boots in both of these colors, making it easy to find the pair that best suits your sense of style or the clothing in your wardrobe.
Key features
This pair of chukka boots features robust leather uppers that provide durability and style. A soft fabric lining supplies a protective layer that covers the gel-infused memory foam insole. This foam inner fits comfortably to the shape of your foot, providing you with greater support and comfort. The memory foam is breathable, allowing air to circulate your feet, keeping them cool and fresh. A shock-absorbing midsole keeps your feet, ankles, and knees protected from any jarring motion, while the rubber outsole offers you the grip you need.
The lace-up closure adds to the look and feel of the boots and perfectly complements the relaxed fit of the shoe. This relaxed design allows for a roomier, more comfortable fit that pairs well with most styles of socks.
Pros
Offered in dark brown or wheat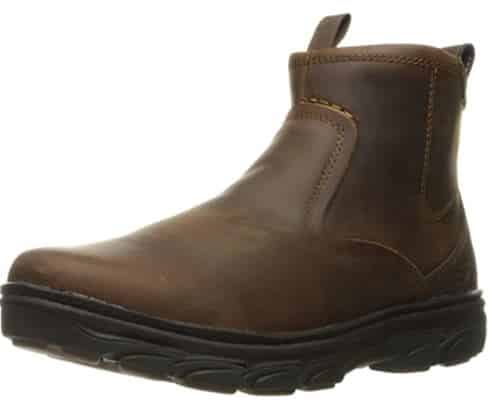 Skechers is a unique footwear brand based in California. The company is known for its innovative shoes that take performance footwear to the next level. The brand focuses on providing shoes that are highly durable and comfortable and that offer an impressive style.
The Skechers USA Men's Resment Korver Chukka Boot is one example of the brand's fashionable footwear. If you're looking for shoes that suit every occasion, these are worth a closer inspection.
Specs
Made from 100% leather
Synthetic outsole
Memory foam inner
Relaxed fit
Who is it Best for?
If you're looking for a pair of chukka boots that work well with a pair of jeans for casual wear and that go together with chinos equally well, then these are the boots for you. Skechers men's chukka boots feature a zippered side closure that gives them a slightly dressier look, and it makes them simple to pull on and off.
Men in search of brown boots specifically will appreciate these. They offer a rich brown tone that pairs well with just about any outfit.
The relaxed fit of the shoe makes it ideal for gents who prefer a roomier, less constricted boot that makes way for socks that are sometimes a little thicker than usual. This versatility makes these chukka boots ideal for wear the whole year through.
Key features
Skechers fashions these boots from leather upper that is durable and sophisticated. The etched synthetic sole adds greater durability and remarkable traction, keeping you on your feet no matter how wet or slippery the ground becomes.
The insole of this shoe means business too. It features an air-cooled memory foam liner that molds to the shape of your foot to provide you with exceptional comfort and added support. This gel-infused memory foam layer rebounds quickly, restoring to its original condition once you remove your foot, allowing for a soft cushioning each time you wear the boots.
Placed over this layer is a moisture-wicking layer that removes odor-causing sweat and moisture, keeping your feet dry and smelling fresh. The perforated footbed is breathable, allowing your feet to stay cool and comfortable.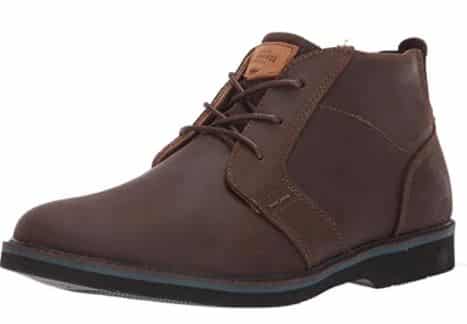 Nunn Bush has been creating men's footwear for over 100 years. Founded in Milwaukee in 1912, the brand strives to offer its customers finely crafted shoes at affordable prices. Nunn Bush has become synonymous with comfort, style, value, and, most importantly, quality.
If you don't believe us, take a look at the Nunn Bush Men's Barklay Plain Toe Chukka Boot. This shoe is the epitome of a sophisticated style shaped with comfort and durability.
Specs
Features classic style detailing
Gel comfort footbed
Suede upper
Synthetic sole
Who is it Best for?
Whether you seek a casual chukka or ones that look more like a dress shoe, these offer the ideal solution. These shoes by Nunn Bush work perfectly as both easily dressed up with chinos and a button-up dress shirt, or paired with jeans and a golf shirt for a more relaxed look.
Men who appreciate variety and guys who, when they've found the perfect pair, buy the same shoes in an assortment of colors will enjoy these. Nunn Bush offers these chukka boots in ten unique shades that range from grey, tan, and navy to brandy, mocha, and camel.
If you are looking for a pair of shoes that come in a regular fit or a wider fit, these are ideal. Nunn Bush offers them in both fits so you can find the ones best suited to your feet.
Key features
Nunn Bush makes their chukka boots with crazy horse leather and suede uppers. These sleek-looking shoes are durable and fashionable, making them perfect for every occasion.
The boots feature a classic style that lends them an authentic look and feel. A blind eyelet lacing closure and welted finish round off the look with a touch of sophistication.
A lightweight outsole makes the shoes comfortable to wear for extended periods. Adding to this is the memory foam insole that gently cushions your foot, providing support and remarkable comfort. A gel heel pod absorbs shock as you walk, keeping your feet and knees safe.
Nunn Bush ensures that their chukka boots will last you many seasons to come, thanks to the high-quality materials used and their expert craftsmanship.
Pros
Offered in ten unique colors
Cons
Does not feature a Goodyear welt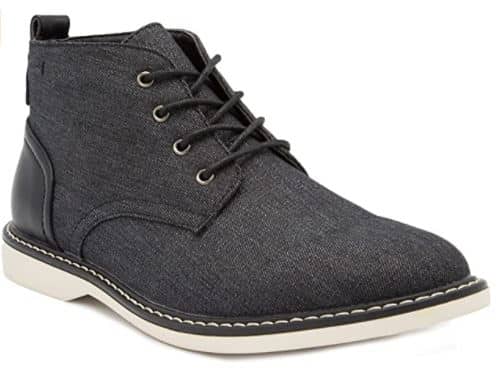 London Fog is not a British but an American brand founded in 1923. The company began as a humble manufacturer of waterproof coats for the U.S Navy during World War II. Today London Fog is a premier global lifestyle brand known for its outerwear, handbags, and footwear.
If you're looking for a remarkable pair of chukka boots, then the LONDON FOG Men's Belmont Chukka Boot is a pair you need to give a try.
Specs
Made from denim-feel fabric
Memory foam inner
Welt construction
Synthetic sole
Who is it Best for?
Men looking for a stylish but slightly more casual take on the chukka boot will find these as an ideal solution. London Fog designs these boots to offer a look and feel that pairs well with chinos and a golf shirt or jeans, and a t-shirt for an afternoon out with friends or family. Pair them with a corduroy suit for a more retro or hipster vibe.
London Fog offers quite the selection when it comes to color and style, making these boots perfect for men looking for a unique finish to their shoes. The shoes come in five different colors: black denim, blue denim with cognac leather detailing, grey, tan, and dusty brown. Sleek metallic eyelets and laces that match the shade of the shoe round off the look.
Key features
London Fog finely crafts these boots from a denim style fabric that is both durable and fashionable. While the material upper is not waterproof, the shoe does offer a synthetic sole that provides exceptional grip even in slick, wet conditions.
A memory foam sock or insole offers comfort throughout the day by cushioning your foot and providing you with additional support.
The brand completes the look of the boots with a welted finish and leather detailing on the heel. This additional patch on the heel provides extra protection at the back of the shoe in what is known as a high wear area, ensuring these chukka boots will last you for seasons to come.
Best of all, these shoes are ideal for wear all year round thanks to their breathable nature and design.
Pros
Offered in five unique colors
Ideal for a more casual style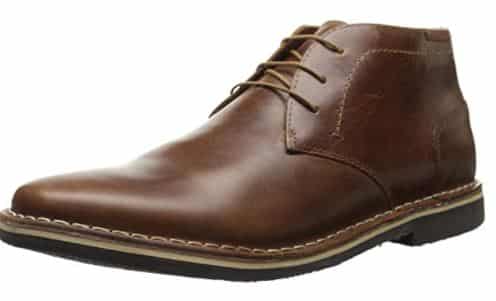 Steve Madden is an American brand founded in 1990 by designer Steve Madden. The brand is known for its stylish and fashion-forward clothing and footwear for men, women, and children. From footwear, clothing, and handbags, Steve Madden does it all in style.
If you're looking for a trendier take on the Oxford dress shoe, then the Steve Madden Men's Harken Chukka Boot makes a perfect choice. These shoes are sleek, stylish and will leave you looking like a million bucks.
Specs
Made from leather
Features blind eyelet lacing
Goodyear welt
Synthetic sole
Who is it Best for?
When choosing shoes, chances are you're either looking for a pair that either offers a more casual or a more dressy style or a pair that works well for all occasions.
These chukka boots by Steve Madden are ideal for every occasion but are best suited to more formal styling. They offer a unique look that combines the look of a Chelsea boot and an oxford shoe, leaving you with sleek footwear that will have you ready no matter what the day brings your way.
If you are looking for a set of chukka boots in a cognac brown or a sleek black, you will find them here. Steve Madden offers these shoes in two tones that elegantly complement most looks and styles, leaving you with shoes that provide excellent versatility and style.
Key features
Steve Madden's men's chukka shoes are made from a durable leather upper that will last for years to come while softening to fit your foot comfortably. The uppers feature blind eyelet lacing that adds to the minimalistic and sophisticated style of the shoe. Laces in a shade matching the body of the shoe are included.
The leather upper connects to the outsole with a Goodyear welt that provides extra strength and stability to the design. A soft textile lining in the shoe offers a layer that protects the leather and your feet, avoiding them from becoming sweaty.
A synthetic sole offer remarkable grip and is highly durable, making the shoe ideal for any occasion and any weather. When it comes to elegant style with a dash of casual charm, you can't go wrong if you wear chukka boots like these.
Pros
Offered in black or cognac
Can be worn as dress boots or as a weekender chukka
Cons
Does not offer a leather lining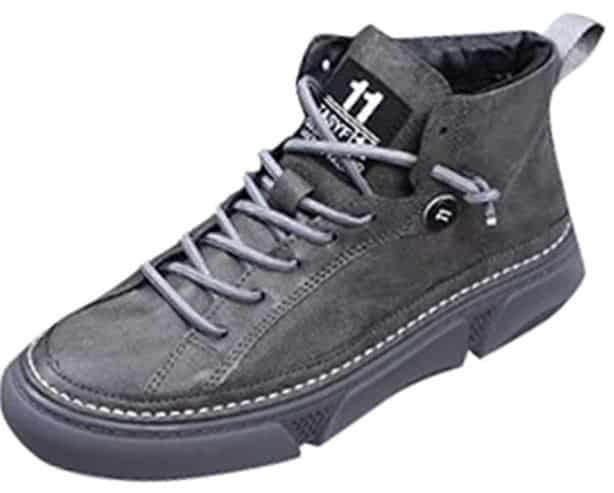 Xbyee is a unique brand that offers a selection of apparel, accessories, and jewelry. The company places its focus on providing customers fashionable solutions to their everyday clothing needs. Priding itself on quality and style, Xbyee ensures the products you take home are well worth your time and money.
The Men's Chukka Boot by Xbyee caught our eye with its style and impressive durability. This shoe offers quality and style, just as the brand assures.
Specs
Welted construction
Waterproof
Lace-up closure
Leather upper
Who is it Best for?
Men looking for chukka boots that are durable enough to double as work boots may want to look a little closer at these. They offer a style similar to desert boots but provide a little more in the way of a robust design. The cuff of the shoe comes up past the ankle offering more protection and support to your foot, making it ideal for all-day wear.
These boots are waterproof and feature a sole that comes with an impressive grip. Wear these shoes with ease in just about any conditions without the fear of slipping and sliding. This durability and versatility ensure these boots work well for casual wear and work boots, especially for men who may have meetings on construction sites or warehouses.
Key features
Xbyee makes their chukka boots from a durable leather upper that is waterproof and designed to last you a long time. Blind eyelets offer a minimalistic look that adds to the overall look and feel of the shoe. The laces come included and come in the same color as the boot upper.
Xbyee offers these boots in four unique shades: black, grey, khaki, and white, making it simple for you to find the pair that best suits your needs.
The upper connects to the outsole with a welted finish that provides additional strength to the design of the boots. The synthetic sole features an etched base that brings with it a sturdy grip.
These boots make the perfect choice for men who spend a lot of time outdoors but who still want to have a fashionable edge.
Pros
Offered in four unique colors
Cons
Not ideal for formal wear
Things to Consider When Buying Chukka Boots for Men
When buying a new pair of chukka boots, there are a few things to consider. Color and overall design are often determined by personal choice, but considering the shoe's materials and the sole it features will help you find a pair that best suits your needs.
1. Material
This leather comes from the layer of the cow's hide, making it stronger and more durable than other leathers, which is why it makes an excellent choice for a footwear material. Tanners often sand down top-grain leather to remove any imperfections. A common type of top-grain leather is known as nubuck leather.
This leather is the most durable, making it ideal for a sturdier pair of chukka work boots. The downside to full-grain leather is that it is a lot firmer than top-grain, which means it will take a little longer to wear in.
This leather comes from calves, making it a lot softer and more velvety than other leather, but it still offers the same level of durability. Calfskin is often used for high-end shoes.
This leather offers a slightly lower grade than other leathers. It is often made in Italy, with genuine Italian leather known for its softness and durability. What makes this material so popular is its lower price point in comparison to top-grain or full-grain leathers.
Suede sees a blend of full-grain and genuine leather. It is sanded to achieve a soft, velveteen finish that is textured to the touch. Suede chukka boots will need to be cleaned differently than genuine leather shoes.
Fabric chukka boots do not offer the durability that comes with a leather boot, but they are far more breathable, keeping your feet cool and comfortable.
2. Sole
Chukka boots come with a variety of different sole options. A crepe rubber sole is the most common as it is durable, robust, and offers an excellent grip that makes them wearable even when it's wet outside. Compared to a crepe sole, a leather sole provides greater durability, and they are easier to re-sole should the need arise.
When looking for the best men's chukka boots, find a pair that offers durability, quality, and style. Buying ones that just look great may lead to many hours in painful shoes, so take care to find ones that also offer comfort.
We hope our reviews have made it quicker and easier for you to find a pair of outstanding quality chukka boots that meet all of your needs. If you're still a little unsure, Steve Madden's chukka boots are the perfect pair.