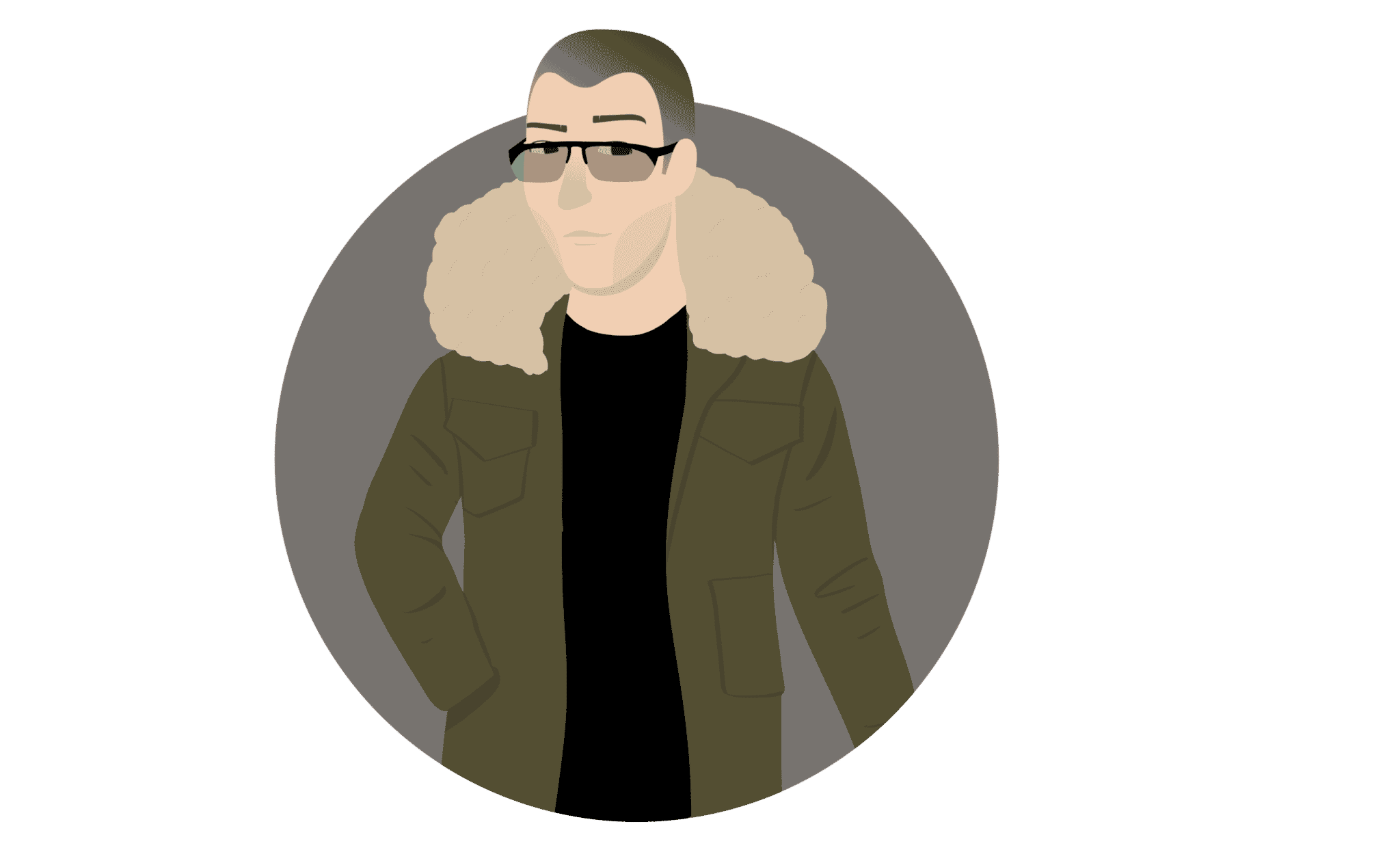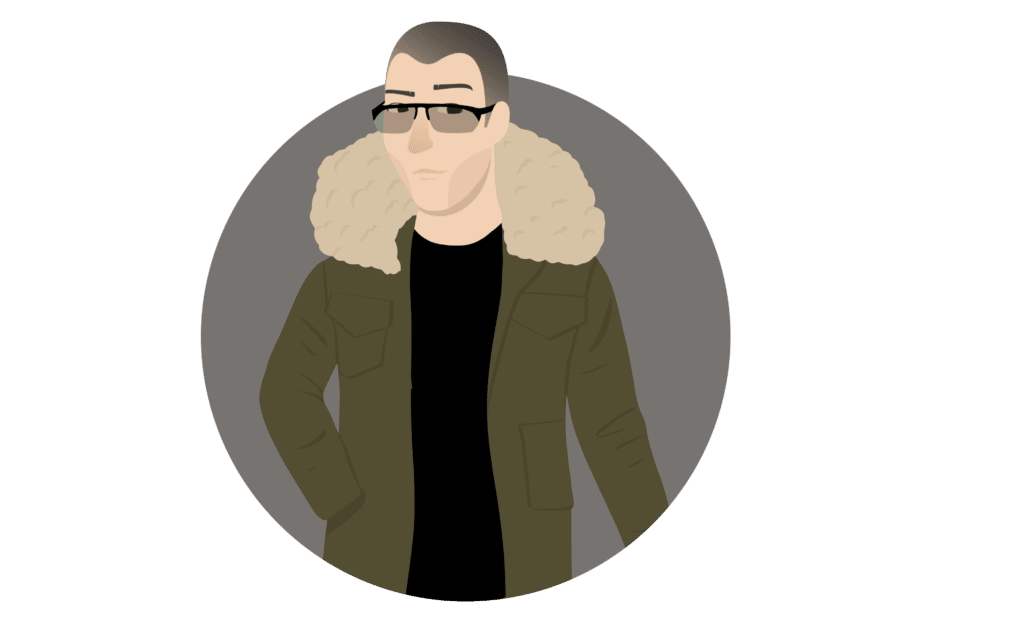 Whether you live in colder climes or you have an affinity for outdoor adventure, chances are you find yourself encountering cold, icy air and the moisture that comes with rain or snow. Unfortunately, keeping you warm and dry is not something most jackets offer, with the norm being they usually provide one or the other. Unless you own a parka, of course.
The parka offers a trifecta of elements, style, functionality, and high-quality materials designed to keep you toasty and dry. In addition, brands incorporate premium materials that provide a slimming effect and keep you warmer than you have ever been.
Unfortunately, not all parkas are made equally, which is why we have gathered together the best Amazon has to offer and reviewed each of them, making it simple to find the one that best suits your needs.
We tried and tested multiple cold-weather parkas from Amazon and concluded that these eight are the best winter coats that are warm, functional, and protective against the elements. We used the approach to chat to men about what they looked for in a high-quality winter jacket and collected together the ones that ticked these boxes. We then reviewed each of them. Our evaluation of each was based on the following criteria: the material used, the insulation provided, the features, functionality, and durability.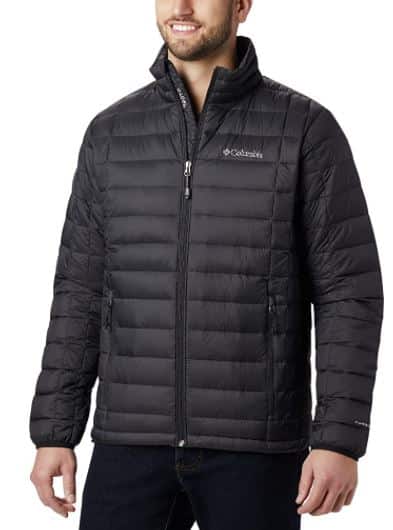 Columbia Sportswear was founded in 1938 in Portland, Oregon. Located in the Pacific Northwest, no one knows cold and wet conditions better than this brand, which is why if you're looking for durable outdoor apparel, offers excellent waterproofing, and exceptional warmth and comfort, Columbia comes out tops.
The Columbia Men's Voodoo Fall 590 Turbodown Jacket is one of the brand's warmest and most lightweight winter jackets, making it ideal for outdoor adventuring.
Specs
Made from 100% polyester
Features Omni-Heat technology
The jacket is water-repellent
Includes advanced down comfort
Who is it Best for?
Suppose you love outdoor adventuring even when the weather takes a turn for the worse, or you need a cozy jacket to keep you protected from the elements during the colder or wetter months. In that case, you may want to give this parka jacket from Columbia a try.
The jacket features a unique design and materials that protect you from cold air, freezing temperatures, and light rainfall. The jacket is packable, too, making it easy to fold up and take along with you on any adventure you embark on.
Compared to other puffer parkas available, this coat from Columbia is relatively expensive, but we decided to give it a try nonetheless. We found it to offer warmth, and although not an Arctic jacket (you will need a warm layer beneath it), it does its job well. The only downside I found was that it isn't fully waterproof.
Key features
Columbia makes this parka from 100% polyester, making it lightweight, soft, breathable, and warm. A nylon outer shell offers a water-repellent design that will keep you protected from light drizzle, but bear in mind it is not waterproof and won't keep you dry in a heavy downfall.
The jacket features a lining that sees a combination of RDS certified down and 40% polyester insulation that provides exceptional warmth that is trapped inside thanks to the thermal heat reflective interior. This Omni-Heat interior features a metallic dot pattern that retains the heat, working with the breathable fabric to let any moisture dissipate. In addition, a drawcord adjustable hem and cuffed sleeves keep the warmth in even further.
Two zippered side pockets create a place to keep your hands warm, while an internal security pocket provides a space for your phone, keys, or wallet.
Pros
It comes in 18 different color options
It offers great moisture-wicking properties
Cons
The coat is not fully waterproof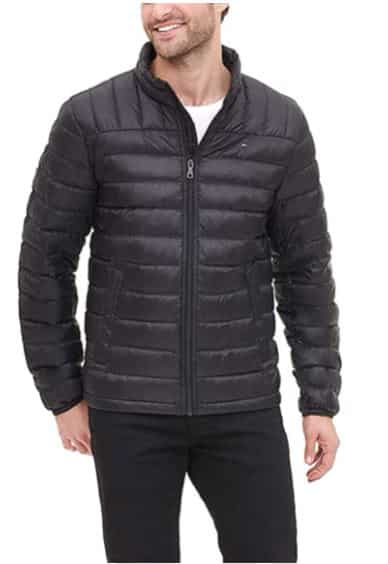 A premium clothing brand that specializes in apparel, footwear, eyewear, accessories, fragrances, and home furnishings, Tommy Hilfiger is the brainchild of American fashion designer Tommy Hilfiger. The brand is recognized across the globe for its quintessential classic cool American spirit that it weaves throughout each product with ease and flair.
While you could easily have your mind go straight to jeans or fine fragrance when you think of Tommy Hilfiger, the brand also produces some pretty impressive outerwear, such as the Tommy Hilfiger Men's Packable Down Puffer Jacket.
Specs
Made from 100% nylon
Includes a 100% down feather padding that is sewn in with a quilted design
The coat is windproof and water-resistant
Comes with a drawstring bag
Who is it Best for?
If you're looking for a fashionable parka jacket that is ideal for moderate winter weather, this jacket from Tommy Hilfiger is a stand-out choice. The coat is perfect for those cooler days when you need a little extra protection from icy winds or light drizzle, making it ideal for layering with other winter clothing.
Tommy Hilfiger offers this parka in 31 unique color options making it a fabulous choice for those looking for a jacket in a color that isn't navy or black.
Compared to Columbia Men's Voodoo Falls 590 TurboDown Hooded Jacket, this parka from Tommy Hilfiger is exceptionally well priced and is affordable. I tested it out to see whether its functionality measured up to its style, and I wasn't disappointed. It kept me warm and protected from light mist and drizzle. However, I would have preferred if the jacket was fully waterproof and folded into itself instead of carrying around a drawstring bag to store it in.
Key features
This parka is made with a 100% nylon shell and lining. This fabric is lightweight, durable, and breathable, making it perfect for use as a winter jacket. In addition, the parka allows air to flow through the layers, removing any moisture and regulating your temperature, keeping you warm without causing you to become sweaty and damp.
The lining is made from duck down and provides exceptional warmth. In a bid to keep the down insulation in place, Tommy Hilfiger uses a quilted design to ensure the padding stays in place and doesn't all clump in one area.
The popped collar brings a touch of contemporary style to the design while keeping your neck warm and protected from cold, icy winds and snow.
Pros
The color options are impressive
The two side pockets are deep
Cons
The parka does not fold into itself for storage
It isn't fully waterproof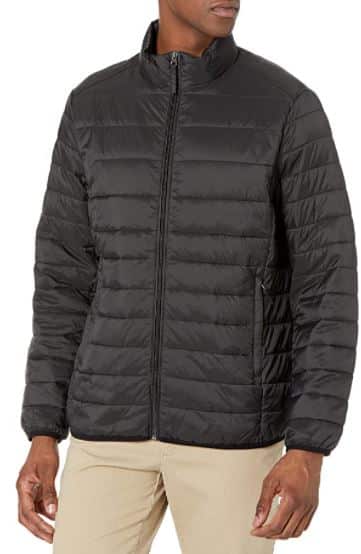 Amazon Essentials is a subsidiary of the online giant Amazon. The brand was founded in an effort to provide customers with footwear and clothing that meets their everyday needs that comes at affordable prices. Amazon Essentials not only offers apparel made for office or home wear but also for formal occasions and outdoor adventures.
The Amazon Essentials Men's Lightweight Water-Resistant Packable Puffer Jacket is a prime example of the brand's exceptional outerwear offerings. It is designed to keep you warm even when the weather turns chilly.
Specs
Made with a 100% nylon outer shell and lining and a 100% polyester fill
Features a water-resistant design
Comes with elasticated cuffs
Includes two zippered pockets
Who is it Best for?
When the weather starts becoming wintery, and you never know when it will become icy or if the sun will come out to play, you may find yourself wanting to layer garments. In this case, a good winter jacket such as the Amazon Essentials parka is the perfect addition to your wardrobe. It is easily layered over other winter warmers and can be packed away in seconds should the weather become warmer.
You would think that this jacket would cost a pretty penny for all this functionality and the stylish design. However, I was surprised to find it was, in fact, one of the most affordable jackets in this review.
The parka itself did not disappoint either; it isn't bulky and offers exceptional craftsmanship and durability. While it isn't fully waterproof, it keeps the cold wind out and packs away instantly.
Key features
Amazon Essentials makes this parka with a durable and lightweight 100% nylon outer shell and inner lining. This material is renowned for its breathability and moisture-wicking properties, so you can be sure that while the jacket keeps you warm, it won't make you sweaty, damp, or uncomfortable.
The synthetic insulation comes in the form of 100% polyester padding. This insulation locks in the warmth your body produces, keeping you toasty and comfortable even when there is a chill in the air.
Elasticated cuffs help further trap in the warmth and prevent gusts of cold air from entering your jacket. The full zippered closure at the front of the parka makes it quick and easy to pull on and off, and the two deep side pockets with zippered closures offer the perfect place to keep your hands warm.
Pros
The color options are impressive
The coat is very well made
The jacket is so lightweight it doesn't hinder your movement
Cons
The parka isn't fully waterproof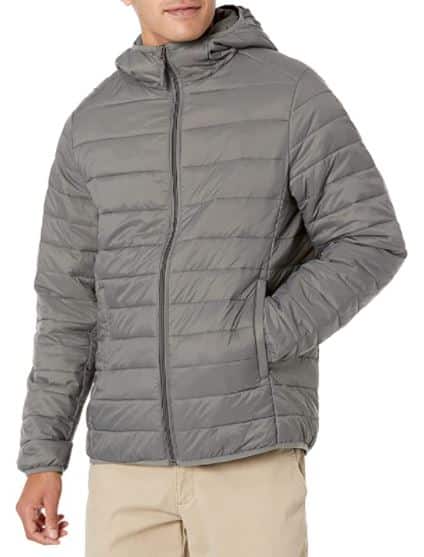 There is no better place to go than Amazon Essentials when it comes to durable, well-made, and affordable apparel and footwear. The brand was founded as a subsidiary of the online mega-store Amazon to fill a gap in the market that saw the need for affordable everyday clothing.
While one may think that the brand offers only garments such as jeans and t-shirts, it provides a wide selection of formal wear and outdoor gear such as the Amazon Essentials Water-Resistant Packable Hooded Puffer Jacket.
Specs
Comes with a 100% nylon outer shell and lining and a 100% polyester lining
Includes a hood
Features a packable design
The jacket is machine washable
Who is it Best for?
If you live in New York and you're looking for a fashionable parka to keep you warm on even the coldest days, this affordable jacket from Amazon Essentials makes an excellent choice.
The hoody design offers additional protection and a contemporary look that will place you amongst the most fashion-forward individuals this winter season.
This hooded parka is remarkably inexpensive, and it comes in a wide selection of colors, making it easy to purchase a few in different shades, so you have a jacket to match every outfit.
I gave this parka a try to see if it offered as much functionality as it does style and can happily report back that it does. I expected the jacket's construction or the warmth to be lacking due to the lower price point. However, Amazon has proven that the price doesn't need to be high for the quality to be exceptional. The only complaint I had is that a little cold air comes in through the zipper, but it is minimal.
Key features
The design of this parka is geared towards warmth. It comes with a few added features that ensure your entire upper half is as warm as can be without being cumbersome and restrictive.
The hood protects your head and neck from cold air. Elasticated cuffs keep the cold out of your sleeves and prevent the sleeves from riding up as you move around. A tapered design that sees a looser fit around the chest and tapering towards the waist provides a snug fit that adds to the warmth and comfort of the jacket.
The parka is made from a durable nylon shell and inner lining that allows moisture to evaporate quickly, keeping you dry and warm. While not completely waterproof, this coat is resistant to light rain and mist. In addition, a synthetic insulating layer adds an extra layer of warmth as protection against the cold.
Pros
The jacket layers well with other winter warmers
The pockets are deep and warm
Cons
Cold air does come in through the zipper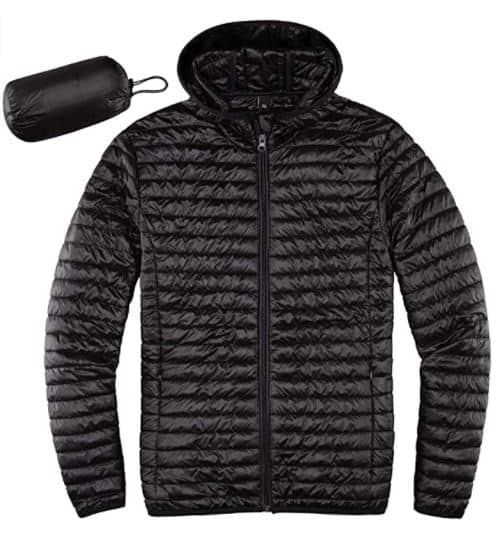 Lisskolo is a brand that specializes in the design and manufacture of everyday apparel and outdoor wear. The brand produces a wide selection of clothing, from linen pants and flannel shirts to thick woolen coats and faux-fur lined jackets.
It was the Lisskolo Men's Lightweight Quilted Ultra Loft Packable Puffer Hooded Jacket that caught our eye with its lightweight design, stylish quilted finish, and wide selection of color options.
Specs
Made with a nylon shell and lining
Includes synthetic insulation
Offers exceptional breathability
Hooded design
Who is it Best for?
If you're tired of insulated jackets that are damaged if they get wet or they lose their loft, then this parka is for you. It is designed to be simple to maintain, and while it can only be dry-cleaned, should it get wet in the rain, it won't become flat and lose its ability to insulate you.
Lisskolo offers this jacket in only three color options: black, grey, and navy, and while this offering is somewhat narrow, the affordable price of the parkas more than make up for it.
I gave the navy parka a try, testing it out in a few different settings. I liked that it came with a small drawstring bag that is packed away into when not in use, although having to carry the bag about was a little annoying. I also found the zippers to be a little flimsy; however, the overall functionality of the jacket was not bad.
Key features
This winter parka features a nylon outer shell and inner lining. Nylon makes an exceptional fabric for parkas as it is lightweight, has moisture-wicking properties, and is highly breathable, which means it holds in the warmth without trapping in any moisture.
The synthetic insulation replicates the warmth retention and feeling of down, yet doesn't lose its loft when wet, continues to insulate when soaked through, and dries quickly. It is also cruelty-free and great for those who are looking for a down alternative.
A hood forms part of the design and does its part to keep your head and neck protected from the chilly air and icy winds. Two zippered slide pockets provide a place to store items or to keep your hands warm while you go about your day.
Pros
It packs away neatly into a drawstring bag
The parka is lightweight and doesn't hinder your movement
Cons
The zippers could be a little more sturdy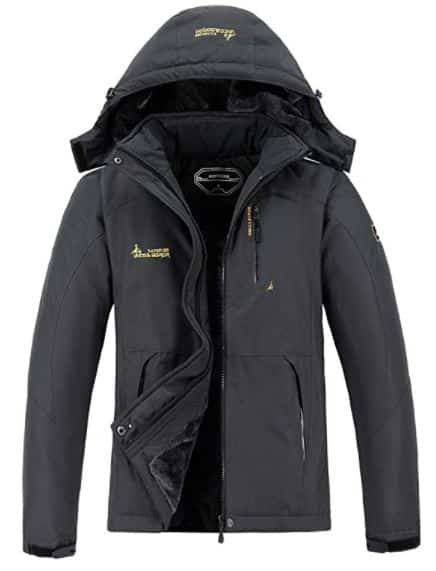 Moerdeng is a brand that places its focus on the design and manufacture of sports and outdoor apparel. Founded over ten years ago, the brand has quickly become popular as a result of its durable designs, high-quality materials, and fashionable styles.
The MOERDENG Men's Waterproof Ski Jacket is one of the brand's best-selling items of apparel, and it is easy to see why, with the vibrant color offerings, adjustable hood, and faux fur lining.
Specs
Includes an adjustable hood
Comes with a fur trim on the collar
Made from waterproof polyester
Windproof design
Who is it Best for?
If you are heading out to the ski slopes, going hiking in wet or cold conditions, or you live in an area that sees cold, wet winters, this snow parka is the protective layer you need. It is designed to offer optimal protection from the wind and rain, keeping you dry and comfortable and at your warmest, even when the weather turns bitter.
What made this parka stand out for me was the protection it offers against the elements. On receiving it, I found the zippers to be a little flimsy, and it left me questioning just how well it would guard me against the icy air on the ski slopes. I was pleasantly surprised at the efficacy of the jacket and how warm it kept me. It is easily the best parka in this review.
Key features
Moerdeng makes this jacket from 100% polyester that is lightweight and breathable, allowing moisture and dampness to rise to the surface and evaporate. The coat also features a protective DWR film that renders it impervious to the wind and water. In addition, it is fully waterproof and creates a sturdy barrier between the elements and you.
The jacket comes with an adjustable hood that allows you to fasten it around your head to lock out the cold and lock in the warmth. A faux-fur lining adds to the coziness of the parka.
Adjustable cuffs also help keep the cold out and make it easy to fit the parka perfectly to your body. You will also find a stretchable glove hole that makes locking in warmth even easier.
Pros
The color options are vivid and fun
It provides exceptional protection from the elements
Cons
The hood is a little small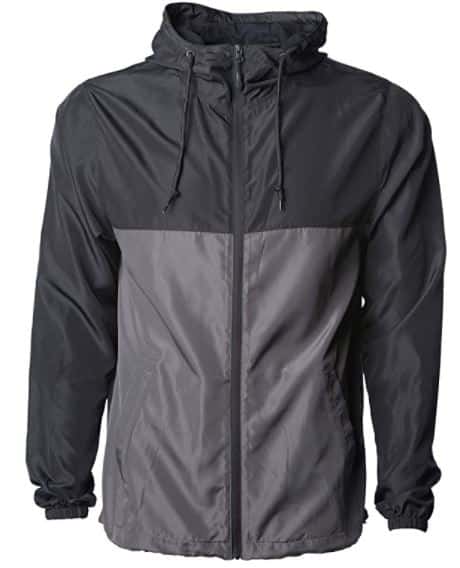 Global Blank is a brand that has set its focus on the design and manufacture of apparel that is whimsical and fun and geared towards everyday wear. The brand offers a selection of clothing, from hoodies and sweatpants to sweaters, outer gear, and jackets.
The Global Blank Men's Lightweight Windbreaker Winter Jacket is one such jacket, a lightweight, the water-resistant coat that makes the wetter winter days more bearable.
Specs
Made from 100% polyester
Features a slim-fit design
The coat is water-resistant
Comes with a zippered closure
Who is it Best for?
Men looking for a lightweight jacket that wears more like a windbreaker than a heavy winter coat will enjoy this parka from Global Blank Apparel. It features a lightweight design that keeps you protected against the wind and rain but doesn't offer thick insulation that will cause you to overheat while you go about your outdoor activities.
Compared to other winter jackets on the market, this one is relatively inexpensive. However, if it were to be any higher in cost, it would be expensive as it doesn't feature the layer of insulation that some of these other parkas offer.
I wore this jacket around for a few weeks and found it to provide excellent protection from the elements; however, it is not designed to offer warmth and is better worn as a layered garment.
Key features
Global Blank makes this windbreaker a slim-fit cut that adds shape to the jacket, leaving you with a stylish and fashionable winter garment. The fitted design also allows for a little more warmth and comfort.
The parka is made from 100% polyester that is impenetrable by the wind in resistant to water. While not fully waterproof, the windbreaker is ideal for wear in light rain and drizzle, keeping you dry and warm.
Global Blank does not include insulation in the design of this parka. Instead, it is made to work as lightweight protection from the elements. By blocking out the cold wind and rain, the jacket works well to keep you warm.
A toggle at the waistband and elasticated cuffs help keep the cold out, while the pop-up collar keeps your neck protected.
Pros
Comes in an impressive range of colors and color-blocked patterns
It is very lightweight and doesn't hinder movement
It offers exceptional protection from the wind
Cons
Not designed to provide warmth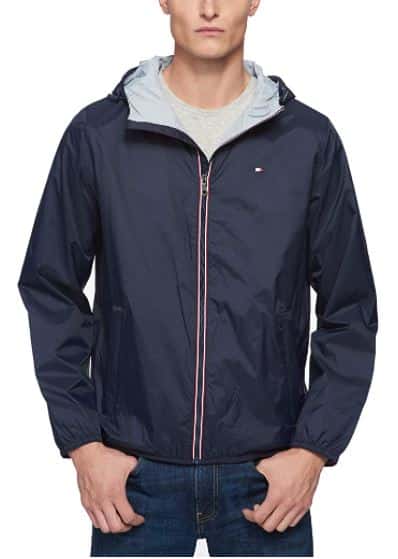 Founded in 1985, Tommy Hilfiger is a brand that centers its designs on the quintessential essence of American cool. Started up by American fashion designer Tommy Hilfiger, the brand offers a broad scope of products from homeware and accessories to clothing, footwear, and fragrances.
In offering apparel for men and women, the brand has branched out, providing garments that range from formal wear to outdoor gear. The Tommy Hilfiger Men's Lightweight Active Water Resistant Hooded Rain Jacket falls into the latter category, going to show that parkas can be fashionable too.
Specs
Made from 100% nylon
Machine washable
Comes with a hood
Features a water-resistant design
Who is it Best for?
If you love hiking, fishing, or participating in outdoor activities all year round, then this jacket is made for you. It features a lightweight design that allows the parka to be layered over other items such as sweaters or long-sleeve shirts. It is not made primarily to keep you warm but instead to keep you shielded from rain, cold wind, and sleet.
This windbreaker or activewear jacket comes in a wide choice of colors and designs, so you can also wear it as a fashion item. However, for what it offers, this parka is a little expensive. Also, since it doesn't provide any insulation, you may find it better suited to those who want a fashion jacket rather than one for use while adventuring outdoors.
Key features
Tommy Hilfiger makes this windbreaker from 100% nylon. The outer shell sees a water-resistant and wind-resistant functionality that is perfect for protecting you against the elements, keeping you comfortable while you spend time outdoors.
The inner lining is soft against the skin and wicks away moisture, keeping you warm and dry and preventing you from becoming sweaty and damp.
The cuffs and waistline hem are elasticated to offer a more snug fit and prevent the warmth escaping and cold air from making its way into your jacket. In addition, the adjustable hood features drawcords that allow you to secure it more closely around your head for additional protection against the elements.
A full-length zipper makes the parka easy to pull on and off. Two welt pockets provide your hands with a warm space, and a zippered interior pocket offers a place to store your valuables.
Pros
It provides good protection against the elements 
The color options are impressive
It wears well in all types of weather
Cons
Does not come with a faux-fur hood
Things to Consider When Buying The Best Parkas
1. Insulation
When we think of a parka, the style of insulation that comes to mind is similar to that of a sleeping bag – thick, quilted, and warm. Different brands use different types of insulation such as Primaloft gold, duck down, synthetic insulation such as fill power down, and even cotton fibers.
These different types of insulation offer different levels of warmth but also will come down to personal preference. Those who want exceptional warmth may wish to opt for wool or duck down insulation, but if you're looking for a more vegan-friendly version, Primaloft gold makes a better choice.
2. Waterproofing
It is essential to consider the waterproofing a winter parka offers. Keep in mind that waterproof and water-resistant or water-repellent are very different things.
A water-resistant or water-repellent jacket will allow for water droplets to bead up and roll off the jacket; however, should the rainfall become harder, the fabric won't be able to bead up all of the water and it will become saturated and wet.
A waterproof jacket is impenetrable by water and usually features a DWR or Gore-Tex coating that prevents any water from soaking into the coat, no matter how hard the rainfall while leaving the fabric breathable.
When looking for the best winter parkas, there are several things to consider. Giving thought to the brand, durability, waterproofing, features, insulation, and quality will all put you a step closer to finding the parka that most suits your needs.
By closely examining and testing each winter parka in this review, we concluded that they meet the criteria discussed above, making it more simple to find the best cold weather jacket to meet your needs.