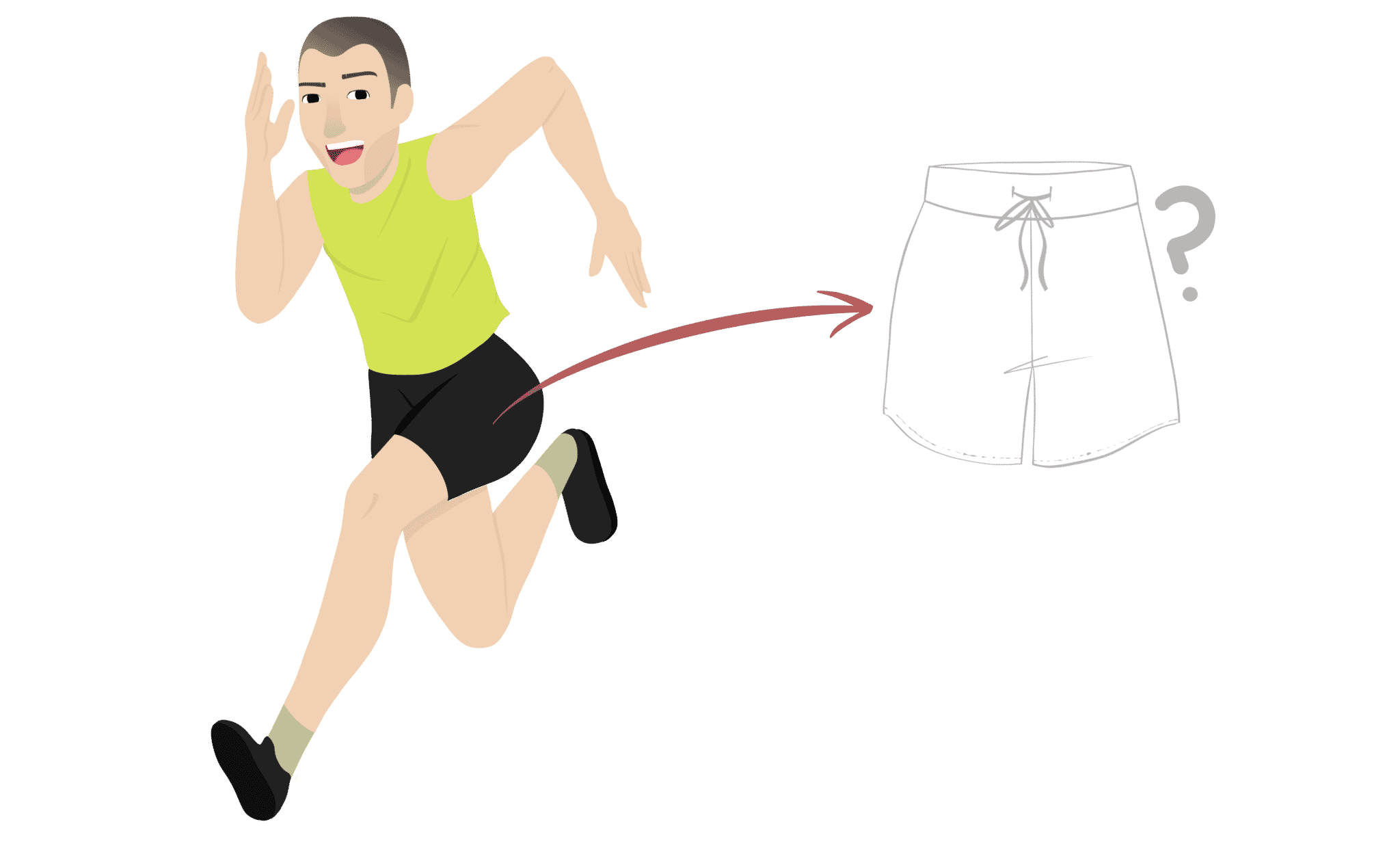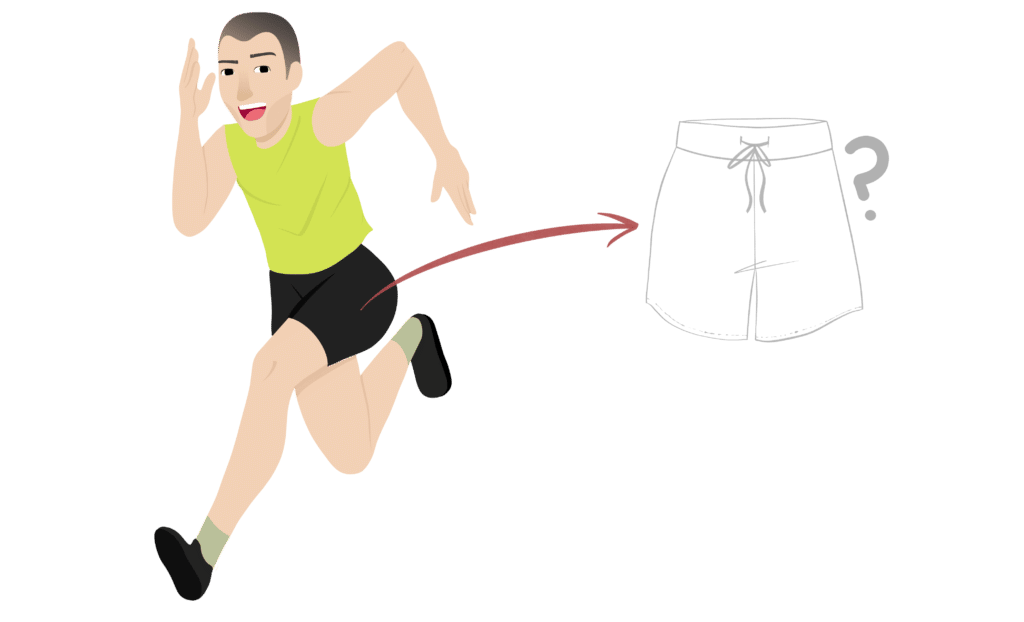 When going for a run, your shorts are as important as your shoes. There is nothing worse than heading out for a jog only to be hindered by an ill-fitting pair of pants that chafe, ride up, and restricts your range of motion.
The best running shorts wick away moisture, keeping you dry while allowing for breathability, comfort, and freedom of movement. If they feature reflective details, a pocket to keep your essentials, and are chafe-free, even better.
Unfortunately, not all running shorts are made equal. To make it simple for you to find the best running shorts to suit your needs, we have gathered together the best Amazon offers and reviewed each of them.
We tried and tested multiple pairs of running shorts from Amazon and concluded that these eight are the best shorts to wear when going for a jog. We used the approach to chat to men about what they looked for in high-quality running pants and collected together the ones that ticked these boxes. We then reviewed each of them. Our evaluation of each was based on the following criteria: the breathability of the fabric, the length of the inseam, the additional features, functionality, and durability.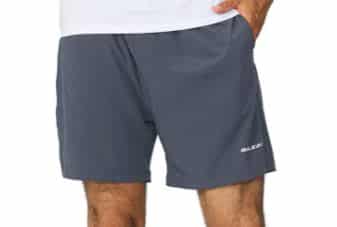 Baleaf is a brand that has its sights set firmly on providing apparel designed to complement the workout culture. Founded in 2013, the brand offers a wide selection of clothing and footwear for yoga, running, gym, swimming, and other outdoor activities.
The BALEAF Men's 5″ Running Athletic Shorts are one item of sportswear the brand is known for. Thanks to their innovative design and durability, these athletic shorts make going for a jog a comfortable experience.
Specs
Made from a blend of polyester and spandex
Includes a built-in liner
Features a five-inch inseam
Comes with three pockets
Who is it Best for?
When it comes to running shorts, there are a variety of styles and lengths available. If you prefer jogging pants with a slightly longer inseam and sit mid-thigh, these are for you. Baleaf designs these shorts with a 5-inch inseam that won't ride up or bunch as you jog and that won't cause chafing or irritation.
We were impressed with the affordable price of these shorts and decided to give them a try. We found the shorts offered an extra length that may or may not be due to the side pockets. As a runner, this additional length may frustrate some; however, the pockets it affords are extremely useful and come in handy when you are doing other outdoor activities other than running.
The built-in liner is well-designed and prevents chafing, and offers additional support. Overall we found these to be versatile, comfortable, and a quarter of the price of mainstream running shorts.
Key features
Baleaf makes these running shorts from a polyester and spandex blend. This lightweight fabric is soft and brings with it a multitude of features. It is breathable, allowing air to circulate your legs, keeping you cool, and preventing you from overheating. This material also offers moisture-wicking properties that draw the moisture from your sweat to the surface of the shorts, where it can then evaporate into the atmosphere, keeping you dry and comfortable while you exercise.
Breathable mesh brief liners offer additional support and keep the shorts in place while you jog, preventing chafing and the pants from bunching or moving about.
Also included are three pockets. Two side pockets provide a place to store your wallet, keys, and any other items, while a zippered back pocket is great for keeping gels or your keys while you run.
Pros
The built-in brief liner provides excellent support
The color offerings are impressive
The zippered pocket is exceptionally handy
Cons
Not everyone will enjoy the length of the shorts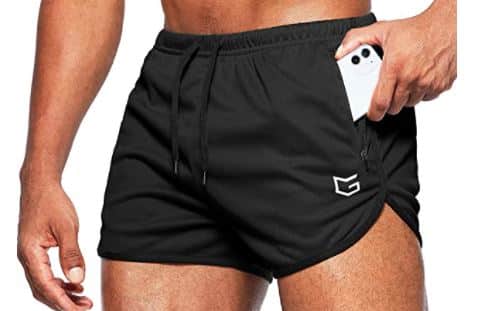 G Gradual is a brand that has chosen to focus on the design and manufacture of running and sports shorts. The brand offers this apparel for both men and women and prides itself on providing durable pants made from high-quality materials and featuring expert craftsmanship.
One such pair of pants are the G Gradual Men's Quick Dry Gym Athletic Workout Short Shorts. These shorts are versatile, long-lasting, and provide a wide array of features that make them some of the best on the market.
Specs
Includes a split-leg design to enhance range of motion
Made from 4-way stretch fabric
Comes with a built-in mesh brief liner
Features a three-inch inseam
Who is it Best for?
If you prefer running shorts with a shorter inseam and a cut that sits higher up the thigh, these shorts are for you. The design offers efficiency, functionality and keeps you cooler and dryer for longer.
Compared to other well-known brands such as Nike, these shorts are exceptionally well-priced and offer the same, if not greater, durability and style.
We tried these shorts out and were left impressed with the craftsmanship. The stitching is sturdy and doesn't easily come undone, and the overall design offers excellent comfort. The side slits help improve range of motion, something that counts when you are trying to enjoy your jog. One thing we will say about the liner is that it doesn't offer exceptional support, but it does help to prevent chafing.
Key features
G Gradual designs its men's athletic shorts with a high cut that sees a three-inch inseam. This shortened inseam prevents the shorts from riding up while you engage in your activities and allows for a greater range of movement. In addition, the side slits add further to this unhindered motion, making it easier to compete faster.
The polyester-spandex blend fabric used to make these shorts offers a 4-way stretch that makes moving a breeze. This material is quick-drying, soft, and lightweight and provides exceptional breathability and moisture-wicking properties.
A mesh brief liner also wicks away moisture to keep you dry and comfortable throughout your workout.
Two deep zippered pockets provide the perfect place to store your keys, glucose, or other small items while you head out on your run.
Pros
The pants offer an excellent fit
These shorts don't slide down when you carry items in the pockets
The color options are impressive
Cons
The brief liner could offer a little more support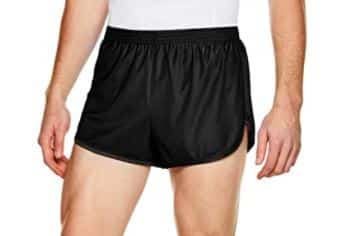 Athlio is a sportswear designer and manufacturer. The brand is known for its wide assortment of workout clothing, including apparel for yoga, gym, athletics, and other outdoor activities. Athlio does it all from compression shorts, and shirts to other sporting wear such as the ATHLIO Men's Running Shorts.
These running shorts caught our eye, because not only do they come in a pack of two but they are offered in a range of captivating colors too.
Specs
Made from lightweight polyester
Comes with a UPF 50+ protection
Includes two deep pockets
The fabric is moisture-wicking
Who is it Best for?
If you want a pair of versatile, multi-purpose athletic shorts, then these are the ones to try. They are designed for wear with multiple sports such as basketball, jogging, athletics training, tennis, hiking, and cycling, making them the most versatile shorts around.
Athlio provides these shorts in a pack of two, offering convenience too. One would think that because the shorts come in a set of two, they would cost a fair amount more, but you'd be wrong. This two-pack costs less than your average pair of shorts from Adidas, making them affordable.
We wore these shorts to a variety of sporting activities and found the fit of them to be exceptional, they didn't ride up, and the split leg design made it easy to move about unhindered.
Key features
Athlio's athletic shorts are made from a lightweight polyester that is soft and silky to the touch. The material offers a two-way air circulation that keeps you cool by allowing air to flow through the shorts, keeping them and you dry.
This fabric also wicks away moisture by drawing it to the surface, where it can quickly evaporate. The moisture-sensing properties of the material make this feature function even better than most other moisture-wicking fabrics.
A UPF 50+ treatment of the material protects your legs from the sun's harsh rays, preventing your skin from burning and from sun damage.
The durable and sturdy elastic waistband keeps the shorts in place, even when you fill the two deep side pockets with items such as your house or car keys, smartphones, or your wallet.
Pros
The elasticated waistband is firm and durable
The brief liner offers great support
The two-pack is convenient
Cons
The tag in the pants is itchy and unnecessary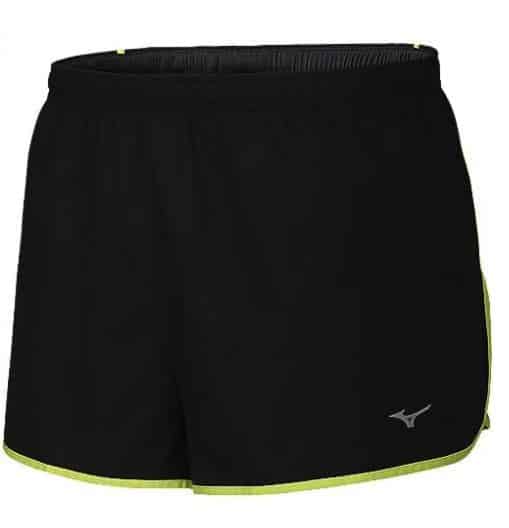 Mizuno is a Japanese brand that specializes in the design and manufacture of sporting goods and apparel. Founded in 1906, the brand has produced some of the world's leading sporting equipment and clothing for over 100 years.
Today the brand offers a wide selection of goods, each that falls within Mizuno's stringent sustainability measures. One such item is the Mizuno Running Men's Running Shorts. These running shorts are durable, functional, and versatile.
Specs
Made from 100% polyester
Comes with reflective details
Features a slit design
Includes an elastic waistband
Who is it Best for?
If you're looking for a minimalistic pair of running shorts that offer comfort and breathability, these are the athletic shorts you need. Mizuno places great emphasis on the design and quality of these shorts, and while the brand could have paid a little more attention to the look of the shorts, the functionality more than makes up for it.
We gave these shorts a try and found them to be very comfortable. While they don't offer a four-way stretch, they are lightweight and soft against the skin.
The elastic waistband keeps them in place nicely and isn't so tight that it is uncomfortable. The inseam is a little long, in our opinion, and the shorts tend to bunch but only slightly, making this something you can get past without issue.
Key features
Mizuno makes these shorts from 100% polyester. Many brands use polyester to make running shorts because it is so lightweight and breathable. Polyester is also known to be moisture-wicking, as it draws moisture away from your skin towards the surface of the fabric, where it can evaporate.
The elastic waistband keeps the shorts up and in place without being too tight and uncomfortable.
Side slits on the shorts make them more suitable for sports or athletic wear as they allow for a wider range of motion by allowing your legs to move about more freely.
A reflective design on the lower corner of each leg makes you more visible to motorists during dawn, dusk, and at night. The label is designed to be anti-abrasive and won't scratch or irritate your skin.
Pros
The label is not irritating 
The shorts are moisture-wicking 
Cons
The inseam is a little long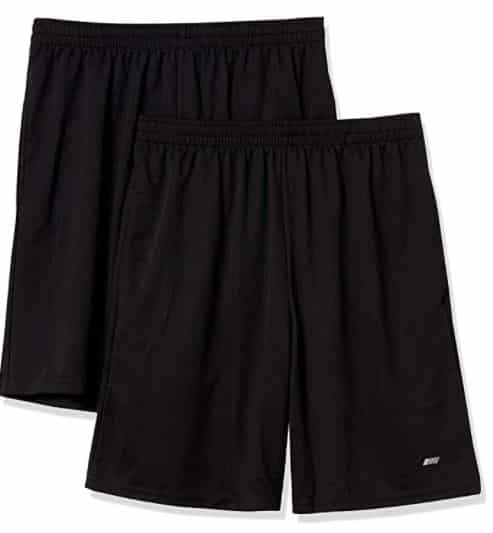 Amazon Essentials is a clothing brand specializing in the design and manufacture of essential everyday apparel for men, women, and children. A subsidiary of online giant Amazon, Amazon Essentials strives to produce clothing that is durable and fashionable but still affordable.
The Amazon Essentials Men's 2-Pack Loose-Fit Performance Shorts are the perfect choice for joggers and athletes looking for exceptional quality pants at a reasonable price.
Specs
Made from 100% polyester
Comes in a pack of two
Includes an internal drawcord at the waist
Features side panel pockets
Who is it Best for?
If you're not a fan of short shorts and you're looking for something with a bit more length to do your jogging or training in, these athletic pants from Amazon Essentials are worth a closer look. They feature a longer cut that sits just above the knee and a loose fit that runs from the waist through the leg to the knee area, allowing for ease of movement and a wide range of motion.
Amazon Essentials offers these athletic shorts in a range of colors and pairs the shorts up for your convenience. So we decided to try and see how they fared in terms of durability and comfort.
We weren't let down when it came to comfort. These shorts fit well and were soft and lightweight. The only downside is that they don't come with a liner, and the stitching didn't hold up as well as we would have liked.
Key features
Amazon Essentials makes these pants from 100% polyester and finishes them off with an internal drawstring that allows you to fit them to your waist perfectly.
The polyester is soft, lightweight, and sweat-wicking, making them ideal for wear during sporting activities or workouts. The fabric is also breathable, allowing air to circulate your legs to keep you cool and comfortable.
Two deep side pockets provide ample space for your necessities and offer sufficient depth to hold items such as wallets and smartphones.
The cut of the shorts sees them sitting just above the knee; however, the wide design of the leg prevents them from hindering your movement.
Keep these shorts clean by popping them in the washing machine and then drying them on the washing line.
Pros
They are exceptionally comfortable
These shorts are easy to launder
The pockets are deep and hold items well
Cons
These shorts don't come with a liner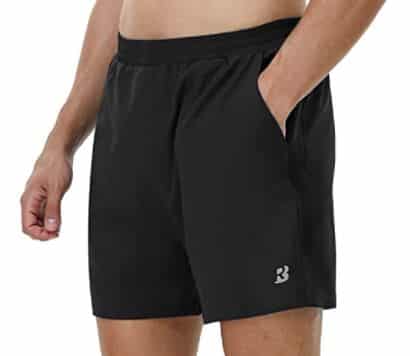 Roadbox is a unique brand that designs and manufactures men's sporting apparel. The brand offers a wide selection of compression pants, long-sleeve rashguards, and athletic shorts, all of which are designed with the latest technology and styles to provide us with unique and functional sportswear.
The Roadbox Men's 5 Inch Running Athletic Quick Dry Shorts are designed for runners, athletes, cyclists, and for wear at the gym, making them versatile and worth a closer look.
Specs
Made with lightweight, quick-drying fabric
Comes with UPF 30+ protection
Includes an elastic waistband
Features hip pockets, a back zippered pocket, and inner pockets
Who is it Best for?
If you're looking for athletic shorts that offer convenience, come in an assortment of colors, and that pair well with your running shoes and shirts, then you may want to look a little more closely at these pants from Roadbox. They feature a minimalist design and offer great functionality.
Men who prefer a slightly longer cut that sits mid-thigh may want to give these shorts a try. They feature a five-inch inseam that doesn't ride up when you move and prevents chafing and irritation.
Compared to other athletic shorts on the market, these are relatively inexpensive, so we decided to give them a try and see if their durability measured up, and boy did they!
These pants are easily some of the most comfortable running shorts we have reviewed so far. They fit well, and the liner is not made with mesh fabric but rather a soft, breathable material. The elastic holds the pants in place, and the pockets are ample and well-sized.
Key features
Roadbox makes these shorts from a soft, lightweight, moisture-wicking fabric. This durable material is also breathable, making it simple for air to circulate your legs, preventing you from overheating and becoming sweaty and uncomfortable.
The shorts feature a UPF 30+ rating that ensures your legs receive protection from the sun's UVA and UVB rays.
An inner brief liner provides support and prevents the shorts from riding up. The chafe-free design is ideal for athletes who prefer longer runs and need additional protection.
A flat waistband with an elastic inner keeps the pants up and in place, especially when placing items in the side zipper pocket or deep front pockets. An inner key pocket provides the perfect place to keep smaller valuables you don't want to lose.
Pros
The liner is soft and comfortable
The pants fit exceptionally well
The drawstrings allow the pants to fit
Cons
They aren't sold in pairs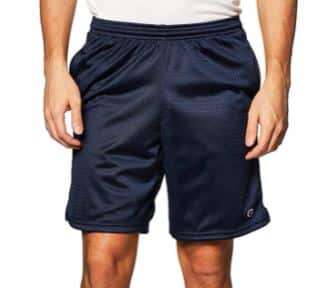 Champion, a subsidiary of Hanes Brands, is a brand that focuses on the design and production of sportswear and apparel. Champion is noted for its durable garments that feature high-quality materials and premium craftsmanship. Today, the brand is loved across the globe by sportsmen and women from all walks of life.
Some of the apparel you can find from Champion includes joggers, hoodies, and our favorite, the Champion Men's Long Mesh Short with Pockets.
Specs
Made from 100% polyester
Includes an internal adjustable drawcord
Comes in various color options
Features side phone pocket for storage
Who is it Best for?
If you want a pair of trail running shorts that are simple to launder and are made from a lightweight material, these are the ones you need. While the length of your running shorts comes down to personal preference, these fall on the longer side of the scale, so if that's the cut and design you are after, you may want to give these shorts from Champion a try.
Compared to other running gear from brands such as Mizuno or Roadbox, these are relatively expensive. However, the quality and design associated with the brand raise the cost, and of course, our expectations.
After trying these shorts for a few weeks, we found them remarkably comfortable and to offer the perfect fit. They are loose in the leg area, allowing for an unhindered range of motion, and the elastane waistband keeps them firmly in place without being too tight or restrictive.
Key features
Champion makes this run short from a lightweight 100% polyester mesh that keeps you cool and comfortable no matter how intense your run or workout becomes. This breathable fabric allows for great airflow and prevents the build-up of sweat and moisture, keeping you dry and comfortable.
The waistband features both an elastic finish and a drawstring that allows you to secure the pants to fit you perfectly.
This pair of shorts also features side pockets for storage, and while they don't offer a rear pocket, the side ones are deep enough to carry an assortment of items such as a phone, wallet, or keys.
These breathable mesh pants are machine washable and are quick-drying, so you can pop them on the washing line and have them completely dry in just a few hours.
Pros
The shorts feature breathable mesh side panels and fronts
They offer exceptional airflow
The fit is perfect for all body types
Cons
The drawstring was less durable than we would have liked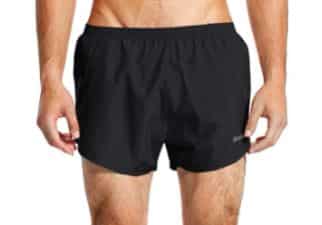 Baleaf is a brand that aims to provide its customers with durable, sustainable sportswear and apparel. By focusing on garments for yoga, running, and workouts, the brand can provide exceptional quality and designs that make us of the latest and greatest technology. This way, athletes are offered superior sportswear to allow for optimal performance.
The BALEAF Men's 3 Inches Running Shorts is one of the many garments that are loved by athletes across the globe, and it is not hard to see why.
Specs
Made from stretch fabric comprising polyester and spandex
Lightweight and breathable
Features an interior drop pocket
Comes with a split leg design
Who is it Best for?
Men looking for shorter running pants that offer a lesser inseam may want to look more closely at these shorts from Baleaf. They provide a three-inch inseam that doesn't ride up, prevents bunching, and is chafe-free.
Baleaf offers these athletic shorts in a selection of colors that range from vivid purple and orange to a more subtle navy or grey. Compared to other similar running shorts available, these are relatively well priced, making it affordable to purchase more than one pair.
We gave them a try to see how they felt and were left impressed. The shorts offer a wide leg and a split design that provides an excellent range of motion. The only downside to these is that the liner is a vibrant white and stands out quite a bit against the rich colors of the shorts for a not-so-discreet look.
Key features
Baleaf makes these shorts from a lightweight stretch material that sees a blend of polyester and spandex. This stretch, combined with the split leg design of the shorts, makes it easier for athletes to move about as they go about their sports.
The fabric is breathable and wicks away sweat and moisture to keep you cool, dry, and free from dampness and irritation.
An elastic waistband is designed to ensure your pants stay up and in place without being overly tight and uncomfortable.
Reflective designs on the sides of the legs ensure you remain visible to motorists no matter what the visibility on the road.
At the waist, you will find an interior drop pocket large enough to hold a few coins and possibly a driver's license.
Pros
The pocket is ideal for holding smaller items
The inseam prevents the shorts from riding up
The boxer-brief design is very comfortable
Cons
Do not come with a zip pocket or rear pocket
Things to Consider When Buying The Best Running Shorts for Men
1. Style
When buying a pair of running shorts, you will find three different styles from which to choose. The style dictates the fit of the shorts, length, and leg seam.
These shorts, not to be confused with V-Notch shorts, feature an outer panel of the pant leg overlapping to create a V-shape in the seam. These allow you to move more freely while offering greater coverage of the leg. In addition, a much shorter inseam prevents the shorts from riding up.
These shorts offer a snug, tight fit, look a lot like cycling tights, and are designed to improve circulation and blood flow to the muscles. These shorts come in various lengths and offer differing inseams. In addition, compression shorts are made from a stretch fabric that allows for a greater range of motion.
These shorts get their name from the inverted V cut out of the outer leg seam of the shorts. They usually feature a wider leg and a short inseam and are generally made from nylon. Easily one of the most popular styles of running shorts, these are favored by some of the best women and men in athletics.
2. Inseam
The inseam of your shorts usually comes down to personal preference. A longer inseam offers more coverage, making running shorts with this inseam style better suited to trail running. A shorter inseam allows for a greater range of motion and prevents the shorts from riding up, making these better suited to performance running and race days.
When looking for the best running shorts, there are several things to consider. Giving thought to the brand, durability, inseam length, features, fabric, and quality will all put you a step closer to finding the athletic shorts that most suit your needs.
By closely examining and testing each of the best running shorts for men in this review, we concluded that they each meet the criteria discussed above, making it simpler to find the best running pants to meet your sportswear needs.