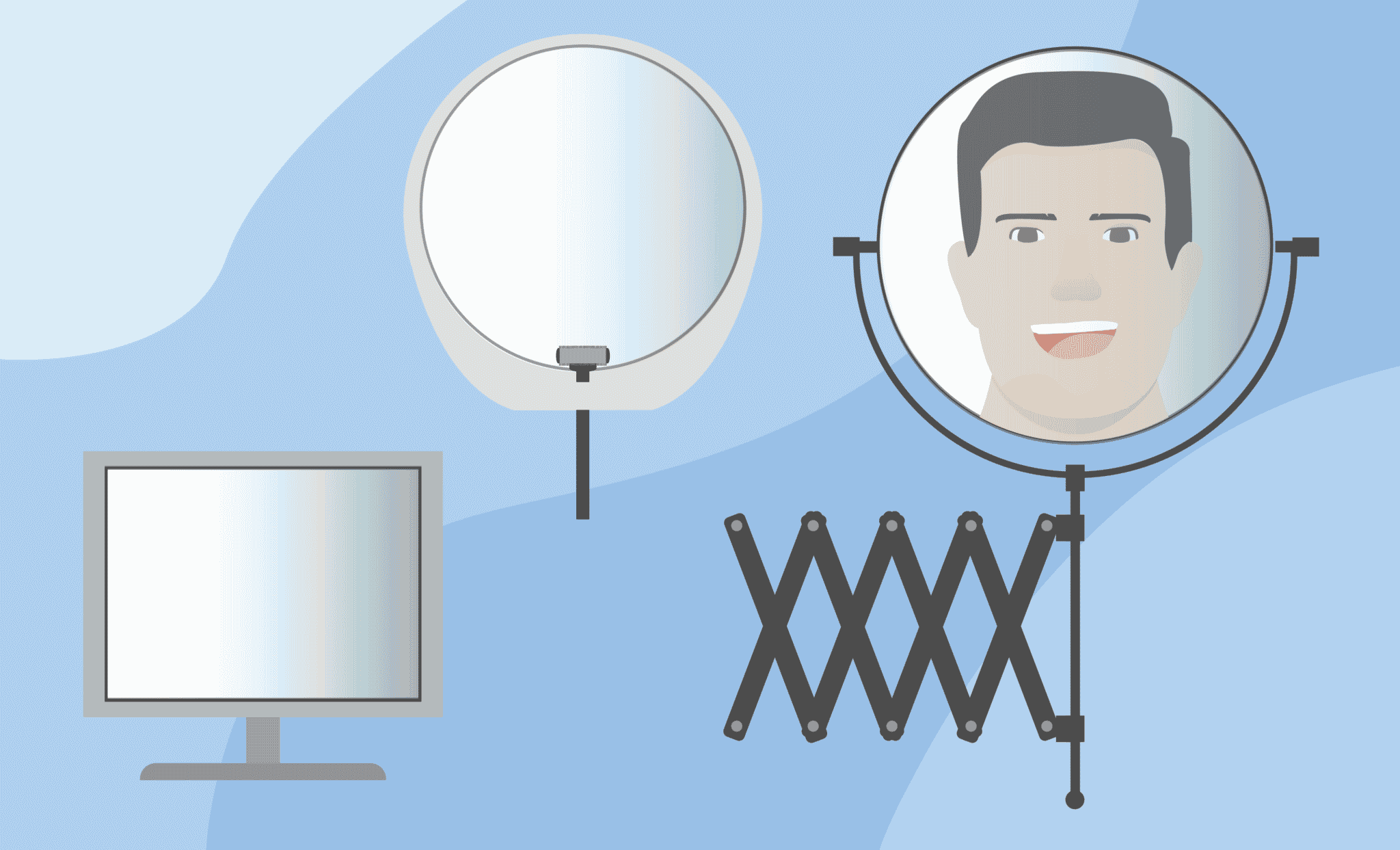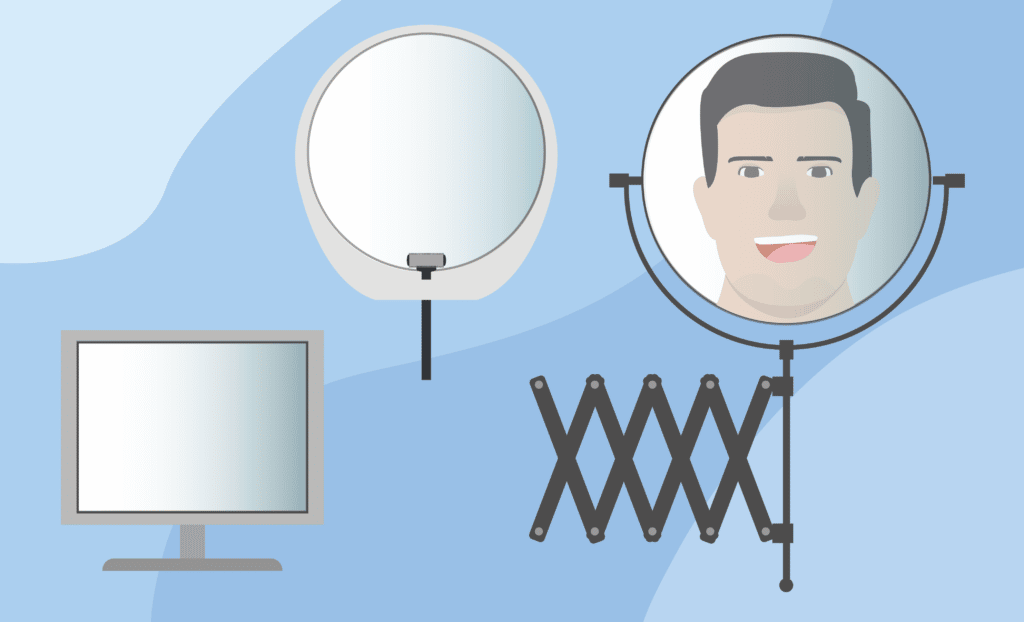 Stepping into the shower before you start your day can be refreshing. But, it can turn frustrating in a matter of minutes if you shave blind in the shower – cuts, nicks, and razor burn, not to mention missed patches and an uneven finish means it takes longer to complete your morning routine.
The best way to avoid this altogether is by installing a fogless shower shaving mirror. These fog-resistant mirrors allow you to see what you are doing without steaming up, making tweezing and shaving in the shower effortless.
Unfortunately, not every fog-free mirror is made equal. To make it less challenging for you to find the fog-resistant mirror best for you, we gathered together the best Amazon offers and reviewed each of them. Let's take a closer look!
Best Fogless Shower Mirror
We tried and tested multiple fogless shower mirrors from Amazon and concluded that these five are the anti-fog mirrors for easy shaving in the shower. We used the approach to chat to men about what they looked for in a high-quality fogless shower mirror and collected together the ones from Amazon that ticked these boxes. We then reviewed each of them. Our evaluation of each was based on the following criteria: ease of installation, fog resistance, ease of use, style, and durability.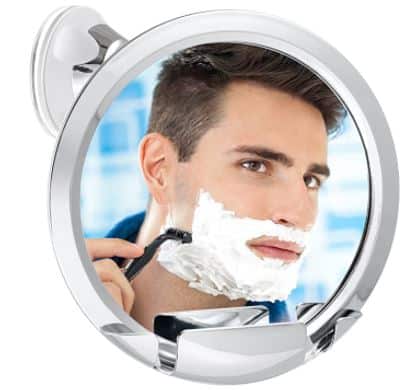 Asani is a versatile brand that offers luxurious products for the home and personal care. You will find a wide selection of premium products that range from elegant kettles and gleaming faucets to curling irons and hair dryers.
Our favorite product from this stylish brand is the Asani Shatterproof Fogless Shower Mirror with Built-in Razor Holder. This handy mirror is simple to install and adds a dash of glam to any bathroom.
Specs
Comes with an adjustable arm and offers 360-degree swivel rotation
Includes a shatterproof and rustproof design
Uses a water reservoir system
Installs with a large suction cup
Who is it Best for?
If you would love to have a fogless mirror in your shower but you're not willing to go through the hassle of using a drill to install one or apply sticky adhesive to your new shower tiles, this mirror is for you.
Asani designs this mirror to offer a quick and straightforward installation. The mirror comes with a large and highly functional suction cup that allows you to position your mirror anywhere in your shower in just a matter of seconds. Better still, these suction cups also make it easy to remove the mirror should you wish.
Interested to see whether the suction cups actually hold the mirror in place, we bought one and tested it out. We weren't disappointed, the mirror held, and it offered exceptional fog-free reflections. The only downside? It works with a water chamber that needs emptying after each shower.
Key features
Asani makes this versatile anti-fog mirror from rustproof and shatterproof materials, ensuring its longevity and safety for use in the bathroom.
The mirror features a unique water chamber that will need to be filled with hot water before each shower. The heat that comes from this water raises the mirror's temperature, making it the same as that of your shower. This simple science prevents the mirror from misting up, leaving you with a clear reflection throughout your shower.
Emptying this reservoir needs doing after each shower, and the handy 360-degree rotation of the arm allows this to be done with ease.
The adjustable arm makes it easy to angle the mirror so that you can easily see what you are doing and capture optimal lighting to make it easier to get a good shave.
Pros
The fog-free design works remarkably well
The mirror is the ideal size
The swivel function is handy
Cons
The water chamber needs emptying after each use
The suction cups work best with silicone adhesive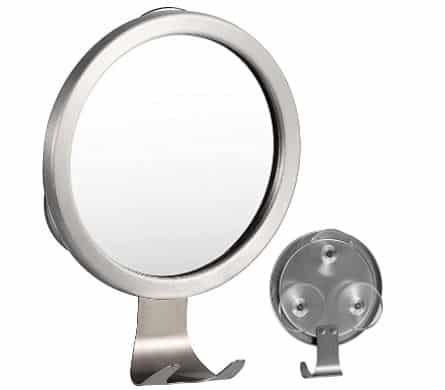 MGLIMZ is a brand that focuses on the design and production of beauty and grooming tools. The brand offers everything from eyebrow stamping kits to foot files and even magnification makeup mirrors. Each product is made using premium materials and features sleek and elegant designs.
The MGLIMZ Fogless Shower Mirror with Suction Cup and Razor Hook caught our eye with its minimalist design and easy installation.
Specs
Features an anti-fog coating
Installs with a powerful suction cup
Includes a razor hook
Made from aluminum alloy
Who is it Best for?
If you're looking for a sleek and minimalistic fogless shower mirror, this one may be the solution you need. It features a contemporary round shape that compliments the shape of your face, making it easier to achieve an even shave in the shower.
Compared to other mirrors on the market, this easy-to-install looking-glass is inexpensive and won't break the bank.
Impressed with the overall design and cost, we decided to try it out and see whether the durability and functionality matched the look. The mirror adheres to the shower wall with a large suction cup. Unfortunately, the suction cup does not adhere to all surfaces, as we soon found out. The fogless coating worked exceptionally well and allowed us to enjoy a fog-free shave.
Key features
This anti-fog shower mirror is made from a durable aluminum alloy that is rust-resistant. In addition, the base of the mirror features a stainless steel hook that allows you to hang your razor or washcloth from the mirror.
The mirror adheres to the wall of your shower with a large suction cup. This makes the mirror easy to install, and you can reposition it with ease or remove it entirely and take it with you when you travel.
An anti-fog coating has been applied to the mirror and prevents the mirror from steaming or misting up when you have hot water running in the shower. This leaves you with a clear reflection that makes it easy to enjoy your wet shave.
Pros
The anti-fog coating works exceptionally well
The mirror is simple to install
Cons
The suction cup does not offer a strong suction on all surfaces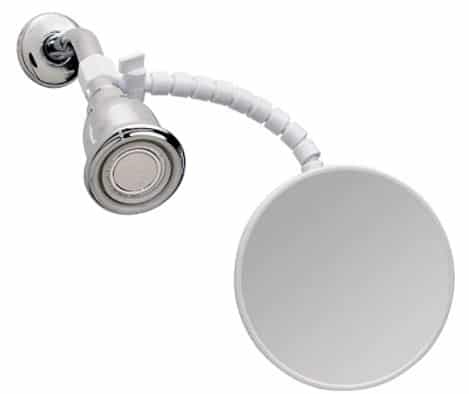 iDesign is an American company founded in 1974. The brand was formed with one goal in mind – to offer customers innovative storage solutions at low prices. Since then, the brand has grown to provide a wide selection of products that help organize your home and give it a dash of glam.
The product that caught our attention is the iDesign – 20301 Fog-Free Shower Shaving Mirror. It offers a unique design that makes installation quick and easy.
Specs
Made from plastic and acrylic
Features an adjustable arm
Clamps to the shower head
Uses a hot water reservoir to eliminate fog
Who is it Best for?
If you want a fogless shower mirror that offers convenience and is easy to use, this mirror from iDesign is precisely what you need. The mirror comes with a unique design that sees it screw onto the showerhead pipe with a connector. This design ensures your mirror remains fog-free while you shower so you can have a wet shave without having to clean your mirror off with a squeegee constantly.
Compared to other anti-fog mirrors, this one is a little more pricey, but not by much. In our opinion, it is relatively inexpensive for the unique design it offers.
We were intrigued by the way the mirror functions and tried it out for ourselves. The mirror is quick and straightforward to install, and the anti-fog function works well, but only when hot water runs through it; it doesn't offer such clarity with warm water.
Key features
iDesign makes this mirror with a plastic frame and arm and a high-quality acrylic mirror that offers a highly reflective surface perfect for shaving in the shower.
The mirror is round and connects to an adjustable and flexible arm that attaches to a connector. This connector attaches to the showerhead pipe. Thus, the arm serves as a pipe that sends hot water from the shower into the water chamber that surrounds the mirror. This hot water then raises the temperature of the acrylic mirror, preventing it from fogging up.
Also included is a hook that allows you to hang your shower accessories and razor from the mirror.
The arm can be adjusted to the angle that best suits you making it easy to apply your shaving cream and have a great shave.
Pros
The flexible arm is handy 
The shatterproof design is safe for bathroom use
Cons
The mirror will fog up unless you use hot water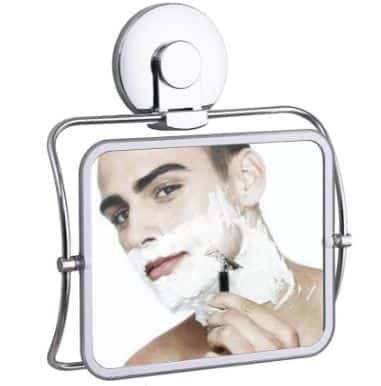 SWAMTIK is a brand that designs and manufactures a wide range of home solutions. From suction cup soap dishes to hairdryer holders and shower caddies, the brand makes products to offer you solutions for your household needs. In addition, each product provides unrivaled style, placing them ahead of your run-of-the-mill home organization systems.
One product that provides exceptional functionality and a dash of style to your bathroom is the SWAMTIK Adjustable Fog Free Shower Mirror for Shaving.
Specs
Installs easily on smooth, flat surfaces
Made from acrylic and stainless steel
Features a double-sided design
The mirror is removable
Who is it Best for?
If you're looking for a fogless shower mirror that you can use when you shave in the shower but that you can just as easily remove and place on your bathroom wall if you feel like a dry shave, this mirror is the ideal solution.
It features a suction cup installation that allows you to attach the mirror to a smooth surface with a simple push; that's all it takes.
While this mirror offers a sleek and stylish design that brings a touch of glam to your bathroom, it is a little on the pricey side.
We wanted to see if the mirror was worth the higher price, so we bought one and tried it. We found that the anti-fog coating didn't function optimally but that the suction cup has a staying power that impressed us.
Key features
This durable mirror is made from a stainless steel frame and a reflective acrylic mirror. The stainless steel is resistant to rust and corrosion, and both the metal and the acrylic are shatterproof, making the mirror safe to use in the shower.
The mirror is double-sided and features a 360-degree swivel function that allows you to angle it to best suit your needs.
An anti-fog coating prevents the mirror from steaming up while you are showering and applying your skincare.
The mirror is straightforward to install. It attaches to smooth surfaces such as a tiled shower wall, glass, and metal. This mirror is easy to remove from surfaces, too, and leaves no residue to clean up.
Pros
The mirror is quick and easy to install
It is easy to angle to suit the lighting
Cons
The anti-fog does not work as well as we had hoped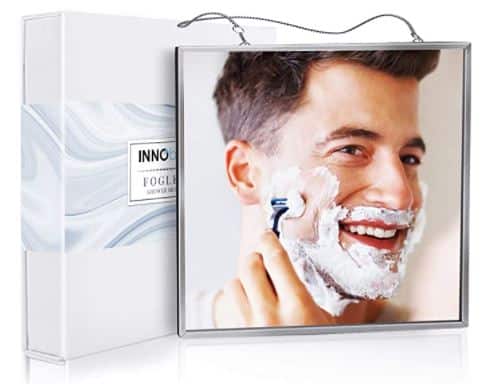 InnoBeta is a brand that focuses on the design and manufacture of a wide selection of products for household appliances, kitchen supplies, and bathroom gadgets. InnoBeta prides itself on using the latest innovation and technology to craft its products, leaving you with durable and stylish solutions to make life simpler.
The InnoBeta Shatterproof Anti-Fog Shower Mirror for Shaving is one such product designed to make your morning grooming routine quick and hassle-free.
Specs
Made from shatterproof glass and stainless steel chains
Sees an anti-fog coating
Hangs from a hook or from your shower curtain rail
Features a durable EVA backing
Who is it Best for?
If you want a fogless shower mirror that requires no installation at all, is easily removable, and that can be packed in your bag for travel, this mirror makes an excellent choice.
InnoBeta's mirror comes with a rust-resistant stainless steel chain from which to hang it. You can hang it on the shower wall from a hook or suspend it from the shower curtain rail. While this makes life easier in terms of installation, it comes with a downside; the mirror is not sturdy and moves about while trying to shave.
When testing the mirror out, we also found that you have to repeatedly splash it with hot water to prevent it from fogging up, but the mirror works well once it is warmed up. In our opinion, it is great for travel but not necessarily for daily use.
Key features
This mirror from InnoBeta is made from shatterproof glass instead of plastic that often ends up leaving you looking warped and blurry. Surrounding the glass is an EVA frame that won't rust, corrode, or shatter, making this mirror safe for use in the bathroom. In addition, if you drop it, it won't cut your feet or splinter on the floor.
The mirror features an anti-fog coating that is activated when the mirror is splashed with hot water. This hot water warms up the mirror and prevents condensation from forming.
Two stainless steel chains accompany the mirror. These chains are resistant to rust and corrosion. In addition, they allow you to hang the mirror from a hook or rail in the bathroom. Alternatively, you can prop the mirror up on your bathroom shelf or vanity.
Pros
It requires no installation
The mirror is highly reflective
It looks great in the bathroom
Cons
The mirror moves about and needs repeated splashing 
Things to Consider When Buying an Anti-Fog Bathroom Mirror
1. Anti-Fog System
When choosing a fogless shower mirror, one of the aspects to consider is the anti-fog system the mirror uses.
A mirror with a water chamber is filled with hot water before you shower. This hot water raises the temperature of the mirror and keeps it stable. The heat prevents condensation from forming on the mirror, keeping it fog-free. A downside to this feature is that the water reservoir needs to be emptied after each use to prevent mold.
Anti-Fog coating works by preventing condensation from forming on the mirror. Some of these coatings require that you splash the mirror to warm it up and activate the layer. While this is simpler than emptying out a water chamber, repeatedly splashing the mirror isn't very pleasant.
2. Installation
The installation of the mirror is something you will want to consider. Not everyone wants to drill a hole in their shower tiles, and others have stone cladding inside their shower that isn't conducive to suction cups. A hanging mirror works well unless you bump it. One of the more accessible and more common installation methods is a clamp that attaches to the showerhead. Either way, you will need to give thought to what style of installation suits you best. Here is a list of the installation styles:
Hanging
Suction Cups
Drilling
Silicone Adhesive
Showerhead Clamp
When looking for the best shower mirror, there are several things to consider. Giving thought to the brand, durability, antifog properties, rust resistance, style, and quality will all put you a step closer to finding the shaving mirror that most suits your needs.
By closely examining and testing each of the best fogless shower mirrors in this review, we concluded that they each meet the criteria discussed above, making it more simple to find the best shower mirror to meet your grooming needs.