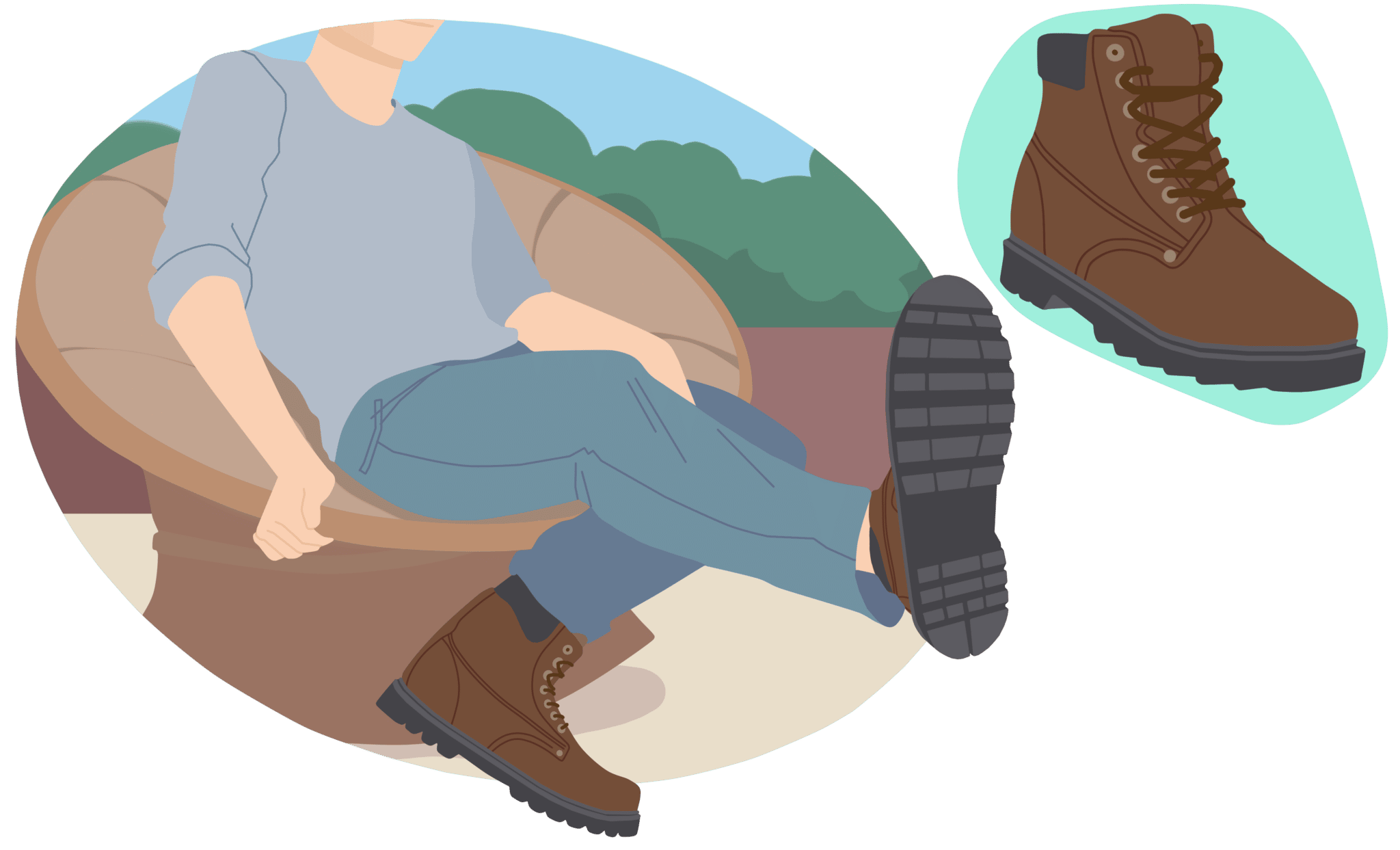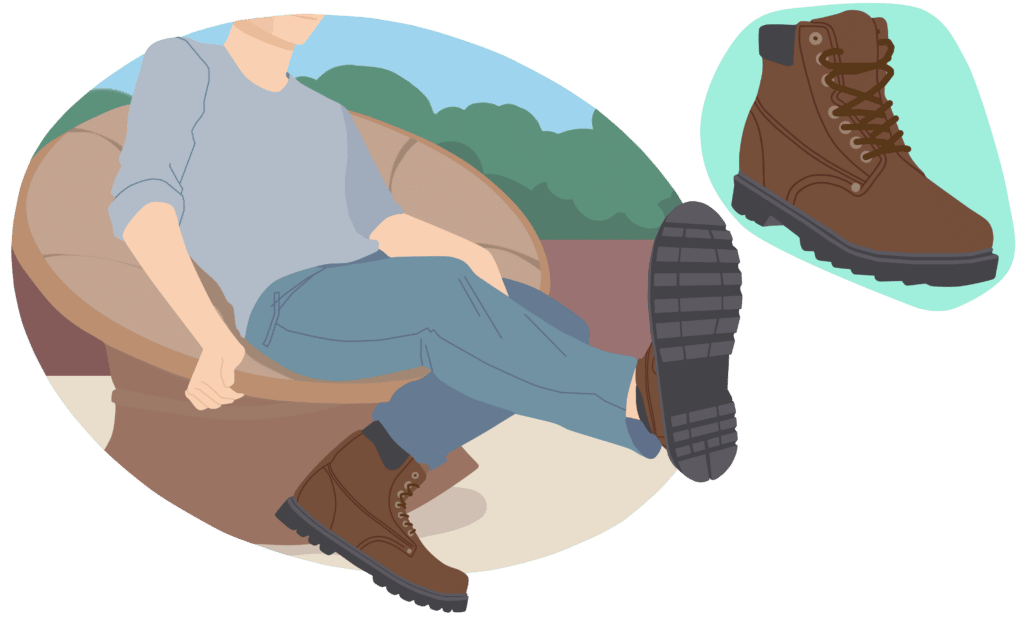 Workmen are sturdy, robust individuals who often look as though nothing could cause them harm with their rugged dress and burly looks. However, they need protection just as much as a diver would need an oxygen tank, whether they work in construction, in the lumber industry, or on a farm.
A hard hat and a safety vest are great, but workmen need something a little more durable to keep their feet protected. Enter the steel toe safety boots. These shoes are fitted with a steel toe box that covers the tarsals and metatarsals (foot bones and toes), protecting your feet from any heavy objects that may land on them. A good safety boot will also offer a firm, comfortable fit, and sufficient support.
Unfortunately, not all steel toe boots are made equal, so we have gathered together the best Amazon offers and reviewed each of them. We hope these reviews make it a little less challenging for you to find that perfect pair.
Best Steel Toe Work Boots
We tried and tested multiple steel toe work boots from Amazon and concluded that these eight are the best safety shoes for wear on a construction site or by a logger. We used the approach to chat to men about what they looked for in a high-quality pair of work boots and collected together the ones that ticked these boxes. We then reviewed each of them. Our evaluation of each was based on the following criteria: the effectiveness of the steel safety toe, durability, shock absorption, functionality, and fit.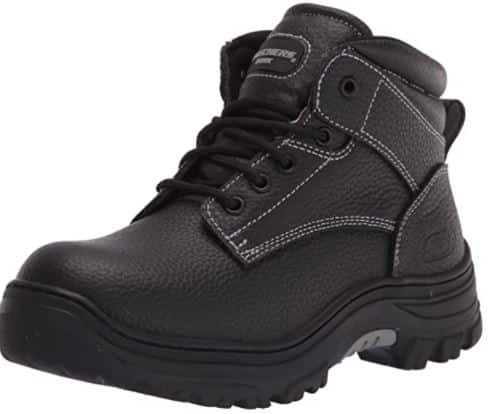 Skechers is an American brand founded in 1992. The brand focuses on designing and producing lifestyle and activewear shoes and employs innovative comfort technologies to add an edge to its footwear. This edge seems to have worked because today, Skechers is the third leading athletic footwear brand in the USA.
We took a look at the Skechers Men's Burgin-Tarlac Industrial Boot and knew instantly these shoes had to form part of the review with their sturdy design and sleek style.
Specs
The boots offer electrical hazard protection
Includes a rubber sole
Features a full-grain leather upper
Comes with a memory foam insole
Who is it Best for?
If you are looking for a sturdy pair of work boots that are made to keep your feet warm, dry, and well protected from an assortment of hazards, you may want to look a little more closely at these shoes from Skechers.
The boots feature a sleek matte black design and pair well with any uniform, be it jeans and a work shirt or company overalls.
Compared to other steel toe workboots on the market, these are reasonably well priced, coming in at only a few dollars more expensive than most; impressed with the price, we ordered a pair to see how they fit and what level of protection they offered.
We were left impressed with the spacious toe box, something you battle to find with steel toe boots and with the lightweight design of the shoe. However, an area Skechers could improve on is the way the back of the shoe chafes against the heel.
Key features
Skechers makes these work boots with thick full-grain leather that is water-resistant and highly durable. In addition, the leather softens with time to fit your feet perfectly, leaving you with a boot that feels as though it was custom-made for you.
A steel toe insert provides exceptional protection, which, along with the electrical hazard protection they offer, makes them perfect for wear on any job site.
The robust rubber outsole offers a sturdy grip and a slip resistance that makes the shoes perfect for wear in any weather. In addition, a memory foam insole provides cushioning and support that leaves you feeling as though you are walking on air.
These safety boots feature lacing as the closure that sees a set of thick laces that fasten through a series of eyelets.
Pros
These boots are very lightweight
The leather softens nicely with time
Cons
Tends to chafe the back of the  heel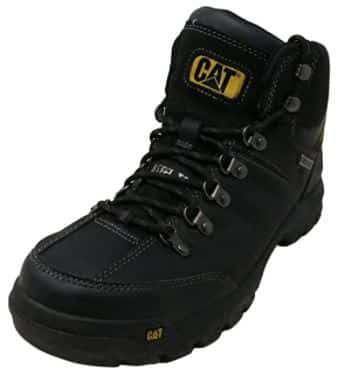 Caterpillar, an American Fortune 100 corporation, was founded in 1925. For nearly 100 years, the brand has designed and manufactured machinery for the mining and construction industries, along with diesel and natural gas engines, turbines, and locomotives. Caterpillar prides itself on using innovation and technology and today is the world's leading brand in its field.
What you may not know is that Caterpillar also produces a range of workwear and apparel, such as the Caterpillar Men Threshold Waterproof Steel Toe Industrial Boots.
Specs
Features 100% leather upper
Includes a rubber sole
Sees a waterproof membrane
Comes with a steel toe
Who is it Best for?
Whether you work in construction or logging, on a farm, or the docks, you're going to need a pair of sturdy protective footwear that offers durability and waterproofing. This pair of steel toe industrial boots from Caterpillar may be the shoes you need.
The boots are robust, stylish, and made to withstand all that you can throw at them. While these boots are a little on the expensive side, you can be sure that Caterpillar delivers the high quality and protection you need in a good pair of protective footwear.
We tried out Caterpillar's industrial boots and found them to offer exceptional comfort. After wearing them for four months straight, we can attest to their durability, too, making them well worth their cost.
Key features
Caterpillar has these premium leather work boots made at gold-rated tanneries that ensure that the leather and the construction of the shoes are nothing short of perfect. In addition, the full-grain leather uppers are abrasion-resistant, durable, and breathable.
These boots provide full waterproofing that includes sealed seams for all-round water protection.
A slip-resistant outsole surpasses the ASTM standards for grip on a low-traction surface, making the boots ideal for wear in slippery and wet conditions.
Instead of using standard EVA, Caterpillar uses an ERGO midsole which is 30% lighter and offers superior shock absorption, providing you with the support and protection for your feet and knees you need while on the job.
These shoes are electrical hazard protection rated to protect the wearer against open circuits up to 600 volts in dry conditions and combined with the steel toe that shields your feet from compression and impact. Together these safety features leave the shoes with ASTM F2413 – 18 rating.
Pros
The boots offer multiple safety features
They offer throughout the day comfort
They meet all the necessary safety standards
Cons
The sole tends to wear out first on these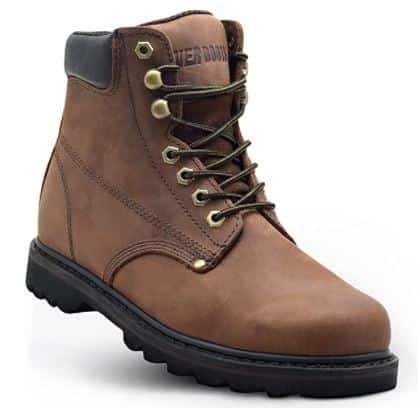 Ever Boot is a brand that focuses on the design and manufacture of a range of work and safety boots. The band released its first design in early 2015 and, since then, has developed a range of safety footwear that includes construction boots, mock toe boots, and steel toe boots.
The EVER BOOTS "Tank" Soft Toe Full Grain Leather Men's Work Boots are based on the brand's first-ever boot design and feature a well-honed and innovative set of features that makes them worth a closer look.
Specs
Made from full-grain leather
Features Goodyear Welt construction
Comes with a durable rubber sole
Includes a removable PU insole
Who is it Best for?
If you're looking for a durable pair of work boots that fit perfectly straight out the box, you need to take a closer look at these work shoes from Ever Boots. The boots are designed so that there is no break-in period necessary, providing you with a comfortable fit and no blisters from day one.
Compared to other steel toe shoes on the market, these are relatively inexpensive, especially for what they offer in terms of features and durability.
We tried them out, and our first impression was of great satisfaction, the fit was great, and the level of comfort these shoes offered is astounding. We continued to wear them all day, every day for six months, and can report back that the durability is unfailing.
Key features
Ever Boots makes these safety shoes from premium full-grain leather. This material is favored by brands for its breathability, resistance to abrasion and water, and how it softens to fit your foot comfortably.
The shoes are constructed using the Goodyear Welt, the sturdiest of construction methods that ensures your boots last longer and provide greater protection.
A tough rubber outsole provides exceptional grip and keeps you on your feet on all surfaces and terrains, no matter how slippery or wet the surface may be. In addition, the removable PU insole offers maximum comfort and support, so you can stay on your feet all day without your feet becoming fatigued and preventing back pain.
Also worked into the design is a steel shank that prevents pressure when climbing down steps and ladders.
Pros
There is no break-in period for these shoes
The speed hooks make the boots easy to lace-up
The insole is removable so you can
Cons
They may be narrow for some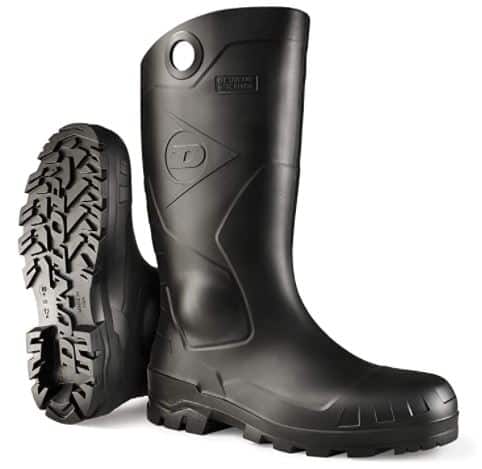 Dunlop is an Irish brand that began when a dad decided to make the wheels of his little boy's tricycle more comfortable to ride on. The pneumatic rubber tire was then patented, and the Dunlop brand was born. Today the brand offers a wide selection of rubber products, tennis racquets, golf balls, and boots.
The Dunlop 8677603 Chesapeake Boots with Steel Safety Toe caught our attention with their unique shape and style.
Specs
Features an ASTM F2413-11 certified steel toe
100% waterproof
Made from durable PVC
Comes with a shock-absorbing BAY-LOC outsole
Who is it Best for?
Whether you work in a fishery, agriculture, or mining, chances are you will need a durable pair of work boots that protect your feet from impact and water. These boots from Dunlop are designed to offer maximum protection while being lightweight and comfortable.
Compared to other boots on the market, these work boots from Dunlop are inexpensive and cost-effective. In addition, these safety shoes offer a range of features that make them well worth their price tag.
Impressed with how little they cost, we gave them a try to see if they offered the protection workers need from their safety shoes. We found them to provide exceptional traction, and they kept our feet dry in all kinds of wet and muddy terrain. However, these shoes are not insulated, and they don't provide the comfort that makes them great for wearing for hours on end.
Key features
Dunlop makes these safety boots from a durable and lightweight PVC. This material is ideal for work boots as it is 100% waterproof. In addition, it keeps out water and dirt, making the shoes perfect for wearing in the field in agriculture, factories, or fisheries. Unfortunately, this material is not breathable, so you will need to wear a good pair of moisture-wicking socks that keep your feet comfortable.
The thick PVC outsoles come with many a lug built into the design. These lugs provide the shoe with excellent traction, making it easy to gain grip in muddy or slippery terrain.
These boots also feature an ASTM F2413-11 certified steel toe cap designed to protect the tarsels and the metatarsal bones in your feet from impact and compression.
Pros
The boots offer excellent traction
They are ideal for fieldwork
The boots are lightweight
Cons
The boots are not insulated and don't breathe well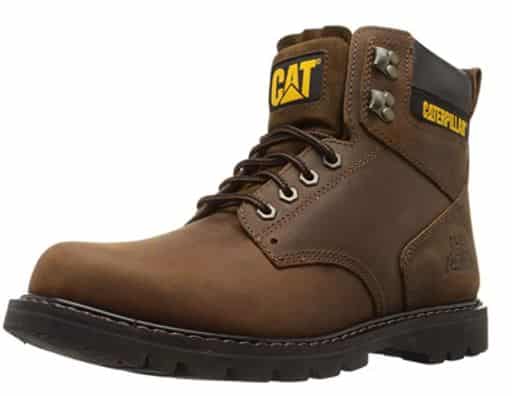 While Caterpillar is predominantly a brand specializing in the design and production of world-class mining and construction machinery, natural gas and diesel engines, and diesel-electric locomotives, it also produces premium apparel. The brand makes its mark in multiple arenas by offering a wide selection of durable work boots, safety shoes, and other clothing and accessories.
The Caterpillar Men Second Shift Steel Toe Work Boots is one of the brand's best-selling footwear, and we wanted to find out more about what these shoes had to offer.
Specs
Comes with an oil-resistant outsole
Includes a steel shank for added support and durability
Made from 100% leather
Features a steel toe that offers the highest strength rating for impact and compression
Who is it Best for?
As per regulation, men who have jobs that see them working on-site, whether in construction or logging, need to have a pair of robust safety shoes as part of their workwear. These shoes are designed to protect their feet from compression or impact from falling trees or building materials. The boots also offer traction and support around the ankles to prevent injury on slippery or muddy surfaces. If you need a pair of work boots that offers these attributes and more, these boots from Caterpillar make an excellent choice.
These work shoes from Caterpillar are a little pricier than other safety shoes on the market; however, the durability, premium materials, and expert construction that goes into creating them make the shoes well worth their price tag.
After trying them out for a few weeks, we found them to be a good fit, comfortable, and supportive.
Key features
Caterpillar makes these shoes from durable Nubuck leather that offers exceptional breathability. Because this leather is oil-treated, it is water-resistant but still breathable, allowing air to circulate through the shoe, regulating the temperature of your foot to prevent overheating.
The Climasphere insole is breathable and soft, but if you need greater arch support, you can always replace them with your own orthotics. An engineered nylon mesh lining adds to the shoe's breathability, while an added steel shank improves the stability and support offered.
The T3 rubber outsole equips the boots with exceptional grip and traction, making them slip-resistant no matter what terrain you traverse. Constructed with a Goodyear Welt, these shoes offer remarkable durability.
The boots are safety rated and offer both a steel toe cap and electrical hazard protection, keeping you safe no matter where you go.
Pros
They are exceptionally durable
They are comfortable for people who have flat feet
You can replace the insoles
Cons
The traction could be improved upon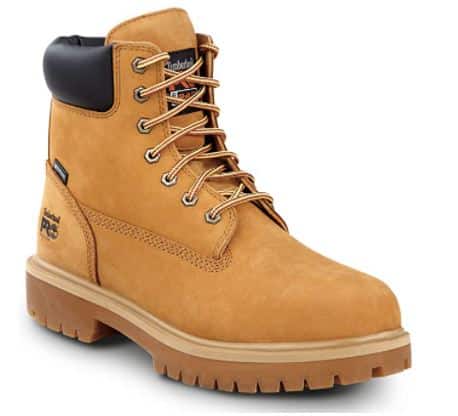 Timberland starts its story in 1952 when founder Nathan Swartz bought a shoe company and relocated it to Newmarket in New England, a location known for its mountains, rocky shores, blizzards, and forests. To make it easier for adventurers to traverse these varying terrains in comfort and style, the shoe company produced a shoe-in 1972, called the Timberland, and that is where it all began.
Today, the brand offers a wide selection of apparel, footwear, accessories, and workwear. One product that caught our eye was the Timberland PRO Men MaxTrax Slip Resistant Waterproof Work Boots.
Specs
Includes a slip-resistant outsole made from TPU
Uses MaxTrax tread for improved traction
Features waterproof Nubuck leather uppers
Comes with Timberland PRO 24/7 comfort to combat foot fatigue
Who is it Best for?
If you work on a site that requires you to be on your feet most of the day, or you work in a setting that often has slippery or uneven terrain, these work boots are for you.
Timberland designs these shoes to provide exceptional traction and support, making them comfortable to wear all day without developing foot fatigue and a sore back.
Compared to other work boots on the market, such as those from Ever Boots, these are expensive. However, we wanted to see if they were worth their reasonably steep price tag, so we bought a few pairs and tried them out.
While we found the design and features these boots offer impressive, the fit was somewhat lacking. Unfortunately, the fit is rather on the snug side, which may lead to chafing and cramping of the toes.
Key features
Timberland makes these boots with a waterproof Nubuck leather upper that offers breathability and comfort while keeping your feet dry and warm. The breathability this material offers helps regulate the temperature of your feet, keeping them from overheating and becoming sweaty.
A breathable and moisture-wicking lining combines with thermolite insulation to provide you with unrivaled comfort and reduce foot fatigue. In addition, the polyurethane midsole offers additional support and shock absorption.
The TPU outsole features the patented SR Max MaxTrax slip-resistant tread design that ensures the shoes are slip-resistant and highly durable.
Timberland includes an ASTM F2413-18 M/ I/ C EH compliant steel toe cap that protects your toes and foot bones from impact and compression.
The shoe features a waterproof construction in the form of sealed seams to ensure your feet remain dry and warm.
Pros
The traction is excellent
The insole helps prevent foot fatigue
Cons
The sizing is a little on the small side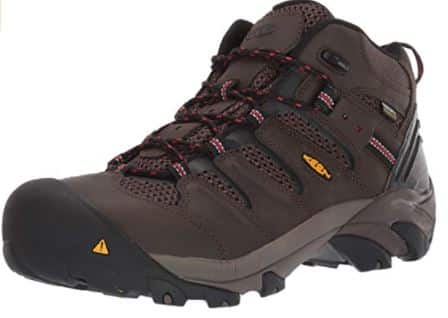 Keen Footwear is a family-owned brand that specializes in the design and manufacture of hybrid footwear. The brand places great emphasis on sustainability, durability, and functionality. Offering a wide selection of shoes for men, women, and children, Keen Footwear also provides a wide selection of shoes, from sandals and hiking boots to winter shoes and work boots.
It was the KEEN Utility Men's Lansing Mid Steel Toe Waterproof Work Boot that we wanted to find out more about with its hiking-shoe style and sleek looks.
Specs
Features roomy and anatomically correct steel toe boxes
Oil-resistant and slip-resistant
Includes a waterproof membrane liner
Comes with lug sole patterns for impressive traction
Who is it Best for?
If you're looking for a pair of safety boots that wear similar to sneakers, you may want to try a couple of these work shoes from Keen Utility. The boots come with a lace-up closure and feature a rugged design that makes them ideal for a range of uses.
The shoes, compared to others that are similar in style and functionality, are expensive. Interested in finding out whether the boots were worth the high asking price, we tested them out.
The boots offer excellent breathability and are exceptionally comfortable to wear. We wore them over an extended period and tested them out for day-long stretches. Not only did these shoes offer durability but comfortable enough to wear them all day long without causing aching feet and fatigue. The downside to these is that the laces were flimsy and needed replacing after a few wears.
Key features
Keen Utility makes these shoes from durable waterproof leather that is breathable and will, with time, shape to fit your feet perfectly. In addition, the boots come with a moisture-wicking mesh lining that helps keep your feet dry, comfortable, and free from sweat. Added into the shoes is CLEANSPORT NXT, Keen Utility's proprietary probiotic-based technology designed to eliminate the odor-causing bacteria that comes with sweat, ensuring your feet remain smelling fresh. A waterproof liner prevents water and liquids from seeping in but allows moisture to evaporate out.
The design includes a TPU shank for added stability and support and a rubber sole that comes with a lugged design for added traction. This sole is also oil-resistant and non-marking.
When it comes to safety ratings, this shoe meets the safety standards for both the steel toe and the electrical hazard underfoot protection.
Pros
The toe caps are very comfortable
No break-in period needed
The waterproofing is impressive
Cons
The laces are flimsy and not very durable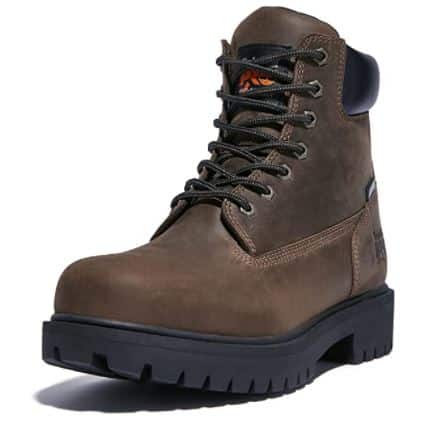 The shoe company that ultimately became Timberland was founded in 1952, with the first iconic Timberland shoe only being released in 1973. The brand focuses on designing and manufacturing footwear and apparel made predominantly for use in the wilderness or working environments.
We came across the Timberland PRO Men Direct Attach Steel Safety Toe Insulated Work Shoe and wanted to see how this stylish set of work boots held up under harsh working environments.
Specs
Comes with a rubber lug sole
Features anti-fatigue technology
Made from 100% leather
Comes with a steel toe
Who is it Best for?
If you want comfortable work boots that offer exceptional protection and prevent foot fatigue, you want to give these shoes from Timberland a try. These shoes are designed specifically to provide you with comfort that allows for extended wear throughout the day.
Timberland's boots are a little pricey compared to other safety boots on the market. We tested them out to see if the old adage of "you get what you pay for" rings true and whether they were, in fact, worth the asking price.
In our opinion, these safety shoes offer exceptional comfort and excellent insulation. They fared well in cold outdoor climates, keeping our feet toasty and preventing fatigue. In addition, the waterproofing stood up well to the wet surfaces we presented the shoes and left us dry feet. The only downside to these boots is that the sizing is slightly off.
Key features
Timberland makes these shoes from durable and waterproof leather. Although this leather keeps water out, it is highly breathable, regulating the temperature of your feet and preventing them from overheating and becoming sweaty.
A thick layer of insulation lines the shoe and footbed, providing you with comfort and warmth in the colder months.
Designed with a shock-absorbing geometrical design, the shoes feature Timberland's unique anti-fatigue technology that makes it easy to wear the shoe all day without your feet becoming achy and sore.
The rubber outsole features lugs that provide exceptional traction. These soles are also oil-resistant, heat-resistant, and anti-slip, ensuring you can traverse any terrain or surface.
In addition, these boots come with a durable steel toe that protects your feet from impact and compression.
Pros
The durability is impressive
The boots provide all-day comfort
They offer exceptional insulation
Things to Consider When Buying Steel Toe Work Boots
1. Types of Toe Cap Protection
When buying a pair of comfortable work boots, you need to consider the type of protection they offer to determine whether they meet specific safety standards and ensure they keep your feet protected.
Safety boots feature a few different materials used to create the protective toe cap – let's take a closer look:
A composite safety toe is made from materials such as kevlar or fiberglass. It is much lighter than steel and won't conduct electricity, making it great for wear by linemen, electricians, or anyone working in the electrical field. In addition, they are just as safe as steel toe caps and provide exceptional protection in terms of impact and compression.
A steel toe cap is made from steel. They are just as strong as composite toe caps and are, in some cases, even stronger. They come in a wide assortment of shapes and sizes and allow for a little more versatility. They conduct electricity, though, so be sure your shoes are electrical hazard rated if you work in the electrical field.
A soft toe boot comes without a composite or steel toe cap. These are better for light jobs.
2. Style of Shoe
You can buy various types of shoe styles when getting a new pair of heavy-duty work boots, from those that offer dual-density midsoles and ankle-high coverage to those with exceptional waterproofing and calf-high coverage.
You need to consider whether you need a pair that wears more like gumboots or a set that offers more of a hiking boot look and feel.
When looking for the best steel toe work boots, there are several things to consider. Giving thought to the brand, durability, protective toe cap style, features, safety standards offered, and quality will all put you a step closer to finding the safety boots that most suit your needs.
By closely examining and testing each of the best work boots in this review, we concluded that they each meet the criteria discussed above, making it more simple to find the best safety boots or steel toe shoes to meet your workwear needs.