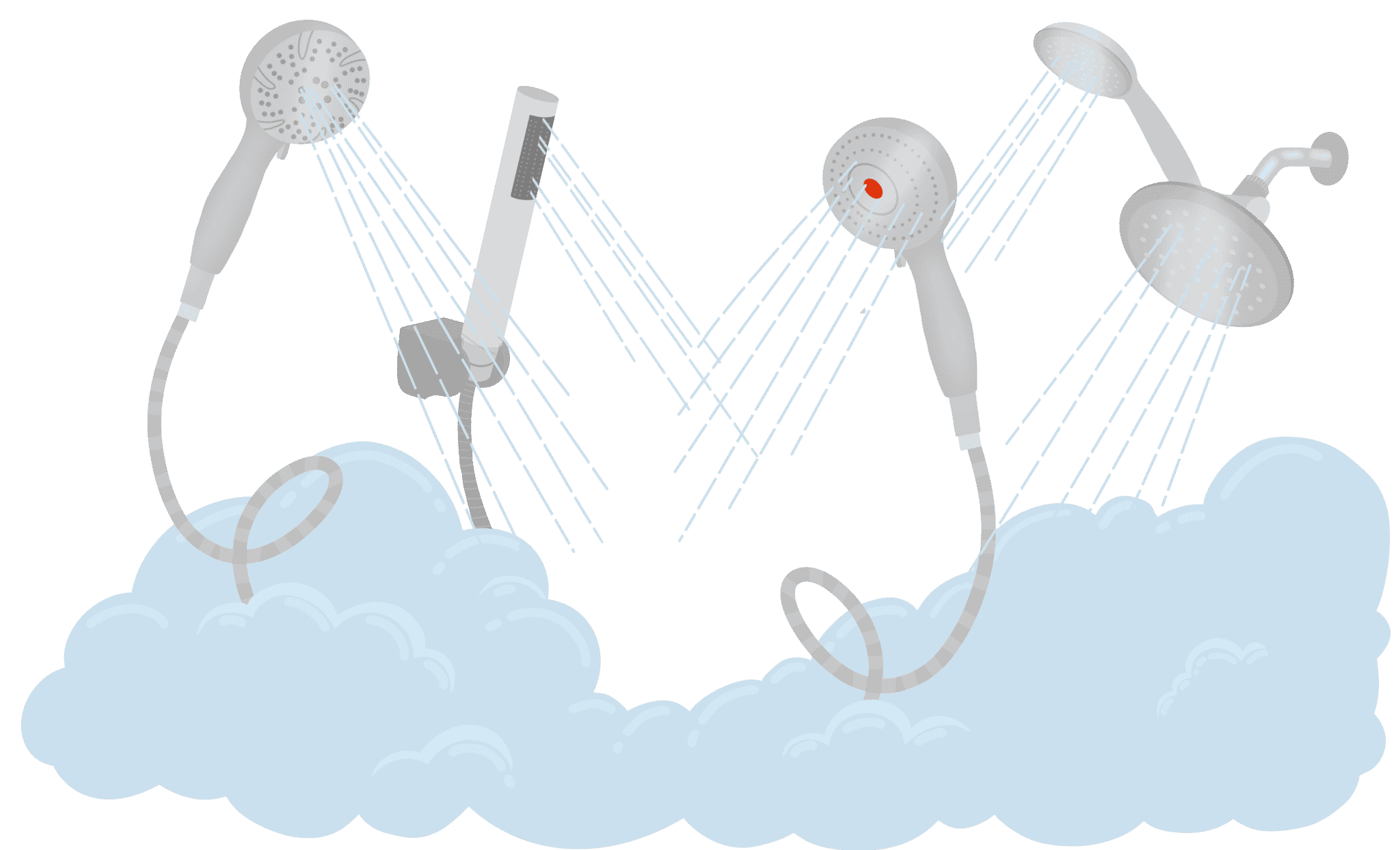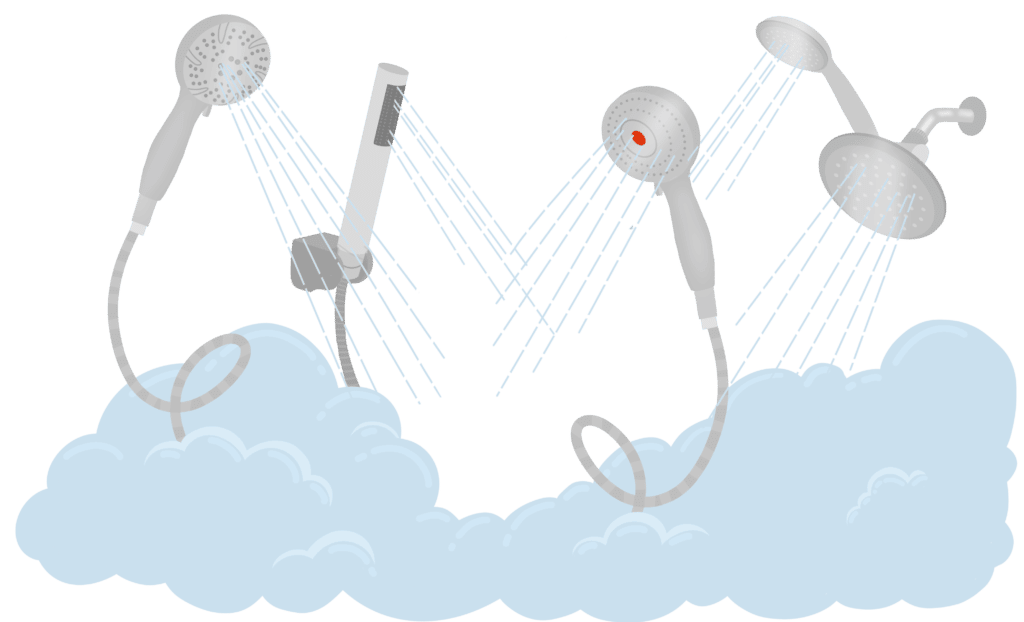 When it comes to showering young children, giving your dogs a wash, or massaging away the tension of the day, nothing quite beats a handheld showerhead. Attempting any of these with a fixed shower head usually ends badly.
A handheld showerhead offers flexibility, versatility, and convenience. They feature a long metal hose that then docks on a mount, so you can use it as a standard shower or as a handheld unit. The best handheld showerheads offer improved pressure and a selection of spray settings.
If you are considering buying one of these useful fittings, then keep reading to find out more about some of the best-rated handheld showerheads available.
Best Handheld Shower Heads
After researching and testing many showers, we put together a list to bring you our handheld shower head reviews. Each of the shower heads that made it onto this list offered more than your average handheld showerhead. Some offer impressive spray settings, while others make installation a piece of cake.
So let's dive in and see what our top picks have to offer.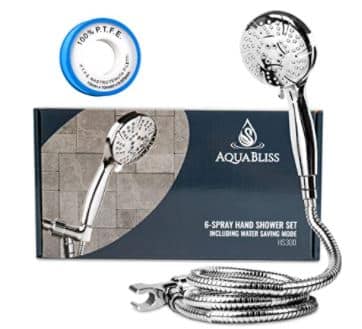 AquaBliss designed their TheraSpa Handheld Shower Head to help wash away aches and pains associated with daily stress. Whether you use it docked in its mount or as a handheld unit to gently massage away tension is up to you.
The TheraSpa comes made from durable materials and offers impressive versatility. AquaBliss promises a spa-like experience with each shower, leaving you feeling rejuvenated and refreshed. To prove their promise right, you will need to try it out for yourself.
Specs
Offers six spray modes
6.5-foot long hose
2.5 gallons per minute flow rate
Made from nickel with a chrome finish
Who is it Best for?
This removable shower head offers the perfect solution for anyone with pets. We all know how difficult it can be to give your dog a bath, especially if they are a larger breed or if they have thick fur. AquaBliss's TheraSpa makes these grooming sessions simple. The extra-long hose allows you to reach all areas of your dog and makes it easier to rinse the shampoo from their fur.
Bathing children becomes a breeze too. Washing hair and rinsing down soapy little bodies is quick and fun with this handheld showerhead.
But, there is the small matter of installation, right? Wrong! This showerhead is so quick and effortless to install that even the most DIY-shy people can have it up and running in minutes. The best part is that AquaBliss includes everything you need to connect this fitting, even a free roll of plumber's tape.
Key features
When it comes to features, the ThermaSpa has many. One of the most impressive attributes is the six spray modes it offers. Choose between a light and gentle rain, mist, rain, and mist combo, a pulsating massage, or rain and pulsating massage blend. For us, the most impressive mode is the water-saving mode. It allows you to save up to 90% on water while adding shampoo to your hair or shaving your legs.
The 6.5-foot long hose that features a 360-degree double rotation and tangle-free design makes life simple. It is perfect for those who need to be seated in the shower, offering independence and dignity.
This remarkable showerhead offers durability too. AquaBliss makes their showerheads from premium material designed to last. This means that once you own one of their showerheads, chances are you won't be replacing it for many years to come.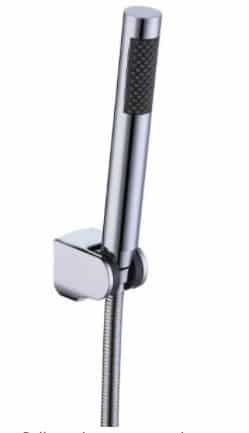 KES is an acronym for the company's tenet of Keep Efficient and Simple. It also happens to be the company name. This ingenuity carries through into their unique Bathroom Handheld Shower Head.
This showerhead sees a sleek, rectilinear shape combined with a simplistic yet elegant finish—a perfect representation of the company's ethos. Made for the contemporary bathroom and those who favor understated design, this handheld shower is certainly one to try.
Specs
Made from 304 stainless steel
Extendable shower hose
Includes an adjustable shower holder
Offers a 360-degree shower connector
Who is it Best for?
Ideal for families that include children and pets, this handheld showerhead comes with an extensive hose. It sits at 1.5-meters and can extend up to 1.9-meters. This extra length makes it ideal for washing the dogs or rinsing shampoo from little people's heads.
If you prefer a sleek, more understated look in your bathroom, then this shower head is your solution. It comes with a polished stainless steel head that sees a rectilinear shape. Minimalistic and elegant, it fits in perfectly with just about any bathroom interior.
And for those who are not a fan of the DIY movement, this showerhead will fast become your favorite fitting. It requires barely any effort on your part to install, and it comes with everything you need to get it connected, plumber's tape included.
Key features
KES's detachable showerhead offers excellent convenience. The shower holder is adjustable so you can angle the showerhead while it is in the dock. Adjust it to better suit kids or adults.
Because the showerhead is made from stainless steel, it is resistant to rust and corrosion. It also is resistant to heat, so you don't need to worry about scalding your hand if you use it as a handheld attachment. The highly polished finish keeps your shower from signs of scuffs and scratches, keeping it looking like new for longer.
The hose offers a tangle-free design, making it simple to use, even by the kids. No more kinks and unsightly bends in your shower hose.
While KES's showerhead only offers one spray setting, it provides impressive pressure. The result? The feeling of a spa-style massage.
Cons
Only offers one spray setting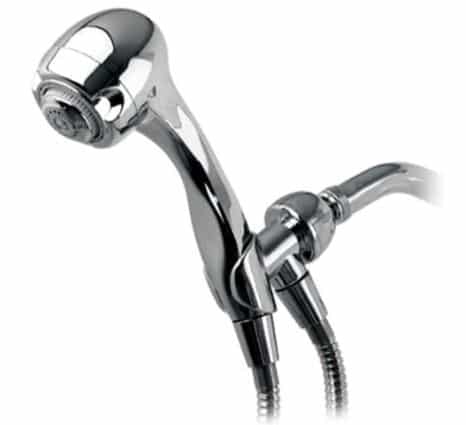 Niagara Conservation has been crafting its unique shower heads for over 30 years. They are known for their affordability and impressive performance. It is understandable then that their Earth Spa is one of the top-rated handheld showerheads on the market.
The versatile design and understated yet polished look leave this shower head as one to try. Not only will it bring a pop of glam, but it will transform your shower experience into a rejuvenating one.
Specs
Includes a 72-inch stainless steel hose
Offers three spray settings
Comes with an internal pressure compensator
Water-saving design
Who is it Best for?
Niagara Conservation's Earth Spa shower head is the perfect match for those who value water and energy conservancy. These unique devices come fitted with a built-in pressure compensator. This means that it takes water from low pressure and converts it to a high-pressure output. The result? A full, correctly pressurized shower.
The Earth Spa does not increase the pressure by having you turn your water up full. It uses a built-in mechanism to create the pressure, so you end up with a more powerful shower without spending more on water or energy.
If anything, you end up saving water and money. Because the pressure is increased, you need less water to get clean and feel great. So you spend less time in the shower and less on water, a real winner in our books.
Key features
Niagara Conservation's Earth Spa offers an increased water pressure without aerating the water. This goes a long way in saving energy. A non-aerated high-pressure showerhead also prevents an increase in humidity within the bathroom. This is ideal for those who live in more humid climates.
The showerhead itself features a nine-jet turbo massage that allows you to adjust the spray setting. Depending on how you're feeling, you can change the spray from a more gentle flow to a more forceful one. There are three spray settings from which to choose.
A two-gallon per minute flow rate further helps keep down the amount of water you use when showering.
This sleek shower head is also low on maintenance. It is self-cleaning and requires you to do absolutely nothing to remove hard-water deposits. It's no wonder people rate this as one of the best high-pressure handheld showerheads around.
Pros
Two gallons per minute flow rate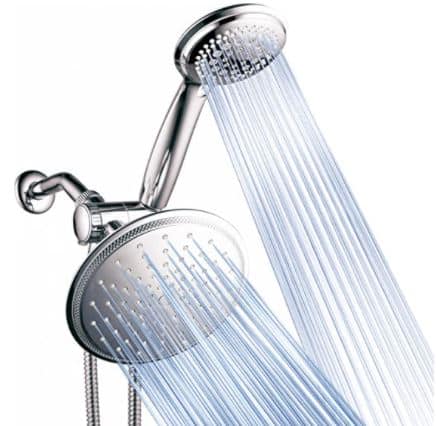 DreamSpa offers us the ultimate shower experience with their Rainfall Dual Shower Head. A combination that gives the best of both worlds, this fitting features a fixed wall-mounted shower head and a second handheld showerhead. If this is not the epitome of luxury, we don't know what is.
These dual shower heads can be used at the same time or individually. Allowing you to set your shower just the way you like it.
Specs
Offers eight spray settings
Features a dual fitted shower head and handheld showerhead
Includes a five-foot stainless steel hose
Gives a flow of 2.5 gallons per minute
Who is it Best for?
If you are a fan of luxury, then this shower head was made for you. It offers all the convenience without compromising on a rejuvenating shower experience. Now you can shave your legs and feel as though you have just stepped out of the spa.
A large fitted, seven-inch diameter chrome face provides a single spray setting. This setting brings relaxation to the fore by giving the feeling you are standing in the rain. Then, it makes sense that people who enjoy a shower in the morning to rejuvenate and awaken love this setting.
Those who prefer a shower with a massaging spray after a long day at the office will enjoy the handheld showerhead. This attachment offers seven various settings.
The versatility this showerhead provides makes it ideal for the entire family.
Key features
When it comes to key features, DreamSpa's dual shower head combo offers them all.
The handheld showerhead offers seven spray settings. These options include a mist right through to a pulsating massage jet.
One that caught our eye is the pause setting. This allows you to pause the water while you shave your legs or lather up your hair with shampoo. This goes a long way in saving you both water and money.
The five-foot-long ultra-flexible stainless steel hose adds convenience. It makes showering while seated a breeze, perfect for elderly people or those who are recuperating from an injury.
It also makes washing the pets quick and easy too.
One of the best parts about this dual shower combo is that while it looks as though it may be a pain to install, it is quite the opposite. It offers a smooth, effortless connection, so even those who hate to DIY anything can get it done.
Pros
Fits any standard shower arm
Cons
Only comes in a chrome finish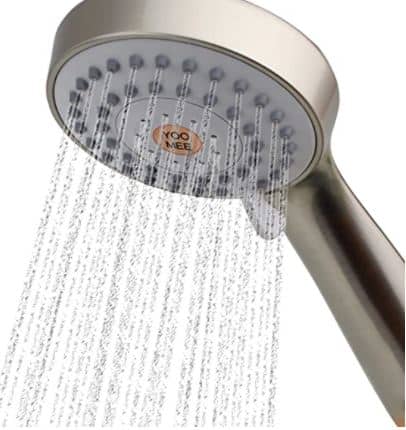 When choosing a shower fitting for the bathroom, there are two things people generally opt for: style and high pressure. Yoo.Mee's High-Pressure Handheld Shower Head gives you both.
Their contemporary brushed nickel finish combined with the rounded shower head gives this fixture an air of elegance. By incorporating this showerhead into your bathroom, you infuse it with a dash of style. But that's not the only reason why this is considered one of the top handheld showerheads around.
Specs
Offers increased water pressure
Includes a 79-inch hose
Features three spray settings
2.5 Gallons per minute flow rate
Who is it Best for?
There is nothing more frustrating than having a shower under a trickle of water. If low water pressure plagues your home, then this shower head is a simple solution. Yoo.Mee uses built-in pressure technology to increase the water pressure that comes out of the showerhead. They do this so that you don't need to turn up the taps to increase the pressure.
Why is this great? It saves you on water and on water bills. And it leaves you with a refreshing, powerful shower.
The 79-inch hose is made from stainless steel. This is ideal for people who replace their shower hoses frequently. Not only will this hose not kink and bend, but it won't rust or corrode either. Shower hoses are not cheap, and regularly replacing them is no fun either, making this shower headset a must-have in your home.
Key features
Shower maintenance is not a chore anyone enjoys. So any shower that requires hefty or regular upkeep is a no-go in our books. Throughout our handheld shower reviews, you will see that none of the shower heads we looked at need much, if any, maintenance—this fitting by Yoo.Mee is no exception.
Soft rubber jet nozzles make it simple to pinch out any build-up caused by the sediment found in hard-water. So no scrubbing, digging or soaking when cleaning this showerhead.
Three spray functions allow you to set your shower to suit your needs. Had a long day at the office? Use the massage option. Need a gentle wake-me-up? Switch it to the powerful rain function. Or, if you're in the mood, there is an option that sees a combination of both.
Pros
Elegant brushed nickel finish
Things to Consider When Buying Handheld Shower Heads
When shopping for a handheld shower, it can be easy to get caught up in style and finishes. While it is essential to take this into account, (because let's face it, no one wants a mismatched bathroom), other factors bear consideration.
Taking each factor into account will help you find the showerhead that works best for you. Let's take a look at the other noteworthy aspects of showerheads:
1. Hose Length
One of the factors you need to consider is hose length. Depending on what you may use your shower for, you may need a longer or a shorter hose length.
If you will be grooming pets, a longer hose is preferable as it offers greater reach. The same goes for showering young children.
Taking into account whether the hose is tangle-free and kink-proof is also advisable if you look at getting a longer hose.
However, if it is just you or adults only, and you're only going to need the hose to help rinse the shampoo out your hair, then a shorter hose would make more sense.
2. Spray Settings
Unless you are particular about one specific spray setting, you may want to look at getting a shower head that offers many options.
Some settings you can expect to find are:
And any combination of the above.
Another setting that is worth taking a look at is the pause setting. This allows you to effectively push pause on the stream of water. A handy option to use while you shave your legs, lather up your hair with conditioner, or shampoo your pet.
Not only will this setting help you get things done more quickly, but it saves you water too.
2. Flow Rate
Flow rate is another thing to consider. This is the amount of water your shower head provides and is measured in gallons per minute or GPM. Your average shower outputs a rate of two gallons per minute. Most handheld showerheads offer a GPM of between 1.5 and two.
A factor that influences the showerhead and the flow rate is your existing water pressure at home. If you have low water pressure, you will need to opt for a low-pressure showerhead. These transform your shower experience as they often come with a built-in mechanism. This technology increases the water pressure coming out of your shower head, leaving you with a powerful shower instead of a trickle.
Handheld showerheads offer convenience and style. They also can transform your low water pressure trickle into a powerful shower experience. When finding the right shower head for you, considering your needs will make a much less complicated choice.
Our top pick goes to DreamSpa's Rainfall Shower Head. This dual combo shower head offers the best of both worlds with a fitted shower head and a handheld one. Who says you always need to choose? Why not have both?