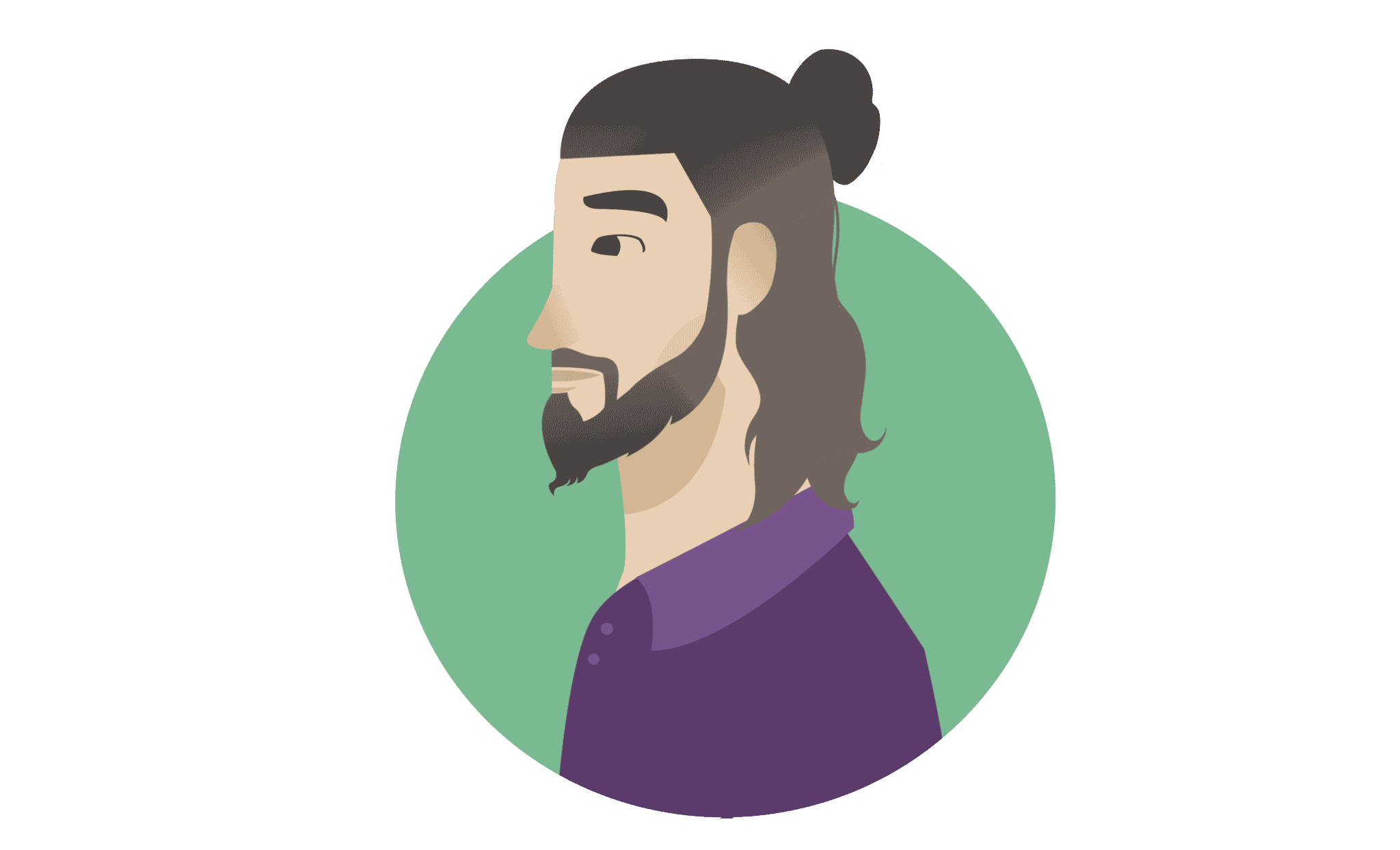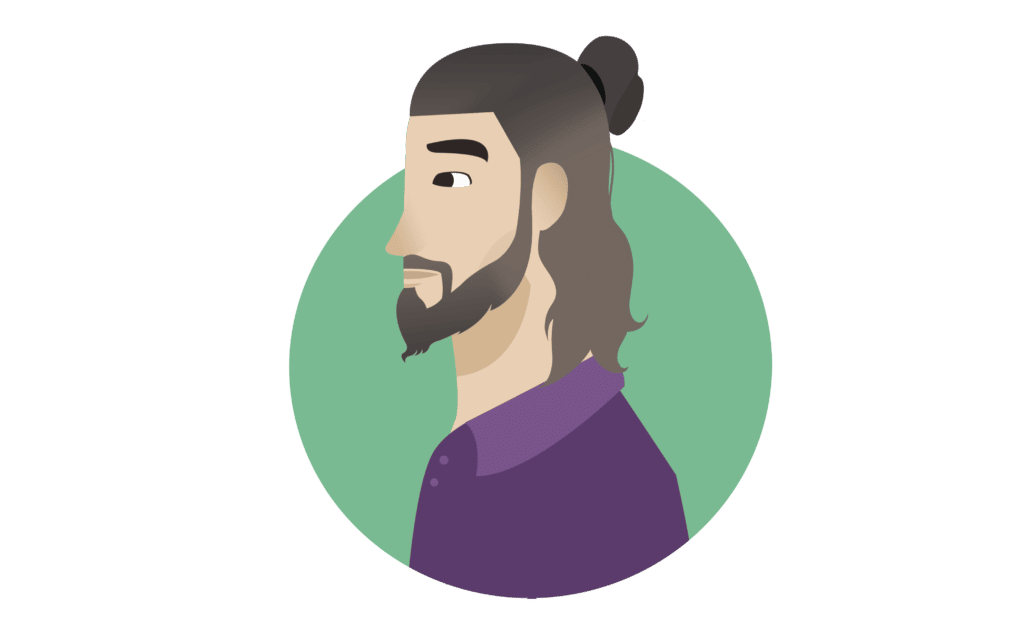 Looking for how to grow a man bun? Then you are at the right source.
A man bun is a type of hairstyle that originated from the far Eastern part of Asia. It is a hairstyle in which the hair is packed to the back and wrapped in a circular form around itself. The hair can be in a twisted or plaited form. The circular roll of hair is what's known as a bun. Celebrities like David Beckham, Jason Momoa (Khal Drogo in Game of Thrones), Orlando Bloom, and Bradley Cooper have been seen rocking this hairstyle.
The process of growing a healthy bun
The most important feature you must possess to do a man bun is long hair. Below are the processes of growing out a man bun.
A good base haircut:
Your base will determine the hair you grow out and how long to grow a man bun. It is good to start growing your hair with a buzz cut where your hair is at the same length. Even most cuts are good foundations for a bun to sit on. If you have long hair at the top, you are on your way to having a nice man bun. If it's the other way around, with a longer length at the back, you may not get your desired result. This is why most people prefer buzz cut where the hairs grow at almost the same rate.
A Healthy Hair:
This is one of the most important parts of growing a man bun. For your hair to grow into the required length for a nice man bun, your hair needs to be healthy through the process. You need to take good care of your hair. Damages occur to the hair through many ways which include rough handling of the hair, blow drying or heated styling gadgets, and rough handling of towels during the drying. This is why you need to go easy on your hair while styling or drying. Reduce the rate and the force at which you comb your hairs. You can read this article on how to get healthy and shining hair.
Reduce the use of Shampoo
You are wondering why we would say such a thing. How will you wash your hair without shampoo? You need to wash your hair and it's good for your health. But do you know what happens when you wash your hair? When you wash your hair with shampoo, you are clearing away the lumps of dirt and the natural oils that are needed by your scalp. It's only when the scalp is in good shape and well-moisturized that it can produce hair efficiently. You can make use of conditioners because, unlike shampoos, they hydrate your hair and give them strength. There are some good shampoos you can use to protect your hair; you can check the list here.
Prepare for Surprises
If this is the first time you will be growing your hair to such length, you may experience some 'funny' things. These things may even let you forget that you are growing your hair for a man bun. The funny moments you may experience include some itchy feeling around the ears, some annoying headaches, and there's still that moment when you feel that your hair is long enough to give a man bun, but it's not yet at such level. Don't feel discouraged, as you will explore more new and interesting experiences on this journey. If your hair is not long enough for a bun, you can try a ponytail. You can catch some fun while still growing out a man bun. Endure those moments and you will enjoy different styles of the man bun.
– Trust the process: Rome wasn't built in a day, remember? The truth is, we can't answer how long does it take to grow a man bun or how long does it take to grow a ponytail. Human beings are different, and what works for John in Brisbane may not work for another John in Gold Coast. It will take time, but people use an average of 6 months to grow a suitable length for a man bun. In the process of growing your hair, you can try different hairstyles with your mane as they grow and explore the waiting period. You will also learn new things about your hair, most especially if this is the first time you are growing long hair.
How to Do a Man Bun by Yourself
There are different styles of man bun but they all have something in common, they are circular. So, to do a man bun, you need to decide the level of hair you want to use for the bun. Then grab the hair you need as some styles don't make use of the full hair like the half-bun. We will be using the full man bun in this section. For the full bun, you need the whole hair. Then, you twist the hair in a direction until you are sure there is no hair left dangling, and then you pin them together with a hair tie, or bobby pins, or pencil.
It is also nice to have some beards to complement your bun. Well, that's not your choice to make. So, it is unnecessary to have beards, but it will love a lot nicer and attractive with beards. Some shining and healthy beards won't spoil your looks. You can check out Jason Momoa in Game of Thrones and appreciate his manly beards. Although it may not appeal to everyone or may not apply to you. If you are looking to enhance the growth of your beards, you can check out some nice beards growing oils here. Here you will find the best growing oils that will help catalyze the growth of your hair.
Different Styles of the Man Bun
After a long period of waiting, now you have your long hair and you don't know the style that you can rock. We are here to tell you about the beautiful styles of man bun we have. Tested and trusted by many people! Man Bun styles can be classified based on two distinct features:
1) The number of buns
2) The position of the bun
Based on the Number of Buns
– Single bun: This is when you have one bun on your head. An example is the full man bun style.
– Double bun: This style is common in Far East Asia, most especially Japan and China. It is also known as pigtail buns. In China, it is called niújiǎotóu while it is called odango in Japan. It's not really hard to notice. It is characterized by two buns. They can be on the two sides of the hair or one is at the top and the other is at the back. This is not common as it requires more hair and it is a nice hairstyle if you want people to gaze at you and marvel at your appearance.
– Triple bun: This bun style is characterized with three buns on your head. This may look difficult, but you can easily do it if the buns lie from the back of your head to the front.
Based on the position of the bun
– Topknot bun: This is created by tying the upper part of your hair into a small bun. This is the style that was common in China in the early years of 200BC. If you are familiar with Chinese or Japanese movies that depict the past, you can't miss this hairstyle on most of the soldiers. If you have seen the movie, Mulan, you would have seen this style on Donnie Yen. The Japanese Samurai warriors loved this style and respect it. This bun style was predominant in the Joseon era of Korea and it is called Sangtu. Gods like Buddha and Shiva had this style of hair. If you decide to rock this style, you can as well pass as a god of styles.
There have been many styles that people adopt these days, let's look into them
– Classic Man Bun: This style got its name because of the classical look that it gives to its owner. It's done by packing your hair to the back of the head and secured with a hair tie. If you are wondering if your hair will do, this style can be done with a hair of shoulder length. This style gives an authoritative look to its owner.
– Full bun: We have talked about it earlier in this article, but do you know it is also known as the hipster bun. This style is characterized by all the hair being packed at the top of the head. Because of the efforts of packing all the hair, it is always messy but still rocks.
– Half bun: Here, just half of the hair is gathered and tied at the back of the head, and the other half is left out. You brush the remaining half to make it look nice.
There are numerous styles you can try on and you too can create yours.
How to grow a man bun with thick hair
If you fancy a man bun with thick hair, then you should know that getting a thick hair is your top priority. When you have the thick hair, the glamorous styles of man bun will come to you easily. So, let's go on how to get thick hair.
Getting thick and healthy hair is all up to you and your diet, most especially your protein intake. Below are natural sources of protein that will boost your hair's thickness:
Beef: This is a great source of protein. It contains the necessary compounds needed by the hair follicle to be strong. It's good to eat it responsibly as excess intake of beef leads to a large intake of cholesterol. If you are a vegan, the next food is a good substitute for you.
Egg: most food biochemists say that egg is a complete food as it contains almost all the classes of food. But it is predominantly classified as protein, and it contains 7 grams of protein. If you are scared of cholesterol or you are a vegan, you can opt-in for eggs as they have a little level of cholesterol. Don't consume lots of eggs due to its low level of cholesterol, as your stomach may not agree with you on that.
Fish: Yes, this is another good source of protein. On various occasions, fish has been recommended for people who want to have healthy and shining hair – even over beef. It contains lower fat when compared to pork, beef, and chicken. The little fat in fish is considered as the healthiest fat you can ever eat. Even top health websites like WebMD attest to this fact.
Oils: if you want something easy to use that you can simply apply to your hair, then oils are your best option. There are many oils you can use that will guarantee you a healthy, thick, and shining hair. For example, there's castor oil, and it possesses Omega-6 fatty acids which enhances blood circulation in the scalp.
Tips to maintain your man bun
You have successfully grown your man bun and have chosen a nice style, but you need to maintain it. Excellent maintenance of your bun will determine how it will look on you and if you will be able to get another nice bun. We have some nice tips for you to make your bun look new always.
Use a good hair tie to hold your hair.
Don't shampoo your hair every day and when you do, use a natural shampoo.
Consume foods that contain protein.
That's all! You can rock man bun just like any of the celebrities you see out there. Don't forget to rock it with some nice outfits. It makes you look cool.