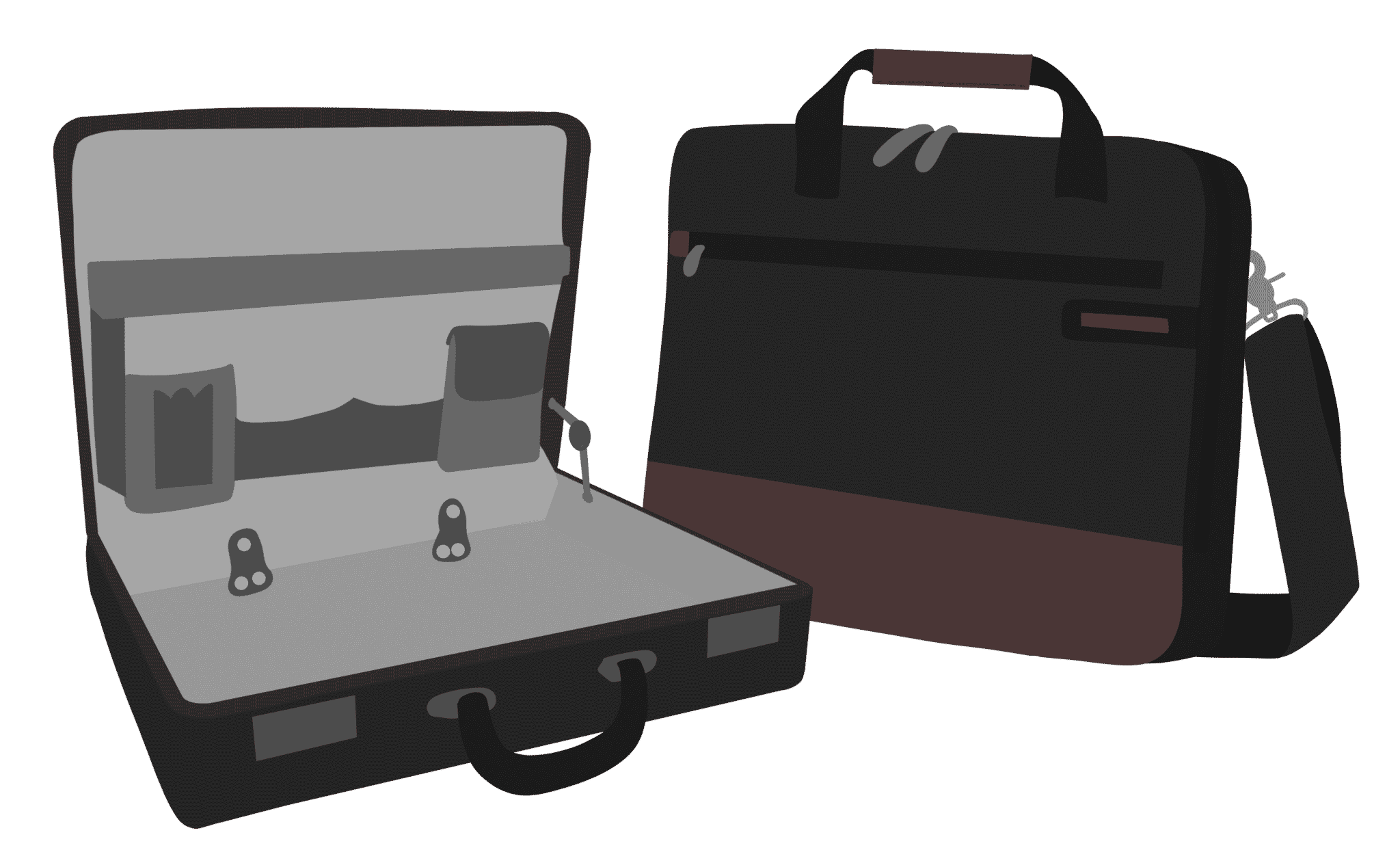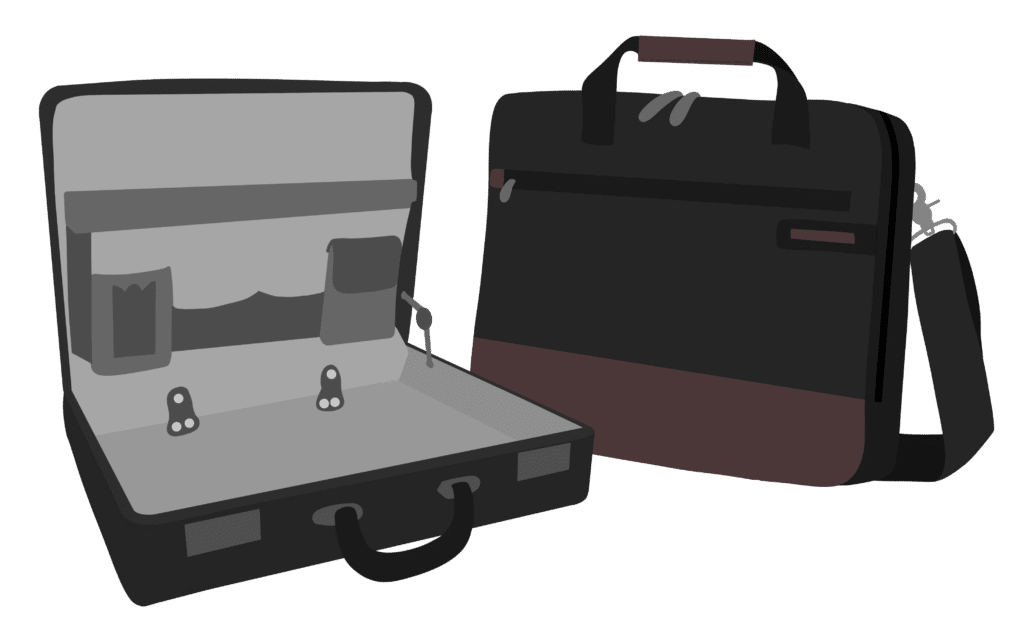 When it comes to transporting your necessities to and from work each day or for an overnight business trip, there is nothing better to carry them in than a luxurious briefcase.
These handy work cases are timeless and offer an excellent way to show off your personal style. They come in an array of materials, designs, and sizes, making it easy to find the briefcase that not only serves a functional purpose but a fashionable one too.
The only downside is that not all briefcases are made equal. To make it simpler for you to find the one that meets your needs and appeals to your tastes, we have gathered together the best men's briefcases Amazon has to offer and reviewed each of them.
We tried, tested, and carried various men's briefcases from Amazon and concluded that these ten are the best work cases for your daily use. We used the approach to chat to men about what they looked for in a high-quality briefcase and collected together the ones that ticked these boxes. We then reviewed each of these luxurious briefcases. Our evaluation of each was based on the following criteria: the materials used to make the case, style and design, the compartments offered, functionality, and durability.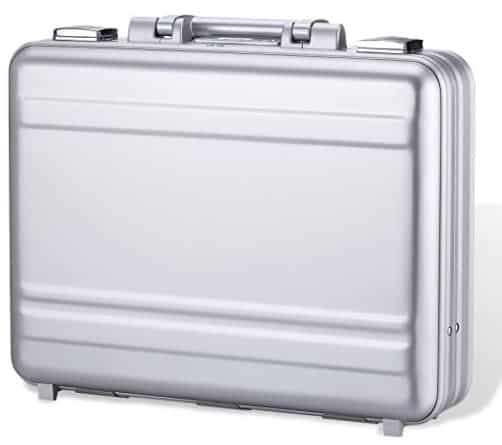 Tokers' briefcases are designed to provide the carrier with a safe, durable, and secure method of transporting documents, files, laptops, and even an Ipad or two. The brand's sleek and elegant designs transform these briefcases into functional pieces that double as a fashion item.
It was the Tokers Metal Briefcases for Men that caught our eye and left us wanting to know more about how it worked and the durability and functionality it provided.
Specs
Made from pure aluminum
Includes various internal pouches for electronics, documentation, and accessories
Features a slow rebound damping handle
Makes use of combination locks
Who is it Best for?
If a sleek metal attache case is your kind of briefcase, then this one from Tokers is worth a closer look. The brushed silver-toned aluminum lends this case an air of sophistication and style, and it wouldn't look out of place in a mafia movie or two; it's that cool.
Compared to other metal attache cases, such as the Alpine Swiss Aluminum Attache Case Padded Laptop Briefcase, this offering from Tokers is expensive. It comes in with a price tag of almost triple. The high price results from the unique molding technique used to create the case, its remarkable durability, and the special combination locks.
We found this attached case to be versatile and durable, making it an excellent choice for anyone willing to spend a little extra money on a briefcase. It comes lined with pick and pluck foam so you can arrange it to fit around the items you place within the case, or you can remove the foam altogether.
Key features
Tokers manufacture this briefcase from anodized aluminum that sees a brushed finish. The case is made utilizing a one-step molding process that makes it highly durable and less likely to take on any moisture unless you dunk it in water.
Inside the briefcase, you will find removable foam padding that makes it simple to use the case to carry fragile goods. Alternatively, remove the foam and use it as a classic briefcase. Built into the lid, you will find an organizer panel that provides a place to store smaller items, pens, and business cards.
The handle is a top-carry handle and features a slow rebound damping design that prevents it from slapping down on release.
Also included are two latches and a unique combination lock that does not include a key.
Pros
Includes removable pick and pluck foam
The latches are secure and simple to operate
Fits a 15-inch laptop perfectly
Cons
No gasket seal so it is not waterproof
The locks could be improved on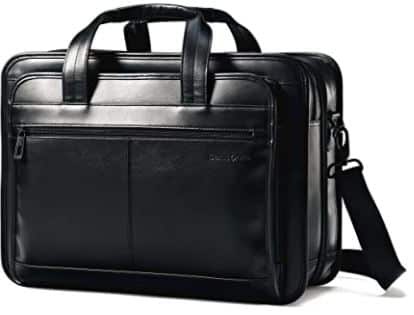 Samsonite is an American luggage brand founded in Colorado in 1910. The brand is known for its wide selection of luggage, from suitcases to backpacks, hold-alls, to briefcases. Over the years, the Samsonite name has become synonymous with durability, versatility, and style, making it a much-loved brand across the globe.
The Samsonite Leather Expandable Business Case is one of the brand's many impressive solutions to daily commuter travel. It provides an exceptional way to carry your necessities to and from the office.
Specs
Made from genuine leather
Includes a top handle and a shoulder strap
Features an expandable design
Fits a 15.6-inch laptop
Who is it Best for?
Men looking for a sleek black leather briefcase may want to look more closely at this work bag from Samsonite. It features a relatively minimalist design but offers pockets and compartments galore.
Compared to Luxorro Leather Briefcases For Men, this briefcase from Samsonite is on the cheaper end of the price scale. While still relatively pricey, this bag has a lot to offer that makes it well worth the cost.
After trying it out for a few weeks, we found the bag to be a worthwhile spends with ample room for an average-sized laptop and additional padding to keep the computer or any other items you may store safe. The bag comes with a dual top handle and a shoulder strap. It was here that we felt Samsonite could improve on the product; this shoulder strap continuously twisted and turned, no matter how many times we readjusted it. This and the lack of cushioning it offers are suggestive that perhaps it is not well suited to more heavy loads.
Key features
Samsonite fashions this briefcase from genuine leather. The bag features two carry handles and a padded shoulder strap so you can carry it in hand or as a messenger bag over your shoulder when your hands are full.
The bag features multiple pockets for storage, including the main pocket that is padded and holds a laptop up to 15.6-inches in size. This main pouch also offers additional space for files, an iPad, and other things such as business cards and pens.
A front pocket offers more space for smaller items, and a smart sleeve at the back makes it simple to slip the bag over the handle of your larger travel luggage.
The impressive space the bag offers, combined with the durable genuine leather it is fashioned from, makes this bag a worthwhile buy.
Pros
Provides an impressive space capacity
Offers exceptional durability
The bag is well-priced for what it offers
Cons
Not designed to hold larger laptops
The shoulder strap does not offer ample cushioning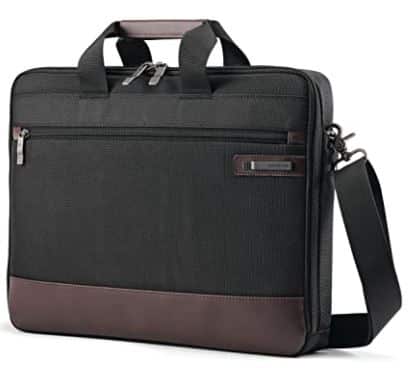 Samsonite is a luggage brand that was founded in 1910. After being around for over 100 years, Samsonite is still at the top of its game and is revered as one of the world's most-loved luggage brands. Why? Because Samsonite is king when it comes to combining innovation with the needs of its customers to offer exceptional luggage solutions.
Don't believe us? Take a look at the Samsonite Kombi Slim Briefcase, and you will see why we love it so much!
Specs
Made from ballistic nylon fabric
Water-resistant and oil-resistant
Features a built-in padded laptop compartment
Includes an adjustable shoulder strap
Who is it Best for?
If bulky and cumbersome are not for you, then perhaps this slim briefcase from Samsonite is. It features a sophisticated and elegant design that provides ample storage space without taking up too much space.
Compared to other briefcases the brand offers, this one sits somewhere in the middle when it comes to price range.
We decided to give this bag a try and found it even more impressive than the images we saw on Amazon. The bag is sleek and sophisticated, precisely what you need for a day at the office.
The briefcase neatly fits a 15-inch laptop and still has room over for a few documents. The pockets are designed so that they don't bulge, leaving you with a slim briefcase no matter how packed it is. We found the only oddity with this bag was that it arrived with a slight smell, but that dissipated with a bit of airing before use.
Key features
Samsonite makes this slim briefcase from a unique material, ballistic nylon. This durable fabric is water-resistant and resistant to oil, too, keeping your bag and its contents safe from water damage and stains. Samsonite adds elegant genuine leather detailing to sections of the bag to enhance its style and sophistication.
The bag features a large inner compartment that is subdivided into a padded laptop pouch that holds a computer up to 15-inches. The other section offers ample space for documents, smaller devices, notepads, and other necessities. The back of the briefcase features a further zippered pocket that doubles as a smart sleeve to use when you travel. You will also find a key fob and place for items such as pens and business cards.
The space and elegance this bag provides are astounding and make it a worthwhile purchase for any businessman.
Pros
The bag remains compact no matter how full you pack it
The adjustable strap provides excellent support 
Cleaning any spills on the bag is quick and easy
Cons
Arrives with a slight odor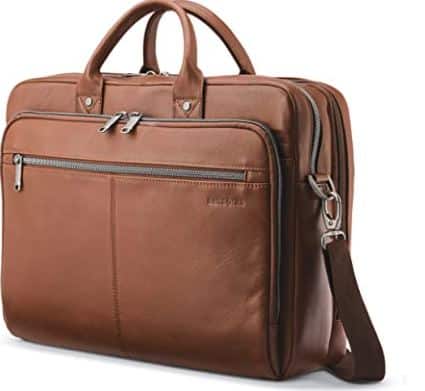 Samsonite takes pride in being a brand that provides its customers with durable, elegant luggage and confidence. The confidence to step out into the world knowing that the suitcase, carry-all, or briefcase they carry will see them through the day stylishly and reliably.
The Samsonite Classic Leather Toploader Briefcase in Cognac does this with ease. The laptop is exceptional in its design, and it offers excellent functionality, making it the obvious choice for men across the globe.
Specs
Includes a large padded laptop pouch and three smaller padded storage compartments
Made from genuine leather
Features a non-slip adjustable shoulder strap with a cushioned shoulder pad
Comes with a built-in smart sleeve
Who is it Best for?
Suppose the idea of a minimalistic briefcase that provides multiple compartments for a range of items, including a 15-inch laptop and various files and documents, is appealing. In that case, we may have the solution for you.
Samsonite's Classic Leather Toploader is a sleek and stylish work bag that provides more space than you know what to do with it; there is a compartment for everything.
Although it sits a little higher on the price scale compared to some of Samsonite's other briefcases, this bag is well worth it, in our opinion.
We tried it out for a while and found it to offer an impressive amount of space, and because it expands out as you unzip it, it is far easier to find the things you need and to put them back after use.
Key features
Samsonite makes this cognac-toned briefcase from genuine leather. It is designed to feature a padded laptop compartment that will hold computers up to 15 inches in size. Included in that same compartment is a pocket for other documentation and files.
External to this laptop pocket are three other padded sleeves that each features a zippered closure. These can be used to store a series of items such as tablets, smartphones, business cards, pens, and an array of other necessities.
A top handle and an adjustable shoulder strap provide two methods for carrying this bag, while a smart sleeve offers a third.
While we found the bag to arrive with a slight chemical smell (this went away after the bag was left outdoors to air out for a while), the space it provides, along with the ease of use and style, make it well worth the purchase.
Pros
The bag is well made and features sturdy stitching so you can be sure it will last
Provides excellent durability
It looks a lot smarter in person
Cons
Comes with a slight chemical fragrance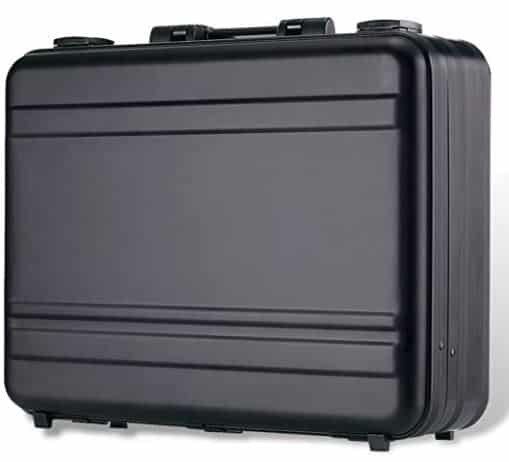 Tokers take security and bold design seriously, which is evident in the brand's seamless and durable briefcases. These attache bags are designed for heavy-duty use and are ideal for traveling with items that are fragile or of great value or for use when transporting your computer to work and back each day.
The Tokers Aluminum Briefcase Attache Cases for Men are as durable and robust as they come, offering a sleek, minimalist design that means business as much as you do.
Specs
Made from pure anodized aluminum
Crafted from a seamless one-step molding process
Features a keyless TSA customs lock
Includes a slow rebound handle
Who is it Best for?
If you want a hard-shell briefcase that provides a little more protection to the contents inside, then this case from Tokers may be your solution. It is made from a single mold that provides a seamless design to offer a more solid and durable case.
Compared to other attache cases on the market from brands such as Alpine or Samsonite, this one is expensive. Our thinking is that this higher price tag is a result of the molded design unique to Tokers briefcases.
The case itself does an excellent job of keeping your items protected, and although it is made from solid metal, it is remarkably lightweight. The handle is comfortable to hold and folds down gently. However, the locks could do with improving as they are rather flimsy.
Key features
Tokers make this briefcase from pure anodized aluminum molded in a single molding to prevent any possible seams or areas of weakness. The aluminum measures 1.2mm thick, offering a solid and robust case that provides excellent protection for fragile items.
Also included in the case are pieces of customizable foam that can be removed or used to pack around delicate objects to provide added protection.
Alternatively, you can remove the foam and use the case as a classic briefcase. A leather organizer pouch offers a place to store other items such as documents, phones, or other accessories.
The case comes with metal feet to raise it off the ground when you set it down, preventing it from sitting in water or dirt. The only thing you need to be wary of here is that these feet can scratch the surfaces you place them on, as we were to find out.
Pros
The handle is very comfortable to hold
The sturdy design of the briefcase is impressive
The customizable foam is great for transporting more fragile items
Cons
The locks could be improved upon
It could use rubber feet to prevent the case from scratching other surfaces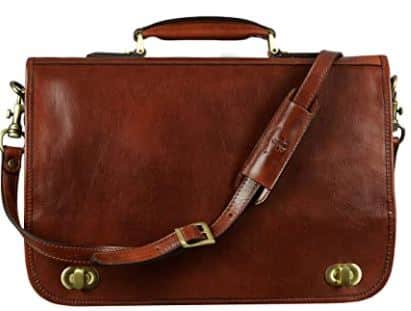 Time Resistance is a brand started by an artisan with an appreciation for beautifully handcrafted products made with traditional Italian craftsmanship. Today, Timeless Resistance offers these same qualities combined with high-quality materials, timeless design, and attention to detail to leave us with expertly crafted bags that are made to last.
The Italian Handcrafted Full-Grain Leather Messenger Bag by Time Resistance is one of the brand's most popular briefcases, and it is easy to see why.
Specs
Made from full-grain cowhide from Italy
Uses twist-lock closures
Includes a carry handle and a padded adjustable shoulder strap
Hand-dyed using a vegetable tanning method
Who is it Best for?
If your dream has been to own a premium Italian leather briefcase of your own, then you will want to look more closely at this messenger bag from Timeless Resistance.
These bags are handmade by artisans and feature only the best hardware to ensure luxury, durability, and style. It is not surprising that these bags sit much higher on the price scale than the other briefcases we have reviewed here. The craftsmanship and premium quality leather together make this the most luxurious bag we have tried out so far.
After using this bag for a few weeks, we were impressed with more than just the craftsmanship and the materials; the space and multiple compartments this bag offers are remarkable. One slight improvement that Timeless Resistance could make is the width of the shoulder strap; it could have been, in our opinion, a little wider.
Key features
Timeless Resistance makes this unique bag from premium full-grain cowhide sourced from Italy. This quality leather bag is designed to wear in as you use it, and it will develop scratches, scrapes, and veining with time, creating a patina personal to you.
The leather is not chemically treated but instead goes through a vegetable tanning process to leave it with a deep, rich color.
These bags are handmade and feature stitching that is durable and robust.
Brass twist and lock closures make it easy to keep your documents and belongings safe and in place. These pieces of hardware also add a touch of luxury and sophistication to the bag.
Inside the bag, you will find two large compartments that fit a laptop up to 15-inches. There are also two zippered pockets, pen holders, credit card sleeves, a smartphone pocket, and a key strap. Outside is another zippered pocket.
This bag offers unrivaled luxury and sophistication while providing full functionality and versatility.
Pros
The leather used is thick and robust
The bag comes with extra little details such as a wax-sealed note
It comes with that natural leather smell
Cons
The shoulder strap could have been a little wider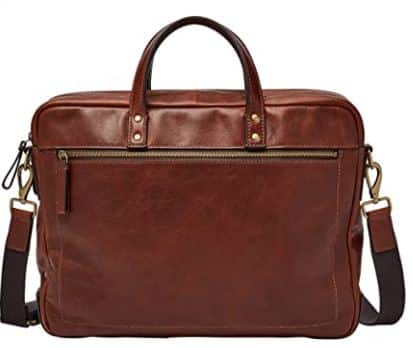 Fossil is an American brand that creates a range of watches, accessories, and bags. Each piece is created with a hint of American vintage style and innovative design ideas to make them unique elements that define moments in our lives.
The Fossil Men's Haskell Double Zip Leather Briefcase is one of these pieces. This sophisticated yet vintage-looking briefcase is minimalistic in design but features an elegance that makes it timeless – the perfect addition to any businessman's wardrobe.
Specs
Made from genuine leather
Features durable brass hardware
Comes with a magnetic snap closure
Holds a 15-inch laptop
Who is it Best for?
If vintage is your scene, then this briefcase from Fossil may be the work bag you need. It features that quintessential American vintage look that makes it timeless in itself.
What impressed us most with this briefcase is that it is part of Fossil's eco-friendly collection. What this means is that the bag is made from a process that reduces the production of waste materials, so there is less headed off to landfills. The method also uses natural processes wherever possible, and the packaging is designed to be recyclable.
We found the briefcase itself to be sturdy, durable, and well-made. While we would have liked to have seen a few more pockets and compartments, the overall design is impressive and brings a specific style.
Key features
Fossil makes the Haskell bag from 100% genuine leather and details it with durable and rust-resistant brass hardware. This hardware complements the leather and adds to the vintage style of the work bag.
The inside of the briefcase features a padded laptop compartment that will comfortably fit a 15-inch computer. There are also two inner slide pockets designed to hold documents, notepads, pens, business cards, and other small items.
On the back of the messenger bag is a zippered pouch for other further items.
A dual carry handle at the top allows you to carry the bag in hand or wear it slung over your shoulder or cross-body using the adjustable shoulder strap.
Pros
Comfortably fits a 13-inch MacBook
The leather develops a vintage-style patina with time
The magnetic snap pocket is easy to maneuver with one hand
Cons
The shoulder strap does not come with padding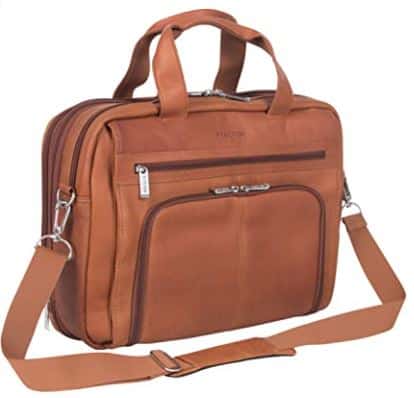 Kenneth Cole is an American fashion house founded in 1982 by world-renowned fashion designers Kenneth Cole and Sam Edelman. Although the brand began with a footwear line, it is known today for its ready-to-wear fashion, accessories, fragrances, and footwear.
The Kenneth Cole Reaction Manhattan Colombian Leather Laptop Briefcase is one of the brand's menswear accessories. A popular piece that has gained traction across the globe, this stylish and sophisticated briefcase is worth a second look.
Specs
Made from full-grain cowhide Colombian leather
Interior is fully lined with tear-resistant fabric
Front compartment features anti-theft RFID shielding fabric
Fits a 15.6-inch laptop
Who is it Best for?
This unique and durable briefcase from Kenneth Cole is the ideal travel bag. It works well for a daily commute, or overnight travel, making it suitable for the commuter or frequent traveler.
The briefcase comes in at a similar price to those briefcases offered by Samsonite, although this work case comes with some pretty impressive features.
We gave this briefcase a test run for a few weeks and were left impressed with the elegance of the design. This bag features multiple interior compartments and a good few exterior pockets too.
We would recommend this briefcase for use as carry-on luggage. It provides ample space for gadgets, devices, and a change of clothing, along with smaller items such as a laptop or phone charger. The stylish look of the bag makes it ideal for this purpose too.
Key features
Kenneth Cole makes this briefcase from full-grain cowhide Colombian leather. This material is durable and ages beautifully, developing a patina of its own according to how you wear it each day.
A feature that left us impressed is the built-in RFID fabric in the front organizer pocket. This unique material is designed to protect your sensitive information garnered from credit cards and passports. The material shields your personal items from radio waves from scanners used to obtain this information.
The expandable design of the briefcase allows it to extend an extra 1.5-inches, making it simpler to fit in additional items when needs be.
When it comes to pockets and compartments, this briefcase offers abundance, including a padded pocket for a 15, 6-inch laptop. This leather bag also features a smart strap to attach it to the handle of other luggage for easy carrying.
Pros
Features a smaller, padded tablet pocket too
The bag fits well under airplane seats
The briefcase is surprisingly lightweight
Cons
There is no compartment for a water bottle
It May be a bit of a snug fit for thicker laptops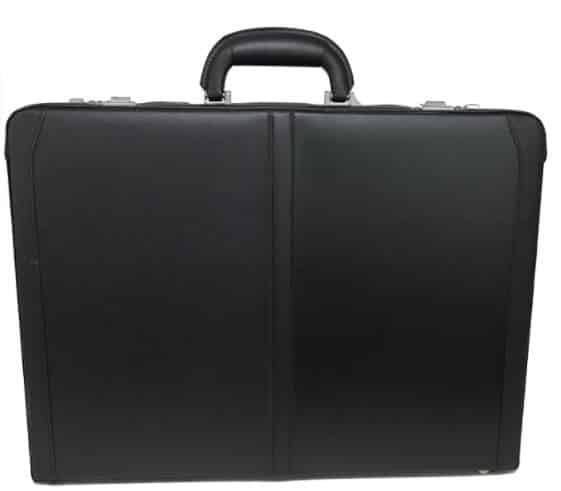 Alpine Swiss is an American brand founded in 2010. Although a relatively new brand, Alpine Swiss is making strides in the world of luggage and briefcases and has furthered its offerings to apparel and footwear. The brand has fast become globally loved thanks to its innovative designs, quality materials, and expert craftsmanship.
The Alpine Swiss Expandable Leather Briefcase is the brand's take on the classic attache briefcase. It is sleek, stylish, and offers the perfect solution to transporting your laptop, documents, and other personal items.
Specs
Made from genuine leather
Features a spacious and expandable design
Includes a variety of interior pockets in the main compartment
Comes with a one-year warranty
Who is it Best for?
If you're looking for a sleek, classic-style briefcase, then this may be the one for you. This attache case is the epitome of business style, featuring the traditional box shape and a sleek black leather finish.
Compared to similar briefcases from other brands such as Samsonite, this one sits at the lower end of the price scale. It makes for a perfect first briefcase for someone who isn't sure whether a work case is for them.
We found the case to offer an impressive amount of space. We were able to fit a 17-inch laptop inside this briefcase with ease, along with an assortment of smaller gadgets, chargers, documents, stationery, and other items. Another aspect of this case that stands out is how easy it is to find something when you're looking for it, no fussing or scratching about.
Key features
Alpine Swiss makes this unique case with a sleek genuine leather finish to give you a stylish and professional briefcase.
The interior of these business bags is spacious, offering space for a selection of gadgets, laptops, stationery, and other personal items. The design of this case provides easy access to your items, so there is no need to hassle with searching for things when you need them in a hurry. An interior organizer features an expanding folder for documents and files, along with a place for business cards, pen slots, and a phone pouch with a secure flap to keep your smartphone in place.
Four metal feet at the base of the briefcase raise it off surfaces preventing it from becoming wet or dirty. Two combination locks keep your personal items safely locked away. A sleek and comfortable to hold leather handle makes carrying this briefcase a breeze.
Pros
The handles are comfortable to hold
Offers a professional appearance
Cons
The briefcase is a little on the heavy side
The locks could be improved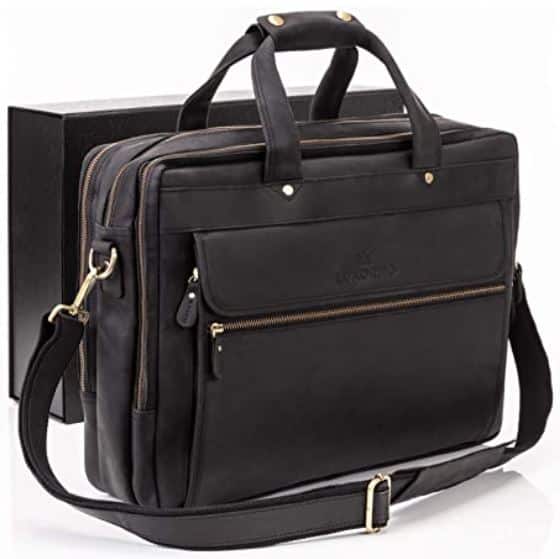 Luxorro is a brand that specializes in luxury leather goods, including messenger bags for men. The brand prides itself on using premium full-grain leather to craft these durable and versatile bags. Made for the man who wants to get the job done, these messenger bags are designed to last while providing ample space for everything you need to get you through the day.
The Luxorro Leather Laptop Bag For Men is the perfect example of the stylish bags the brand offers, making it one to look at a little more closely.
Specs
Made from full-grain leather
Features a laptop sleeve for a 14-inch laptop
Includes a shoulder strap and top carry handles
Features sturdy YKK zippers
Who is it Best for?
If you prefer a messenger bag or satchel bag, then this sophisticated briefcase from Luxorro may be the one for you.
Made from genuine leather, it offers a slightly vintage look and comes with that earthy, natural leather fragrance.
Compared to other leather messenger bags o the market, this one is expensive and doesn't offer as much space as some others. However, its elegant design and robust stitching make it well worth the price, as you can expect it to last you for many years to come.
We tried out this briefcase and enjoyed that it opens up quite wide, making it simple it find what you're looking for without having all of your items fall out while you search. The interior is relatively spacious, although some of the pockets could be a little larger.
Key features
Luxorro makes this men's messenger bag from full-grain leather that is durable and will soften with time. The leather will also wear in as you use it and develop a patina of its own with time.
The bag is stitched together with heavy-duty stitching to improve durability, and sturdy YKK zippers have been used.
A detachable shoulder strap allows you to wear the bag cross-body or slung over your shoulder when your hands need to be free for carrying other items. A top handle is also available for those days you would prefer to carry your briefcase by hand into the boardroom or office.
This briefcase features three large padded compartments and an additional space for a laptop up to 14-inches. There are also pockets for your phone, business cards, and other necessities.
Pros
Opens up nicely to allow for easy access to your items
The shoulder strap is removable
Comes with that natural leather smell
Cons
Some of the pockets are a little small
Things to Consider When Buying the Best Briefcases for Men
1. Type of Bag
When buying a briefcase, you will find that they come in a variety of styles. Here are a few to consider:
An attache case is one of those hard, rectangular cases you may have seen your dad using. They open up entirely and feature two separate compartments. These cases are often made from aluminum or come with a leather finish and are ideal for a more professional look or transporting fragile items.
Messenger bags and satchels look very similar and are often made from durable full-grain leather. The satchel has a longer shoulder strap and is often worn slung over the shoulder to sit at the hip or cross-body. The messenger bag usually has a shorter strap and is far wider than it is tall.
2. Capacity
Briefcases are great until they don't fit all of your necessities in them. You will want to consider the capacity of the briefcase you are interested in offers before purchasing it.
Think about whether you want the case to hold your laptop and, if so, what size laptop you have and whether it will fit in the work bag. Also, consider whether you want to carry other items and how many pockets of compartments you want the briefcase to have.
When looking for the perfect briefcase, there are several things to consider. Giving thought to the brand, durability, materials used, capacity, and quality will all put you a step closer to finding the briefcase that most suits your needs.
By closely examining and testing each of the best men's work bags in this review, we concluded that they each meet the criteria discussed above, making it more simple to find the best briefcase to meet your needs.