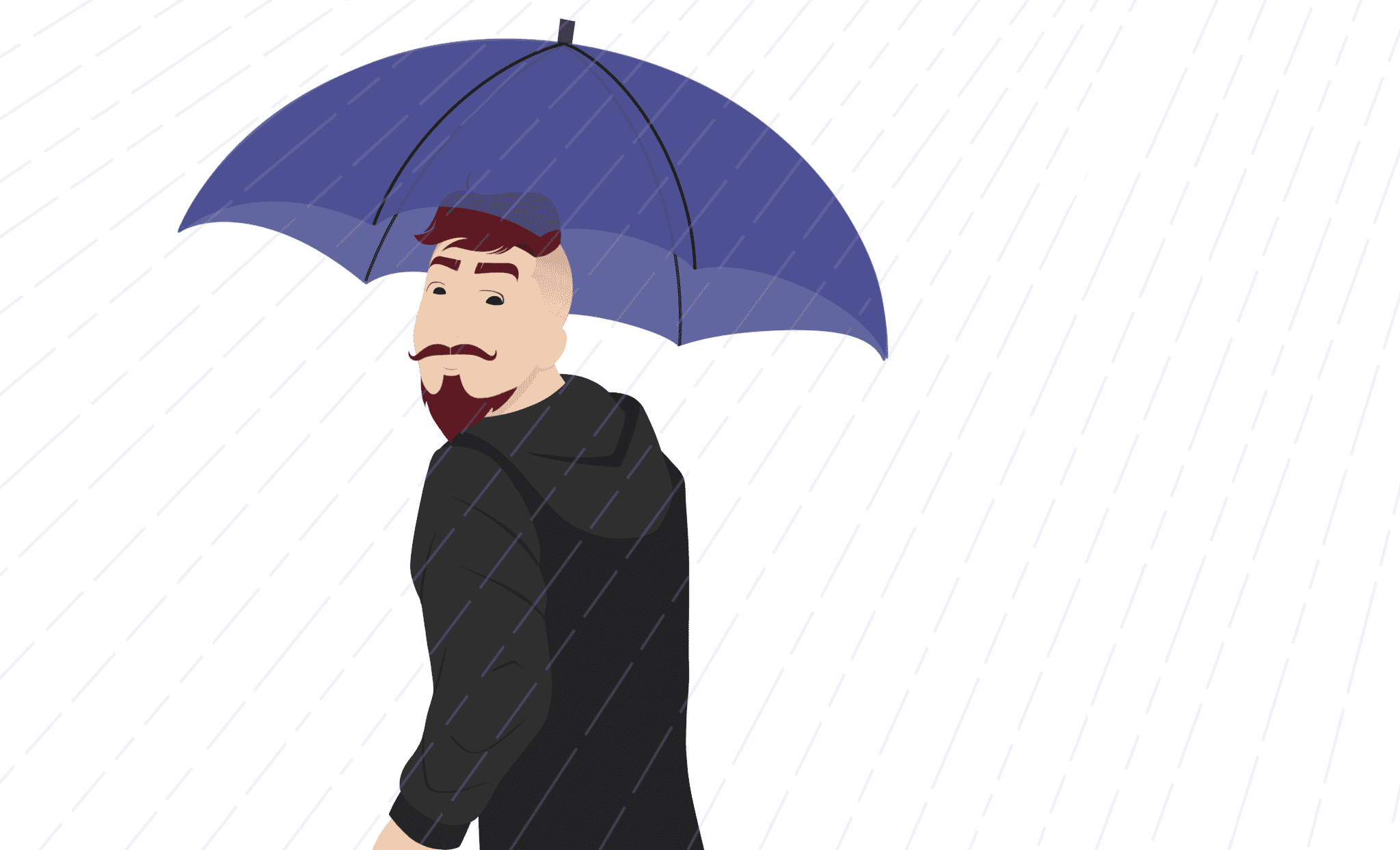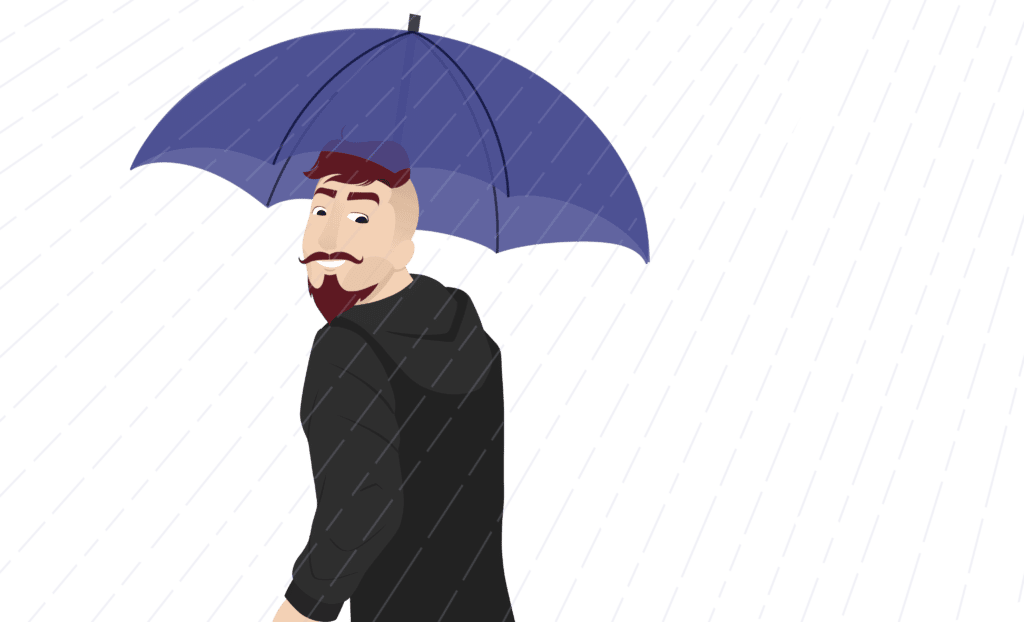 Whether you live in the Pacific Northwest, where rain is more common than sunshine, or you are one of those hikers who love backpacking no matter what the weather brings, then chances are you need the best raincoat you can find.
A durable water repellent raincoat that is ultralight and easily packable allows you to tackle any outdoor activities come rain or shine. And, if it is windproof, even better.
Unfortunately, not all rain jackets are made equally. To ensure you find one that is of high quality, durable, and breathable, we have collected together a selection of the best raincoats Amazon has to offer and reviewed each of them. So, let's dive in and take a closer look at a durable rain shell or two.
We tried and tested a wide selection of rain jackets from Amazon and concluded that these 18 are the best rain jackets for trail running, backpacking, and outdoor wear. We used the approach of chatting to outdoorsmen about what they looked for in a high-quality rain shell and collected together the jackets that ticked these boxes.
We then reviewed each of these rain jackets. Our evaluation of each raincoat was based on the following criteria: the waterproof fabric used breathability, durability, functionality, and comfort.
If it's durable and stylish work clothing you seek, the Carhartt is unquestionably the place to go. Founded in 1889, the brand has become famous for its sturdy gear and expertly crafted garments.
And, while they are known for their overalls and jeans, they create a pretty magnificent raincoat too. The Carhartt Men's Rockford Rain Defender Jacket is ideal for those who spend a large portion of their workday outdoors.
Specs
Made from 100% nylon
Comes with a durable water-repellent finish
Features taffeta and mesh lining
Includes an attached hood with a drawcord closure
Who is it Best for?
Whether you spend hours outdoors for work or you take time over the weekends to get in a good hike and explore, Carhartt's Rockford jacket makes an excellent companion.
We tested this coat under various conditions, from an all-out rainstorm to light rain and even a blustery, windy day. Our findings? This jacket is not ideal for wear in extremely heavy rain. It keeps you dry long enough for you to find shelter, but extended periods spent in heavy rain will leave you damp because it isn't fully waterproof. The coat isn't properly windproofed either, and it won't work as well as a windbreaker.
Where this jacket is at its best is in light rain. Because it is water repellent, the light rain beads up on the coat before rolling off, keeping you dry and comfortable. If you need a jacket to wear in mist or in seasons where drizzle and light rain occur frequently, this is one to look at closely.
Key features
Carhartt makes this raincoat from 100% nylon coated with a water-repellent finish. They line the inner sleeve with taffeta while the remainder of the jacket sees a mesh lining. These lining fabrics allow for breathability to keep you cool, although the taffeta is not as cool as one would hope.
An adjustable hood that comes with a drawstring closure allows you to pull the hood more tightly around your head, keeping it in place should the wind pick up.
If you like jackets with pockets, this one has a few. Two chest pockets, both with flap closures and snap buttons, offer a great place to keep smaller items. Side slanted pockets provide a place to keep your hands, and an inner pocket with velcro closure and a media port provides the perfect space to store valuables and phones.
Pros
The hood is adjustable to keep out the wind
It is lightweight and wears well over hoodies and jumpers
This jacket is simple to fold up and place in a backpack
Cons
The jacket is water repellent, not waterproof
Under Armour is an American brand known best for its unique and durable sportswear and casual apparel. The brand is also famed for its stretchy fabric that wicks away moisture in a flash.
Today, the brand is loved across the globe, with many garments that leave athletes and outdoorsmen impressed. The Under Armour Men's Forefront Rain Jacket is one of those garments. This lightweight and versatile jacket is perfect for days when the weather won't play ball.
Specs
Uses UA storm technology
Features a full mesh lining for breathability
Two-layer design
Windproof and water repellent
Who is it Best for?
If you are looking for a lightweight raincoat that shields you against gentle rain and fog, then this may be the solution you need. While the jacket is water repellent and beads away light raindrops, it is not ideal for wear in a heavy downpour, as we were to find out.
What did leave us impressed is the ability the jacket has to protect you from the wind. The raincoat completely cuts out the wind, keeping you warm and cozy.
Compared to competitors, this water repellent jacket is fairly well-priced for an upmarket raincoat.
We found the selection of colors the coat comes offered in to be a little lacking, and the sizing errs on the small side. Our advice? Buy one size up to ensure you get the perfect fit.
Key features
Under Armour, known for its remarkable textiles, makes this jacket from 100% windproof materials with UA Storm technology designed to keep water out while still allowing the fabric to breathe.
The breathable jacket allows air to circulate through the fabric to your skin, keeping you cool and comfortable.
The two-layer bonded fabric with a mesh lining provides multiple layers for warmth, wind resistance, and repel water, all while allowing for breathability and durability.
The neckline of the jacket extends upwards into a polo neck of sorts that then extends further at the back to create a hood. An internally located drawstring makes it simple to fasten the hood securely around your head, keeping it in place should the wind pick up.
Two slide pockets provide a place to keep your hands warm and toasty, but unfortunately, there are no top pockets to store other items.
Pros
The neckline zips up to form a cozy polo neck 
Drawstrings allow you to fasten the hood securely
The coat is breathable so it won't cause you to sweat
Cons
The sizing runs small and the design is a slim fit
Columbia is a brand well-known for its outerwear, sportswear, and backpacking and camping apparel. Founded in 1938 in Portland, Oregon, a state known for its mountains, wet climate and located in the Pacific Northwest, the brand understands the need for apparel that will keep you warm and dry in any weather.
The Columbia Men's Glennaker Lake Rain Jacket is a garment that does just that, keeping you dry and protected from the elements.
Specs
Made from Hydroplus waterproof nylon fabric
Easily packable
Features adjustable cuffs
Ultralight design
Who is it Best for?
Offered in nearly every color, you can think of, this versatile raincoat is made for anyone who loves to hike, camp, go backpacking, or fishing. The jacket is designed to keep you protected from both the wind and rain.
While it does this reasonably well, there is one area Columbia could improve upon – the sleeves. This jacket comes without lining in the sleeves, so they don't breathe, causing the fabric to stick your arms whether you sweat or get caught in the rain. An uncomfortable experience if you have popped the coat over a short-sleeved tee.
If you wear it over a jumper or long-sleeved tee, then the experience is altogether different. In our opinion, this jacket is perfect for days of light rain or wear over a jumper.
Key features
Columbia makes this Men's Glennaker Lake Rain Jacket from Hydroplus waterproof nylon fabric. Not only is the coat waterproof, but it is windproof, too, keeping you shielded from the elements on your outdoor adventures.
Fabric aside, this raincoat offers some pretty neat features that combine to add comfort. A stow-away hood allows you to protect your head from the rain or wind or keep the hood tucked away when you feel you don't need it. The hem comes with a drawstring that you can tighten to keep cold air and water from entering through the bottom of the jacket. A velcro strap on each cuff makes them fully adjustable; tighten them to keep warm or loosen them when the weather heats up.
Zippered hand pockets give you a place to store large items, while the chest pocket doubles as a carry bag for the jacket itself. This ultralight coat folds up neatly, making it easily packable and compact enough to fit in a backpack.
Pros
Can be folded up and tucked into the chest pocket
Both the hem and cuffs are adjustable
The fit is perfect for all body types
The Pacific Northwest region of the USA comes with weather that is often wet, cold, and foggy. Moisture, moisture, everywhere, meaning that one of the most essential clothing items in your wardrobe is undoubtedly the raincoat.
Based in Oregon, a state located in the Pacific Northwest, Columbia understands this, which is why the brand has designed and manufactured the ultimate raincoat for outdoor wear: the Columbia Men's Glennaker Lake Lined Rain Jacket.
Specs
Made from 100% nylon shell with a 100% polyester lining
Features an Omni-shield finish
The hood is easily stowed away
The hem and cuffs are elasticated
Who is it Best for?
Whether you spend a lot of time outdoors for work or pleasure, chances are you will need a raincoat that keeps you warm and dry. This lined jacket from Columbia is an excellent option, as it offers these features and many more.
Ideal for climbers, backpackers, and hikers, these lined jackets are lightweight and work well for layering over other clothing.
The raincoat comes with a unique hood and collar that sees the collar as a stand-up style design made to keep your neck warm and protected. Columbia claims the hood features a stowaway design, yet we found it not to tuck away as neatly as we would have liked, and this, combined with the extra-length collar, proved to be a little frustrating.
Key features
It is one thing to keep yourself dry in a downpour, but what about keeping your jacket clean? A feature that this raincoat offers is one that left us impressed and wanting to know more. Columbia uses a unique finish on these coats called Omni-shield. A layer that repels water, dirt, and stains prevents the absorption of liquids and grime that comes along with them.
Two zippered side pockets provide a place to keep your hands warm, while an elasticated hem and cuffs keep the cold air out and the warm air in, offering a warm and dry shell.
This 100% waterproof coat is lightweight and easy to pack, but we did find it to weigh considerably more than a few of the unlined waterproof jackets we have reviewed.
Pros
The coat repels both liquids and stains
It is remarkably warm and comfortable to wear
It layers well over other garments
Cons
The jacket is heavier than most other waterproof jackets
The hood does not stow away as well as we had hoped
Marmot is one of the leading brands when it comes to outdoor gear and performance wear for hikers, climbers, backpacking, and camping. Founded in 1971, Marmot was the first outdoor apparel company to use Gore-Tex in its products, a unique waterproof membrane that is highly breathable.
It makes sense then that the Marmot Men's PreCip Lightweight Waterproof Rain Jacket is so popular amongst adventurers and outdoorsmen alike. This jacket offers all the comfort and premium quality protection from the elements.
Specs
Made with breathable NanoPro waterproofing technology
The jacket folds up into its own pocket
Features PitZips for easy venting
Includes taped seams to eliminate leaks
Who is it Best for?
If it's a versatile raincoat you want, then this one from Marmot bears a closer look. It is designed to offer you protection and comfort as a day-to-day garment, or it can be used by hikers, climbers, and backpackers in conditions that see snow and heavy rainfall.
When the rain hits and you need a hood, unroll it from the collar and pop it over your head. Use the drawstrings to tighten the hood and secure it in place should the wind pick up. The collar is designed to stand upright, protecting your neck from the cold and the sun.
The jacket comes as a regular fit design; however, we found the hem area to be a bit roomier than you would expect to find on a raincoat, living it with a style similar to that of a poncho.
Key features
Marmot uses NanoPro technology on this 100% nylon raincoat. This unique tech is designed to offer a 2.5 layer construction that is then laminated to offer a 100% waterproof coat that offers excellent permeability and breathability at the same time.
The microporous structure of this laminate fabric prevents water from seeping into the material but allows moisture out, preventing you from sweating and becoming damp under the coat.
The taped seams prevent any moisture from entering through the seams keeping you dry and protected in even the heaviest of downpours.
We found this raincoat to offer high-end quality at an affordable price compared to offerings from other competitor brands. You get what you pay for and a whole lot more, making this an excellent choice for any outdoor adventurer.
Pros
The coat sees an outer layer of ripstop nylon that is extremely waterproof
The hood is easy to roll back into place
The pit zips are great for ventilation
Cons
The size of the hood makes the coatless effective in very high winds.
Carhartt is one of the most loved international workwear brands. The company is known for its durable garments designed to withstand wear, tear, and abrasion. Whether it is a jacket, you need for indoor wear, outdoor wear, or even for hiking and camping; Carhartt has the one you need.
If it's a raincoat you're after, the Carhartt Men's Dry Harbor Jacket makes an excellent choice. We tested this jacket out under several conditions and were left impressed with its functionality.
Specs
Made from 100% nylon
Features a Storm Defender waterproof breathable membrane
Includes fully taped waterproof seams
Comes with zippered slide pockets
Who is it Best for?
If you're looking for a jacket with a hood that rolls up and tucks away, then this is not the one for you. Carhartt designs this hood and visor to be a permanent feature of the jacket that stays put in the name of convenience. This, for some, maybe frustrating, however, because the collar does not stand up particularly high, the hood, when down, protects the back of your neck.
The downside to this jacket is that it is unlined, so if you're not a fan of having the feel of nylon against your skin, you may want to give this coat a miss.
That aside, this jacket is lightweight, easily packable, and offers exceptional protection from the rain and wind.
Key features
Carhartt creates these raincoats from a nylon shell that sees a laminate finish. The Storm Defender technology is a breathable waterproof membrane that keeps liquids out but allows for moisture and sweat to escape keeping you dry and comfortable.
Adding to the design of this waterproof jacket is a taped seam. Because the seams are taped, no water can get in through the more vulnerable areas of the coat.
Two zippered slide pockets for your hands and a protective interior pocket offer ample space to store your personal items that you want to keep protected from the rain.
It is important to note that the jacket's nylon does feel somewhat plasticky, but if you can get past that, this makes an excellent waterproof coat.
Pros
The coat comes with a breathable membrane laminate
It is lightweight and simple to pack
Holds up well in heavy rain
Cons
The hood is not detachable, nor does it roll up into the collar
Eddie Bauer has been creating apparel and gear for the outdoor adventurer for over 100 years. The brand designs its unique and durable outerwear and accessories to ensure that your outdoor experience is one you can enjoy.
One of the garments no adventurer should be without is the Eddie Bauer Men's Rainfoil Packable Jacket. This durable and exceedingly warm jacket will get you through anything the elements send your way.
Specs
Made from 100% polyester
Features a two-layer Weatheredge technology
Includes a DWR finish that repels water
Offers a secure velcro closure internal pocket
Who is it Best for?
If you want a jacket that offers convenience, is lightweight, and is easily folded up and packed away into its own right pocket, then this raincoat from Eddie Bauer should be on your radar.
The jacket, once folded, also doubles as a travel pillow, adding versatility to the vast list of features it is designed to offer.
We loved this jacket because it offers a classic regular fit, making it great for layering over other warmer gear or wearing comfortably over a t-shirt. It also comes in big and tall sizing, although we did find the tall sizing a little long.
The jacket is easily adjustable, too, thanks to the drawcord hem and adjustable cuffs that are secure with velcro strips.
Key features
Eddie Bauer makes this raincoat from 100% polyester that combines with a dual outer layer Weatheredge technology. This double layer is then finished with a StormRepel DWR coating that repels water, causing it to bead up and then run off the coat instead of soaking it into the material.
The jacket's collar sits higher than the average collar; it is designed this way to prevent the collar of the shirt you are wearing from getting wet. It also protected your neck from the cold and sun. The adjustable hood is easily stowed so you can use it when needed and then neatly tuck it away.
Zip up the side slider pockets when they're not in use or keep the items you are carrying safe and secure.
Pros
The mesh lining makes the jacket highly breathable 
Taped seams also keep the moisture out
It is extremely waterproof
Cons
The velcro tends to wear out fairly quickly and may need replacing after time
If you need apparel for camping, climbing, hiking, or general outdoor wear, chances are you would find yourself in a store such as Columbia. Known for its functional and versatile outdoor apparel and gear, Columbia is one of those brands that you can be sure will provide you with exceptional quality.
It is not surprising then that the Columbia Men's Oroville Creek Lined Jacket is a hit with adventurers and campers alike.
Specs
Features a nylon shell with a polyester lining
Comes with elasticated cuffs and hem
Waterproof design
Includes a three-panel adjustable hood
Who is it Best for?
A water-resistant nylon shell makes this lightweight rain jacket perfect for bringing along on a hike, camping trip, or work. Easily folded up and tucked neatly into your backpack for those times when the sun disappears and the rain takes over, this coat won't add a whole lot of weight to your bag.
The classic fit makes it easy to layer the raincoat over the apparel you are already wearing, so no swapping and changing clothing items to get comfy.
The two zippered side pockets of the jacket come in handy when you don't want to get your hands wet. Although we were disappointed at the lack of an internal pocket, one of these would be great for storing a phone or keys.
Key features
This dual-layered jacket from Columbia is not only dry, but it is also warm. The external nylon shell comes with a hydro plus coating that causes rain to bead up and roll off the jacket while ensuring it is still breathable. The internal polyester jersey layer is soft against the skin, allows air to circulate, preventing you from sweating, and wicks away moisture. Some of us found it not to be as breathable as we had hoped, while others found the breathability impressive.
An elasticated hem and cuffs keep the water and cold air out, ensuring you stay warm and dry at all times. The adjustable hood comes with a drawstring that allows you to tighten it securely around your head.
While the jacket's functionality is unquestionable, the color offerings are somewhat bland and could be improved upon.
Pros
The jacket offers exceptional warmth
It wears well as a jacket for in-between weather or seasons
The jacket can be worn as a layer over other clothing without being uncomfortable
Cons
The hood is not detachable
The color offerings could be better
Champion as a brand is best known for its sportswear and performance apparel. Tees, hoodies, socks, and tracksuit pants all form part of the brand's offerings. One item you may not expect is a raincoat, but believe it or not, Champion makes a pretty mean rain jacket.
The Champion Jacket Men's Big and Tall Hoodie Anorak Windbreaker is perfect for wear as a jacket or a raincoat and will keep you protected no matter what the weather brings.
Specs
Easily packable
Waterproof and windproof
Pull-on design
Includes an attached hood
Who is it Best for?
If you often find yourself at outdoor sports games and have been caught in the rain, unprepared more than once, then this rain jacket from Champion may be just what you need. It is lightweight, versatile, and works well to keep out the wind and rain so that you can enjoy the game in any weather conditions.
Men who wear big or tall sizes will love this jacket as it comes made in these size offerings. No matter what size you take, you can find a raincoat that shields you from the elements.
Champion makes sure that life is as exciting as the sports you watch. The thing we loved most about these raincoats is the variety of colors and patterns they come in. Gone are the days of navy blues and forest greens; Champion offers their raincoats in camouflage print, vivid yellow, and cherry pie red.
Key features
Fold it up really small, pack it in your backpack, and head off on the adventure you have planned for the day. Champion's anorak is exceptionally lightweight and easily packable, but that doesn't mean it is not functional too.
Made from waterproof and wind-resistant nylon, this jacket will keep you warm and shielded no matter what the weather brings. The hood is made with a drawstring closure that allows you to pull it more securely around your head when the wind picks up or keeps the cold and wet out.
Unlike most of the other raincoats we have reviewed, this one only features a half-zipper, which means it comes with a pull-on closure. While this design offers greater warmth, it can be uncomfortable to pull off this way when wet.
Pros
The kangaroo pouch pockets are really comfortable for your hands
The adjustable hem and elasticated cuffs keep in the warmth
It is surprisingly breathable
Cons
Pull-on closure is not ideal if you need to remove the jacket once it has been in the rain
You will need to wash it before the first wear as it comes with an unusual odor
Columbia is based in Portland, Oregon, in the Pacific Northwest of America. This state sees cold wintery air that blows in off the mountains, icy rain and sleet, and fog far more than it experiences the sun. For this reason, the camping, hiking, and sports apparel offered by Columbia is so well designed for this particular climate.
The Columbia Men's Roan Mountain Jacket is one of the brand's various high-end raincoats designed to keep you warm and dry. We tried and tested it, and we were left impressed.
Specs
Made from 100% nylon
Fully waterproof
The cuffs, hem, and hood are all adjustable
The jacket is easily packable
Who is it Best for?
If you're one of those people who can't stand cold air or water seeping up your sleeve, join the club; we don't like it either. The adjustable sleeves on this jacket and their promise of warm, dry arms caught our eye. After trying out the velcro straps in a downpour, we were suitably impressed, finding them to do their job and do it well.
The adjustable hem and hood that offer a more snug fit after being adjusted with a drawstring also left us feeling that this jacket is worth every cent.
Compared with other similar jackets on the market, this one sits in the mid-range price arena, and in our opinion, it is worth it. The waterproof nature and extra features that provide you with a more comfortable outdoor experience outweigh any cost involved.
Key features
Columbia makes this jacket from 100% nylon that is lightweight and fully waterproof. Whether you get caught in a downpour or a light drizzle, you will remain dry and warm as long as you have this jacket on.
The zippered closure makes it simple to pull the jacket on and off even when you have been wearing it in the rain. Two side pockets provide a snug place to keep your hands or for small items. Best of all, you can fold up this raincoat into the one side pocket and zip it up, making it easily packable and simple to take with you wherever you go.
What we love most about this raincoat is how easily it folds up and fits into your backpack. Where Columbia could improve is on the warmth the jacket provides. A thin lining may add a little extra warmth that is missing from the design.
Pros
The hood secures well to eliminate cold and wind
It protects you from cold winds
Packing it up to repack into your bag is a cinch
Cons
The jacket could be warmer
Frogg Toggs is a brand that offers rain gear and outdoor apparel designed to keep you comfy while you spend time in the great wide open. The brand focuses largely on rain suits and fishing waders, so you can be sure that any raincoat offered by Frogg Toggs is going to keep you dry.
The FROGG TOGGS Men's Ultra-Lite2 Waterproof Breathable Rain Jacket offers a minimalist take on a raincoat that focuses on function over fashion.
Specs
Features a full zippered closure with storm flaps
Made from 100% Polypropylene
Waterproof and breathable
Designed as a multi-layer jacket
Who is it Best for?
When it comes to the lightest jacket around, this one from Frogg Toggs could easily be it. It packs neatly and efficiently into your backpack and is then readily available when it becomes wet out.
Compared to other rain jackets on the market, such as the Marmot PreCip Lightweight Waterproof Rain Jacket, this one comes in at a third of the price. One would think that this low price bracket means poor quality, but you would be mistaken. Frogg Togg's lightweight raincoat offers exceptional quality and functionality, making it ideal for any outdoor adventure.
While it may not offer the most fashionable of looks, only coming in blue or khaki, this raincoat does its job. We were impressed with how neat, versatile, and waterproof it was.
Key features
Made from 100% non-woven polypropylene that is durable, waterproof, and resistant to wind, this jacket is just the thing you need for your next outdoor adventure. The outer layer is waterproof while still being breathable, allowing moisture that comes from sweat to evaporate while preventing rainwater from soaking into the coat.
The inner layer is soft against the skin and breathable, so you remain cool and comfortable throughout the day.
Elasticated cuffs keep the warmth in and prevent water from entering your sleeves. The adjustable hood comes with a drawcord that you can then lock in place. This cord makes securing the food on your head simple and prevents it from blowing off continuously in windy conditions.
What we missed on this jacket was a pocket or two – there are none – and perhaps a slightly more robust design. What we loved was how inexpensive this jacket was despite how well it works.
Pros
It is extremely cost-effective
The coat is far more waterproof than you would imagine
The lightweight design makes it easily packable
Cons
Sizing runs a little large
Baleaf is a unique brand specializing in the design and production of sports apparel, workout, and outdoor wear. While a relatively new kid on the block, founded in 2015, Baleaf has taken the world by storm, fast becoming a popular contender with its durable and functional products.
The BALEAF Men's Waterproof Reflective Jacket is one of the remarkable products the company has to offer. The neon green of the raincoat caught our eye and the rest, as they say, is history.
Specs
Made from 100% polyester
The inner lining is laminated TPU membrane making it windproof and waterproof
Features a helmet-compatible hood
Includes a ventilation system for increased breathability
Who is it Best for?
Whether you cycle, jog, hike, climb or spend time in the outdoors, this jacket is an excellent way to keep warm and dry. We were captivated by the exciting choices when it came to color availability and found the overall look and design of the raincoat to be just as thrilling, a first when it comes to rain jackets.
The reflective logo and stripes added to the design while bringing in an element of safety by making you visible in low-light environments.
The aspect of this jacket that left us impressed is the size of the hood. It is large enough to fit over a helmet or hat, allowing you to wear it while you cycle or fish. The only downside to this is that the hood can be bulky if you don't have other headgear on.
Key features
This jacket from Baleaf is made from 100% polyester that is then treated with a TPU membrane. This membrane ensures the jacket is waterproof and breathable, allowing sweat to evaporate and preventing moisture from entering the jacket so you remain dry and comfortable. A built-in ventilation system adds to the breathability of the coat even further, ensuring cool air circulates between the raincoat and your body, regulating your temperature, and preventing you from overheating.
An anti-skid system found in the hem of the jacket stops the back of the jacket from riding up while you wear it.
When it comes to pockets, this rain shell offers an abundance; six versatile pockets provide you with ample place to store belongings, while the back pocket doubles as a packable pouch that allows you to fold the coat up inside it for carrying.
Pros
The two inner pockets are great for phones and keys
A rubbery-textured strip at the base of the coat keeps it in place
These look as great as they are functional
Cons
The zipper tends to hook onto other fabric
The sizing runs a bit small
Because Columbia is situated in the Pacific Northwest, the brand understands the need for a good-quality raincoat. They also understand that different conditions call for unique thicknesses and waterproofing, which is why Columbia offers such a wide variety of raincoats.
One such raincoat is the Columbia Men's Watertight II Jacket. This jacket is perfect for those rainy days or casual everyday wear.
Specs
Features a nylon shell with a polyester lining
Includes an abrasion-resistant chin guard
Comes with Omni-shield dirt and stain protection
Lightweight and fully waterproof
Who is it Best for?
Men who love spending time outdoors hiking, fishing, or camping will come to a point where a high-quality raincoat with waterproofing and breathable fabric is a must. If you're at this point, then the Columbia Men's Watertight II Jacket is an excellent option. Fitted with an adjustable hood, an upright collar, and an abrasion-resistant chin guard, this jacket is perfect for keeping your head and neck well protected.
What left us impressed is the extensive selection of colors; this jacket is offered in matcha green to bonfire orange and even black cherry purple. This raincoat is not lacking in style.
Compared to jackets offered by competitor brands, this one is well priced, falling in the mid to bottom range, but just because the price tag is low doesn't mean the quality is too.
Key features
Columbia ensures that this raincoat is fully waterproof. The coat is made from a 100% nylon outer shell and a 100% polyester inner lining. Together these fabrics ensure water keeps out and sweat evaporates out of the jacket, keeping you warm and dry from the inside and outside.
The Omni-Shield finish on the rain jacket prevents water, liquids, and grime from soaking into the material, instead causing it to bead and run off or brush off with ease.
Elasticated cuffs and hem offer a snug fit that keeps out the cold and wet, ensuring you stay protected against the elements. Two slide pockets keep your hands warm and dry and offer a great place to carry your belongings.
We love that this jacket folds up neatly into one of its own pockets to be stored but, we did find that it didn't hold up as well as we had hoped under heavy rain conditions.
Pros
The color offerings are impressive
It is really simple to pack up and store
The chin guard offers excellent comfort
Cons
Not as waterproof as we had hoped
The hood does not roll up and stows away under the collar
Gioberti was founded in 1998 with the view to producing mid-range priced sports apparel and formal wear for men and boys. Offering unique garments that are durable and of high quality, the brand is well-loved by athletes and adventurers across the globe.
One of the brand's most popular garments is the Gioberti Men's Waterproof Rain Jacket. This lightweight raincoat is excellent for outdoor adventuring, exploring, camping, and hiking.
Specs
Made from 100% polyester
Features a waterproof finish and taped seams
Sees a mesh lining for breathability
Includes an adjustable hood
Who is it Best for?
When it comes to outdoor adventuring or simply walking a few blocks to your office, chances are you will encounter rainfall at some point. Being prepared will make sure you reach your destination or enjoy your activity without getting soaked. In this case, a raincoat from Gioberti is an excellent option. These coats are lightweight, easy to pack into your backpack pack or briefcase, and they are pretty stylish too.
Gioberti offers these jackets in eleven vibrant shades so you can find the one that best appeals to your sense of taste. The protective hood is adjustable thanks to the built-in drawcord and will leave you protected from the wind and rain. While it would have been great if this hood could be rolled up and stowed away, the overall design of the jacket is impressive.
Key features
Gioberti makes this raincoat from 100% polyester that has been treated to offer you a fully waterproof exterior and a breathable, moisture-wicking inner lining that prevents you from overheating, sweating, and feeling damp and uncomfortable.
If you're concerned about water entering through the seams of the jacket, don't be. Gioberti tapes the seams of this coat to prevent water from trickling in, keeping you dry no matter how heavy the rainfall becomes.
Adjustable cuffs that tighten and seal with velcro straps seal in the warmth while keeping water and cold winds out, and a velcro-sealed flap that covers the front zipper works in much the same way.
Two zippered slide pockets with a protective flap will keep your hands warm and dry or provide you with a place to store your belongings.
Our overall impression of this jacket is that it is well worth the cost. It is a little heavier than it looks, but this is due to the premium fabric.
Pros
The fabric is thick and durable
It does exceptionally well at blocking out icy winds
The jacket is robust and not at all flimsy 
Cons
The hood does not stow away
Little Donkey Andy designs and manufactures apparel for outdoor enthusiasts. If you have a love of hiking, camping, fishing, running, or playing golf, this brand has you covered. They offer a range of waterproof and performance garments that make your adventures comfortable and enjoyable.
The Little Donkey Andy Men's Waterproof Rain Jacket is perfect for those moments when the rain arrives, and you're still outdoors. This jacket is versatile, functional, and lightweight, making it ideal for any occasion.
Specs
Made with a polyester waterproof shell that comes with a DWR coating
Comes with two zippered hand pockets and an interior pocket
The hood is adjustable and stows away
Lightweight mesh lining makes the coat breathable
Who is it Best for?
This rain jacket is perfect for outdoor adventures. It is better suited for use in outdoor adventures and layers well over other warm clothing. The shoulders and chest are far roomier than we expected, making it comfortable to wear over fleece jackets and jumpers.
We tested it out in various weather conditions, and it held up spectacularly. Cold winds, snow, and rain are no match for this raincoat.
Another aspect of this raincoat that left us impressed is the texture or feel of the coat. It doesn't feel like a usual raincoat but rather more like soft and comfortable fabric.
The lightweight design of the jacket makes it easy to carry with you in your backpack, making it an ideal companion for outdoor adventures.
Key features
Little Donkey Andy makes this rain jacket from 100% polyester with a DWR coating that makes it fully waterproof. Fully taped seam work even harder to seal the coat off from rain entering the jacket at any point.
The hood, while attached, can be rolled up and tucked away when not in use. A drawcord that threads through the hood allows you to tighten it around your head to keep it from blowing off in high winds and shield you from the cold.
Keeping the cold out from the bottom of the jacket is the drawcord hem and adjustable cuffs that can be tightened or loosened using the velcro straps.
A breathable mesh lining prevents the polyester from sticking to your skin and allows the jacket to breathe, preventing you from overheating and becoming sweaty.
Pros
The coat is soft and doesn't have that typical raincoat feel to it
The hood tucks away under the collar with three handy velcro straps
The stitching is of excellent quality
Cons
Doesn't come with a two-way zipper
Coofandy is a brand that focuses on creating men's wear for all occasions: formal wear, sports apparel, and even outdoor gear. While a relatively unknown brand, Coofandy deserves a closer look, especially once you give the COOFANDY Unisex Packable Rain Jacket a try.
This raincoat is lightweight, packable, durable, and functional—the ideal addition to your backpack, briefcase, or overnight bag.
Specs
Waterproof and windproof
Adjustable hood
Features an extended length collar
Sees a relaxed fit for layering over other clothing
Who is it Best for?
The style and design of this jacket make it remarkably versatile. It layers well over other clothing, and it looks good enough to be worn as a casual jacket. It is durable and sturdy enough to be worn for outdoor adventuring, too – wear it on hikes, while climbing, running, cycling, or camping. The windproof and waterproof design will keep you dry and warm, no matter what the weather brings.
The convenience this jacket offers is impressive too. It is lightweight and folds neatly into its own back pocket, making it simple to take with you on your outdoor journeys.
Compared to competitor brands, this raincoat is well priced and offers a far more durable and waterproof option as opposed to just being water-resistant.
Key features
This ultralight windbreaker is made from durable fabric that comes with a waxy waterproof coating. The coating allows the coat to breathe so that sweat can evaporate out, but water from the external environment can't make its way in, keeping you dry and comfortable no matter what.
An adjustable hood and cuffs work with the shielded zipper to keep wind and water at bay.
The cut of this jacket left us surprised and impressed; it offers a contoured fit that sits nicely over other layers but won't leave you looking as though you are wearing a sack. The large zippered back pocket that sits at the back of the jacket is a fantastic place to store larger belongings.
Pros
The fit is ideal for taller men
It comes in an assortment of solid colors that are fashionable and exciting
The jacket is very waterproof
Cons
The hem is not adjustable nor is it elasticated
When you think of Tommy Hilfiger, there is a good chance jeans, shoes, or fragrances pop into your mind. Known for its fashionable apparel and designer jeans, the brand also has a few other items to offer us too.
The Tommy Hilfiger Men's Active Water-Resistant Hooded Rain Jacket is one such item. This unique raincoat is more stylish than you can imagine, and it is surprisingly waterproof too.
Specs
Made from 100% nylon
Features a tri-color zippered closure
Includes two welted side pockets and an internal zippered pocket
Comes with an adjustable hood
Who is it Best for?
This rain jacket by Tommy Hilfiger is the ideal fashion accessory. It is also excellent for outdoor wear and to keep you dry when the rain comes. The classic red, white, and blue of the Tommy Hilfiger logo are represented on each jacket in the form of the taping of the zipper, lending each coat a stylish finish. It is the little details such as these that make these coats exceptional fashion items.
We gave this jacket a try to see if the functionality it offered was as good as the style. We found that the coat worked better in light rain, offering more water resistance than actually being waterproof.
Key features
Tommy Hilfiger fashions this jacket from a 100% nylon shell lined with a breathable mesh. This mesh prevents the nylon from clinging to your skin and allows air to circulate, keeping you cool and comfortable.
The one thing we didn't enjoy about this raincoat is that the cuffs and hem are shirred but not properly elasticated. This means that these areas offer a closer fit but cannot be adjusted and don't offer a fit snug enough to keep out the rain and cold wind.
The hood is fitted with a drawstring and is adjustable, but it cannot be tucked, rolled, or stowed away.
Pros
The two side pockets are roomy
These coats come in a wide variety of color options
Cons
The cuffs and hem are shirred, not properly elasticated 
The "white" jacket is more of a silvery grey shade
Coofandy is a brand of menswear that aims to provide its customers with durable and fashionable wear for casual occasions. The apparel is made to withstand daily wear and tear while offering excellent comfort and style. Coofandy provides a wide selection of garments, from shirts and pants to raincoats.
The COOFANDY Men's Waterproof Rain Jacket with Hood takes on the look and feel of a quintessential raincoat.
Specs
Made from a polyester and nylon blend
Offers an extra length design
Features a button-up and zippered dual front closure
The hood is adjustable
Who is it Best for?
This raincoat is the classic raincoat we all know and love. It offers that extra length that sits just above the knees to offer greater protection against the elements. The design and style of the rain jacket make it perfect for wear for just about any occasion, whether it is for your walk to the office, while camping, or on a hike.
While some may find the length of the coat to be a hindrance on a hike, we found that the lightweight coat felt as though it wasn't even there. It did cause a bit of a restriction of movement while cycling, though.
Key features
Coofandy makes this coat from a blend of polyester and nylon that comes with a durable wax coating. The fabric, in conjunction with the membrane, is breathable but also highly waterproof. The coat allows moisture from sweat to evaporate through fine pores, preventing you from becoming damp and uncomfortable. Air circulates through the jacket, too, regulating your temperature and lessening the likelihood of your sweating. The membrane prevents any external water such as rain from soaking into the jacket, keeping you dry and confident in any weather.
The high collar and adjustable hood protect your head and neck from the elements. A dual front closure that sees both a zipper and a button-up design provides additional protection from cold winds and rain.
Pros
The raincoat comes in various different colors
It is extremely waterproof and works well against the wind too
The jacket offers a little more length for better protection
Cons
The upper is not as sturdy as it could be
The pockets could be better positioned
Things to Consider When Buying Rain Jackets
1. Waterproof or Water-Resistant
When it comes to buying a rain jacket, one of the most important things to consider is whether the coat is waterproof or water-resistant. These two things are by no means the same. A waterproof jacket does not allow any water through, keeping you just as dry in a heavy downpour as it does in a drizzle.
A water-resistant or water repellent coat beads up the water causing it to drain off the jacket. This concept works very well in light rain; however, in a heavy downpour, when the water is coming down faster than it can be beaded away, it will soak into the jacket.
2. Material and Treatment
Raincoats come in a variety of different face fabrics and waterproof treatments. Knowing which is which will help you to make a more informed decision when buying a rain jacket of your own.
Gore-tex – Gore-tex is a membrane that covers the face fabric of a raincoat. The membrane is porous, allowing vapor to evaporate through the jacket, preventing a build-up of sweat, but does not allow liquid water through to your skin.
DWR – This is a water-repellent and often waxy coating that causes water to bead on the surface of the jacket and then runoff. DWR is not waterproof.
Ripstop – Ripstop fabric is very tightly woven, preventing water and wind from passing through it. It comes in light, medium, and heavyweights, and depending on how tightly it is woven, it may not allow the fabric to breathe.
Recycled Nylon – Recycled nylon is often made from post-use consumer products such as old fishing nets. This is a sustainable way to manufacture nylon products such as the face fabric of a raincoat.
3. Windproof
Windproof jackets are impervious to the wind. They prevent the cold air from blowing through the jacket to your skin, keeping you warm and comfortable. Three types of jackets fit into the category of windproof:
Windbreakers – this shields you from the wind but is often only water-resistant or water repellent.
Rain Jackets – These are made from a slightly more robust fabric that often comes with a waterproof membrane and is more durable than your average windbreaker. Not all rain jackets are windproof, though.
Hardshell Jackets – These are heavy-duty jackets that are both windproof and waterproof. The fabric is often quite heavy and makes a crinkly sound when they move. An example of a hardshell jacket is a snow jacket.
4. Fabric Layers
Raincoats come in three unique constructions: two-layer, two-and-a-half-layer, and three-layer garments.
Two Layer – These jackets are the most basic. They offer an outer face layer of polyester or nylon and an inner layer of breathable mesh. These are great if you want a lightweight, water-resistant jacket. These coats are often not very breathable and are better for casual outdoor wear.
Two and a Half Layer – These jackets see an inner fabric layer that melds to an outer layer that sees a waterproof, breathable laminate coating. These are often more breathable but are still reasonably stiff or crinkly compared to a three-layer coat.
Three Layer – These raincoats see three layers of material that compress together to form the jacket; we see an outer layer, a middle waterproof and breathable layer, and a soft, breathable lining. These are far more breathable, offer moisture-wicking, and are more comfortable for extended wear. The downside to these, though, is that they are often heavier and less packable.
5. Features
As a raincoat wearer, there are a few features you may want your jacket to include. Let's take a look at a few of them:
Elasticated or Adjustable Hems and Cuffs – Making a jacket fully waterproof means keeping the wind and water out from all possible points of entry. The hip belt and cuffs are two such places. Choosing a jacket with snug-fitting elasticated or adjustable hems and cuffs will help keep the rain and cold out. Sometimes these points are designed to be adjustable with drawcords and velcro straps that allow you to tighten or loosen them accordingly.
Hood – An adjustable hood is always an excellent feature to have. A built-in drawcord will allow you to tighten the hood around your head, keep out the rain, and prevent it from blowing off in the wind. A stowaway or tuck-away hood is also helpful as it allows you to fold up the hood when it is not in use.
Packability – This is the ability of the jacket to fold up in itself and tuck away into one of the pockets of the coat. This feature enables the coat to fold up compactly, making it easy to store in your backpack.
Breathability and Ventilation – You want your rain jacket to be breathable. This feature allows you to remain at a regulated temperature, preventing overheating and excess sweating. It also allows for the evaporation of sweat that keeps you from feeling damp and uncomfortable in your coat. Ventilation details such as pit zips help keep you well ventilated, enhancing the breathability of the jacket without causing you to feel cold or to allow moisture in.
Through our research, trying, and testing of each of these waterproof rain jackets, we have found that various fabrics, membranes, and designs of men's raincoats make excellent options for wear in wet, windy conditions.
It is important to consider the style, level of comfort, and ability to keep out water that you want your raincoat to offer, along with your intentions for wearing them. (You don't want to wear bulky, unpackable rain jackets to hike or cycle in) Taking these points into account, along with our reviews, will make it simpler for you to find a men's rain jacket that best meets your needs.