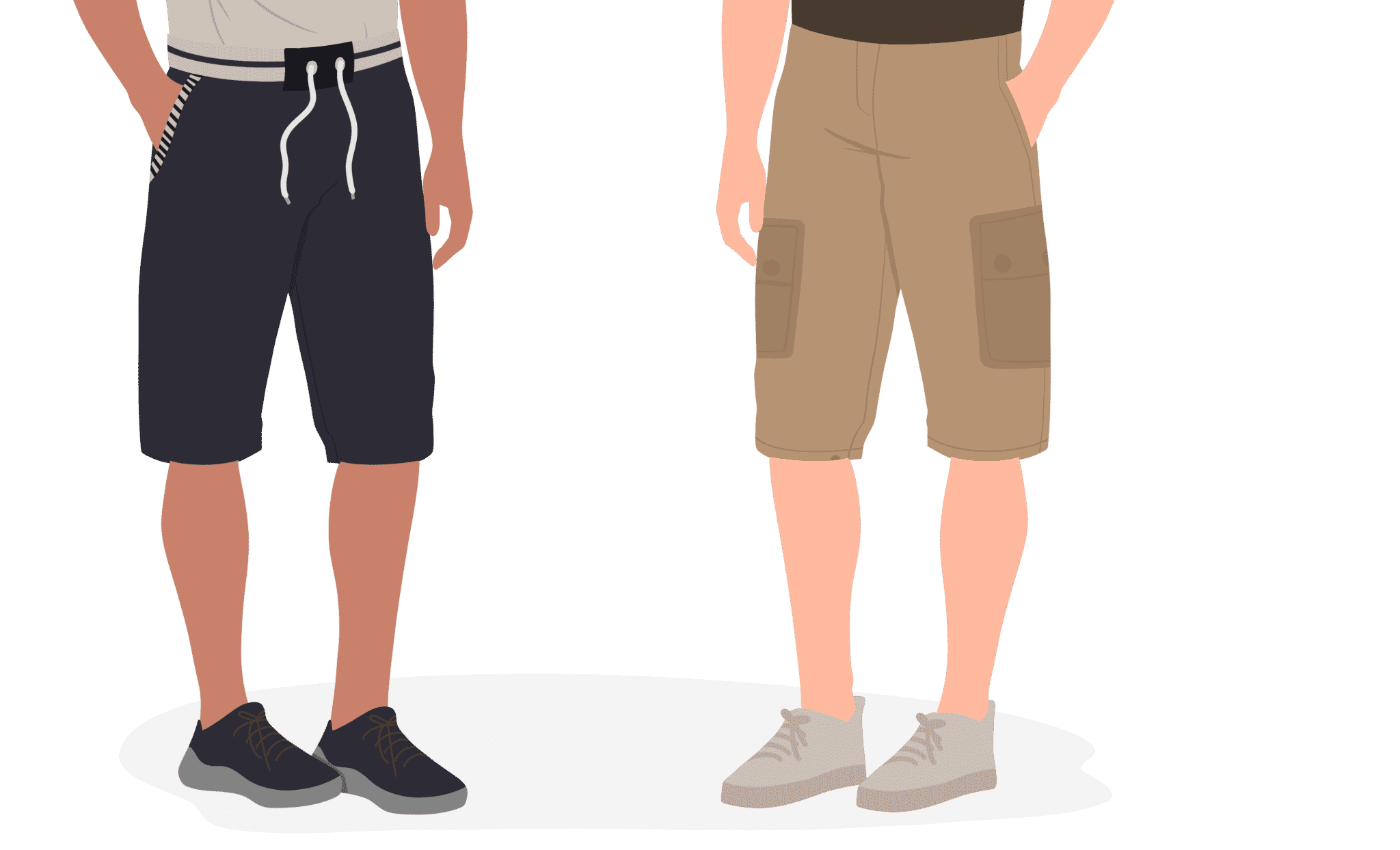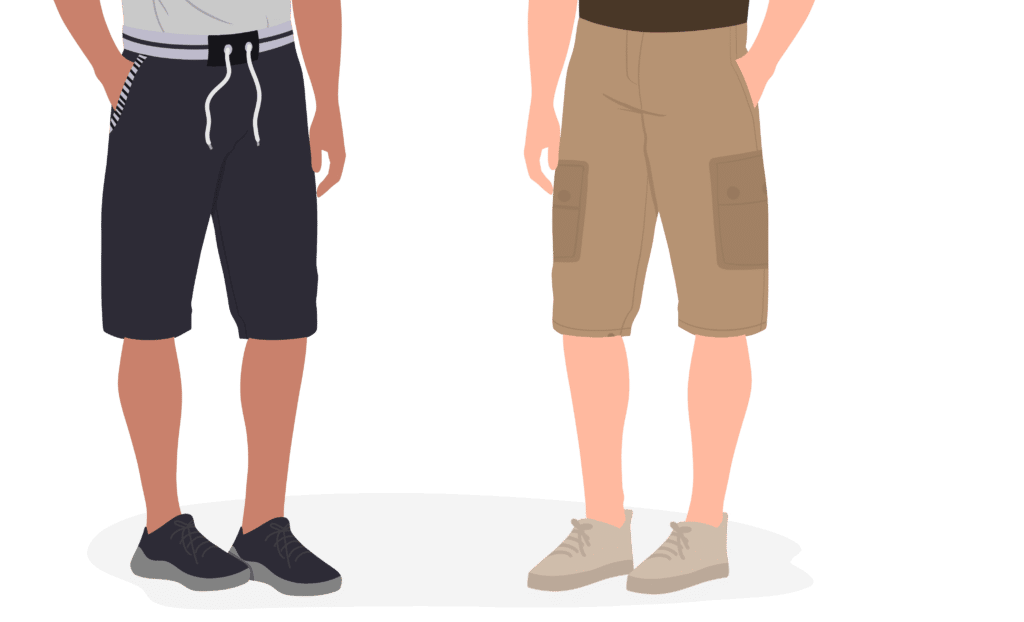 When spring and summer come around, you may find that the warmer days that come with these seasons make wearing longer pants a little uncomfortable. It is time to find an outfit that offers just as much comfort and style, but that leaves you feeling cool and confident.
The perfect solution? The best men's shorts you can find. These versatile and exceedingly comfy pants come in various styles to suit every need and taste, from button-down cotton shorts to denim shorts, swim trunks, and even running shorts.
While there are many options to choose from, finding a style you love may not be difficult but, finding a pair of shorts that offers both style and quality is where the challenge comes in. Not all shorts are made equal, and it is for this reason, we have compiled this review, making it more straightforward for you to find the pair that best suits your needs and that lasts.
We tried and tested eight of the best men's shorts Amazon has to offer and concluded that these each were a pair of shorts worth sharing with you. Our approach was to find the menswear options that met the criteria our research showed a quality pair of men's shorts would offer. We then took the time and reviewed each product allowing us to formulate an evaluation based on these factors: comfort, durability, fabric quality, and style.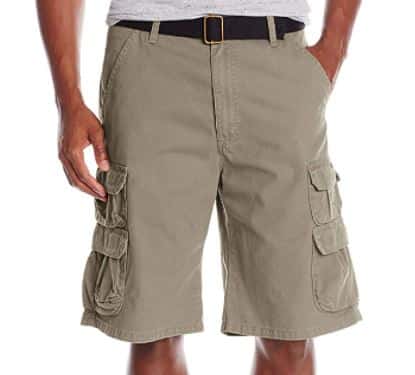 If you are looking for a comfortable pair of men's cargo shorts, the Wrangler Authentics Men's Premium Twill Cargo Shorts make an excellent option.
According to their website, Wrangler has been creating jeans since 1947, so you can be sure they know what they're doing when it comes to menswear and shorts. So, let's dive in and see what these cargo shorts are really all about.
Specs
Made from 100% cotton twill
Features a relaxed fit in the seat and thigh area
Includes eight pockets
Comes with a heavy-duty zippered fly and button closure
Who is it Best for?
If you are looking for a pair of shorts that offers a relaxed fit and won't bunch, these are your best bet. Wrangler styles them to feature a slightly more roomy fit around the seat and thigh area, making it much more comfortable when you need to take a seat. The ten-inch inseam prevents the shorts from bunching as you walk or sit so you can feel confident as you go about your day.
When it comes to pockets, these pants offer many. Eight, to be exact. Four cargo flap pockets on the sides towards the knee, two back flap pockets, and two slash pockets for your hands, wallet, and phone. While these cargo shorts come with plenty of storage space, I found the pockets to be a little on the small side. In my opinion, they could have offered fewer pockets and made those a little deeper and more functional.
Key features
When it comes to features, Wrangler understands that in this case, more is more. These cargo shorts come designed with a multitude that makes them stylish and comfortable to wear.
By creating these shorts from 100%cotton twill, the brand ensures you stay cool. Cotton is naturally breathable and moisture-wicking, allowing fresh air to circulate through the shorts to regulate your body temperature and prevent overheating. It also ensures you stay dry and sweat-free.
What I really enjoyed about these shorts is that Wrangler designs them with a heavy-duty zipper for the fly. Personally, there is nothing worse than a pair of shorts made to last, but that comes with a flimsy zipper that breaks in a matter of weeks. These shorts are durable in both fabric and hardware.
Pros
Plenty of pockets for small items
A longer inseam to prevent bunching
The fabric is soft and durable
Cons
The pockets could be a little larger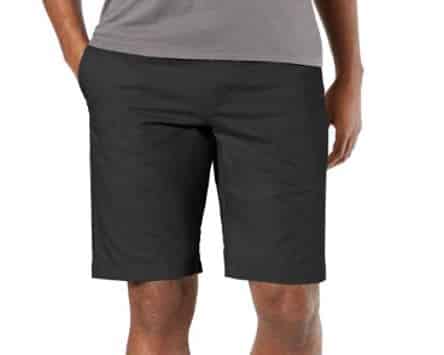 If it is the ultimate chino shorts you want, then these Dockers Men's Perfect Shorts are worth a closer look.
Dockers, a subsidiary of Levi, specializes in men's casual everyday wear. Pair these shorts with some loafers and a polo shirt, and you have the perfect casual look. Because the brand has been around since 1986, you can be sure that quality and durability are two key elements in each item of apparel they produce.
Specs
Made from a cotton and elastane blend
Includes hidden security pockets
Classic fit
9.5-inch inseam
Who is it Best for?
Dockers create these pants the be slightly stretchy. Combined with the classic cut they offer and a slightly roomier seat area, I found them to provide more comfort than expected. Compared to other shorts of this style, such as Wrangler Authentics' Men's Classic Relaxed Fit Short, the stretch these offer makes them more durable and offers a greater range of motion.
Men who prefer a slightly more stylish edge to their pants will appreciate these chino shorts. They pair well with a casual t-shirt or with a button-up shirt, or you can pair them with a hoodie and sneakers on a cooler day.
I bought these shorts in three colors since there are over ten shades to choose from and found that the sizing of some of the colors was slightly off, even though I got all three pairs in the same size. It may have just been my luck, but it is something to keep in mind.
Key features
Dockers know what it means to be comfortable, and this comes through clearly in the design and fabric used to craft these shorts. They are made from a material that features a blend of elastane and cotton. The cotton is sweat-wicking, so you stay dry, and it is breathable, which ensures you are less likely to sweat in the first place. Elastane fibers make this a stretch fabric that increases your range of movement and makes sitting down far more comfortable.
The flexible comfort waistband adds to that comfort even further.
What I liked most about these, though: the hidden security pocket that provides a safe place to keep your phone or wallet. It comes with a zippered closure, so you don't need to worry about your items falling out.
Pros
Comes with a few pockets including a zippered one
A flexible waistband makes sitting and bending a lot more comfortable
Cons
The sizing is off at times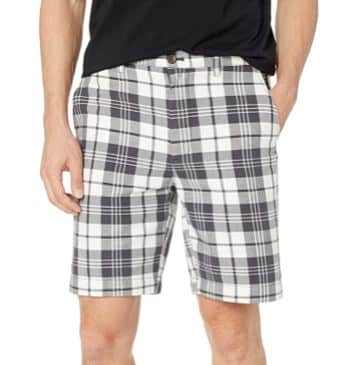 Amazon Essentials is a well-known brand that offers a wide selection of casual wear for the entire family. An item of apparel that they make that you may not know about is the Amazon Essentials Men's Classic-Fit 9″ Shorts.
These men's pants come in a vast selection of colors and patterns, keeping in with the brand's usual offerings of a wide assortment of options to suit each and every need.
Specs
Made from 100% cotton
Nine-inch inseam
Offers four pockets
Zippered fly with button closure
Who is it Best for?
If you are looking for a pair of cotton shorts with a classic fit to wear in warmer weather, these make a fantastic option.
Compared to Amazon Essentials' competitors, these shorts come in at an affordable price point, making them a popular choice. Better yet, this lower price tag makes it more cost-effective to buy a few pairs in different shades or patterns.
I wanted to try these shorts to see if the 100% cotton was as comfortable as pants of the same style that come with a slight stretch to them. While they were just as comfy, I found that the pants' leg had no taper to them, leaving them a little baggy. If you prefer a looser-fitting leg on your shorts, give these a try.
Key features
Amazon Essentials makes these shorts from 100% cotton, so you can be sure they are breathable and moisture-wicking. So that is durability and comfort checked off the list.
The waistband was nothing to write home about, just your typical fly and button closure, but it does the job and does it well. Include the four pockets, two set-in buttoned pockets at the back, and two slanted pockets at the front, and you have enough room to carry an assortment of personal items, making these pants pretty functional.
A nine-inch inseam does a reasonably good job at preventing the pants from bunching, although you will find, as I did, that the cut of the pants leaves them sitting about three fingers above the knee. If you prefer shorts that sit on the knee, then perhaps these aren't for you.
Pros
These pants keep you cool even on the hottest days
They offer a slightly more sophisticated look
The shorts come in many colors and patterns
Cons
Some may find these shorts a little baggy
The pants sit well above the knee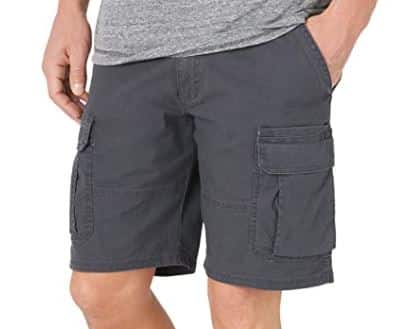 Most of us know Wrangler as jeans and denim brand, and for the most part, it is. What you may not realize is that the brand creates a selection of other apparel too.
The Wrangler Authentics Men's Classic Relaxed Fit Stretch Cargo Shorts caught our eye as they look to perfectly combine chino and cargo shorts, ideal for lounging or for a walk through the streets of New York.
Specs
Made from a cotton and spandex blend
Relaxed fit
Ten-inch inseam
Features six pockets
Who is it Best for?
If you are looking for a decent pair of cargo shorts, these may be the solution you need. After trying out Wrangler Authentic's other cargo shorts (we chatted about them at the beginning of this review) and finding them to be a little lacking in the area of pockets, I had to give these a look over and see if they offered more functionality. I wasn't disappointed.
Wrangler designs these shorts to feature six pockets (two less than the others), including two back pockets, two slanted front pockets, and two cargo pockets. The cargo pockets left me impressed; they are deep and spacious and will easily fit your phone or wallet, or both.
I would advise, though, that if you buy yours to feature a slightly looser fit, that you wear them with a belt when carrying heavier items in your pockets, as they tend to slide down a little with the added weight.
Key features
One of the features of these pants that deserves mention is the fit. These come with a classic fit that combines with the stretch fabric used to make them leave you with shorts that offer more room in the seat and thigh area without looking baggy or untailored. The slight stretch also provides a wide range of motion that makes the pants comfy to wear no matter what you spend your days doing.
Another aspect of these pants that left me impressed is the heavy-duty hardware. The zipper is designed to last as long as the fabric making them durable and worth your while.
The only area I feel Wrangler could improve in is the pockets – they close with velcro instead of buttons. Not only does velcro make it quite clear to everyone in your vicinity that you're opening up your pockets, but it isn't as durable as, say, a button.
Pros
Perfect for any body type
The zipper won't easily break
Cons
The pockets seal with velcro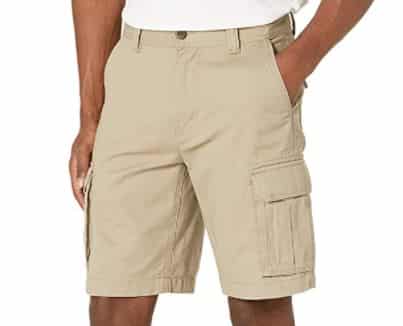 If you're searching for a pair of shorts that offer the style of chino shorts and the functionality of cargo shorts, then these Amazon Essentials Men's Classic-Fit 10″ Cargo Short are worth a second look.
True to the brand's ethos of manufacturing clothing that is durable, functional, and perfect for everyday wear, these shorts offer all that. What we wanted to find out was whether they were as comfortable as they look?
Specs
Made from 100% cotton
Relaxed fit
Features six pockets
Sit just below the knee and feature a 10-inch inseam
Who is it Best for?
These cargo shorts are not short of pockets or pocket space, and Amazon Essentials placed its focus well and truly on functionality here. There are six pockets, including the slanted front pockets. The two cargo pockets offer great depth and work well for carrying a number of items.
It is the back pockets that left me a little baffled. They are deep, which is excellent, but the buttons that secure them hut are pretty large, making the flaps challenging to open. While this is a superb deterrent for pick-pockets, it is frustrating if you are trying to get something out of your pocket in a hurry.
If you like shorts that are a little longer in the leg, these may be a great option. They are designed to sit on or just below the knee.
Key features
To answer our earlier question of whether these shorts are as comfortable as they look, they certainly are. Amazon Essentials makes them with 100% cotton so you can be sure that they are breathable and that they will wick away any sweat. They are super soft too.
The relaxed fit provides sufficient space around the seat and thigh, so you're not left with the concern that your pants may split the moment your rear hits the chair.
Amazon Essentials' only downfall is that while they used a YKK zipper, it is not as long as it could be (this one is only five inches, where on most shorts, the zipper is six inches). However, the overall design and craftsmanship of the shorts are impressive and have left me feeling that buying a second pair is something I will do in the near future.
Pros
These shorts offer lots of room to move
They are soft and comfortable to wear
Cons
The zipper is a little short for my liking
The big buttons are cumbersome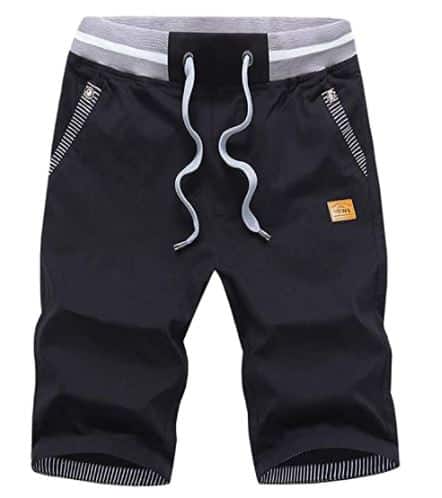 Tansozer is a brand that specializes in menswear. The brand offers a wide selection of men's shorts from cut-offs, gym shorts, sweat shorts, and swim shorts.
It was their Tansozer Men's Shorts Casual Classic Fit Drawstring Summer Beach Shorts with Elastic Waist and Pockets that caught our eye. These not only looked comfortable but stylish and functional too. We needed to know more about these unique men's shorts, so we gave them a try.
Specs
Made from a blend of cotton, linen, and spandex
Elastic waistband
Drawstring closure
Includes four pockets
Who is it Best for?
If you are looking for a soft pair of shorts that sit on the knee and offer a slim fit, then these may be just the ones you need. They are made from a blend of cotton, linen, and spandex and feel lightweight and soft. They also come with a slight stretch that makes them comfortable to move about in. The fabric is ideal for wear at the beach, although it does tend to pick up lint and fluff.
What I appreciate about these pants are the careful design details that Tansozer has put into them. The variety of color offerings and how the elasticated waistband is designed to add a splash of fun to the look. Better yet is the fact that you can turn up the cuff of the shorts to expose a different patterned section of fabric that adds a touch of style to the overall look of the pants.
Key features
These beach shorts come with a slim-fit cut that sits a little more closely to the waist and thighs. They don't have a zipper or button closure but instead use an elasticated waistband and drawstring closure. This design feature makes the shorts easy to pull on and off, adding to the comfort of the pants.
I found that these pants do run large, with the small fitting more like a medium and so on. So keep that in mind when choosing the size.
Four pockets offer space to store your personal items and come in the form of two back pockets and two slanted front pockets.
A flat-front style ensures the top of the pants isn't puffy and offers that authentic slim look.
Pros
Contemporary style and fit ideal for the modern man
The shorts feature a turn-up option on the hem
These shorts are made for comfort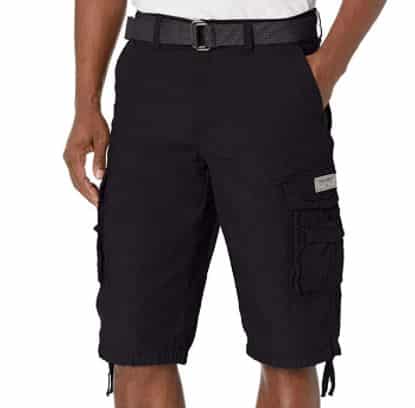 If you're looking for a classic pair of cargo shorts, Unionbay may just have the ones you seek. The Unionbay Cordova Messenger Cargo Shorts offer both the length and functionality of authentic cargo shorts while offering a modern look and feel.
According to their website, Unionbay has been designing and producing sportswear and apparel for over 40 years. The brand's ethos centers on providing consumers affordable clothing that meets their needs. Let's see if these shorts live up to that promise.
Specs
Classic fit
15-inch inseam
Made from 100% cotton
Features adjustable tabs at the hems
Who is it Best for?
Unionbay designs these shorts to offer a longer length, and as a result, they sit just below the knee, much like traditional cargo shorts. The shorts are made from 100% cotton that is soft and breathable but be forewarned; they are not as durable as you might hope. I found that my pair wasn't as thick as I had hoped, which leaves them feeling a little iffy.
The fabric quality aside, the overall design of the shorts is rather impressive. Tabs at the base of each leg allow you to secure them or give the pants the tapered fit that suits you best.
Included with the pants is a matching belt that keeps them in place when you have heavier items in your pockets.
Key features
Unionbay's cargo shorts feature an abundance of functional and well-sized pockets. Double stacked side cargo pockets, two slanted front pockets, and two back pockets offer you a total of eight, all in all, providing ample space to carry an assortment of items.
A zippered fly and button closure make these pants simple to slip on and off.
The longer length of the pants brings with them a longer inseam that measures 15-inches. What makes this so great is that this extended inseam prevents the pants from riding up and bunching when you walk or sit, ensuring you stay comfortable throughout the day.
Unionbay offers these shorts in a selection of colors and patterns that include camo in both green and black, making up for the lack of quality with versatility and style instead.
Pros
The pants feature eight well-sized pockets
A matching belt comes included
The fit is extremely comfortable
Cons
The quality of the fabric could be improved upon. 
Unionbay is known for its affordable and extensive apparel and sportswear offerings. What you may not know about the brand is that they hold a comprehensive range of men's shorts that come in a selection of shapes and sizes.
Unionbay also offers its apparel in regular sizing and big and tall sizing. The UNIONBAY Men's Survivor Belted Cargo Shorts are one garment that is provided in this sizing range.
Specs
Relaxed fit
Made from cotton twill
Includes a D-ring belt
Comes with an 11-inch inseam
Who is it Best for?
These cargo shorts make an excellent option for anyone looking for that typical cargo shorts look without the extra length in the leg. The shorts sit on the knee (or just a little over depending on your height) and feature a relaxed fit. This cut provides additional room in the seat and thigh area, making it easy to move about in these pants. The only downside to this is that the leg of the pants is not tapered and is rather baggy.
A longer inseam of 11-inches prevents the pants from bunching, which is ideal since there is nothing more uncomfortable than pants that ride up when you walk.
I was somewhat impressed with the color and pattern offerings provided by Unionbay and found that the shades these pants come in are rich and well set.
Key features
These cargo shorts are made from a cotton twill that is firm and feels durable. The fabric is breathable and moisture-wicking, too, making them ideal for wear in warm weather.
Six large and deep pockets provide ample space for all the items you wish to carry on your person. Two slanted front pockets, two back pockets, and two side cargo pockets give you enough space, but Unionbay could improve how they attach these pockets to the shorts. One of the side cargo pockets started pulling away and became detached from the short, ripping a hole where the top of the pocket meets the pants. This not only left the shorts looking horrid, but it didn't leave me confident about storing heavier items in them.
Overall, if you use the pants to store smaller, lighter objects, they are a pretty stylish and functional pair of shorts.
Pros
The pants offer six large pockets
The fit is comfortable and offers a great range of motion
These shorts come in a fun range of colors
Cons
The stitching leaves room for improvement
The shorts are a little baggy
Things to Consider When Buying Shorts
1. Fabric
When choosing a pair of shorts for summer, it bears giving thought to the fabric the pants are made from. You want a pair that is breathable, moisture-wicking, lightweight, and comfortable. The best choice for shorts for everyday wear is often cotton; whether it is twill or organic cotton, this material makes the perfect pair of men's summer shorts.
Shorts for cycling or sports, or even swim shorts are better if made from a spandex or lycra fabric or quick-drying nylon.
2. Style
When it comes to the style of shorts, there are many. Here are a few options of shorts styling you may enjoy:
Cargo shorts are generally longer in length and are made from a thicker, more durable cotton fabric. The identifying feature of cargo shorts is the multitude of pockets these pants offer.
Chino shorts typically feature four pockets, two at the front and two at the back. They often feature a slightly slimmer fit or classic fit and taper somewhat from the mid-thigh to the knee.
Denim Shorts / Jean Shorts:
Denim or jean shorts are usually longer in length, sitting just on or below the knee. They come with a more relaxed fit and four pockets and are made from denim. You also get a unique styling of the denim shorts, known as jorts (jean shorts); these are where an individual has taken a pair of jeans, often skinny cut, and cut them mid-thigh, or has cut them to sit like a women's pair of short denim shorts. If you value your sense of fashion, we suggest steering clear of the jorts style.
Through our research, trying, and testing of each of these pairs of shorts, we have found that various styles, cuts, and designs of men's shorts make excellent options for wear in warmer weather.
It is important to consider the style, level of comfort, and material you want your shorts to offer, along with your intentions for wearing them. (You don't want to wear chino shorts to swim in) Taking these points into account, along with our reviews, will make it simpler for you to find a pair of shorts that best meet your needs.