Congratulations on deciding to make the plunge and begin shaving your head! This is a very liberating experience and is a great solution for balding men. If your starting to have any doubts be sure to check out the benefits of shaving your head infographic. Now that you have determined that shaving your head is the right look for you (Haircuts for Balding Men), it is time to get the right supplies for the job. You must pick the best razor for shaving your headd.  For the closest and most consistent shave, using some form of a manual razor over an electric razor is the best course of action, but there are some definite advantages of the electric option. I actually recommend you have an electric shaver for your head as well as manual razor like myself as they both come in handy under certain circumstances.
For manual razors, there are almost endless options to choose from, but don't worry! I have determined which are the best razors for head shaving your head based on my personal experiences/experimentation, professionals in the field (i.e. barbers), and copious amounts of research. The following list of razors are all great options and I can't really say that one is really better than the other as each has their pros and cons. At that point, it really comes down to personal preference/priorities and what kind of shaving experience you're looking for.
Shaved head aftercare
Below, you will find the best razor for shaving your head.  But picking the razor and shaving is half the story.  You will then be bald, which is a cool and strong look.  But you need to take care of your head almost from the second you shave it.  And here's how.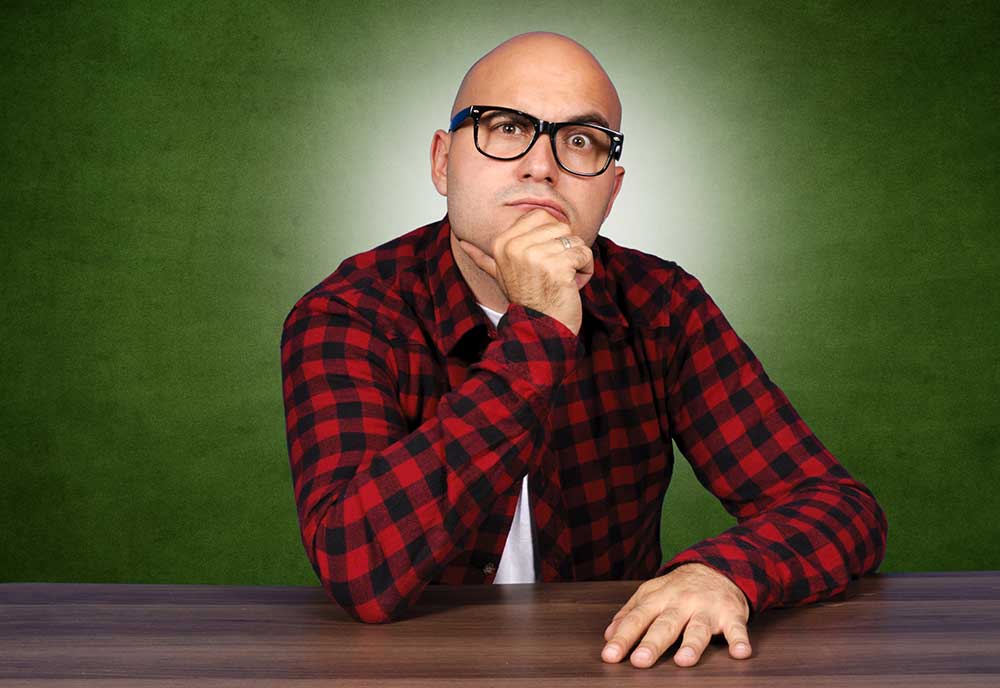 #1 HeadBlade ATX All-Terrain Head Razor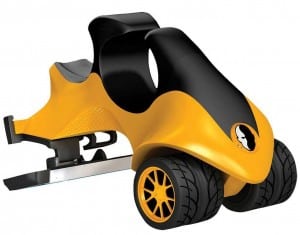 This razor has been specifically designed for shaving one's head. There has been multiple models of this product over the years, but the ATX all-terrain is the latest and greatest of them.
Ease of Use: The core value of this product is really the design that allows anyone to easily shave their head with littler experience. The blades attach to a spring mounted adapter to the razor. This allows for you to simply roll the wheels over your head and let the HeadBlade do the rest. This makes it very easy to shave without having to worry about whether you are applying too much or too little pressure which can cause nicks and cuts or an uneven shave.
Performance: I have found the HeadBlade to provide a quality, close, smooth shave with minimal if any irritation or razor bumps. As you are using a 3, 4, or 6 blade razor, there is a heightened chance of ingrown hairs as the multi-blades will cut the hair below the scalp by pulling the hair with one blade and cutting it with the next.
Functionality: The HeadBlade comes with an HB4 cartridge razor but you can also use the Gillette Atra Plus and Schick Ultrex blades as well. You will have to find which razor you prefer. The cheapest of the three is the Gillette Atra Plus ($16 for a 10 pack on amazon)
Verdict: Overall the HeadBlade is a great razor for head shaving. It's unique design makes it easy for anyone to get a smooth shave quickly and easily.
#2 Mekur 34C/38C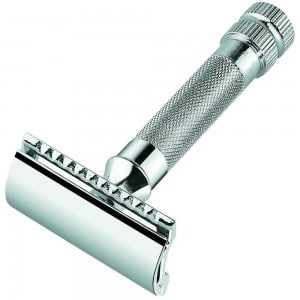 This is one of the best safety razors on the market today for shaving ones face but this razor is also an exceptional option for shaving your head as well.
Ease of Use: The one drawback to using a safety razor such as the Mekur 38C is that it does take some practice and a little more time to get the job done right so if you are always in a rush to get out the door as you attempt to shave your head this is not the option for you. As you practice and gain more experience you will become much more effective and efficient, but it probably will be never be quite as fast as using the HeadBlade or some other traditional cartridge razor. Many have agreed this learning curve and additional time commitment is well worth the investment. I prefer the Mekur 38C as this model has a longer handle which makes it easier to reach all parts of your head.
Performance: This razor will provide an extremely close and smooth shave with practically no chance of irritation, razor bumps, or ingrown hairs due to the one blade design. You are slightly more susceptible to nicks and cuts with the safety razor than with the cartridge razor due to the unprotected edges but this also allows for more precise lines. It just takes a little practice and patience and there'll be no such problems.
Functionality: Another pro of the Merkur safety razors is that you can choose from a large variety of different blades. These blades are far cheaper then the traditional cartridge razor replacements and are much higher quality. I recommend the stainless steel Feather Blades. These high quality Japanese blades are extremely sharp and provide a smooth and comfortable shave with outstanding longevity. You could buy 10 of these blades for under $4! Doesn't get much better than that! The amount of money you will save over time is astronomical. Some find them to be a little too sharp and want a milder blade. Check out the best safety razor blades article to find the blade that will work best for you.
Verdict: Overall the Mekur 38C provides the highest quality shave of all the options and at the cheapest price once you make the initial investment of the safety razor. You just simply have to decide whether you're willing to invest in the additional time to achieve that superior result.
#3 Gillette Mach 3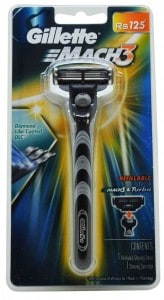 This razor is one of the first three blade disposable cartridge razors and still reigns as the best. Another close competitor is the Gillette Fusion. These are probably the two best disposable razors out on the market today. Be sure to check out how they compare in our Mach 3 vs Fusion article.
Ease of Use: This razor provides a very fast and easy way to shave one's head and is a viable option for someone who's not willing or able to invest the time in shaving with a safety razor. The handle is of sufficient length to be able to reach the back of the head with ease. Unlike the HeadBlade, you have to be conscious  of how much pressure you need to apply to get a smooth close shave but without pressing too hard and cutting the scalp.
Performance:  The three blade design will get a nice close shave with minimal chance of irritation or razor bumps. Any more blades and your going to increase your chance of ingrown hairs, other forms of irritation, and the razor will get clogged with hairs more easily. As with all cartridge razors, the odds of getting nicks and cuts are minimized due to the protected edges.
Functionality: As with all cartridge razors, you can only use Gillette's replacement razors. Fortunately, these razors are of sufficient quality so they will last you more shaves than most other cartridge razors. Unfortunately, they are quite expensive and as you obviously want to keep your head looking perfectly sleek and smooth you will be shaving at least a few times a week. This will cause you to run through replacement cartridges faster then a jackrabbit.
Verdict:  This is the best of the traditional cartridge razors on the market today for shaving one's head, as well as one's face for that matter. So if you're not willing to commit the time to shave with a safety razor, don't mind the additional costs, and prefer a traditional handle over the unique HeadBlade design, then this is the razor for you.
 Conclusion
As you can see there are some great options out there as the best razor for shaving your head. The different options aren't just in terms of different brands but are really very different approaches altogether. Each kind of razor has their pros and cons and as I stipulated before, it will really come down to personal preference. I personally use a safety razor as I really appreciate that close shave without the risk of ingrown hairs and the amount of money I save by purchasing feather blades is a great plus as well. I do know a lot of people though that really like the HeadBlade due to its ease-of-use and I can definitely appreciate that. Whatever you choose, be sure to keep your shaved head healthy and smooth through consistent maintenance and the right products including a quality body lotion or first-rate aftershave balm and sunscreen. If you need some guidance on shaving your head, be sure to check out this article on how to shave your head.
Hey! Don't Leave Yet!
If you found this article helpful please be so kind as to share it on Facebook or other social media per the buttons below. We really would appreciate it as we have worked so hard on this post for you. I have a feeling some of your friends and family will find it helpful as well.
Also be sure to join the Prim&Prep community! Not only will you have a chance to WIN your choice of a quality safety razor or beard oil but we will provide you with all kinds of helpful and enlightening male grooming tips and advice directly to your inbox so you don't have to waste your time fiddling on the web to find the right information to look and feel your best. There is nothing to lose and so much to gain. SIMPLY SUBSCRIBE BELOW!