First off, I would like to congratulate you for deciding to take the plunge and begin shaving your head! Wheather you have a full head of hair or are doing this is out or necessity due to a receding hairline it is a very liberating experience. Once you have assessed whether a shaved head look will work for you based on face and head shape (Haircuts for Balding Men) you need to determine the best tools to use to get the job done. Now the first big split in the road is whether to use some form of a manual razor or an electric razor. There are pros and cons to each of these approaches. From a mile high perspective, generally speaking, the razor approach will get you the closest shave but an electric shave is easier to perform with less chance of nicks and cuts. If you are considering the manual razor approach, be sure to check out the Best Razor for Shaving Your Head article so you'll have the right tool for the job and this instructional article on how to shave your head.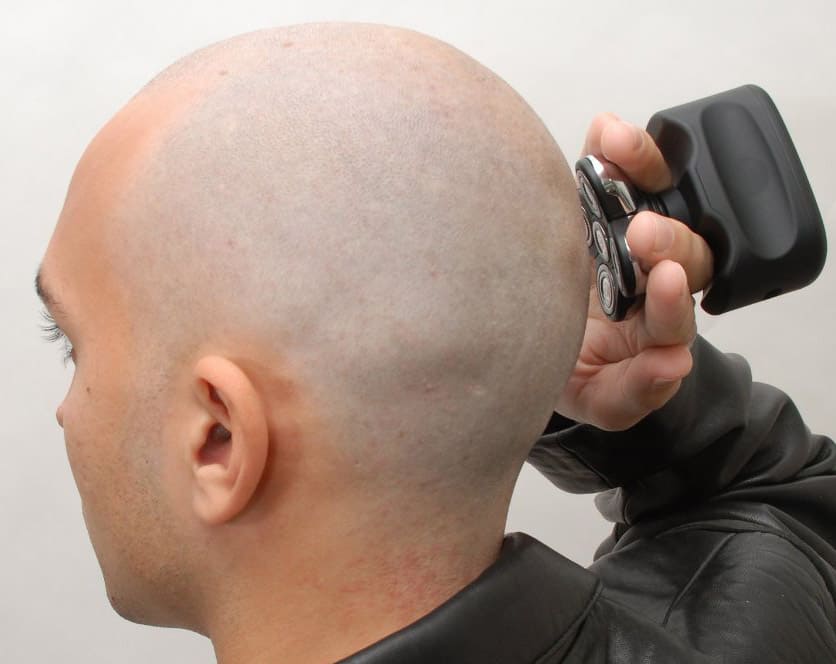 The convenience factor of an electric shaver is hard to beat, but not all shavers are created equal and there are some unique criteria one must consider when selecting a shaver for your head. These criteria include the ability of the shaver to conform to the spherical shape of one's head instead of just the primarily flat surfaces of a face and a design that allows you to easily reach all parts of your head with ease. Below are the top shavers I have found to be the best for shaving your head based on personal experience and copious amounts of research.
#1  Bald Eagle Smart Shaver LCD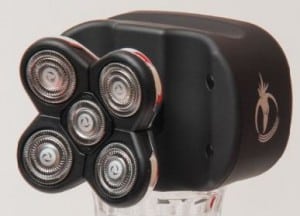 This is the only electric shaver actually specifically designed and marketed for head shaving. There are three models, the "Essential",  Pro, Smart. I will break down in this review the differences between these models.
Ease of Use/Comfort (10/10): What makes this shaver good for the head is the unique design in which the shaver is held with your palm facing your skull making it extremely easy and comfortable to reach all parts of your head. It also has an astonishing 5 rotary blades! This covers a lot of surface area and as there is a lot of skin to go over on your head, this kind of converage is very valuable. As with most rotary blade shavers, the shaver is fairly quiet. Cleaning is a breeze as well. Simply detach the shaver head from the handle, run it under water and its good as new.
Performance (9/10): The Bald Eagle shaver a fairly good motor clocking in at about 10,500 CPM allowing it to shave the hairs with ease providing a close fast shave. The motor resides in the handle which keeps the blades cool. This help prevent irritation of the skin. Personally I love this shaver and  had no issues with razor burn or dry patches. Based on the countless reviews and forums and I read, this experience seems to be same for most people as well.
Functionality (7/10): The functionality of this shaver is really the only criteria where the different Bald Eagle Models differ.  The Essential's battery life is short (approximately 30-60 minutes) with a charge time of about 5-7 hours and can not operate while charging. The Pro and Smart models have a 60-90 minute battery life with a charge time of about 2.5-3 hours. The Smart also has a convenient LCD screen that displays battery life. All models can be used for both dry and wet shaving but they explicitly state not to use shaving gel and not to use in the shower/bathtub, so if you prefer wet shaving in the shower, this is not the shaver for you. Lastly, it is not the best shaver for your face. I personally don't shave my face with the Bald Eagle, but I do know many people who do that don't seem to have a problem. that this shaver has a few cons.
Price (9/10): The price is very reasonable relative to other top quality electric shavers. The Essential model costs only $99 and the Smart is slightly more expensive at $135 on Amazon. Replacement razors are inexpensive as well (around $14) which need to be replace every 3 to 4 months. Be sure to check out the current price of the Bald Eagle Smart here on Amazon as it commonly goes on sale.
Verdict: When considering all the criteria, the Bald Eagle is the best head shaver on the market today. The couple of cons regarding functionality are minimal as long as you are a dry shaver and I found that I really did not find the battery life / charge time to be much of an inconvenience. The quality shave it provides with substantial coverage for speed and the unique handle for comfort and ease far outweigh these drawbacks. I think it is also very important to mention the great customer service that this company provides. I have read many testimonials in which the individual reached out to the company to report an issue or lost part and the company responded promptly rectifying the problem even if the fault of the issue may have been on the customer The Amazon community seems to agree with me on the Bald Eagle shaver as it has a 4.2 out of 5 stars rating with over 400 reviews!
Don't just take our word for it, check out all the other hundreds of glowing user reviews here.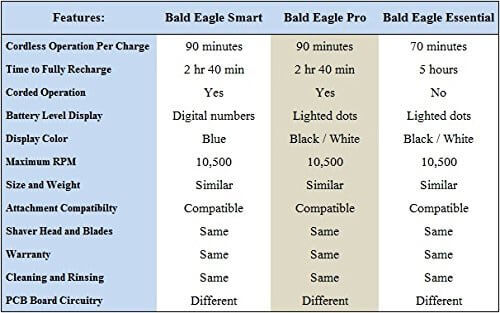 #2 Philips Norelco 1250x SensoTouch 3D (Shaver 8100)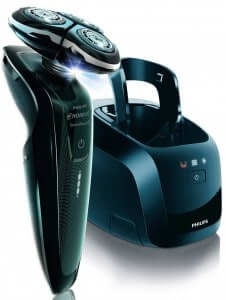 This another rotary electric shaver that myself as well as many other have found to work very well for shaving one's head. Lets dig in and see why!
Ease of Use/Comfort (8/10): This shaver really molds to your hand and has a real good sturdy feeling like real top quality materials were used in the manufacturing process. I think the quietness of this shaver also is evidence of this case as well. This is not always the case for electric shavers that sometimes feel plasticy and fragile. The three rotary blades don't cover as much area as the Bald Eagle's five rotory blades but it isn't too shabby. Most rotary shavers cover a lot more area relative to foil shavers in general. Cleaning is a breeze as the head is easily detachable which can simple be run under water.
Performance (9/10): This shaver provides a superbly close and thorough shave with its powerful motor and dual blade system. This shave provides a whole other "dimension" to your shave as there are three dynamic parts working independently, flexing, curving, and rotating to shape to every contour of your skull with precision.
Functionality (10/10): This shaver can be used for both wet and dry shaving. Battery life pretty good, lasting for several days and has very fast charge time (1 hour). It is also a great shaver for the face as well!
Price (7/10): This shaver is quite a bit more ($150 or $220 with cleaning/charging station) than the Bald Eagle. There is a less expensive version, the Philips Noreleco 1150x SensoTouch 2D (Shaver 6100), $90 on Amazon, that is pretty darn good as well. It just has a little weaker motor and only as a 2D gyroflex countour following system instead of the 3D system. Be sure to check out the current price of the 1250x here on Amazon as the price constantly fluctuates.
Verdict: This is a great tool for shaving your head and what sets it apart from the Bald Eagle is that it is a great shaver for the face as well. So if your looking for that quality all in one shaver and willing to sacrifice the ease of use of the Bald Eagle's unique design, then this is the shaver for you. With a 4.2 out of 5 stars rating with over 1,600 reviews on Amazon there is no doubt that the people have spoken and the Philips Norelco 1250X Sensor Touch 3D is a winner.
See the consensus of hundreds of other user reviews here
#3 Panasonic ES-LA93-S Arc4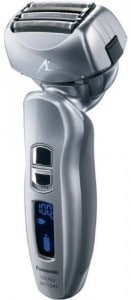 Coming in at #3 is the only foil based electric razor that made the grade. Generally, the rotory type razors are the best head shavers as they cover a lot more surface area a lot faster which a key factor in determining the best electric razors for shaving heads. Lets find out why I have found this foil razor to an exception.
Ease of Use/Comfort (7/10): This shaver fits very comfortably into your hand and is easy to maneuver over the contours of one's head. It is a little heavier than most shavers and slightly nosier as there is actually two motors with this shaver but these two motors really makes a difference in performance. The shaver comes with a charging and self cleaning station which is extremely convenient. The vortex cleaning system does a great job and assures you a clean fresh shave every time. Just place the shaver in the charging station after every shave, initiate the cleaning cycle, and it will do the rest. Manually cleaning it is very easy as well if you prefer.
Performance (9/10): The shaver has a very large and wide shaving head with 4 foil blades! Powering these hypo-allergenic nanotech blades is a very fast motor (14,000 CPM). The combination of these factors result a very thorough quick shave as this shaver can cut through the thickest of hair in a single pass. It's Multi-Flex quick-pivoting shaving head really does a great job at contouring to your head resulting in a close even shave.
Functionality (9/10): This shaver can be used for both wet and dry shaving but you can't use it when charging. A full charge takes about 1 hour and will last about 45 minutes which is about as good as it gets. It has a nice LED screen which will depict battery life, shave time, etc. This is a great razor for not only the head bur for the face as well.
Price (6/10): This shaver is not cheap ($180 on Amazon) but can be well worth the price. Be sure to check out the current price here on Amazon as the price is constantly fluctuating so you might be able to pick it up for a cheaper price.
Verdict: If you prefer foil shavers and don't mind investing a little bit more money, the Panasonic ES-LA93-S Arc4 is the right razor for you. It has superb performance, top of line technology, is a great razor for both head and face, and has the versitality to work as both a wet and dry shaver. This shaver has justified its price tag as this shaver has received 4.3 out of 5 stars on Amazon with over 600 reviews.
Check out all of the other amazing customer reviews to see what other people have to say.
Conclusion
Well, there you have it, the 3 best electric razors for shaving your head. I assure you, you can not going wrong by selecting any one of these 3 shavers. They all have their pros and cons and it really then comes down to personal preference. Do you prefer rotory or foil? Do you want it to work just as well for your face? These are just a few of the questions you need to ask to determine which one is best for you. I'll leave you to it. Be sure to check out the benefits of shaving your head infographic for additional validation.
Please leave any comments or questions in the comment box below. If I don't have the answer I will find someone who does. Additionally, if you liked and/or found this article helpful please submit a comment saying so and/or give us a like on any one of the social media sites per the buttons on the left. Very much appreciated!
I will leave you with a couple of very important tips that you should know no matter what shaver you decide to use:
Before you shave your head for the first time or if you have let it grow out a bit since your last shave, you need to trim your hair very short with electric clippers or even shave it with a razor first. These shavers can only endure so much hair at one time before they don't shave efficiently or effectively.
Even if you decide to use the electric shaver for day to day maintenance of your shaved head, I would still recommend shaving your head with a razor once a week or so. For recommendations on the best razors to use, check out Best Razor For Shaving Your Head.
Just like your shaving routine for your face, you need to be sure to use quality products such as one of the best shaving creams, shaving soaps, or shaving gels as well a first-rate shaving brush to apply the shaving cream and exfoliate the skin. If the skin on your head is particularly sensitive, you are betting off using a shaving gel or one of the leading shaving creams for sensitive skin.
I definitely recommend, as I do with all shavers, to clean it after every use. This will assure you a good consistent shave every time and increase the longevity of the life of your shaver. As most of these shavers are not cheap, you definitely want to to preserve its life and keep it running smoothly for years to come.