An aftershave that will transport you back to a time when men were men and pirates ruled over the seas!
Ok, so maybe it won't actually let you travel back in time and seek out adventure on the high seas, but if there's one thing the best bay rum aftershaves will do, it makes you feel like a real man.
What was once the most popular men's aftershave/cologne scents throughout the 1800s and early 1900s, bay rum has been making quite a major comeback in recent years as more and more men are making the switch to traditional wet shaving.
So, what is an aftershave for? Is aftershave necessary?
While there is nothing really special about the bay rum fragrance that makes it perform any better than other aftershaves, the intoxicatingly spicy and ultra-manly scent of bay rum is something men across the globe continue to seek out.
Of course, like all other things in life, when it comes to bay rum aftershaves there are good ones and then there are the not-so-good ones.
Therefore, to help you make a better, more informed decision on which product to buy, we decided to provide you with a list of what we here at Prim & Prep consider to be the best bay rum aftershaves on the market.
Although we've previously covered the best aftershaves for men and best aftershave balms, we decided that bay rum aftershaves really deserve their own post due to the overwhelming popularity of these products.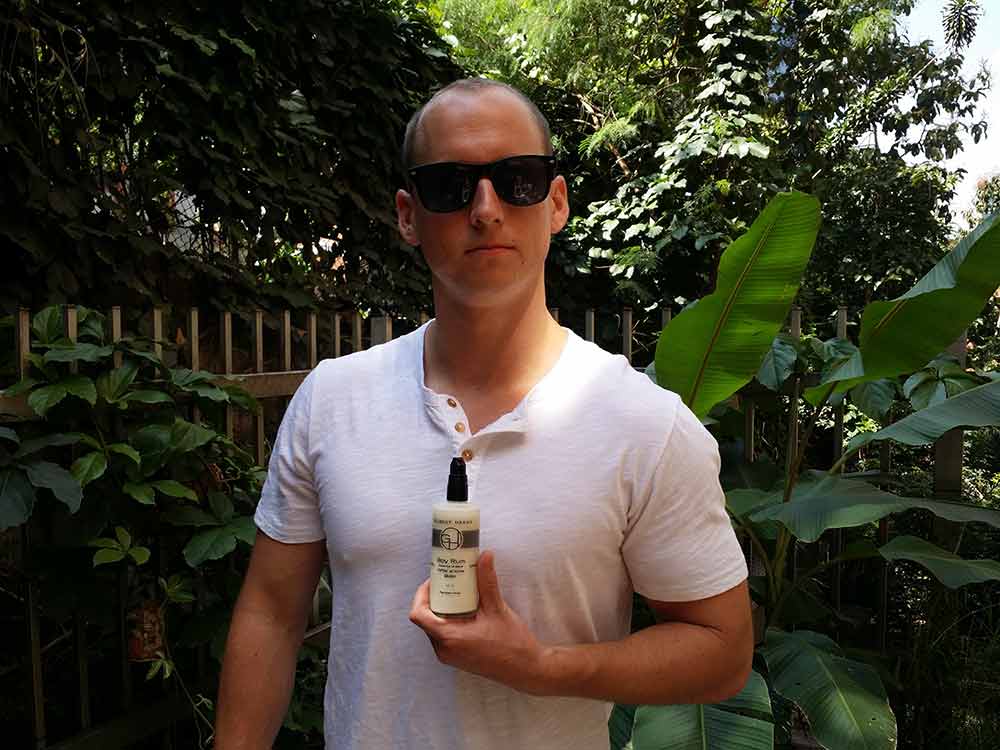 The Best Bay Rum Aftershaves on the Market Today
The above information is really just more of an aside for those history buffs out there, as many of the best bay rum aftershave products on the market today have very little in common with the original versions.
In fact, quite a few of them no longer even bother using West Indian bay leaf essential oil, instead choosing to use synthetic chemical versions that are nowhere near as nice as the original.
What this means is that it takes a bit of research if you want to find a true, "authentic" bay rum.
Still, if there is one thing to take from this history lesson it is the fact that numerous Caribbean island nations and perfume manufacturers have developed their own unique bay rum scents.
While all of them should obviously contain West Indian bay (again, not all actually do), another key ingredient is obviously rum—but again, many companies bypass this one as well, and instead simply use grain alcohol.
However, the real difference between the best bay rum aftershave products out there is the additional ingredients each company uses, as most have developed their own proprietary blends.
For this reason, most products will vary at least slightly in terms of scent, which means that just because you like one company's bay rum aftershave doesn't necessarily mean that you'll like another company's version just as well.
In fact, even if two companies used identical recipes, the resulting fragrance could still vary quite a bit depending on where the West Indian bay leaves were harvested.
Although it naturally grows all across the Caribbean, the Virgin Islands (specifically, the islands of St. John and St. Thomas), Bermuda and Jamaica are considered to grow some of the best, most fragrant West Indian bay trees in the world.
Hence, the bay rums from these areas are often considered superior to others.
However, unless you happen to have an exceptionally well-trained nose, you probably won't notice a difference.
That being said, the only way to really know if a particular best bay rum aftershave product is right for you is to try it out.
Therefore, to simplify things for you, we'll now present some of the best bay rum aftershaves currently on the market based on both our own extensive testing and hundreds, if not thousands of user reviews and rankings.
Also, don't forget to check out our definitive lists of the best shaving soap, best shaving cream for men, and guides on safety razors and shaving brushes so you can create the ultimate shaving kit.
#1 Gilbert Henry Natural Bay Rum Aftershave Balm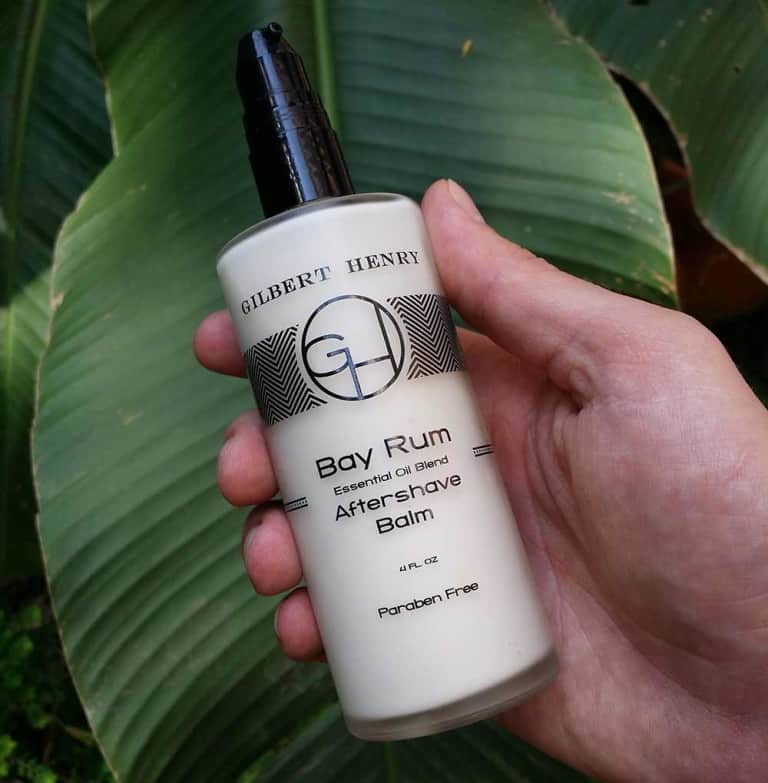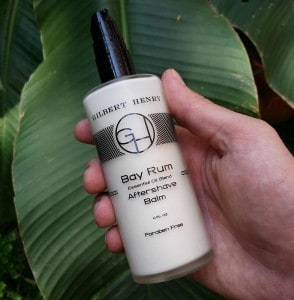 If you're a regular visitor to our site, you can probably guess why we picked this product as the number one best bay rum aftershave out there just by reading its name. I'll give you a hint—it says "natural."
For those of you who don't know, we here at Prim & Prep are huge proponents of using only natural and organic aftershave as well as other shaving and grooming products whenever possible.
These are the only ones that you can trust to be completely free from harmful chemicals.
While it's not hard to find an all-natural bay rum aftershave splash, finding a truly natural bay rum aftershave balm is something altogether different.
Yet that is exactly what this one is—using only natural, aromatherapy-grade essential oils and being free from parabens and other undesirable chemicals.
Personally, I find it does an amazing job of relieving pain and irritation after those less than stellar shaves thanks to its aloe base, which helps to moisturize and soothe the skin without leaving a greasy or oily residue.
This makes it the best aftershave for ingrown hairs.
Another reason I prefer this one is that it doesn't actually contain any alcohol (alcohol is on the ingredients list, but the company states that this is because some of the extracts were created with alcohol), which means that it won't dry out your skin like so many other products.
Of course, the lack of alcohol probably means that this one isn't really deserving of the bay rum label, but the fragrance is still exactly what you'd expect.
That being said, although I and many others really like the smell of this particular product, it has a much stronger clove fragrance than many other products—with a decent number of reviewers stating that the clove smell was a bit too overpowering.
Still, I'd recommend checking it out for yourself to see whether or not this is the best aftershave to prevent ingrown hairs.
#2 Barberry Coast Shave Co. Bay Rum Aftershave & Bay Rum Aftershave Balm
Although we've listed Gilbert Henry first in our list of the best bay rum aftershave, it could easily be interchanged with the excellent bay rum aftershave splash and aftershave balm from Barberry Coast Shave Co.
Like Gilbert Henry, both of these products are 100 percent all-natural, meaning they are free from synthetic fragrances, chemicals, etc.
It really comes down to whether you prefer the best bay rum aftershave balm or aftershave splash.
The aftershave balm is also alcohol-free and contains a variety of soothing ingredients like aloe vera, vitamin E, and shea butter, plus it also includes menthol, which provides a nice cooling sensation.
Still, this menthol aftershave is my personal favorite of the two is the aftershave splash.
One of the main problems with most aftershave splashes is that they contain alcohol, which generally dries out the skin.
However, Barberry Coast has eliminated this problem by including pure glycerin to ensure that this aftershave not only doesn't dry out the skin but actually moisturizes it instead.
In terms of fragrance, these products contain a very mild, pleasing blend of essential oils like vanilla, clove, cinnamon, orange and allspice—all of which have been shown to have numerous health benefits in addition to smelling great, from relieving stress and anxiety to improving blood circulation.
Still, it should be noted that both of these products have a bit milder of a fragrance than most other bay rum aftershaves on the market.
Not only that, but the scent tends to fade away fairly quickly.
Therefore, if you're looking for something with a bit stronger scent, you may want to consider one of the others on this list.
Wait! Use This Promo Code: PRIMPREP for a one time 10% discount on all Barberry Coast products on Amazon
#3 Captain's Choice Cat O' Nine Tails Bay Rum & Original Bay Rum Aftershaves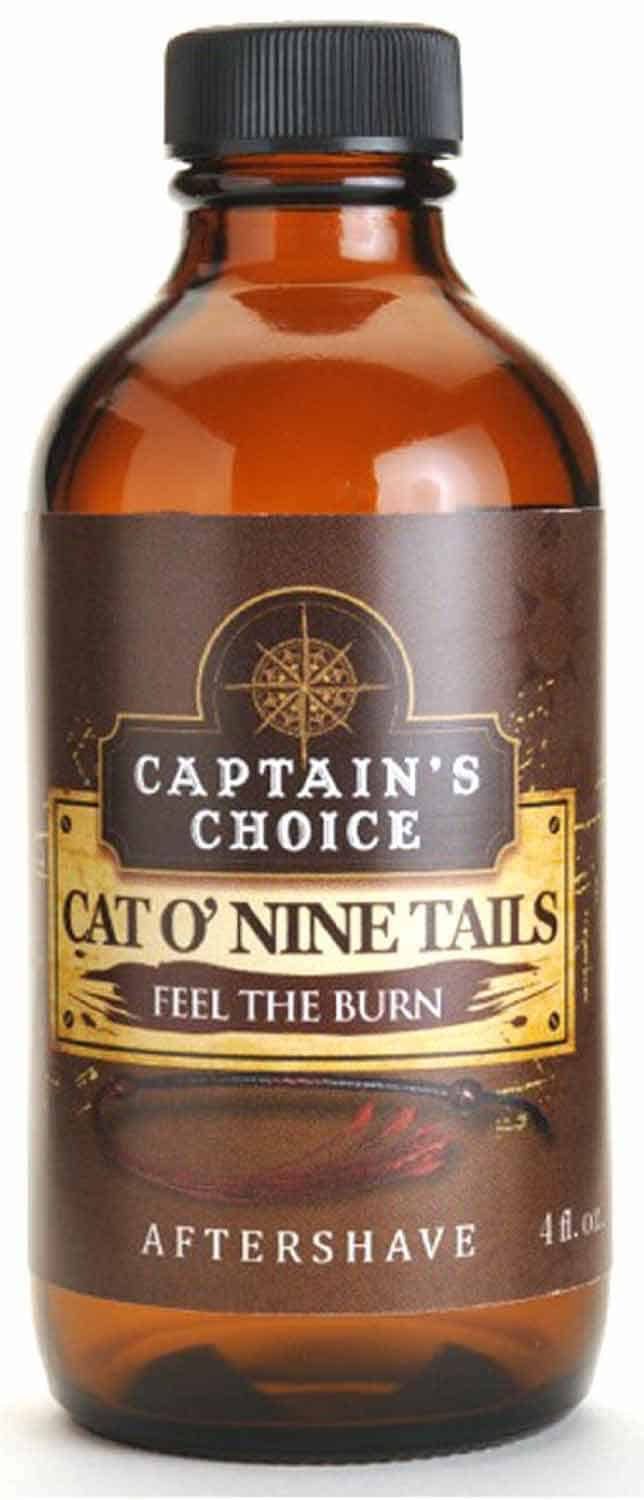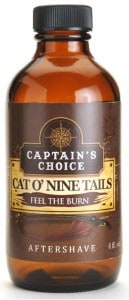 Is Barberry Coast Bay Rum too mild for you?
Why not take things to an entirely new level with Captain's Choice Cat O' Nine Tails.
Seriously, this one is not to be taken lightly.
Named after the multi-tailed whip that was a common instrument of punishment for the British Royal Navy, Captain's Choice Cat O' Nine Tails Bay Rum Aftershave is without a doubt the best bay rum aftershave—with a majority of reviewers raving about the pleasant burning sensation that accompanies its use.
Starting off with a mild tingling and quickly progressing from there to a full on burn that provides a real kick, this product makes a great way to start off the day.
In terms of the fragrance, this is exactly what bay rum should be—intoxicating, deep and manly.
Although it has a bit heavier note of clove than many others, in truth Captain's Choice seems to have gotten their blend perfect, as it is hard to really pick out any one scent over another.
However, despite what you'd think from the strong sensation you feel after applying it, this one also tends to fade away fairly quickly over time (although not nearly as quickly as Barberry Coast).
Still, it's not just the pleasant burning sensation and the scent that makes this product stand out, as one quick look at the ingredients list tells you all you need to know.
Containing only grain alcohol, rum and natural essential oils, plus glycerin and witch hazel to moisturize and condition the skin—this product has everything you need and nothing you don't, making it the best aftershave for black skin.
Still, if you find the burn to be a bit too much to handle or don't like the scent of cloves, you may want to try out Captain's Choice Original Bay Rum Aftershave, which is basically the same thing in a milder, clove-free version.
#4 Genuine Ogallala Bay Rum Aftershave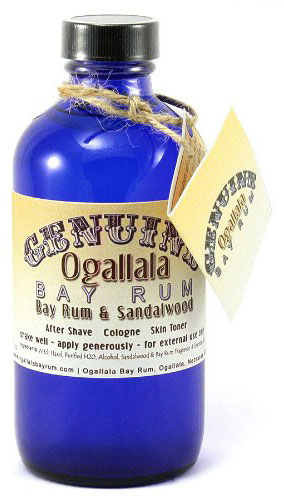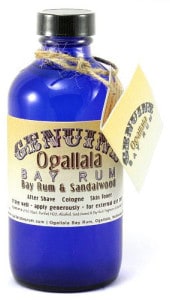 And finally, we come to Genuine Ogallala Bay Rum Aftershave, which probably has the strongest, longest-lasting smell of all the products on this list of best bay rum aftershave.
In terms of ingredients, this is another one that only contains all-natural ingredients like witch hazel, bay oil, cinnamon, oil of clove bud, rosemary, orange, lime, ginger, sage and wintergreen.
All of these various essential oils combine to give this one of the deepest fragrance profiles of any bay rum aftershave we've come across.
On the other hand, they also create a scent that isn't exactly what one imagines a bay rum should smell like (although it is quite similar) but is still nonetheless quite pleasing.
Not only that, but Genuine Ogallala also makes a variety of other bay rum aftershave blends, including Bay Rum Limes & Peppercorn, Bay Rum & Sandalwood, Bay Rum & Vanilla, and Bay Rum Sage & Cedar—of which the Lime & Peppercorn and Sage & Cedar seem to be the most popular.
Or, if you're looking for an even more potent bay rum scent, you may want to try Genuine Ogallala's Double Strength "Special Reserve" Bay Rum Cologne & Aftershave.
They also make other great products like Ogallala bay rum shaving soap.
While the scent is definitely nice, there are still a few issues that keep this one from making the top of this list.
Firstly, this product does tend to dry out the skin a bit more than the others on this list, as it doesn't contain glycerin (although the witch hazel aftershave recipe does have some excellent skin-nourishing properties).
The other main issue is that, again, this one doesn't smell exactly like a bay rum aftershave should.
While it does smell nice, if you're looking for a "true" bay rum fragrance, you may be slightly disappointed by this one.
Other great aftershaves you can buy;
Badger aftershave
St. John's Bay Rum aftershave
Grand Bay Bay Rum
As we stated earlier, not all bay rums are made equal.
While there is no way we could have possibly tried out all of the bay rum aftershaves on the market, we have nonetheless done enough research to be able to separate out the good from the bad.
Still, there is no doubt that there may be other bay rum aftershaves out there that are equally as good as any of the products on our list of the best bay rum aftershave, but if there are, they simply aren't popular enough for us to have heard of them.
On the other hand, there are plenty of fairly popular brands of bay rum aftershave out there that we can definitely recommend you avoid.
Some of these products may seem like a great deal considering their low price, but the truth is that you get what you pay for, and the reason that most of these products are cheaper is the fact that they use lower quality or synthetic ingredients.
So, if you're considering buying the best bay rum aftershave, do yourself a favor and stay away from the following.
Clubman-Pinaud Virgin Island Bay Rum Aftershave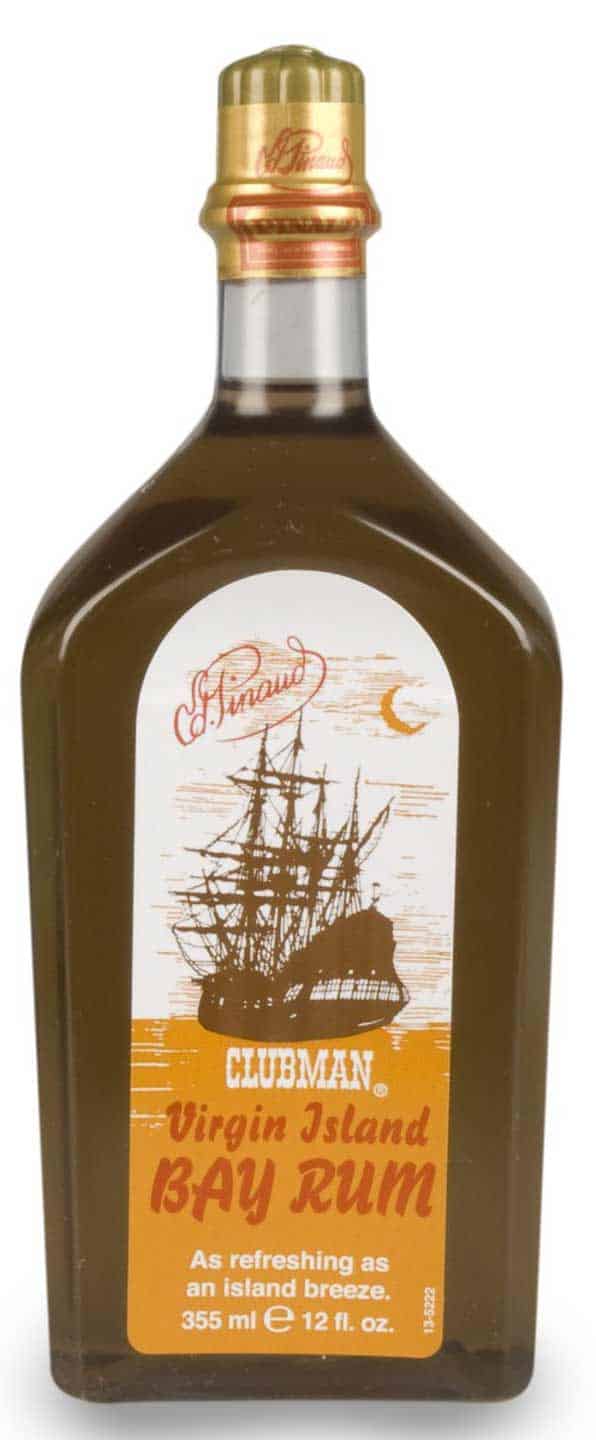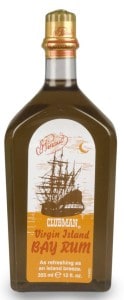 We'll probably get a lot of slack from some guys for saying you should avoid this one, as Clubman-Pinaud's Virgin Island Bay Rum Aftershave remains one of the most popular and best-selling bay rum aftershaves on the market.
So if it's so popular, why should I avoid it you may be asking?
Well, a quick look at the ingredients shows that unlike the best bay rum aftershave on our list (which get their smell from natural essential oils), this one uses synthetic chemical fragrances to recreate that classic bay rum smell.
While I must say that the company does an excellent job of this (it smells almost exactly as bay rum should), you would still be much better off reaching for the real thing instead of this synthetic crap.
In fact, it's not just the smells that are synthetic. For some reason, this product also contains chemical coloring agents as well, although, for the life of me, I can't imagine why an aftershave should need to be colored.
Although it is cheap (around $10 for a 12-ounce bottle), you would be much better off spending the extra cash on a higher quality product.
After all, the point of aftershave is to soothe and condition your skin, when many of these chemical ingredients often have the opposite effect.
Gabel's Bay Rum Aftershave Lotion

Another popular brand of bay rum aftershave, and yet another one you should definitely steer clear from.
Gabel's Bay Rum Aftershave Lotion is made in the Virgin Islands, the original home of bay rum, but yet it really has almost nothing in common with the original other than its scent profile.
Yes, it does smell like a bay rum should, as it actually uses bay oil to achieve that trademark scent.
On the other hand, the rest of the ingredients list is still quite worrying, that's why it could make it to the list of the best bay rum aftershave.
While most other products contain either witch hazel or pure grain alcohol as the base, this one uses something known as SD alcohol-40, which is especially denatured alcohol made from blending ethanol with denaturing agents.
This product also contains sucrose octacetate (whatever the heck that is) and Yellow No. 5 (again, there is no reason an aftershave needs to be colored).
Yes, it is cheap, but then again I would stay away from any aftershave product that can be purchased by the gallon—especially one where you can buy an entire gallon for around $25.
Royall Bayrhum of Bermuda by Royall Fragrances for Men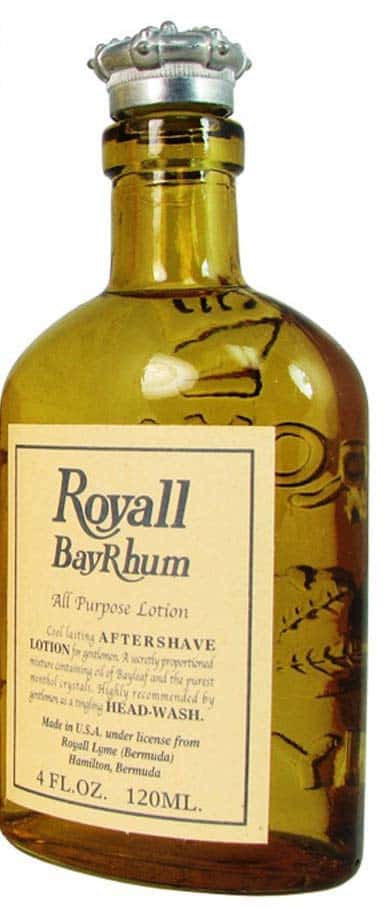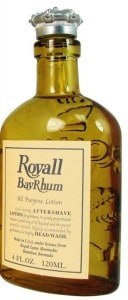 If I were writing this article 10 or 15 years ago, this product would have most likely made the list of the best bay rum aftershave, as it used to be considered amongst the best bay rum aftershaves around.
In fact, I vividly remember my dad using this particular product when I was a kid.
But while my dad is still a fan of bay rum, he was forced to abandon this product a few years ago, and from the reviews, I have read, he definitely wasn't alone.
Basically, the company, unfortunately, made the decision to change their recipe at some point, resulting in a new product that is vastly inferior to that which they used to make.
Not only that, but unlike Gabel's or Clubman-Pinaud, this one isn't even cheap. So do yourself a favor and try something else.
Oh, and if you're wondering about the spelling, for many years the drink we know and love as rum was actually spelled "rhum."

Best Bay Rum Aftershave: The History of Bay Rum
What is bay rum?
Ask any man born in or prior to the 1950s and the chances are pretty good that they have used bay rum colognes or aftershaves at some point in their life, and in fact, many of them probably still have a bottle of it lying around in their medicine cabinets.
On the other hand, a large portion of guys born after this time has probably never even heard of bay rum as for some reason its use dropped off dramatically following World War II.
Yet, the history of bay rum dates back much further than this—almost 500 years to be exact—back to a time when European sailors were still just beginning their explorations of the Caribbean and the New World.
Obviously, the hygiene standards of that day left a lot to be desired when compared to the present day, so you can probably imagine just how smelly a boat load of sailors would become after several weeks or even months out on the open seas.
This ominous odor problem led some enterprising sailors to take a novel approach to combating the stench.
At some point, someone discovered that the leaves of the West Indian bay tree had a very nice scent, which could be used to mask the sailor's stench by rubbing the dried leaves on their bodies.
Around this same time, slaves working in a West Indian sugar plantation also discovered how to make rum from molasses (one of the main byproducts of sugar production).
It was at this point that someone decided that steeping the West Indian bay leaves in rum to extract their essential oils would be much easier and more effective than simply rubbing the leaves all over yourself, and with this, bay rum was born.
After this discovery, numerous islands throughout the West Indies began producing their own versions of bay rum—adding their own special touches like cinnamon, cloves, West Indian lime, and fine Italian citrus aftershave.
Even today, numerous West Indian islands continue to produce their own proprietary blends of bay rum fragrance, as do numerous American and European perfume manufacturers.
Although the original version is really just rum steeped with West Indian bay, it is undrinkable as the bay essential oil is toxic.
Although produced on various Caribbean islands, it is thought that the first bay rum aftershave to be produced and sold on a large scale was developed by Danish chemist Albert Heinrich Riise.
Riise developed a process for producing double-distilled bay rum that was far superior to the single distilled varieties available at that time, and his discovery led to bay rum exploding in popularity throughout the United States and Europe.
Frequently Asked Questions about Aftershaves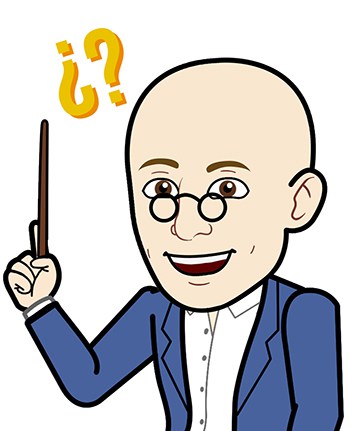 1. What Happens if You Don't Use Aftershave?
It all depends on the type of skin you have.
It's essentially a moisturizer.
Don't worry if you don't see a difference in your face if you skip it.
2. How Do You Make Aftershave?
Here is how to make aftershave;
The basic recipe consists of only four ingredients: aloe vera gel, witch hazel, vegetable glycerin, and water, and it takes less than a minute to make.
It's similar to a skin toner in that it hydrates and protects the skin after shaving.
3. Why Use Aftershave? Does Aftershave Work?
If you apply aftershave shortly after shaving, it can have some short-term bacteria-killing advantages.
When it comes to hydrating, mending, and soothing your skin after a nice shave, go for a more soothing aftershave with natural, plant-based components like the best bay rum aftershave.
4. Can You Use Lotion as Aftershave?
Yes.
If you have normal to oily skin, a lotion is ideal.
If you're getting a nice shave with no issues or only a tiny amount of redness, use a lotion.
5. Do You Wash Off Aftershave?
Leave the aftershave on your face unless you bought an aftershave that says to wash it off.
The majority of the best bay rum aftershave is left on.
6. When and How Do You Use an Aftershave?
Here is how to use aftershave or how to apply aftershave;
In your hand, dispense a tiny quantity of aftershave.
To equally distribute the aftershave, rub it into both hands.
After shaving, apply the aftershave evenly to the whole shaven area.
In terms of when to use aftershave, use it right after you shave.
7. How Does Aftershaves Compare to Other Products?
Aftershave vs moisturizer: A moisturizer will improve dry skin, while an aftershave will help with irritation after shaving
Cologne vs aftershave: An aftershave is meant to soothe the skin after shaving, whereas cologne is designed to be worn alone as a daily smell.
Eau de toilette vs aftershave: Eau de toilette is used when you want a fragrance that will stay all day. Aftershave is used as a skincare product.
8. What is the Best Aftershave Alternative?
There are many different aftershave alternatives including baby oil, coconut oil, hair conditioner, lotion, aloe gel, olive oil, and soap.
You can also use rubbing alcohol as an aftershave, especially for people with sensitive skin.
9. Can You Use Aftershave with SPF?
Sunblock or SPF should be used after shaving and before moisturizing.
Apply it on your face first, then to your neck.
It is crucial to apply sunscreen even on cloudy days, in addition to when you go to the beach or pool.
If you found this article helpful please be so kind as to share it on Facebook or other social media per the buttons below.
We really would appreciate it as we have worked so hard on this post for you.
I have a feeling some of your friends and family will find it helpful as well.
Also, be sure to join the Prim&Prep community!
Not only will you have a chance to WIN your choice of a quality safety razor or beard oil but we will provide you with all kinds of helpful and enlightening male grooming tips and advice directly to your inbox so you don't have to waste your time fiddling on the web to find the right information to look and feel your best.
There is nothing to lose and so much to gain. SIMPLY SUBSCRIBE BELOW!