Electric Razor vs. Blade: What's All the Fuss About
Other than choosing a partner, one of the biggest decisions in a man's life is the battle between the comparison of electric razor vs. blade.
Luckily, while marriage means you're supposed to stay with your partner for life, with razors you have the ability to keep playing the field until you're satisfied, so in a way, maybe it's more similar to dating.
Sticking with the dating analogy, while all girlfriends obviously have their good sides, as well as their bad, electric razors and blades, also have their advantages and drawbacks.
So to help you out in your search for the perfect shave, in today's post we'll do a comparison of electric razor vs. blade.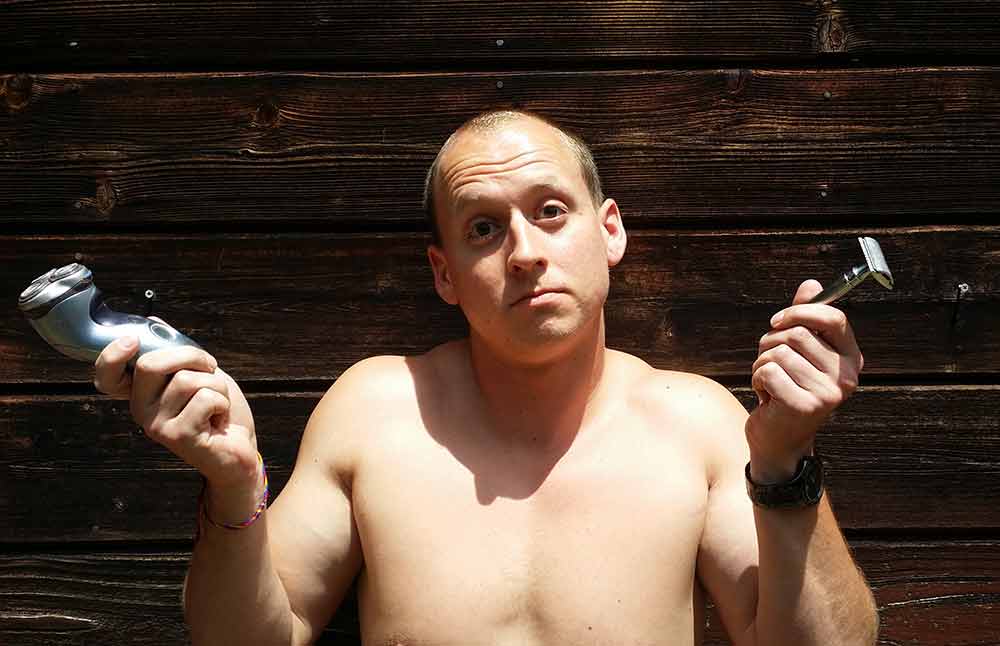 Electric Razor vs. Blade: The Differences
Before we get into the pros and cons of each type of shaver, we'll first look a bit more into each type so you know what all of your options are.
As far as electric razor vs. blade, you've got the choice between a foil and rotary shaver, both of which have their plusses and minuses.
Still, we won't get too much into the differences here, as you can learn all about them in our post on the best electric shavers.
When it comes to manual razors, you've got a ton of different options to choose from.
Straight razors, safety razors, cartridges, and disposables—virtually all manual razors offer a closer shave than an electric razor, but again, each definitely has its disadvantages.
Since you're reading this particular post, we can probably assume that you're not ready to take the plunge and start using a straight razor yet, or else you'd already be reading our post on how to shave with a straight razor.
Therefore, today we'll focus only on a comparison between an electric razor vs. disposable/cartridge vs. safety razor.
Disposable/Cartridge Razors
Pros:
Disposable and cartridge razors are generally considered the easiest to use, which is why they are usually the first razor a man learns to shave with.
Provide a closer shave than electric razors.
No time wasted searching for hard to find replacement blades or heads like with electric razors.
Perfect for traveling or when on the go.
Can provide a close, smooth shave in a fairly short amount of time. Cartridge razors are obviously quicker than disposable due to the extra number of blades.
Can be one of the more cost-effective shaving options, especially compared to some of the electric razors that sell for several hundred dollars. However, the cost of cartridge razors can quickly add up over time.
If the cartridge razor truly interests you be sure to check out our comparison of two of the best cartridge razors on the market today: Mach 3 vs Fusion.
Cons:
Takes longer than shaving with electric razors, but is still a bit quicker than dry shaving with a safety razor.
How to prevent acne after shaving with electric razors? Shaving with cheap disposables increases the chances of nicks and cuts, as you'll need to go over areas multiple times to get a close, smooth shave. Cartridge razors usually lessen the chances of cutting yourself compared to single-blade disposables.
Increased irritation when compared to safety razors, due to having to go over areas multiple times. Cartridge razors are especially notorious for irritation, as each stroke is the equivalent of three, four, or five passes with a single blade razor. Still, some men find they cause less irritation than electric razors.
The blades tend to dull very quickly and usually need to be replaced every few shaves—sometimes after every shave, depending on how hairy you are and how coarse your facial hair is.
Doesn't provide as much freedom as an electric razor, as you'll need to take the time to properly lather up and wet shave, whereas an electric razor can be used on the go.
Electric Razor vs. Blade: Safety Razors
Pros:
Safety razors provide the closest shave of any method, save using a straight razor. No other method even comes close. For example, double-edged safety razors, micro touch safety razors, and Gillette safety razors give you the closest shave. Especially, antique safety razors and Japan safety razors are easily available in the market and provide you with shave without any cuts.
Probably the cheapest shaving method in the long term. Although some safety razor handles can be slightly expensive, even the best blades only cost a few pennies each e.g., Rockwell 6s safety razor and mühle safety razor.
Safety razor blades e.g., Viking blades safety razor and Gillette safety razor blades are made of much higher quality steel than those found in disposable or cartridge razors, which not only makes them much sharper but also means that the blades should last longer before going dull.
Decreased irritation and the chance of ingrown hairs when compared to disposable or cartridge razors and is, therefore, more beneficial e.g., dorco safety razors have double edge razor blades that provide you safe shaving.
Cons:
Safety razors have a fairly steep learning curve, as they require a special technique. Since the blades are super sharp, you should be prepared to bleed for at least the first few shaves until you master the proper way to hold and shave with a safety razor. But don't worry, this can be avoided if you know how to shave with a safety razor properly.
Takes more time than shaving with a manual or electric razor.
Electric Razor vs. Blade: Electric Razors
Pros:
If you are worried about how to shave dry and hands down the quickest way to shave and the only way to go on those mornings when you overslept. A high-quality electric razor forces the hairs up before slicing them off, which means you don't have to go over areas many times to get an even shave. For better shaving results. You should also learn about how to shave with an electric razor?
Electric razor for teen helps them to reduce ingrown hairs and irritation and eliminates the chances of nicks or cuts on their initial shaving. Still, not all men experience less irritation with electric shaver vs razor, so your mileage may vary.
Cordless models can be used anywhere—even in the car (just don't do it like this woman)—making them perfect for the man on the go. Best travel electric razors have anywhere up to an hour or more of battery life, so they don't even need to be recharged all that often. For example, CVS electric razors and Gillette electric razors have good battery time, moreover, they are also considered the best close shave electric razors.
They provide you with a dry shave so, you don't need to purchase shaving cream, gel, soap, or other shaving products, cutting down on the overall price.
Now no more do you need to worry about how to cut hair with an electric razor. As many models come with precision or detail trimmers that allow you to trim around your beard, mustache, sideburns, or other facial hairstyles.
Many of the newer models have special features as considered the best electric razor for teens that can be used in the shower and some even come with a built-in vacuum for easy cleanup.
The best electric razor vs shaver has the self-cleaning ability, which is a plus, although some models can be difficult to clean.
Cons:
Electric razor vs. blade cannot provide nearly as close of a shave as manual razors. It's highly unlikely your face will ever be smooth, and if your beard grows fast, you may even end up having to shave more than once a day to keep from having some serious stubble showing.
Although electric razor vs. blade is generally considered quick and easy, it takes most men a bit of practice to get the hang of using it properly. You may experience a bit more pain or irritation at first, but this should fade as you learn the proper technique. Of course, this all depends on how sensitive your skin is.
The initial cost of an electric razor vs. blade can be quite high, with some of the best models costing several hundred dollars. Still, high-quality electric razor parts should last you for quite a few years, and with few continuing costs, they could end up saving you some money in the long run compared to cartridge razors.
The electric razor could die in the middle of a shave and leave with you half a beard. Still, this is obviously not a problem with corded shavers, and on rechargeable, models are only really a problem if you're not near an electrical outlet or the power is off.
Some models' electric razor vs. blade can be quite loud and annoying, so not a good choice for those with sensitive ears or those mornings when you're hungover.
Electric razor vs. blade requires a bit more maintenance to keep them in working order. It is important to always properly clean and dry (if it's a wet-dry electric shaver model) the shaver after each use, or you could choose a self-cleaning, self-drying model and save yourself the hassle.
At the end of the day, choosing what type of razor to use is a matter of personal choice.
Your decision should be based on what factors are most important to you, whether that be price, time, convenience, or closeness of the shave.
Also if you are confused about is it better to shave wet or dry, then you can clear your mind after reading this article.
While we personally recommend that every man get full out and start wet shaving with a safety or straight razor, a quality shaving brush, and one of the top shaving creams or soaps, there is nothing wrong with whatever method you choose—as long as you're aware of the pros and cons of each.