Pros
Will last you a very long time
Ergonomics for most hand sizes
Lathers and exfoliates well
Cons
Some people say it smelled bad for a long time
Hey guys and welcome to my very first shaving brush review on PrimandPrep.com. Today's article is going to be an Edwin Jagger best badger brush review for you guys. The reason I am choosing this good shave brush to be my first review is that it was among my very first shaving soap and brush that I purchased as well as one that I have used 1 billion times. Just like the title says, this brush uses the best badger hairs. Let's waste no time and get right into my Edwin Jagger best badger brush review so that you can see if this would be a good choice for you. You should know Edwin Jagger made P&P's ultimate list of the best shaving brushes. Be sure to check it out to see how this badger hair shave brush stacks up against the best.
Density of Bristles
The density of badger hair bristles is extremely important in the overall quality of a shaving brush. If the hairs on men's shaving brushes are too dense it won't lather very well and if they are to lose it won't absorb enough water. Overall I would say that Edwin Jagger best badger brush is in the middle-of-the-road in terms of density. And although I did lose some of the hairs during my first few shaves (which is normal), overall it has remained very full with the right density even after seven years of shaving with it approximately.
Stiffness of Hairs
When I first got this best value badger shaving brush I was actually expecting the hairs to be a little bit softer than they were out of the box. In my opinion, they are just barely softer than some pure badger hair brushes that I have felt. They are definitely stiffer for the first week or two while you are shaving with it and they will get slightly softer after that. Personally, I like shaving brushes that have a stiffness to them because while I am lathering my face up with my brush, it also acts to exfoliate my skin. With bristles that are too soft, I do not get the same feeling of exfoliation as I am applying the shaving cream to my face.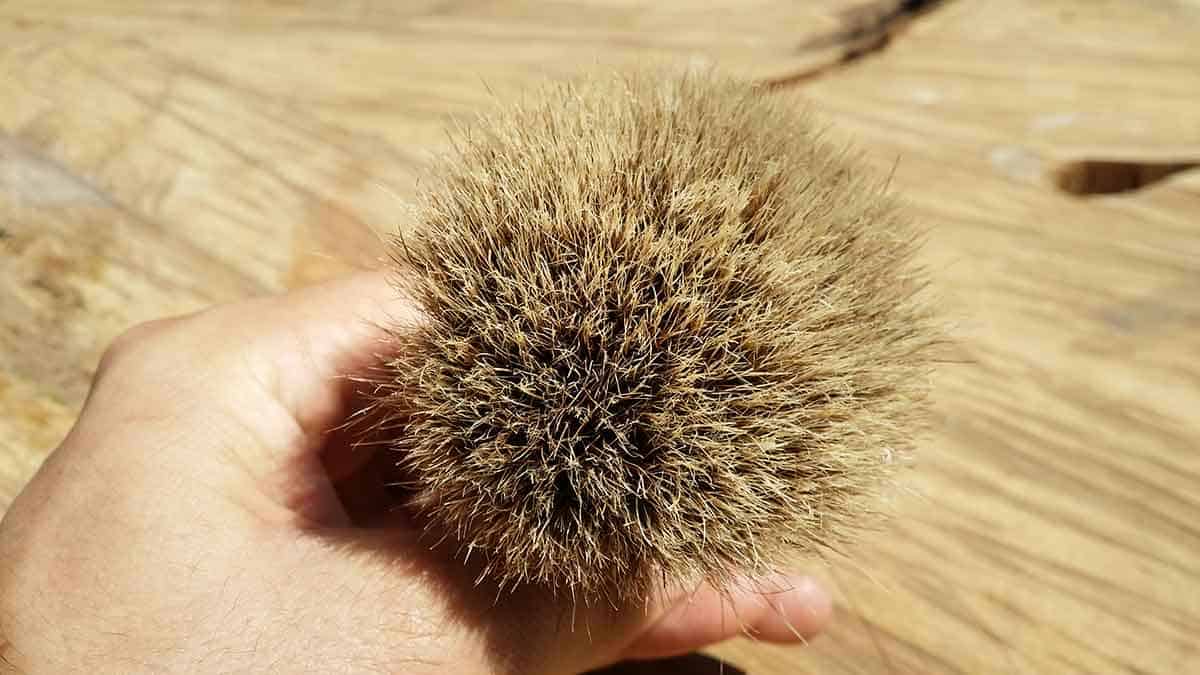 Latherability
Overall I think that this Edwin Jagger best badger brush absorbs an incredible amount of water. Because of this fact it whips up a really luxurious shaving cream quite easily. Obviously, the other factor when it comes to latherability is the soap or cream that you will be using. Overall I think it does a much better job than my synthetics that I own. Don't forget the importance of having a quality shaving soap or shaving cream to achieve that desired lather.
Ergonomics Longevity
The shaving brush measures in at approximately 4.0 inches from the top of the bristles down to the base. At first look, the handle looks quite small as well. Couple this with the fact that I have large hands, and at first I thought I was in deep trouble. After a few uses, I found that my fingers started naturally finding a comfortable position. And due to the fact that the handle is smaller than most, I feel like I can control it a little bit better while whipping up my lather.
Longevity
So far this badger shaving brush has lasted me approximately 7 years and it is still going strong. I have had minimal hair loss over the last few years and I really only noticed it during the first two weeks of shaving with it. But that is completely normal with any badger hair shaving brush. If you take proper care of it and clean it every six months, it should last you a very long time. The bristles on the badger hair shaving brush are top quality and guarantee to last for a long time. Also, make sure that you hang dry upside down after every single use (this should be a given). Badger shaving brushes are important assets to acquire when getting wet shaving supplies.
Edwin Jagger Best Badger Brush Review Conclusion
Overall I think that the best badger shaving brush from Edwin Jagger is a fantastic shaving brush. Some people complained that the badger hair smell lingered for months, but that was not my experience. For me, that went away after two or three uses. If this is really a problem you can clean it right away before you use it. That should help get rid of the badger hair smell. For me, the bristles are the perfect stiffness for exfoliation as well as being able to lather incredibly well. Searching for the best badger hair shaving brush, look no further than Edwin Jagger for its excellent product delivery. Let me know what you guys thought of my Edwin Jagger best badger brush review in the comment section down below and be sure to check out our article on the best safety razors as well. Now get out there and start busting out some baby butt smooth shaves!
Hey! Don't Leave Yet!
If you found this article helpful please be so kind as to share it on Facebook or other social media per the buttons below. We really would appreciate it as we have worked so hard on this post for you. I have a feeling some of your friends and family will find it helpful as well.
Also be sure to join the Prim&Prep community! Not only will you have a chance to WIN your choice of a quality safety razor or beard oil but we will provide you with all kinds of helpful and enlightening male grooming tips and advice directly to your inbox so you don't have to waste your time fiddling on the web to find the right information to look and feel your best. There is nothing to lose and so much to gain. SIMPLY SUBSCRIBE BELOW!